Can you freeze chicken noodle soup, yes you can!! We'll show you how to freeze soup in Souper Cubes Shark Tank style or in freezer bags.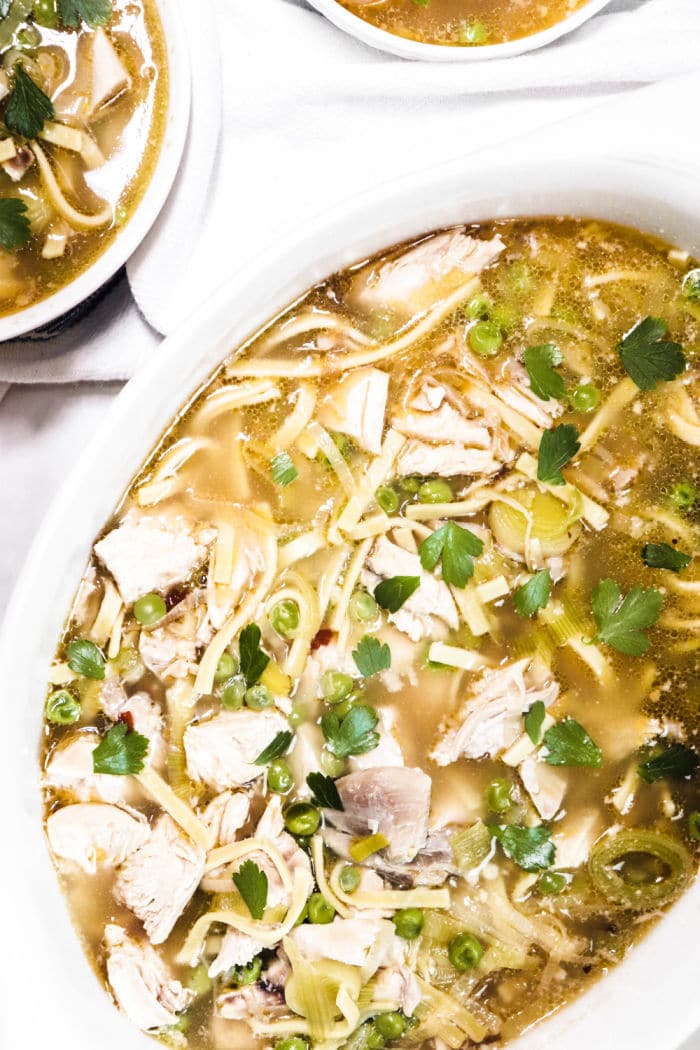 If you too hate wasting food you might be wondering can you freeze chicken noodle soup? You totally can and it's pretty darn easy. Then we will share how to reheat soup when you're ready to enjoy it again the next day or weeks later. (affiliate links present)
How to Freeze Soup
We make our Instant Pot chicken noodle soup quite often using leftover chicken. Occasionally work runs late and it ends up being just 2 of us eating dinner vs. 4 which means we don't finish it all. When that happens I am NOT about to throw out food.
With both of us working full time and groceries as expensive as they are I had to figure out how to freeze soup easily and without the mess and space that plastic containers take up.
Using souper cube molds like this will change the way you save food from now until the end of time. Seriously.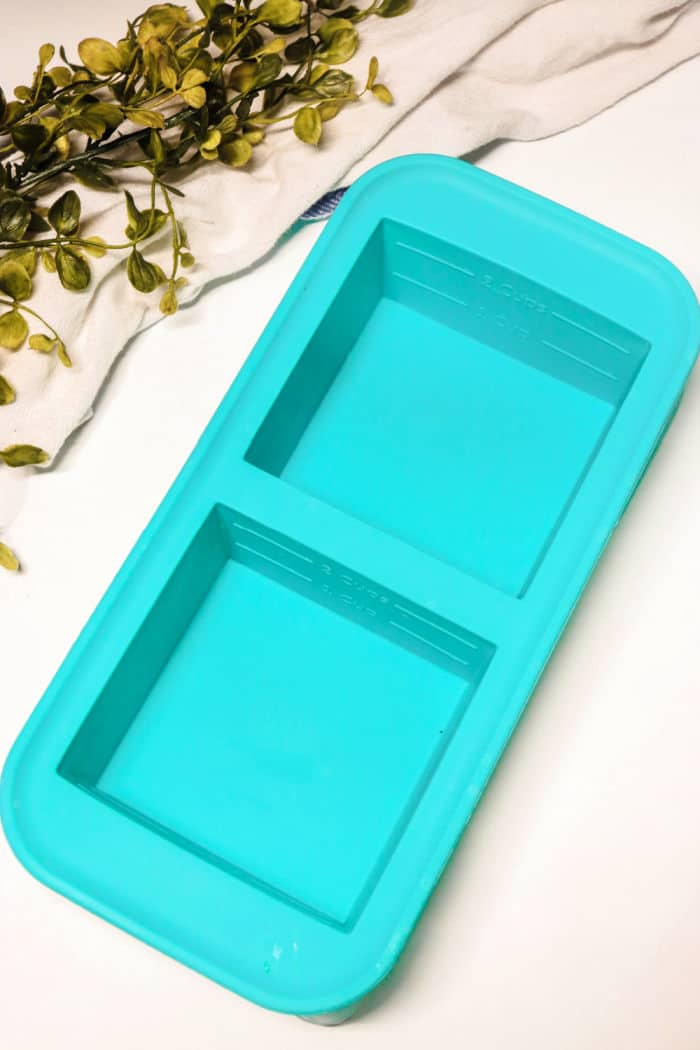 These aren't just for soup recipes though, anything that starts as a liquid and you want to turn it into a block to store in your freezer works great. There are smaller versions great for homemade baby food, but you could also use ice cube trays for that.
Souper Cubes Shark Tank
These are the perfect size for 1 serving each. If you like batch cooking you could make a large batch, eat some that night and know that you were going to save the rest. A great way to plan meals for months and great when you're trying to save money.
Find breasts on sale? Boil chicken to tender, dice up and allow to cool. Then start on the broth with vegetables and throw all of that right in. You can add the noodles at the time or freeze everything but those and when reheating, add egg noodles so they are nice and fresh.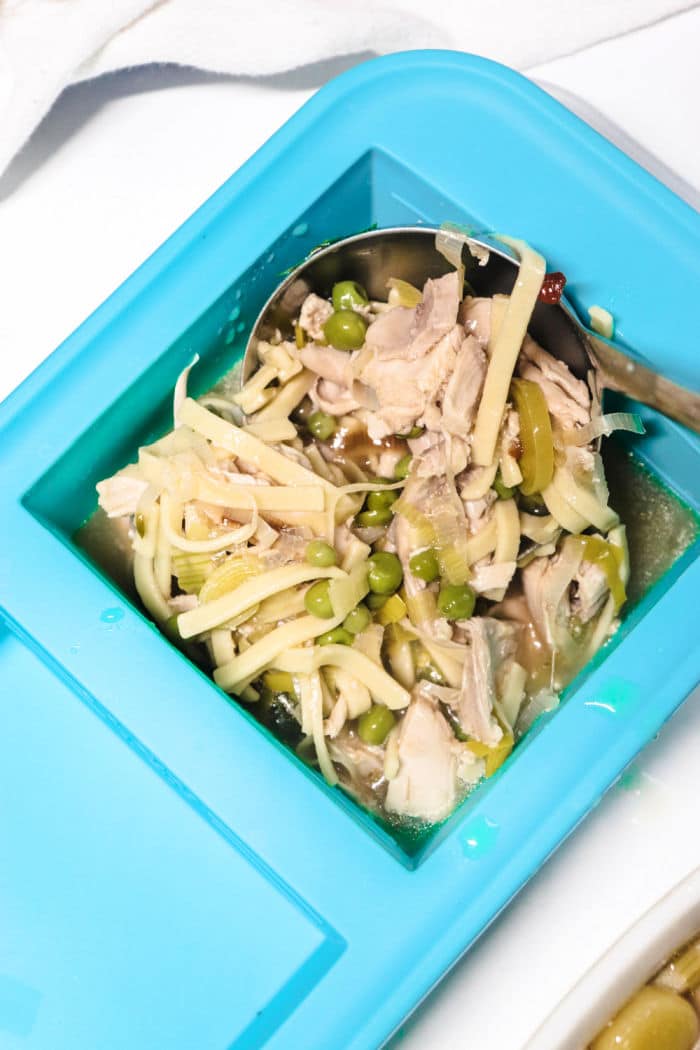 Can You Freeze Homemade Chicken Noodle Soup
Best way to freeze food is you always want to wait until your spicy chicken noodle soup comes to room temperature. If you don't it may allow bacteria to grow in the container as a drastic change in temperature allows for that. Then proceed with the following steps;
Time needed: 1 hour and 30 minutes
How to Freeze Soup
Cool

Allow soup to cool completely inside your pot. You can freeze chicken noodle, potato soup, tomato, or any other type of liquid like homemade baby food this way.

Ladle

Set souper cube molds on to a baking sheet. Use a ladle to gather meat, noodles, vegetables and some broth up and pour it into the silicone mold until it reaches the top but no more.

Pat

Use the back of a spoon to move the contents to the corners of the hole so it is the same thickeness all the way across the mold.

Freeze

Lift baking sheet up and carefully place in a flat section of your freezer. Allow at least 2 hours or more for contents to become completely solid.

Store

Pop out frozen soup blocks and transfer them into freezer bags and mark on the outside when it was created. Now you'll have individually portioned out comfort food for later.
How do you Reheat Frozen Soup
When you are ready to thaw them out simply add one into a microwave safe bowl. Set to defrost or 50% power setting for about 5 minutes.
Use a spoon to break it up after that. If there are still hard spots add another minute or two this way. Once defrosted, heat for 1-2 minutes on high to warm and then enjoy.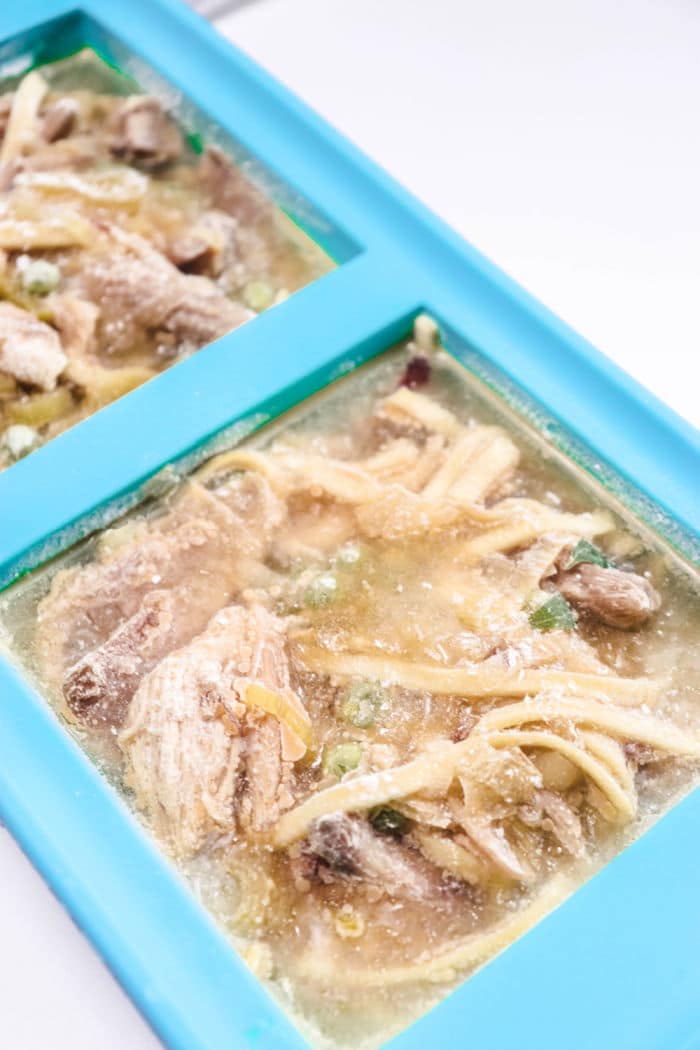 Soup Cubes
That's about it y'all. Can you eat frozen soup after 3 months? They last quite a long time if you do it right, this way.
In fact 3 months is totally fine but you could even extend that time beyond that. Up to 6 months is the general rule. If frozen in these quart size freezer bags they shouldn't get freezer burn. How long can you freeze meat to use to make this in the first place? We have info for that for you too.
To Noodle or Not to Noodle
If you are cooking this with the primary intention of freezing it then it is best to NOT add your noodles. As you can imagine that is the ingredient that will change texture the most and the pieces sticking out of the top and exposed to some air may get "burned" a bit no matter what.
Instead, make the whole slow cooker chicken soup recipe without the pasta inside. Then when you reheat follow the instructions above. This is how to cook pasta in the microwave so you can do it all together, but cook noodles separately. Drain noodles and add in for the freshest way.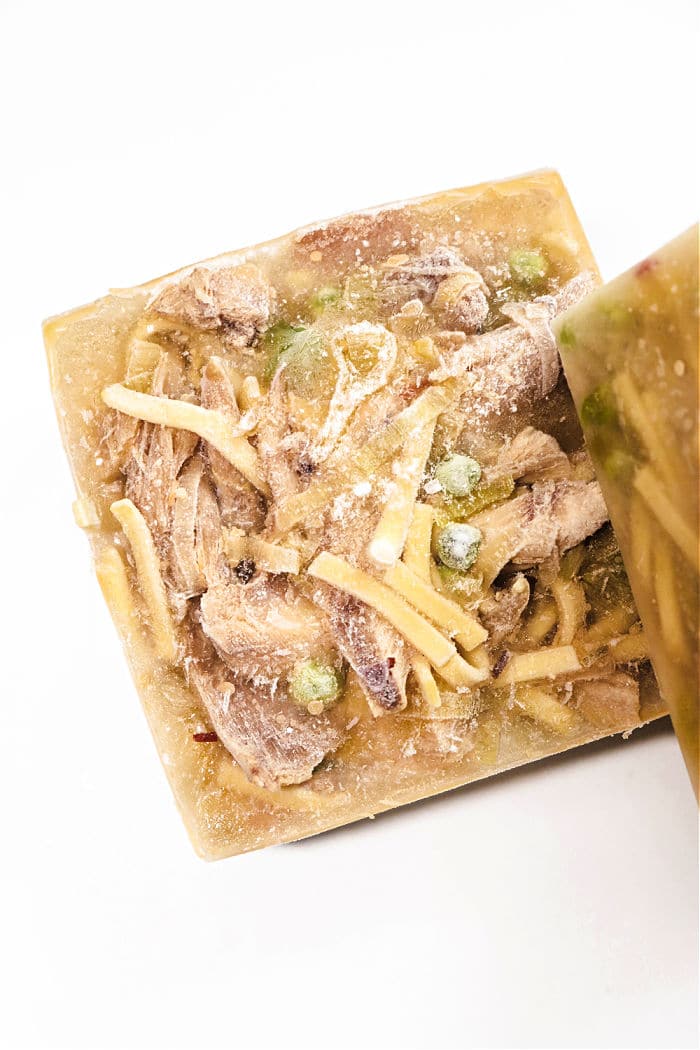 Can You Freeze Potato Soup
Yep!! This works for creamy soups too. You can even use these tips and techniques to make frozen ground beef in bricks. Back to finding things on sale.
If there is a whopper of a sale for beef in bulk then grab a ton and fill these cubes so they are nicely portioned out. You can thaw ground beef in microwave when you're ready!
Soup in the Freezer
There is another way you can do this if you don't want to buy this product. You can buy these same smaller freezer bags alone and store in your freezer safely too. Best way to do this is to;
Allow soup to cool completely
Ladle into your quart bags about halfway full

remember that liquids expand so you don't want to add more than 3/4 full max.

Remove air and zip closed
Lay flat on a baking sheet so zipper is facing to your right
Arrange bags on pan separately so they aren't overlapping
Freeze for 2 hours or until rock hard
Then you can take them off the pan and stack in your freezer to save a ton of space!! For this, allow to defrost overnight in the fridge. Reheat frozen soup in a microwave safe dish for 2 minutes or so.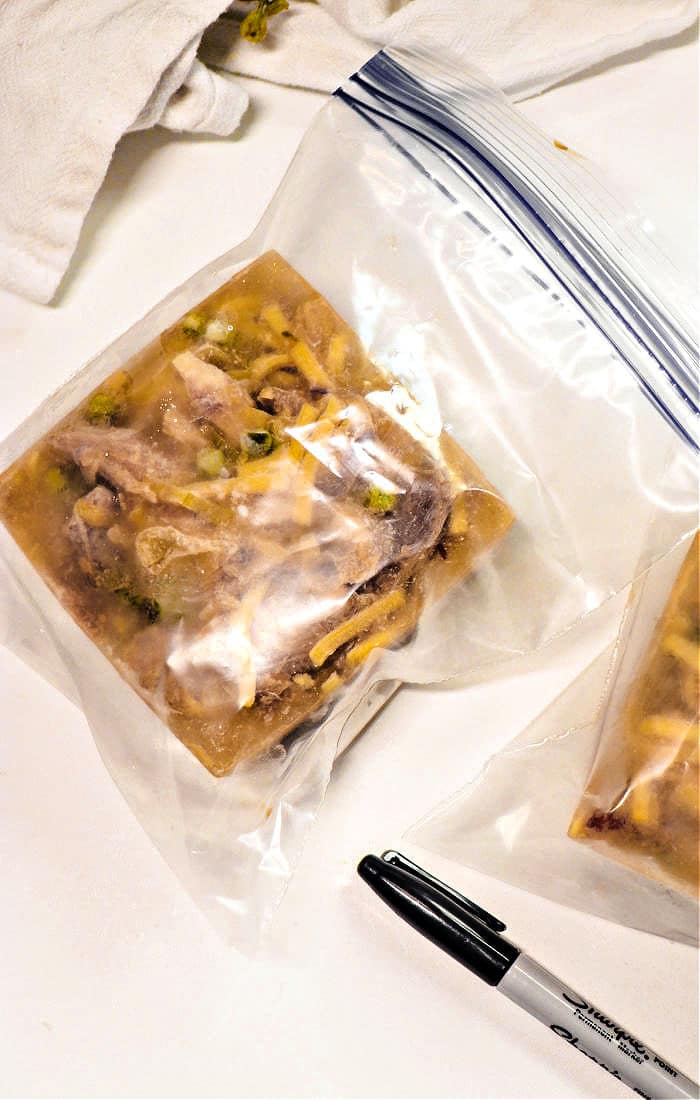 You definitely need to store in something that will prevent freezer burn. These are great, or vacuum sealed bags are ideal. Just plastic wrap isn't going to cut it and it will likely not last long.
If you just want to keep leftovers in your fridge for up to 3 days you can just transfer into mason jars, no need to freeze for such a short amount of time. These techniques are for a longer duration if you don't think you're going to eat your chicken noodle soup recipe in a short amount of time. Hope we helped!
Want to see a few of my favorite things that I am totally obsessed with?? Take a peek and see how many you might already have…twinsies!
Looking for more easy family recipes and tips? LIKE The Typical Mom Facebook page?
Then sign up for my free newsletter, and follow me on Pinterest! 😉
***** If you LOVED this recipe give it 5 Stars below and let everyone know what you thought about it. 😉