How to make fluffy slime with 3 ingredients and no borax! Fun kid safe slime recipe that feels soft and you can make any color you like. Simple fun!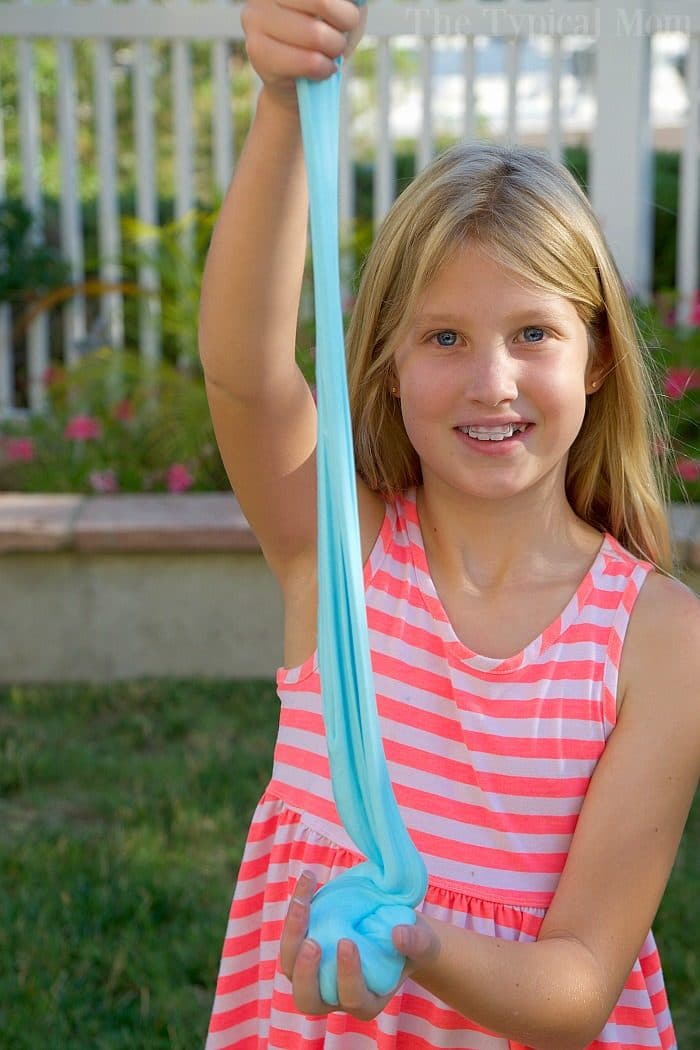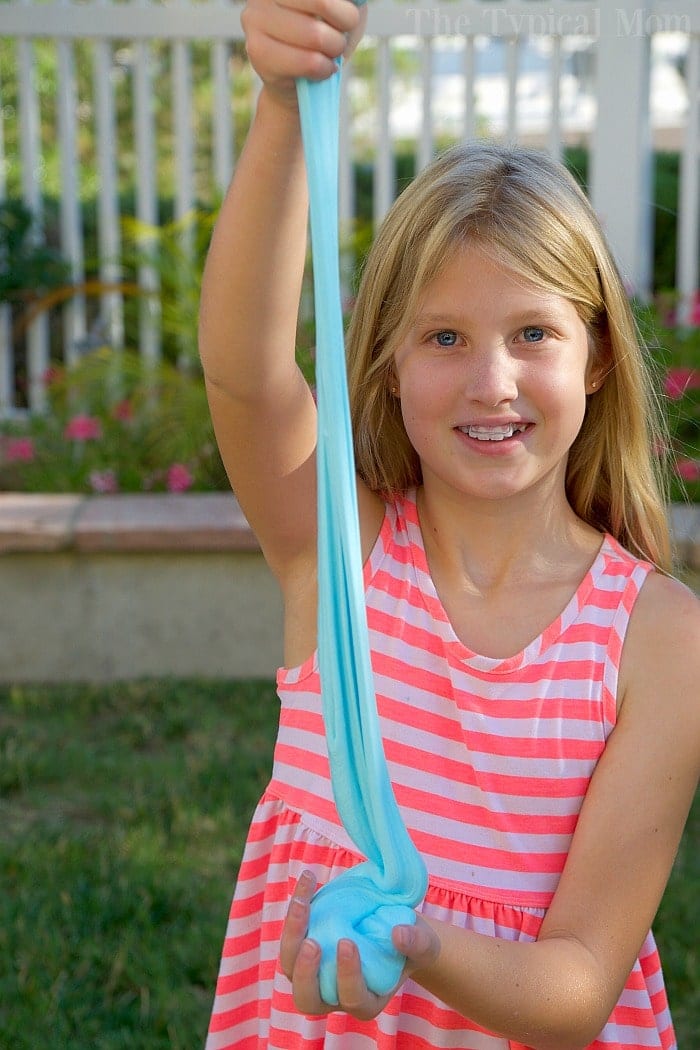 Yes my kids are obsessed with making slime and they've made many times, textures, colors, and are here to show you how to make fluffy slime. It is a very easy recipe to follow and create something fun that is safe for kids. We have many more listed on the best way to make slime page on our site too!
This summer my kids were crazy about trying this with that and made a few really popular slime recipes that we shared with you earlier that many have had a lot of fun with.
Now that the school year has begun they don't have as much time to experiment but The Typical Kids are always up to something creative and love sharing fun projects here with their "virtual friends". 😉
Make sure safety precautions are taken when any experimentation is done with children, read our safety disclaimer here. (affiliate links present)
Our popular slime recipes on The Typical Mom are: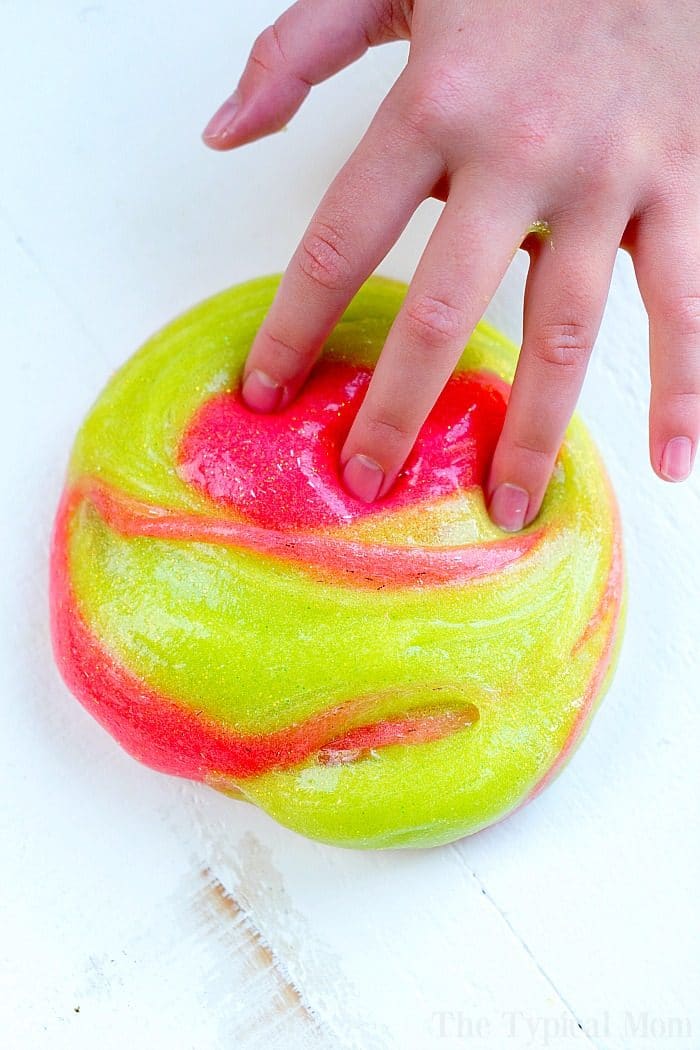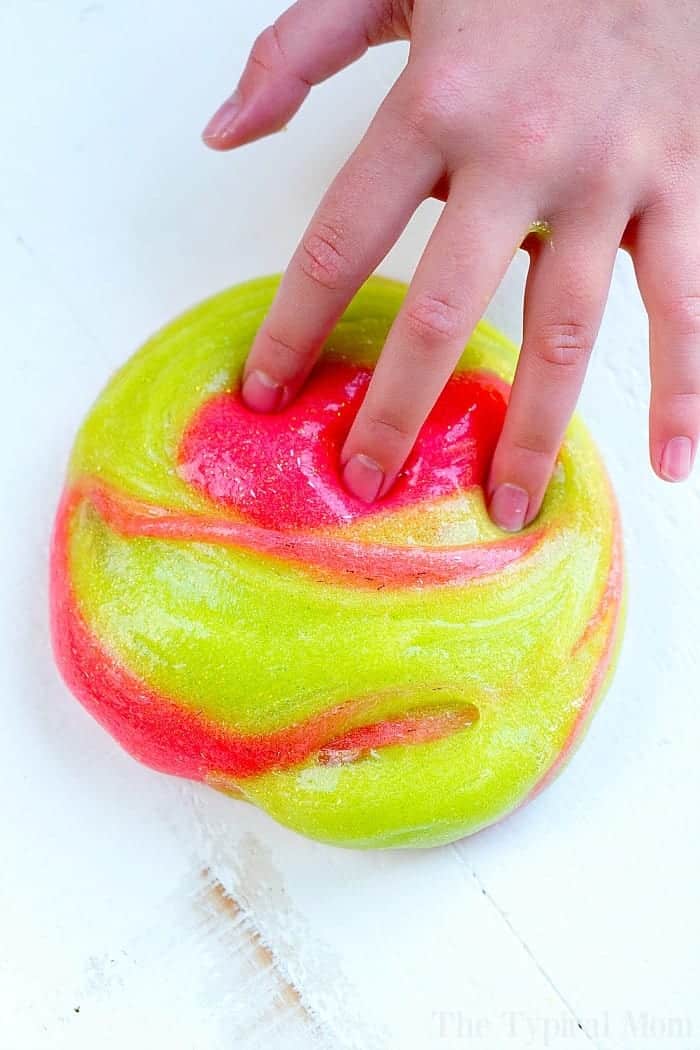 *Now* – How to make fluffy slime!
Here is what you will need for this easy fluffy slime recipe:
Food coloring (optional, white is just as fun)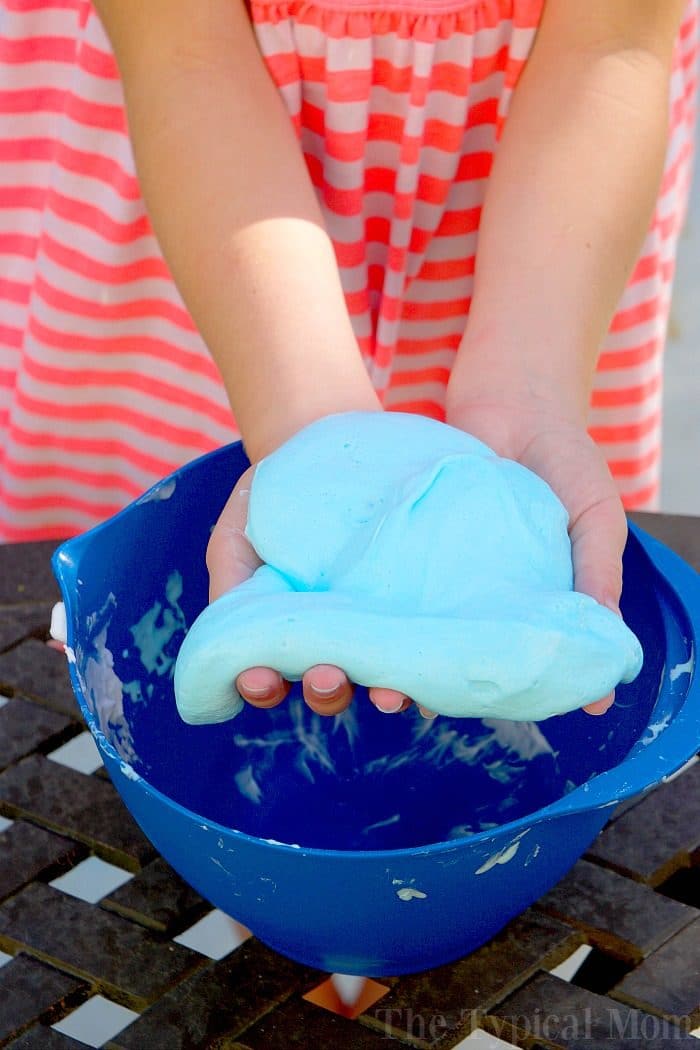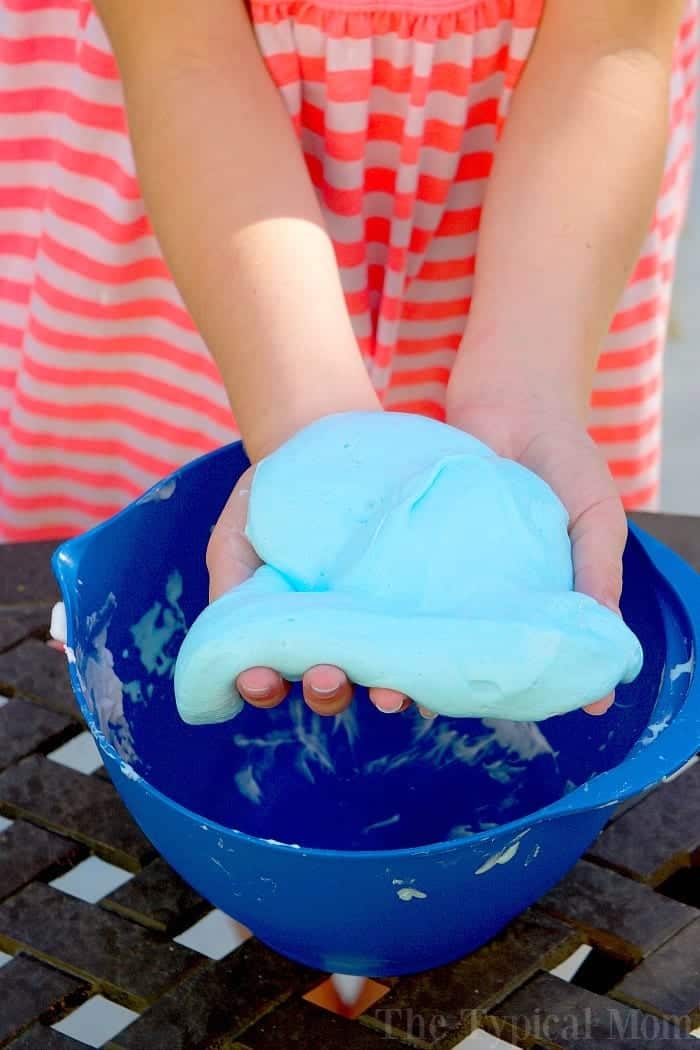 Keep this in mind….this is NOT an exact science and that is OK because creating slime is almost more fun than playing with it for kids. These basic instructions will guide you and them on how to make fluffy slime easily so it turns out looking similar to what she has created here. You do not need to add food coloring and if you don't it will just be white.
If your kids are little I would suggest not bothering with the food coloring because in the process it does slightly stain their hands and of course if they get it on their clothing there is really no great way to get that out.
Here are the basic instructions on how to make fluffy slime easily, play around with the amounts until you get the consistency you want! 😉
Empty your bottle of glue into a bowl (using a disposable bowl is great if you have one)
Spray a little more shaving cream than you have glue into your bowl (about 6 oz. of it)
Mix together well
Add 1 tbsp of contact solution (we don't measure we just squeeze from the bottle) in at a time stirring in between until you get the desired fluffy slime consistency you want.
Contact solution will help bind it so keep adding a bit at a time until you can pick it up and play with it easily. That is how to make easy fluffy slime.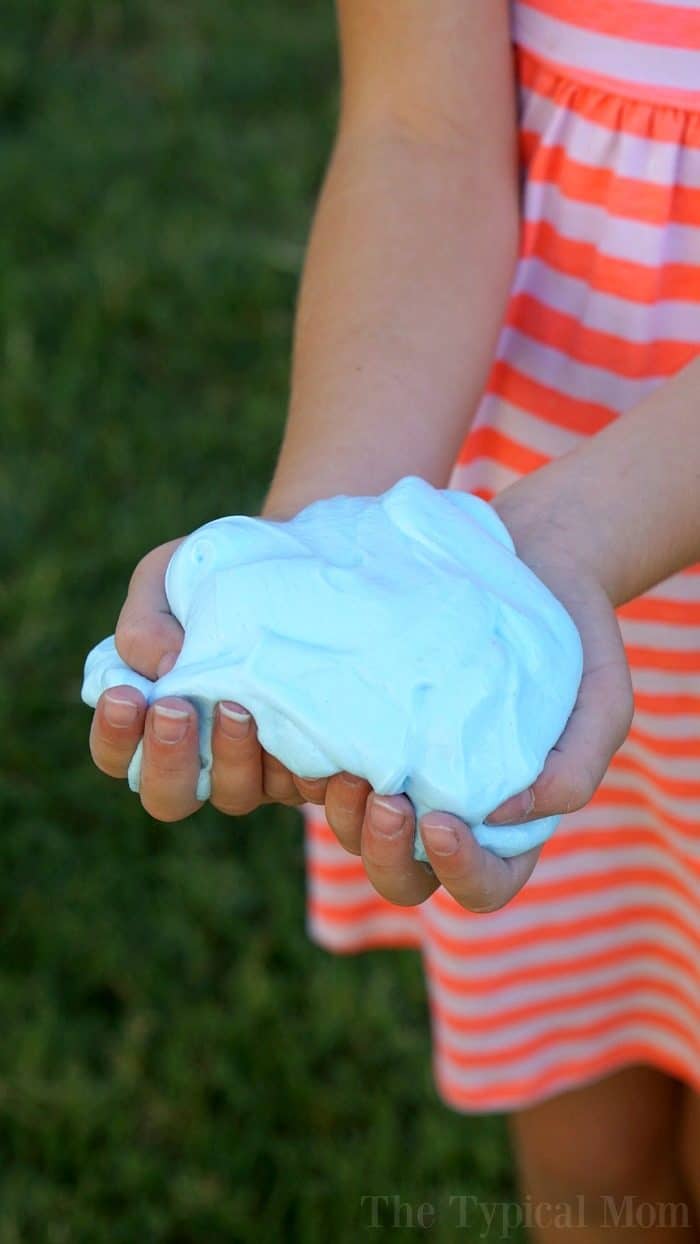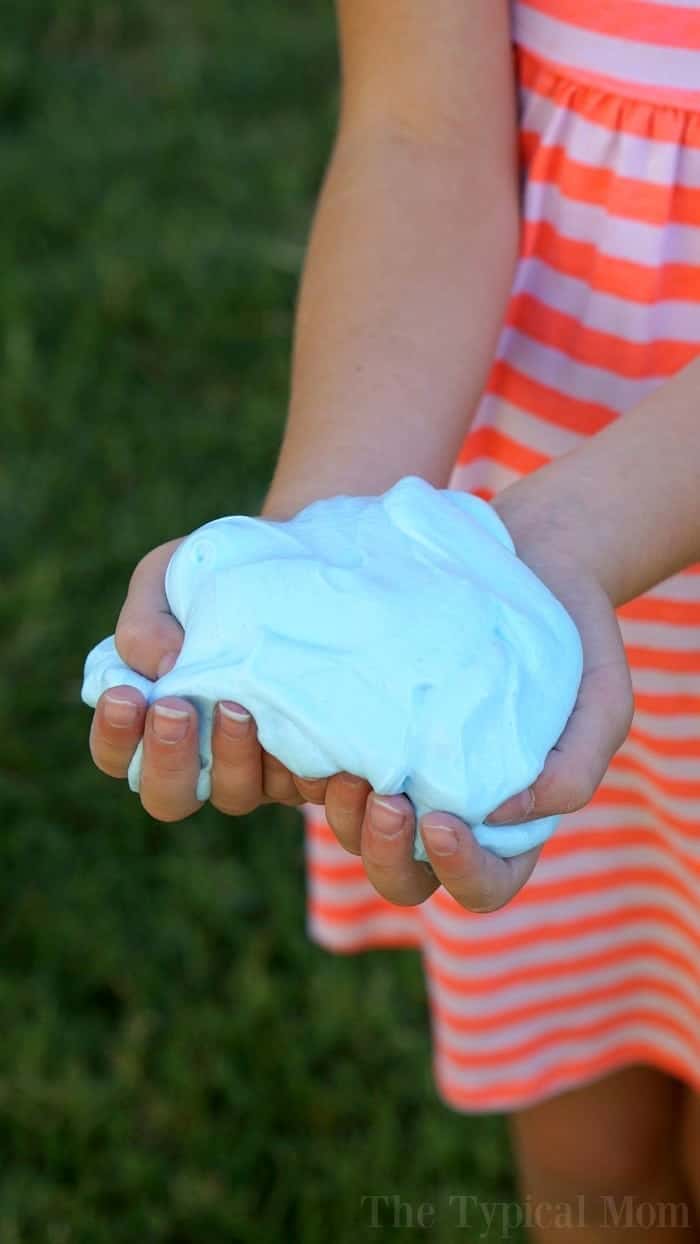 I will say that I have felt all the different types of slime they have made and this one really does feel good. Put out a flat cutting board and let them smoosh it and break it apart. Mash it and pull pull it all they want. It makes for an inexpensive and fun afternoon.
Once you've made this one check out our other slime recipes above and try one of those too. Many do not contain borax and one is even edible too!
Do you have a slime recipe your kids love and make often that is different from ours….we'd love to hear and see what it is!!