Here's an easy slime without borax recipe so your kids can make foam bead slime at home with just baking soda, glue and contact lens solution!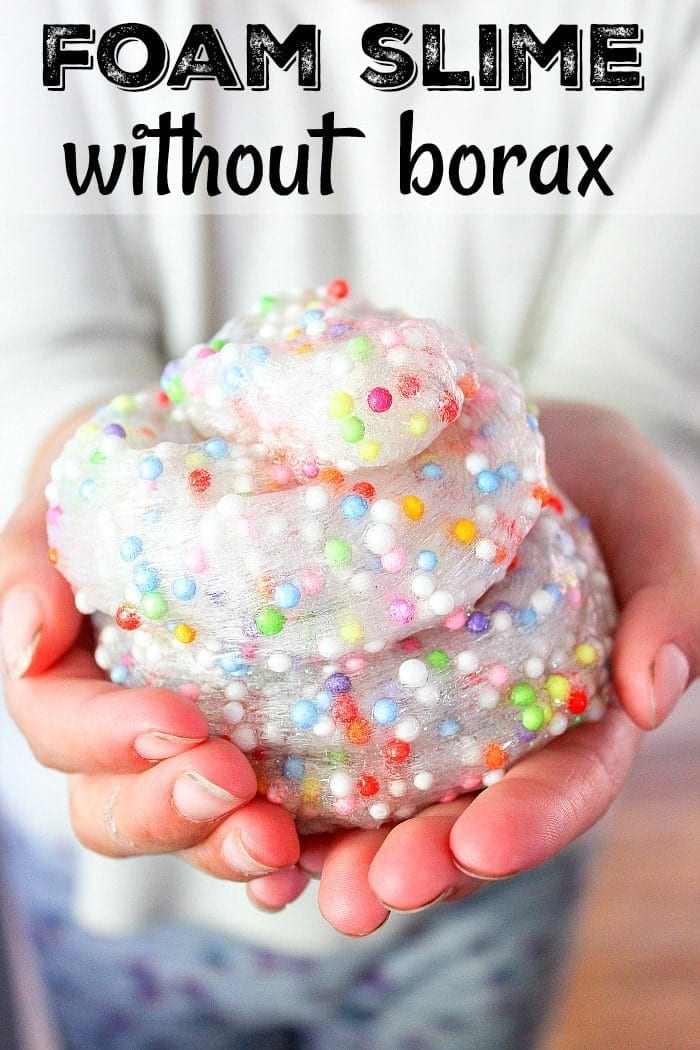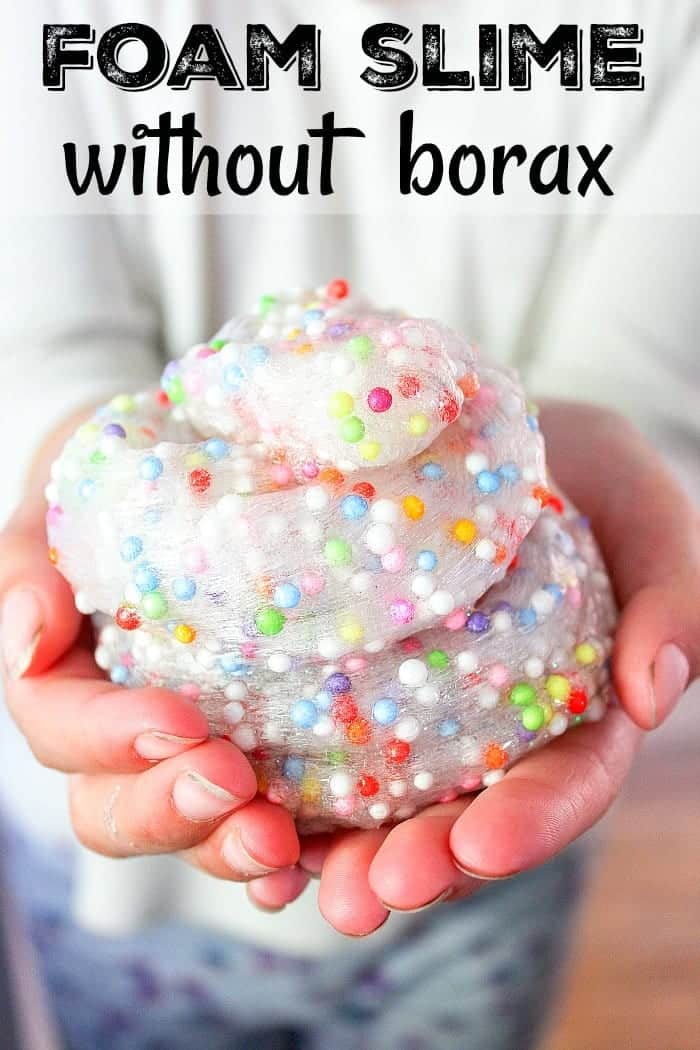 Looking for an easy slime without borax recipe for kids??!! Here it is! Using floam beads to make it colorful you can even add food coloring to make it brilliant. Of all the slime recipes we've created, this was the easiest. (originally published 10/19, affiliate links present)
No Borax Slime
My girls have done it all! They started making liquid laundry detergent slime but that does stick to your hands a bit. Technically it does have borax in it with the detergent so they tried this with clear and white glue.
You can add drops of food coloring to make it any desired color. Creating slime is one of my girls' favorite crafts to do. Here's how it is done.
How do you make slime without borax?
We will show you how to do this several different ways here. Using other ingredients that aren't as toxic such as saline solution or contact lens solution can still work. The purpose of borax in slime is to stiffen it up which can be done other ways. Foam soap even works!
Why not use borax in slime?
Obviously this is a chemical which should never be consumed. Slime is usually played with by children who even if they don't eat it may be very sensitive and even touching it may irritate their skin. If you need an alternative to borax in slime we have a few other ways to make it here.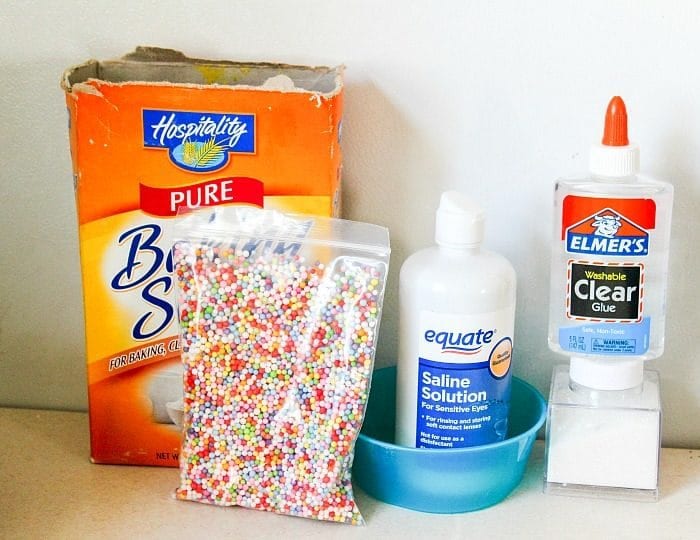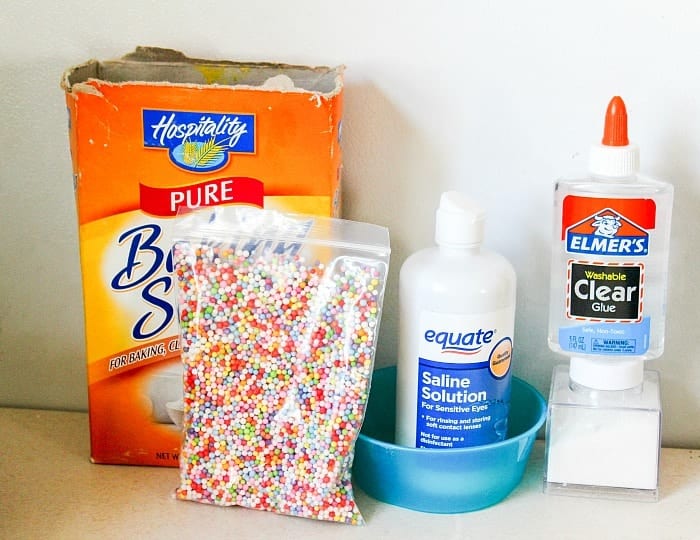 Slime with no Borax
1 air tight container

1 5 oz bottle of clear glue – or buy a larger clear glue container for less

½ cup water

½ tsp baking soda

1 tbsp contact saline solution – I usually buy this one
Foam Beads (There are so many different colors and sizes! We used a multi color small foam bead)

Clear fine glitter

Slime container to keep it fresh longer when stored

Or you can buy a slime starter kit with everything to make 2 batches of this and just add foam beads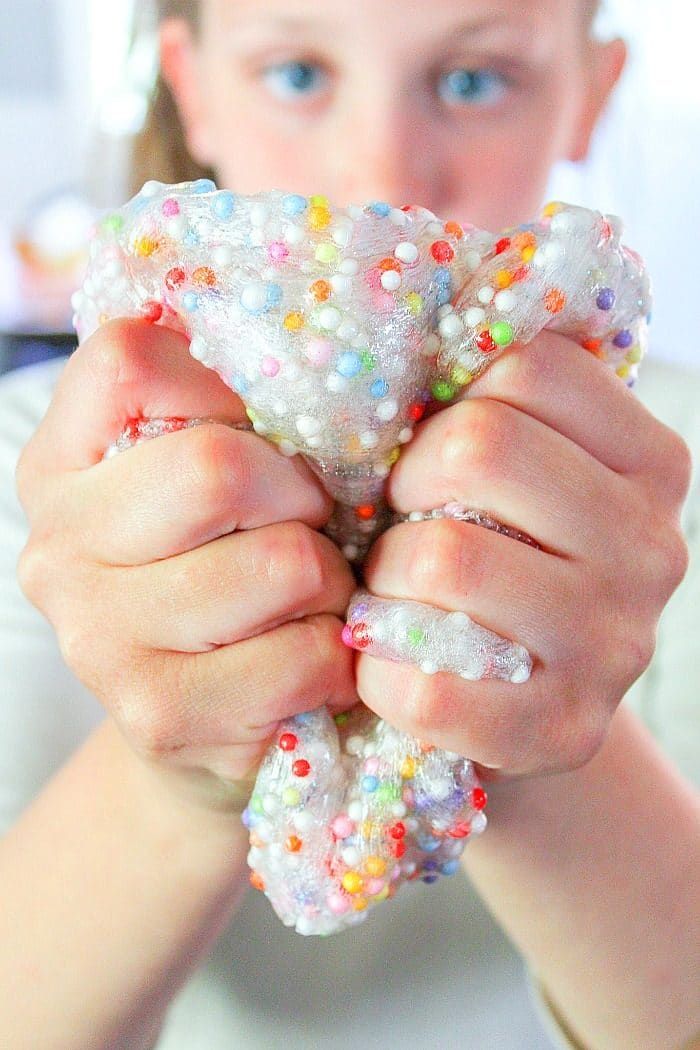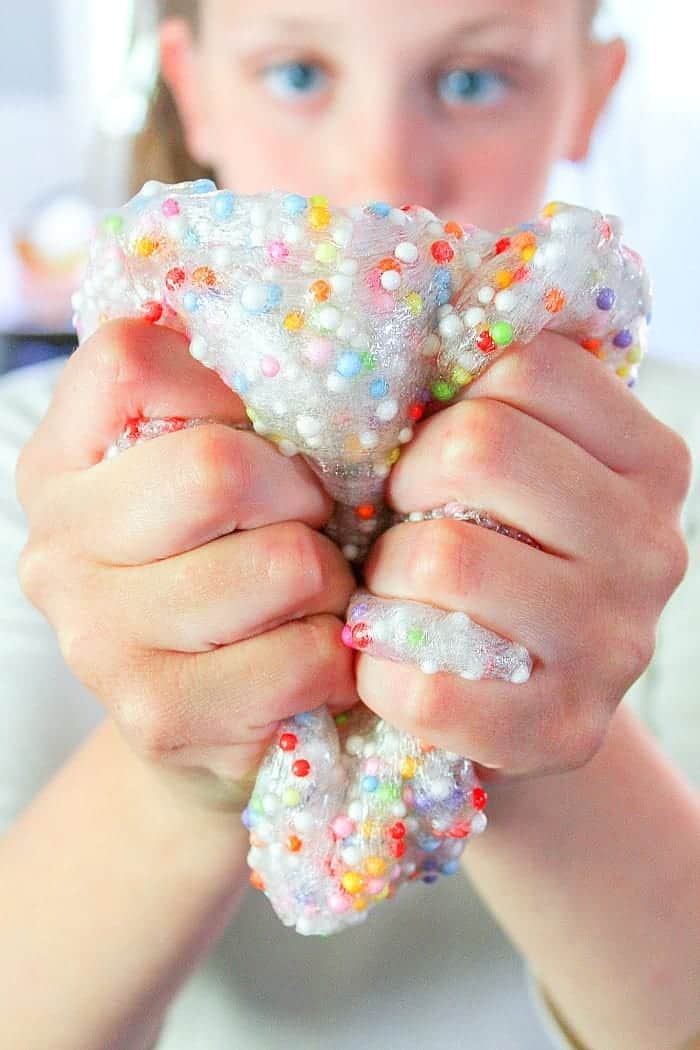 Homemade Slime
As with any other slime recipe please read our safety disclosure before attempting any of them and parental supervision is always required. It is a rather safe science experiment of sorts but it still shouldn't be consumed as it would make you sick since it is not meant to be eaten.
In a bowl, pour the entire 5 oz bottle of clear glue.

Add in ½ cup of water

and

½ tsp baking soda and stir.

Next, add in glitter. If you want a super clear slime, omit the glitter!

Squeeze in 1 tbsp contact solution. It will instantly begin to form.

Pour in foam beads. You can always add more later!

It will be STICKY! Don't panic! Mix the solution in the bowl until it starts to form.

If it's still sticky add more kneading until it is perfect.

Continue to add the foam beads and play with slime until you get a look that you are going for.

Store in an airtight container.
Like I said, there is no liquid starch necessary to make slime without borax. We do have a few others you can make on a fun weekend too though. If you're throwing a slime birthday party you'll need a few other options too: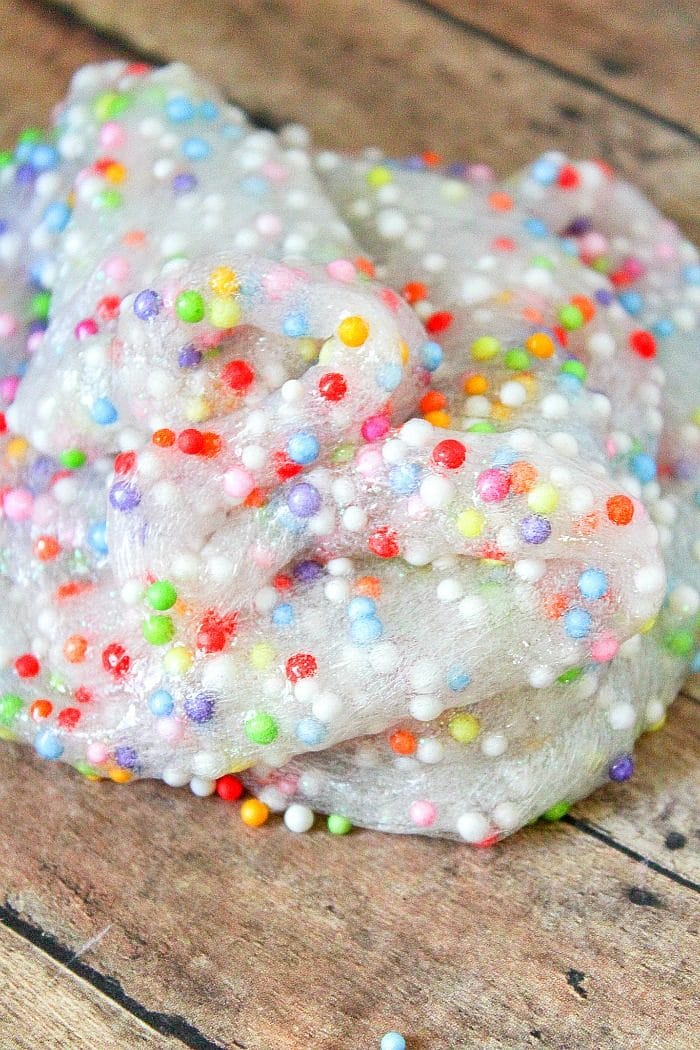 Alternatives to Borax to Make Slime
If you're looking for alternatives to borax to make slime, there are several options available. Here are a few common substitutes:
Liquid starch, also known as liquid laundry starch or liquid starch alternative, is a popular alternative to borax. It acts as a slime activator and helps bind the ingredients together. Simply add liquid starch gradually to your slime mixture until you achieve the desired consistency.
Contact lens solution that contains boric acid can be used as a substitute for borax. Look for a solution that contains both boric acid and sodium borate in the ingredients list. Add the contact lens solution gradually while mixing your slime ingredients until you achieve the desired texture.
Saline solution, typically used for cleaning and moisturizing contact lenses, can also be used to make slime. Look for a saline solution that contains both sodium borate and boric acid. Add the saline solution gradually to your slime mixture while stirring until it reaches the desired consistency.
Certain liquid laundry detergents can be used as a slime activator. Look for a detergent that contains borax or sodium borate as one of its ingredients. Add the liquid detergent gradually to your slime mixture while stirring until the slime forms.
Remember to start with small amounts of the substitute and gradually add more until you achieve the desired slime consistency. It's also essential to read the labels of the alternative products to ensure they contain the necessary ingredients for slime-making.
Clear Slime without Borax
If you do want to see hidden items within the creation it is best to use clear glue as the base instead of white. You can then;
Here are the ingredients to make playdough too. Perfect for little hands.
What Can You Add into Slime
When making slime, you can add various items to enhance its texture, appearance, or sensory experience. Here are some common items you can incorporate into your slime:
Add some sparkle and shine to your slime by mixing in fine glitter or chunky glitter. It comes in a variety of colors and sizes, allowing you to customize the look of your slime.
Foam Beads: These small polystyrene beads add a crunchy texture and make your slime more tactile. They come in different colors and can create a fun sensory experience.
Sequins: For a touch of glamour, add sequins to your slime. These small, shiny decorations are available in various shapes and colors.
Food Coloring: Give your slime vibrant hues by adding a few drops of food coloring. Mix it in gradually until you achieve the desired color.
Scented Oils or Extracts: Infuse your slime with pleasant aromas by adding scented oils or extracts. Popular choices include lavender, peppermint, vanilla, or fruit-scented options.
Beads: Incorporate small plastic beads or beads of different shapes and sizes to create a visually interesting slime. You can find them in craft stores or the jewelry-making section.
Add small charms or miniatures, such as animals, fruits, or flowers, to your slime for a cute and playful touch.
Want to see a few of my favorite things that I am totally obsessed with?? Take a peek and see how many you might already have…twinsies!
Looking for more easy family recipes and tips? LIKE The Typical Mom Facebook page?
Then sign up for my free newsletter, and follow me on Pinterest! 😉
***** If you LOVED this recipe give it 5 Stars below and let everyone know what you thought about it. 😉