It's time for Christmas Slime everyone! This easy Elmers glitter glue slime is fun to make with a few safe ingredients and fun for everyone year round. You've got to try this great borax free slime.
If you're looking for an easy Christmas slime recipe we have one that requires no messy glitter or food coloring, it already has it inside so it's nice and shiny with sparkles and the right colors for December. We have the best way to make slime for the holidays here! (originally published 8/18, affiliate links present)
Christmas Slime Recipes
Yes my daughter is a bit obsessed and makes slime every chance she gets.
Here are a few recipes for kids with, 2 Christmas themed slimes!
She reviews and shares the best slime kits too, these are #1 for 2019.
I know it is the experimentation process that excites her, though she does have fun playing with it once it's done too.
Watch a Video HERE to see how easy slime is to make.
She began with this laundry detergent slime recipe that quickly became very popular so away she want to create many other versions. Homemade slime is easier and cheaper to make than you might think.
Glitter Slime with glue
If you're just looking for glitter green slime you could just stop right there and not add the red but we will go over all of it and you can make the perfect slime for you.
This one is perfect if you're throwing a slime birthday party too during Christmas time. You do not need paints or messy glitter. She used glue that had all the color and sparkles inside it already. That means less mess for sure
If you want it really glittery with added cuteness you could add other things like snowflake confetti. The basic ingredients for slime are used to make this though and you can add whatever from there.
Change colors and create candy cane holiday slime too. That would be super fun if your kids love slime.
Before we begin we always remind everyone that parental supervision is required for all slime recipes and to please read our safety disclosure before starting the experimentation process with your kids.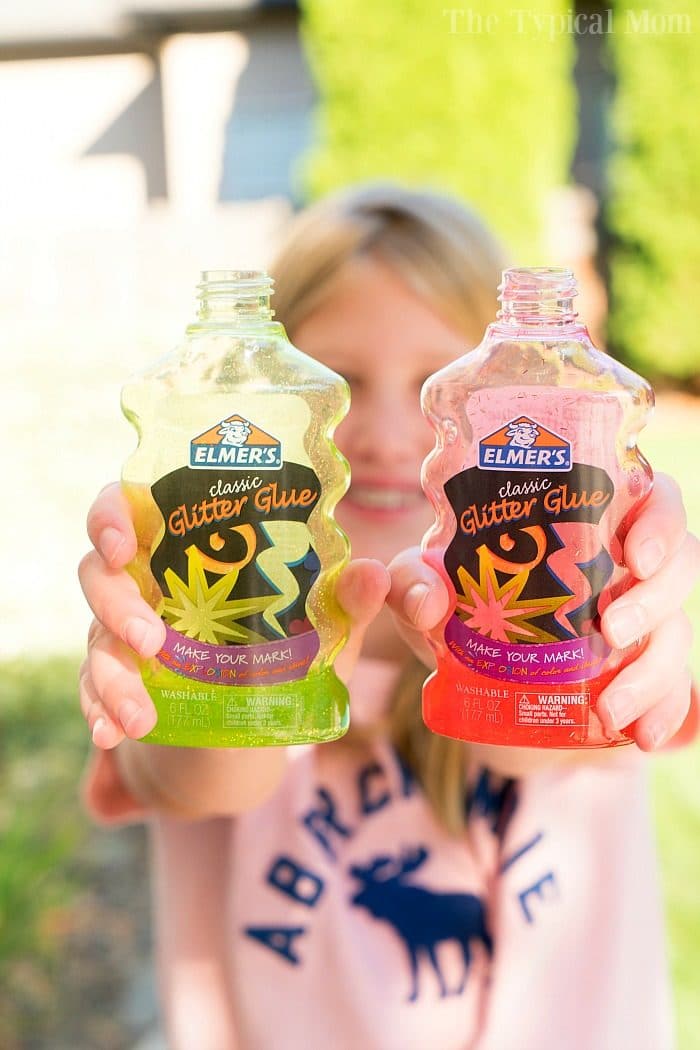 Christmas Slime No Borax
Green and Red glitter glue (sometimes this 3 pack with blue as well is the cheapest way to go) – easiest way is to use Elmers glitter glue slime item so you have fewer things to buy overall since colors and glitter are already inside
Baking Soda – I like this one with a lid, no messy box to contend with
Plastic jars with lids
That is it!! This is a safe no borax slime for kids. It is brilliantly colored and takes just 3 ingredients to make each color.
When I asked her to write down the exact measurements, she said "there are no exact measurements for Christmas slime because everyone likes it a different consistency".
She gave me where to start from though. You can have your child add a bit more contact solution, mix, and decide for themselves if they want it firmer. If they want it firmer they just add more contact solution 1/2 tsp. at a time (she just squirts a bit) until it is perfect for them.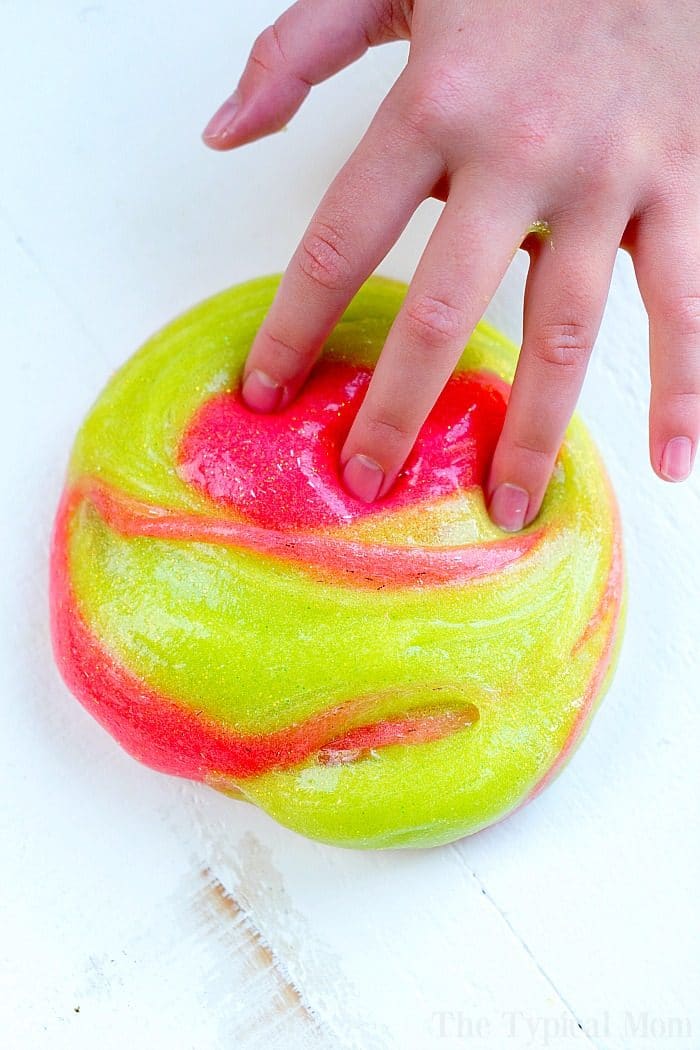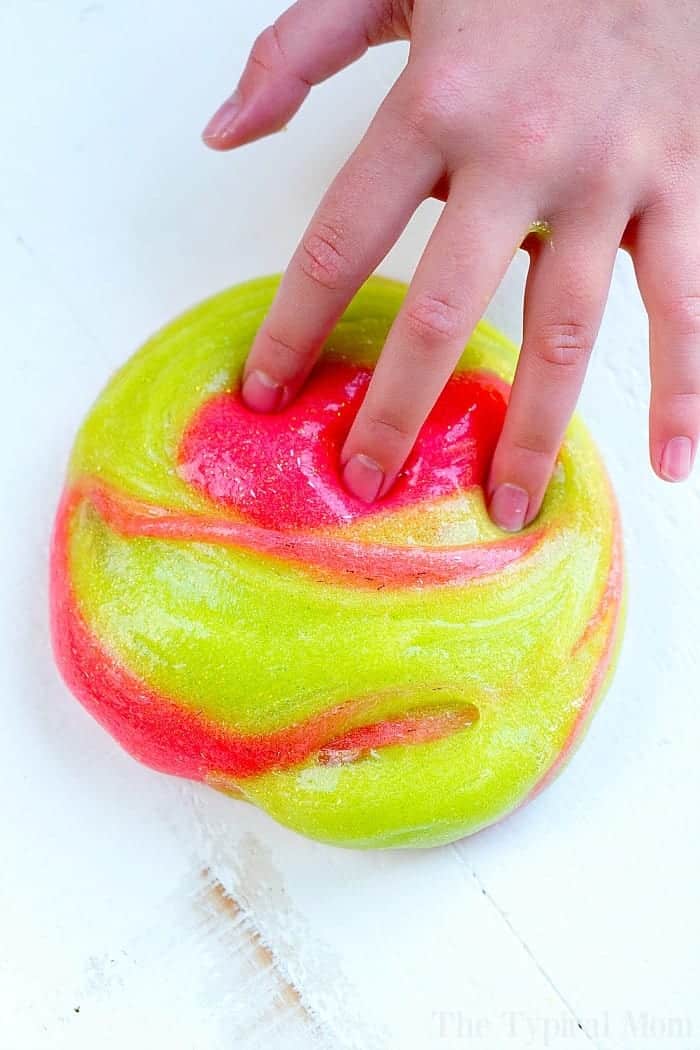 How to Make Christmas Slime
Measurements are approximates as she doesn't use a measuring spoon but did her best to do so to make this batch so we could share it with you. Typically with the firming solution she just squirts a bit, kneads, and adjusts as need be. Here is where to start.
Time needed: 10 minutes
No Borax Christmas Slime
Pour

Empty one container of red or blue glitter glue into a bowl. We use paper bowls so we can throw them away.

Add ingredients

Add 1/4 tsp of baking soda and start with 1 tsp of contact solution, stir using a total of 3-4 tsp total. With mixing it will begin to firm up. If it is sticky add 1 tsp or so of contact solution at a time. Do so until it is the perfect consistency.

Knead

Once it is firm enough to pick up, have them knead it in their hands until it feels right.
(She said for each bottle of glue she used about 4 tsp of contact saline solution. Like I said she just squirts it out a bit at a time and doesn't use exact measurements though.)
The fun is in the experimentation!
When it is done it should look similar to the photos above. They can keep the red and green slime separate or mix them. Don't mix a lot or it will become light brownish in color. There is no liquid starch in it so it's safer than other activity ideas out there.
To make this Santa slime you will need:
8 ounce plastic jars with lids
6 ounce bottle Elmer's glue in red glitter
1/4 cup warm water
1/2 teaspoon baking soda
1 1/2 tbsp. contact lens solution
If you want to make the santa jar to look like this you'll need:
Red felt
Silver slide buckle
Black ribbon
White 1″ pom poms
Glue stick or hot glue gun works best
Santa Slime
Now first you'll want to empty the glue into a bowl Then fill the empty glue bottle 1/3 full with warm water. This will be about 1/4 measuring cup full. Seal the lid and shake well to combine remaining glue with water. Pour this into your bowl with glue and stir.
Add the baking soda into the bowl too and mix.
Put contact lens solution in too and stir.
Remove Christmas slime from bowl and allow any excess liquid to remain in bowl. It will be sticky. Knead and play with it so it forms into a soft ball. To stiffen add a bit more contact lens solution.
Store in airtight container.
Hope you love our easy crafting idea for this time of year. We love kids crafts of all kinds.
Want to see a few of my favorite things that I am totally obsessed with?? Take a peek and see how many you might already have…twinsies!
Looking for more easy family recipes and tips? LIKE The Typical Mom Facebook page?
Then sign up for my free newsletter, and follow me on Pinterest! 😉
***** If you LOVED this recipe give it 5 Stars below and let everyone know what you thought about it. 😉