How we made a DIY fire pit + 2 fire pit benches for just $100 dollars. Plus other do it yourself cheap fire pit ideas your family can make and enjoy in your backyard.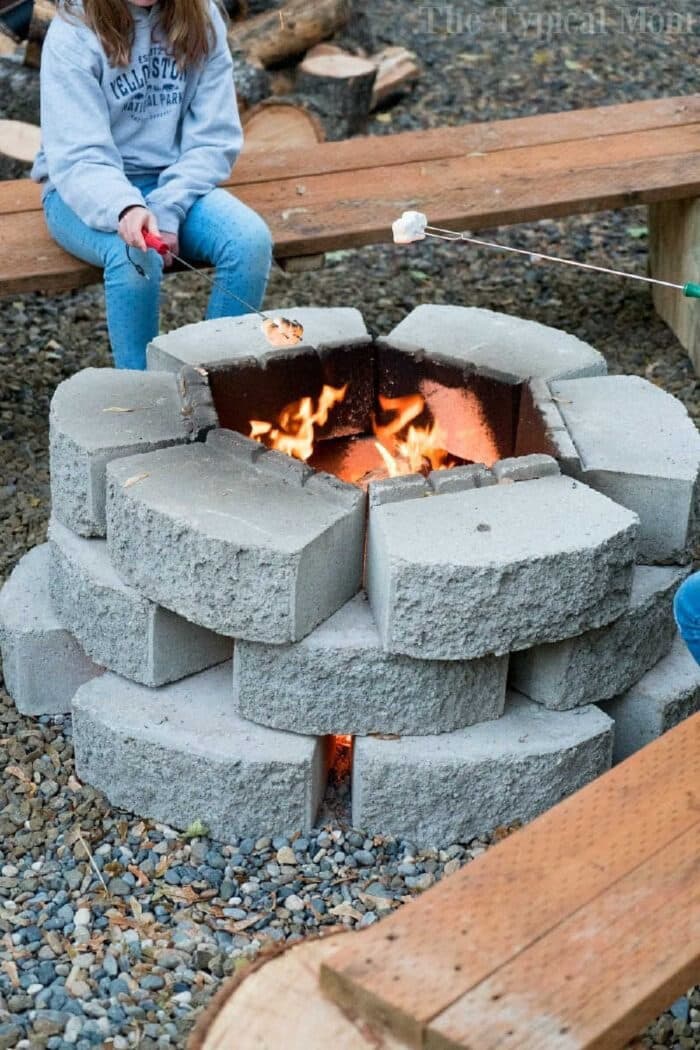 Looking for cool but cheap fire pit ideas for your backyard, well we will show you how we made ours. Plus a diy wood bench with repurposed wood and items from the local hardware store for under $100! I am all about repurposing and using what you already have, then going out and finding what you absolutely need for less. Let us share our latest do it yourself backyard project with you. (originally published 10/18, affiliate links present)
DIY Fire pit Under $100
Like I said, always use what you have first to make this stone fire pit. That is where this whole project began……..
We moved into our new home this year and there was an above ground jacuzzi that didn't work very well. When it finally died my husband and his friend got rid of it but at the bottom there was this frame holding it up made of heavy duty wood. I knew we could use that for something so he took it apart and put it aside until he mentioned he always wanted a firepit in the backyard, BAM….we had it's new purpose.
Simple Backyard Fire Pit
Wood = benches to me so we went that direction…..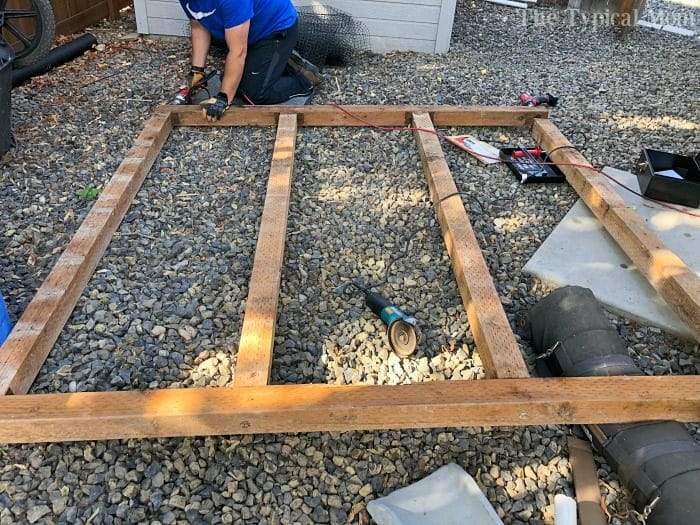 What is the cheapest way to make a fire pit?
Use what you have on hand. If you have old bricks laying around, use those. Cinderblocks on the side yard collecting dust, then that should be your focus. You just need an area with rocks on the bottom that is away from any structures where you can build a ring with sides about 2′ high or more.
If you have a clearing you could also just dig a large hole in the ground and use that, though that isn't quite as safe and may be a tripping hazard when the fire is out.
Outdoor Fire pit Ideas
This was our spot for building a fire pit. The wood to the left you can see had been taken apart and was waiting to be repurposed.
If you're looking for cheap fire pit ideas like this ours I would look for somewhere in your backyard to put it first:
We had the wood we needed for a diy fire pit bench but we needed something to hold those up. Since we live in Idaho we always go for what can be found in nature and tree stumps it was!
We had gotten rid of a few dead trees in our yard and have family with land so that was our go to since those would be free and easy to come by but you could use 4×4 pieces of wood for the benches legs too.
Fire Pit Benches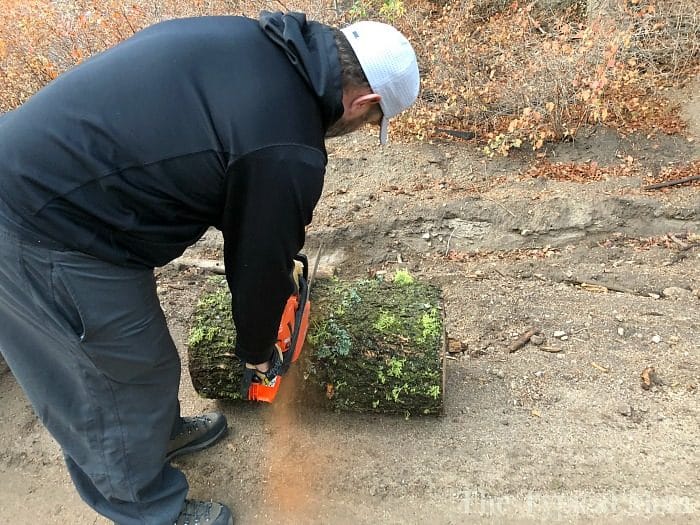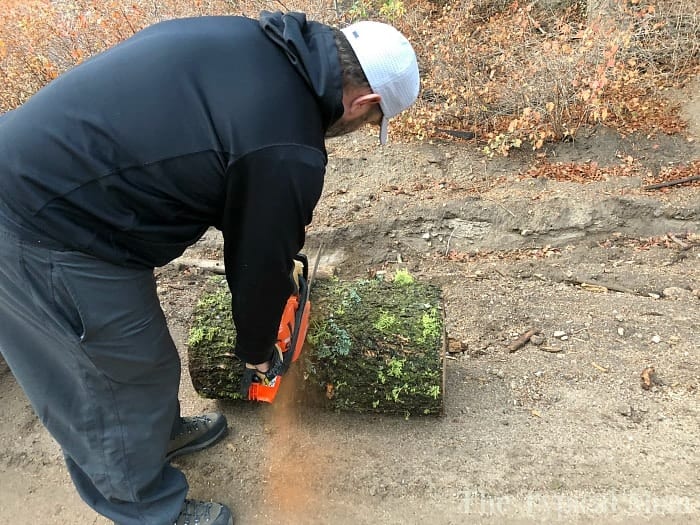 Simple Wood Bench
Long screws held the 2×4 pieces of wood on to our tree stumps to secure them into place. As you can see the area we chose already had a lot of rock but we wanted a bit more to cover the area since there were patches of just dirt and that tends to get tracked into the house so rock was my preference.
Now you need to decide whether you want to build you own firepit or buy a portable one online. You can find one online for about the same price as buying all the bricks necessary for making your own but we really thought it would last longer if it were made of concrete or bricks so we went that route. I also liked the more rustic/natural look of using bricks and/or concrete blocks.
How to build your own backyard fire pit
Of course if you do not want to build your own easy diy bench and brick fire pit, here are other firepit ideas. You can purchase some of these that are cheap:
If you choose to go with our cheap fire pit idea you need enough for 3 levels. That seemed high enough for the logs to stay inside the pit and provide a bit of distance from the flame when you sat on the benches beside it.
You can see how you could create the same thing with square bricks. It would just be well….square instead of roundish like this. Either way it is a really cheap way to make a backyard firepit.
Benches were free for us to make. If you don't have these resources then lawn chairs work just as good. Or keep your eyes open when you visit secondhand shops for outdoor chairs etc…
You can see the photo at the top of this post showing it in action with our kids roasting s'mores. It was a fun DIY home improvement project that our family will surely enjoy for years to come. Eidn't cost us a lot of money at all to create.
Try it yourself!! Get everyone together to do a big backyard clean up, then decide on a spot. Prep it for your new fire pit area. Then look around for materials you already have and can use to get started.
Looking for other cheap fire pit ideas?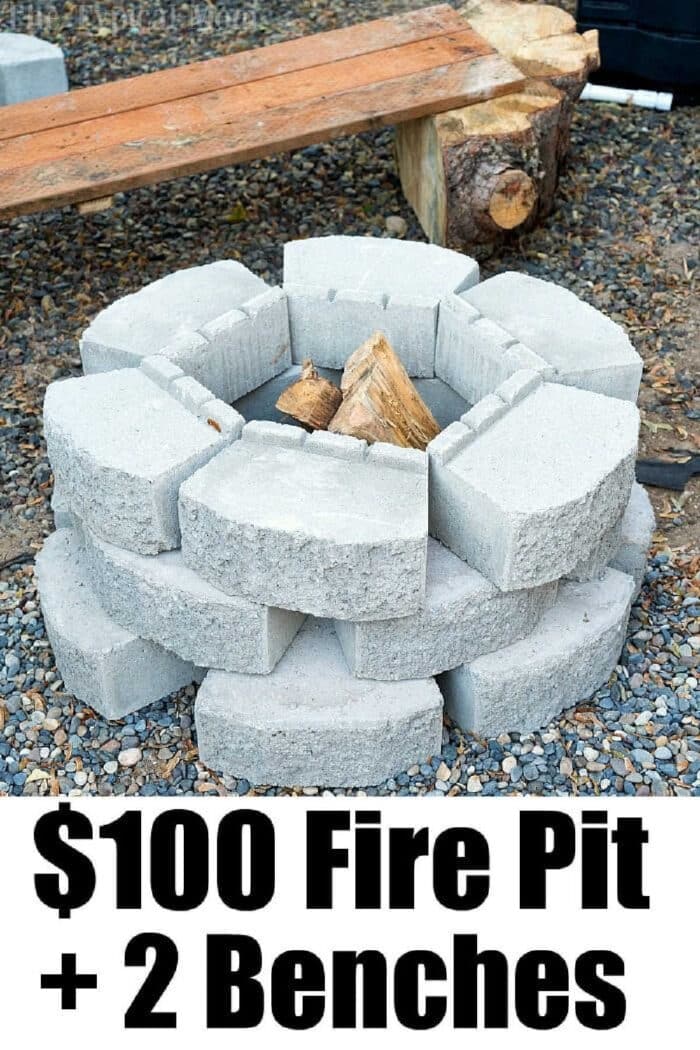 For more easy recipes, tips and free printables please LIKE The Typical Mom on Facebook and follow me on Pinterest! You can also sign up for my free weekly newsletter which is packed with goodies I know you'll love. 😉