How to cook a moist turkey 4 different ways! If you want smoked turkey, baked, roasted, on a sheet pan in an Instant Pot, even a turkey crown. We will share tips for perfection.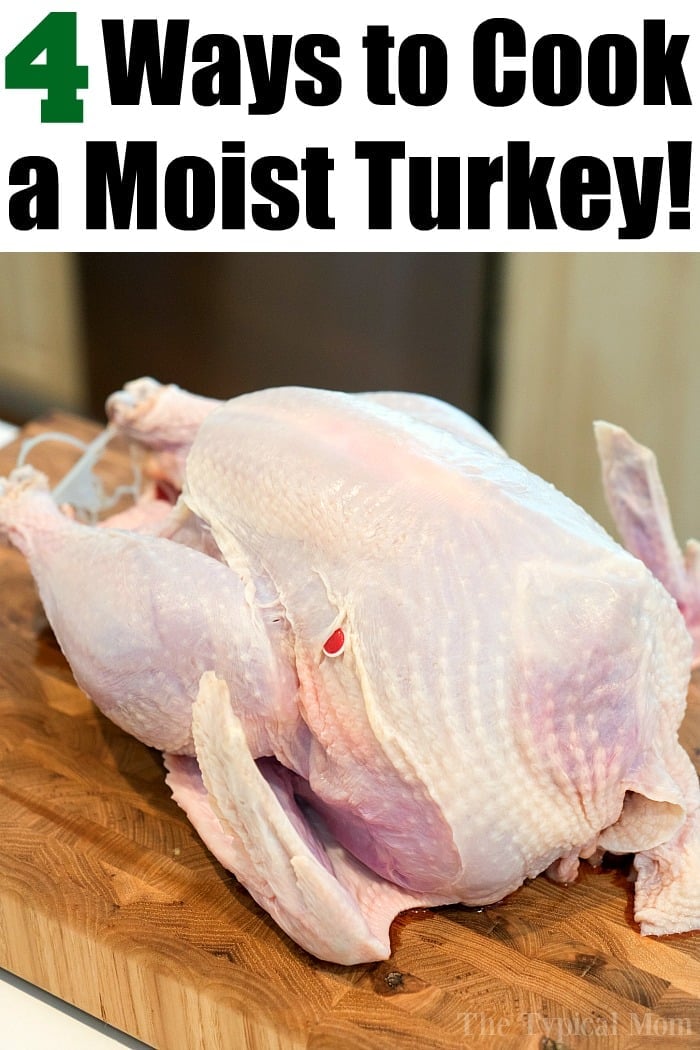 Wondering how to cook a moist turkey, and maybe try a new method this year?? We have FOUR different ways and how to keep the meat moist no matter which one you choose. (10/19 originally published, affiliate links present)
How to Cook a Juicy Turkey
#1 – First of all if you want the most flavorful seasoning on the outside, follow our smoked turkey rub recipe for best results.
Even if you aren't smoking your turkey it is the best!! Baked, roasted, pressure cooked, or any way you make it the seasonings on the outside is where it's at!!
#2 – Remember to completely thaw your turkey before cooking! That takes time, the chart below will help with this.
#3 – Cook with the turkey breast side down on a Turkey DunRite holder! (seen below)

Makes the dark and white meat EXTREMELY moist.

#4 – Baste the turkey inside your roasting pan at least once every few hours.
#5 – The next tip is to NOT over bake your bird! You'll need a meat thermometer for this.
If you're following a recipe that is great, however the size of your turkey will determine the amount of cook time in the oven. To make the perfect turkey you can print this how long to thaw and cook a turkey
printable which will help.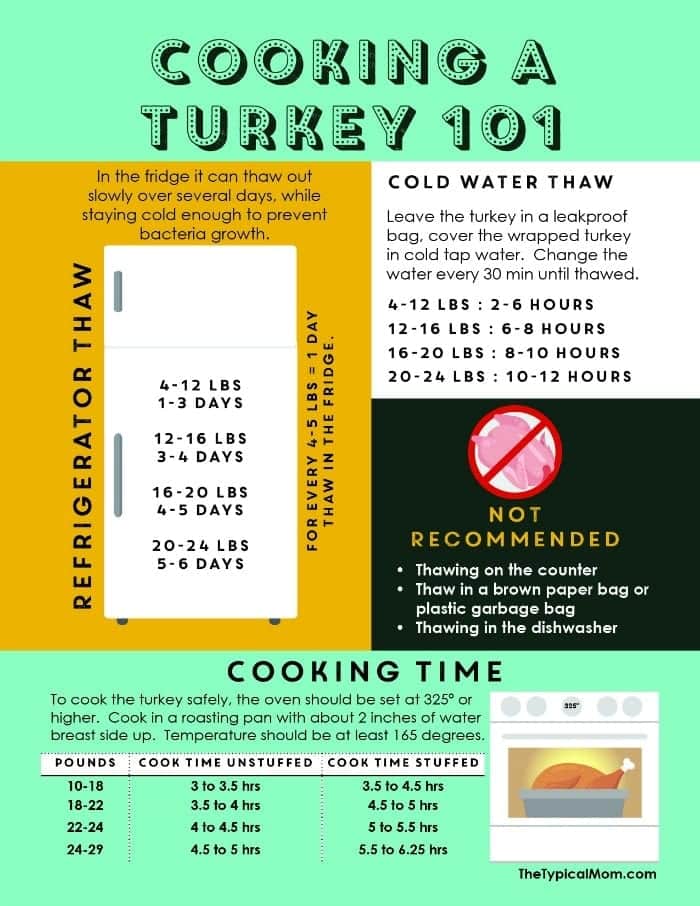 How long do you cook a 10 pound turkey and at what temperature?
This print out will help with that! Now what do you do once it's done?
#6 – When you remove the turkey, make sure it is cooked through!

A whole turkey is safe when cooked to a minimum internal temperature of 165 °F measured with a food thermometer placed in the innermost part of the thigh.
Always take this temperature once it has been removed from the heat source for an accurate read.
Keep in mind that during the resting period the turkey will keep cooking, and the internal temperature will rise by 5 to 10 degrees. Pull it out as soon as the temperature hits 165 degrees.
There's nothing worse than thinking your turkey is done, allowing it to rest, and then once you slice it realizing it's not safe to eat. Bad. News.
#7 – Get your skin crispy
How do you get turkey skin crispy?
Added fat will help the skin crisp while it cooks so rub room temperature or melted butter poured all over the skin will work.
Then season it liberally if you haven't already.

If you have you could add a bit more salt and pepper now.

Cook at 425 degrees for 20 – 30 minutes. Rotate the pan and baste it again, then decrease the heat to 350 degrees for the remainder of the time until the top of the turkey is as crispy as you'd like.
OR you can add separate pieces in your air fryer like we did with our turkey thighs recipe.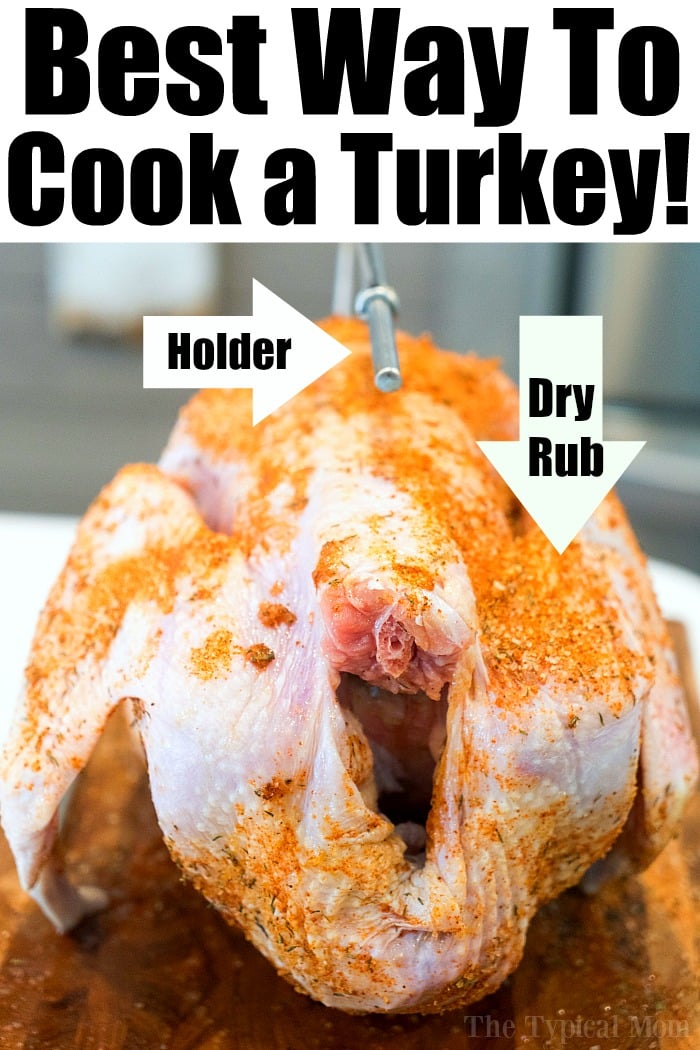 #8 – Allow your Thanksgiving turkey to rest.

This is probably once of the most important ways of how to cook a moist turkey.
Slicing a turkey immediately will release the juices, and not in a good way. You want all that goodness to stay inside the bird and in each piece you eat.
How long does turkey need to rest?
A minimum of 20 minutes is suggested, we usually do 30.
Of course the amount of resting time depends on the size of the bird, but at least 20 minutes is needed to cook a juicy turkey
Can I prep a turkey a day before?
You can mix together your seasonings like you see here and rub it on, then refrigerate it.

This will make your skin more flavorful than putting it on just before you cook it.
Keep in mind it may be too salty for you as it would essentially be a dry brine.

Some do it this way and rinse it off before baking.

Always stuff the turkey just before putting it in the oven.

You can, however make the stuffing the night before, then refrigerate it until you're ready to roast it.
If you're looking for a way to save space in your oven this year, and/or cook it quickly, try our pressure cooker turkey!
Want the most amazing breast meat ever with a serious dry rub you'll be talking about for Thanksgivings to come?? THIS IS IT!!
Seriously, this will be the best smoked turkey recipe you'll ever try! These are the ingredients you'll need to make this winner of a dinner. 😉
First you'll need to make our secret smoked turkey rub recipe so the outside skin is killer!
Then grab a turkey of your choice, ours was 11 pounds
Old Bay seasoning is my favorite ingredient
Olive oil spray
Sea salt
Garlic powder
Cayenne
Paprika
Thyme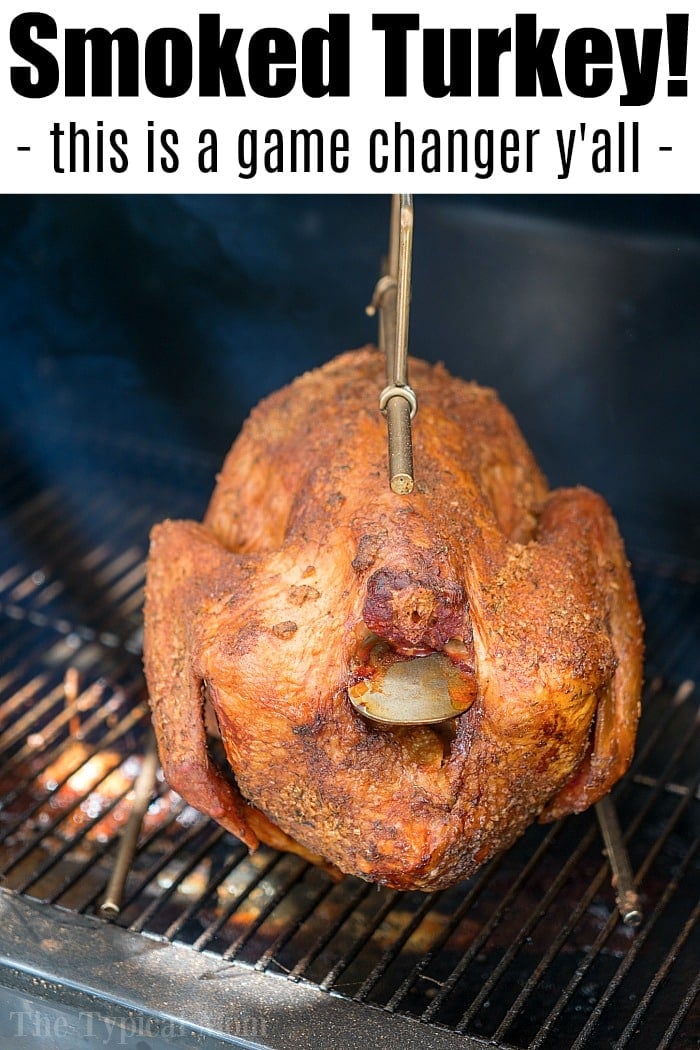 So first choose which method you want to choose, then make sure you follow these tips so it is tender and juicy.
How do I make sure my turkey is moist?
Choose a fresh turkey vs. a frozen one.

almost every grocery store has this option but you may need to ask the butcher about it
many times you order it ahead of time and pick it up when they arrive
keep refrigerated until it's time to prepare it

Using this Turkey DunRite holder is an amazing way to cook a moist turkey

works in the oven
you can throw it on a grill and smoke it like we did above
creates very moist turkey breasts and a prettier bird overall once it is done

Brine a turkey in a salt and water solution so it's moister and adds seasoning overall to the bird.

recipe using this method is below in the recipe card.
Here are a few more tips when cooking a Thanksgiving turkey.
Best way to cook turkey in the oven
Cut the turkey into smaller pieces like you see here with our sheet pan turkey.

need to cook a turkey fast and make sure it's fall off the bone fabulous? This is a great way to do it.
takes just about an hour to cook the entire thing
or you could cook two smaller birds vs a larger 15 pound size

Don't overcook it!!

pay close attention to it no matter which way you decide to cook it
set a timer for the minimum amount of time for that size and check every 15 minutes or so
accurate temperatures are taken when it is removed from the heat source and thermometer is placed in the center of the thigh

Do not carve it right away!

this takes patience and it is worth the wait
give it at least 20 minutes to sit and rest so the juices flow into the center of the bird
this way you'll get moister turkey slices and everyone will enjoy it more
This method is where you are going to use a turkey brine at the beginning and let it soak overnight in your fridge. First you need to make space for it there, and have a large stockpot accessible so it can be submerged into the liquid.
How to Make a Turkey Moist and Not Dry
From there you will need:
Turkey
Kosher salt
Water
Apple
Celery
If there are other items you like to stuff into the cavity, use those as well. Full printable recipe for this type of cooking a turkey is below in the recipe card.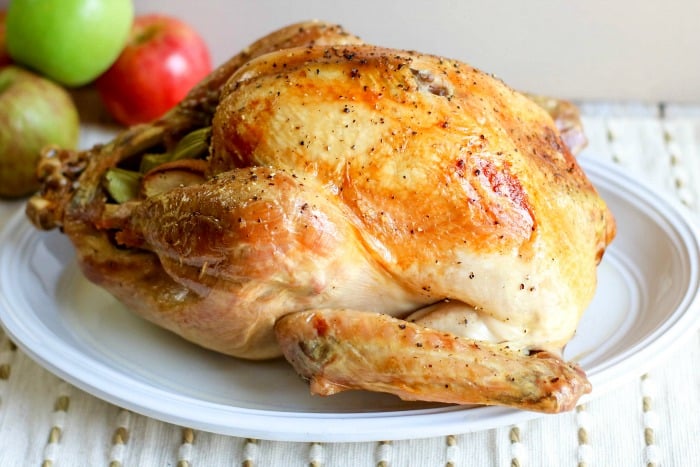 The last method I haven't tried yet would be to cook a crockpot turkey. You would have to choose a rather small bird to do this but I imagine it would turn out incredibly moist. I am definitely a fan of slow cooker recipes so I'm going to try it this way soon and report back.
The only thing I would be hesitant about would be the skin. Of course you could pop it under the broiler once it's done. I would be curious to see just how brown you could get it to be though after sitting in a pot all day. To be determined my friends!
How to get crispy turkey skin
I always dry the bird with paper towels and then season. After that roasting, smoking, baking etc.. would occur and that works great. If your skin is moist it won't crisp as well, that's the key.
You can rub with a baking soda mixture like we do with our crispy chicken wings recipe. Once again, this draws all the moisture out so it can brown nicely and get as crispy as possible.
Air drying the bird for 24 hours accomplishes the same thing.
Last but not least you can air dry and then baste during roasting to get that golden glow.
How do you get a golden brown turkey skin?
Rub a softened stick of butter ALL over the bird. Coating the skin with butter will help to keep the meat moist, add flavor, and ensure the skin turns a perfect golden brown color.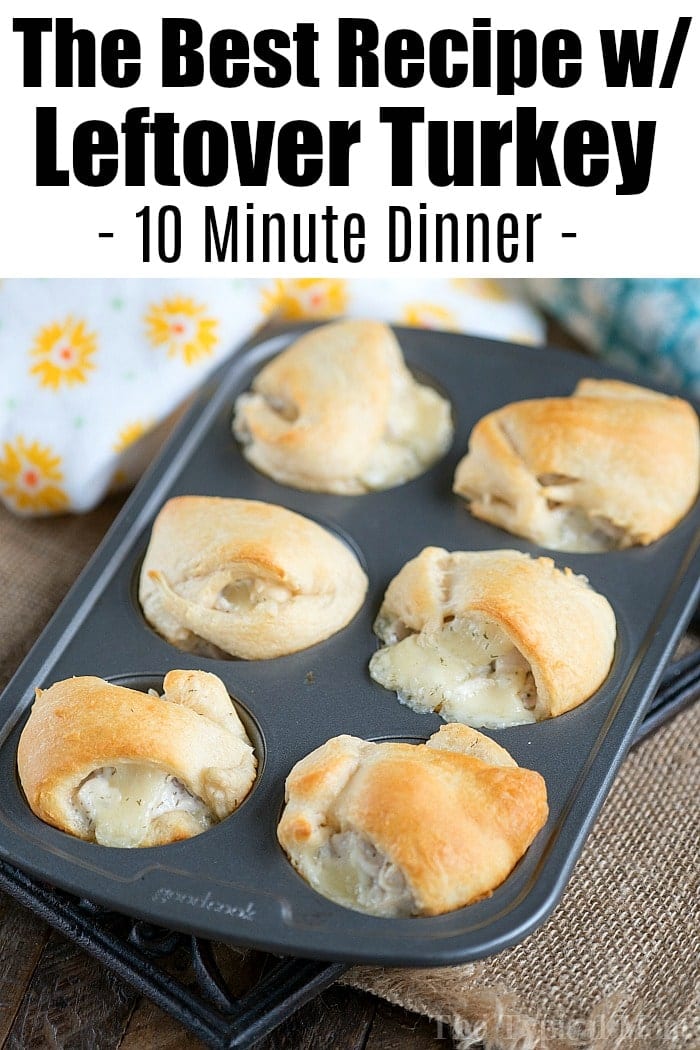 Now for what to do with your leftover turkey meat, and what sides should you serve?
How long is leftover turkey good for in the fridge?
Most leftover turkey can be kept in the fridge safely in an air tight container or freezer bag for 3 -4 days. If you aren't going to eat all of it in that time frame you should freeze it. Do this within 2 hours after it has been cooked. This is usually the time when you're doing clean up so maybe refrigerate half, and freeze the rest.
Remember when storing it to remove all the air out of your storage container. This will prevent freezer burn and keep it fresh longer. Reheat to an internal temperature of 165 degrees F.
How do you keep sliced turkey moist?
Arrange turkey slices and pieces on baking pan with cut edges of breast slices pressed together.
This is going to prevent them from drying out. Cover with plastic wrap. Press it down onto the meat to remove any air pockets. Cover entire pan with lid or aluminum foil. Refrigerate as directed above.
That's what we do with our air fryer turkey breast.
We have a few easy turkey recipes for that too!
We also make Instant Pot turkey soup or turkey pot pie soup are great with what's left.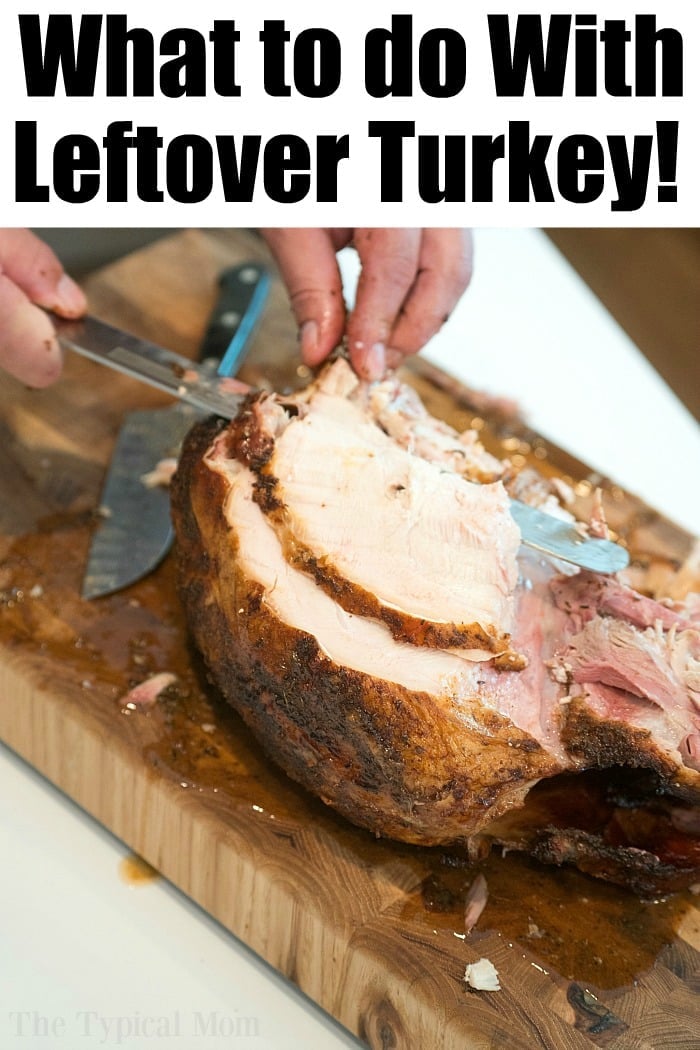 After a few days your meat may begin to dry out in the fridge, so what do you do then?
What can you make with dry turkey breast?
Everyone knows to add some gravy to moisten up a roasted turkey or dried out turkey breast, but chicken stock is really the key to this tip. First, cut the breast into small pieces.
Then dredge them in a pot of warm chicken broth to give it some liquid to soak up. Arrange them on a serving platter and add a little gravy to the top.
Voila, you've revived your dried out turkey! A great hack to make your turkey moist again.
This is a great tip if it is the big day and you overcooked your bird too….eeeeek!
Have a Happy Thanksgiving any way you prepare your bird!
Want to see a few of my favorite things that I am totally obsessed with?? Take a peek and see how many you might already have…twinsies!
Looking for more easy family recipes and tips? LIKE The Typical Mom Facebook page?
Then sign up for my free newsletter, and follow me on Pinterest! 😉
***** If you LOVED this recipe give it 5 Stars below and let everyone know what you thought about it. 😉
How to Cook a Moist Turkey
How to cook a moist turkey 4 different ways! Smoked turkey, baked, roasted, sheet pan or in an Instant Pot, we'll share tips for perfection
Instructions
Remove turkey from packaging and remove giblets. Rinse well on inside and out.

In a large stock pot boil water and add salt so it dissolves, once achieved allow water to cool to room temp. Then add the turkey. Cover and refrigerate overnight.

When ready to cook preheat oven to 350 degrees and remove turkey from the brine. Rinse off.

Pat turkey dry and place in a roasting pan with the wings on the bottom and tucked under the bird.

Add apple and vegetables into the cavity of the bird.

Pour olive oil on top of the bird and generously season with salt and pepper all over.

Put turkey in the oven and cook according to the chart above or until the internal temp. is 165 degrees.

If the skin on top begins to brown too fast create a looser tent of aluminum foil over the top. When done allow to rest for at least 20 minutes before slicing

Timing = 10-18 lbs is 3-3.5 hrs, 18-22 lbs is 3.5-4 hrs, 22-24 lbs. is 4-4.5 hrs, 24-29 lbs. is 4.5-5 hrs
Nutrition Facts
How to Cook a Moist Turkey
Amount Per Serving (3 oz)
Calories 311
Calories from Fat 108
% Daily Value*
Fat 12g18%
Cholesterol 155mg52%
Sodium 19137mg832%
Potassium 510mg15%
Carbohydrates 2g1%
Protein 47g94%
Vitamin A 143IU3%
Vitamin C 1mg1%
Calcium 56mg6%
Iron 2mg11%
* Percent Daily Values are based on a 2000 calorie diet.