This is how to make a sheet pan turkey! It is what everyone is talking about this year. This is how to cook a moist turkey in just 1 hour and have it taste amazing with crispy skin you love.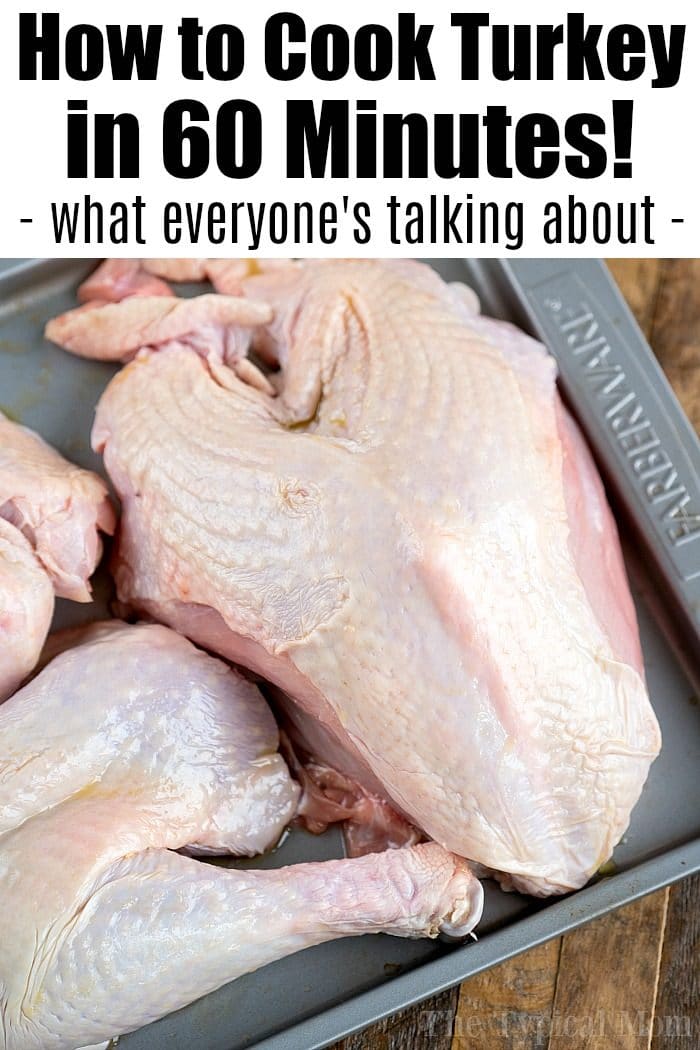 I will start my explanation of how I made this quick sheet pan turkey with the fact that I have NEVER cooked a turkey in my life before. Crazy right?? (originally published 11/18, affiliate links present)
Especially since I am a food blogger and all. Suppose my excuse/reason is that I've always had a parent or in laws who have hosted Thanksgiving or Christmas so it wasn't my job.
How do you deconstruct a raw turkey?
You'll want to read our post on cutting up a raw turkey here first. Easier than you'd think. Now that we live away from family I guess we're kinda' on our own so I thought I'd attempt one today, in a different way. I was so proud of myself!! Kinda' makes me feel like I'm officially an adult or something…..at 42. 😉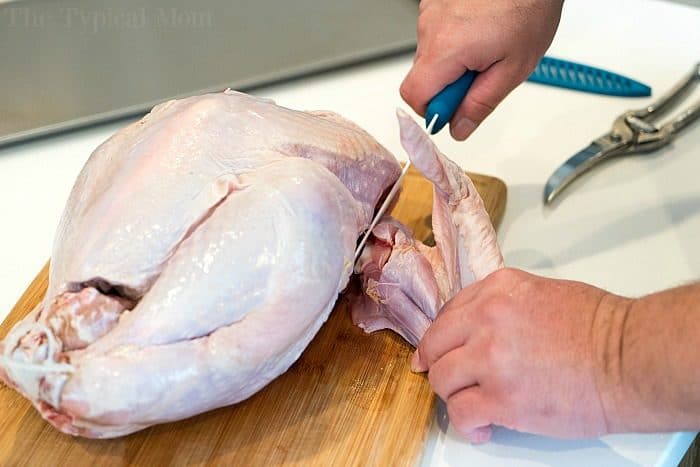 We will show you how right here! It isn't a lot different than if you were to cut apart a whole chicken really.
Deconstructed turkey
Ok so not everyone is talking about it like the picture says above, but they will when they try it this year….I promise!!
This is officially the best way to cook a turkey in our opinions since it just took 1 hour to cook to perfection!
Details are that this was a 10 lb turkey (said young turkey on the package) bought frozen, and defrosted in our refrigerator for a couple of days.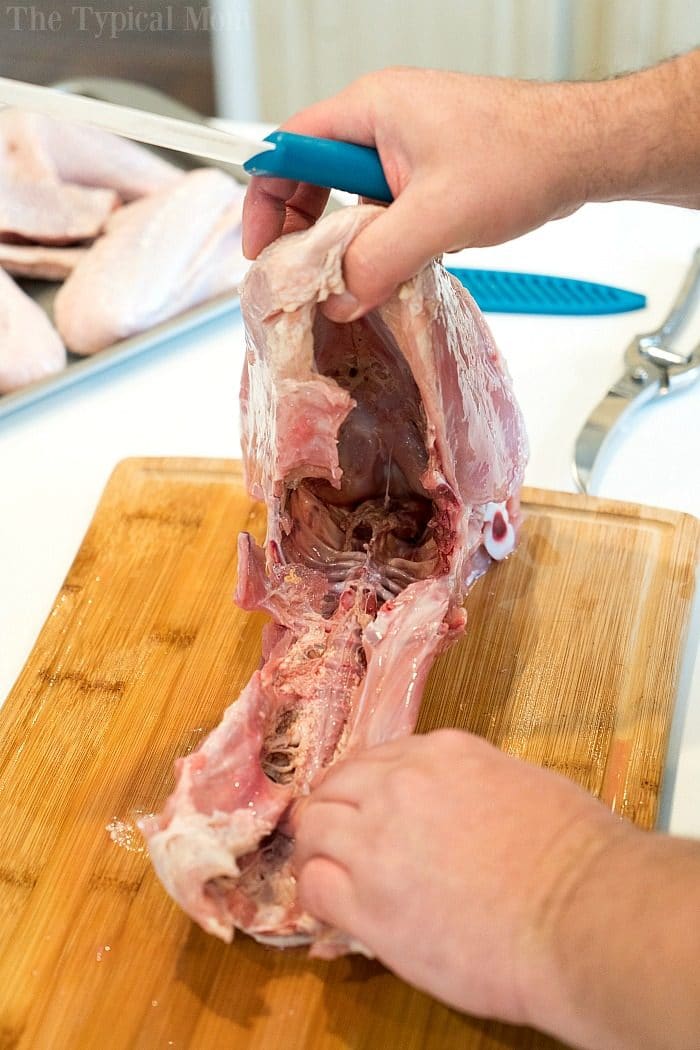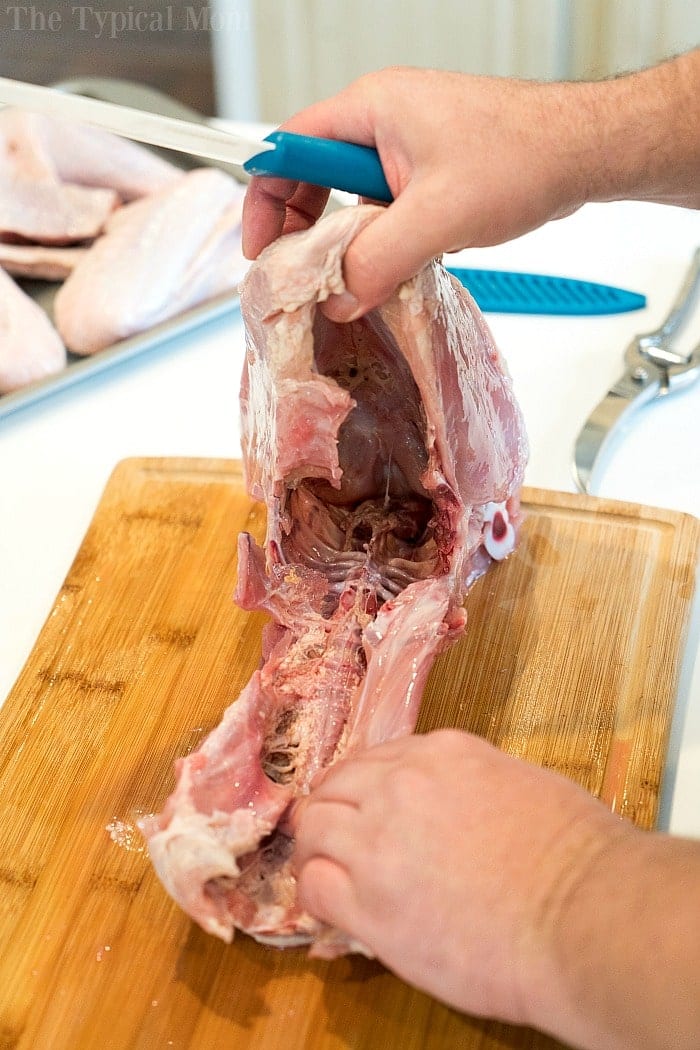 How to cook the perfect turkey
Take out a sheet pan – Large enough to fit the whole bird cut up, this large rimmed baking sheet fit our 10 lb. turkey perfectly.
Cut the wings off – The best method is to use kitchen scissors, you can see ours in the first 2 pics (the knife he used momentarily broke while cutting legs off).

Have a large bowl ready to throw all of your pieces into.
Cut the thighs off so the leg and thigh remain attached, seen on bottom right of photo below
Next you will want to remove the lower portion of the chest cavity, look at photo above (the middle photo)

Cut cavity in half with 2 breasts on top which you will keep
Discard bottom half, there is no meat here

When you have the 2 breasts you will want to flatten them as much as possible so it lays flat on your sheet pan (photo above)

Flip it over and put the palm of your hand in between the 2 turkey breasts, push down so the bone between them breaks so it will lay flat
Arrange pieces of your turkey in a way where they don't overlap as seen below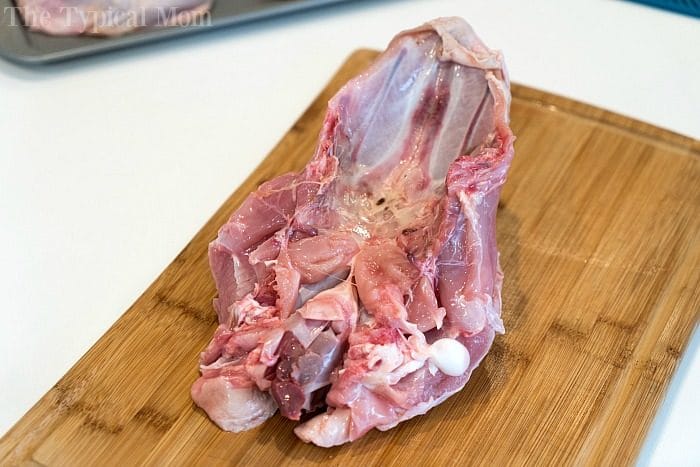 To season or not to season your turkey skin
This is up to you but this is what we prefer:

We rubbed a few tablespoons olive oil on the skin side of the turkey in order to brown and crisp the skins.
All we used this time were a few teaspoons salt and pepper on top of the skin & olive oil we rubbed on.
By all means mix add any seasonings you'd normally put on your whole turkey. We have used this smoked turkey rub too which is amazing.
Additional ideas to add to your sheet pan turkey
Slice an onion and sprinkle it around your pieces of turkey
Add baby carrots or sliced brussels sprouts around the turkey

I'd suggest using a pan with a large lip if you are going to add several other items
Note – remember your turkey will cook for about an hour (depending on size) so make sure your veggies are okay to be in that long and don't disintegrate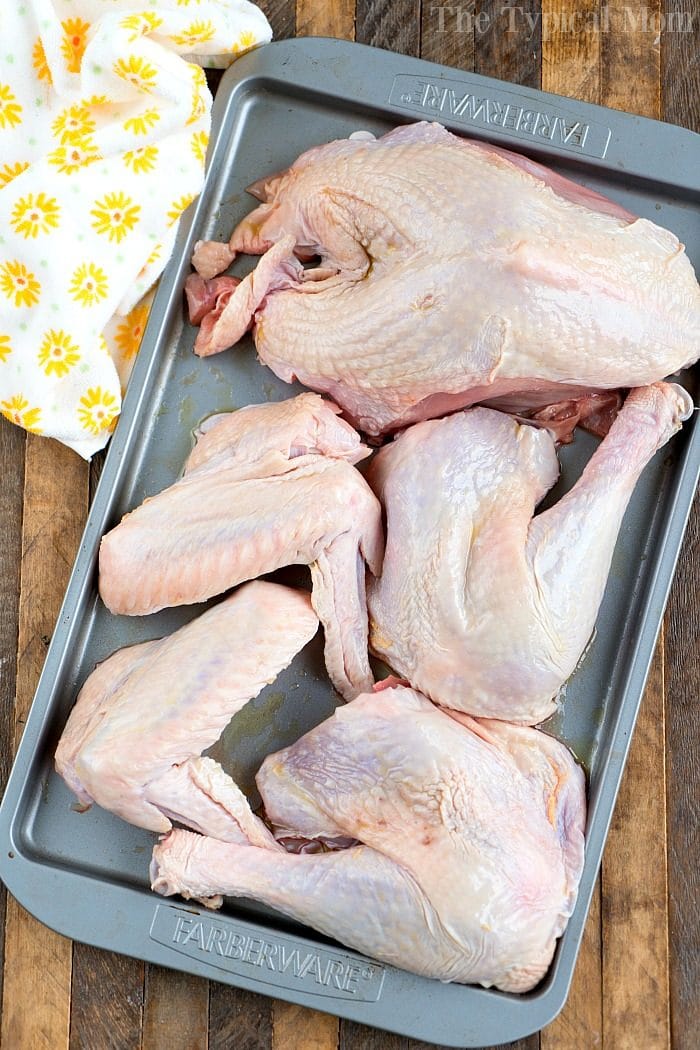 How to cook a Butterball turkey
What temperature to cook a turkey?
Preheat oven to 400 degrees
We baked at this temp. for half the time. Then we dropped it down to 350 to finish cooking.

Most times when cooking a whole turkey in the oven you keep it at a steady temperature but we thought it would work better to start higher to really get crispy turkey skin for 30 minutes.
Then lower it to ensure the internal temperature hit 165 degrees, this worked perfectly to get our desired result.

8-12 pounds = 1 hour turkey
Traditional method 10 pound turkey = 3 hours
This is the only turkey we've baked this way so I don't have info. on larger sizes.
Using our method below in the recipe card you could adjust it easily by adding 15 minutes at a time during the second 350 degree step. You just want it to reach 165 degrees inside the breast.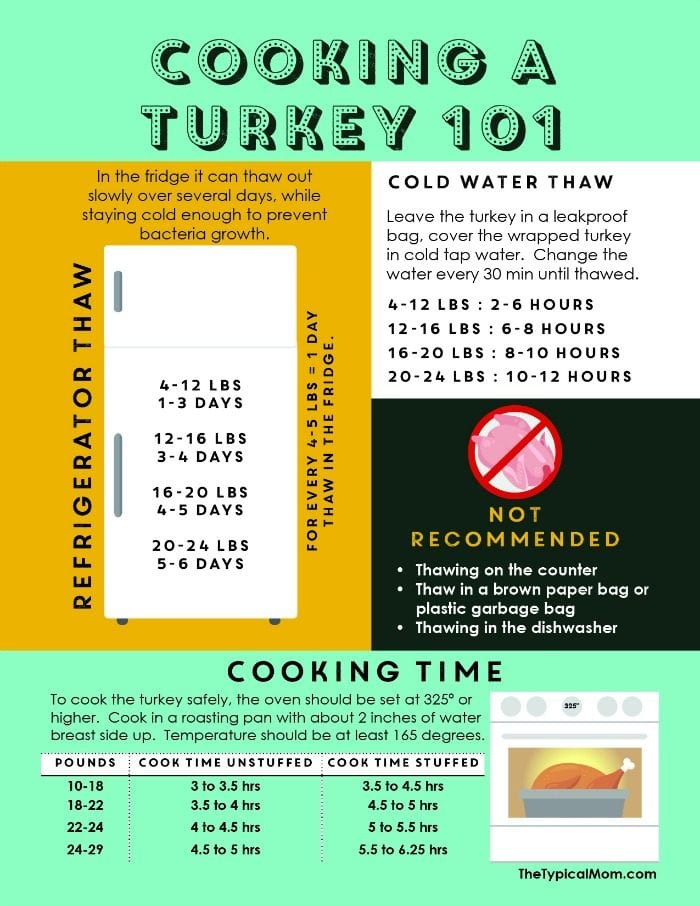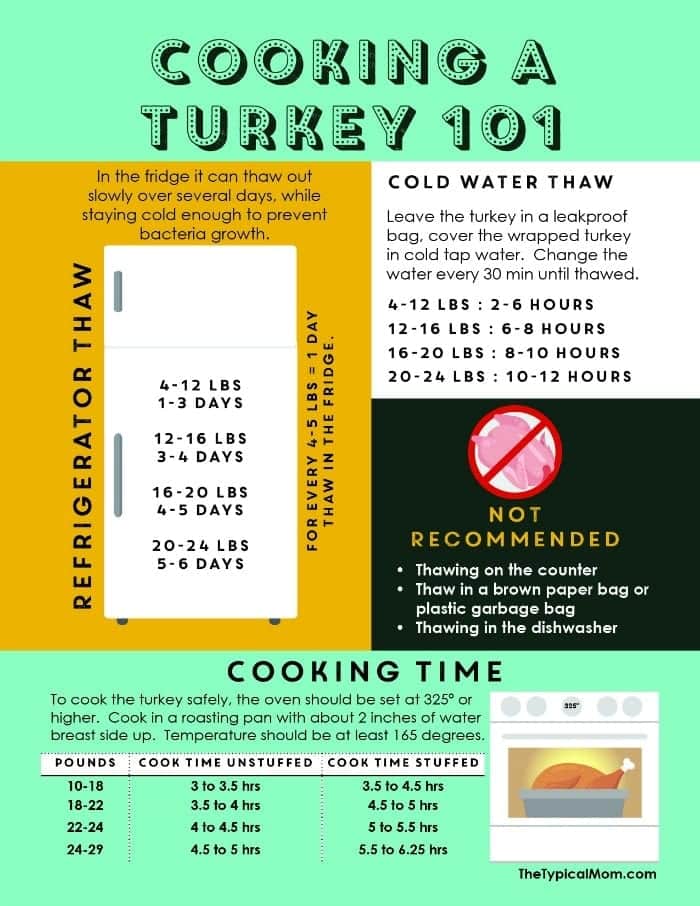 We've explained here the steps of how to cook a moist turkey! Here are a few steps:
Slow and steady is key
Give it plenty of time to defrost – here's how to defrost a turkey and how long it will take
Do not overcook your turkey

Adding 15 or 20 minutes at a time and then checking the internal temperature of your turkey until it reaches 165 degrees. Insert into the thickest part.
When your turkey thermometer is inserted into the thigh (we put it into the middle of the breast too to double check) is the best way to make sure it doesn't get overdone.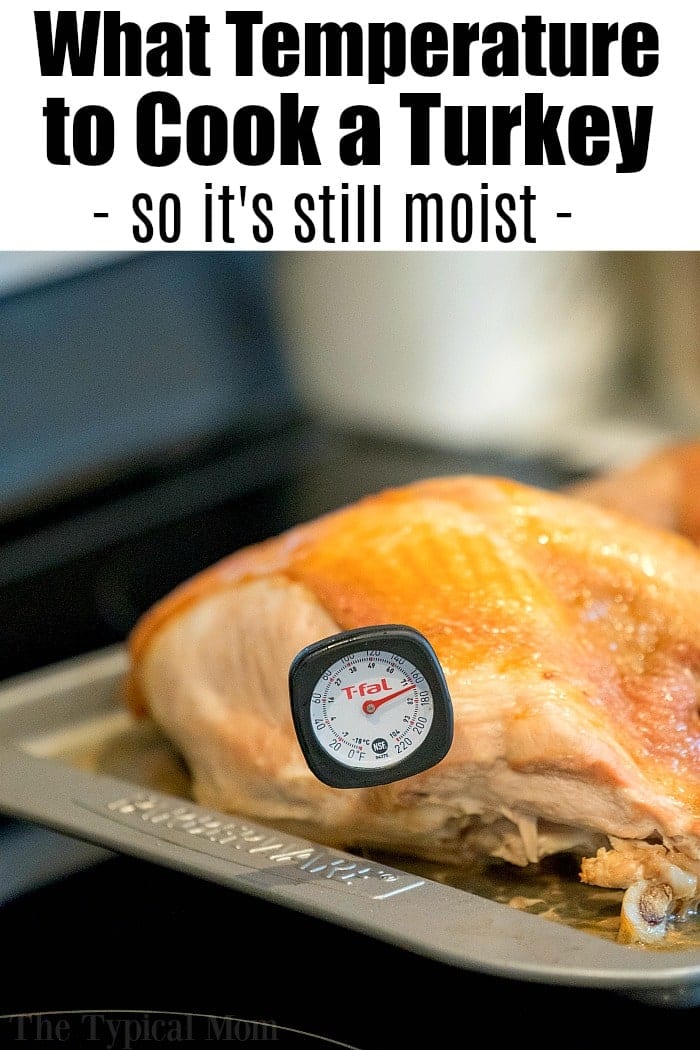 Here's our sheet pan turkey breast when the internal meat temperature hit 165 degrees. We allowed it to rest as is for 25 minutes and then sliced just what we were going to eat.
I basted it again just a bit before slicing with the juices left on the pan you see here. There wasn't a bunch of juice since it was a small young turkey we bought. I must say it was quite lean too (which I love).
Sheet pan turkey
This is why we love it:
It's a great way to make a 1 hour turkey. That time is for an 8-12 pound turkey, ours was 10 lbs. If you have an Instant Pot you can cook a Instant Pot turkey in this amount of time too.
Great way to cook a moist turkey where each piece is as tender as possible.
You get the crispiest turkey skin. Laying each piece down like this allows every nook and cranny to brown and crisp up.
Sheet pan turkey is a lot easier to carve. Just like a cut up chicken you can easily remove the meat off the bone and slice the breasts nicely. Remove the thigh and let your kids have an entire turkey leg!
You can use a cookie sheet out of your cupboard and not have to worry about it not fitting. NO need to buy an expensive roasting pan.
Cooking turkey on a sheet pan allows you to bake more side dishes in your oven all at the same time. No need to move the racks way up to fit the whole bird doing it this way.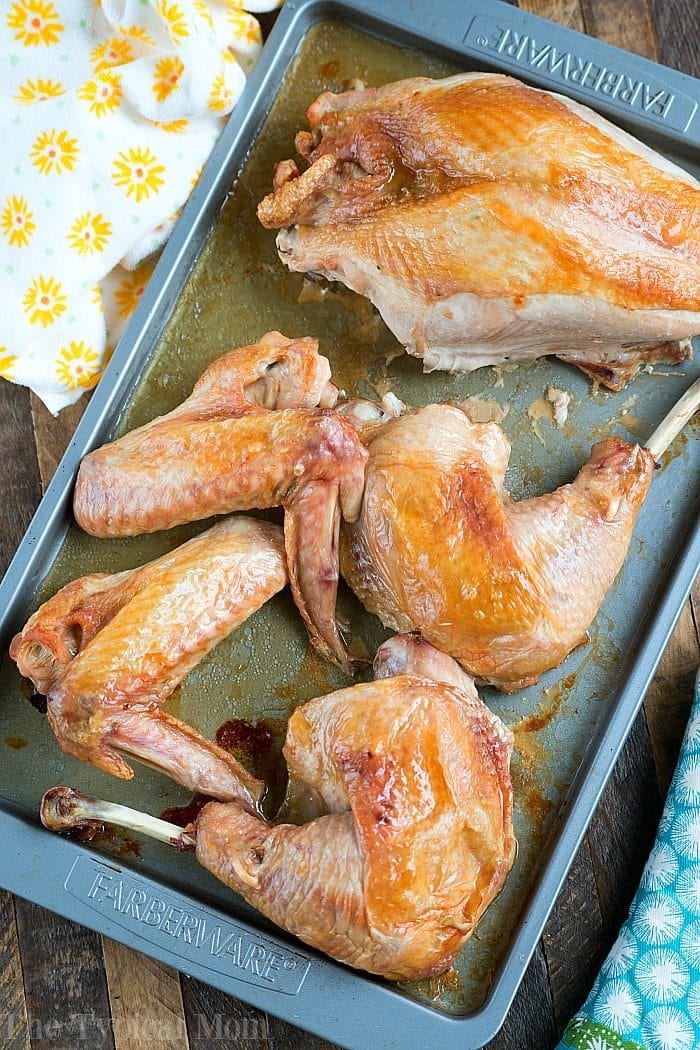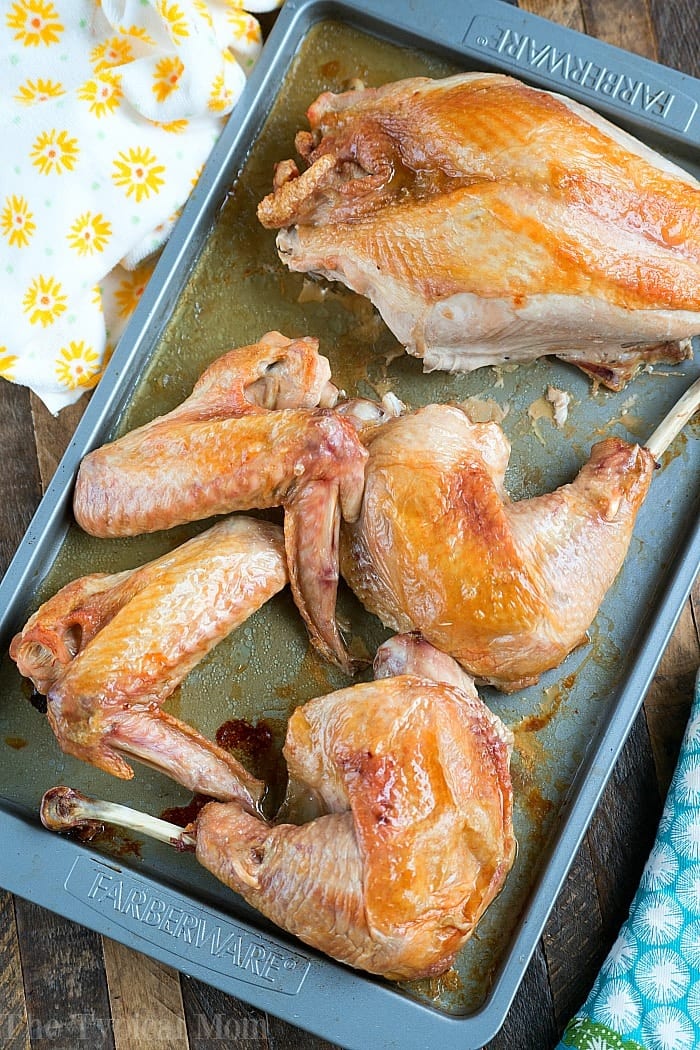 Now that I've convinced you this one hour turkey is the way to go, here are the directions!
As well as some killer holiday side dishes you will love to pair with this:
Air fryer green beans, out of a can, or on the stovetop are easy enough.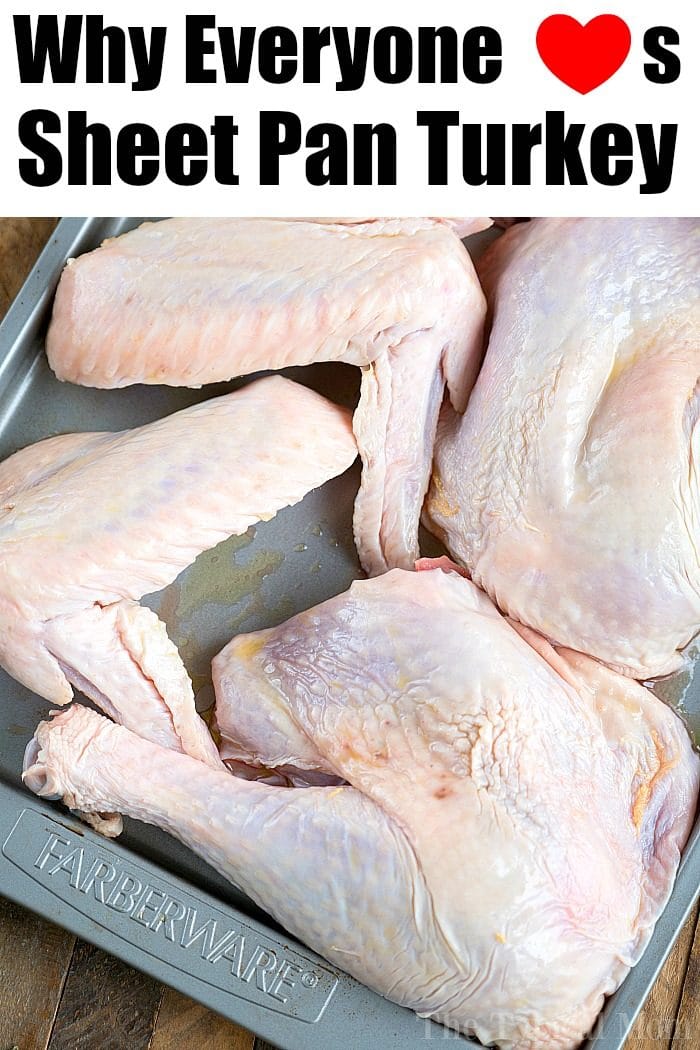 Sheet Pan Turkey Dinner
For leftovers, make our leftover turkey pot pie recipe and enjoy.
If this is a hit during the week try this sheet pan chicken thighs.
Want to see a few of my favorite things that I am totally obsessed with?? Take a peek and see how many you might already have…twinsies!
Looking for more easy family recipes and tips? LIKE The Typical Mom Facebook page?
Then sign up for my free newsletter, and follow me on Pinterest! 😉
***** If you LOVED this recipe give it 5 Stars below and let everyone know what you thought about it. 😉
Sheet Pan Turkey
Sheet Pan Turkey is what everyone is talking about! This is how to cook a moist turkey in just 1 hour and have it taste amazing with crispy skin you love.
Instructions
Unwrap your turkey, remove bag and neck from inside and discard those (unless you want to save them and use them for gravy etc. separately).

Preheat your oven to 400 degrees. Put your turkey on a cutting board and take out your kitchen scissors.

Cut the wings off where the bones attach so they come off clean and in one piece. Lay them on your sheet pan.

Leave the leg/thigh together and cut off those 2 pieces, lay them on your sheet pan making sure to not overlap any pcs.

Use your kitchen scissors to remove the bottom half of the chest cavity leaving the top half with the 2 breasts in tact.

With the 2 turkey breasts facing up put the palm of your hand in between the two and press down breaking down the bone between the two so it lays as flat as possible.

Lay this piece on your large baking sheet, arrange so there is no overlapping.

Use olive oil to rub all over the top skin of each piece, then sprinkle with salt and pepper (and/or any turkey seasonings you'd normally use when cooking it whole).

Put your sheet pan turkey in the oven, on the middle rack at 400 degrees for 30 minutes.

Then decrease the temperature to 350 degrees and use a spoon or baster to baste your turkey pieces using the juices collected at the bottom of your sheet pan.

Bake for an additional 25-30 minutes or until skin is as brown/crispy as you desire and when taken out and thermometer is pushed into the middle of a thigh, and then the middle of a breast it is at at least 165 degrees. (for a 10 pound turkey – if your bird is larger then check it every 15 minutes and take out when skin is crispy and internal temp reaches 165 degrees)

Allow to rest on the sheet pan for at least 25 minutes before carving to stay as moist as possible. Carve and enjoy!
Nutrition Facts
Sheet Pan Turkey
Amount Per Serving (3 oz)
Calories 614
Calories from Fat 243
% Daily Value*
Fat 27g42%
Cholesterol 289mg96%
Sodium 523mg23%
Potassium 901mg26%
Protein 87g174%
Vitamin A 225IU5%
Calcium 44mg4%
Iron 3.5mg19%
* Percent Daily Values are based on a 2000 calorie diet.