Pressure cooker turkey breast that's tender inside and crispy on the outside! Learn how to cook a bone in turkey breast in your Crock Pot Express, Ninja Foodi or Instant Pot. And if you only want to use the air crisp function, use our air fryer turkey breast recipe, this is the second option.
I made a pressure cooker turkey breast this year using my Ninja Foodi and it came out so moist on the inside with crispy skin on the outside.You can also make it as an Instant Pot recipe and throw it under the broiler. (affiliate links present)
Ninja Foodi Turkey Breast
I'm a bit obsessed with mine and have created a ton of new Ninja Foodi recipes lately with it. If you're looking for other great recipes we've got 'em! A lean protein packed keto one pot meal you really could make year round, not just for Thanksgiving.
You may be used to cooking an Instant Pot turkey but this year there are fewer of you and you don't want leftovers. Instead just cook the breast which will feed 3-4 people easily! That is what we do now that we don't have family living close. It's the perfect amount for just our family.
If you need to know how to cook frozen meat in a pressure cooker, we have information on that. NO, you aren't the only forgetful one. 😉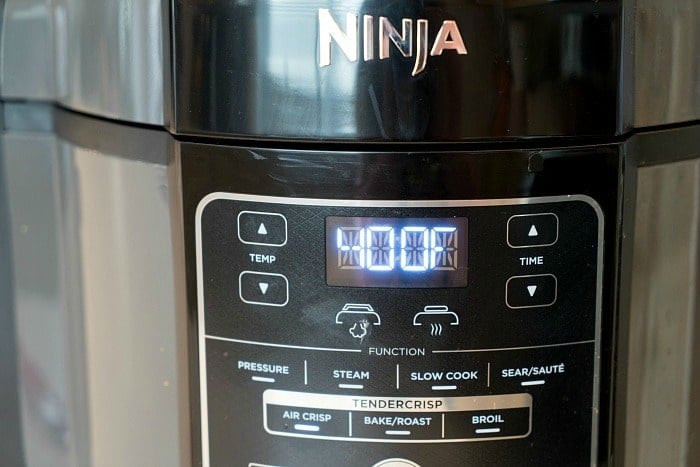 Turkey Breast Instant Pot
Yes there are lots of ways to make a turkey. If you have a smaller family though, cooking just a turkey breast can be the perfect size.
I have also made a sheet pan turkey using a smaller bird that cooked in about 60 minutes too! I cooked this in our oven and is the only way I'd cook an entire turkey from now on.
Ninja Foodi Turkey
If you've never purchased a turkey breast before they will either be with the whole turkeys during the holidays, or in the freezer section. A great choice when there are only a few of you. We make this now since we moved away from family and there are just 4 of us.
I made this in March so it was previously frozen and took about a day and a half to thaw out. Keep that in mind when you're preparing food for the holidays. I wouldn't recommend cooking from frozen, defrost it first.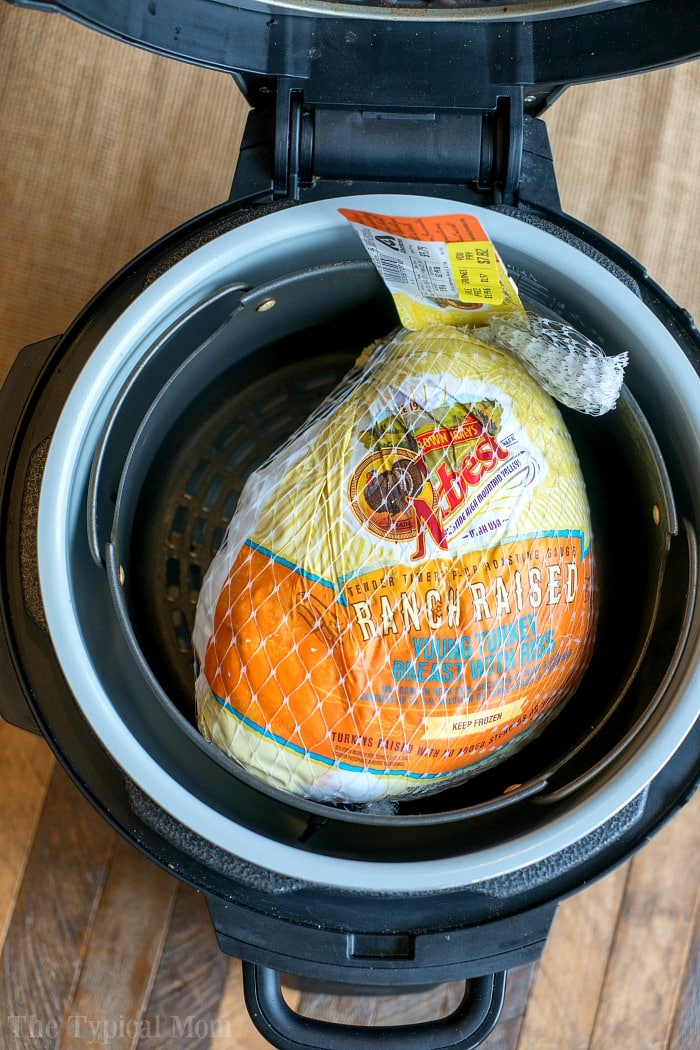 How do you thaw a frozen turkey breast?
Cold water thawing method is best. Thaw your frozen turkey breast with the meat side down. Keep it in its original wrapper, unopened is better when submerged.
Cover with enough cold water to cover it completely. Change water every 30 minutes and if the turkey cannot be completely covered, rotate every 30 minutes until it is defrosted.
How do I cook a bone in turkey breast?
I use my pressure cooker Ninja Foodi to cook this turkey! It's so much easier, and faster. In the oven a bone-in turkey breast takes about 15 minutes per pound, or 45 minutes or until the thickest part of the meat registers 160-165 degrees.
You have to tent the bird with aluminum foil and constantly ensure the skin doesn't brown too much. Why I love pressure cooking a turkey. There is no need to baste it.
Just throw it sprinkled with salt and pepper, on high pressure, and walk away. You can use these same directions to make a turkey crown as well. You may need to add a few minutes depending on whether the leg and/or wing is attached but pretty close.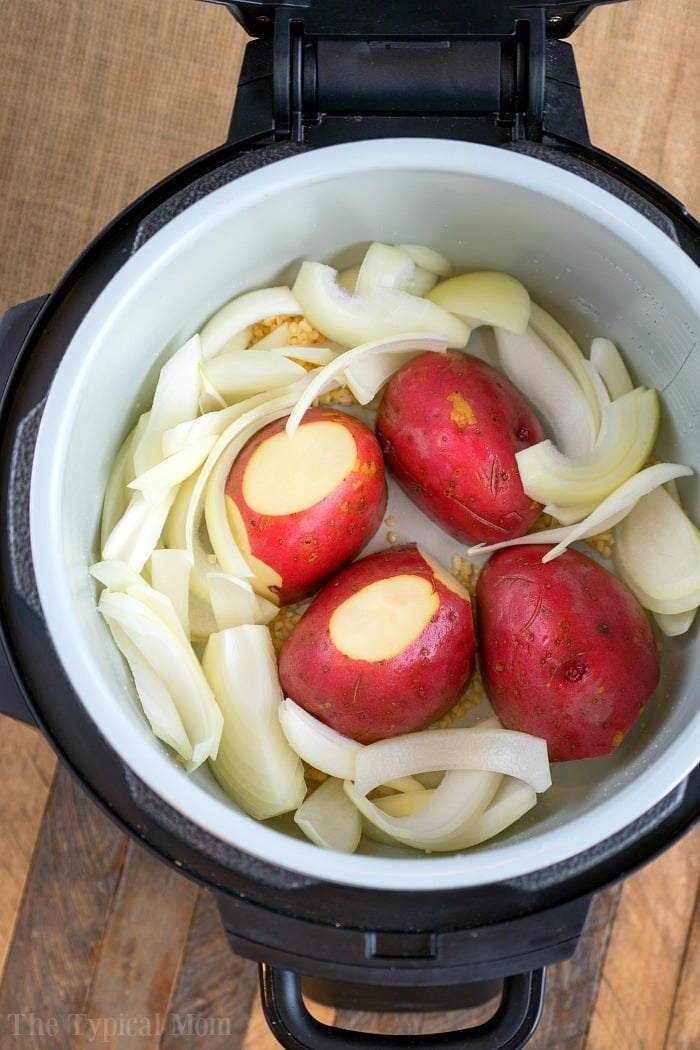 Now, if you have a Ninja Foodi like we do, you can crisp the skin in less than 20 minutes too. 10 was perfect for us but to each their own. You can get it REALLY crispy using an air fryer.
I couldn't believe how moist it turned out.
Turkey breast in Ninja Foodi
Unwrap meat, rinse, and prepare vegetables to begin with.
Add a sliced onion and minced garlic to the bottom of your pot.
Slice 2 large potatoes in half and place the cut side down. These will act as your trivets.
Place the breast side facing up with the ribs on top of the potatoes.

We used a 4 pound turkey breast and it fit nicely.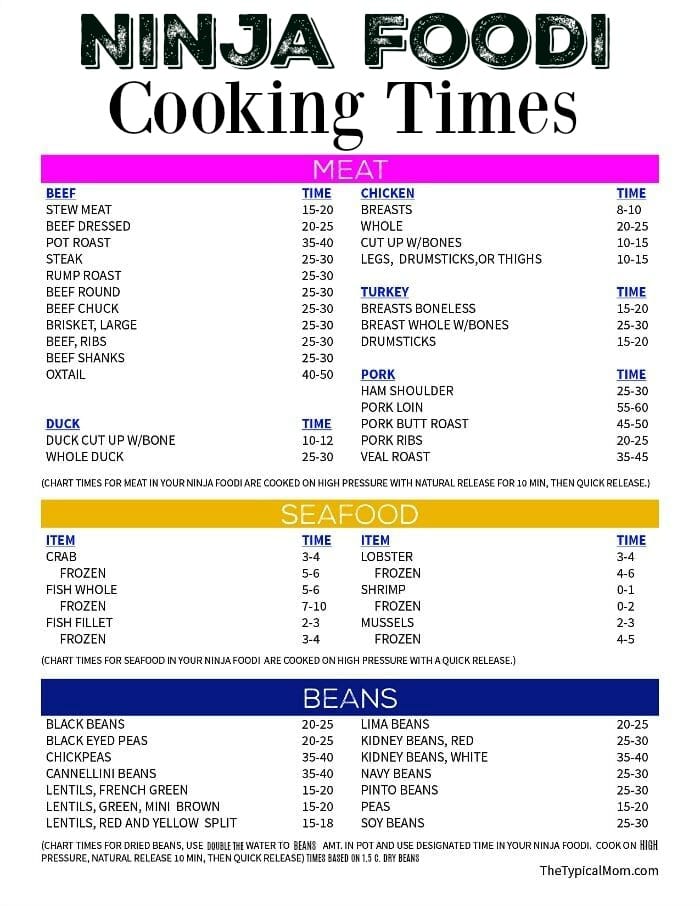 Bone In Turkey Breast in Ninja Foodi
Season the top as desired, our dry turkey rub is fabulous.
Pour chicken broth into the pot.

This whole process should take less than 25 minutes

Close pressure cooker lid and set to 30 minutes on high.

This timing was perfect for this size breast.

Then crisp the outside to make a moist turkey, slice and serve!
We also have directions for air fryer turkey breast at the top of this post for you if you don't have or want to pressure cook it first. For this one I recommend a boneless breast instead so it cooks thru easier.
Our piece had the little red timer in it which was nice, and right on time when I opened the lid I watched it pop up! Of course you always want to check the internal temperature to ensure it is done safely. Now DON'T throw away the drippings underneath because you can make pressure cooker gravy with that!
Is turkey done at 165 or 180?
There is some confusion on the internal meat temperature necessary. Until 2006 the FDA recommended a cooking temperature of 165 for the breast meat and 180 for the thighs.
For turkey that's 165 degrees. BUT you'll want to remove the bird when the temperature reaches 155 to 160 degrees because it will continue to cook outside the pressure cooker or oven.
Where do you stick the thermometer in a turkey breast?
Insert the meat thermometer 2 1/2 inches in the deepest portion of the turkey breast. Make sure the thermometer does not touch a bone. When inserting make sure it goes in from the side.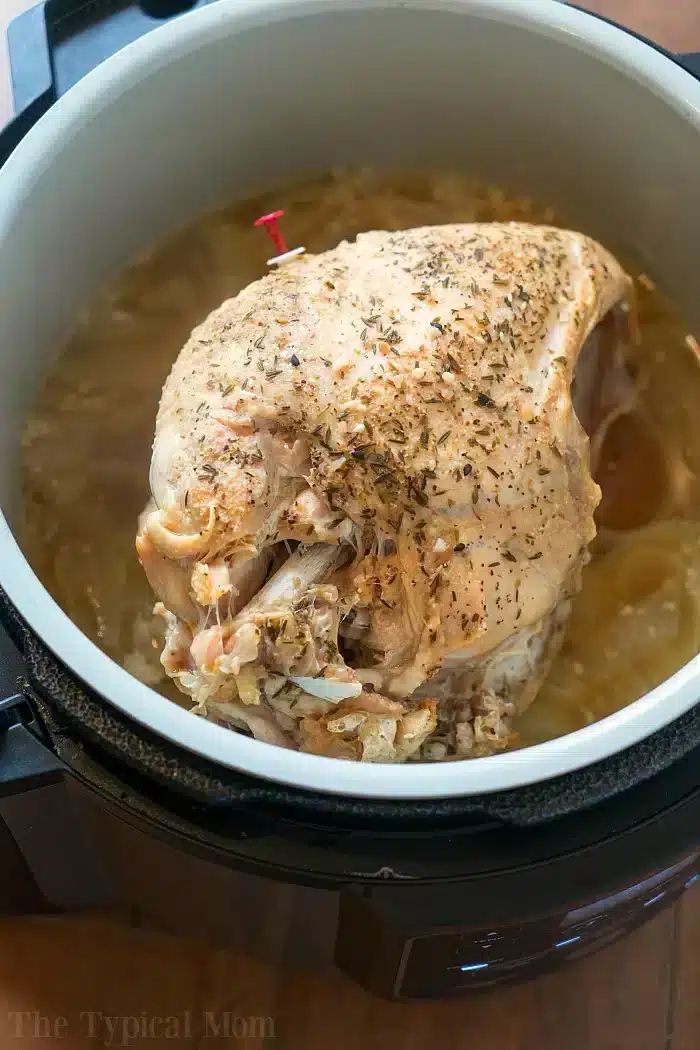 Pressure Cooker Turkey Breast
Let me tell you one of the best, surprising, parts of this meal. The potatoes are to die for! Soaking up all the juices from the broth and drippings from the turkey in the cooking process they just fall apart with goodness.
Tender and FULL of flavor these potato "trivets" will be fought over believe me!
You do want to make sure the potatoes are rather large. You are going to cut them in half so they'll be even smaller and in for about 40 minutes total they will get quite soft. Even as large as I chose they were falling apart as you can see.
So, choose BIG taters to make a Ninja Foodi turkey breast for sure. Either russet or red potatoes work just fine. I just prefer red but we are in Idaho so……it really just depends what I have on hand.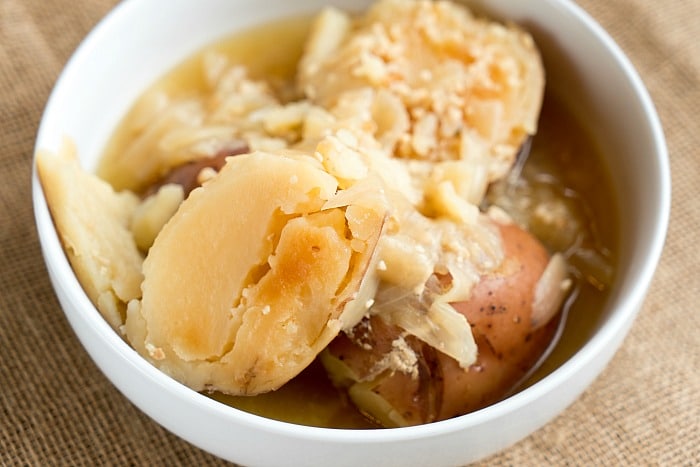 Ninja Foodi Turkey Breast Recipe
We also have a list of the best Thanksgiving sides if you're making it for a holiday get together below. Electric pressure cookers are so versatile that you can even make homemade Ninja Foodi cranberry sauce in it! I'll never make it on the stovetop again. These are some of our favorite side dishes.
After this you've gotta' make this smoked turkey too!
How do you reheat a turkey breast?
Preheat oven to 325 degrees.
Place turkey breast in a shallow pan with a small amount of liquid

I prefer chicken broth.
Cover it with foil and heat approximately 15 minutes per pound

until the internal temperature reaches 160.

You can also use a pan on the stovetop on low heat and reheat individual slices until warm.
Pouring a bit of gravy on top while it's reheating will keep it moist.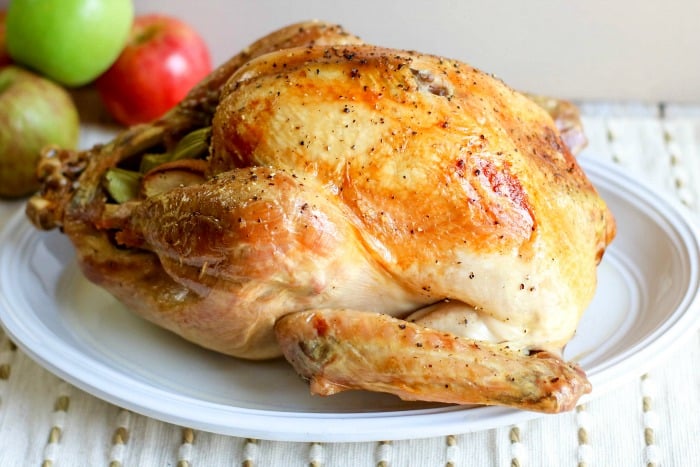 Instant Pot Turkey Breast
We also have tips on how to cook a moist turkey to get you started on that. Our second favorite method is Crockpot turkey breast. Either way you really can't go wrong. I usually just choose the smaller version if it's mid year.
If there's just 2 of you this might be easier too, unless you want to make our favorite leftover turkey recipe or our Instant Pot turkey tetrazzini.
Forget to defrost your meat? NO problem! We share how to cook an Instant Pot frozen turkey breast here. You can make Instant Pot turkey tenderloin if there are only a few of you too.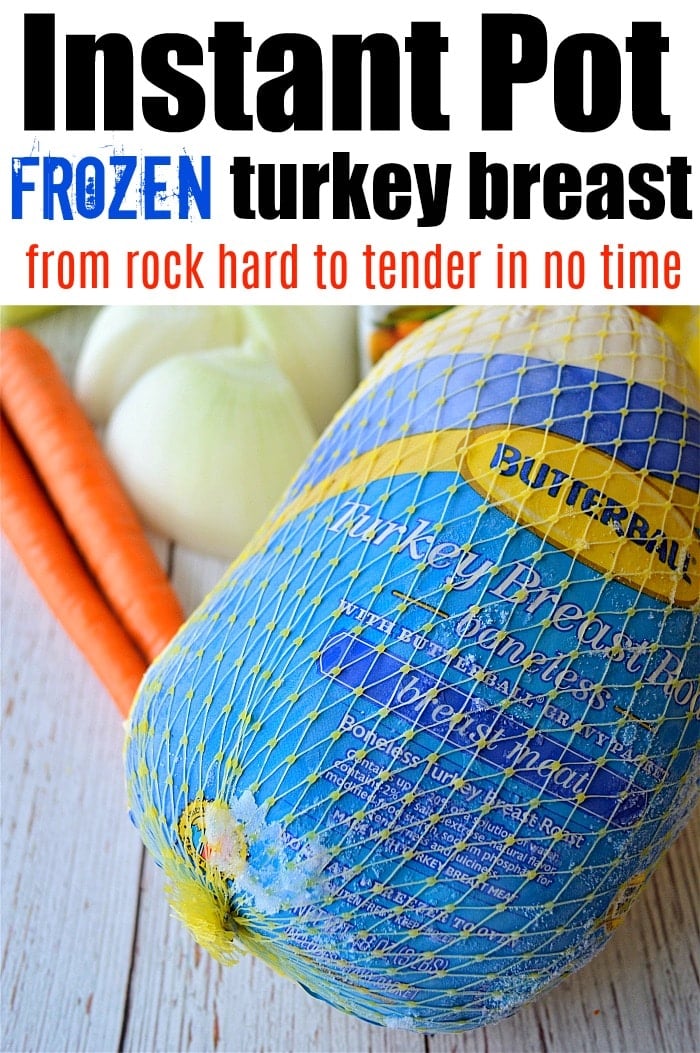 Want to see a few of my favorite things that I am totally obsessed with?? Take a peek and see how many you might already have…twinsies!
Looking for more easy family recipes and tips? LIKE The Typical Mom Facebook page?
Then sign up for my free newsletter, and follow me on Pinterest! 😉
***** If you LOVED this recipe give it 5 Stars below and let everyone know what you thought about it. 😉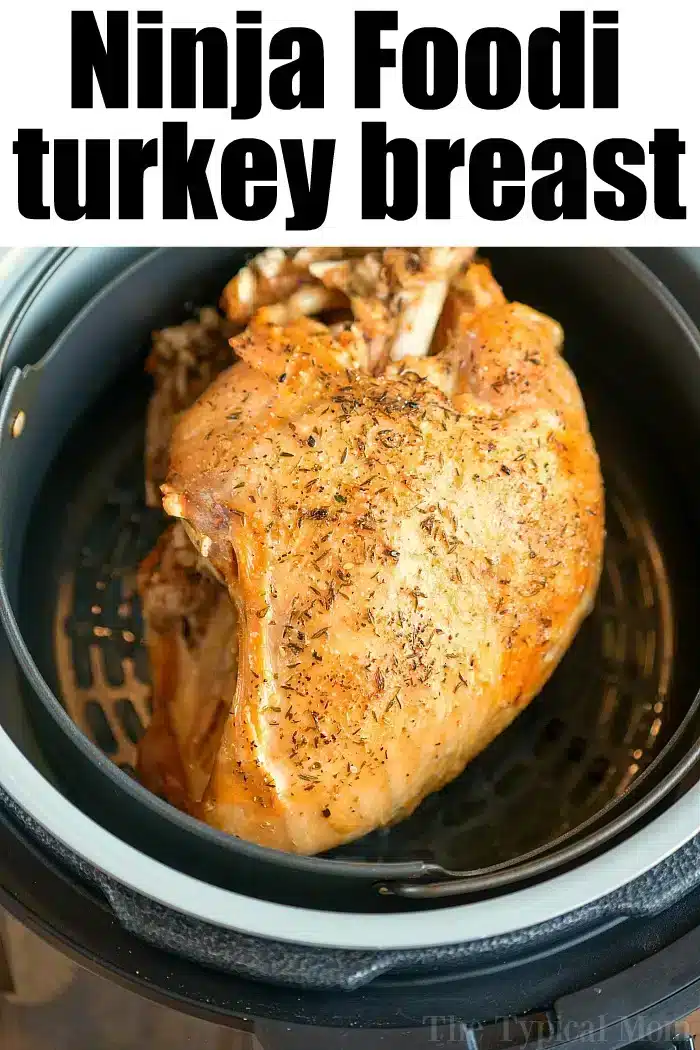 Pressure Cooker Turkey Breast
Pressure cooker turkey breast that's tender inside and crispy on the outside! Learn how to cook a bone in turkey breast in your Crock Pot Express, Ninja Foodi or Instant Pot.
Instructions
Slice your onions and cut your potatoes in half. Place potatoes with the cut side down into your pressure cooker in the middle. Push them together so they form a "trivet" for your turkey breast.

Sprinkle onions around the potatoes.

Rinse your turkey breast off and set it on top of your potatoes. Sprinkle with thyme, oregano, garlic powder, onion powder, salt and pepper.

Pour chicken broth around outside of turkey.

Close pressure cooker lid, shut steam valve. Turn to pressure, high, for 30 minutes. Then allow pot to naturally release steam for 10 minutes. Let out rest of pressure and lift lid carefully.

If you want to brown the top of your turkey breast then remove it from the pot and set aside.

Put potatoes and onions in a bowl to serve, pour broth into a bowl to make gravy.

If you have a Ninja Foodi, place your turkey breast in the air fryer basket it came with, then inside your empty/wiped out pot. (remove red plastic temp piece if your breast has one in it)

Drizzle with your olive oil, sprinkle on garlic salt and close air fryer lid.

Press air crisp, at 390 degrees for 8-10 minutes (10 was the perfect crispness for us). Serve!!

If you do not have this then put your turkey breast in an oven safe dish and put under your broiler for about 5 minutes or until the top is as brown as you'd like it.

Link to directions for making turkey gravy with the drippings in this post as well.
Nutrition Facts
Pressure Cooker Turkey Breast
Amount Per Serving (3 oz)
Calories 246
Calories from Fat 81
% Daily Value*
Fat 9g14%
Cholesterol 70mg23%
Sodium 975mg42%
Potassium 681mg19%
Carbohydrates 11g4%
Protein 30g60%
Vitamin A 25IU1%
Vitamin C 13.5mg16%
Calcium 47mg5%
Iron 3.2mg18%
* Percent Daily Values are based on a 2000 calorie diet.