Leftover turkey pot pie is easy and cheap to make homemade. You can use leftover chicken like our simple chicken pot pie recipe too! Make pot pie freezer meals and dinner will be set for weeks.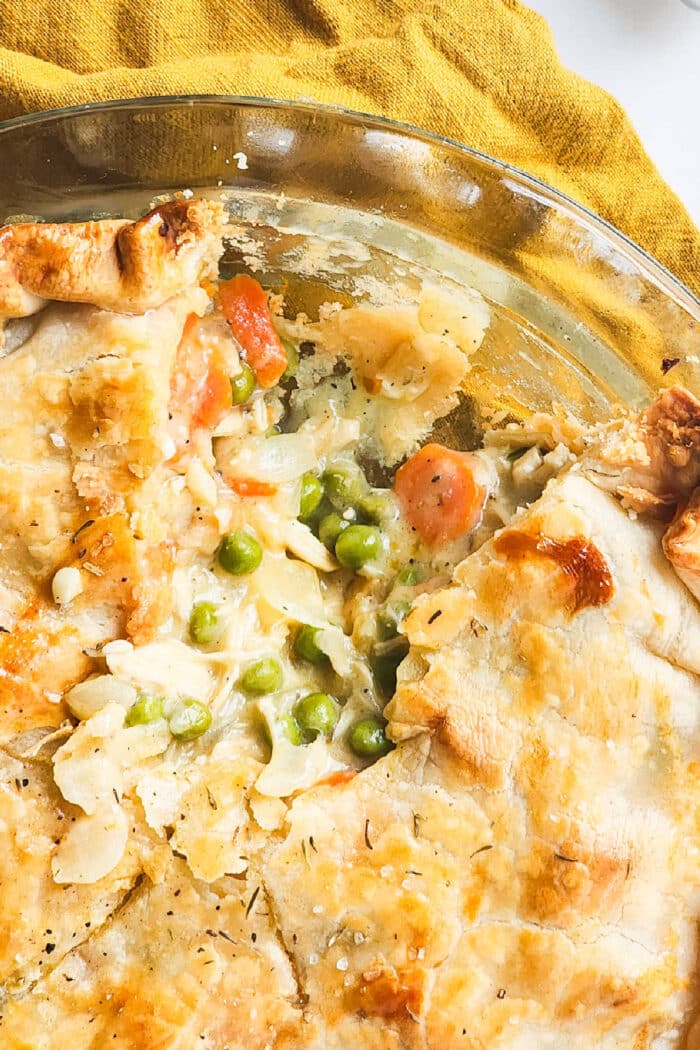 Looking for an easy leftover turkey pot pie recipe? We've got it here with refrigerated or our pot pie crust! If you have leftover chicken that will work too. Leave out the meat entirely and make a homemade vegetarian pot pie too. The possibilities are endless really! (affiliate links present)
Leftover Turkey Pot Pie Recipe
I HATE throwing away food. When I have leftover turkey, chicken, or even ham after the holidays I'm always looking for leftover recipes so I don't have to throw any of it away.
THIS is a great meal to make year round though too! Bake or make an air fryer turkey breast, and you'll have meat for the entire week for your family. It's cheap and great for you too.
This is a bit like our Chicken Pot Pie Recipe with Cream of Chicken Soup but we used turkey AND there are freezer meal instructions below too. That is great when you're meal planning and want to batch cook a bunch of meals at once.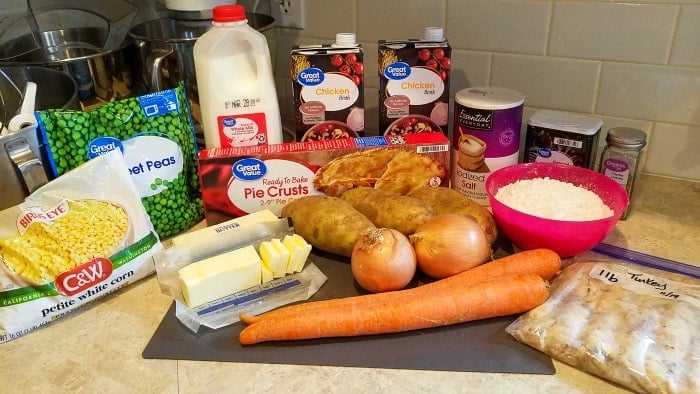 Pot Pie Ingredients
This recipe originated here but was altered to include turkey instead of chicken. Either meat is fabulous, you could use a precooked rotisserie chicken from the grocery store too and make a double batch = 4 pot pies!
If you want to make this even easier you can use this filling but our Bisquick pot pie mix for the one crust, yep only one for this one.
Diced turkey

or chicken
ham would work too
I imagine you could use browned ground beef too if you wanted to try something new

Milk – whole is best
Chicken broth – boxed or make homemade chicken broth
Frozen peas and corn
Carrots – cut into dials

Amounts below could be increased by 1/2 cup if you're a real carrot lover

Potatoes – diced
2 refrigerated pie crusts per pot pie – this recipe will fill 2 so you'll need 4 total

or follow our 3 ingredient pie crust instructions

Butter
Onion
All purpose flour
Salt and pepper
Seasonings of your choice – or use suggestions below in the printable recipe card
And yes of course you'll need a Pie plate. If you're making and freezing a bunch you may want to use throw away aluminum versions.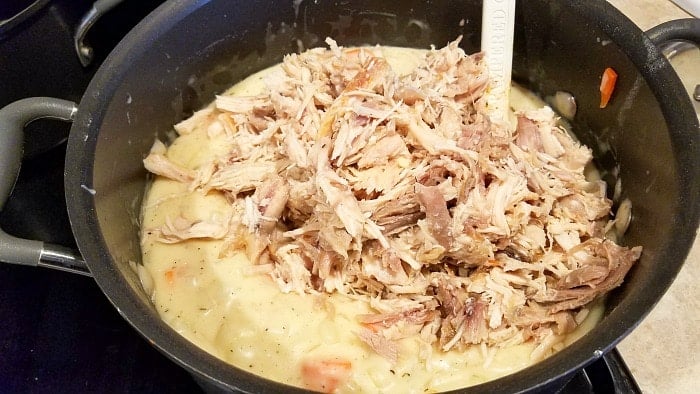 Pot Pie with Leftover Turkey
Like I said, leftover pressure cooker turkey was used for this batch. White and dark meat are great, use what you have on hand I always say. 😉
Let's talk about the vegetables in this dish – Frozen peas and corn were used as well as fresh carrots and potatoes. Remember that they are going to essentially cook twice so the thinner your carrot dials are the softer they will become. Too thin and you risk them falling apart all together. The same goes for your diced potatoes.
You can make this into a double crust pot pie with two layers and the filling in between. Here's where you begin:
Start by preheating your oven to 425 degrees.
Put carrots and potatoes in a pot covered in water and bring to a boil. (could add halved fresh green beans probably)
Once they have softened but are still a bit al dente, drain and set them aside
Don't let it go too long or you're gonna' have mashed potatoes and mushy carrots.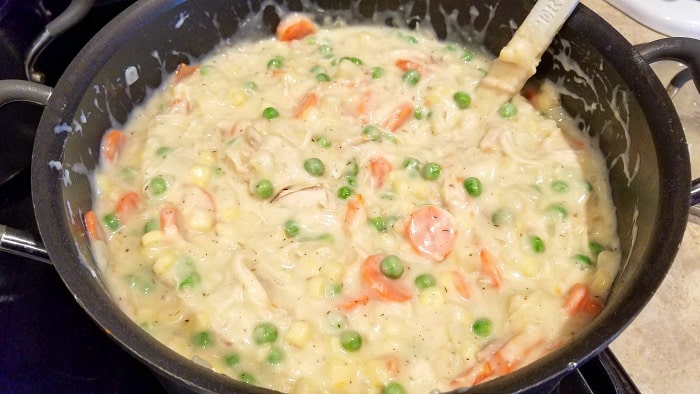 Russets were used in this batch but you could use red potatoes if you wished. Just remember that they will have a firmer texture to them even when cooked. It is personal preference really. 😉
Melt butter over medium heat and allow that to melt, then add onions and allow those to soften.
Stir in flour and seasonings and mix together to create a sort of roux.
How does a roux work?
The sauce is essentially a fat (butter) + a thickening agent (flour) and flavoring ingredients (seasonings). When you thicken a soup or sauce with a roux, the starches in the flour expand and absorb the liquid, thus making it thicker.
Slowly incorporate your broth and milk, stir, boil, and allow to thicken and become smooth.
Stir in turkey meat, potato/carrot mixture and your frozen vegetables too.
Cook stirring until frozen veggies are warmed then turn pot off
Now get your pie crust ready:
Tip: When working with refrigerated pie dough it is best to use parchment or wax paper. Place 1 piece of pie crust sheet between your paper as shown to prevent sticking to your rolling pin. You can alternatively make our pot pie crust with butter and just 3 ingredients.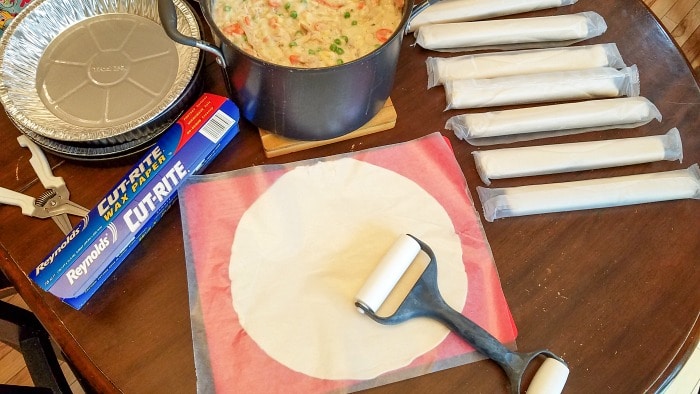 You want to do this extra step to make it a bit bigger. This is important in order for the edges to overflow off the ends of your pie tin.
Why? The top layer will need something to "hold on to" and pinch together so the yummy insides don't peek through and overflow. Make sense? Now do this to the top pie crust too. See below how it lays off the sides of the tin?
How do you make pot pie crust from scratch?
I will tell you that my husband makes the most amazing homemade apple pie. He has made it with homemade pie crust, and with ready made like this one.
I personally prefer this type, but it is personal preference. If you want to go all out, you can follow our homemade pie crust recipe above.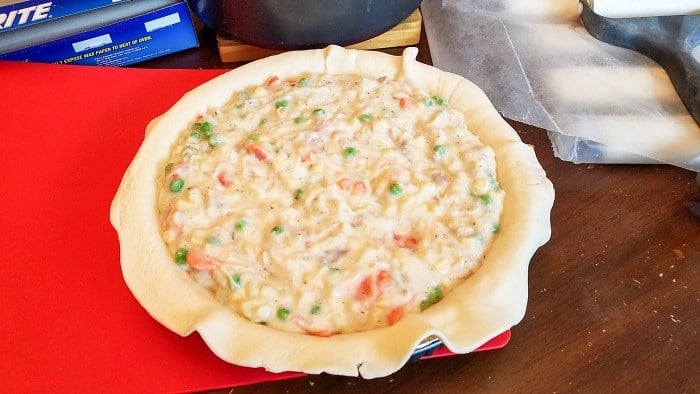 Once the top crust is layered over the filling you'll want to turn under the top crust and pinch the top and bottom crusts together.
Then use the crimping technique shown in the picture below.
How do you crimp a pie?
For a classic crimp use one finger to push the pastry down towards the outside of the dish. Pinch around that finger with the finger and thumb of your other hand to create a scalloped look.
You can alternatively press the prongs of a fork all the way around the rim of the pie dish to secure the top and bottom dough together.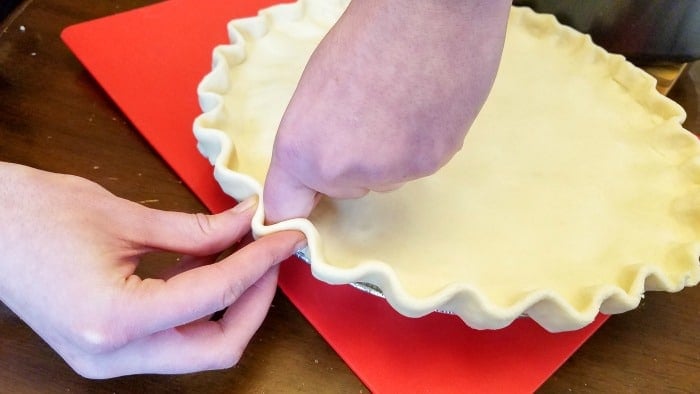 Pot pie freezer meals
Then you'll want to put 4 medium sized slits at the top so steam can release.
If you want to cook it right now then go ahead and put it on a baking sheet for 35-40 minutes or until top is lightly browned.
You likely will not need 2 whole turkey pot pies so you're probably going to want to freeze one (or both) of them.
How do you freeze homemade meat pies?
Wrap you pie completely in plastic wrap or seal it in an airtight freezer bag. Place your pie in the freezer on a baking sheet.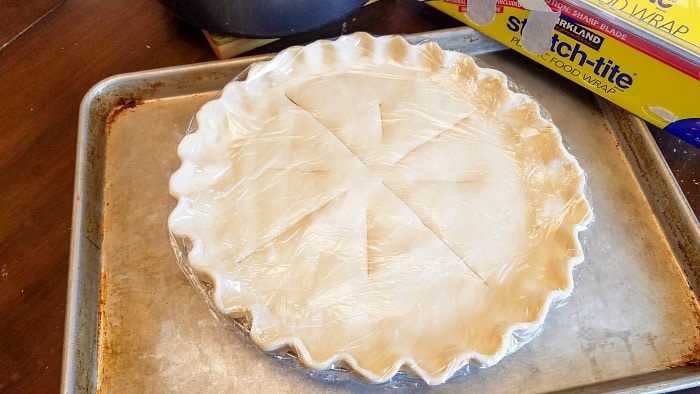 Freezing a pie
This takes longer that you might think. In most freezers it will take up to 24 hours for a pie to freeze completely. You really can move to the next step after a couple of hours of hardening up in the freezer if you're in a rush.
Lay 2 sheets of foil down and wrap your frozen pie inside. If you try and do the foil part before it's frozen hard you'll ruin all the pretty edging on your crusts. They will last 3 months this way, in a frozen state, without altering the taste.
Should I thaw chicken pot pie before baking?
When you're ready to cook there's no need to thaw. However it will turn out better if you leave it on the counter 30 minutes before baking. If you don't, just add a good 15-20 minutes of extra baking time.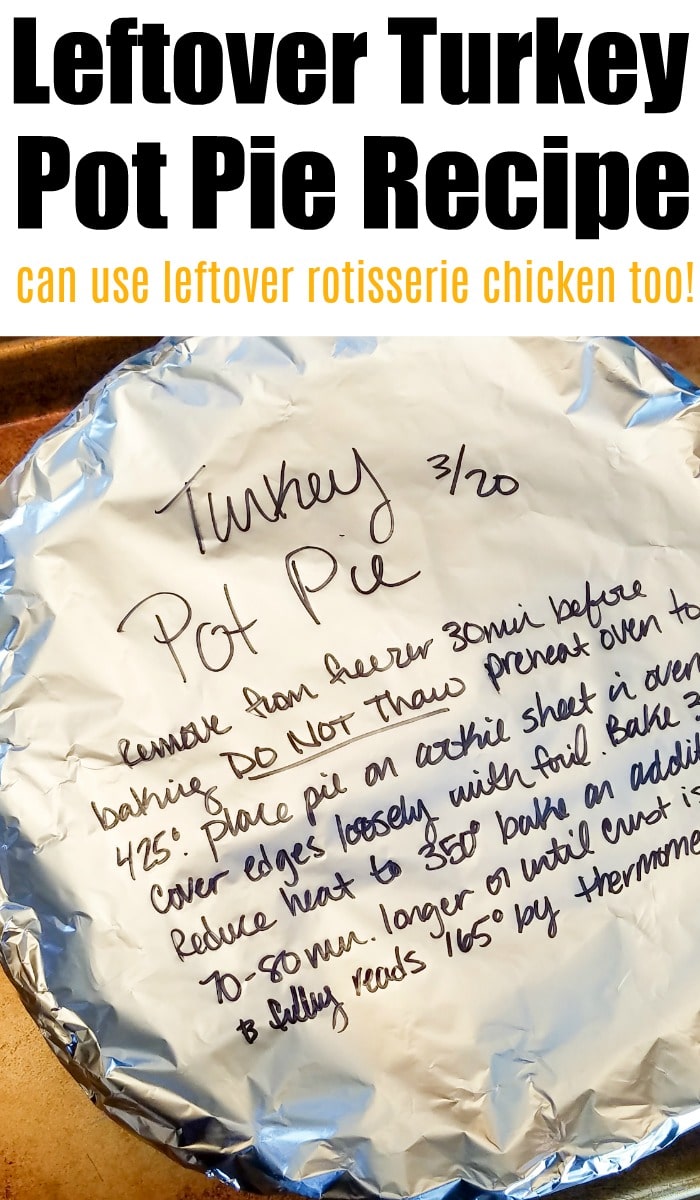 What goes good with turkey pot pie?
It really is a complete meal if you ask me, but a salad goes with just about anything or cook more steamed vegetables to serve on the side.
This turkey pot pie soup is amazing
You can try our leftover turkey turnovers too if you have even more meat to use up
Then throw some into our Instant Pot turkey tetrazzini or follow our oven baked tetrazzini recipe using what you have left.
Other easy recipes you might like after you make this leftover turkey pot pie are: Ninja Foodi chicken pot pie you see here (plus more below).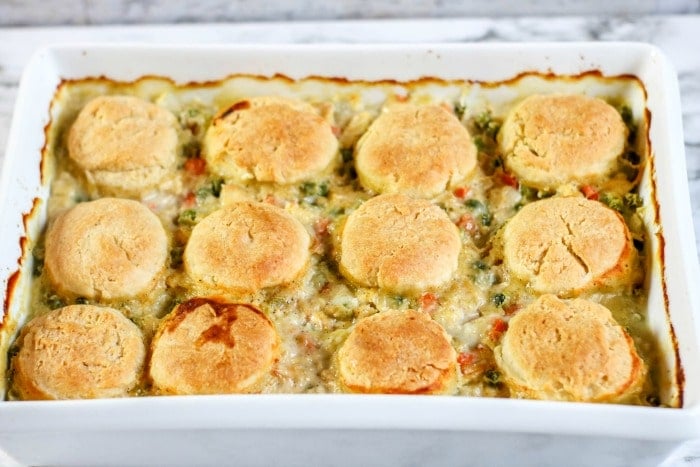 Want to see a few of my favorite things that I am totally obsessed with?? Take a peek and see how many you might already have…twinsies!
Looking for more easy family recipes and tips? LIKE The Typical Mom Facebook page?
Then sign up for my free newsletter, and follow me on Pinterest! 😉
***** If you LOVED this recipe give it 5 Stars below and let everyone know what you thought about it. 😉
Leftover Turkey Pot Pie
Leftover turkey pot pie is easy and cheap to make homemade. You can use leftover chicken too! Make pot pie freezer meals and dinner will be set for weeks.
Instructions
Preheat oven to 425 degrees.

Put carrots and potatoes in a pot on the stovetop with water covering them and boil until they are tender yet still a bit al dente. Drain water, set aside.

In a skillet heat butter until melted, add onions, cook until tender, then add flour and seasonings. Stir until a roux is created.

Gradually stir in milk and broth. Bring this mixture to a boil and allow it to thicken.

Stir in frozen veggies, diced leftover turkey or chicken, and potatoes/carrot mixture. Cook until frozen veggies are warmed. Turn pot off.

Unroll room temperature pie crust, put in between 2 pieces of parchment paper and use a rolling pin to make a bit larger. Then roll into your pie plate so edges are hanging over. Pour pot pie mixture inside.

Do the same for your second pie crust so it overlaps. Pinch edges together, use crimping technique to secure edges.

Put 4 slits on the top and bake at 425 for 35-40 minutes or until the top is golden brown.

If you want to make freezer meals, do not bake! Instead wrap your pot pie with plastic wrap. Put on a cookie sheet and into the freezer for a few hours so they're frozen. Remove from freezer and wrap in 2 layers of aluminum foil.

When you're ready to eat, remove from freezer 30 minutes beforehand, cover crust with foil, put on cookie sheet and bake for 30 minutes at 425 degrees. Then reduce heat to 350 and bake for 70 minutes or until top is golden brown.
Nutrition Facts
Leftover Turkey Pot Pie
Amount Per Serving (3 oz)
Calories 450
Calories from Fat 252
% Daily Value*
Fat 28g43%
Cholesterol 101mg34%
Sodium 1141mg50%
Potassium 700mg20%
Carbohydrates 33g11%
Protein 18g36%
Vitamin A 6358IU127%
Vitamin C 24mg29%
Calcium 107mg11%
Iron 4mg22%
* Percent Daily Values are based on a 2000 calorie diet.