Simple chicken pot pie recipe you can make with shredded rotisserie chicken! Semi homemade filing that's easy to throw together for a great dinner.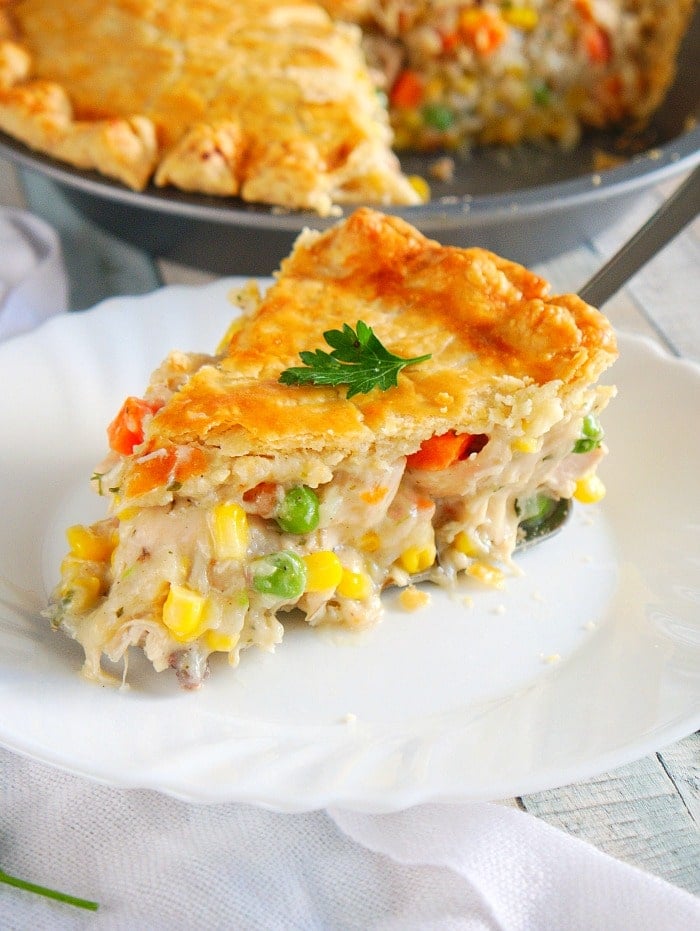 If you remember dinner at your Grandmother's house, you'll love this simple chicken pot pie recipe! It tastes just as you remember but way easier to throw together. Using precooked meat and frozen vegetables you can now throw together this comfort food in about 30 minutes flat. (originally published 10/15, affiliate links present)
Impossibly Easy Chicken Pot Pie
I love EASY recipes that seem difficult when they're served to others. To take it a step further.
Using ready made already in a pie tin crusts found in the freezer section of my grocery store makes it even easier. Talk about a simple dinner idea right??!!
You could easily make this with fresh chicken, but I mainly use leftovers. If you want it even easier, grab a rotisserie already cooked bird at the store and follow our Bisquick pot pie steps. That only has one crust, if you want the traditional two follow to the one below.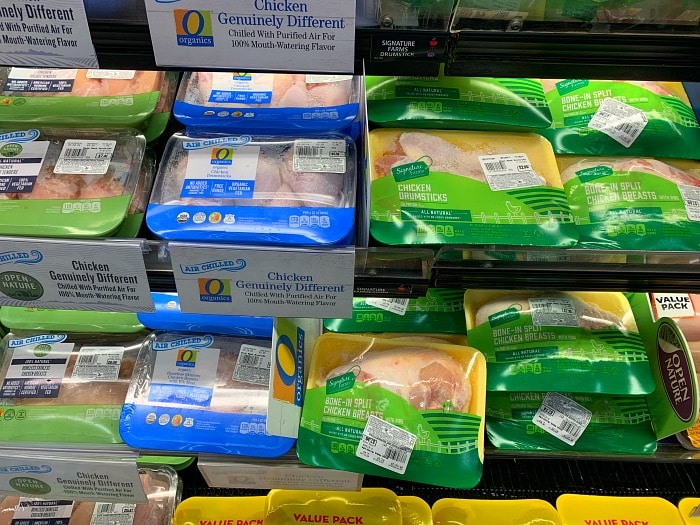 Easy Chicken Pot Pie with Frozen Vegetables
You can shred two breasts of a store bought rotisserie chicken and make this. Then you can have the rest of the bird you bought for lunch and you'll get 2 meals out of one! I hate wasting food so I like having several options when I have leftover chicken in the fridge.
If you batch cook often and make boiled shredded chicken this is the perfect recipe to make. You can also process some Crockpot frozen chicken this way and make a bunch. Make 1 for dinner and 1-2 to freeze and cook later.
I have even used leftover shredded pork or beef inside this. Just swap the broth to beef and away you go. It is super forgiving and versatile this way.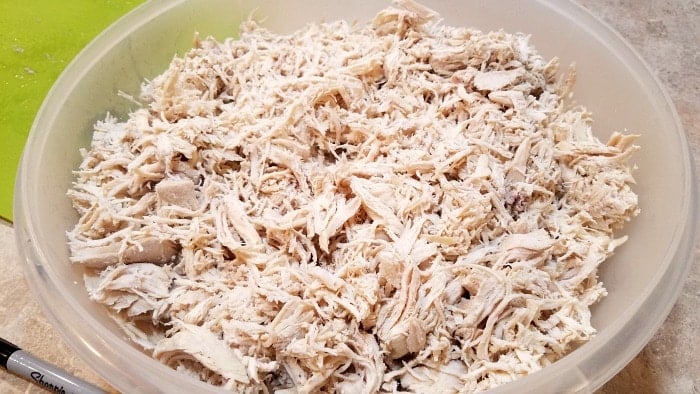 Super Easy Chicken Pot Pie
You can buy frozen crust that is already in a tin pie plate, make your own dough homemade, or buy them rolled up. Since I have my own pie plate, I usually buy the 2 pie crusts rolled up in a box at the store. They are cheaper this way and taste pretty fresh if you ask me even though they're pre-made.
Just put on the counter, allow them to come up to room temperature, unroll them, and you're ready to bake once your filling is made. Of course homemade is always best but I get it if you are in a time crunch. If you do have 15 more minutes consider making our 3 ingredient pot pie crust instead.
You can make half so you just have the bottom layer or for a double crust pot pie like you see here you would make the whole recipe.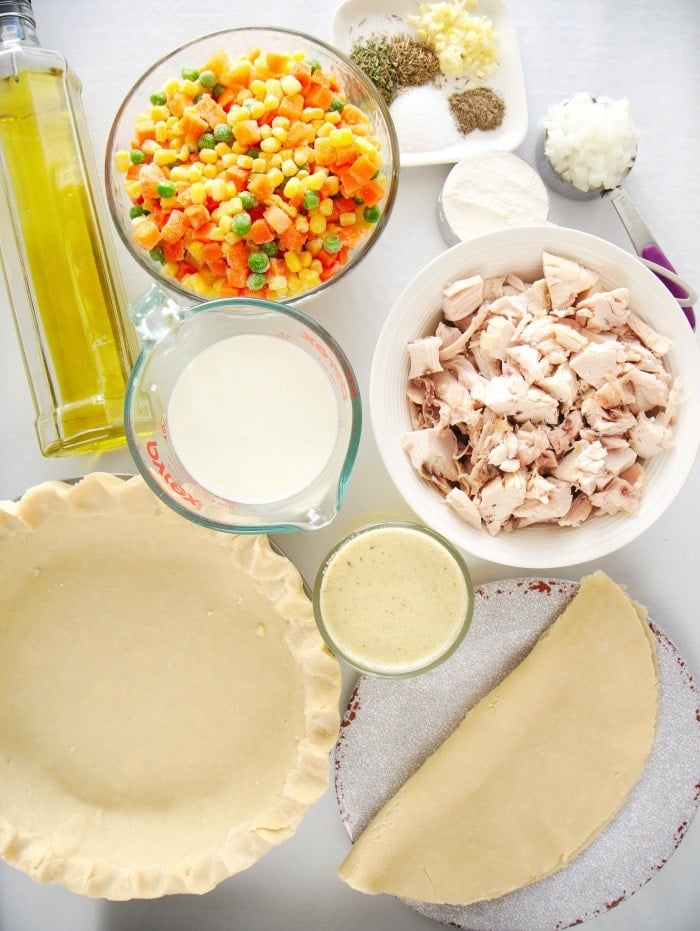 Why is it called pot pie?
It's said that the chicken pot pie originated in Greece. They took cooked meats and placed them in open pastry shells that were called "Artocreas".
The Romans are the ones who added the top crust making it into what looks like an actual pie.
Easy chicken pot pie recipe
For the filling you will want to cut up some precooked chicken.
I usually make this recipe with a rotisserie chicken from the store, or use leftover chicken from the night before.
2 pre cooked chicken breasts, diced into small bite size pieces
Frozen vegetables work better than canned, they're already diced which saves a bunch of time!
Chicken broth or you can make your own homemade chicken broth if you'd rather. Either way works great.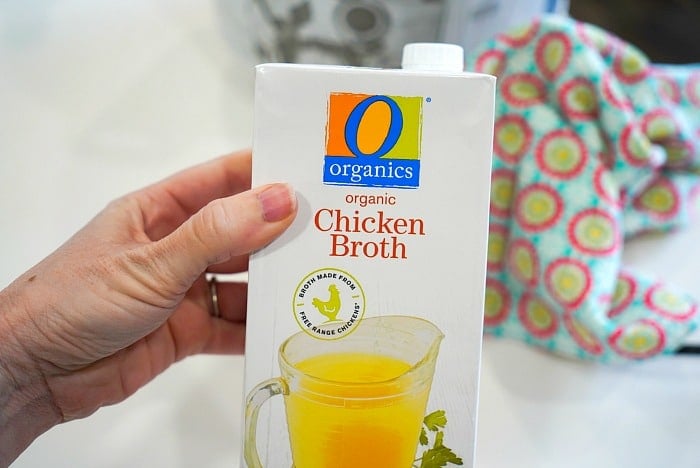 Pot Pie with Frozen Vegetables
I add diced onion and sometimes some minced garlic too to almost everything. Of course this is up to you and your taste buds.
Olive oil or melted butter
Flour to create a roux
2 sheets of pie crust
Half and half
Salt and pepper
Thyme, Parsley, Herbs, or just use poultry seasoning
This time I used leftover chicken baked the night before. There was 2 1/2 cups left which was perfect to make the insides hearty.
Honestly, you can use chicken breasts too if you prefer dark meat. Heck, it would be great with leftover turkey too.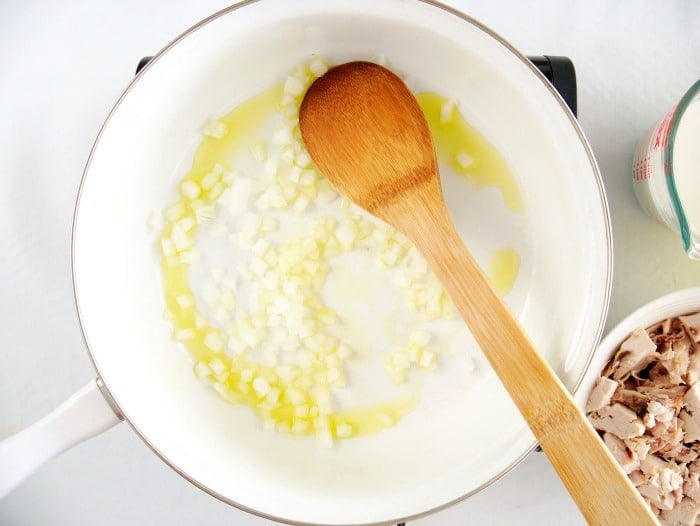 This is how to make this easy chicken pot pie y'all! The only real prep necessary is dicing your meat. Beyond that it is just throwing it all in to make your filling and "pieing it up". 😉
Start with a medium to large saute pan. Add your olive oil or some butter to it and let it heat up.
Add your diced onion and allow to soften, then add minced garlic and all of your herbs/seasonings, heat.
Stir in flour now so you can create a thickening roux.
How do you make a roux?
Melt some butter (or olive oil) over medium to low heat, then add flour. You'll need to stir it constantly with a wooden spoon in a figure eight motion for even cooking.
You don't want it to overheat and burn so consistency is important. In 3 to 5 minutes, you'll have a light roux that should puff slightly. Then you'll want to add your liquid and continue on with your recipe.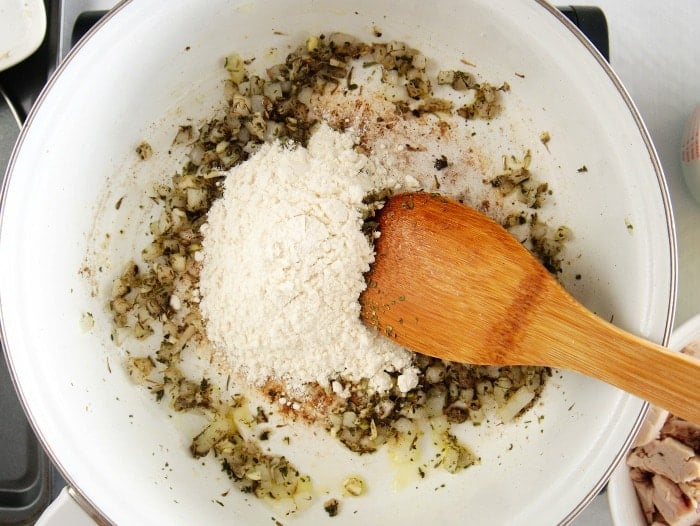 What is the point of a roux?
Butter, oils, bacon drippings or lard are commonly used as the fat in this creation. Roux is used as a thickening agent for gravy, sauces, soups and stews. It provides the base for many dishes, then other ingredients after this step is complete.
Whisk in your broth and milk so it becomes smooth (other than your onions and garlic which will remain lumpy).
Continue cooking and stirring so clumps do not arise.
Sprinkle in frozen mixed veggies and allow them to soften, break up any stuck together.
Of course you can use any combination you like, but a bag of corn, green beans and carrots is cheap and works well.
Homemade Chicken Pot Pie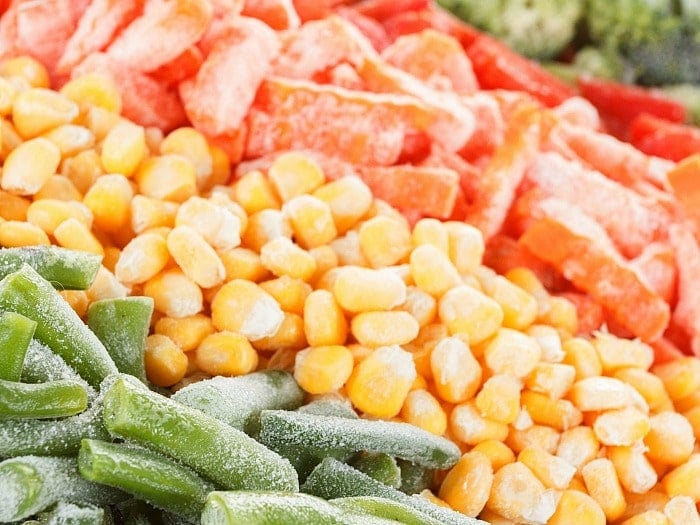 Stir in chicken and allow to come to a low boil with all contents.
Allow mixture to cook for 5 or so minutes until the sauce begins to thicken as you want it to then remove from heat.
Let it set and cool
Set bottom crust into your pie pan
Pour cooled mixture in, followed by top crust, pinch edges together.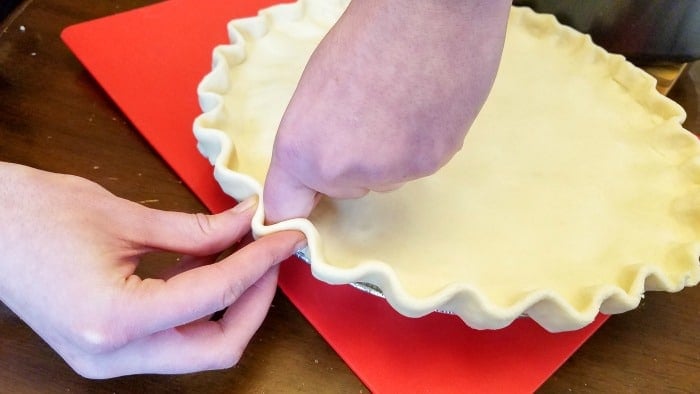 Chicken Pot Pie No Cream of Chicken Soup
Cut slits in very top like an X to allow steam to escape. Brush whisked egg on top layer if you'd like it to brown really nicely.
Bake at 420 degrees for 30 minutes or until top is golden brown.
Let it cool when done for 15 minutes before slicing so it comes out nicely.
Allowing it to set at the end is important so it can thicken a bit. You want it to stay in tact (a bit) when you serve it up so don't be too anxious.
I usually wait a good 30 minutes once it's done before cutting. If you aren't familiar with making a thickener for a soup let's talk about that a little bit. Here are a few questions you might have before you get going on this: You honestly could stop at this step and serve it as a sort of pot pie soup too.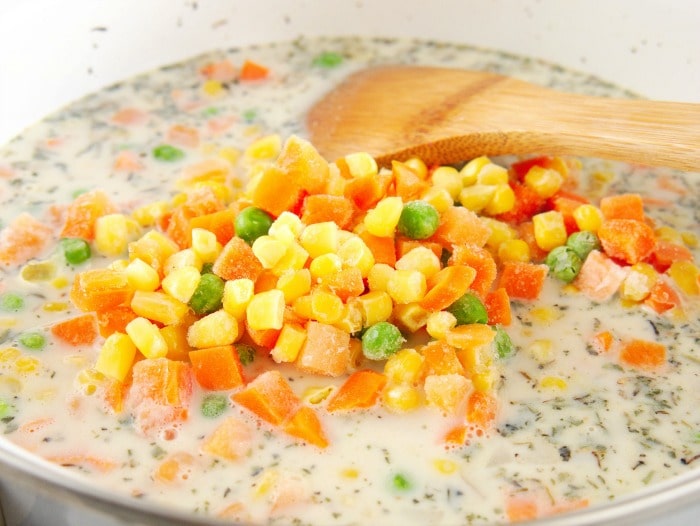 Simple chicken pot pie with rotisserie chicken and frozen vegetables
I have seen others make their versions with cream of chicken soup.
I suppose you could do that and just thin it out with some half and half and/or broth but this way turns out quite nicely.
If you prefer you could use this homemade cream of mushroom recipe instead. Either one is a great base for all the filling ingredients.
Now let's talk about vegetables for a minute. I suggest a bag of frozen but we can entertain other options too if you're thinking about them right now.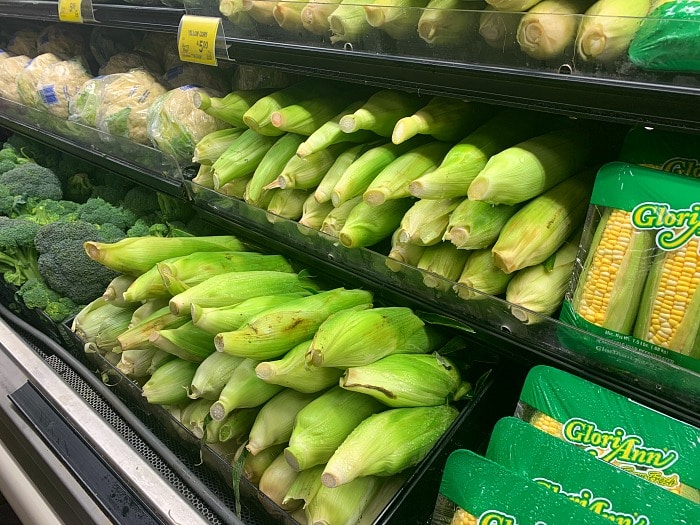 Chicken Pot Pie Recipe Easy
Could you use fresh vegetables instead?
I would say yes that wouldn't be an issue. As long as you stuck with the same types you see here you should be just fine since they're firmer than some others.

Fresh corn kernels, peas and carrots would be great.
Do not include broccoli florets as I feel they'd become too mushy in the total cook time.
Dicing your own carrots, cutting kernels off of fresh corn on the cob, and fresh peas should work fine.

I think green beans would be fine as well with ends cut off and sliced in half lengthwise.
There have been times where I've just stopped at this point you see here below and just skipped the crust. OH Yes that is a great dinner option too! Serve with a side of rolls and have chicken pot pie soup some time.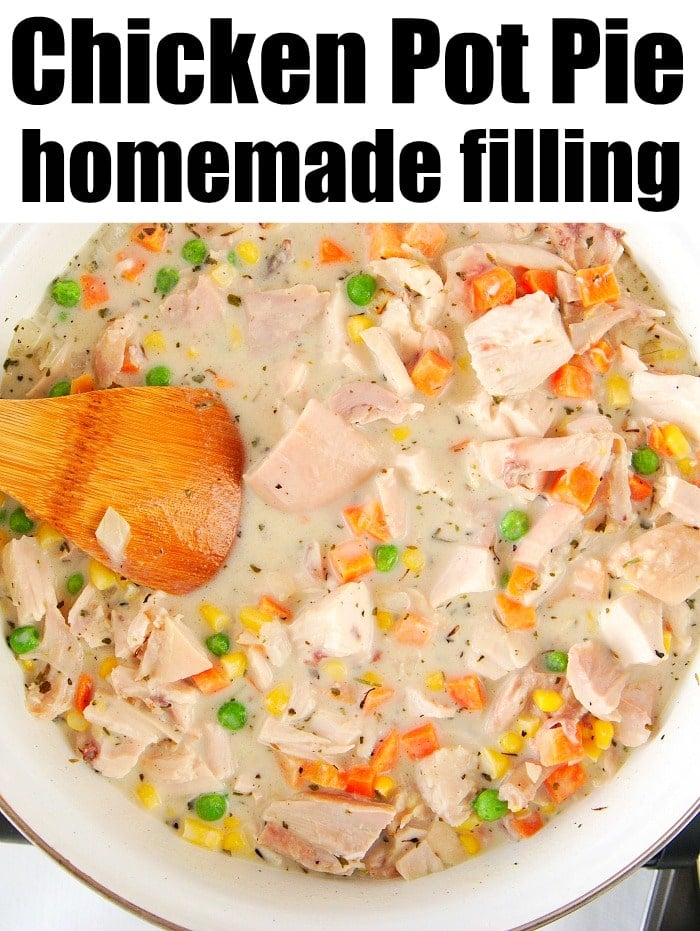 What other ingredients would go well inside chicken pot pie filling? I really think the possibilities are endless, I see the insides as a casserole of sorts really!
Really any meat could be used as long as it is cooked beforehand.
Using leftover ham or turkey after Easter, Thanksgiving or Christmas dinner is fabulous.
I'd use beef broth instead of chicken in this case

You could even use left over oven baked brisket too

Firm finely diced vegetables should be packed inside for sure, use your favorites.
Carrots, corn, peas and green beans are generally used and recommended.
Use seasonings you love!

That's the beauty of using this simple pot pie recipe as a base and just adding and/or omitting the flavors you want.
Puff pastry sheets could be used instead of refrigerated pie crust too.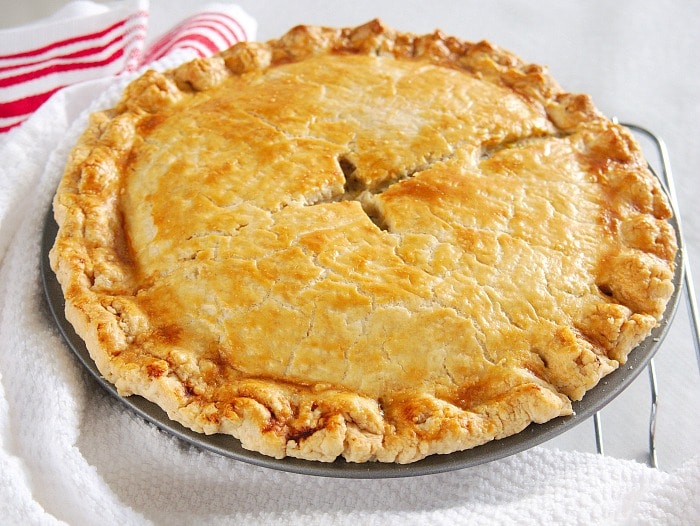 What would you serve with a chicken pot pie?
Personally I feel like it is a complete meal, done! But if you really want to have some sort of side dish that isn't included already inside here are a few ideas off the top of my head.
Ambrosia is always a winner on the side of your dinner. 😉
Any style of salad always works, my fave is Caesar style.
Sliced berries during the summertime are always great when serving kids.
Does chicken pot pie freeze well?
Yes! Follow our leftover turkey pot pie directions if you want to freeze it. It's great to do if you have a lot of leftovers don't waste any meat. We will show you how to eat one and freeze some for later too!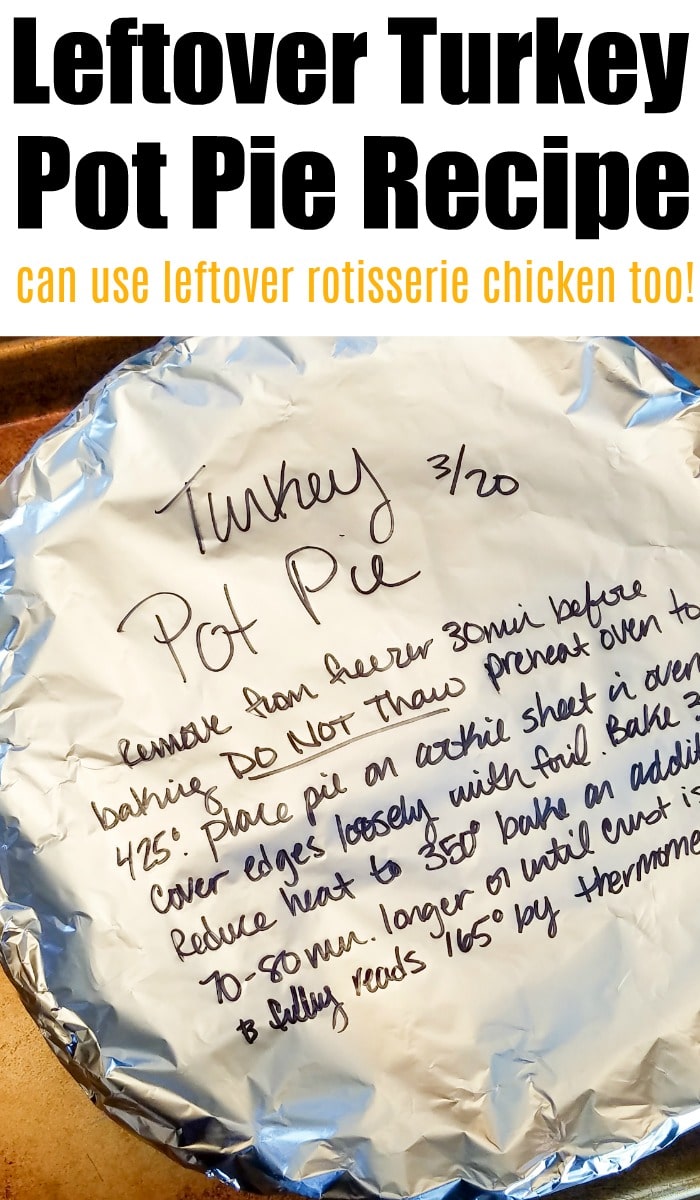 Here are a few other chicken recipes we know you'll love too:
All of these need a yummy side to go with it and our air fryer garlic rolls is always a huge winner for dinner. 😉 A printable recipe is provided for you below. Included is nutritional information with saturated fat, calories and other information you might need.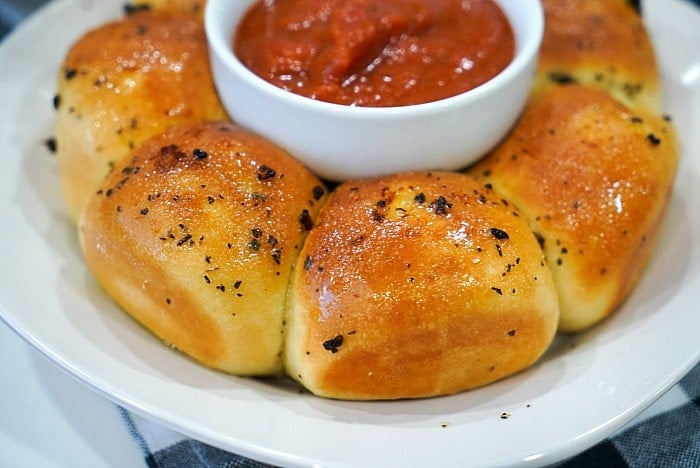 Want to see a few of my favorite things that I am totally obsessed with?? Take a peek and see how many you might already have…twinsies!
Looking for more easy family recipes and tips? LIKE The Typical Mom Facebook page?
Then sign up for my free newsletter, and follow me on Pinterest! 😉
***** If you LOVED this recipe give it 5 Stars below and let everyone know what you thought about it. 😉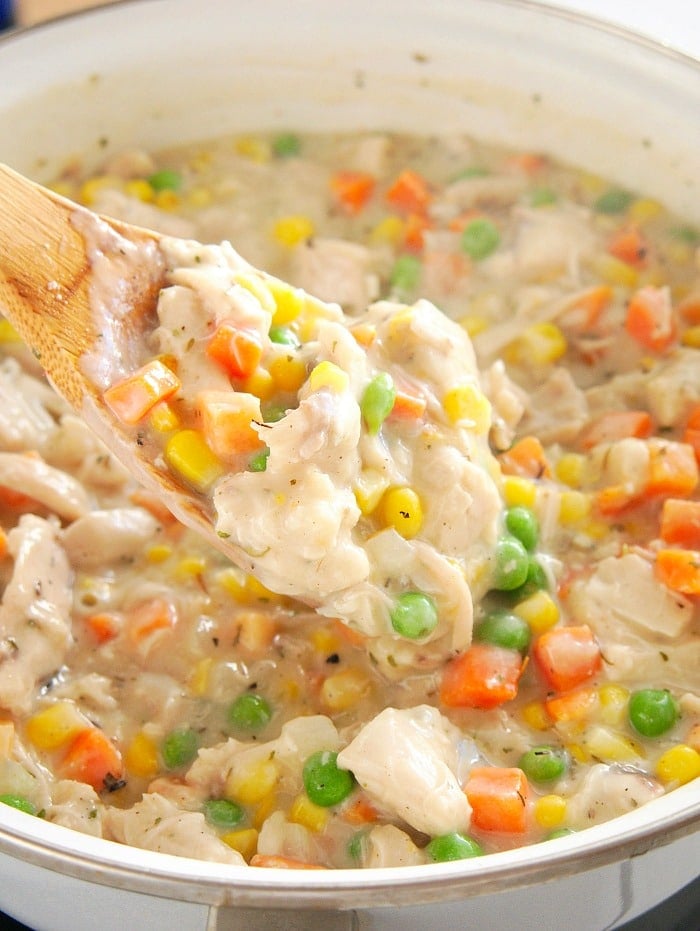 Simple Chicken Pot Pie Recipe
Simple chicken pot pie recipe you can make with shredded rotisserie chicken! Semi homemade filing that's easy to throw together for a great dinner.
Instructions
In a pan on your stovetop, heat the oil and saute onion just until soft, then add garlic and all of the spices and cook 2 minutes.

Next add the flour and mix into ingredients and cook for 2 minutes while

stirring constantly. Pour in the broth and stir until there are no flour lumps (just the onion

& garlic bits).

Next add the milk and stir until well mixed. Add the vegetables and cook for

a couple of minutes to break up any lumps of them frozen together, then mix in the

chicken and simmer under medium low heat until the sauce has thickened to a thick

sauce, it's about 8 minutes cooking time.

Remove from heat and set filling aside to cool to room temp.

In the meantime, spray your pie dish with cooking spray, lay out one of the pie sheets

into the bottom of your pie dish.

Preheat the oven to 420F. Once the filling has cooled down pour it into the pie dish

and smooth out to make it even. Carefully lay the 2nd pie sheet/dough over the filling.

Pinch it into the bottom pie dough to seal it together. Brush the pie with the lightly beaten

egg. Use a sharp knife to cut an X in the center of the pie to release steam whilst baking.

Put on a baking tray and bake in the center of oven for 30 minutes or until the pie is nice

and golden brown. Remove from oven and allow to cool for 10 to 15 minutes before

cutting into. Serve with your favorite side dishes and enjoy!
Nutrition Facts
Simple Chicken Pot Pie Recipe
Amount Per Serving (3 oz)
Calories 172
Calories from Fat 90
% Daily Value*
Fat 10g15%
Cholesterol 47mg16%
Sodium 381mg17%
Potassium 238mg7%
Carbohydrates 12g4%
Protein 9g18%
Vitamin A 2922IU58%
Vitamin C 9mg11%
Calcium 47mg5%
Iron 1mg6%
* Percent Daily Values are based on a 2000 calorie diet.