You've gotta' try this turkey pot pie soup! Whether you have leftover turkey or chicken in the house it is creamy comfort food everyone will love.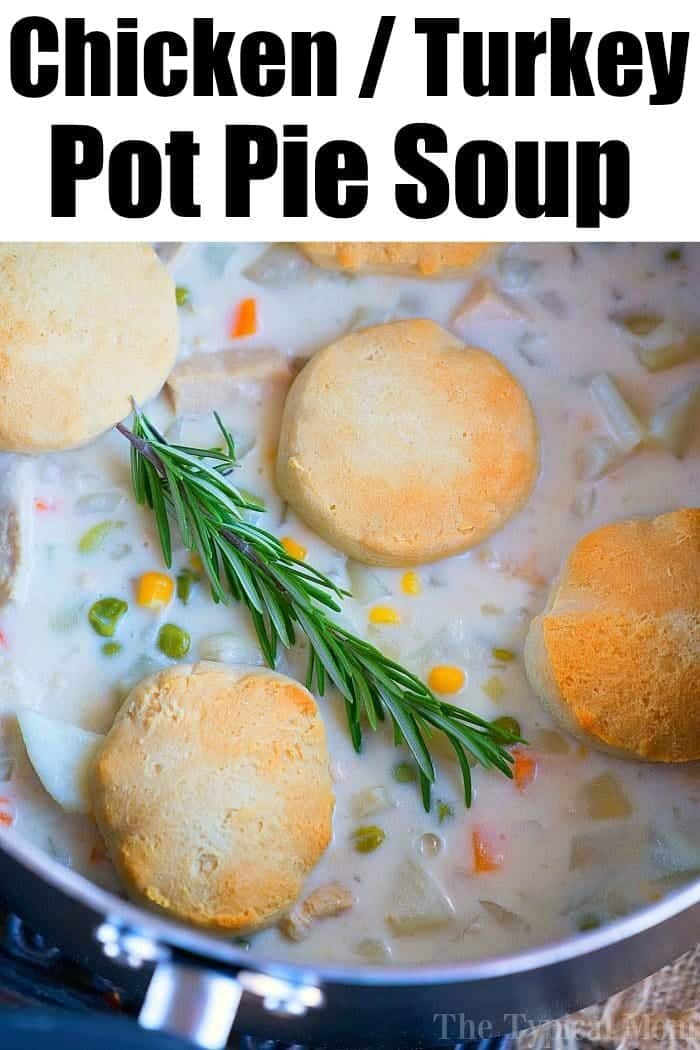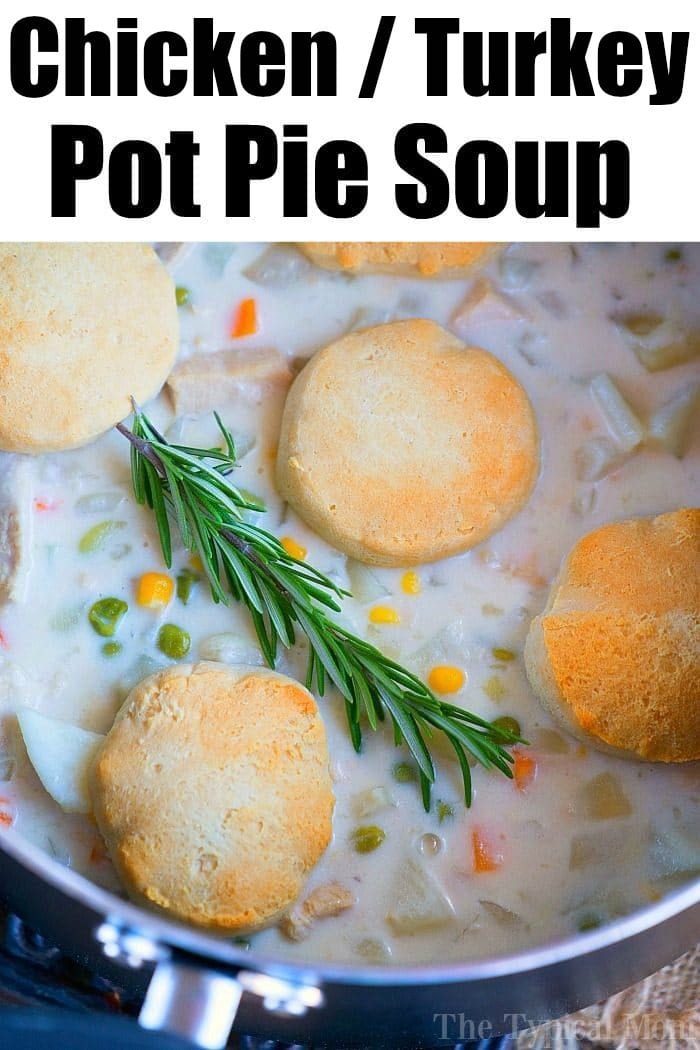 I have the perfect meal for all of you this season. It has YUM written all over it, we call it turkey pot pie soup!! You can easily use chicken too, that's what I love about this easy meal. Special thanks goes out to Farberware for sponsoring this post so I could share their Neat Nest pots with all of you. (originally published 12/18, affiliate links present)
Let's start with the fact that I hate wasting food. I love having a few leftover turkey recipes on hand to use up my meat.
With a bag of frozen vegetables, leftover chicken or moist turkey, a potato and an onion, I can throw this pot pie soup together in no time at all.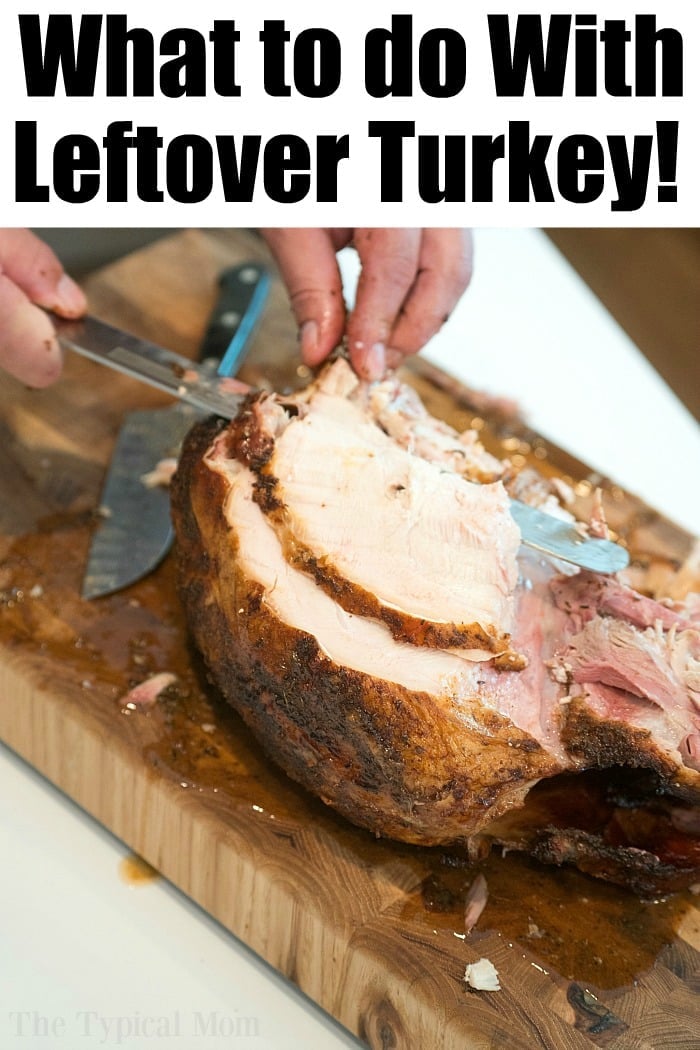 The pots, pans, and lids are stackable to save you a ton of room in your cupboard.

If your goal for the new year is to organize, use our January purge checklist and a set of these to organize your cupboards!
If you're like me you'll love them. Not only are they pretty, but they will help you organize your kitchen, it's a mess right??!
Ok let's get to the turkey pot pie soup recipe shall we.
Here are the basic steps:
Bring to boil all your ingredients EXCEPT for your heavy cream and cornstarch mixture.
That means add onion, frozen mixed vegetables, potatoes, everything.
Stirring occasionally it should be on a low rolling boil. If more than that, reduce heat.
Once veggies and potatoes are tender add in your cream and if you want to thicken whisk cornstarch and a bit of water. It doesn't take much as it will continue to thicken as it cools too.
The whole process of bringing to a boil and getting tender should take about 20 minutes, 30 minutes including time to bake your biscuits.
Yes you can make homemade rolls too but typically I just buy already made refrigerated flaky Pillsbury style.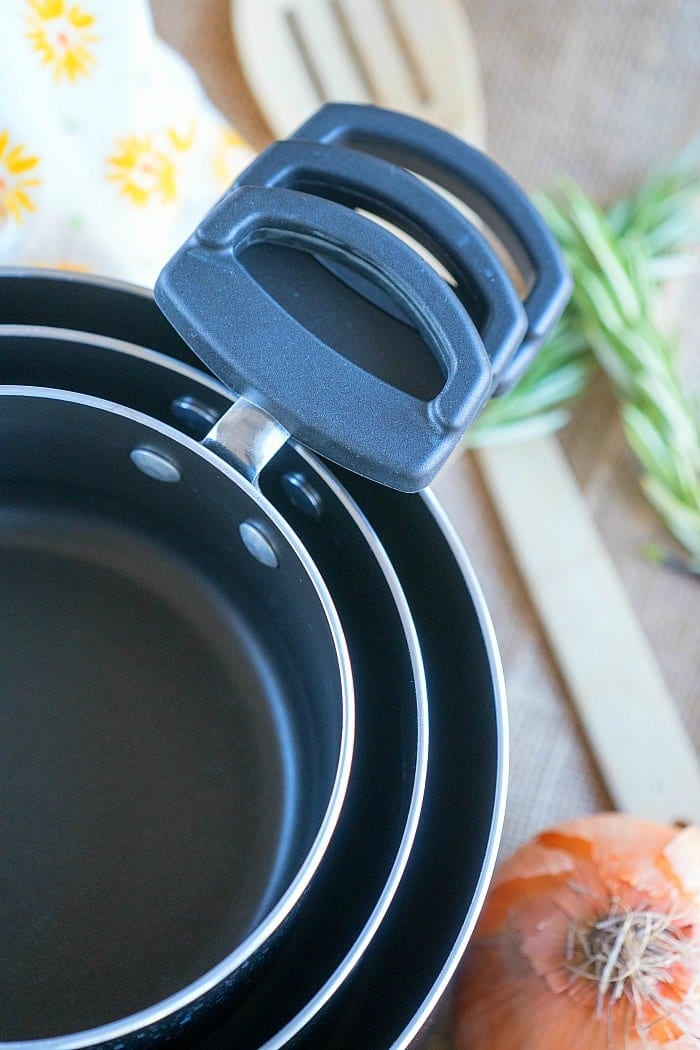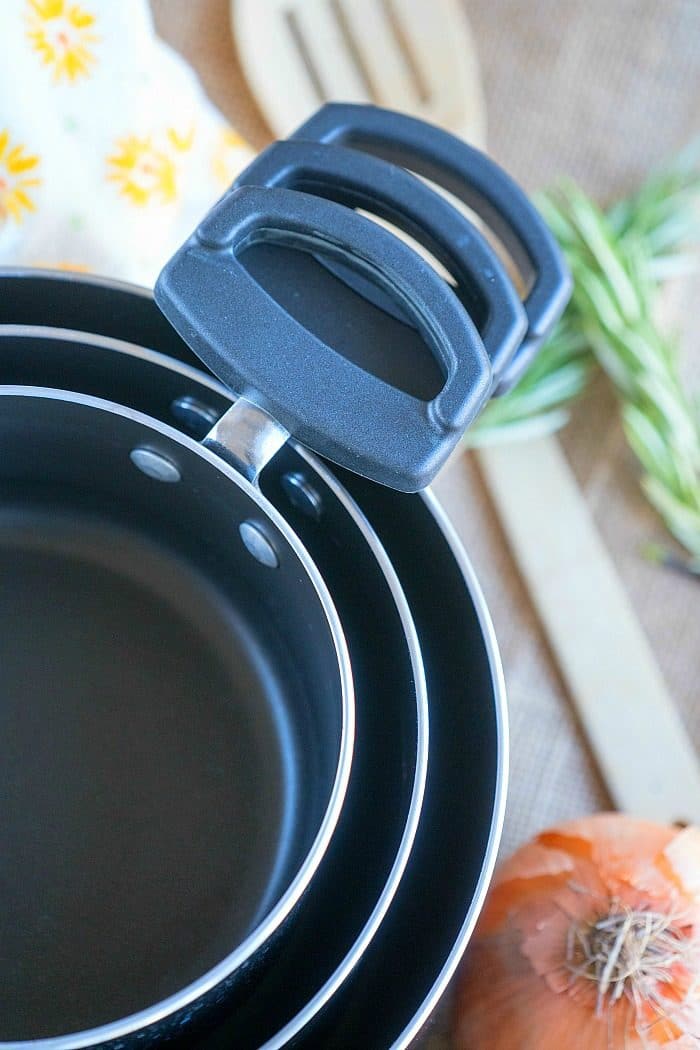 I used the largest of the 3 you see here. I wanted room to stir and allow it to bubble to perfection.
Like I said there aren't a ton of ingredients in this turkey soup. It's a great leftovers recipe so you don't waste a bite of your turkey meat.
Ingredients you'll need for turkey pot pie soup
Large Neat Nest large pot
Diced turkey or chicken – leftover turkey breast is great, or rotisserie chicken
Frozen mixed vegetables – choose any variety you like
Onion and celery is good
Potato
Rosemary – I like using a fresh sprig
Garlic
Chicken broth
Heavy cream
Spices
Bay leaf is optional
Baking sheet for biscuits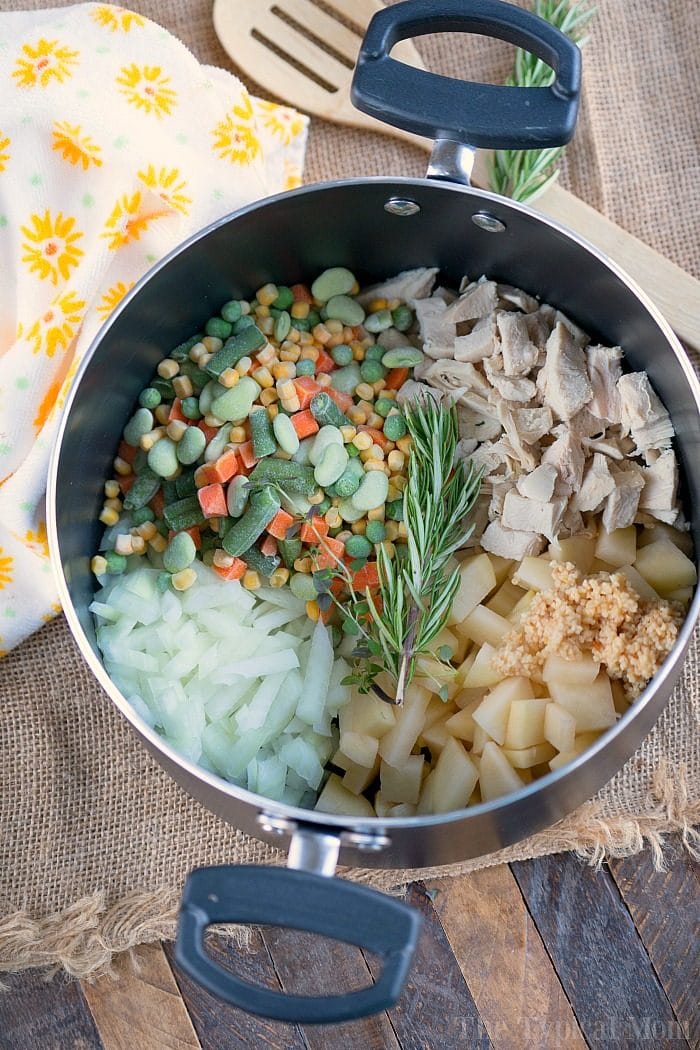 Go ahead and throw it all in…except for the heavy cream. We will add that closer to the end.
If you're making chicken pot pie soup with biscuits the recipe will remain the same. Just use what you wish. This works great with diced rotisserie chicken too.
My suggestion is to add just a pinch of salt and pepper at the beginning. Then season when it is done to get the best flavor for each person. I tend to under-season so everyone can adjust to their liking.
I like this recipe a lot more than a traditional pot pie because of how easy it is. Without the need for any pie dough or making a homemade pie crust, it eliminates those tedious steps. I suppose if that was your method of choice you could use this as the filling. I just love the insides so much I could skip the crust entirely and there's no loss for me.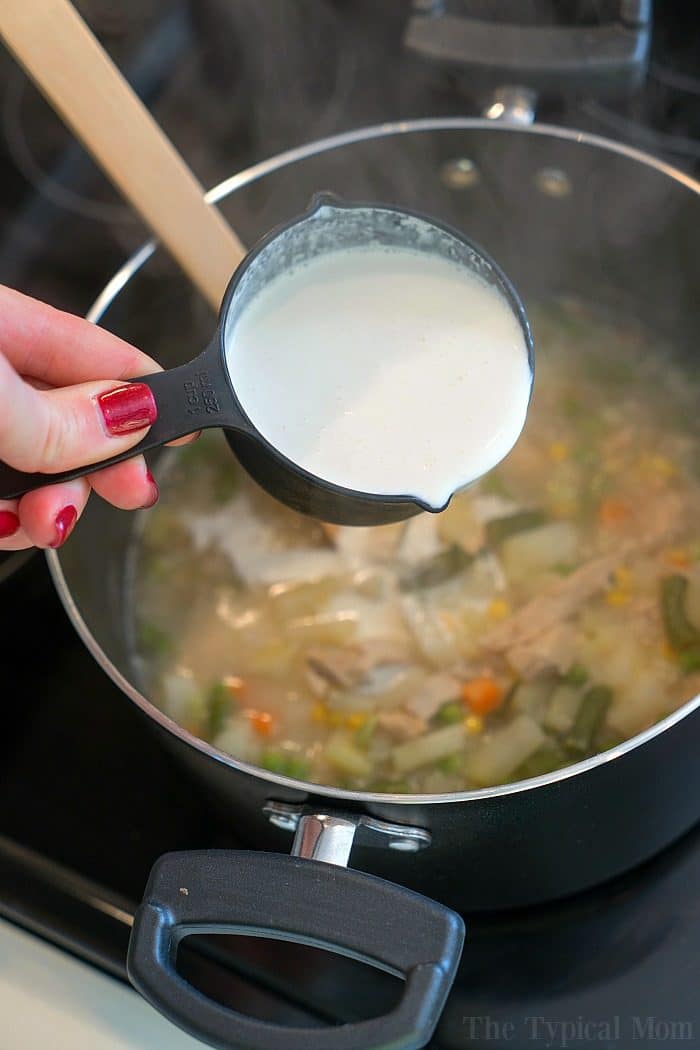 At the same time this is added I take a moment to throw some flaky biscuits into the oven. These will give this meal a pot pie feeling.
You can either:
Serve biscuits on the side
Cut them in half and dunk them into the sides of each soup bowl so they soak up the goodness when served
Again, I allow everyone to choose which one they desire. Some love the soaking up and others prefer their foods to be served separate (i.e. my husband). When you have a family of 5 it's easier to let everyone do as they wish so you can have a cumbaya moment at the table. 😉
Find this recipe and more using the Neat Nest® pots that will save you a ton of space in the new year and get you organized!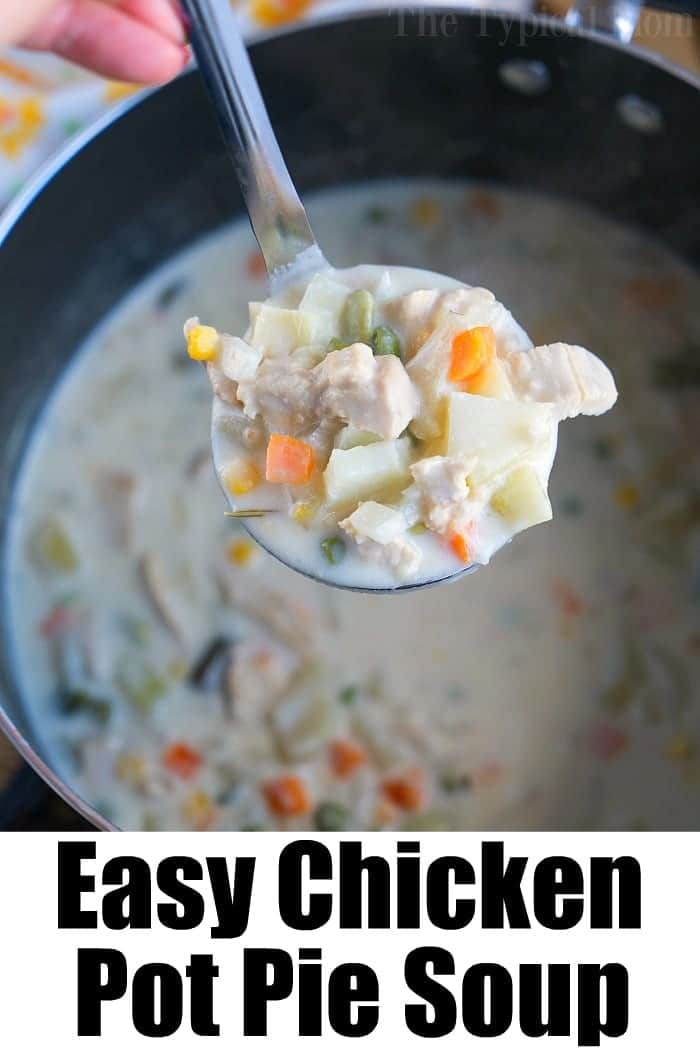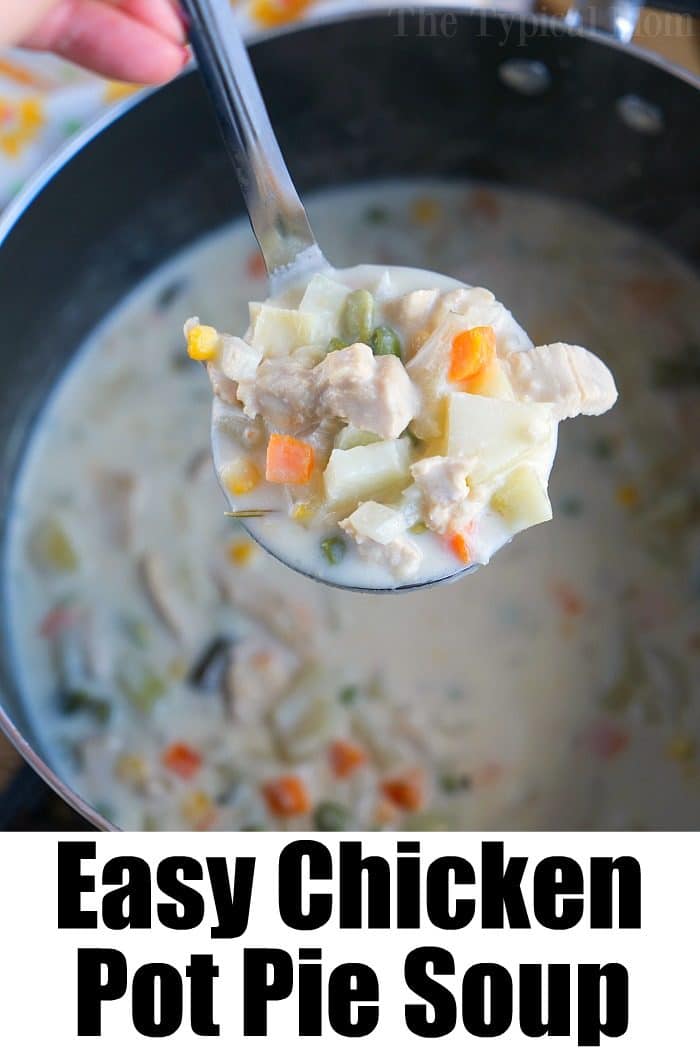 You could make this recipe while camping too using a large dutch oven. I would eliminate the bread all together, or just bring them already made. When in an RV or tent it is all about easy. BUT if you're celebrating Thanksgiving out there you'll want to use up all that meat for sure.
If you've tried Trader Joes turkey pot pie soup, this tastes very similar. I'd give it a whirl when it's chilly outside and let us know what you think!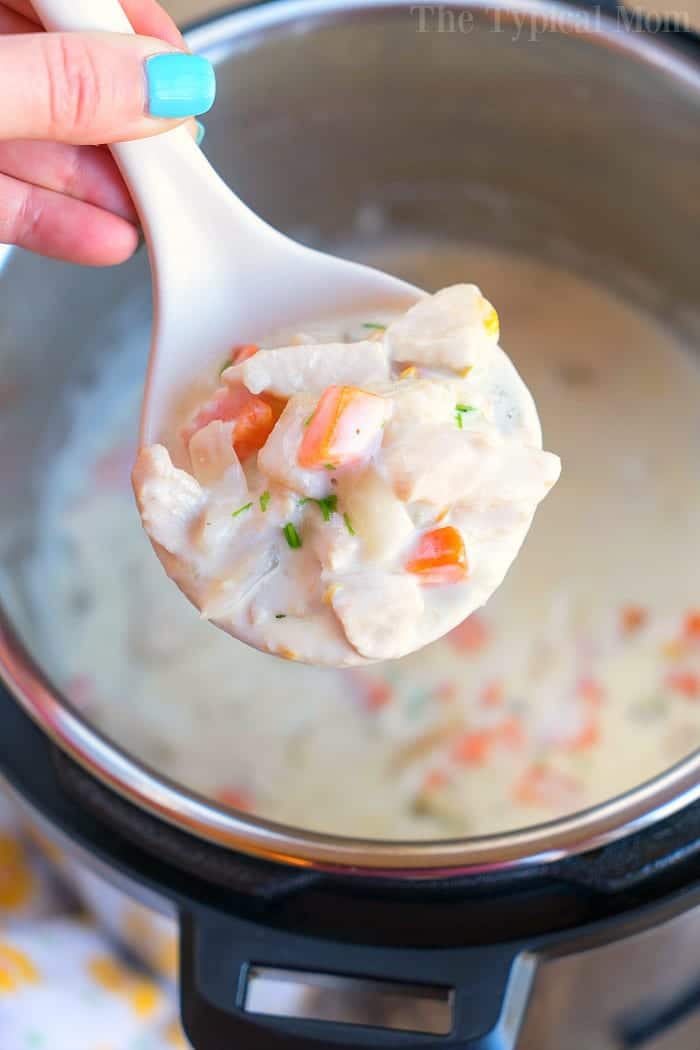 Nutritional information and calories in turkey pot pie soup are below. They're calculated by the recipe card so I am unsure of just how accurate they are but just enjoy and ignore them. 😉
Turkey Pot Pie Soup
Ingredients
1.5

c

potatoes

peeled and diced

2

c

turkey

pre-cooked, or chicken

1

c

onions

diced

2

tbsp

garlic

minced

2

c

frozen vegetables

mixed style

1

sprig

thyme

1

sprig

rosemary

30

oz

chicken broth

1/4

tsp

salt

1

c

heavy whipping cream

3

tbsp

cornstarch

whisked with 3 tbsp cold water
Instructions
Add all ingredients except heavy cream and cornstarch/water mixture into your Neat Nest large pot on medium heat over your stovetop.

Bring to a low rolling boil

Stir intermittently allowing the potatoes and frozen vegetables to soften and become as tender as you want them to be. Remove sprigs of rosemary and thyme if you added the whole piece.

Once the diced potatoes and vegetables are the perfect texture for you, add your cup of heavy whipping cream and stir

At this time put your refrigerated biscuits on a Farberware sheet pan and put into a preheated oven using the directions listed on your can for temperature and timing.

In a small bowl whisk together your 3 tbsp of cold water and cornstarch until smooth, dump this mixture into your pot and stir.

Stir slowly allowing your chicken pot pie soup to thicken (will continue to thicken as it sits and cools down too).

Remove from heat when soup is the thickness you desire (can whisk 1 more tbsp of cornstarch + 1 tbsp of cold water together and add in if you want it even thicker).

Serve in bowls with biscuits on the side or halved and put on top/inside your bowl of chicken pot pie soup.
Nutrition Facts
Turkey Pot Pie Soup
Amount Per Serving (3 oz)
Calories 301
Calories from Fat 180
% Daily Value*
Fat 20g31%
Cholesterol 93mg31%
Sodium 810mg35%
Potassium 580mg17%
Carbohydrates 18g6%
Protein 12g24%
Vitamin A 720IU14%
Vitamin C 23.1mg28%
Calcium 78mg8%
Iron 2.8mg16%
* Percent Daily Values are based on a 2000 calorie diet.
For more easy recipes, tips and free printables please LIKE The Typical Mom on Facebook and follow me on Pinterest! You can also sign up for my free weekly newsletter which is packed with goodies I know you'll love. 😉