How to cook a frozen pot pie in air fryer is here. NO need to turn on your oven anymore to heat up this easy chicken and vegetable dinner.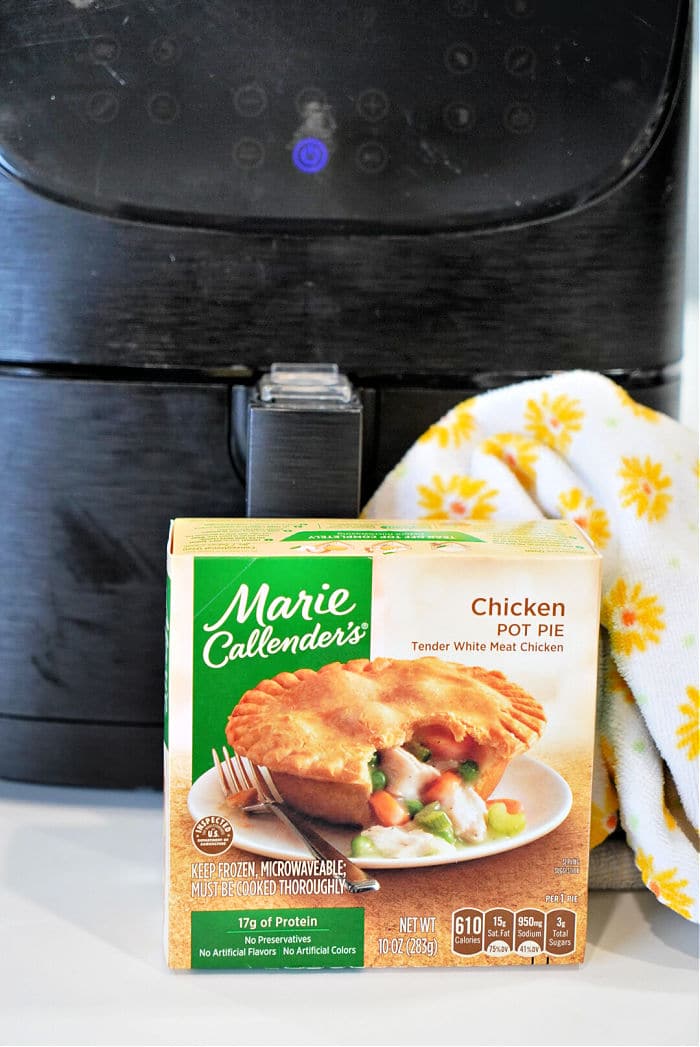 My girls wanted to make a frozen pot pie in air fryer the other day so we figured it out! Doesn't make sense to heat up the whole kitchen for this little pie. I don't think we will ever make this any other way again. Easy air fryer recipes are the best! (affiliate links present)
Yes I have made our REALLY popular simple chicken pot pie recipe before. That one is great using leftover chicken I have on hand, but when you want something fast these are great.
Frozen food in an air fryer really are game changers. If you haven't tried cooking an air fryer frozen chicken breast or frozen chicken wings, you must! You may never cook them another way again after this. 😉
Yes you get the middle of your food nice and tender but it takes the YUM a step further. Texture is everything right? To add a crisp to the outside of your food is a game changer. Especially with pot pies the crust needs to become flaky and crunch to it, just a bit. Here's the tip to do just that….
FIRST – You should sign up for my free newsletter so you get new posts emailed to you twice a week and never miss out on anything! If you love air fryer recipes too, here are some resources to start with: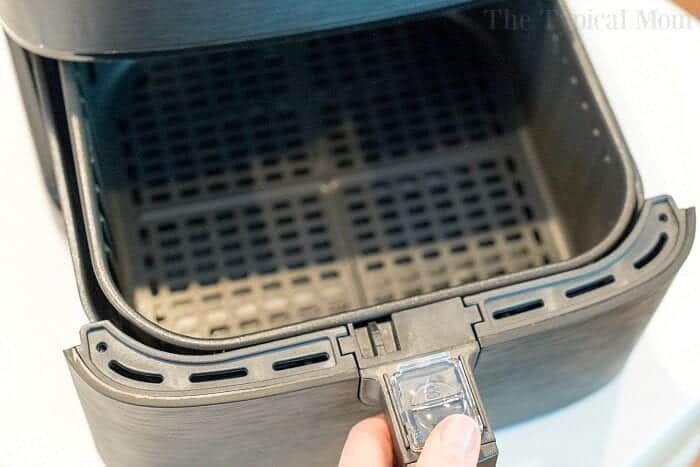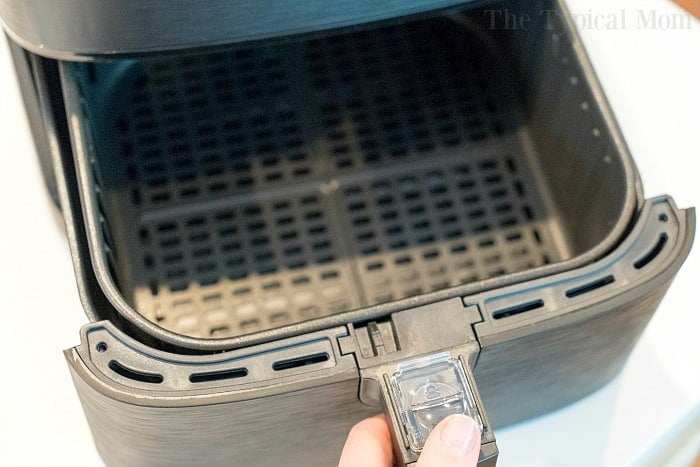 When it comes to this ultimate comfort food there are many different brands out there. I would say that Banquet and Marie Callender's are probably the most popular though. Chicken is top of the list too.
Can you cook a Marie Callenders pot pie in an air fryer?
Yep! They are the perfect size for this. Much larger and the middle will take a lot longer to heat up vs. the crust. It is a delicate balance to not over-cook the outside but making sure the filling gets hot.
How long do you cook frozen food in an air fryer?
This is a loaded question. It depends on what it is exactly. Vegetables won't take as long as a thick piece of meat. Air fryer corn dogs and air fryer frozen mozzarella sticks are similar.
You can use our air fryer cooking times chart to find out what temp. and timing you need. This has been so helpful to so many people. You can laminate it and keep it right on the fridge so you can just look up and see what you need. Keep it in the drawer to whip out when you need it, or fold it and keep it in your recipe book for always.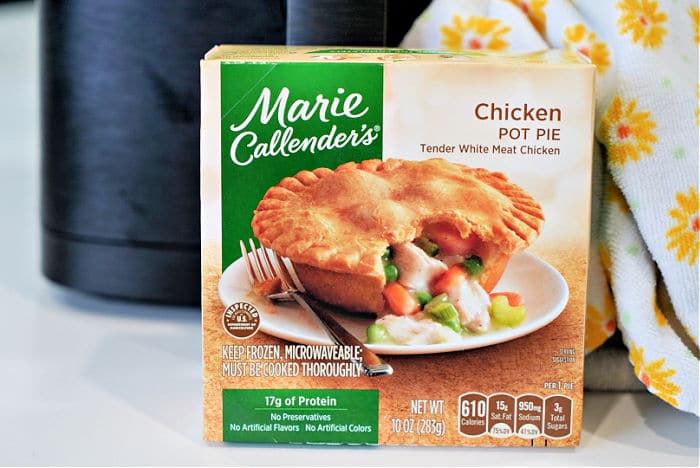 Frozen Chicken Pot Pie in Air Fryer
There are other styles out there. I have seen beef before but honestly have never bought or eaten that one. Quick and easy chicken recipes re just our jam….
Should I thaw frozen pot pie before baking?
No, don't do that. It is meant to cook from rock hard frozen to tender and warm. If you defrost it first the crust will have a different texture, and not a good one. It will get kinda' mushy, especially on the underside.
This is all you will need to make this:
Frozen pot pie around 10 oz. in size.

Cook time is for this size, no larger.
You can fit 2 at a time in a 6 quart basket.
There are many different brands, fillings, and sizes out there but I feel like this one is the best. Not only does the meat inside taste great (and not so processed) but the size is great to feed most people. Ok so my husband isn't full with this but the rest of us feel like we wouldn't need anything larger.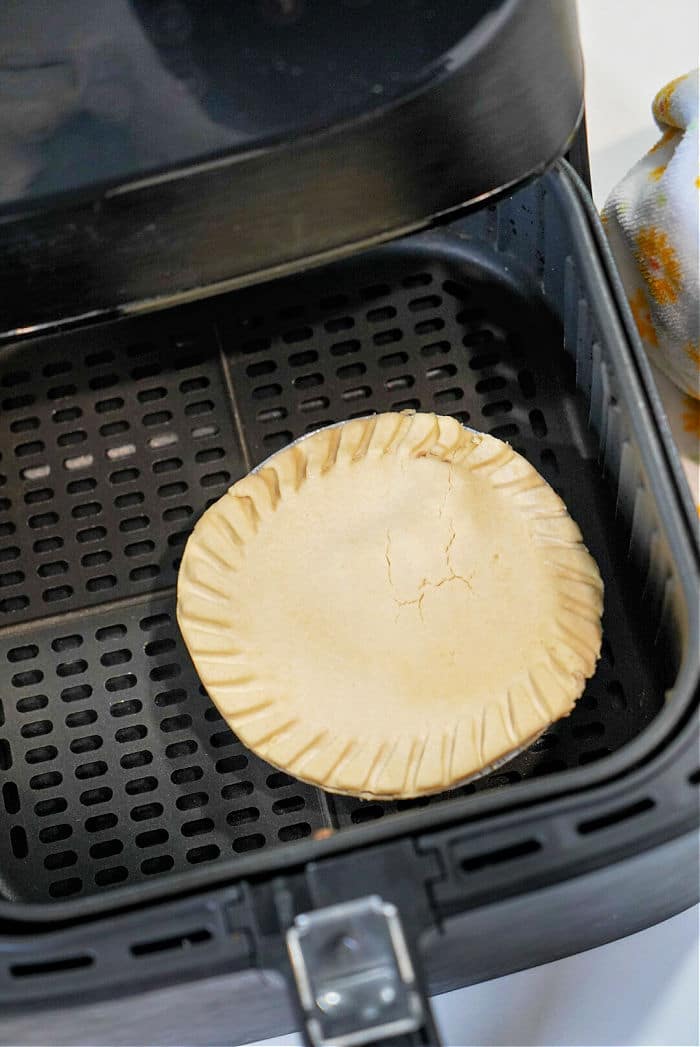 In order to get it just right it is best to start out at a lower temperature and then increase it for a few minutes at the end.
Another step you shouldn't leave out is to not open the basket once the timer goes off. Leave it inside, closed, for 5 minutes. This will allow the middle to continue warming up completely.
Time needed: 21 minutes
Frozen Pot Pie in Air Fryer
Prepare

Preheat air fryer to 350 degrees F for 5 minutes. This timing is for 10 oz. pot pies cooked 1 or 2 at a time. Larger ones will take longer.

Cook

Put 1-2 frozen pot pie into basket and allow to air fry for 15 minutes.
Then increase temperature to 380 degrees F for 6 minutes.

Leave in closed air fryer basket for 5 minutes once it is done to continue warming the middle.
Since there are vegetables and chicken breast inside it really is a complete meal. You could serve it with a salad though for some freshness.
Second option – You can use the microwave timing on the back of the box (if your bottom pan isn't aluminum) and start with that while your machine is preheating. That way the insides will definitely get warmed all the way thru. Then you would carefully move it into your air fryer basket and crisp for about 5 minutes until golden brown.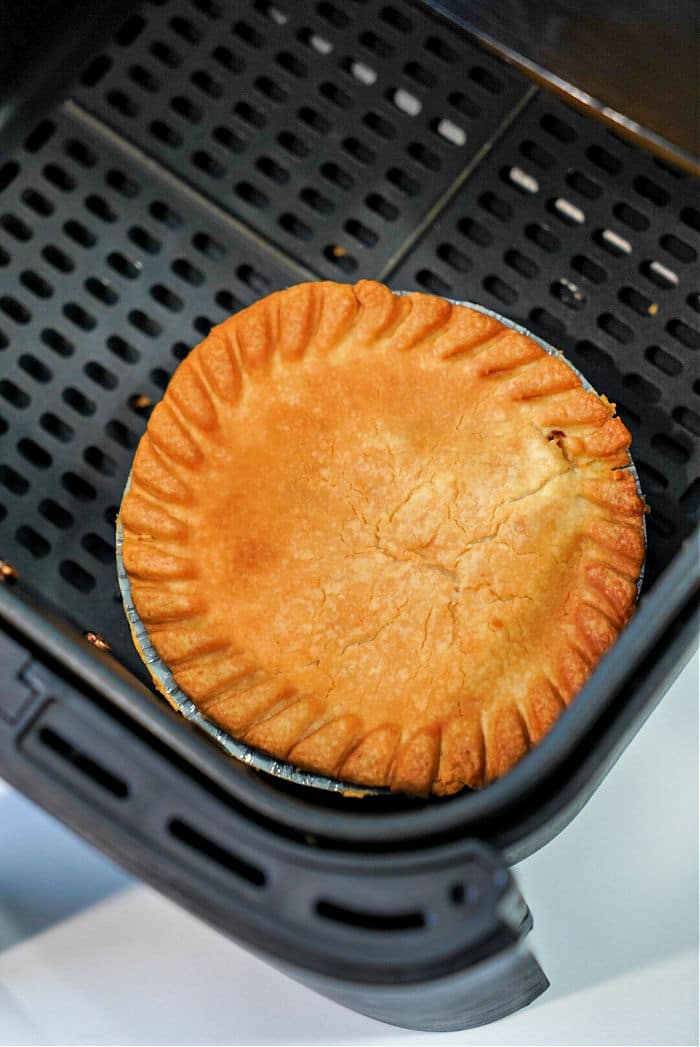 Be careful when you are lifting these babies out. Remember that the pie tins are aluminum so they get hot in that high heat. Put on to a small plate when serving and remind your kids to not touch the underside. If yours have a thick paper "pie pan" you would have the option of doing the second method in the microwave first.
Obviously if yours is made of aluminum that would be a no no and you would need to just follow directions on what is listed below in the recipe card. I like to have both methods available for those who want the middle to become really really hot.
You can use your Cosori air fryer or any other brand to make them this way. It doesn't matter what brand you have really.
The biggest difference is the size of the basket. Even the smallest 3 qt. will fit one of these.
Can you cook pies in an air fryer?
Yes! I actually bought one of these with apple pie filling inside too! Timing was basically the same and tasted pretty amazing. SO you could put one of these and your dinner pot pie in at the same time and have a complete meal.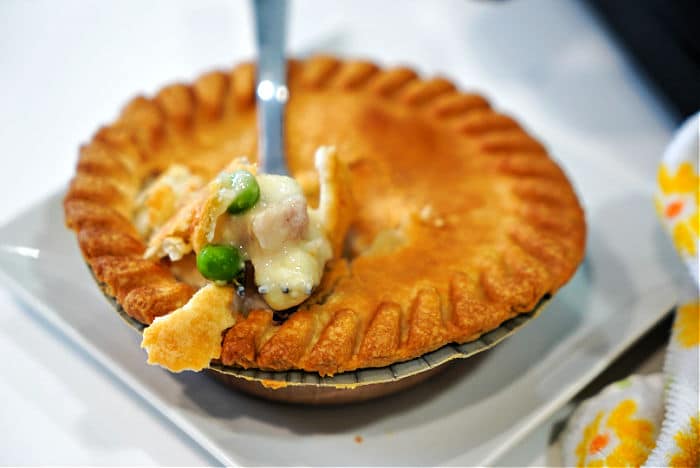 Once you thoroughly enjoy this one there are several other air fryer frozen foods you can try too. Our air fryer frozen meatballs are a great snack or appetizer tossed with sauce. Frozen chicken wings are the bomb too.
Another snack idea my girls love is making air fryer pierogies or frozen salmon in air fryer too. Since they are older they can now experiment with all the things themselves which is so nice. They have become quite the chef lately and use it almost daily.
Now for a Banquet frozen pot pie they are a bit smaller so I would decrease the initial time to 15 minutes. Not only are these smaller in circumference but not as thick either.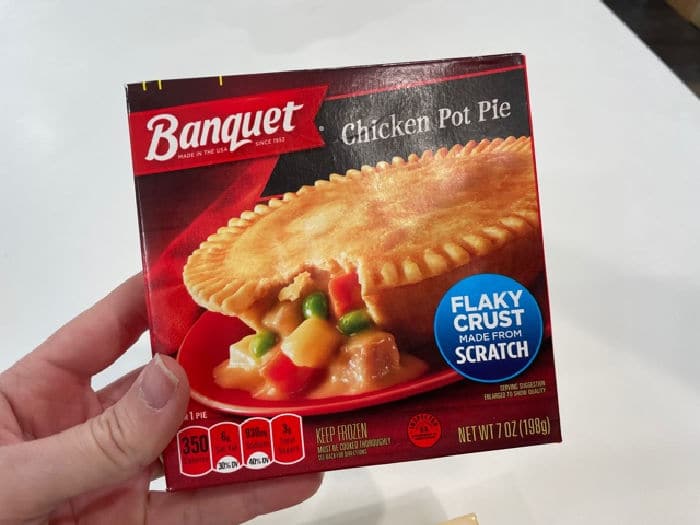 Want to see a few of my favorite things that I am totally obsessed with?? Take a peek and see how many you might already have…twinsies!
Looking for more easy family recipes and tips? LIKE The Typical Mom Facebook page?
Then sign up for my free newsletter, and follow me on Pinterest! 😉
***** If you LOVED this recipe give it 5 Stars below and let everyone know what you thought about it. 😉
Frozen Pot Pie in Air Fryer
How to cook a frozen pot pie in air fryer is here. NO need to turn on your oven anymore to heat up this easy chicken and vegetable dinner.
Ingredients
1

pot pie

frozen, 10 oz size
Instructions
Preheat air fryer to 360 degrees F for 5 minutes. (timing is for 10 oz. pot pies)

Put frozen pot pie(s) into basket and allow to cook for 21 minutes.

Then increase temperature to 400 degrees F for 2 minutes to brown top. Leave in closed air fryer basket for 5 minutes once it is done to continue warming the middle.

** Quicker method – Microwave pot pie for 5-6 minutes (check back of package as smaller ones need less time), then preheat air fryer to 400 degrees F and cook for 2-3 minutes to brown the top
Nutrition Facts
Frozen Pot Pie in Air Fryer
Amount Per Serving (2 oz)
Calories 249
Calories from Fat 153
% Daily Value*
Fat 17g26%
Cholesterol 87mg29%
Sodium 81mg4%
Potassium 218mg6%
Protein 22g44%
Vitamin A 162IU3%
Vitamin C 2mg2%
Calcium 13mg1%
Iron 1mg6%
* Percent Daily Values are based on a 2000 calorie diet.