Fairmont Grand Del Mar in San Diego is a five star resort with an award winning spa, golf, tennis courts and more. This family resort or couples getaway in Southern California has amazing accommodations as well as an incredibly delicious restaurant on location you must visit.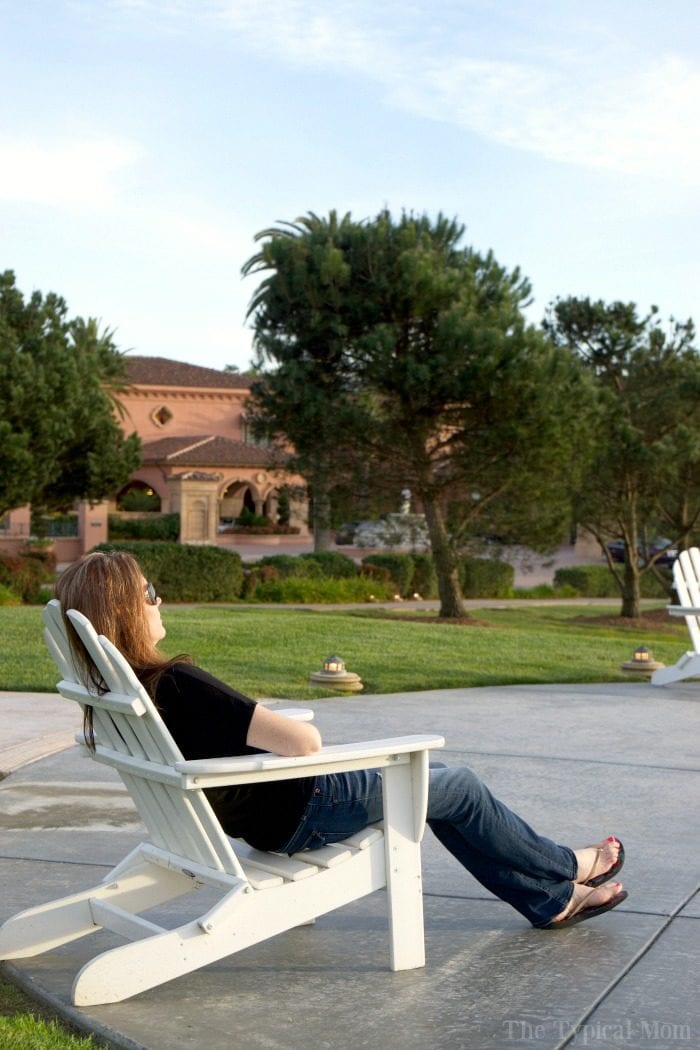 I will say it was an extremely relaxing stay. There were many beautiful places at Fairmont Grand Del Mar to just sit, enjoy the gorgeous San Diego surroundings and think or chat. I gravitated to this helicopter landing pad in front of the hotel in a large grassy area that was lined with chairs, it was just so pretty. We spent a lot of time exploring the grounds and admiring the architecture of the buildings, and of course there were tons of amenities for everyone. But first…. we got settled and the room was perfect (with a deep jetted tub too, yes!). One of our favorite places to stay in San Diego and featured on our road trip blog too. Special thanks goes out to Fairmont for sponsoring our stay so we could share our experience with you.
We had the opportunity to get away this weekend and stayed at the Fairmont Grand Del Mar. It isn't too far from where we live in Southern California but it was a great way to unwind (just the two of us) and celebrate both of our birthdays a little bit early. It was a fabulous resort! With dinner at Addison, a couple's massage and lots of opportunities to relax it was just what we needed. Let us show you around this five star San Diego hotel and why we can't wait to bring the kids back next time.
That night we just enjoyed the bottle of wine, bread, an array of cheeses and spreads left for us which was perfect for a quiet night in. The next day before we headed to our couple's massage we asked if we could take a tour of the grounds and we were shown around by a staff member in a golf cart….I must say the service there is Ahhhhmazing!! I felt really spoiled. lol. 😉
The first stop on our tour was the Fairmont Grand Del Mar Wedding Chapel, gorgeous place inside and out! I can see why it is a popular place for events like this, the pictures would turn out incredible.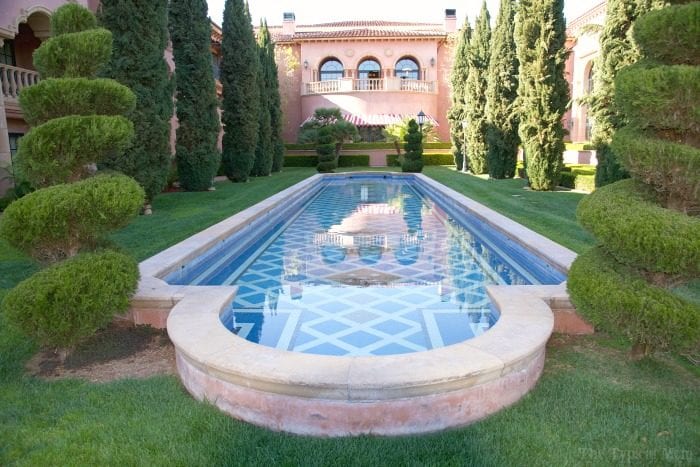 The reflection pool is amazing and there are many activities at Fairmont including great pools, golfing, tennis, an equestrian center, an award winning spa and more. We didn't partake in golfing ourselves since neither of us know how to play but the course itself is beautiful and you have a great view of it while dining at Amaya restaurant (you can see here on the second level of the building beyond).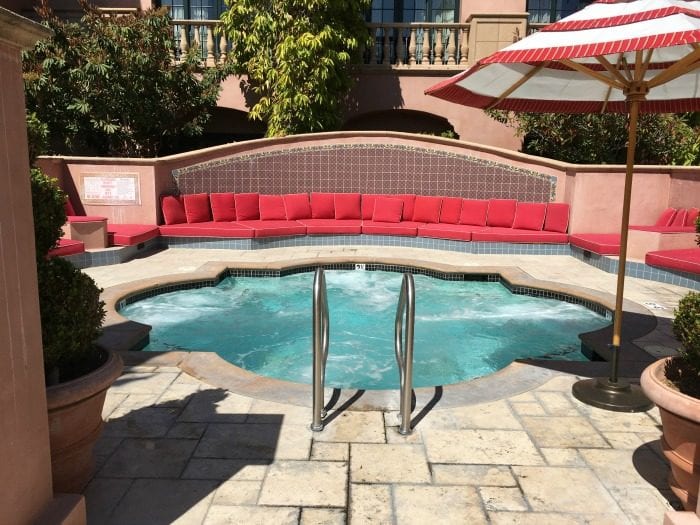 Before our massages we enjoyed the large jacuzzi here, and sitting by their pool where we split an order of fish tacos that was plenty for the two of us and delicious. One thing we enjoyed thoroughly after our couples massage was the food at Addison restaurant, it was one of the most incredible meals I've ever had! We allowed the chef to serve us his favorite selections which included the following 10 courses!
Kumomoto Oyster
Sake Cured Kampachi
Coquille St. Jacques
Carmelized Sablefish (one of my favorites)
Mascarpone Agnolotti
Ris De Veau Pane
Canard Roti
Whipped Chevre
Grapefruit Sorbet (to cleanse palate before dessert)
Roche De Chocolat
We were there about two hours enjoying a nice glass of wine, great course after course of food, and conversation. Like I said, it was amazing! The weekend flew by, I'm glad we had the opportunity to see how beautiful Fairmont Grand Del Mar is. Tucked away and so quiet it has a lot to offer couples and families as well, our kids will have to come with us next time!