How to make large quantities of boiled shredded chicken breasts for tacos or on top of buns with bbq sauce! How to boil chicken for batch cooking, prepare mixer shredded chicken, then freezing for future meals.
Ready to meal prep and do some batch cooking for the next few months? It's a great way to get it all done all at once. This boiled shredded chicken is a great easy family friendly recipe that is low carb but full of flavor! (affiliate links present, originally published 5/20)
How to Boil Chicken Breasts to Shred
We have shared with you how to boil the whole thing, but you may just want breasts this go around. We're here to help. Once you understand this, then you can make sliders, serve it over rice, make a healthy chicken salad or anything else your imagination can come up with. Can you boil frozen chicken? Yep, you can read about that here too.
Boiled Chicken Breasts
You need just a few ingredients to season the liquid you'll use for boiling. That can be adjusted to your taste buds, and what you have on hand. 😉 Here's a picture of what was used for this guest blog post, this recipe is a huge time saver!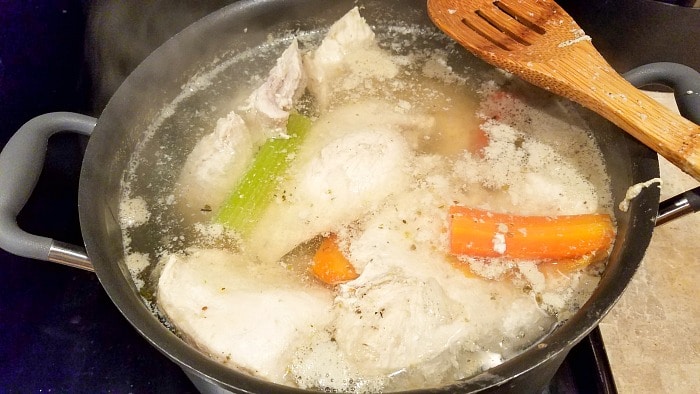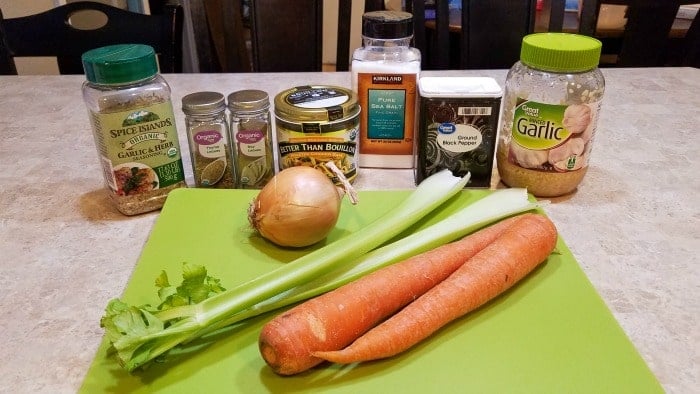 What do you put in water when boiling chicken?
Once your chicken breasts are in a large pot, add enough liquid to cover all of it. Season your liquid well with salt and pepper! It's no different than boiling pasta really. Then add carrots, onions, and fresh herbs to the pot to enhance the flavor once it's done.
Shredded chicken
This is what we used to add flavor to the water which will be added to the meat as it cooks. Use what you like but vegetables and seasonings are great to include. We do the same thing with boiled chicken legs.
Boneless skinless chicken breasts
Onion
Carrots
Celery
Better than Bouillon cubes, chicken
Minced garlic
Sea salt and pepper
Garlic herb seasoning
Thyme
Bay leaf
If you're freezing a lot of it from there you'll want a FoodSaver machine
Here are the steps you'll take!
Gather ingredients
Fill a Large stock pot ¾ full of hot water
Chop 2 large celery stalks and 2 large carrots into large sections and add to the pot
Finally dice a medium sweet onion and add to the pot
How to Boil Chicken Breasts
This is fabulous when you're batch cooking! Once it's done and cooled you can add it to a variety of recipes, freeze, and enjoy later.
Add Minced Garlic and spices to the pot
Mix in the Better than Bouillon
Set to high / medium heat and bring to a boil
Remove any extra fat from your chicken breasts and discarded. Butterfly the breasts if they are large. This will help insure they cook through evenly.
All as many chicken breasts to the pot as desired leaving an of inch space at the top
When boiling chicken how do you know when it's done?
Boil the chicken for 11 minute cooking time or until the meat is no longer pink inside, the broth is clear, and internal temperature inside the middle is 165 degrees F

How do you know when boiled chicken is done?

you'll be able to pull it apart with just 2 forks easily. If you have to yank or pull on it it needs longer.

Remove the chicken using tongs and add hot to a stand mixer with a paddle attachment
The longer you leave the chicken mixing the finer the chicken will shred. I like mine medium shredded, with some thicker pieces.
Place shredded chicken into a separate bowl to start to cool
Boiled Chicken
Repeat the process until you have all your raw chicken cooked and shredded. Use the same water in the pot the entire time (this will infuse the broth with a lot of good chicken nutrients)
Mixer Shredded Chicken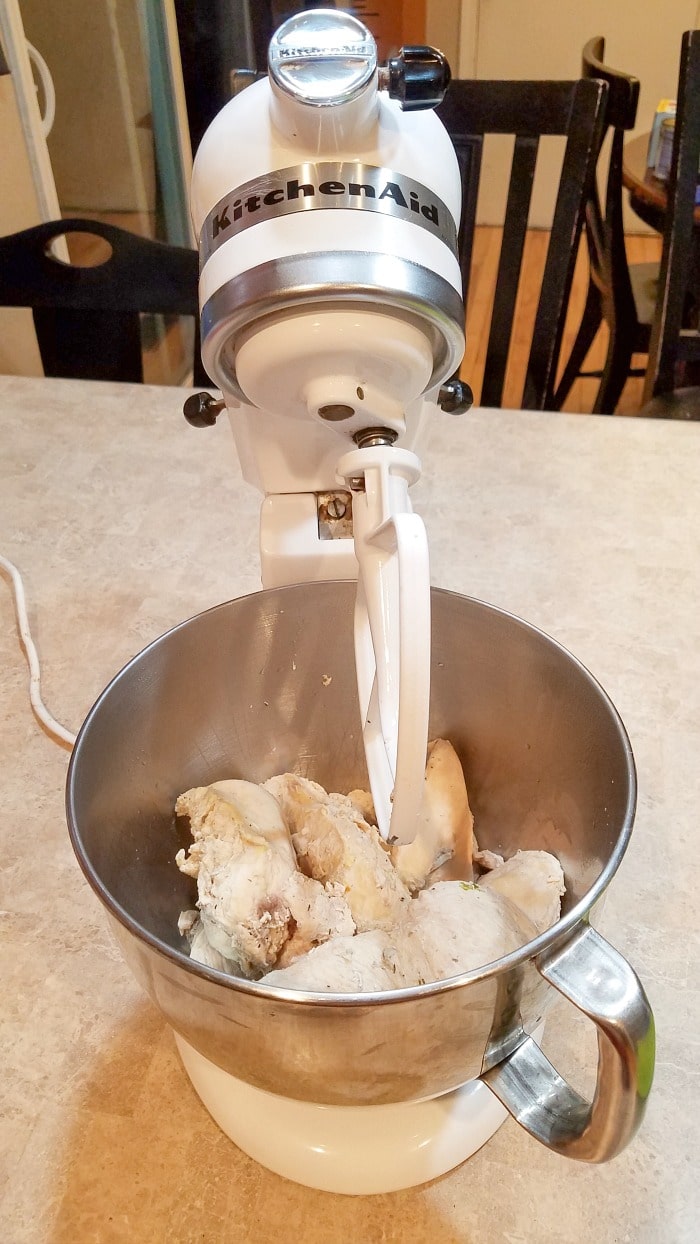 What is the best way to shred chicken?
Now this is an important kitchen hack to follow so your whole place isn't covered in cooked bird! We do the same thing when making homemade chicken noodle soup with whole chicken too. Makes it just so much easier.
Lock the mixer into place and use a clean hand towel to cover the bowl (this will block any chicken from spilling over).
Turn your mixer on low and allow the mixer to shred the hot cooked chicken.
Using an electric mixer is a game changer and makes this whole process super easy. If you have it in a bowl with a hand mixer you won't be able to cover it all at the same time, and using forks will take forever.
How to Cook Shredded Chicken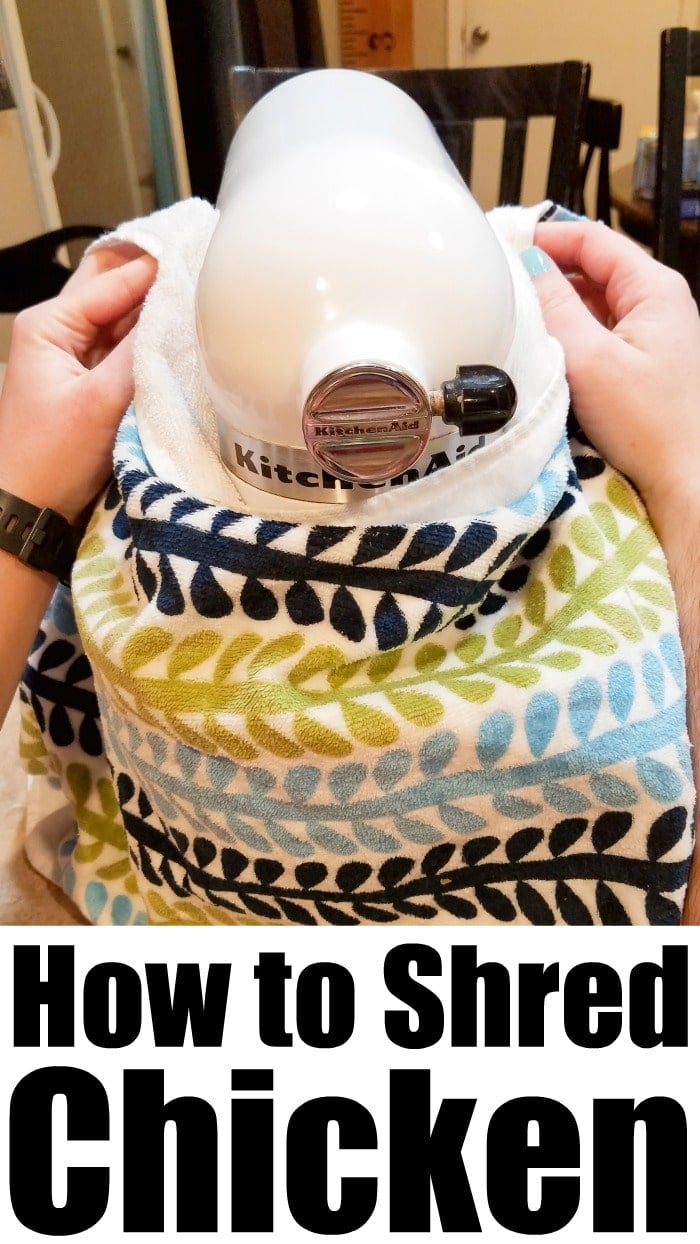 Boiled Chicken Breast
Once all your chicken is cooked and shredded remove the pot from the heat and allow your broth to start to cool
Remove all LARGE veggie pieces and the Bay leaf from the broth (leave the yummy bits!)
How do you make chicken soup from scratch?
THIS is how you get the most delicious homemade chicken broth ever. Do not throw this away y'all! You not only get perfectly tender meat in this shredded chicken recipe, but also this delicious liquid that can be used in multiple recipes like: Instant Pot chicken noodle soup that is killer, and so fast to make.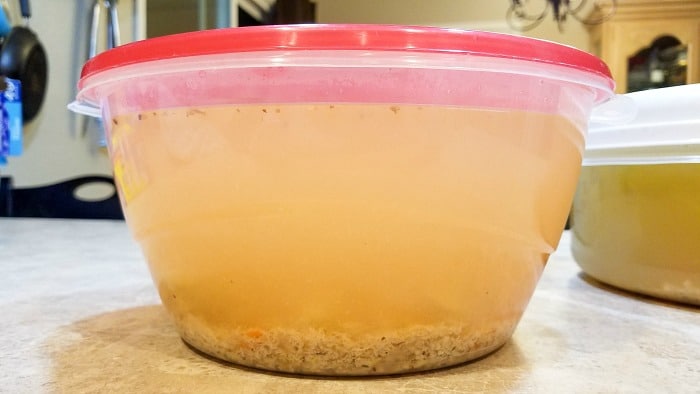 Transfer the warm broth to a large Tupperware and place in a fridge until ready to separate and freeze.
Cover the chicken and place in the fridge until completely cooled.
Keep covered so it doesn't dry out.
When you're ready to package it up get out all the things so you can make it like an assembly line of sorts. I'd make a batch of air fryer chimichangas while you're at it though.
Using a vacuum sealer, separate shredded chicken into 1-pound bags leaving 3 inches on the top to close the bag.
Take a section of paper towels or napkins and fold several times placing between the chicken and the end of the bag (this will catch any liquid that tries to escape while sealing
Follow the directions on your machine and vacuum seal each bag.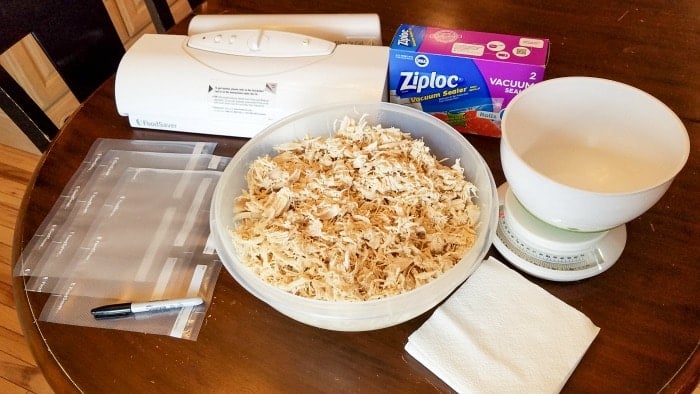 Batch Cooking Chicken
Once broth is cooled completely fill freezer safe Ziplock bags with 2-4 cups each.
Use a straw to suck any extra air out before zipping the bags shut.
Place broth bags on a jelly roll pan so they can freeze upright for easier storage.
Remove pan once bags are completely frozen
Label and place broth and chicken bags in the freezer
You really can follow these same steps for any meat you wanted to prep. Chicken thighs would work too, you'd just have to adjust the timing to a bit less since they're smaller. You can use this method to make Crockpot frozen chicken as well if you want to try that.
How long does shredded chicken last in the fridge?
If you just have it inside airtight containers, cooked chicken will last for 3 to 4 days in the refrigerator. BUT if you vacuum seal it like this it will last quite a bit longer.
If you know you won't use what you have prepped within the next week I would freeze them though.
Putting them directly into the freezer is best if you're sure you won't be using them any time soon.
Freezing shredded chicken using this method, the bags will last 6 months easily without losing flavor or changing the texture.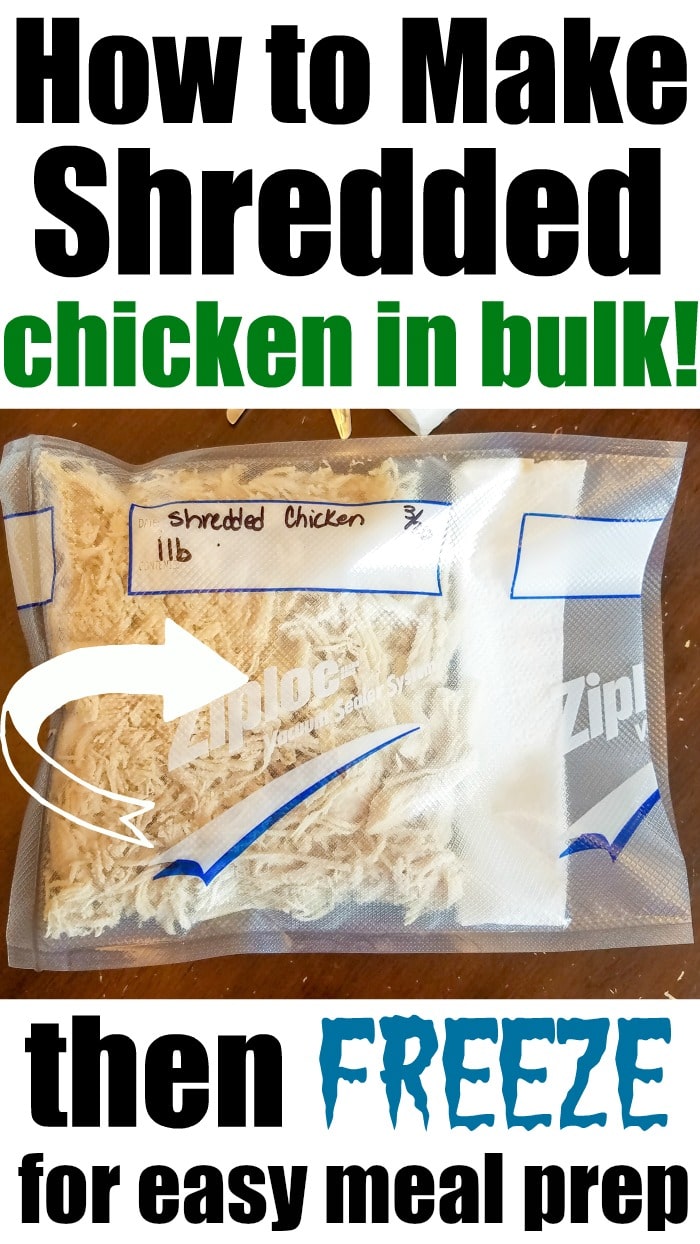 What do you eat with shredded chicken?
Well we do have a lot of tips on What to Cook with Chicken Breasts once they are cooked. Whether you diced, shred or use whole there are tons of options you can do with it beyond just making soft tacos with it inside tortillas.
Green beans and/or slow cooker mashed potatoes work for us
Our easy Crockpot baked beans is my fave
Or if you love your slow cooker, here's how to make Crockpot shredded chicken ! Using this precooked meat is great for creamy Crockpot chicken.
How to Boil Chicken Breasts to Shred
If you want to throw it into something simple, make a chicken stew similar to beef but with poultry. Crockpot meals more your style? Try this slow cooker chicken parmesan recipe some night too.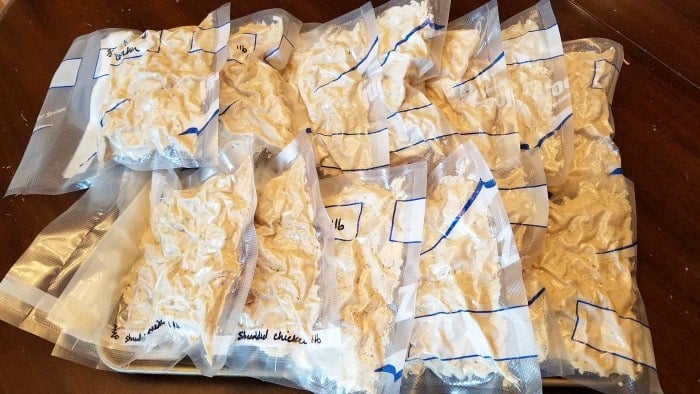 Want to see a few of my favorite things that I am totally obsessed with?? Take a peek and see how many you might already have…twinsies!
Looking for more easy family recipes and tips? LIKE The Typical Mom Facebook page?
Then sign up for my free newsletter, and follow me on Pinterest! 😉
***** If you LOVED this recipe give it 5 Stars below and let everyone know what you thought about it. 😉
Boiled Shredded Chicken
How to make boiled shredded chicken for tacos or on top of buns with bbq sauce! Great technique for batch cooking chicken in large amounts and freezing.
Ingredients
12

chicken breasts

boneless, skinless – can you use as many as you like

2

stalks

celery

2

carrots

1

onion

sliced

2

tbsp

minced garlic

1

tbsp

garlic herb seasoning

1

tbsp

sea salt

1

tsp

pepper

1

tsp

thyme

1

bay leaf

better than bouillon

follow directions on bottle according to how much water you add to your pot to fill 3/4 of way full
Instructions
Fill a stock pot ¾ full of hot water and place over medium high heat. Add the veggies, garlic, Bouillon and spices to the pot. Combine and bring to a rolling boil.

Remove any extra fat from chicken and butterfly large breasts for even cooking. Add raw chicken to the pot. Let boil for 11minutes or until no longer pink inside.

Using tongs remove to an electric mixer fitted with a paddle attachment. Use a clean towel to wrap around the mixer so chicken doesn't fly out.

Lock your mixer in place and mix on low until desired shredded size. Let shredded chicken start to cool, repeating cooking process until all your raw chicken is boiled and shredded.

Remove broth from heat and start to cool. Once shredded chicken and broth has cooled to a warm temperature, remove all LARGE veggie pieces and the Bay leaf from the broth (leave the yummy bits) and place both the chicken and broth in large bowls with covers in the fridge until completely cooled.

Once completely cooled place shredded chicken in vacuum sealed freezer bags, remove the air and label. Place chicken broth in 2-4 cups amounts in Ziplock freezer bags. Using a straw remove extra air and zip shut.

Label and place in the freezer on a jellyroll pan to help support the bags until frozen. Remove pan once broth is set.
Nutrition Facts
Boiled Shredded Chicken
Amount Per Serving (3 oz)
Calories 267
Calories from Fat 54
% Daily Value*
Fat 6g9%
Cholesterol 145mg48%
Sodium 856mg37%
Potassium 899mg26%
Carbohydrates 2g1%
Protein 48g96%
Vitamin A 1804IU36%
Vitamin C 4mg5%
Calcium 19mg2%
Iron 1mg6%
* Percent Daily Values are based on a 2000 calorie diet.