This bold Instant Pot chicken shawarma recipe is easy to throw together with thighs. Serve inside pita bread as gyros for a great pressure cooker dinner.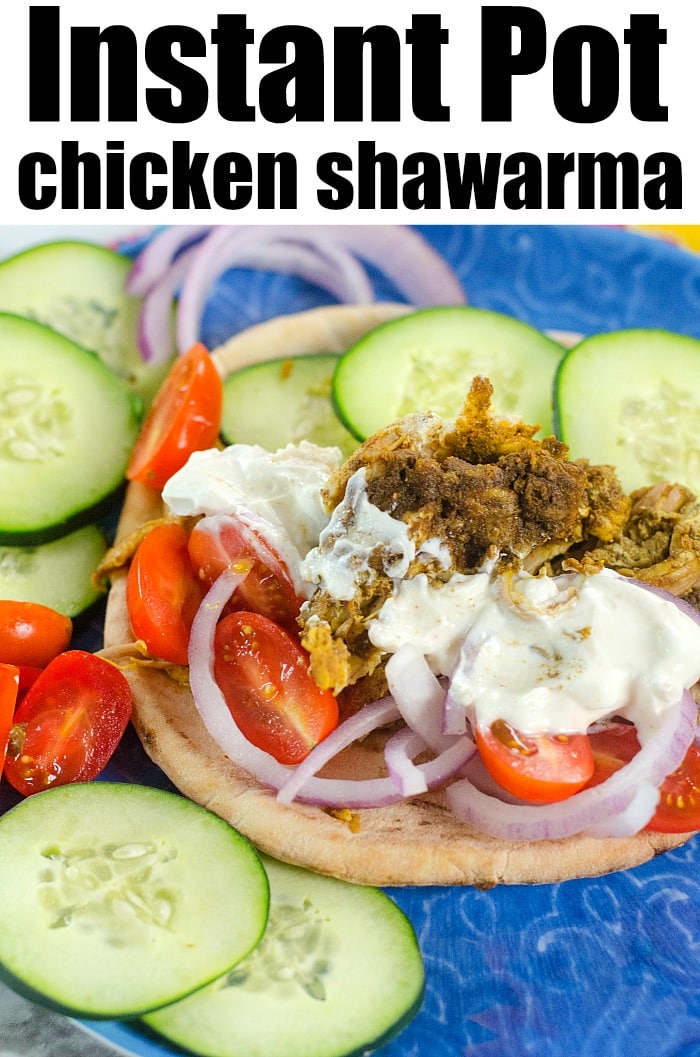 Tried Instant Pot chicken shawarma yet? Never heard of it? Just think of the most flavorful shredded chicken thighs with TONS of flavor x100. I bet you want to try this easy InstaPot recipe now huh? 😉
Ninja Foodi Chicken Shawarma
You can make this in a Crockpot Express or as an easy Ninja Foodi recipe as well. It doesn't matter what brand of pot you have at home. All you need is an electric version with high pressure to get this done well. The meat will get to be fork tender with a ton of flavor with this marinade / sauce.
You can use either fresh, defrosted or even frozen meat to make this. It is super flexible depending on what you have on hand. Wrap it up with our air fryer naan, pita bread or eat right out of the pot.
FIRST – You should sign up for my free newsletter so you get new posts emailed to you twice a week and never miss out on anything! Now let's start with a few basic tips:
Make sure to Bookmark our InstaPot recipes page. We add new ones each week!
Then PRINT this —–> Instant Pot cooking times cheat sheet that will help you understand how long meat, vegetables and beans take to cook in your pressure cooker.
For reference, this is the pressure cooker I have (a 6 quart) and use for all recipe creations.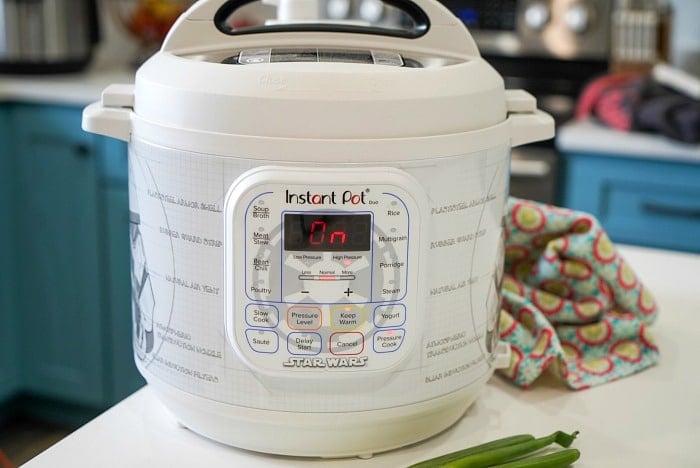 Frozen Instant Pot Chicken Shawarma
Below explains steps for defrosted or thawed pieces of meat. There is a little difference if you are cooking frozen chicken in Instant Pot instead. Follow the same timing and make the marinade but pour that into the pot with the meat. That way it can thaw and cook in the sauce itself.
Since it starts out hard you won't be able to soak it overnight so this is the best way around that change. 30 minutes will break it down to become shredded and fork tender still.
If you've never heard of this unique Middle Eastern style of chicken don't worry!
I didn't try it until a few years ago but when I did I was addicted and needed to make it at home.
Since I love having a large variety of easy Instant Pot chicken recipes on hand, I went to experimenting.
What type of chicken should you use for this? I personally use breasts or thighs and enjoy both. It really depends on what I have on hand, or what is on sale at the time.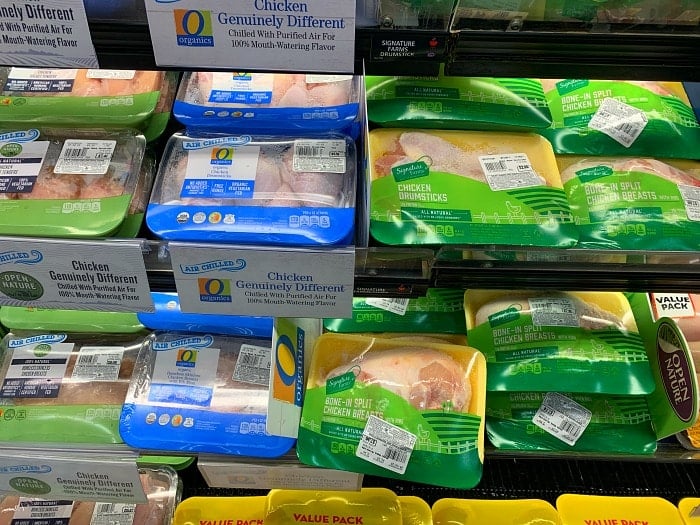 Easy Chicken Shawarma
Of course chicken thighs are much more moist and typically cheaper so I usually use that. They have so much more flavor in the dark meat. Pressure cooking is really the best way to really lock in all those amazing flavors too. You've gotta try it and see.
What is chicken shawarma made of?
This dish is part of Middle Eastern cuisine where meat is cut into thin slices, and traditionally roasted on a rotisserie. We will make ours in a pressure cooker though. 😉

Originally made of lamb, now people use chicken, turkey or beef.
What is chicken shawarma wrap?
It just means that when serving, it is put into a flat bread or Naan instead of a plate. It's an excellent way to hold all the "goodies" together.
The sauce is the key to this recipe point blank. It brings chicken to a new level of deliciousness. You can add more heat to the mix if you want, or keep it fairly mild. The best way to make it spicy is some sriracha or red pepper flakes works too.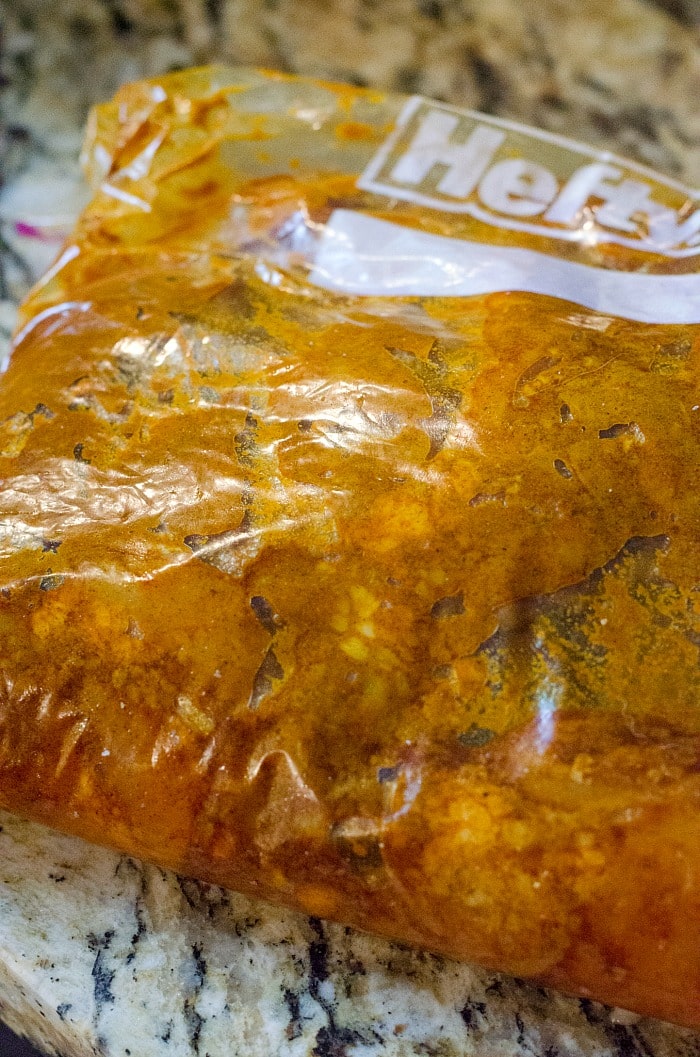 Pressure Cooker Chicken Shawarma
Types of chicken you could use would be chicken thighs or chicken breasts. Thighs are my go to with a ton more flavor and so tender so let's go from there. Typically they tend to be really cheap too, especially if you buy bone in and remove the meat yourself.
What differentiates this easy chicken recipe from any other are the bold flavors. Did I say BOLD flavors??? And as a side note it does save really well if you do have leftovers.
Since you're making it in your pressure cooker it cooks quickly too. Yes you can use your Ninja Foodi or Crockpot Express too. Any brand works y'all. Before making your shredded chicken you'll need to make the below sauce mixture which is a great chicken marinade.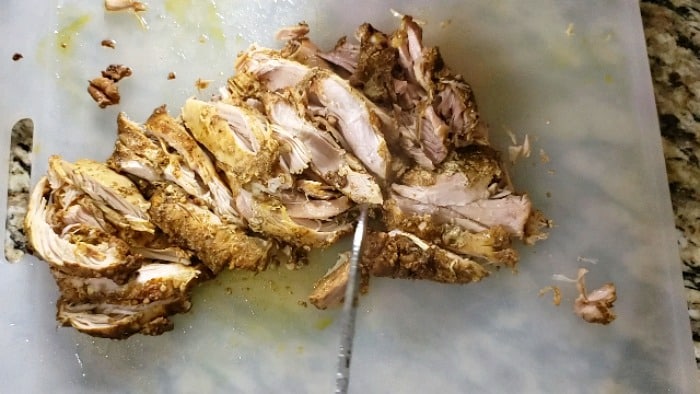 Shawarma marinade
You will want to try and use fresh herbs and or lemons if you possibly can. I don't always have them on hand so bottled or dried does work too if that is all you have.
Lemon juice
Olive oil
Salt and pepper
Cayenne
Garlic in air fryer minced is my fave

give or take more or less depending on whether you want a heavier garlic sauce or not

Turmeric
Cinnamon
Paprika
Cardamom – ground
Cumin
You'll want a gallon freezer bag so it won't leak out on to your fridge shelf. That's no fun. It is best if you leave it there overnight so it really soaks up and gets an overwhelming fabulous flavor. Boneless skinless chicken is my preference so it can really soak in.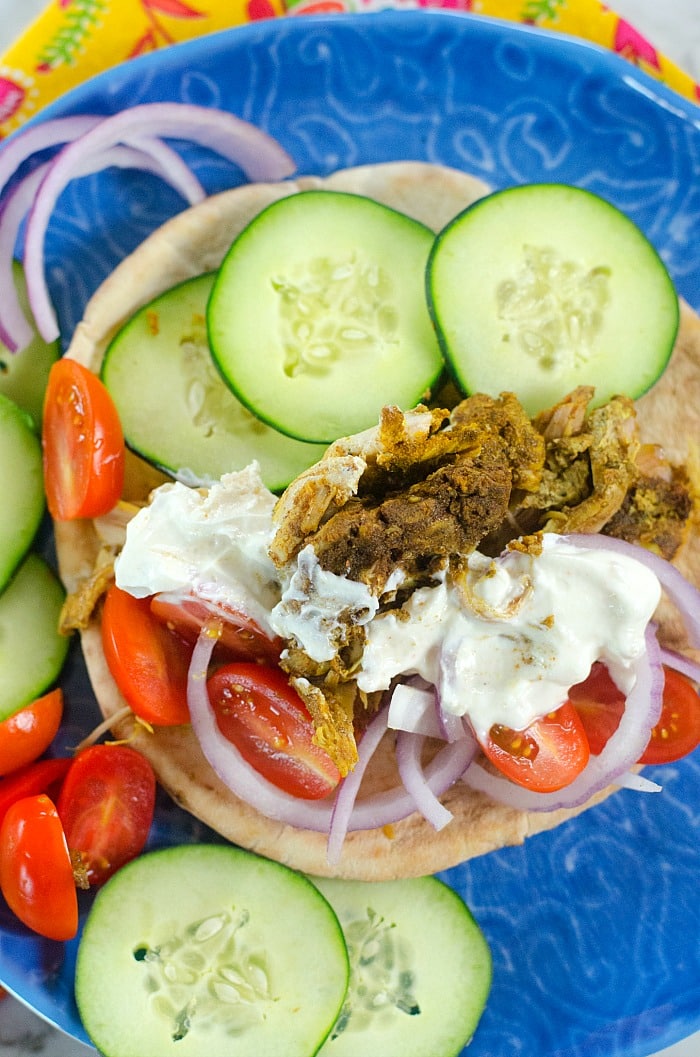 Chicken Shawarma Pita
You can buy packaged pitas or make your own easy gluten free roti recipe as well. It is easier to make yourself than you might think actually. I have a printable recipe card at the bottom of this post you can keep handy or just come back every time you want to make it again. 😉
Use a mallet on each piece of chicken so it is thin and will marinate well.
Combine ingredients in a freezer bag, then add the chicken and remove all the air. Zip closed and set into your fridge overnight.
Add a cup of water into your inner pot. Lower down a vegetable steamer basket and remove the chicken from your baggie. Set in steamer basket or large trivet to cook. Set to high pressure for 30 minutes cooking time followed by a quick release.
Mix together ingredients for creamy sauce to serve on top of your meat. Cut chicken into bite size pieces or shred. Serve inside pita bread or on top of rice.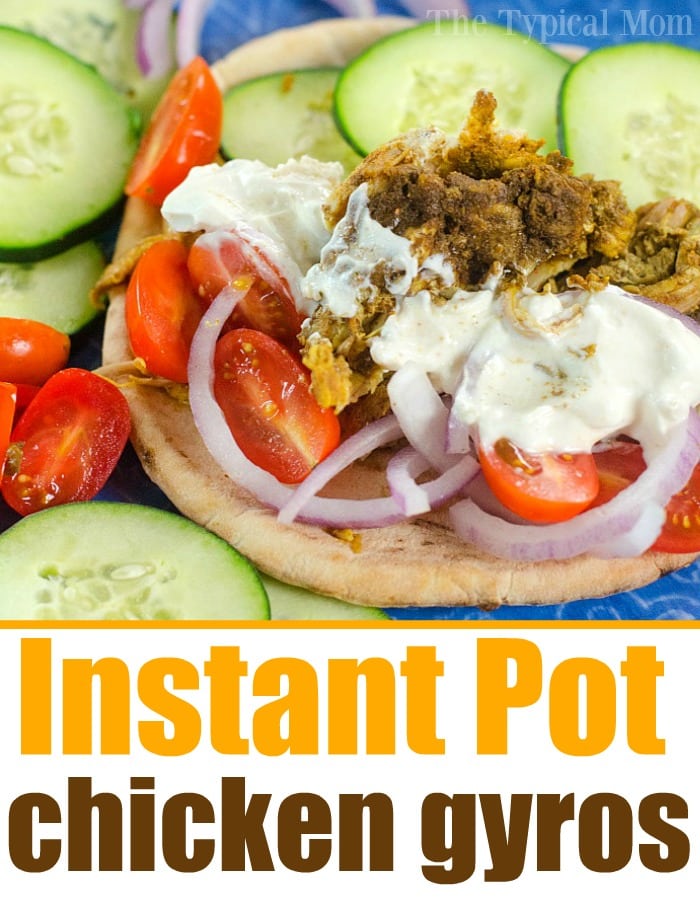 How do you assemble a Shawarma
It's up to you but typically the meat goes in first, followed by toppings, then a sauce on top. Serve like a taco or cone and enjoy. There are tons of options for how you dress this whole thing up but the traditional choices would be;
Diced Tomatoes
Cut up fresh Cucumbers
Diced or Sliced onions
Black or Klamata Olives
If you do have leftovers just store in fridge inside a freezer bag for later. Looking for other easy Instant Pot recipes? We have a TON on The Typical Mom blog like Instant Pot chicken and potatoes: 15 minute Instant Pot tacos, pressure cooker carnitas are to die for, and tips if you have frozen chicken.
Printable recipe with nutritional information such as saturated fat content etc. is below.
Want to see a few of my favorite things that I am totally obsessed with?? Take a peek and see how many you might already have…twinsies!
Looking for more easy family recipes and tips? LIKE The Typical Mom Facebook page?
Then sign up for my free newsletter, and follow me on Pinterest! 😉
***** If you LOVED this recipe give it 5 Stars below and let everyone know what you thought about it. 😉
Instant Pot Chicken Shawarma
This bold Instant Pot chicken shawarma recipe is easy to throw together with thighs. Serve inside pita bread as gyros for a great pressure cooker dinner.
Instructions
Use a kitchen mallet to thin out the chicken thighs, this will make them more tender when cooking. Put them into a large gallon size ziploc bag.

Put other ingredients for marinade (above the word sauce) in a bowl and mix well, then pour into your bag with chicken and zip closed.

Massage and mix so chicken is coated. Leave in fridge overnight for best results.

Put a trivet or vegetable steamer basket inside your pressure cooker and pour 1 cup of water into the pot.

Put chicken on the trivet and set to high pressure for 30 minutes (times will vary slightly depending on how thick your thighs still are, but this works well for us). Then do a quick release.

Remove chicken and shred/slice. Put into pita bread with tomatoes, onions, etc…

Mix ingredients for sauce and top, enjoy!
Nutrition Facts
Instant Pot Chicken Shawarma
Amount Per Serving (3 oz)
Calories 329
Calories from Fat 234
% Daily Value*
Fat 26g40%
Cholesterol 111mg37%
Sodium 1035mg45%
Potassium 319mg9%
Carbohydrates 4g1%
Protein 19g38%
Vitamin A 970IU19%
Vitamin C 3.5mg4%
Calcium 32mg3%
Iron 2.2mg12%
* Percent Daily Values are based on a 2000 calorie diet.