Instant Pot chicken and potatoes can be cooked together at the same time and both come out perfectly tender and flavorful! One pot meal success for everyone.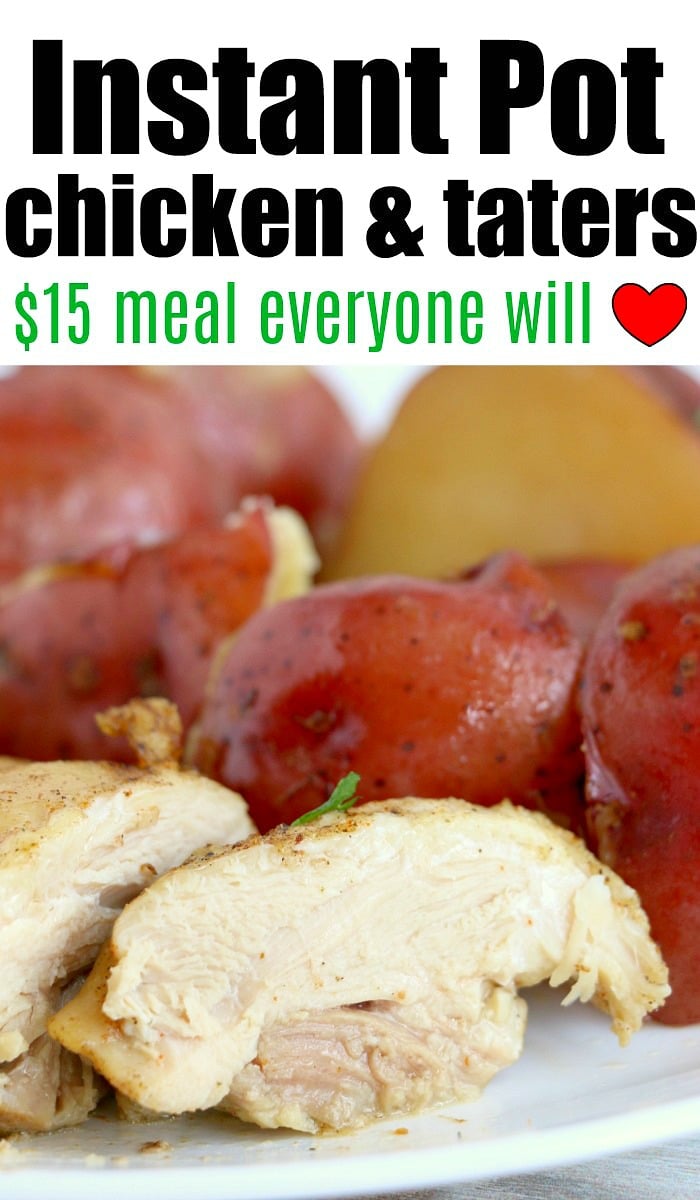 Have you tried cooking Instant Pot chicken and potatoes together yet? It's great when you can make your protein and side dish at the same time. Talk about a quick dinner idea. Just one of our easy Instant Pot recipes here on The Typical Mom. (affiliate links present, originally published 6/20)
Chicken and potatoes Instant Pot recipe
Love cooking your side dish with the main meal all together in a one pot meal? Me too! Yes we cooked thighs, breasts and potatoes in our pressure cooker for years but not together. I mean like nobody talked about that until some time had passed and goto used to how it all worked. Now it is a thing, like you have to try it.
You don't have to have an IP brand either. You can use your Crockpot Express or a Ninja Foodi too if that is what you have. As long as it is an electric pressure cooker and has the high pressure function you are good to go with this one.
FIRST – You should sign up for my free newsletter so you get new posts emailed to you twice a week and never miss out on anything! Now let's start with a few basic tips:
Make sure to Bookmark our InstaPot recipes page. We add new ones each week!
Then PRINT this —–> Instant Pot cooking times cheat sheet that will help you understand how long meat, vegetables and beans take to cook in your pressure cooker.
For reference, this is the pressure cooker I have (a 6 quart) and use for all recipe creations.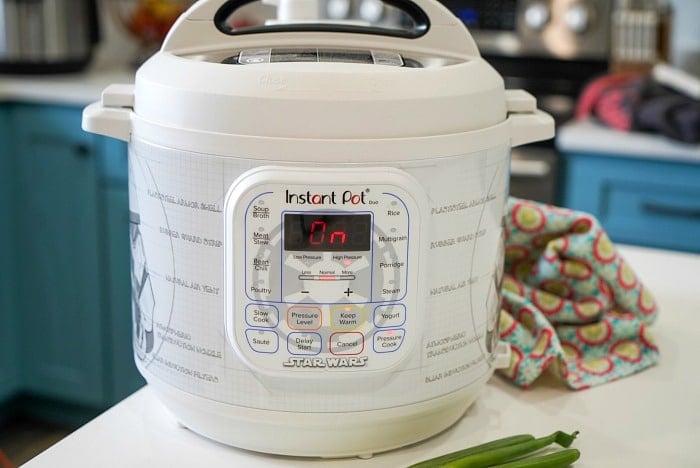 Instant Pot Chicken Potatoes and Carrots
Yes you can use medium size breasts or chicken thighs but the latter are my favorite by far. Cheaper, more tender and packed with tons of flavor goes the dark meat I say. Honestly, whatever is on sale goes into my cart. OR if I have a package in the fridge that needs to be used then that's the winner winner chicken dinner.
If you want more veggies then just use firmer varieties so they cook at the same rate. Peeled and large chunks of carrots are winners, green beans would work fine as well. Stay away from more delicate ones like broccoli and it will become mushy.
Instant Pot Frozen Chicken and Potatoes
If all you have is frozen thighs in Instant Pot that is okay. You will just want to use the timing in this post linked here and make sure that your pieces are broken apart. If they are in a large clump and hard just run them under cool water and pull them apart. This step is a must for getting it cooked to a safe internal temperature.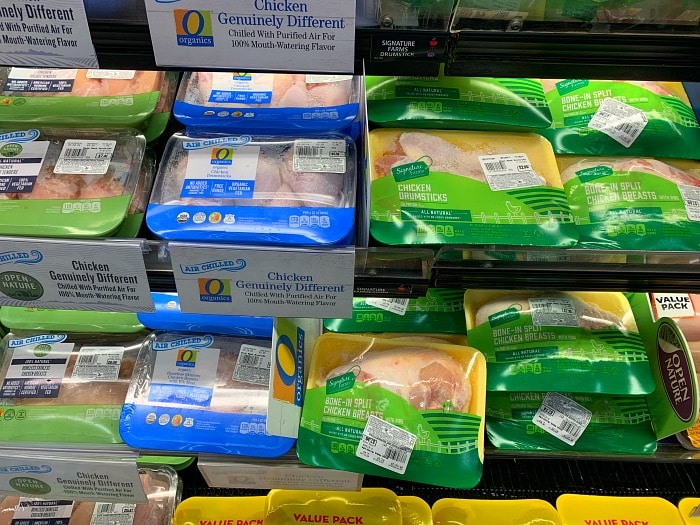 Mediterranean Instant Pot Chicken and Potatoes
You can season these as you like. If you want an Indian flare you can add curry seasoning blends, something simple can just be salt, pepper and garlic salt. Use a mixture of a few of your favorites or a blend already bottled from the store. Here are a few questions you might have in mind before you get started on this:
Are chicken thighs bad for you?
This is what some people think, so they veer away from them. However, both the thighs and breasts are a great source of lean protein. They do differ in the amount of calories, fat and saturated fat.
What temp should chicken thighs be?
The safe internal temperature for cooked chicken is 165°F. An instant read thermometer is best inserting into the thickest part of the thigh. Make sure when you do so, do not touch the bone.
How do you make chicken soft and tender?
Steaming it this way creates incredibly moist bites every single time. Also, dark meat isn't as dry as breasts can be so I'd opt for those. When it comes to potatoes I tend to like red the best. A bit firmer than russets and with a bit more flavor, I have those on hand most often.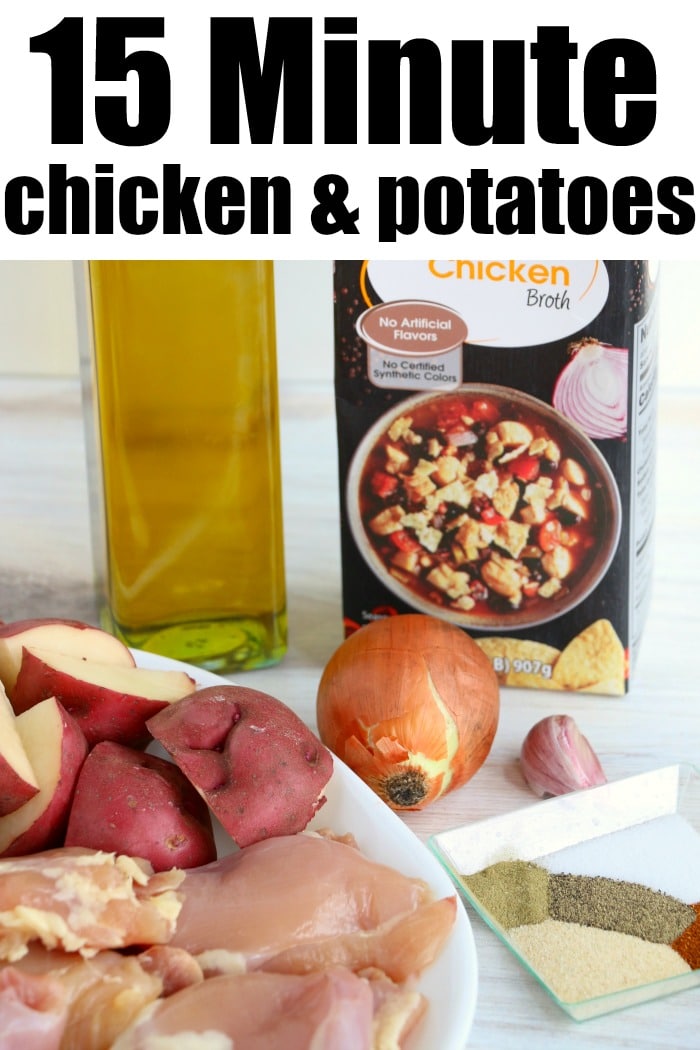 Instant Pot chicken thighs and potatoes
Of course you can bake or pan fry it. Using your smoker or barbecue are great too, but they do tend to make it drier than the pressure cooker. To make things easier, I choose boneless and skinless but those are a bit more expensive. If you're looking for the most inexpensive chicken, get bone-in with the skin on.
Boneless skinless chicken thighs
Olive oil
Red potatoes are my choice, russet potatoes could be used if you'd rather
Minced garlic
Onion
Salt and pepper
Onion powder and garlic powder is good
Thyme and paprika
If you use bone in thighs it may take an additional 1-2 minutes cook time. Here's where we begin with this Instant Pot chicken recipe.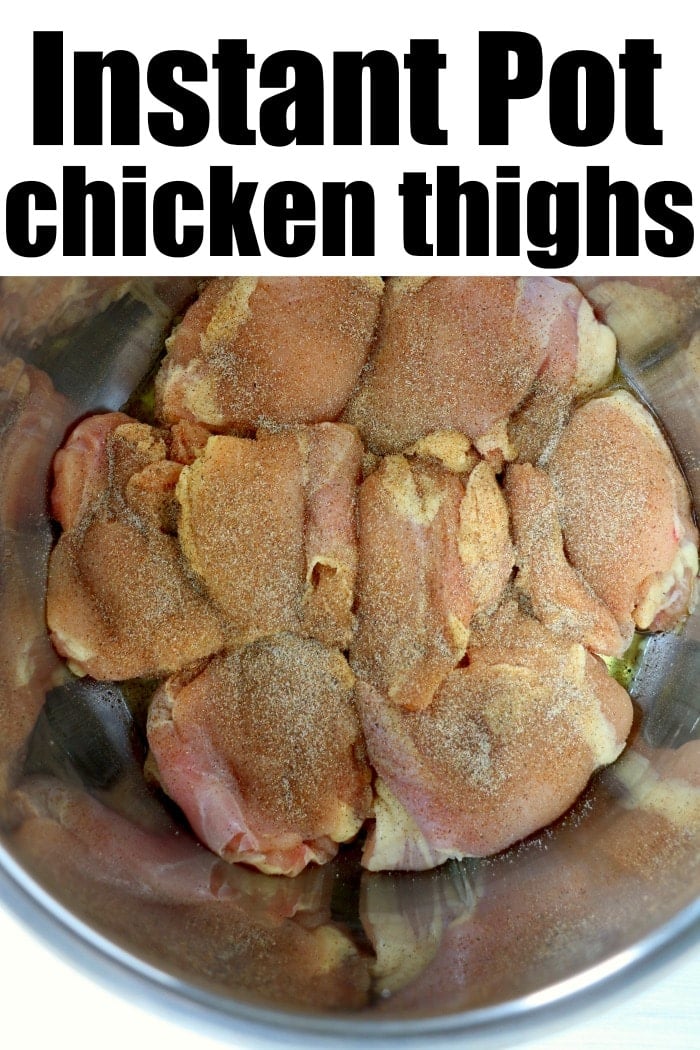 What are the different ways to cook chicken?
Here's what we used, the seasoned chicken can be adjusted according to your liking of course. Just use what you have on hand to make things easier. Cheap recipes my family loves is what our site is all about. I'm sure you're the same way if you're reading this right now. 😉
I used to use my slow cooker all the time until a few years ago when I got this "magical multi cooker pot". Now when I totally forget to prep what I need in the morning, I can throw it all in and out comes a home cooked meal in no time.
High pressure is used for 90% of all pressure cooker recipes, and for this one as well.
When meat is involved, natural release is usually best. Why??? Because it maintains the tender juiciness of the meat.
Another tip is to wait at least 5 minutes after you remove the chicken before you slice it. This will make sure that the juices stay inside and immediately don't leak out. If you cut right away you will lose this and it will dry out quite quickly.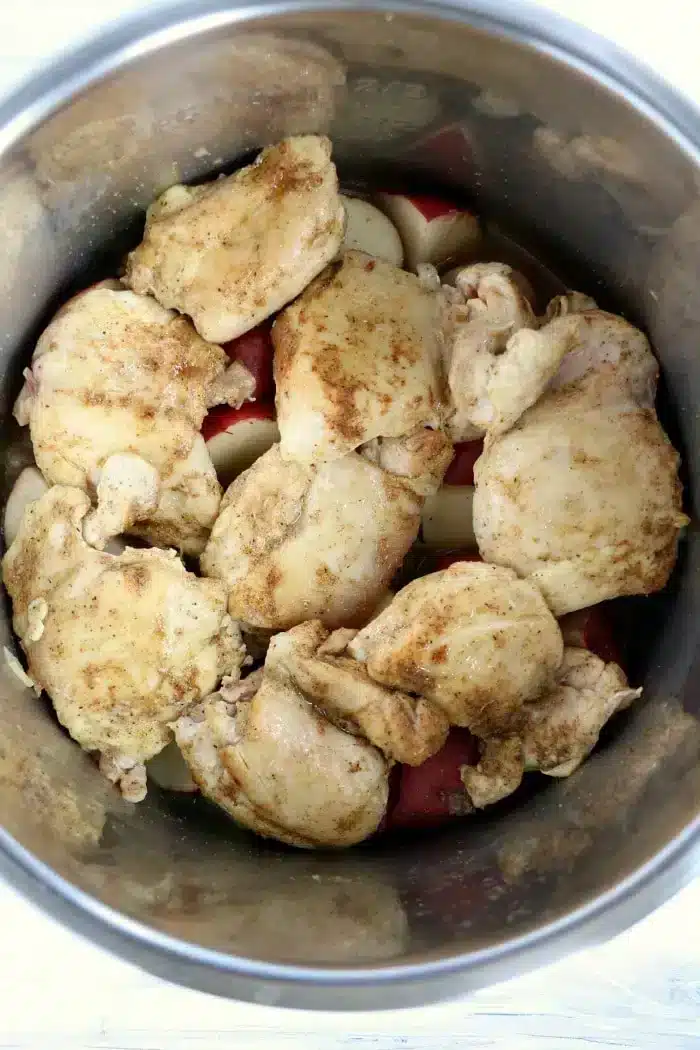 How do you keep chicken breast moist when cooking?
Rubbing the chicken with a little olive oil before seasoning is helpful. This goes with just about any piece really. It will not only maintain more of the moisture, but also keeps salts and herbs stuck on to the outside.
Chicken and potatoes recipe
First set your machine to saute and add some olive oil. When hot, add chicken that has been seasoned on both sides well. Once browned on both sides, remove and set aside. Add diced onions and garlic, cook until onions are softened. Then use a bit of your broth to deglaze your pot, press cancel now.
Add potatoes and chicken on top of cooked onion mixture.
Pour remainder of broth on top.
Close lid and steam valve.
Set to high pressure for 8 minutes.
Then allow pot to naturally release the steam for 5 minutes.
Release rest of steam, remove and serve!
This is the end result. If you follow this timing they will both be nice, tender and full of flavor. Make sure your meat pieces aren't too thick because you want everything to cook evenly. You could brush or pour some sauce on top if you wanted before serving this too.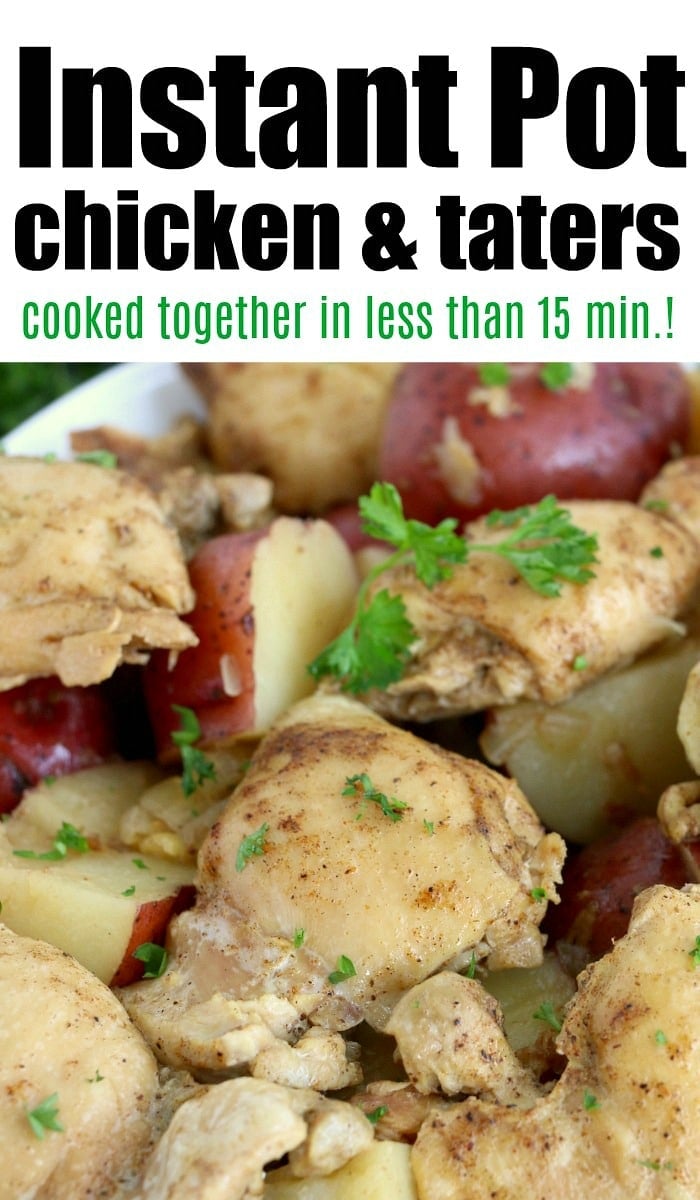 How long are leftover potatoes good for?
Properly stored in airtight containers, cooked potatoes will last for 3 to 5 days in your refrigerator. Of course the sooner the better as far as the texture of them goes.
Is it safe to reheat potatoes in the microwave?
As long as they're refrigerated as soon as they've cooled, and not left on the countertop longer than 1 hour you can. To moisten, add a bit of butter or olive oil on top.
OR bag up what you didn't eat and make our easy chicken pot pie recipe on day 2.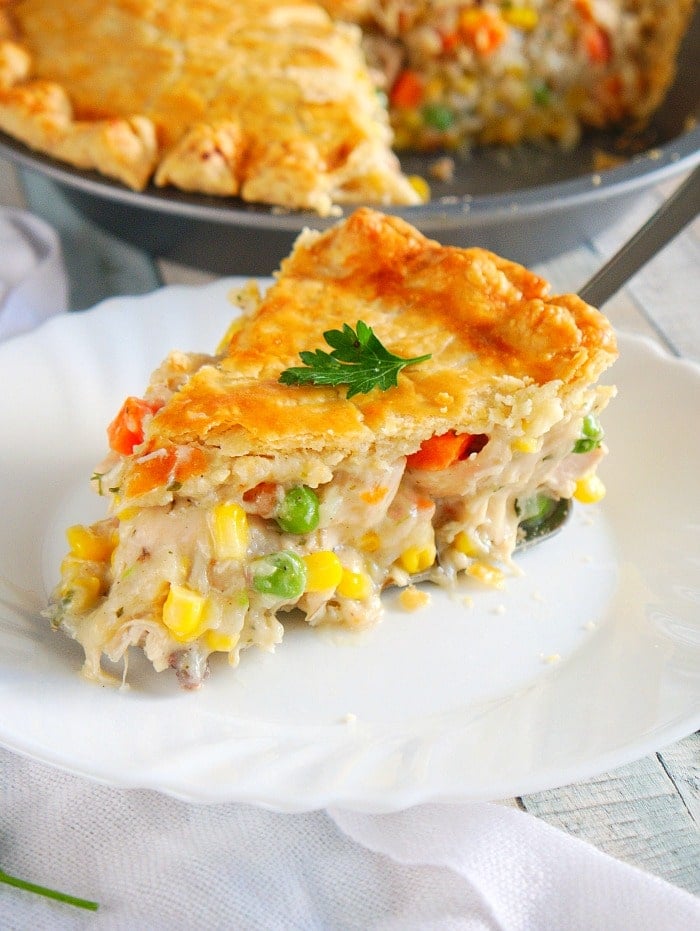 Now before we jump to recipe and get started, make sure to bookmark our site because we add new Instant Pot recipes each week!
Want to see a few of my favorite things that I am totally obsessed with?? Take a peek and see how many you might already have…twinsies!
Looking for more easy family recipes and tips? LIKE The Typical Mom Facebook page?
Then sign up for my free newsletter, and follow me on Pinterest! 😉
***** If you LOVED this recipe give it 5 Stars below and let everyone know what you thought about it. 😉
Instant Pot Chicken and Potatoes
Instant Pot chicken and potatoes can be cooked together at the same time and both come out perfectly tender and flavorful! One pot meal success for everyone.
Instructions
Combine salt, pepper, paprika, thyme, and onion powder. Season both sides of the chicken thighs. Put olive oil in Instant Pot and select SAUTE on HIGH.When oil is hot, place chicken thighs in Instant Pot.

Cook on each side for three minutes. Remove chicken and set aside. Add onions and garlic to the Instant Pot. Cook for three minutes.

Add chicken stock and continue cooking. Using a wooden spoon, frequently scrape the bottom to break the brown pieces loose.

When mixture comes to a boil, press CANCEL to turn it off.

Add potatoes and chicken. Cover and select PRESSURE COOK HIGH for 8 minutes.

When done, allow Instant Pot to naturally release for 5 minutes and then quick release.
Nutrition Facts
Instant Pot Chicken and Potatoes
Amount Per Serving (3 oz)
Calories 573
Calories from Fat 315
% Daily Value*
Fat 35g54%
Cholesterol 148mg49%
Sodium 651mg28%
Potassium 1336mg38%
Carbohydrates 37g12%
Protein 29g58%
Vitamin A 297IU6%
Vitamin C 22mg27%
Calcium 39mg4%
Iron 3mg17%
* Percent Daily Values are based on a 2000 calorie diet.