Slow cooker chicken thighs and potatoes cooked together as a one pot meal is great. Chicken and vegetables in Crockpot dinner easy! We used red potatoes and carrots because those are cheap but others could be added too.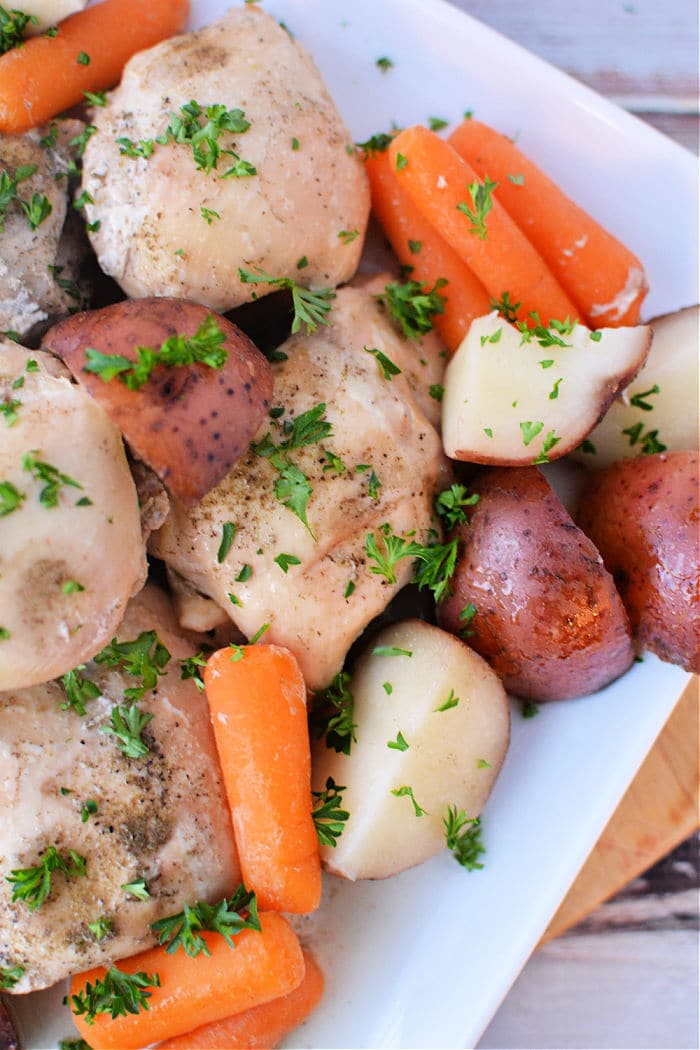 I'm obsessed with quick meals for families. This slow cooker chicken thighs and potatoes recipe makes it easier for y'all to have dinner together as a family. With potatoes, carrots and chicken cooked together as an easy Crockpot recipe, you'll have a complete meal done with little prep. (affiliate links present)
Crockpot Chicken Thighs and Potatoes
Yes we have made boneless skinless chicken thighs slow cooker style before with just a bottle of sauce. Those were yummy but when you want a complete one pot meal a vegetable is great too. Add baby carrots and potatoes and dinner time is complete when you come home from a busy day.
First we made air fryer chicken and vegetables, that was a great quick meal. Not everyone has one of those nifty machines though so I wanted to offer another alternative. An "old fashioned" method if you will. Throw it all in and a few hours later it's ready to enjoy.
FIRST – You should sign up for my free newsletter so you get new posts emailed to you twice a week and never miss out on anything! Let's talk a little bit about slow cooking shall we?? First off I have a few different varieties and I love them all. Each one has an occasion to be used like….
This is my favorite 6 quart programmable one with a locking lid so it's great for bringing to a potluck too.
If you just want to serve a few appetizers you should get this one that sit side by side one another.
I prefer not to use liners, but rather just spray olive oil inside before adding my food for easier cleanups.
Let me give you a peek of my pretty thang I bought recently. It goes with my kitchen so I can just leave it out on the countertop all the time. 😉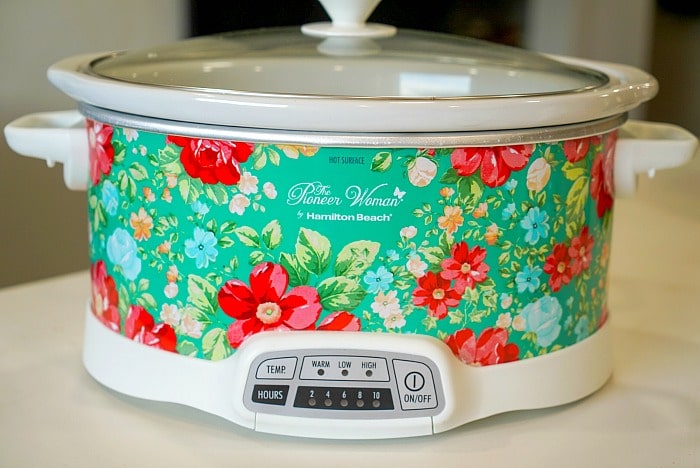 Crockpot Chicken and Vegetables
I have a bunch of different sizes of these at home. Sometimes I like a few especially during the holidays when I can make all my side dishes in them. Just set each to warm when done and you save a bunch of time in the oven. Throughout the week you can do the same thing if you really feel like everything should be separate.
We have made batches of fluffy baked potatoes before, and baked teriyaki chicken thighs separately, it was time to do it together. If you have a picky husband or child who just cannot stand to have their food mixed, I hear you. I had to do this for quite some time and gradually transition my spouse to a together style myself.
Slow Cooker Chicken Thighs with Carrots and Potatoes
When choosing other items to include you need to remember that they should cook at the same rate. Meaning softer things like broccoli would be a no go. Celery would be fine, turnips or even collard greens.
Do you have to brown chicken before putting in Crockpot?
No, but some prefer to. It is true that if you lightly brown the outsides it will maintain more moisture inside your meat than if you didn't (typically). In this case though it is sitting in plenty of liquid so it won't dry out. If you like a little texture on the outside then by all means add that extra step if you think you'll prefer it.
If you do though I might take 1 hour off the overall cook time though. Thighs don't take that long as is as you don't want them to get dry at all.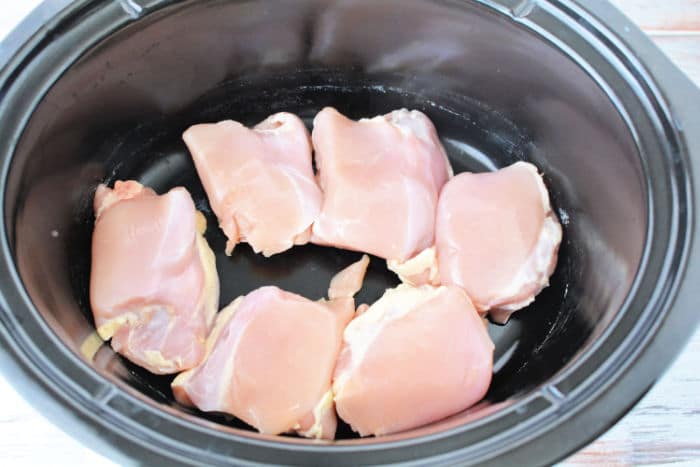 Best Crockpot Chicken and Potatoes Recipe
As for the veggies you should choose those that are quite firm so they don't become mush after 4 hours. Carrots are a given but you could add celery or even halved fresh green beans too. Onions of any kind work well no matter what you're cooking. If those get super soft it doesn't really matter.
These are the ingredients you're going to need:
Boneless skinless thighs

you could use small chicken breasts if you preferred

Poultry seasoning or mixture of your choice
Baby carrots
Quartered potatoes, red potatoes are best, firmer is better vs. Yukon gold potatoes that are softer
Chicken broth
A sliced onion would work too
If you want an easier clean up spray the inside with a little olive oil first. This is the ultra healthy version. Beyond this you could sprinkle on parmesan cheese, warm some alfredo sauce and pour some on top when done, or make chicken gravy to serve with it.
When should I put potatoes in slow cooker?
They take a while so I put them in right at the beginning. I even use them whole as "trivets" when cooking corned beef brisket inside. That works quite well to keep it out of the liquid below and they soak up all that wonderful juice. They're the favorite part of the dish almost in that case. For chicken carrots and potatoes they go in right away too.
As for the seasonings those are really your prerogative. You can go as simply as using a bottled Italian seasoning blend with salt and pepper or use what you normally would with poultry.
All you do is add chicken in a single layer, season with poultry seasoning and salt and pepper.

Throw in your quartered potatoes and carrots and pour broth over everything.

Cover and cook on low for 4 hours or until meat is cooked thru and vegetables are tender. I don't recommend cooking on high when slow cooking chicken.
Just test them at the end with a fork. If they are firm at all in the center then they need a bit more time.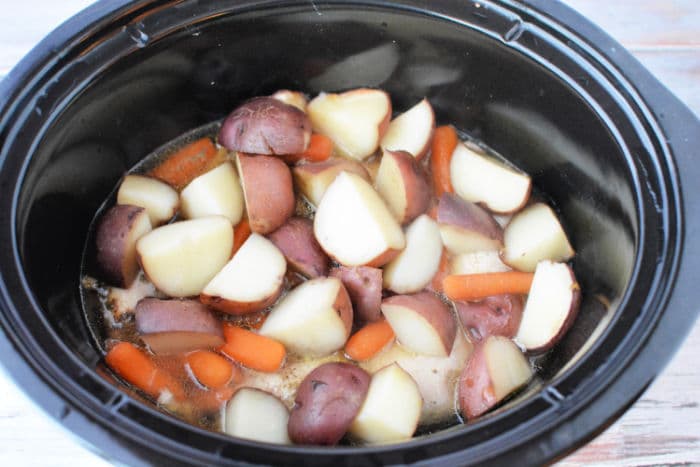 Chicken Thighs and Potatoes Crock pot
For a faster method you could try our Instant Pot chicken thighs where you could easily put whole red potatoes in at the same time. You just put chicken on top of them so they don't touch the bottom and trigger the burn function. I love both. Crock pot recipes are just great when you know you'll be exhausted at the end of the day.
To be able to just fill a plate and sit down without anything else being done is sometimes all the energy I have. This saves quite well too if you have leftovers. I hate throwing away good food so I always like to share how to enjoy it the next day for lunchtime too.
Allow it to cool completely and then store in a sealed container or baggie. Set in the fridge overnight and then either make something else out of it using our leftover chicken recipes roundup, or just eat as is. You can microwave it for about 1 minute and then re-season it with a bit of something. Serve with some bread and you're set.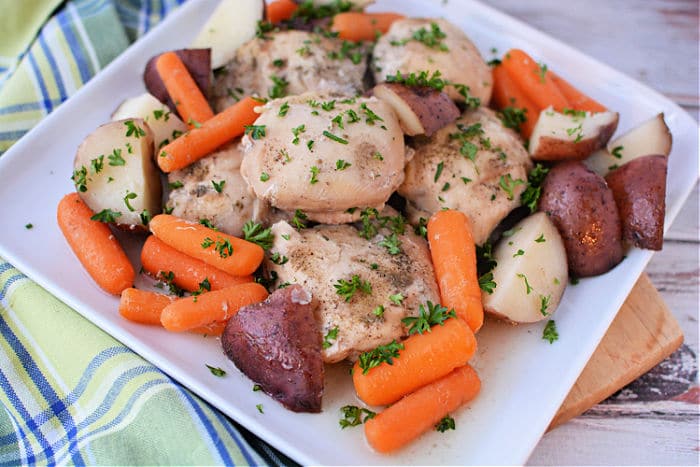 If you needed to double this I would first use the biggest pot you have so it can spread out nicely. Then you may need to increase the time 1 hour or so, depending on how large your meat is. The smaller the vegetables are cut the faster they'll get tender, just keep that in mind if you need a larger batch.
Want to try this cut in a different way next? Give our garlic butter chicken thighs a whirl. We cooked those in a cast iron skillet and turned out great.
Find something else in the produce section that pairs well with this? Let us know so we can give it a whirl the next time we make it so we can think what we think of it. 😉
Want to see a few of my favorite things that I am totally obsessed with?? Take a peek and see how many you might already have…twinsies!
Looking for more easy family recipes and tips? LIKE The Typical Mom Facebook page?
Then sign up for my free newsletter, and follow me on Pinterest! 😉
***** If you LOVED this recipe give it 5 Stars below and let everyone know what you thought about it. 😉
Slow Cooker Chicken Thighs and Potatoes
Slow cooker chicken thighs and potatoes cooked together as a one pot meal is great. Chicken and vegetables in Crockpot makes dinner easy!
Instructions
Add chicken thighs in a single layer, season with poultry seasoning and salt and pepper. Add potatoes and carrots into pot and pour broth over everything.

Cook on low for 4 hours or until meat is cooked thru and vegetables are tender.
Nutrition Facts
Slow Cooker Chicken Thighs and Potatoes
Amount Per Serving (2 oz)
Calories 414
Calories from Fat 207
% Daily Value*
Fat 23g35%
Cholesterol 113mg38%
Sodium 290mg13%
Potassium 879mg25%
Carbohydrates 20g7%
Protein 31g62%
Vitamin A 3819IU76%
Vitamin C 16mg19%
Calcium 50mg5%
Iron 3mg17%
* Percent Daily Values are based on a 2000 calorie diet.