Slow cooker corned beef brisket recipe that's amazing!! How to cook corned beef and cabbage in the crockpot is answered, super EASY to do!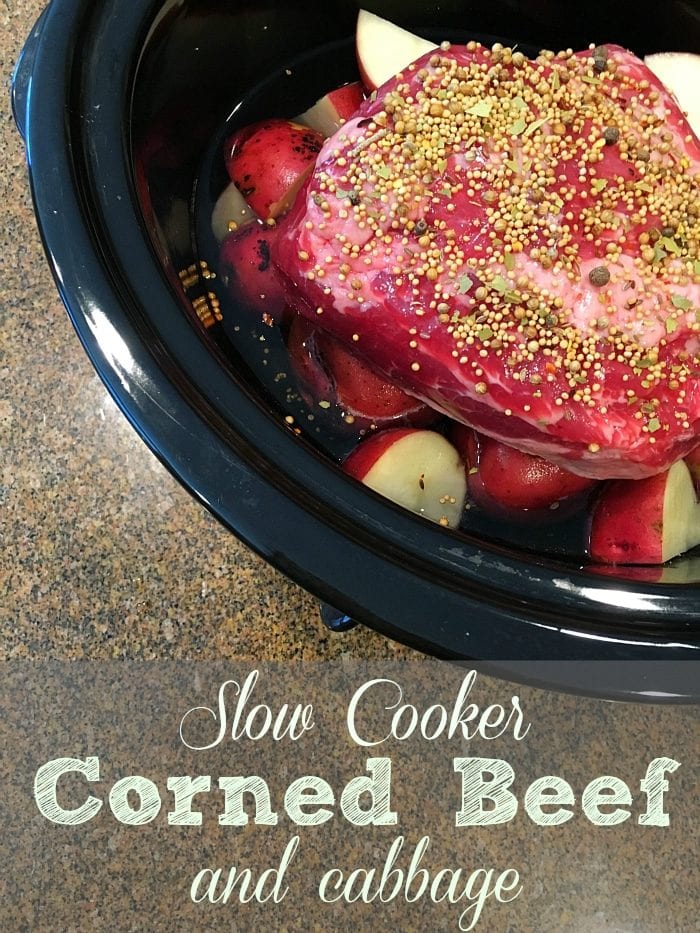 Next month is St. Patrick's Day and I am all about my slow cooker, so why not figure out how to make a slow cooker corned beef brisket! I make a killer whole chicken in a crockpot so there had to be a way to cook corned beef in the crockpot too. Here is an easy crock pot corn beef and cabbage recipe that you basically throw in and is done 8 hours later! The tenderest piece of meat that's full of flavor and you literally let the pot do all the work. It's so good we make it in the crockpot during the year "just because." One of our favorite crockpot recipes.
You only need a few things to make corned beef in the crockpot, and you can omit whatever you don't like….which is my kinda' recipe. The only musts are a piece of corned beef, cabbage, water, and potatoes. You will need a larger crockpot for this recipe, this is the one I like (affiliate link).Here is how you make it.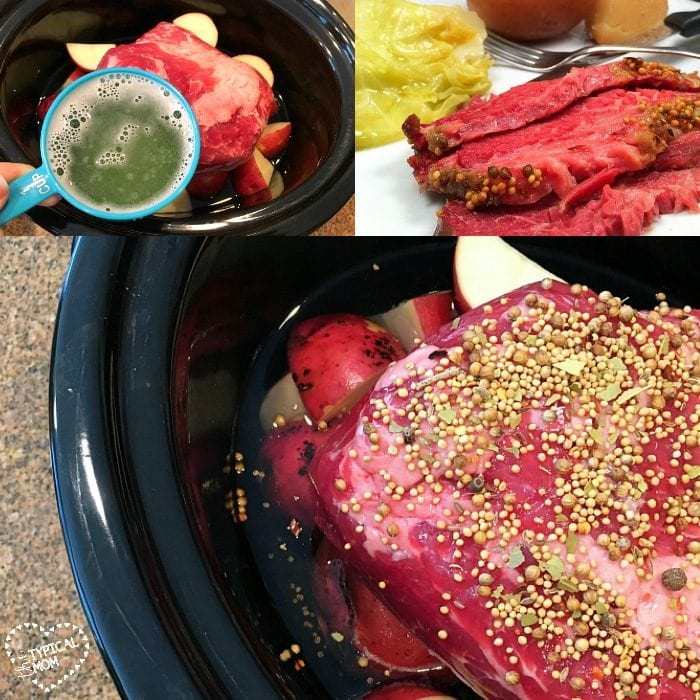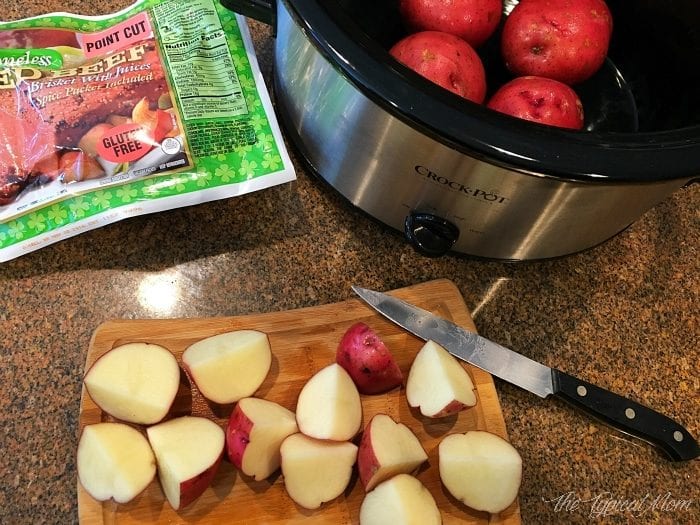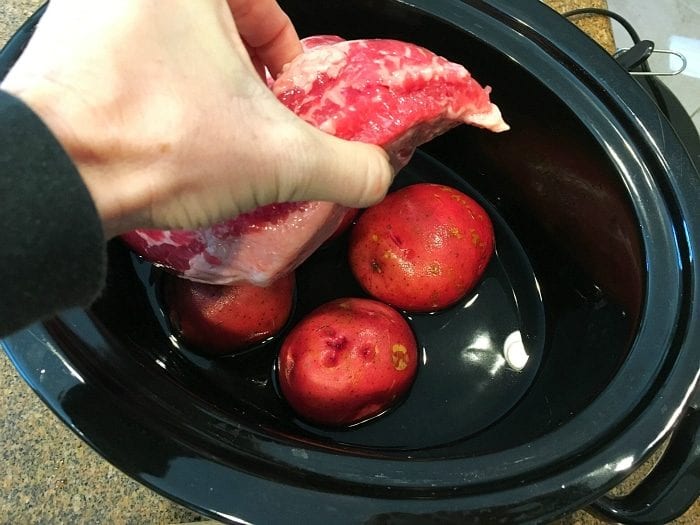 Slow Cooker Corned Beef Brisket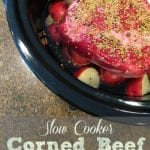 Slow Cooker Corned Beef Brisket
Easy slow cooker corned beef brisket recipe that cooks all day, is super juicy, and full of flavor! Perfect for St. Patrick's Day or year round.
Course:
Entree, Main Course
Ingredients
1

pc

corned beef brisket

comes with spice packet you will use

7

medium red potatoes

1

c

beer

optional

4

c

water

1/2

head

cabbage

2

carrots

1/2

onion
Instructions
Pierce and wash 4 potatoes and put together in middle of crockpot.

Quarter other potatoes, slice carrots and onion and place around whole potatoes in middle.

Rinse corned beef brisket and place on top of the 4 large potatoes (your stand).

Pour 4 c. of water and beer if desired over meat.

Sprinkle corned beef spice packet on top of brisket. Put lid on and cook on low for 8 hours.

30 min-1 hr before serving put large leaves of cabbage on top of brisket and put lid on again to steam until desired "doneness". Serve!
Nutrition Facts
Slow Cooker Corned Beef Brisket
Amount Per Serving
Calories 140
% Daily Value*
Total Fat 0g 0%
Cholesterol 0mg 0%
Sodium 48mg 2%
Potassium 931mg 27%
Total Carbohydrates 29g 10%
Protein 5g 10%
* Percent Daily Values are based on a 2000 calorie diet.
Get 4 potatoes that are about the same size and rather large. Pierce them and place them on the bottom close together so it creates a kind of "stand" for your corned beef (this will make it less mushy on the bottom). Pour 4 cups of water on the potatoes and then place your piece of corned beef on top of your potatoes.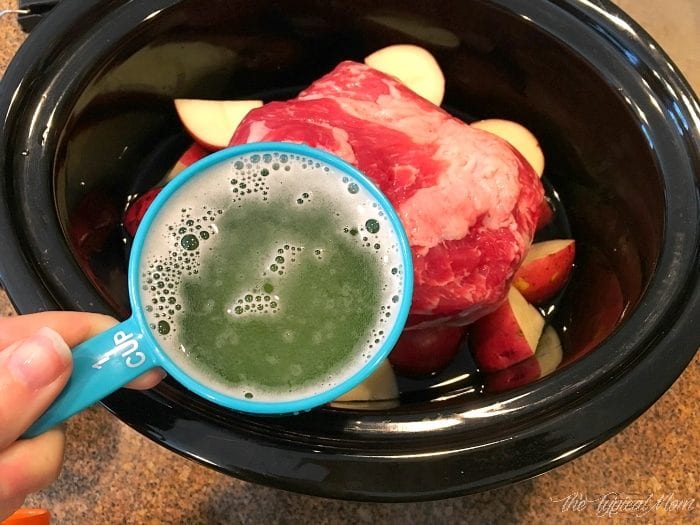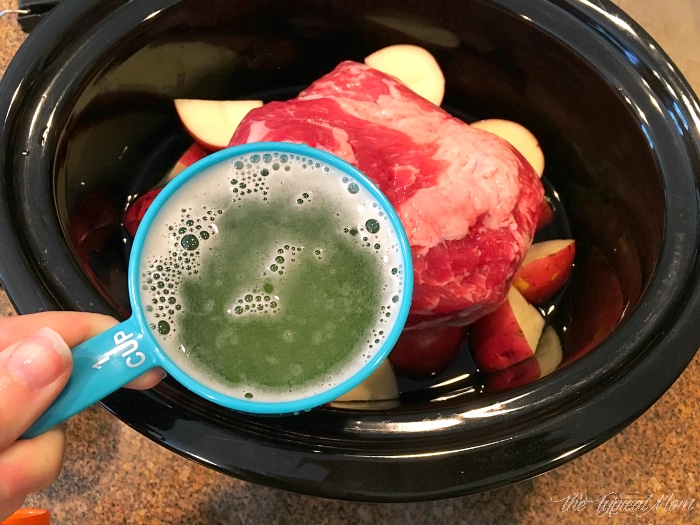 Quarter 3-4 other potatoes and place around your corn beef. If you want to add onion, cut carrots or any other vegetable add them now. Pour 1 cup of beer on top (you can omit if you prefer, it just gives it a nice taste). I have also made with a bottle of beer + 1 cup of water…depends on what I feel like and both ways are amazing.
Then sprinkle the packet that came with your piece of meat on top and put your slow cooker on low for about 8 hours. If you want to add cabbage just add that 1 hour before you are set to eat. Put the leaves right on top and close the lid to essentially steam them. Here is the entire recipe so you can print it out and keep it for next year too. Let me know how it turns out and what you added to your slow cooker!
Here it is…..and yes it is as delicious and moist as it looks here! Seriously this is the best slow cooker corned beef brisket and cabbage ever, and you're not even doing anything other than maybe 10 minutes of prep to get it going in the morning!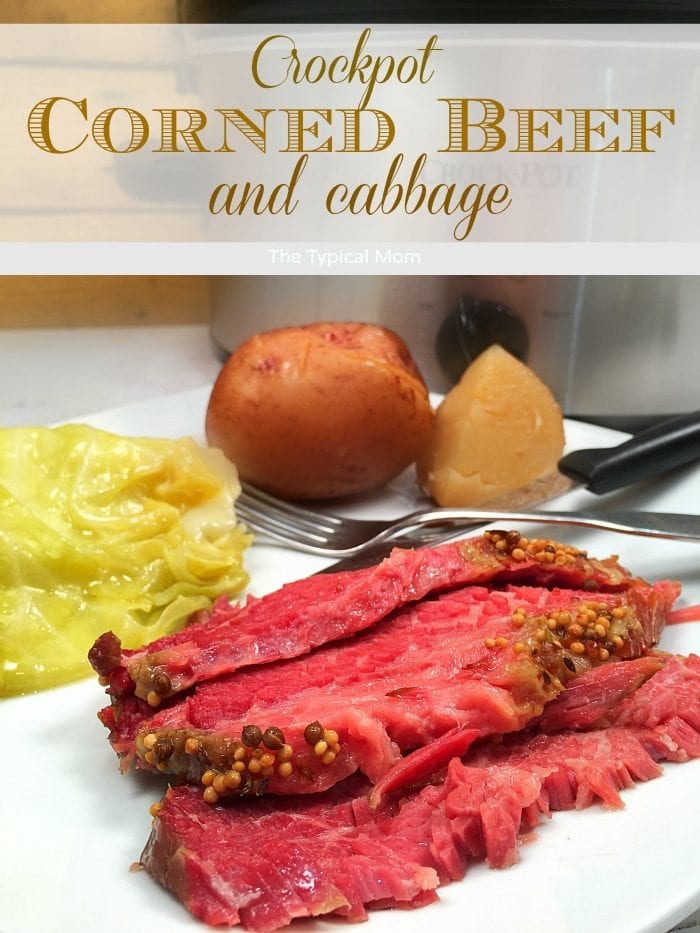 For more easy recipes and crafts please LIKE The Typical Mom on Facebook, sign up for my newsletter, and follow me on Pinterest!