This slow cooker corned beef brisket recipe that's amazing! If you want to know how to cook corned beef brisket and cabbage in the crockpot it's super easy to do and should definitely be made more often than just on St. Patrick's Day.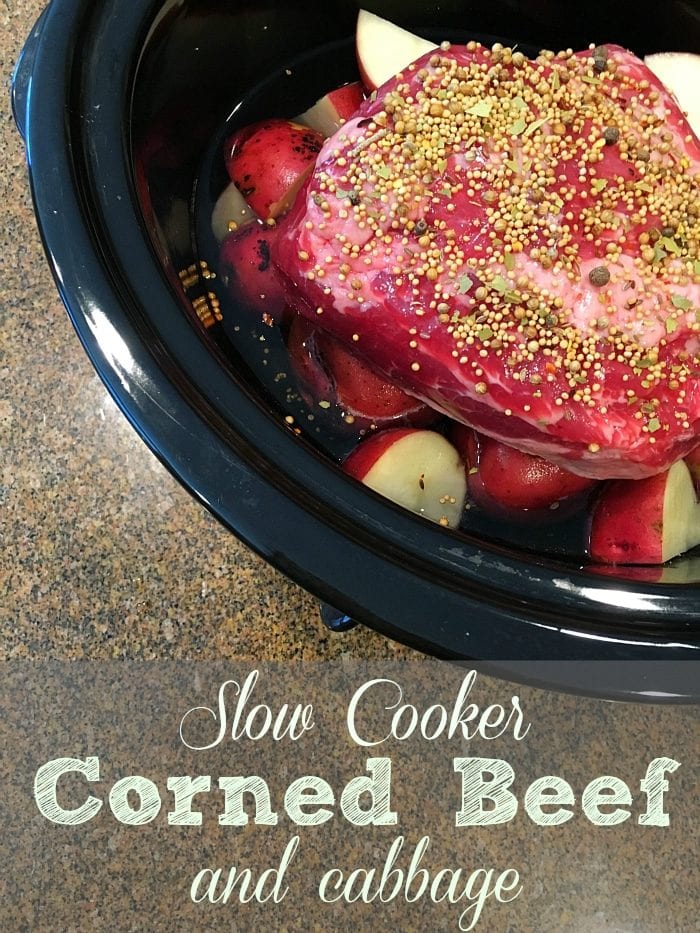 Next month is St. Patrick's Day and I am all about my slow cooker, so why not figure out how to make a slow cooker corned beef brisket! One of our favorite crockpot recipes. (originally published 3/16, affiliate links present)
Corned Beef Brisket Recipe
I make a killer whole chicken in a crockpot so there had to be a way to cook corned beef in the crockpot too.
Here is an easy crock pot corned beef and cabbage recipe that you basically throw in and is done 8 hours later! Just add one more hour if you are forgetful and you have to cook it from rock solid. That is right, we have directions on how to cook frozen corned beef in Crock Pot here too!
FIRST – You should sign up for my free newsletter so you get new posts emailed to you twice a week and never miss out on anything! Let's talk a little bit about slow cooking shall we?? First off I have a few different varieties and I love them all. Each one has an occasion to be used like….
This is my favorite 6 quart programmable one with a locking lid so it's great for bringing to a potluck too.
If you just want to serve a few appetizers you should get this one that sit side by side one another.
I prefer not to use liners, but rather just spray olive oil inside before adding my food for easier cleanups.
Let me give you a peek of my pretty thang I bought recently. It goes with my kitchen so I can just leave it out on the countertop all the time. 😉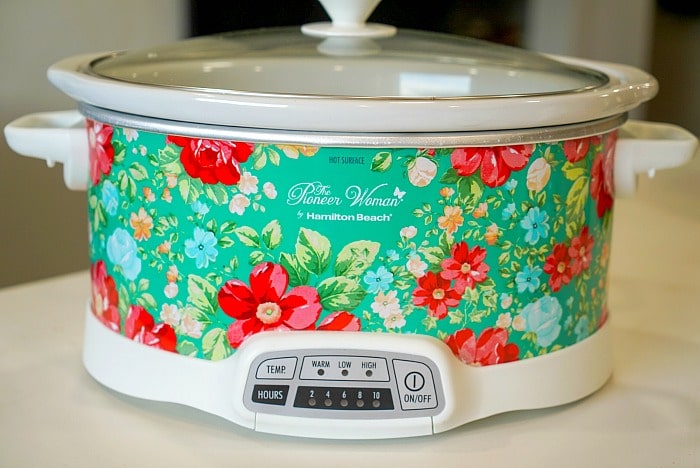 The tenderest piece of meat that's full of flavor and you literally let the pot do all the work. It's so good we make it in the crockpot during the year "just because."
Crockpot corned beef and cabbage
Here's a quick look at just how easy it is to make. In about 20 minutes I can throw everything in, turn it on and when we're back from a day together it is ready!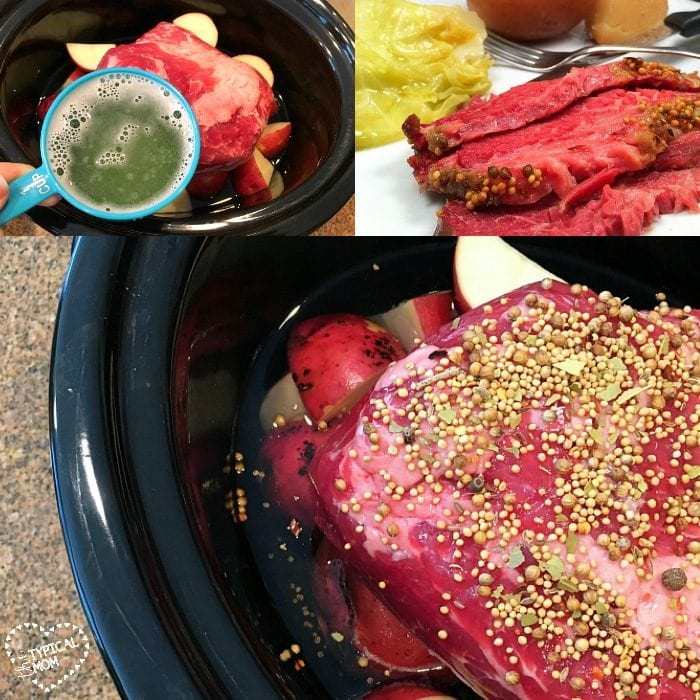 Beer or no beer? I will say I am not a beer drinker BUT it is a must when cooking this cut of meat. The flavor it lends to everything inside that post is just amazing.
Slow cooker corned beef brisket
Piece of corned beef

plus pickling spices found in the bag
you can make your own seasoning packet but I've never bought one without the spices needed
I used a point cut for this one but I have bought both before

Head of cabbage
Liquid – water and/or beer (I really suggest a blonde ale)
A few potatoes – 2 russet or 4 red potatoes
Some like to add a bay leaf, I usually don't
You will need a larger crockpot for this recipe, this is the one I like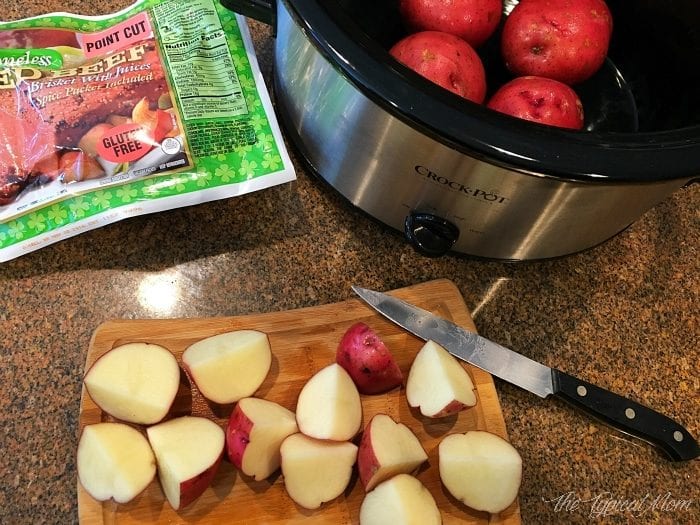 How to Cook Corned Beef Brisket
Let's talk about the trivets we use, potatoes!! Yes, this recipe calls for a few whole taters to be used to raise the meat above the liquid.
Unlike our dutch oven corned beef and cabbage that we submerge, this one is different.
The cooking time is similar, you cover and cook both in a similar fashion but the steam in the Crockpot keeps it nice and moist. Therefore, you don't need it to be inside the beer the whole time.
Which cut of corned beef is the best?
The flat cut is leaner and features a more consistent thickness.
The point cut is the thicker end of the brisket, fattier, with inter-muscular fat or marbling.
A whole brisket, which includes both the flat and the point, probably is the best choice.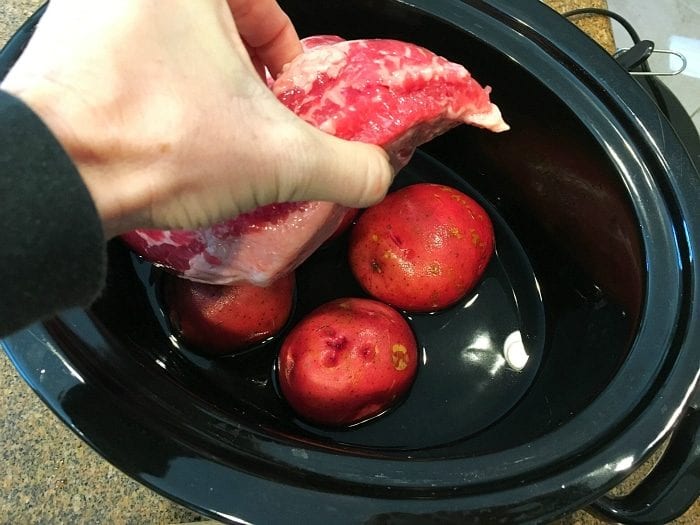 Slow cooker corned beef recipe
Use 4 small russet or red potatoes that are about the same size. On the larger side if using red potatoes.
Pierce them with a fork and place them on the bottom close together so it creates a kind of "stand" for your corned beef. This will make your meat less mushy on the bottom.

Add more quartered potatoes & onion around them if you want.

Put your piece of corned beef on top of them with the fattiest side of meat facing up
Pour 5 cups of liquid (we used 4 c. water + 1 c. beer) on the top of everything.
Sprinkle your corned beef spice packet on top of your meat.
Close lid
Set to low for 8 hours

I don't recommend to cook on high as it gets more tender low and slow

1/2 hour to 45 minutes before eating add cabbage leaves to the top so they soften
Then enjoy. I guarantee you will want to make this more than once a year and y'all are going to fight over those "trivets"!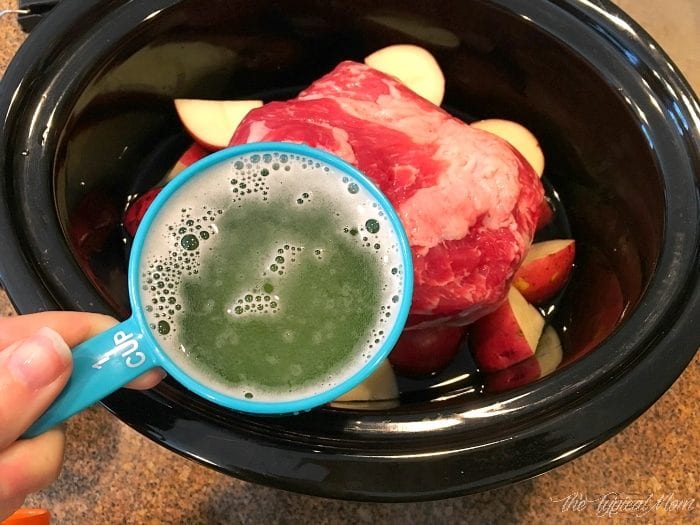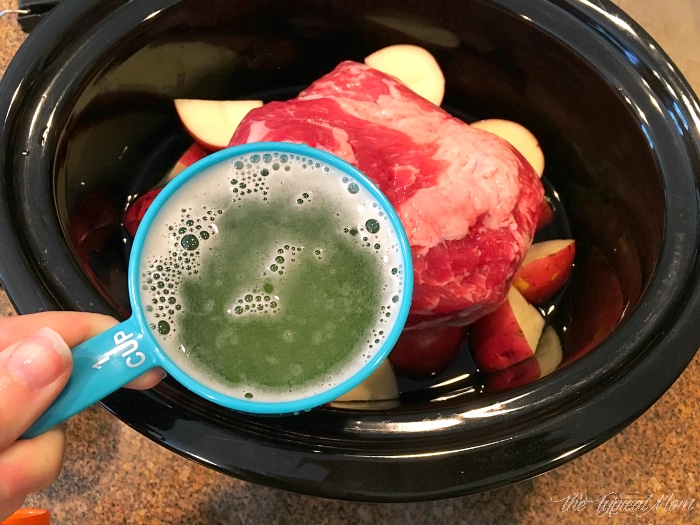 Can you overcook corned beef in a Crockpot?
It is definitely possible to overcook beef in the crock pot, resulting in a cut of beef that is bordering too soft.
This recipe calls for cooking on low for 8 hours. If you leave it for more than an hour or so beyond this you may have this issue so plan accordingly.
How do you know when corned beef is done in a slow cooker?
Of course this cut of St. Patricks Day meat can be cooked on top of the stove or in the oven but THIS way in our opinion is best. Once it is fork-tender, that's a good indication that it's done to perfection.
Of course you can use a meat thermometer to be sure but if you use a fork to pull away a bite and there's NO need for a knife to cut it it's time to dig in.
Cook until the internal temperature has reached at least 160 degrees.
Remember that corned beef may still be pink in color after cooking.
Corned Beef in Crockpot with Beer
The liquid can be substituted if you like. Beer gives it a great flavor but broth or water could be used instead if you like.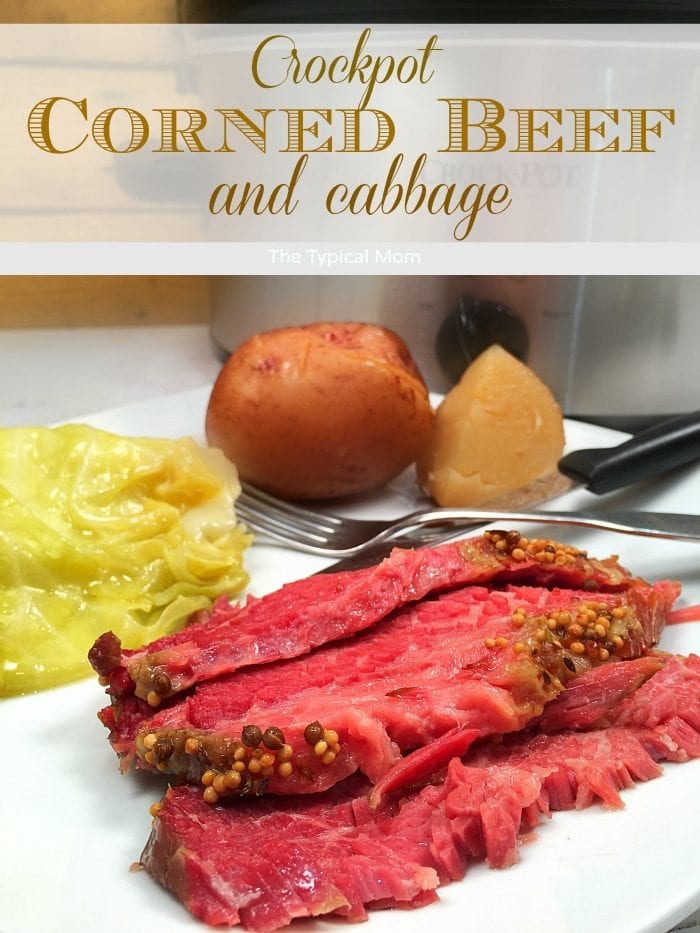 Allow the meat to rest for a good 10 minutes before you slice beef against the grain. Serve with cabbage and potatoes together and enjoy!
How do you store leftover corned beef?
Any corned beef left over from a meal should be refrigerated inside airtight containers within 2 hours of cooking or reheating. Use this beef within 3 to 4 days, or freeze for up to 2 to 3 months
What can I do with leftover corned beef and cooked cabbage?
Well the cabbage is not worth saving if you ask us. We never have any left over anyway, but it will continue to wilt and become a mushy mess. BUT the meat has endless possibilities like these: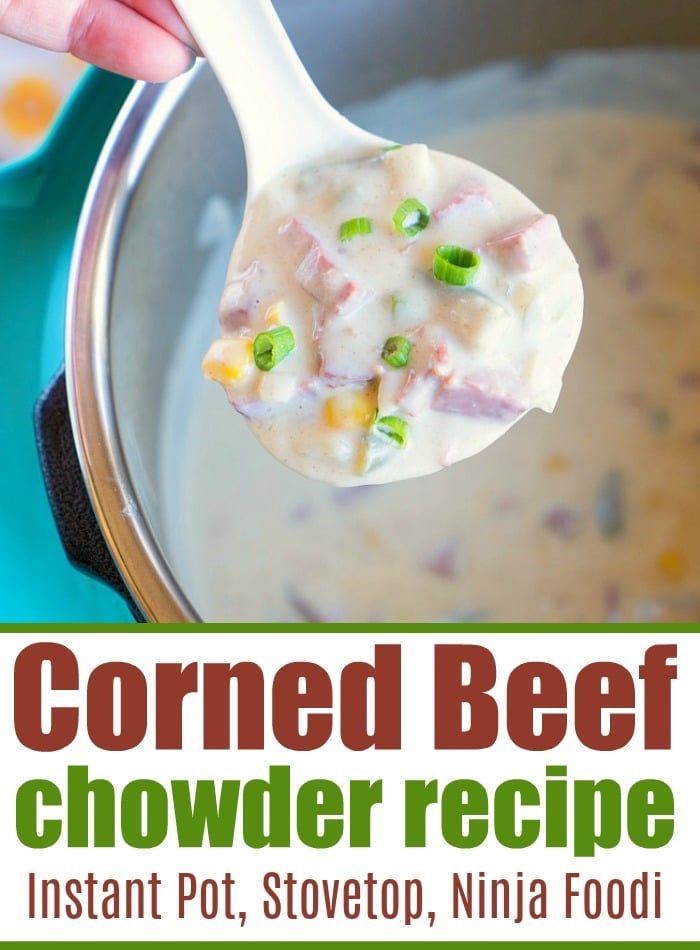 Here are a few other ideas if you have a lot, but we usually have one meals worth if that:
Corned beef and egg sandwich. Chop up some of that corned beef and cook it with potato, onion, and a little flour to hold it together as a patty.
Dice it up and throw it into any sort of soup you have like adding protein to minestrone soup.
Diced up and thrown into tacos with cabbage slaw and taziki sauce
Beef up some quesadillas with what you have leftover for a yummy lunch.
Make personal pizzas for everyone and substitute instead of pepperoni.
We share how to make pressure cooker brisket here now too.
Stir-Fry dishes and simple cabbage recipes allow for a variety of meats and veggies to be added in
Want to see a few of my favorite things that I am totally obsessed with?? Take a peek and see how many you might already have…twinsies!
Looking for more easy family recipes and tips? LIKE The Typical Mom Facebook page?
Then sign up for my free newsletter, and follow me on Pinterest! 😉
***** If you LOVED this recipe give it 5 Stars below and let everyone know what you thought about it. 😉
Slow Cooker Corned Beef Brisket
Easy slow cooker corned beef brisket recipe that cooks all day, is super juicy, and full of flavor! Perfect for St. Patrick's Day or year round.
Ingredients
1

pc

corned beef brisket

comes with spice packet you will use

7

medium

red potatoes

1

c

beer

4

c

water

or use beef broth, or all beer

1/2

head

cabbage

1/2

onion
mustard sauce for corned beef

served on the side, or brushed on top when done
Instructions
Pierce and wash 4 potatoes and put together in middle of crockpot.

Quarter other potatoes, and slice onion. Place around whole potatoes in middle.

Rinse corned beef brisket and place on top of the 4 large potatoes (your stand).

Pour 5 c. of liquid over meat. We used 4 c. water and 1c. beer.

Sprinkle corned beef spice packet on top of brisket. Put lid on and cook on low for 8 hours.

30 min-1 hr before serving put large leaves of cabbage on top of brisket and put lid on again to steam until desired "doneness". Serve!
Nutrition Facts
Slow Cooker Corned Beef Brisket
Amount Per Serving (3 oz)
Calories 31
% Daily Value*
Sodium 29mg1%
Potassium 161mg5%
Carbohydrates 5g2%
Protein 1g2%
Vitamin A 2605IU52%
Vitamin C 22.2mg27%
Calcium 33mg3%
Iron 0.3mg2%
* Percent Daily Values are based on a 2000 calorie diet.