Ninja Foodi corned beef and cabbage is perfect for St Patricks Day or year round. Tender corned beef brisket in a little over an hour is here!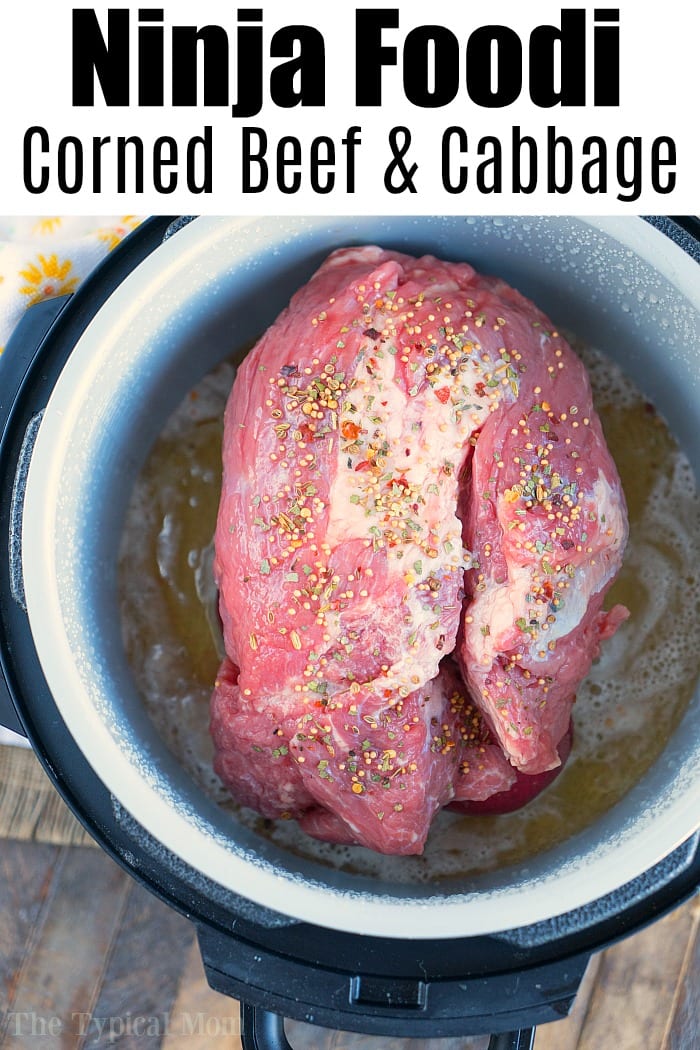 It's March!! Are you looking to make Ninja Foodi corned beef and cabbage soon?? In a little over an hour you can have this ultra flavorful brisket fork tender. You'll fight over the potatoes too since they soak up all the delicious juices while it's cooking! Just one of our easy Ninja Foodi recipes. (originally published 3/19, affiliate links present)
Do you have a Ninja Foodi pressure cooker and air fryer yet??
I'm thinking you do since you are here but if not here is some information:
It's the perfect way to make this Ninja Foodi corned beef and cabbage recipe.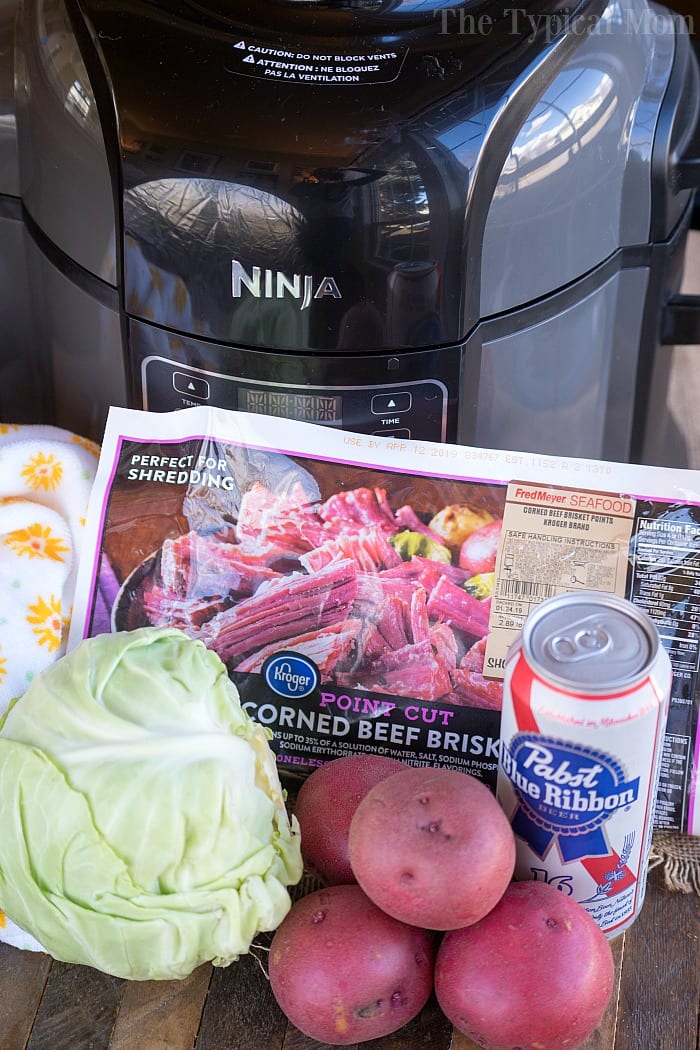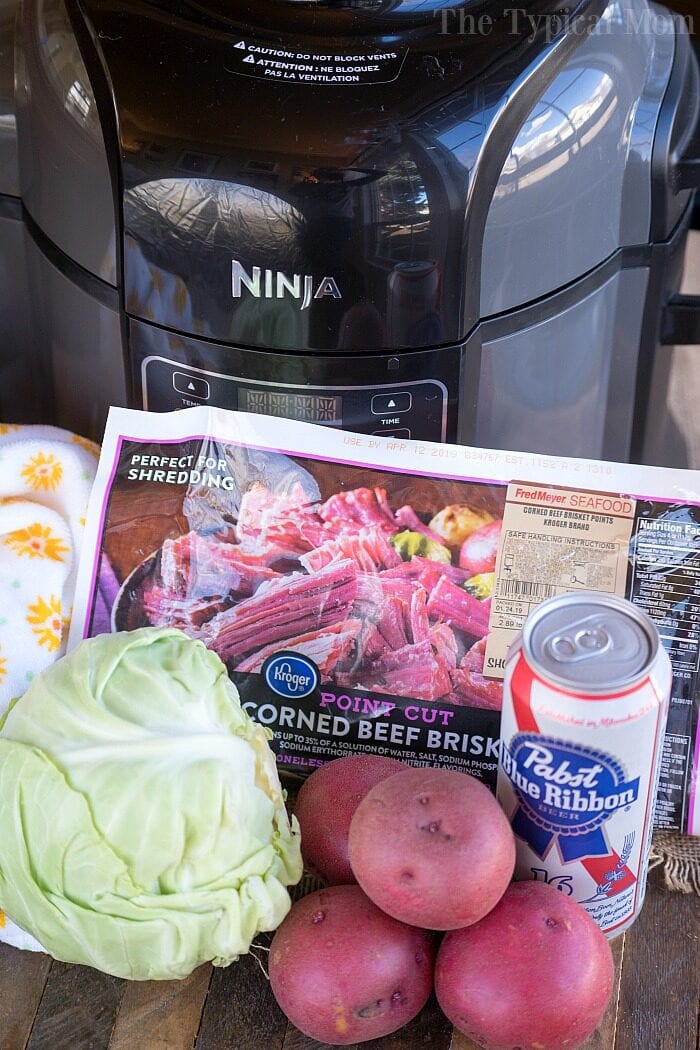 This is what you need for Ninja Foodi corned beef and cabbage:
Foodi or Instant Pot will work too
Corned beef – 3 lbs. is usually best

This is a point cut brisket, there's flat cut and round as well
Seasoning packet comes with it inside the bag

Potatoes – either 4 large red potatoes or 2 large russet
Beer – I just buy what is on sale

You can substitute for water or broth if you'd prefer but the beer makes it taste amazing
Use whatever type you like, I prefer blonde ale

Cabbage

You'll only use the top large 8-10 pieces
Make one of our Ninja Foodi cabbage recipes with the rest of it

Onion – optional but a great addition to serve as a side dish with the potatoes
Yes, we are using potatoes as a trivet!!
That means they will become yummier than you could ever imagine.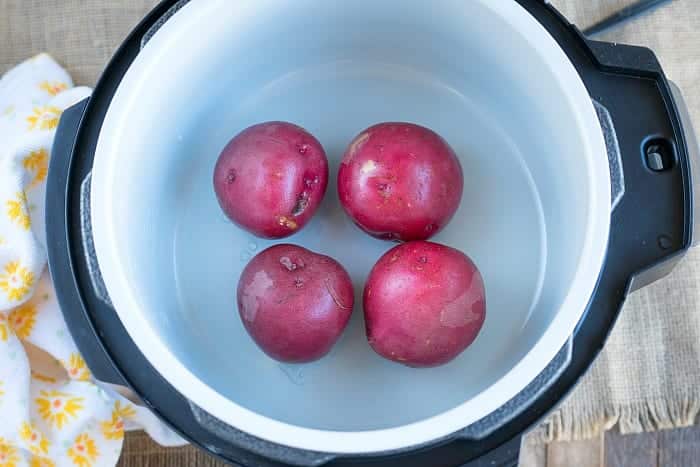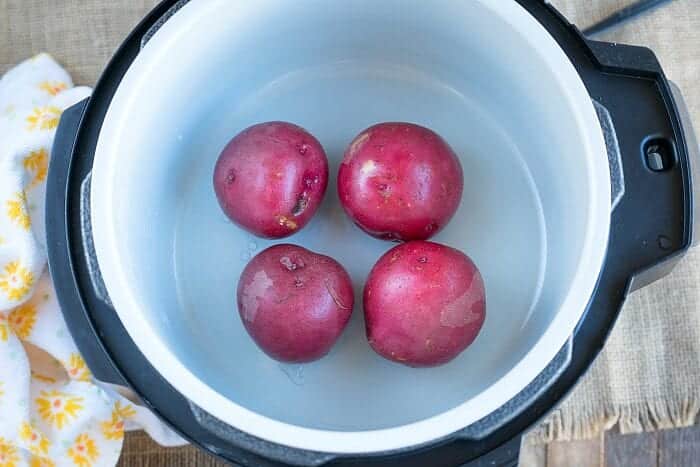 We don't really drink beer here so I only have it on hand to make this and the best beer bread recipe which is actually a great side with this!
You will need 1 can for our Ninja Foodi corned beef and cabbage recipe.
We are going to use the pressure cooker function for cooking corned beef and cabbage here. Similar to our Ninja Foodi roast recipe that came out oh so tender too.
Now lay your potatoes on the bottom so they act as a trivet for you meat.
Lay your piece with the fat side facing up on your taters so it's flat and won't tip over
Pour your beer, or other liquid, over the top
Sprinkle your spice packet (inside the bag) on your corned beef on top
Close your pressure cooker lid and steam valve and set to high pressure cooking time for 1 hour 25 minutes (for a 3 lb. piece)
Allow steam to naturally release for 15 minutes

A quick release will not allow it to become quite as tender, releasing pressure slowly is key to the best corned beef ever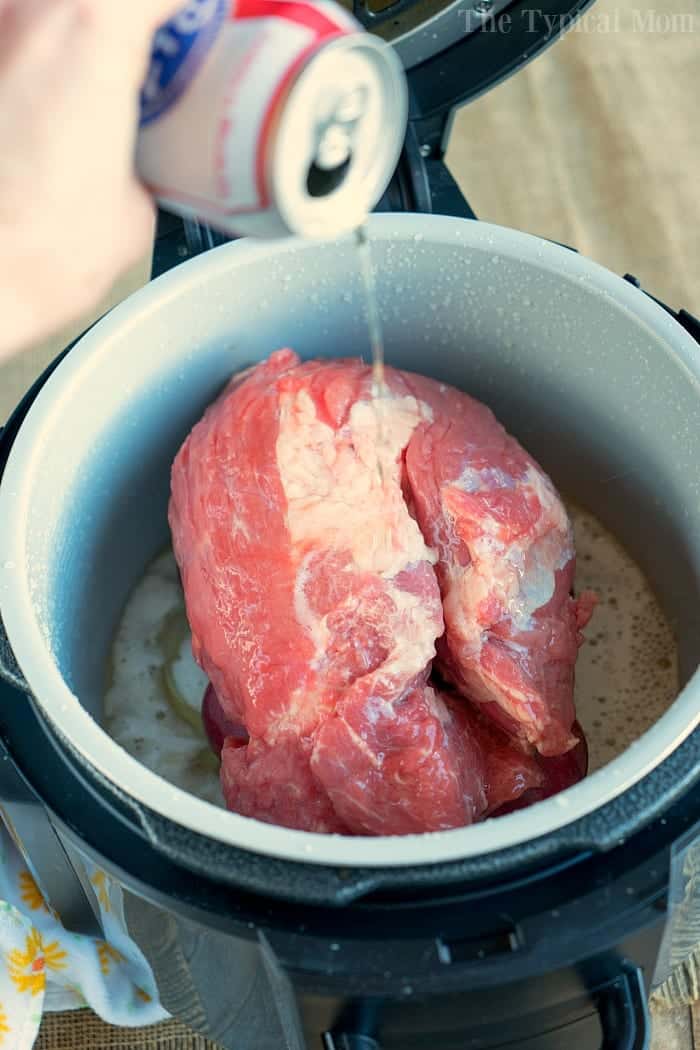 Yes we have made a slow cooker corned beef brisket before and it was fabulous. This is just another way but takes a fraction of the time and comes out just as good.
If you need Instant Pot corned beef and cabbage directions they're here, and very similar to this one.
When your Ninja Foodi corned beef and cabbage is done it will be fork tender and SO flavorful.
If you wonder why I use potatoes as trivets instead of using a trivet with handles, this is why. Pressure cooker potatoes soak up all the flavors inside the pot which makes these out of this world.
Do you rinse corned beef before cooking? Please don't!
Whether you bought a ready to cook corned beef or you cured your own, if you rinse the meat you'll be rinsing away all the flavor! The whole reason this cut of meat is so flavorful is because it is fully infused with a brine. Some do choose to run it under cold water to reduce the sodium intake, but just know it will drastically change the flavor you love.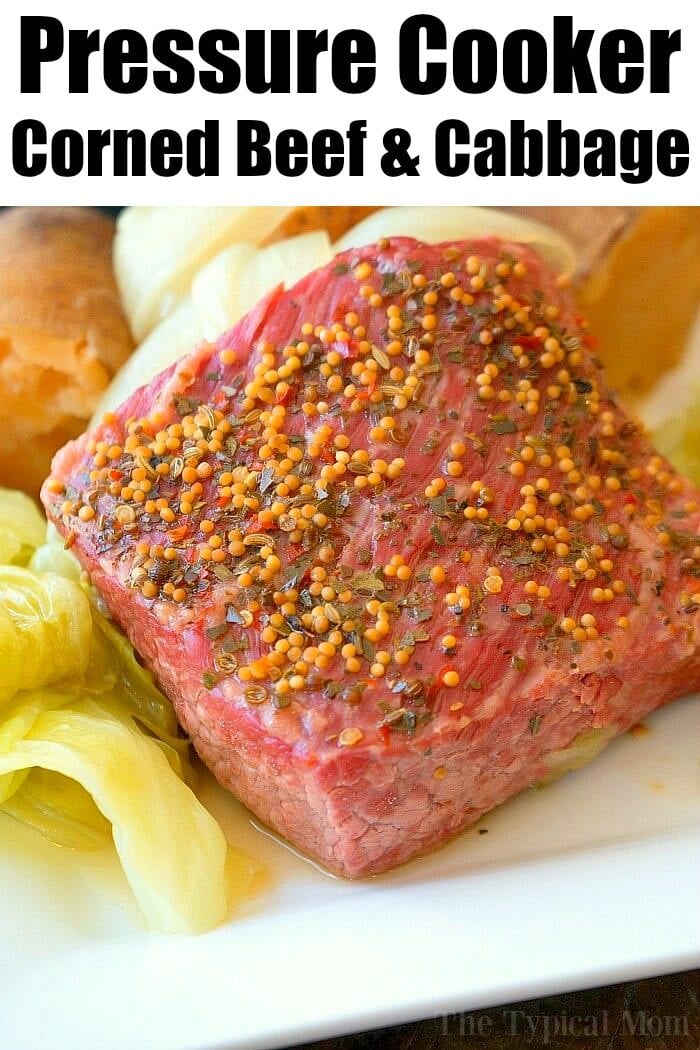 If you're looking for more Ninja Foodi recipes we have many.
We have a few side dishes for our Ninja Foodi corned beef and cabbage too:
You can make dutch oven corned beef and cabbage too if you have one of those!
Leftover corned beef recipes?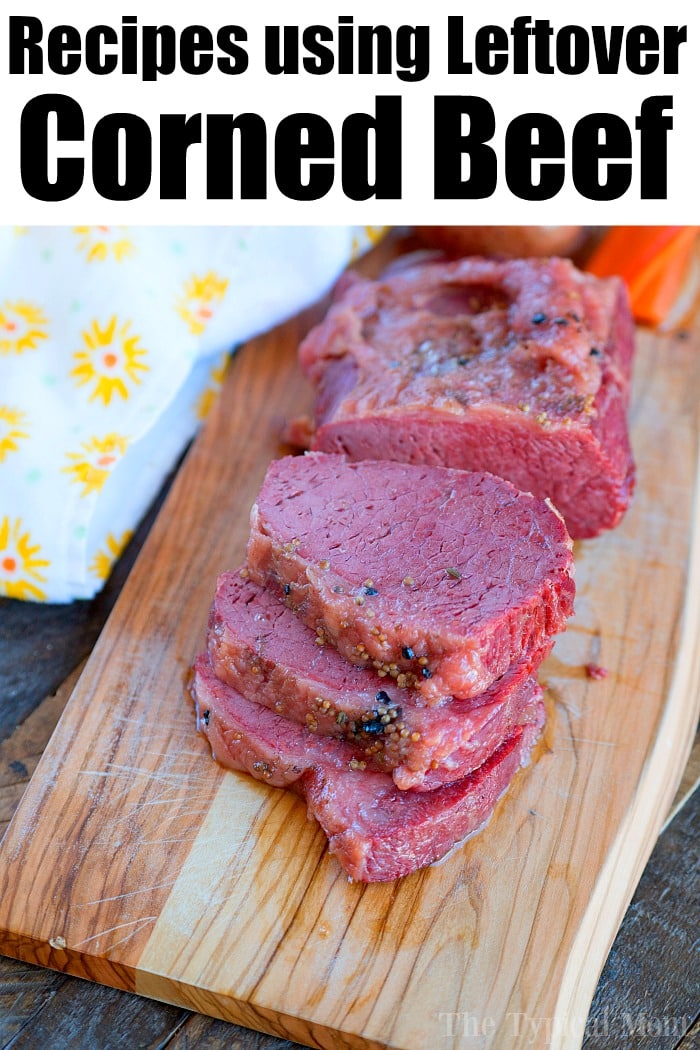 Remember, you can make this year round! If you look at your local grocery store they usually have a few corned beef brisket pieces in the corner you can purchase.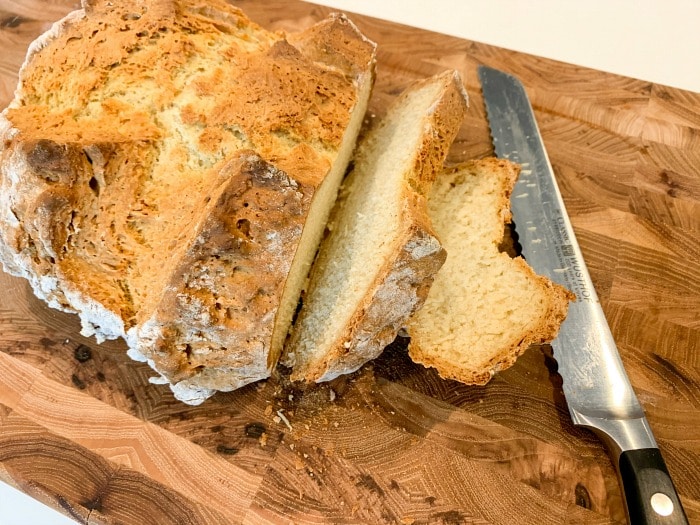 We do this often because it is a flavorful cut of meat all 5 of us absolutely love. It is so easy to throw together in my multi cooker too that it's just a no brainer to make all the time.
Ninja Foodi Corned Beef and Cabbage
Ninja Foodi corned beef and cabbage is perfect for St Patricks Day or year round. Tender corned beef brisket in a little over an hour is here!
Ingredients
2.5-3

lb

corned beef brisket

12

oz

beer

4

large

red potatoes

or 2 large russet cut in half

1

onion

sliced, optional

1/2

head

cabbage
Instructions
Wash your potatoes and rinse off your corned beef.

If using large red potatoes set them in the middle close together, use similar sizes so you can set beef on top of them. If using 2 large russets slice them both in half and set them cut side down into middle of pot. These will be your trivet.

Set corned beef piece on top of potatoes so it sits flat.

Pour beer on top of meat.

Sprinkle packet of corned beef seasoning on top of meat, it is included inside your meat pouch.

Close your pressure cooking lid (one that isn't attached), and close steam valve.

Turn Ninja Foodi on, then press pressure button. Set to high for 1 hr 25 minutes (for 2.5-3 lbs. this time works well). Press start. Allow to naturally release pressure for about 15 minutes when done.

Release rest of steam if there is any after about 15 min. Remove piece of corned beef and set on cutting board, cover.

Remove potatoes, put in a bowl and cover so they stay warm.

Cut bottom off cabbage and separate the top layer of leaves so you have about 8-10 large pieces. Slice your onion into large pieces.

Add onions into pot with juices, then add cabbage leaves.

Put pressure lid back on. Close steam valve. Turn pot on, press pressure, high for 3 minutes. Press start.

Do a quick release when done.

Slice corned beef and serve with some potatoes, onions, and cabbage from the pot. Enjoy
Nutrition Facts
Ninja Foodi Corned Beef and Cabbage
Amount Per Serving (3 oz)
Calories 589
Calories from Fat 252
% Daily Value*
Fat 28g43%
Cholesterol 102mg34%
Sodium 2360mg103%
Potassium 1847mg53%
Carbohydrates 46g15%
Protein 33g66%
Vitamin A 90IU2%
Vitamin C 101.2mg123%
Calcium 75mg8%
Iron 5.4mg30%
* Percent Daily Values are based on a 2000 calorie diet.