Corned beef soup using your leftover corned beef from St. Patricks Day! Make this chowder in your Instant Pot, Ninja Foodi or on your stovetop tonight!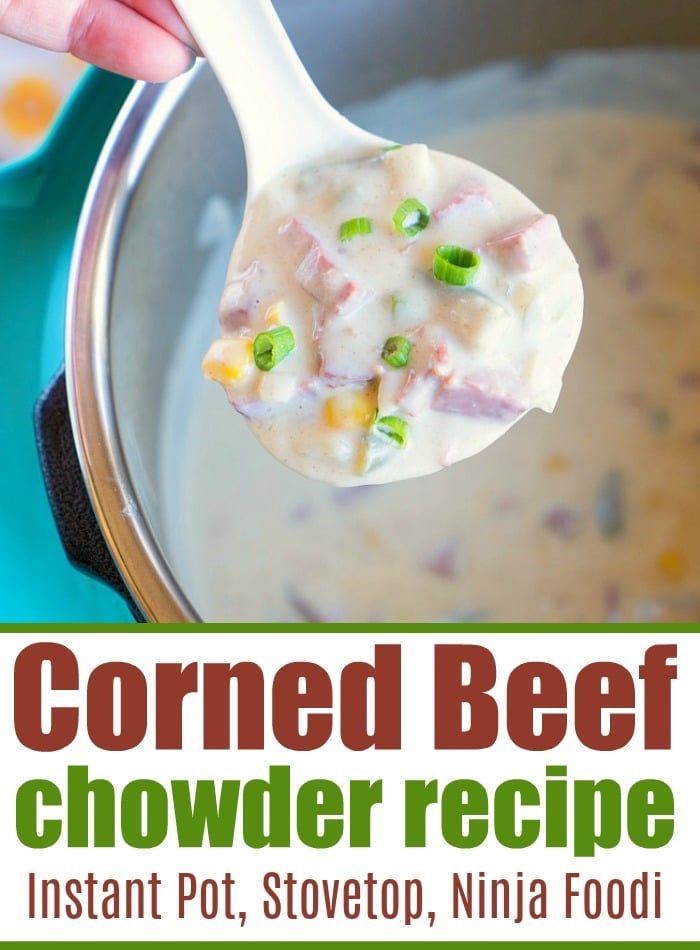 I just threw together this corned beef soup and it came out creamy and fantastic! Perfect lunch for me. If you're wondering what's the best leftover corned beef recipe I think I have it here! We made it and added it to our list of easy Instant Pot recipes.
You can make it in your Ninja Foodi or on your stovetop too. I have you covered! I bet you didn't completely finish your hunk of meat yesterday did you??
We didn't, so I thought I'd create a corned beef soup to enjoy it today too!
I had everything I needed in my fridge. To begin with this is what I added. I used frozen vegetables but you could use canned, they will just become softer.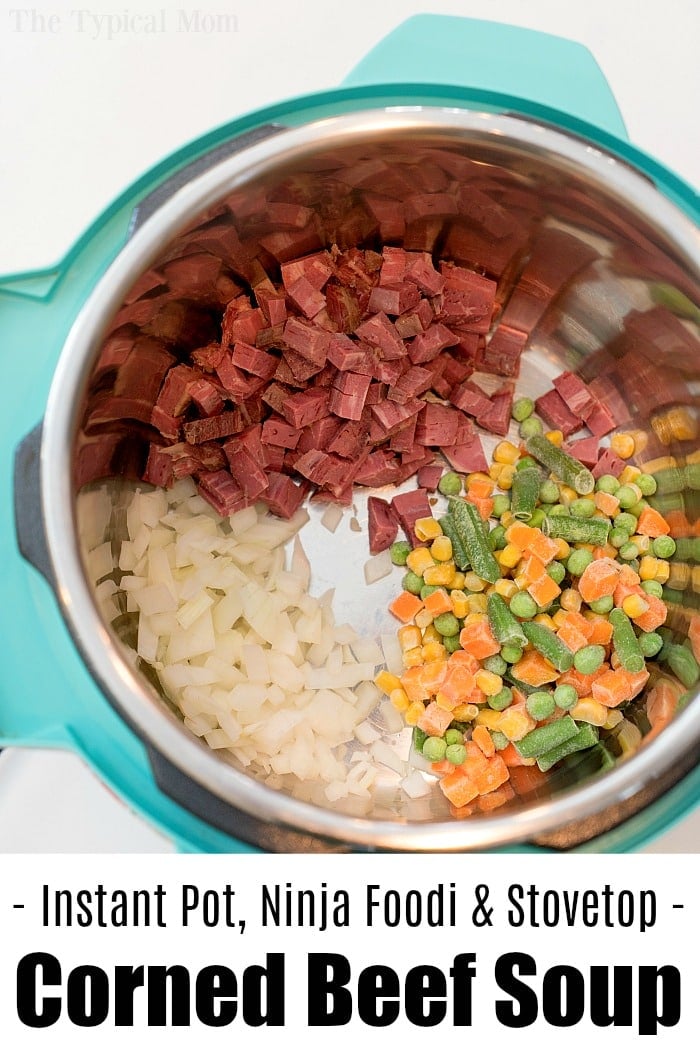 We made our easy Instant Pot corned beef and cabbage recipe again this year. Our piece was about 3.5 lbs. which left about 1.5 cups of diced leftover corned beef. A perfect amount for this Instant Pot corned beef chowder we called it.
Cooking corned beef and cabbage has never been easier with the existence of pressure cookers nowadays. Just incredible I tell you. Fall apart goodness with TONS of flavor which is why I say to season when it is done.
Why do I season our leftover corned beef soup at the end?
Corned beef already has tons of flavor, I want to taste that
We are trying to decrease our salt intake as a whole
Some beef broth's have a lot of sodium in them already
At the end of the day it is up to you whether you add salt during the cooking process or at the end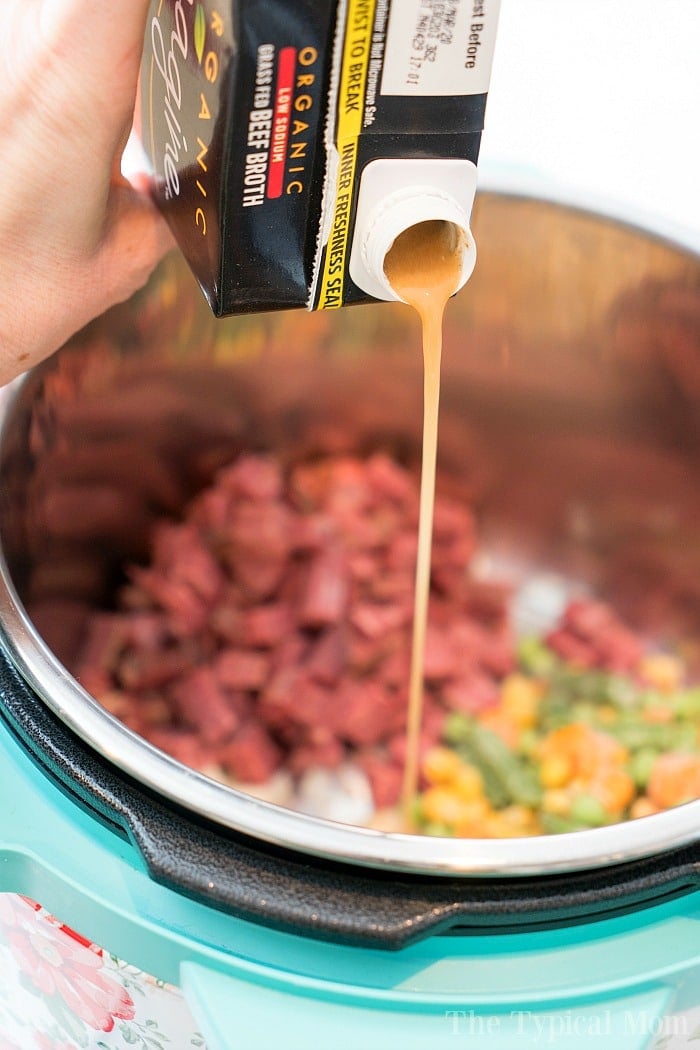 This is what you need to make our stovetop or pressure cooker corned beef soup recipe
Leftover corned beef

Chopped into bite sized pieces
Leaving caraway seeds in the mix is fine

Beef broth

We used this low sodium container
Could opt for chicken broth if you desire

Onion
Heavy whipping cream
Cornstarch
Frozen mixed vegetables

Can use canned but they will come out much softer

Salt and pepper to taste

I don't feel a lot is necessary because the meat has a lot in it already
If you wanted the addition of some shredded cabbage you could add that at the end when it's on the saute function to soften.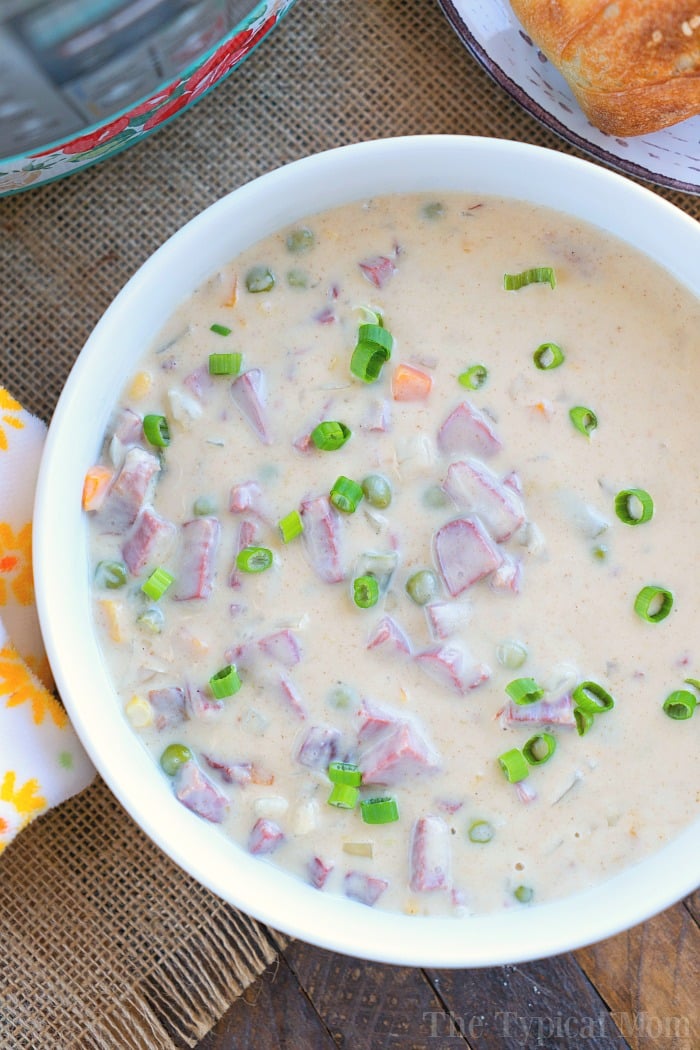 What if you want to make corned beef chowder on the stovetop?
I have directions for that in the recipe card below
There are really no changes other than to put first 4 ingredients in a pot, heat to medium

could add chopped cabbage and potatoes diced very small in there too if you wanted

Cover and bring to a boil over medium heat until boiling
Then reduce heat to low.
Allow your soup to stay on a slow rolling boil until meat and vegetables soften to your liking

this typically takes 20 minutes or so

Use cornstarch and whipping cream mixture to thicken at the end
I haven't made this in a corned beef and cabbage soup in a slow cooker but I imagine you could put all ingredients (minus whipping cream & cornstarch) on low for 4-6 hours. Then whisk last 2 together and add at end allowing them to heat on high for 30-60 min.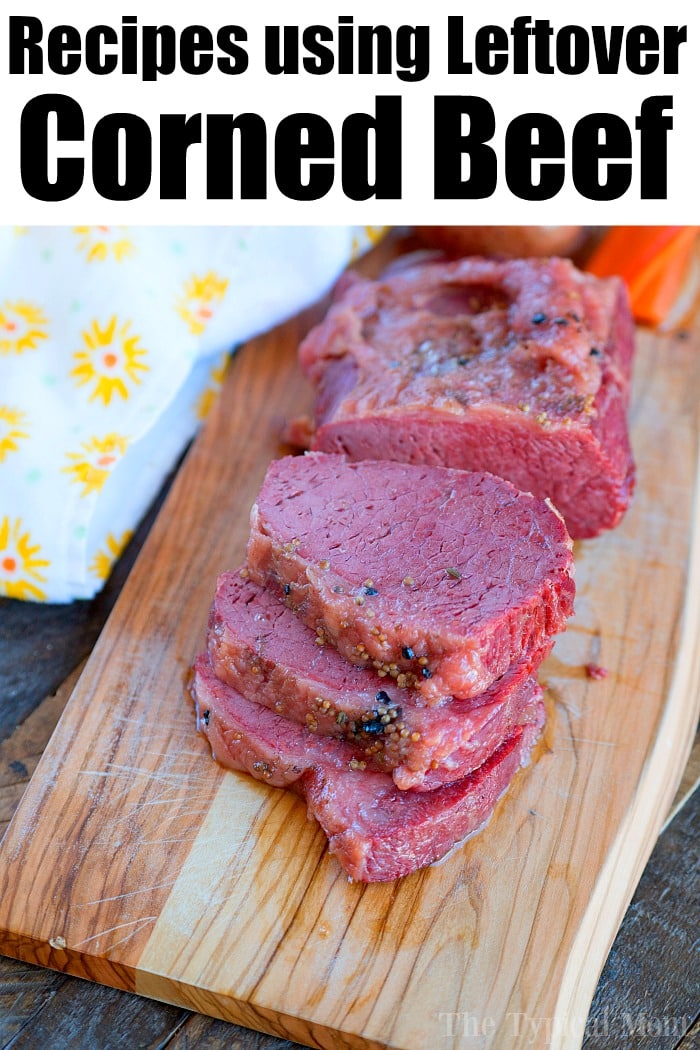 Can you freeze leftover corned beef?
It's recommended to drain the brine because salt encourages rancidity and texture changes. Of course the flavors and texture will diminish with prolonged freezing, but the product is still safe to consume.
After cooking, it's best for leftover corned beef to be refrigerated for 3 to 4 days max, and frozen for about 2 to 3 months for best quality.
How do you thaw frozen corned beef?
Put the meat in a pot large enough to pot or pan to catch any drippings.
Place the roast in your refrigerator.
Allow it to stay in there until the beef has defrosted, this is the best method even though it takes time. Depending on the size and weight of the meat, this can take 2 to 5 days.
Looking for other leftover corned beef recipes?
We love our homemade corned beef hash recipe
You can of course make corned beef sandwiches too
Corned beef and cabbage casserole would be amazing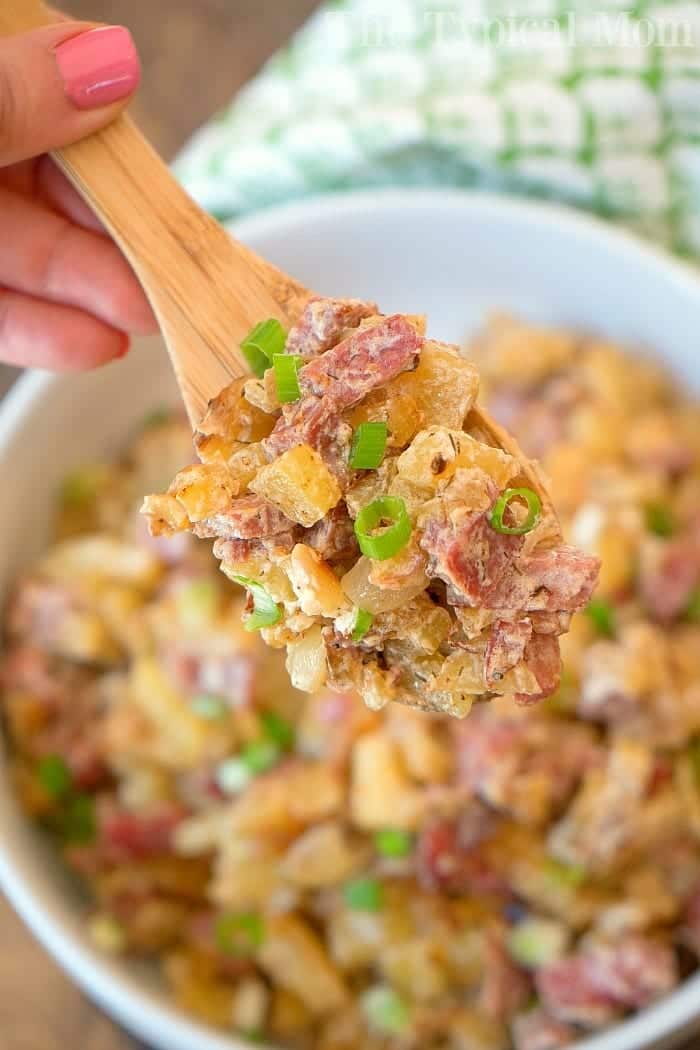 We usually don't have enough to make more than 1 more dish out of our cut but there have been times. Above is our corned beef potato hash with a creamy addictive twist!
What goes well with corned beef if you just want to warm it up as is?
Slice apples really thin and rewarm it on top, or spoon a bit of applesauce over the top
Cranberry sauce can be paired with it too for a salty sweet meal
Mustard is one of my favorites for dipping those bites

sweet chili sauce is a great dip too

Warm a piece and serve it with a garlic pickle on the side too for an over the top dish
Printable recipe for corned beef chowder for you below with nutritional information too.
Corned Beef Soup
Corned beef soup using your leftover corned beef from St. Patricks Day! Make this chowder in your Instant Pot, Ninja Foodi or on your stovetop tonight!
Ingredients
1.5

c

corned beef

or more, diced, this is how much we used

3/4

c

onion

diced

2

c

beef broth

1

c

frozen mixed vegetables

1

c

heavy whipping cream

3

tbsp

cornstarch

1/4

tsp

salt

optional, I suggest seasoning when it is done
Instructions
Dice your leftover corned beef into small bite size pieces. Add this, your diced onion, frozen mixed vegetables and beef broth into your pressure cooker. Can add salt now, I choose to season at the end (some corned beef and broth already has a lot of salt in it)

If cooking on a pot on your stovetop put on medium heat.

Set your pressure cooker to high pressure for 2 minutes. Allow to naturally release for 5 minutes, then let out rest of steam.

If making on the stovetop allow it to come to a rolling boil stirring it until the vegetables are as soft as you'd like and meat has softened.

Whisk together your whipping cream and cornstarch in a separate bowl until all lumps are gone.

Turn your pressure cooker off, then press saute and wait until it begins to bubble. Pour your cornstarch mixture in and allow to bubble for about 2 minutes, stirring, so chowder/soup thickens. Serve!

If making on stovetop add cornstarch mixture once your vegetables are softened to your desired texture, stir until it is as thick as you want it. Remove from heat and serve immediately.

We like to serve this with a side of rolls.
Nutrition Facts
Corned Beef Soup
Amount Per Serving (4 oz)
Calories 645
Calories from Fat 648
% Daily Value*
Fat 72g111%
Cholesterol 263mg88%
Sodium 4744mg206%
Potassium 1252mg36%
Carbohydrates 16g5%
Protein 53g106%
Vitamin A 3185IU64%
Vitamin C 98.4mg119%
Calcium 88mg9%
Iron 6.4mg36%
* Percent Daily Values are based on a 2000 calorie diet.