Instant Pot frozen corned beef and cabbage turns out great! Same timing when using a Ninja Foodi or Crockpot Express pot too. Comes out moist and fork tender every single time.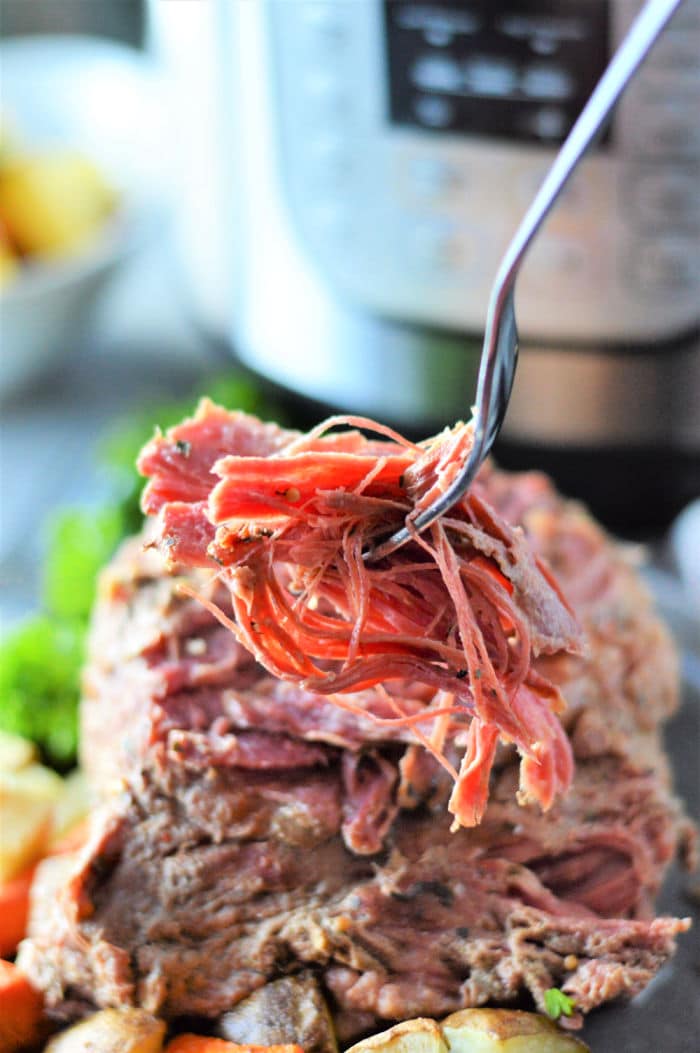 If you've had an UH OH moment and suddenly need instructions on how to cook Instant Pot frozen corned beef, we've got it. No shame in being forgetful, I do it all the time. After you try this and love it, give out other easy Instant Pot recipes a shot too. (affiliate links present)
Ninja Foodi Frozen Corned Beef
You can use any brand of pressure cooker you have. Crockpot Express, Mealthy, Ninja Foodi, they all work just the same basically and all have the high pressure function.
You may have made our Instant Pot corned beef and cabbage in the past, but now it was still rock solid! Don't worry, you just need about 30 more minutes and it will still be delicious for dinner.
FIRST – You should sign up for my free newsletter so you get new posts emailed to you twice a week and never miss out on anything! Now let's start with a few basic tips:
Make sure to Bookmark our InstaPot recipes page. We add new ones each week!
Then PRINT this —–> Instant Pot cooking times cheat sheet that will help you understand how long meat, vegetables and beans take to cook in your pressure cooker.
For reference, this is the pressure cooker I have (a 6 quart) and use for all recipe creations.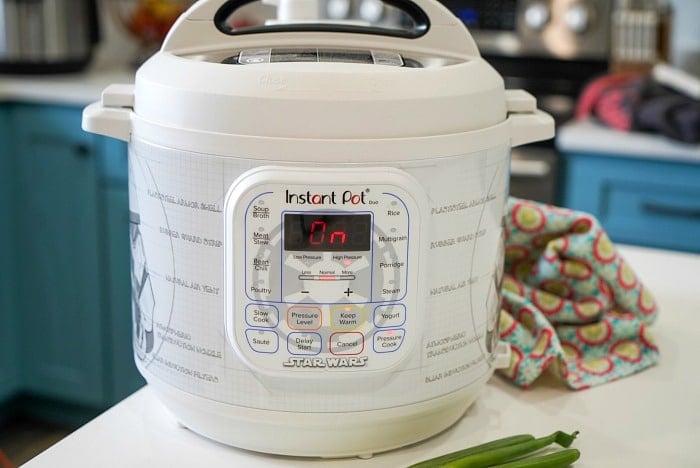 Can corned beef be frozen
Yes! I did this last year when it was after St. Patrick's Day and they were crazy cheap. I couldn't pass them up as one was just $5 which was a third of what they were a few days before. I asked the butcher if you could freeze them and he said he does just that all the time.
SO I bought 5 of them and immediately threw them into my deep freeze. One at a time I took them out throughout the year and tried cooking corned beef and cabbage all different ways. Crock pot corned beef brisket used to be my go to so I made that yet again. Love using potatoes as trivets that way and enjoying them for dinner.
Then I made dutch oven corned beef and that was amazing too. All of those were done once it was defrosted. The last one I decided to do it without that step though. That is what brings us here, so I gave it a whirl and what do you know but it turned out great too.
Whether you have a flat cut or point cut (the first is my personal preference), this will work just as well.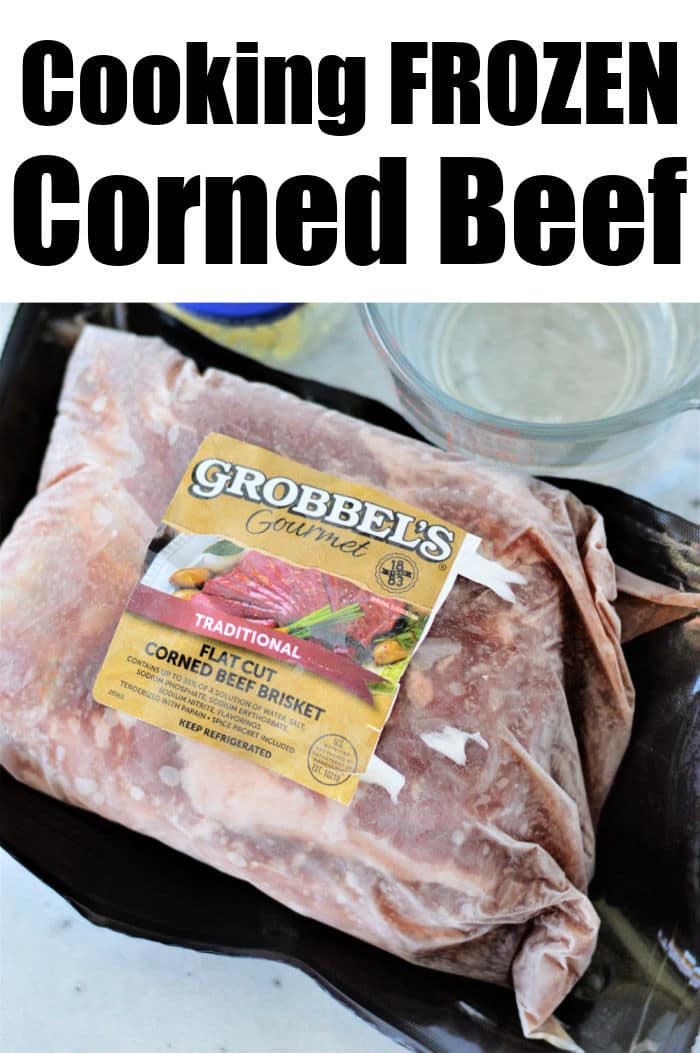 Let's talk about this type of beef shall we? It may be new to you, it was to me once and I never understood the differences by looking at the packages. I'll say there IS a big one between the two types offered. One is more expensive but SO worth it so just spend the extra few dollars. Flat cut is the way to go 100%.
One is square and the same thickness basically all the way across. There is more fat on this one too which is a plus. Point is just that, shaped as it sounds. Meaning one end is wider and the other gets thinner until it forms into a thin point. Trimmer, many times there isn't a lot of fat at all on this cut. You want fat to keep this as moist as possible.
Can you cook a corned beef from frozen?
Yes, that is what we are going to show you here. Using a pressure cooker is key to it's success. High pressure will defrost and break down the connective tissues so it becomes tender. Using beer, water or broth will essentially steam it until this brisket becomes moist and delicious.
One big difference between cooking frozen meat vs. fresh is the increase in timing. Because of this I do not add vegetables with it. Another biggie is the texture of the liquid inside of the bag. *Note, it kinda becomes an icky gelatin like feel once the meat is defrosted if you do choose to freeze and thaw out. Don't worry, just rinse it.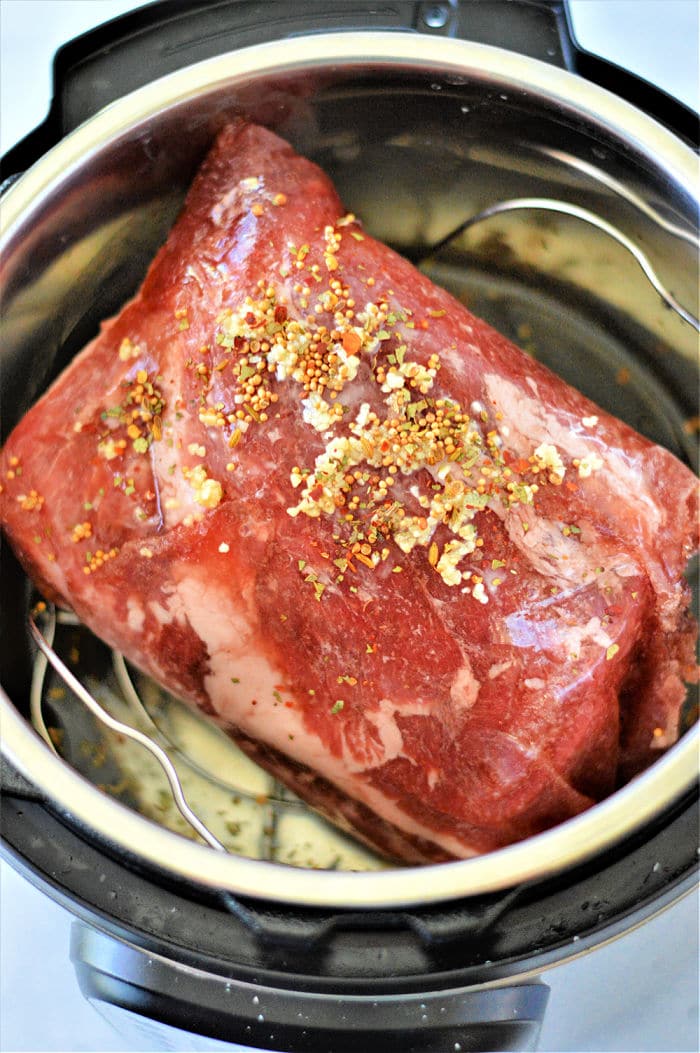 Frozen Corned Beef Instant Pot
Since an extra half hour is added I knew the potatoes I once used as trivets would disintegrate. It would be better to make roasted potatoes in air fryer separately. I have made many simple cabbage recipes to pair with this once it's done but pressure cooker fried cabbage is by far our favorite.
A 3.5 pound corned beef brisket was used for this. Pressure cook timing would be appropriate for a 3-4 lb. size. Don't throw away the pickling spice packet that comes in the bag, you'll need that. This is what you're going to need, it isn't much;
Beef brisket that has not been defrosted + spice packet
Beer, broth or combine half with cup of water
Adding minced garlic to the top is optional
If you really really wanted to add red potatoes to this I would do it differently than if yours were fresh. Instead of sitting the meat on top, set them on the very top out of the liquid. They will cook slower that way and not fall apart as much.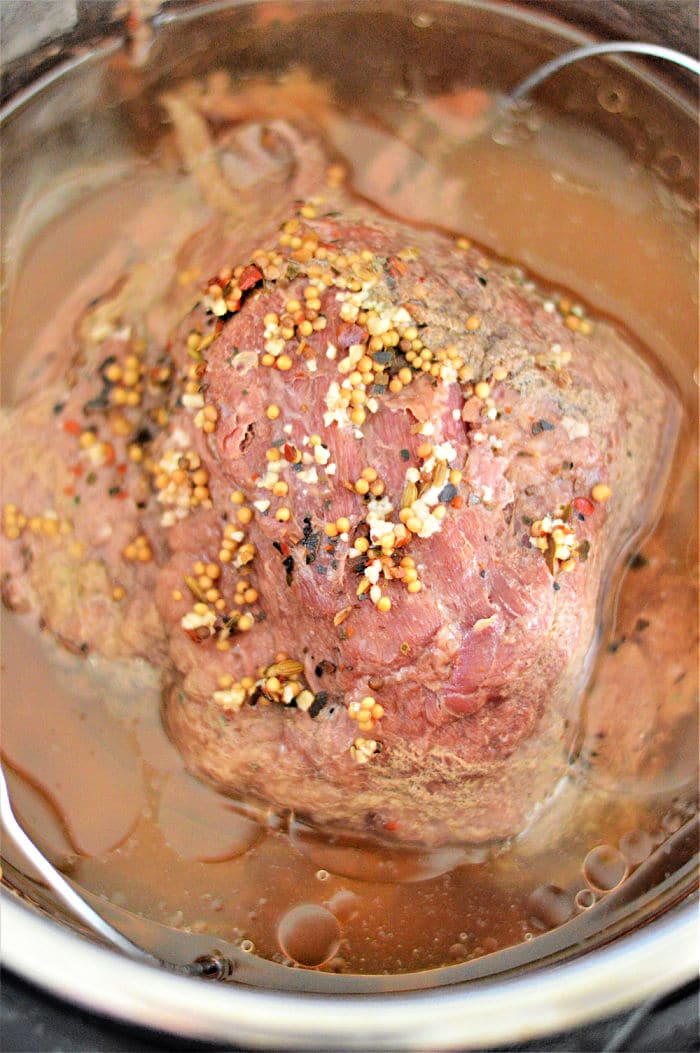 Full instructions and ingredient amounts listed below in the printable recipe card. There is nutritional information listed there too but I would refer to the back of your package for that since they are all slightly different.
The bigger the fat pad the better flavor your piece will have. That will certainly increase the fat content listed though so you'd need to look at the facts on your specific piece for accuracy.
You're going to start out by placing a trivet with handles inside your pressure cooker. Pour 4 cups of your chosen liquid inside the pot.
Set frozen corned beef on trivet. Top with minced garlic and spice packet on top.
Close the lid and seal pressure release valve. Set to high pressure for 2 hours cook time.
When done allow release the pressure naturally. This will take about 30 minutes, do NOT do a quick release.
Open the lid carefully, remove corned beef and slice on a cutting board.
You can make air fryer cabbage in about 15 minutes or follow our Ninja Foodi cabbage recipes to serve on the side. Slow cooker mashed potatoes is another favorite for sure.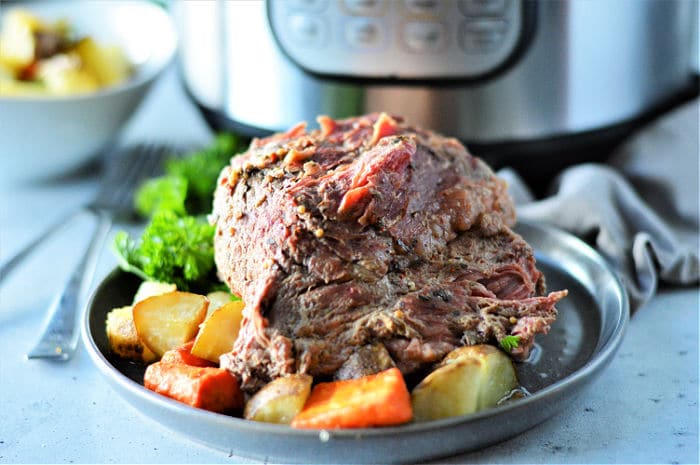 If you want to use these instructions to make frozen Ninja foodi corned beef and cabbage that works too. Like I said, it doesn't matter what brand name yours has on the front of it. I have done it in all 3 different types I have in my pantry. We may have one slice left over at times. I never get rid of it because it saves so well for the next day.
Once it is cooled slide what is left into a baggie. Only slice what you are going to eat because storing a larger piece will keep it very moist. Slide it into a baggie and keep in the fridge until the next day. Either warm it up with some gravy or you can make something wonderful with it.
Of course corned beef hash is an old fashioned favorite and reminds me of being at my Grandmother's table during the holidays.
Our family favorite is making leftover corned beef soup. It's kinda' like a chowder with vegetables and diced potatoes inside. I will tell you it is so amazing that I have cooked this meat just so that I could dice it up and make this soup as a main meal many times! Do you make anything great with it the next day we should try too?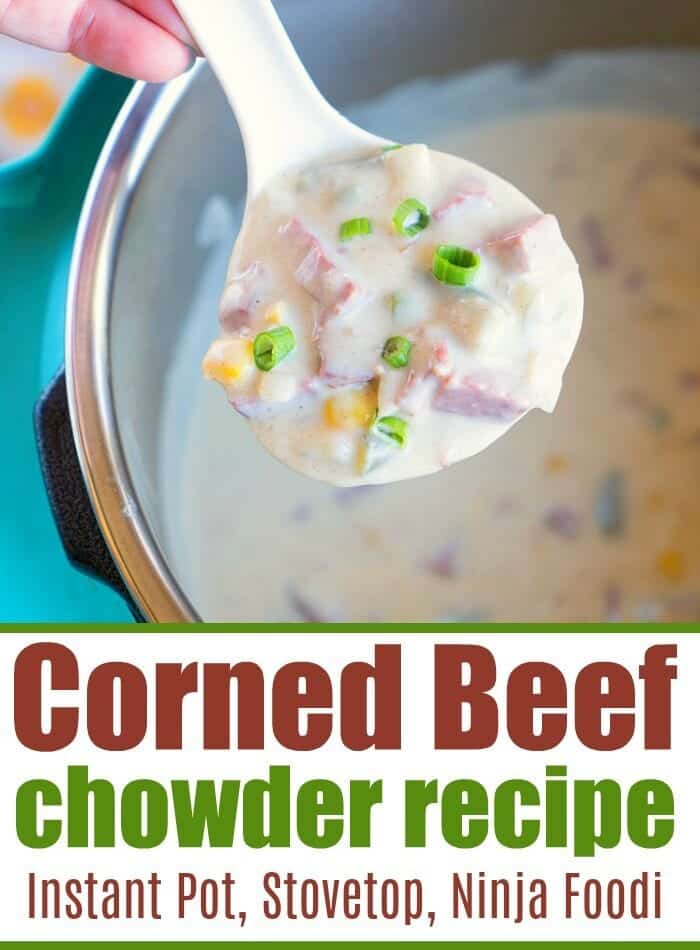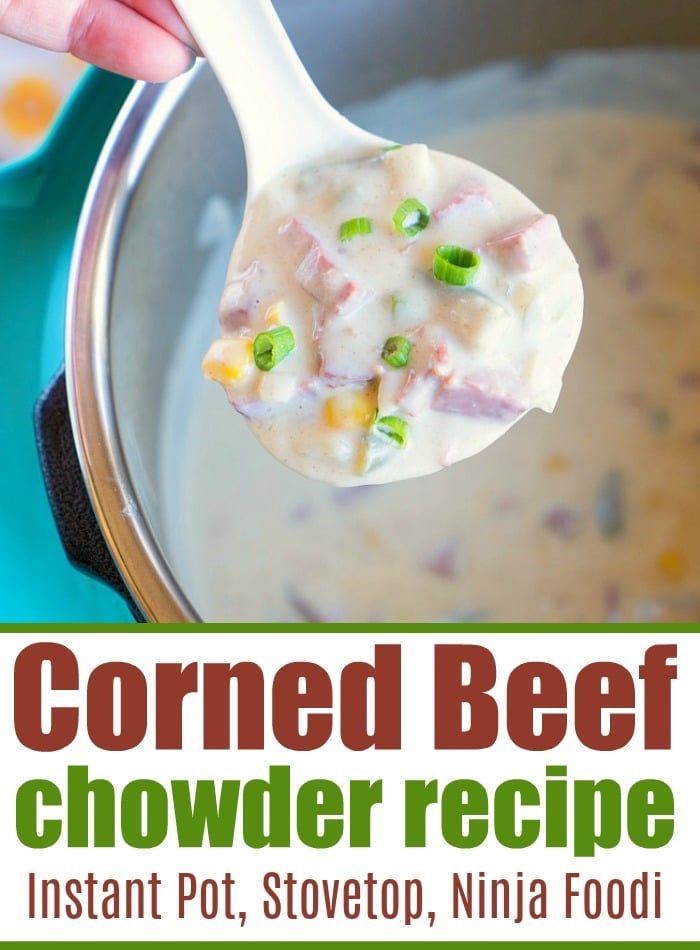 Want to see a few of my favorite things that I am totally obsessed with?? Take a peek and see how many you might already have…twinsies!
Looking for more easy family recipes and tips? LIKE The Typical Mom Facebook page?
Then sign up for my free newsletter, and follow me on Pinterest! 😉
***** If you LOVED this recipe give it 5 Stars below and let everyone know what you thought about it. 😉
Instant Pot Frozen Corned Beef
Instant Pot frozen corned beef and cabbage turns out great! Same timing for Ninja Foodi or Crockpot Express pots too. Moist and tender.
Instructions
Place trivet inside pressure cooker and pour 4 cups of liquid inside the pot.

Set frozen corned beef on trivet. Top with minced garlic and spice packet on top.

Close the lid and seal pressure release valve. Set to high pressure for 2 hours cook time.

When done allow the steam to release naturally, this will take about 30 minutes.

Open lid, lift out meat and slice on a cutting board. Serve with air fryer cabbage, steamed or boiled large cabbage leaves.
Nutrition Facts
Instant Pot Frozen Corned Beef
Amount Per Serving (2 oz)
Calories 570
Calories from Fat 351
% Daily Value*
Fat 39g60%
Cholesterol 143mg48%
Sodium 3226mg140%
Potassium 819mg23%
Carbohydrates 3g1%
Protein 39g78%
Vitamin C 71mg86%
Calcium 25mg3%
Iron 5mg28%
* Percent Daily Values are based on a 2000 calorie diet.