4 cooking corned beef and cabbage methods for your perfect St. Patricks Day dinner! Tender Crockpot, Instant Pot, or dutch oven corned beef every time.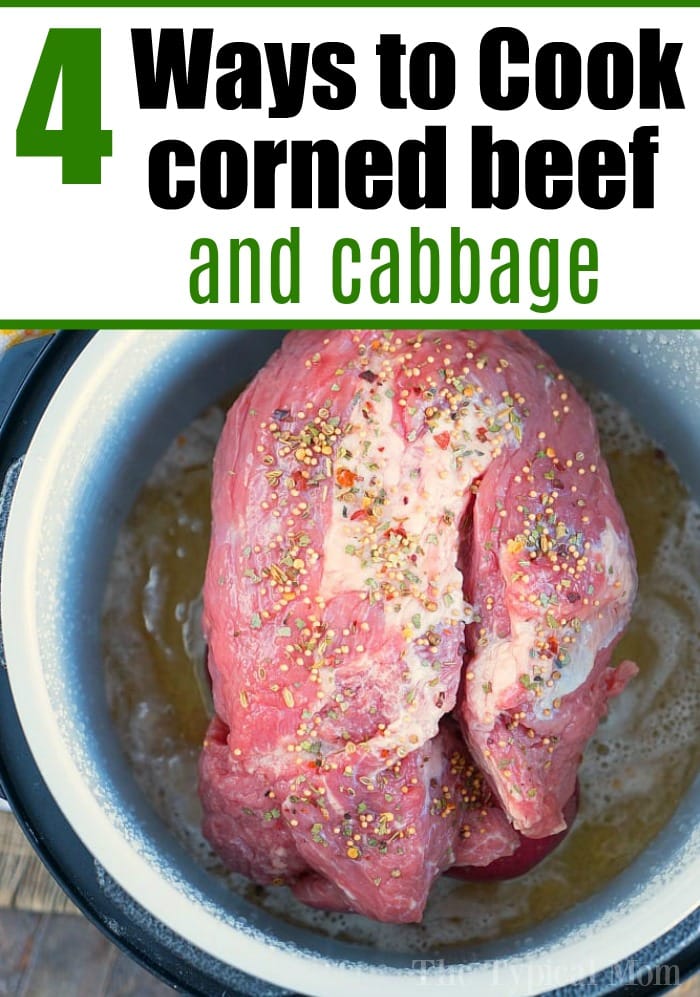 Looking for the best method of cooking corned beef and cabbage?? We have 4 different ways of making your corned beef dinner this year. Maybe you should try something new! If you have done something different that you love share it with us below so we can try that too.
Cooking Corned Beef and Cabbage in the Ninja Foodi
If you are unfamiliar with the Ninja Foodi pressure cooker and air fryer it's amazing.
This method is using a pressure cooker
Your corned beef will come out fabulously tender
Potatoes taste amazing but tend to fall apart once everything is done
Cabbage can be steamed essentially in the juices as little or as limp as you like
Find directions for Ninja Foodi corned beef and cabbage recipe here.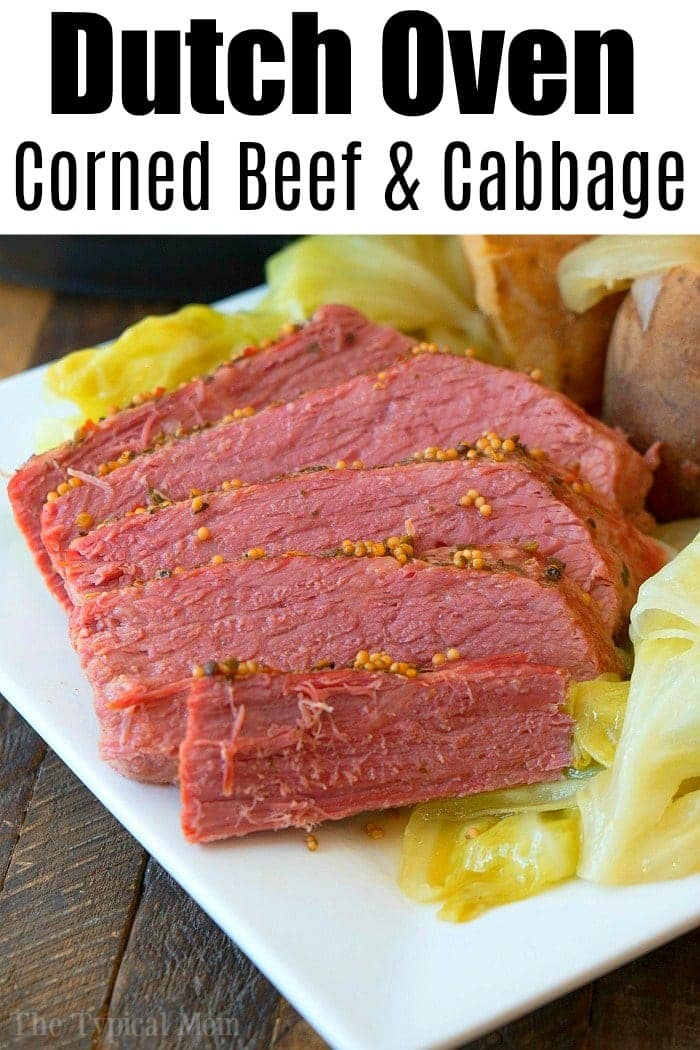 Cooking Corned Beef and Cabbage in a Dutch Oven
If you don't have a dutch oven it's a great way to cook using cast iron.
You can buy my Dutch Oven here.
This is how to cook corned beef in the oven.
Your meat will not be quite as tender as the other 3 methods shared.

Corned beef must be almost submerged to get tender
Basting will need to be done during the cooking process

The potatoes come out better than any other method in our opinion.
Cabbage is my favorite in the dutch oven as well.
Adding large chunks of carrots is great and they come out perfectly tender cooked together.
You can find our Dutch Oven corned beef and cabbage recipe here.
How to cook corned beef and cabbage in the oven directions are here.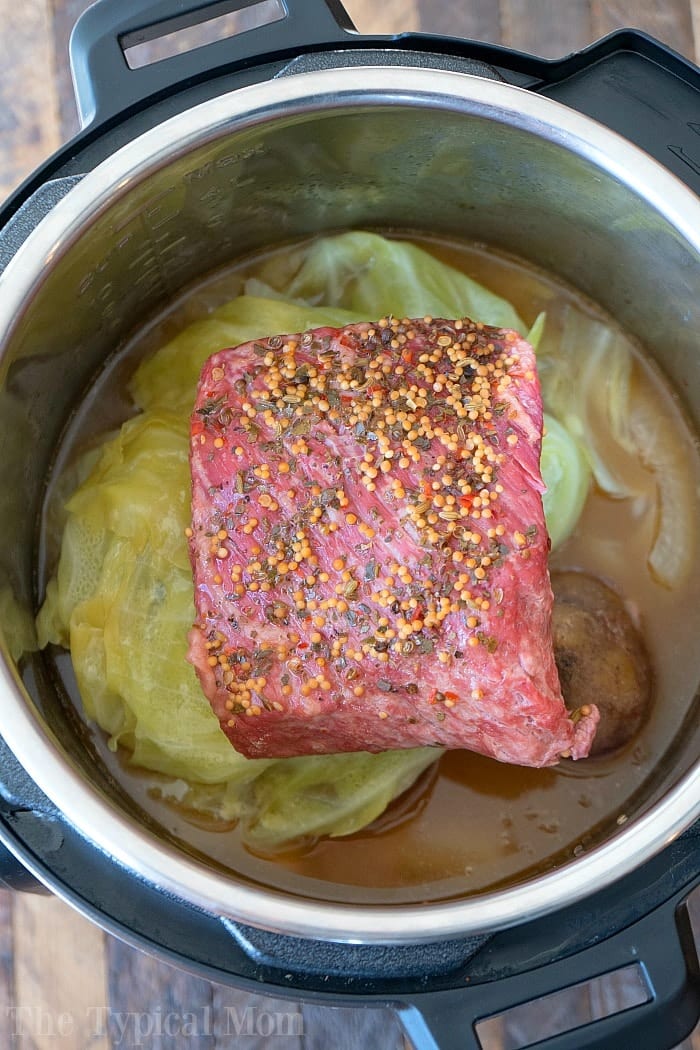 Cooking Corned Beef and Cabbage in an Instant Pot
This comes out similarly to the top Ninja Foodi recipe
You can use any brand of pressure cooker for this method
Find my Instant Pot here, I have the 6 qt.
Corned beef comes out amazingly tender and perfectly cooked
Potatoes taste great, softer than making them in the dutch oven but firmer than the Ninja
I didn't add carrots but you could
Cabbage can be cooked as little or as much as you wanted
Everything soaks up a bit of the beer flavor, or whatever liquid you choose
You can find our easy Instant Pot corned beef and cabbage recipe here.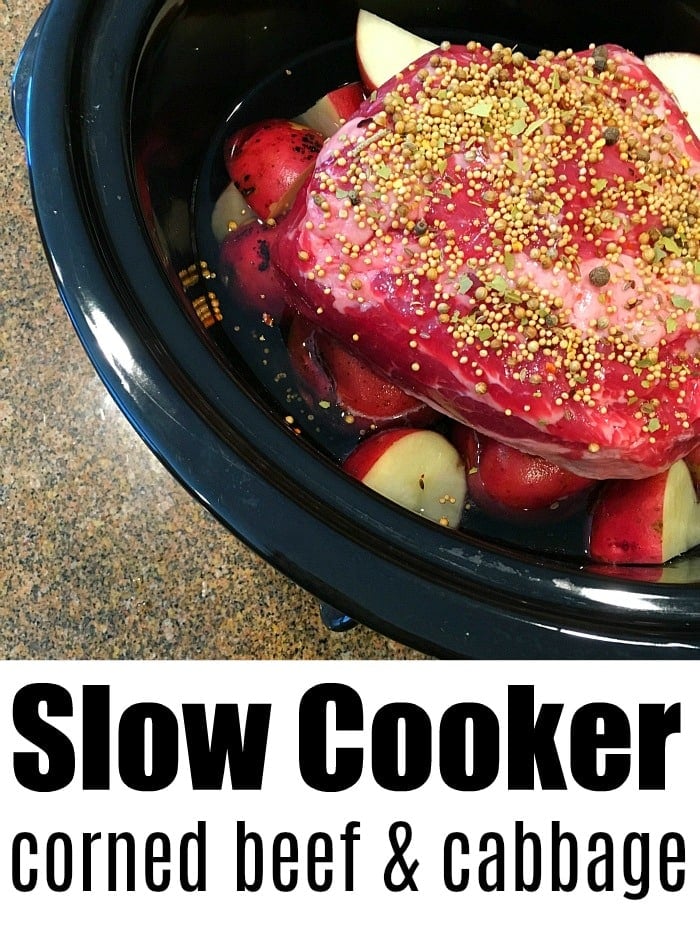 Cooking Corned Beef and Cabbage in the Crock Pot
This method will take all day
My crockpot is here for reference
Your corned beef will come out extremely tender and juicy
Flavor of the beer or liquid will be absorbed by potatoes and meat
The flavors and texture will be similar to pressure cooking but take the longest
I used the recipe below for years until I got my Instant Pot and Ninja Foodi, now I use those
Find the recipe for slow cooker corned beef brisket here.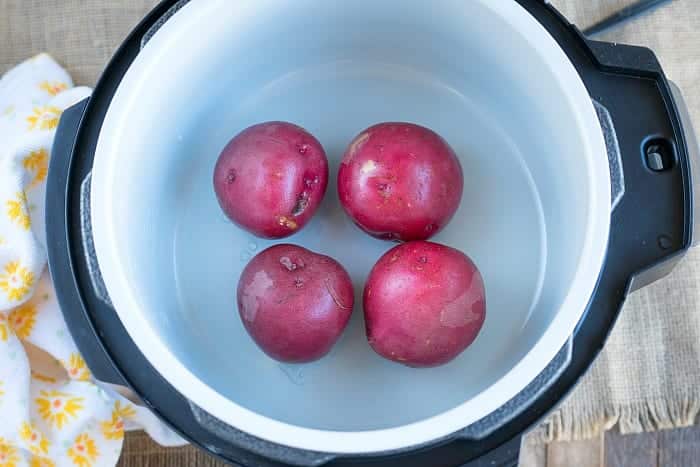 Tips for Cooking Corned Beef and Cabbage the best way
Use beer

I don't drink it at all regularly but it gives everything a great flavor
If you aren't comfortable then I'd use beef broth over water any day

Choose a large piece

Your corned beef will shrink A LOT when it's cooked

Buy a piece with a decent amount of fat

Fat means flavor and will be more tender than a lean corned beef brisket

Don't overcook your cabbage

Cutting it into 4 large chunks is best we think
Cook just enough to soften it but not so long it is limp
Other simple cabbage recipes!