4 cooking corned beef and cabbage methods for your perfect St. Patricks Day dinner are here! Tender Crockpot, Instant Pot, or dutch oven corned beef every time. Then add a few leaves to the pot or make cabbage recipes of your choice on the side.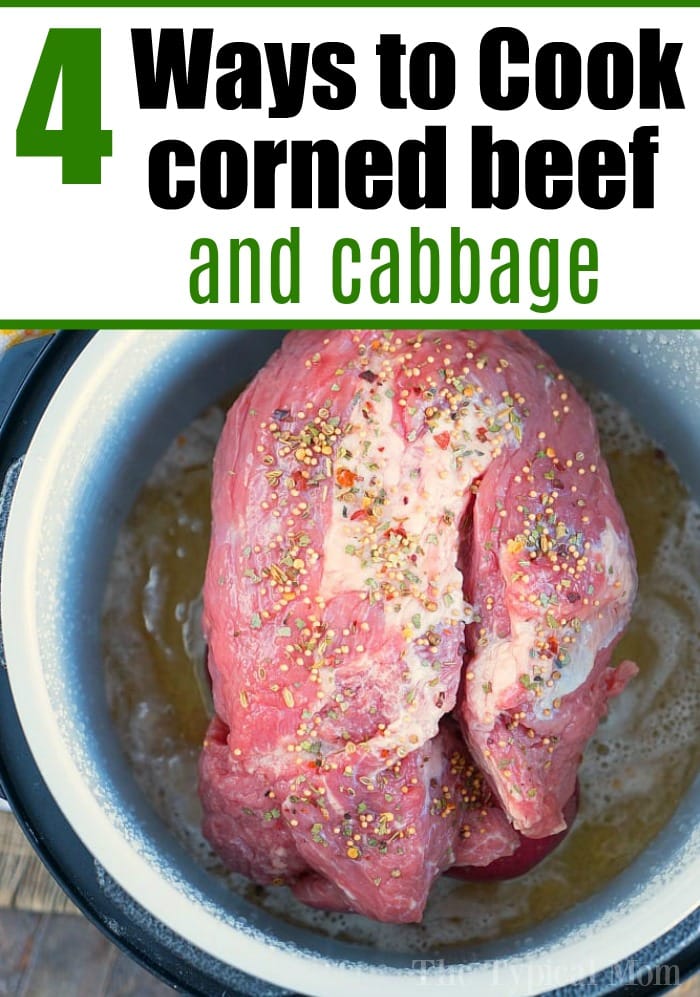 Looking for the best method of cooking corned beef and cabbage?? We have 4 different ways of making your corned beef dinner this year. Maybe you should try something new! If you have done something different that you love share it with us below so we can try that too. (originally published 3/19, affiliate links present)
Best Way to Cook Corned Beef
All of these use fresh and/or defrosted meat but recently I added instructions for how to cook frozen corned beef here too! Let me tell you all about an "extra" you MUST make no matter how you cook your meat.
Our corned beef mustard is out of this world I tell you!! With a bit of a sweet yet tangy taste it will take your piece of meat from good to out of this world. Serve at the end so people can slather it on each bite.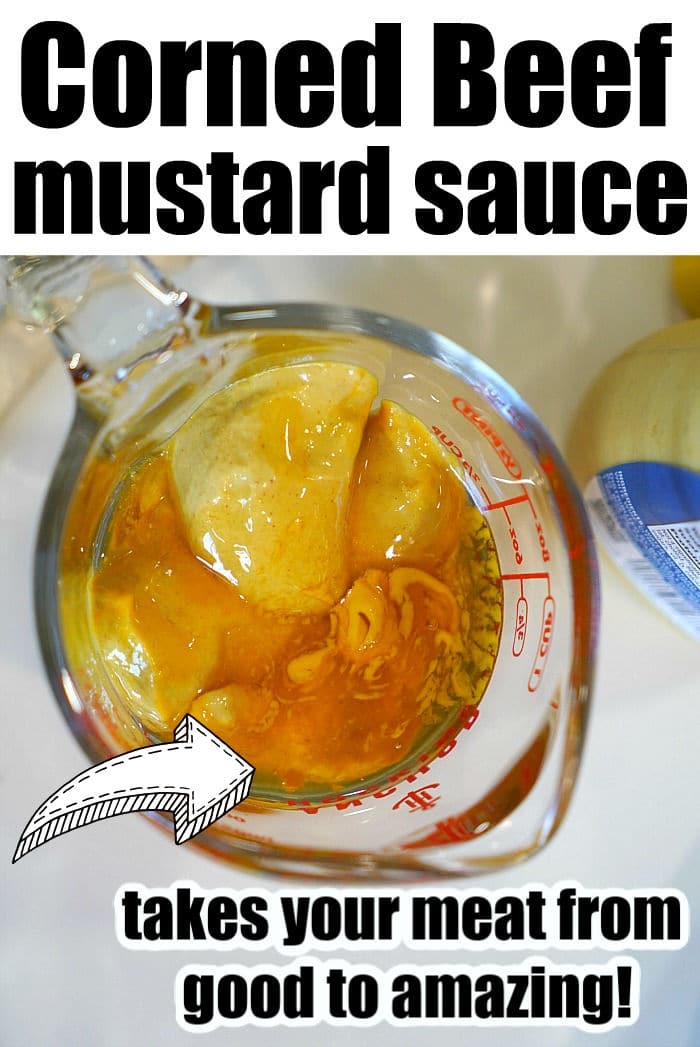 Cooking Corned Beef and Cabbage in the Ninja Foodi
This one is great because you can pressure cook as is, air fry when it's done, or make air fryer corned beef only. Your choice.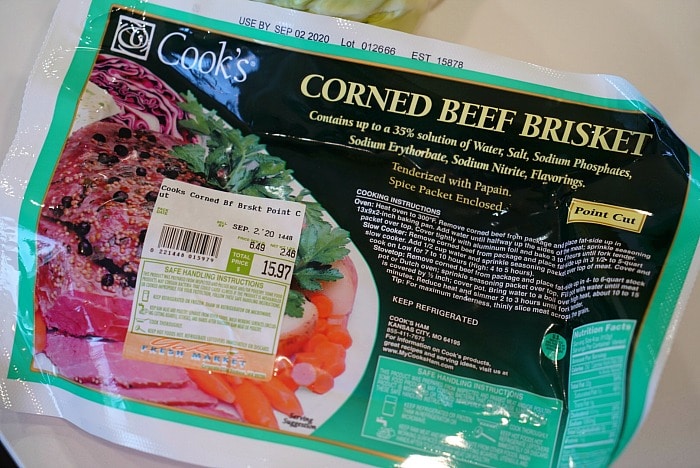 I highly recommend this method, no matter what brand of pot you have. Also the flat cut is better than the point (if I can find it). You just get a thicker section that becomes more tender overall.
Potatoes taste amazing but tend to fall apart once everything is done
Cabbage can be steamed essentially in the juices as little or as limp as you like
Another option is to cook them separately using this Ninja Foodi cabbage, air fryer cabbage, or baked cabbage recipe after the meat is done.
This option only takes about 15 minutes and creates a crispy crunch on the outer leaves.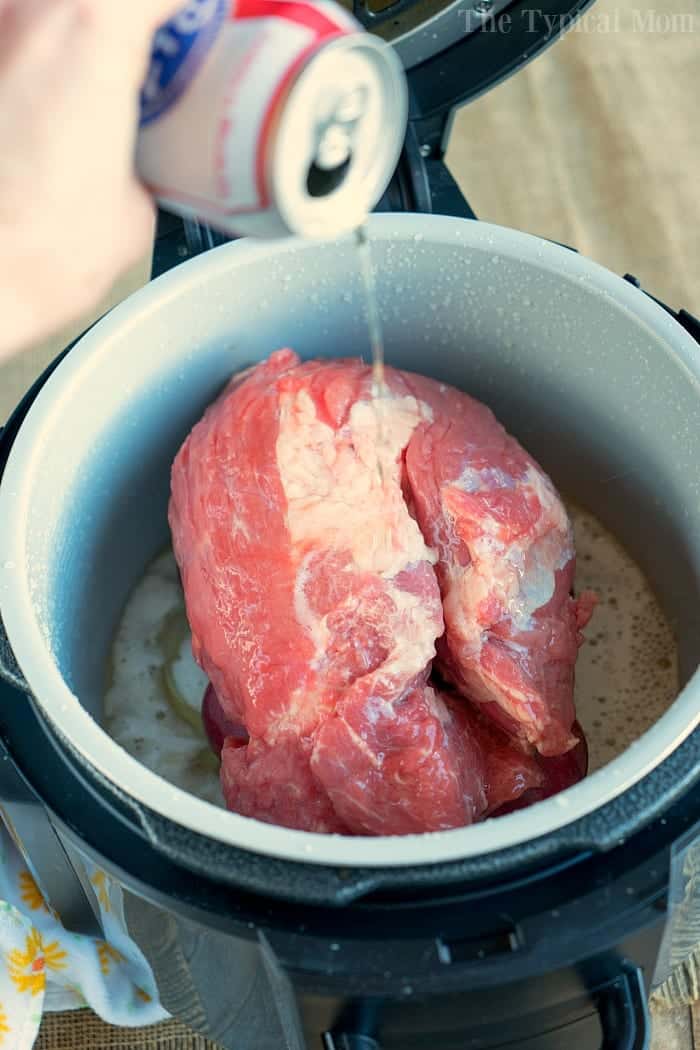 Fastest Way to Cook Corned Beef
Find directions for Ninja Foodi corned beef and cabbage recipe here. Beef and vegetables come out incredibly flavorful using this method. This is probably my favorite method. Using a pressure cooker makes everything easier and the tenderness cannot be replicated any other way really.
What you need to cook corned beef brisket with cabbage:
A piece of corned beef

Pickling spices will come in the bag with your meat
Of course you can make your own spice packet with mustard seeds and other ingredients but I have never bothered to do this

Liquid

I love beer because of the flavor it lends this dish
Yes you can cover with water instead but I recommend the other

Head of cabbage
You typically add the cabbage at the end since it only needs a short amount of time to get tender.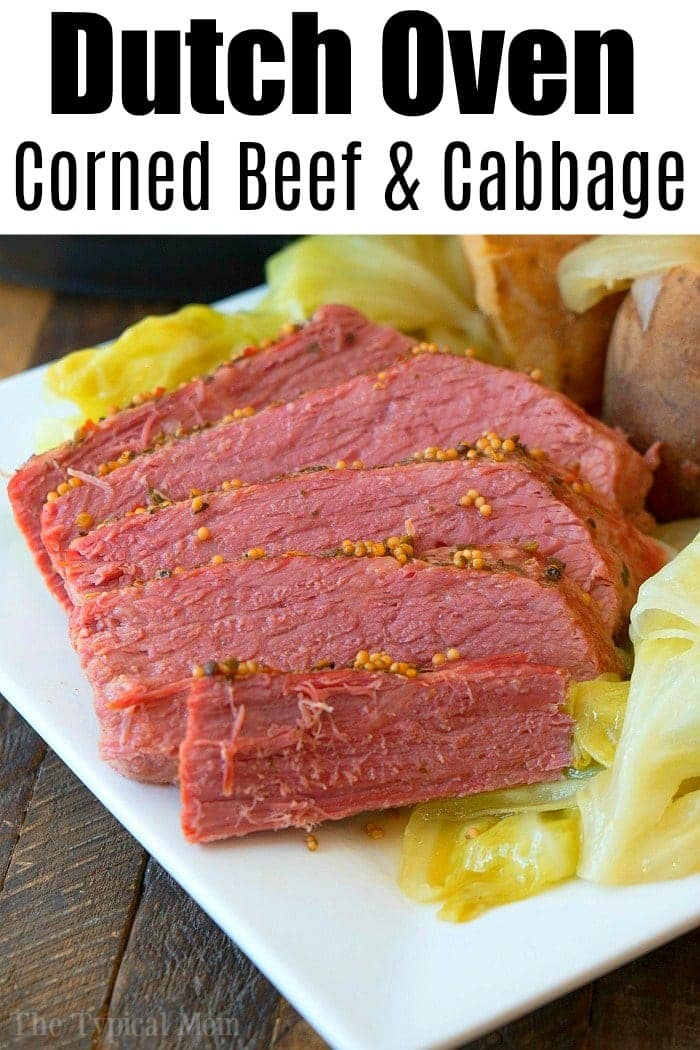 Cooking Corned Beef and Cabbage in a Dutch Oven
If you don't have a large dutch oven it's a great way to cook using cast iron.
You can buy my Dutch Oven here.
This is how to cook corned beef in the oven.
Your meat will not be quite as tender as the other 3 methods shared. Corned beef must be almost submerged to get tender. Basting will need to be done during the cooking process.
The potatoes come out better than any other method in our opinion.
Cabbage is my favorite in the dutch oven as well.
You can add potatoes and carrots too, they come out perfectly tender when cooked together.
You can find our Dutch Oven corned beef and cabbage recipe here. How to cook corned beef and cabbage in the oven directions are here.
Corned Beef and Cabbage in an Instant Pot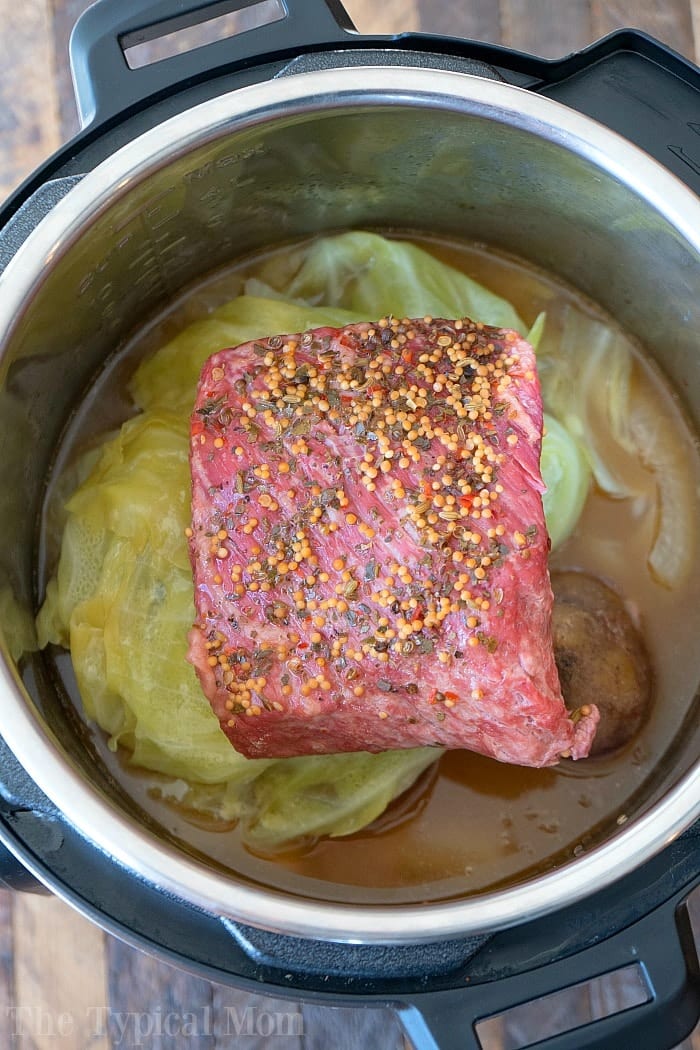 How to Cook Corned Beef Brisket
The only way we won't do this is to bring it to a boil on your stove. That would defeat the purpose of it being marinated because the taste would totally change. I would highly suggest out of them all to make Instant Pot corned beef and cabbage here. This comes out similarly to the top Ninja Foodi recipe. You can use any brand of pressure cooker for this method.
My Instant Pot is the 6 qt. and plenty big for the 5 of us
Corned beef comes out amazingly tender on high heat, and perfectly cooked
Potatoes taste great, softer than making them in the dutch oven but firmer than the Ninja.
I didn't add carrots but you could
Cabbage can be cooked as little or as much as you wanted
Everything soaks up a bit of the beer flavor, or whatever liquid you choose.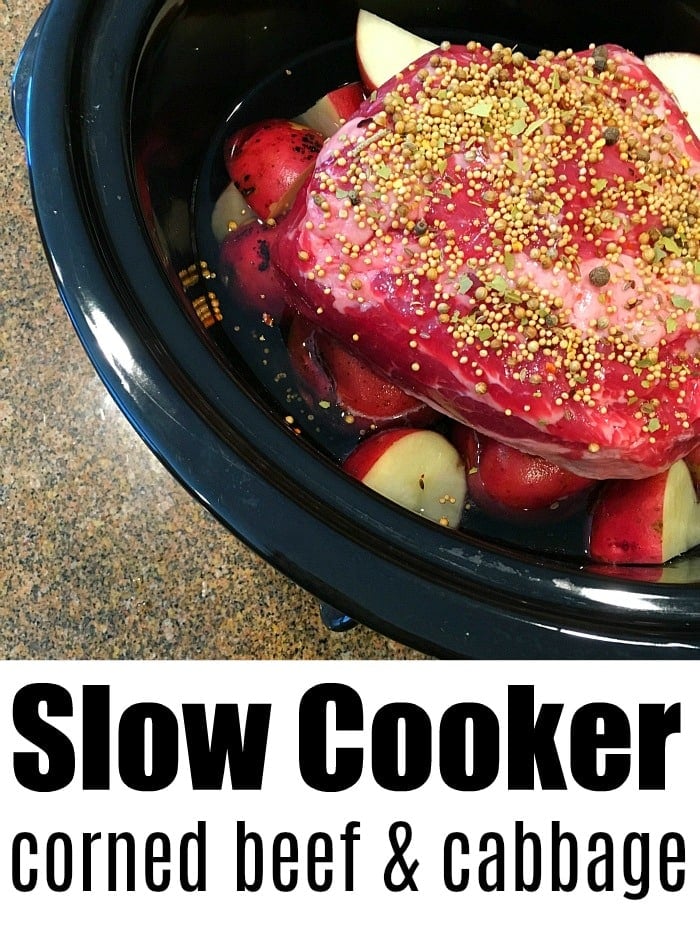 Cooking Corned Beef and Cabbage in the Crock Pot
This method will take all day. My crockpot is here for reference.
Your corned beef will come out extremely tender and juicy
Flavor of the beer or liquid will be absorbed by potatoes and meat
The flavors and texture will be similar to pressure cooking but take the longest
You can reduce heat to warm if you are serving this for a longer period of time. I wouldn't leave it on with additional heat for more than 30 minutes or it may dry out.
I used the recipe below for years until I got my Instant Pot and Ninja Foodi, now I use those
Find the recipe for slow cooker corned beef brisket here if it is fresh or defrosted but there is more y'all. This year I experimented for those who may be forgetful and came up with how to cook frozen corned beef in Crock Pot too!!
Cooking Corned Beef and Cabbage
Now how to cook corned beef in the oven is here. If you just want the good old fashioned way without an appliance on your counter I get it. We made this one recently and it seriously was devoured! Last but not least you could try our Traeger corned beef recipe if you have a smoker at home.
Use beer

I don't drink it at all regularly but it gives everything a great flavor
If you aren't comfortable then I'd use beef broth over water any day
It's really a simple way to bring a whopping punch of flavor to this dish really.
Choose a large piece

Your corned beef will shrink A LOT when it's cooked
Flat is always better than a point piece

Buy a piece with a decent amount of fat

Fat means flavor and will be more tender than a lean corned beef brisket

Don't overcook your cabbage

Cutting it into 4 large chunks is best we think
Cook just enough to soften it but not so long it is limp
** But wait, we just added a 5th way….this is a canned corned beef recipe made 4 different ways if that is all you have. What should you serve with corned beef and cabbage? Well our easy Irish soda bread recipe of course! Takes under 1/2 hour and a great duo.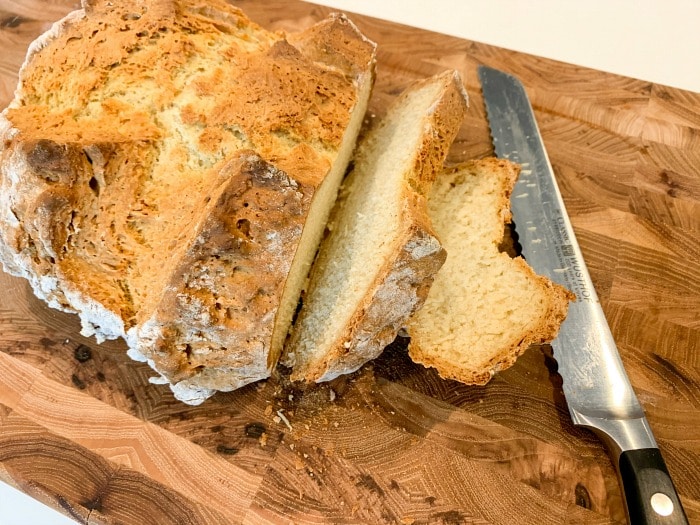 How to Use Leftover Corned Beef
As with any other recipe please tweak it to add ingredients you love like bay leaves inside the pot if you prefer, or other seasonings.
If you have extra veggies don't throw them out. Try our other simple cabbage recipes like old fashioned cabbage soup and others. Let us know which are your favorite!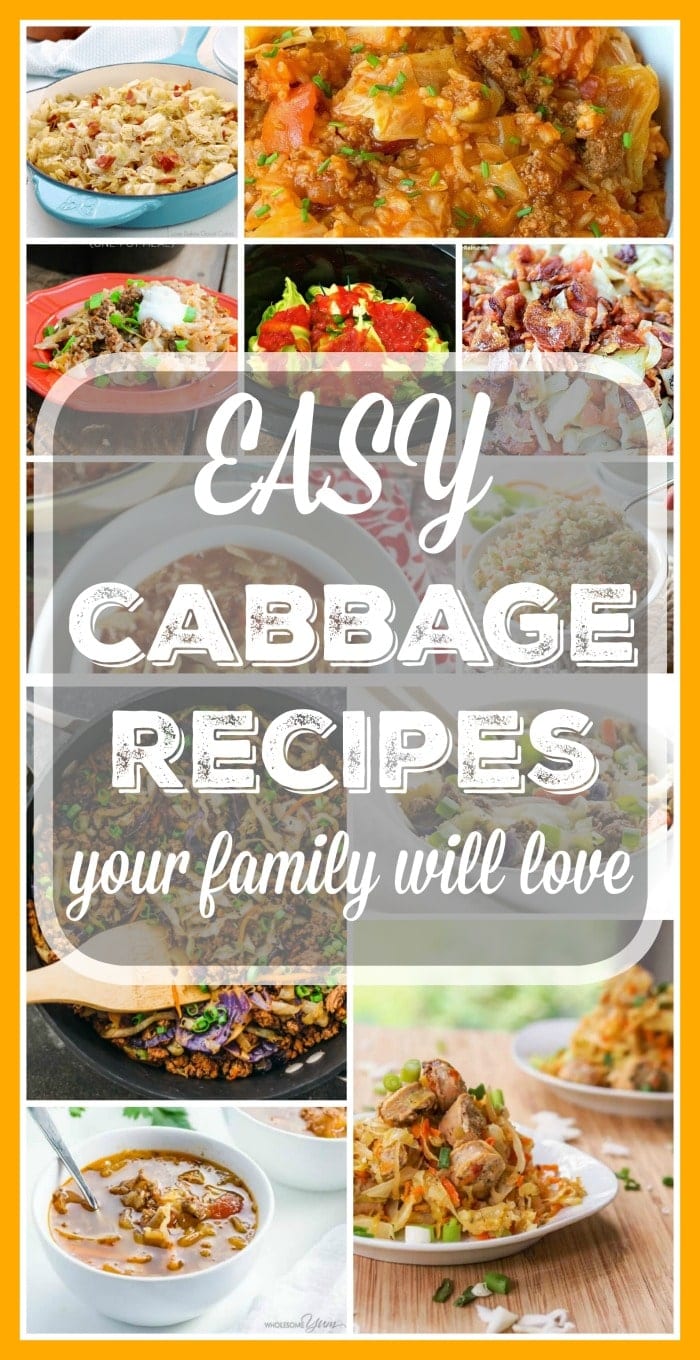 Want to see a few of my favorite things that I am totally obsessed with?? Take a peek and see how many you might already have…twinsies!
Looking for more easy family recipes and tips? LIKE The Typical Mom Facebook page?
Then sign up for my free newsletter, and follow me on Pinterest! 😉
***** If you LOVED this recipe give it 5 Stars below and let everyone know what you thought about it. 😉
Cooking Corned Beef and Cabbage
Cooking corned beef and cabbage 5 different ways is here. Corned beef brisket frozen or defrosted and fresh gets tender this way.
Ingredients
Instructions
Rinse potatoes and set inside slow cooker together, touching. Slice onion and put around them.

Lay corned beef piece on top of potatoes with fat on top. Pour beer over the top. Sprinkle seasoning packet on top of meat.

Cover with the lid and cook on low heat for 8 hours if defrosted or 9 hours if frozen….or until tender to slice (timing will vary slightly depending on how thick your piece is).
Nutrition Facts
Cooking Corned Beef and Cabbage
Amount Per Serving (1 oz)
Calories 321
Calories from Fat 198
% Daily Value*
Fat 22g34%
Cholesterol 81mg27%
Sodium 1829mg80%
Potassium 486mg14%
Carbohydrates 3g1%
Protein 22g44%
Vitamin A 3IU0%
Vitamin C 42mg51%
Calcium 20mg2%
Iron 3mg17%
* Percent Daily Values are based on a 2000 calorie diet.