8+ Ninja Foodi cabbage recipes you will love! From soups to dinner ideas and more we show you how to make cabbage in your pressure cooker and air fryer here.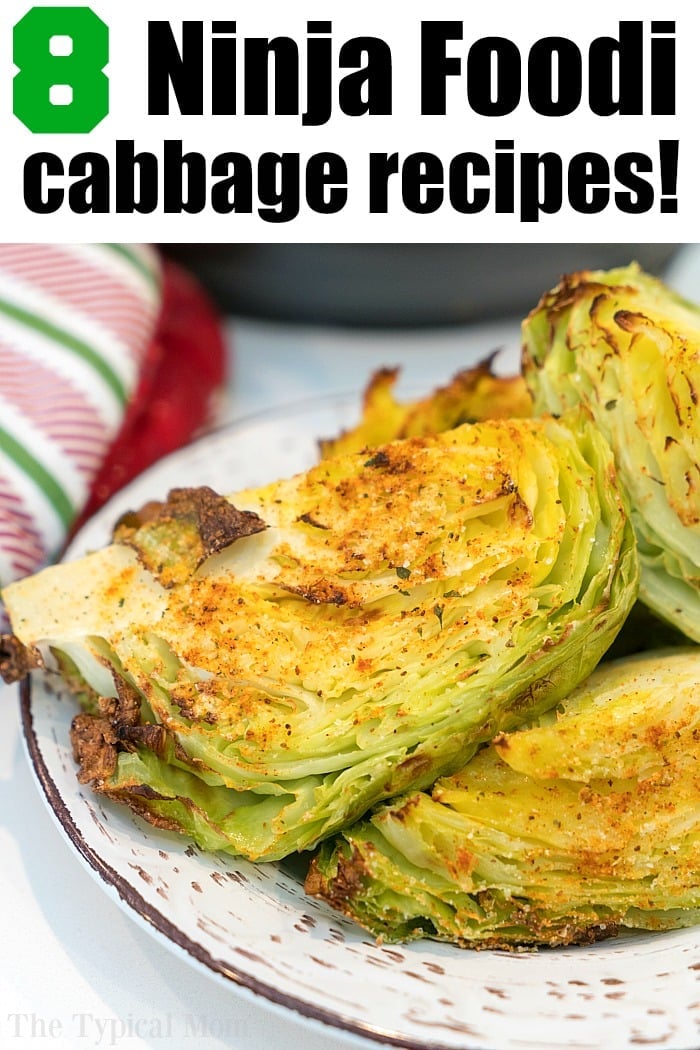 The perfect pairing here! Now you can make your favorite vegetable in the best pressure cooker and air fryer machine with this Ninja Foodi cabbage recipe! Not only that but we have 7 other cabbage recipes to try too after that. They're all added to our long list of Ninja Foodi recipes for you to enjoy and bookmark for reference. 😉
We have a lot of simple cabbage recipes but we will start with the easiest one of all. How to cook a head of Ninja Foodi cabbage and make it taste amazing!
Believe it or not I picked this one right out of my garden, cleaned it off, and popped it in there after cutting it into fourths. It was so good using a few of my go to spices. I used both the pressure cooker and air fryer functions of this fancy machine in order to get the edges crispy like you see here above.
With each bite I dipped the edge in my homemade fry sauce and OH MY!! The entire recipe for this is in the recipe card below. Let us know what you think!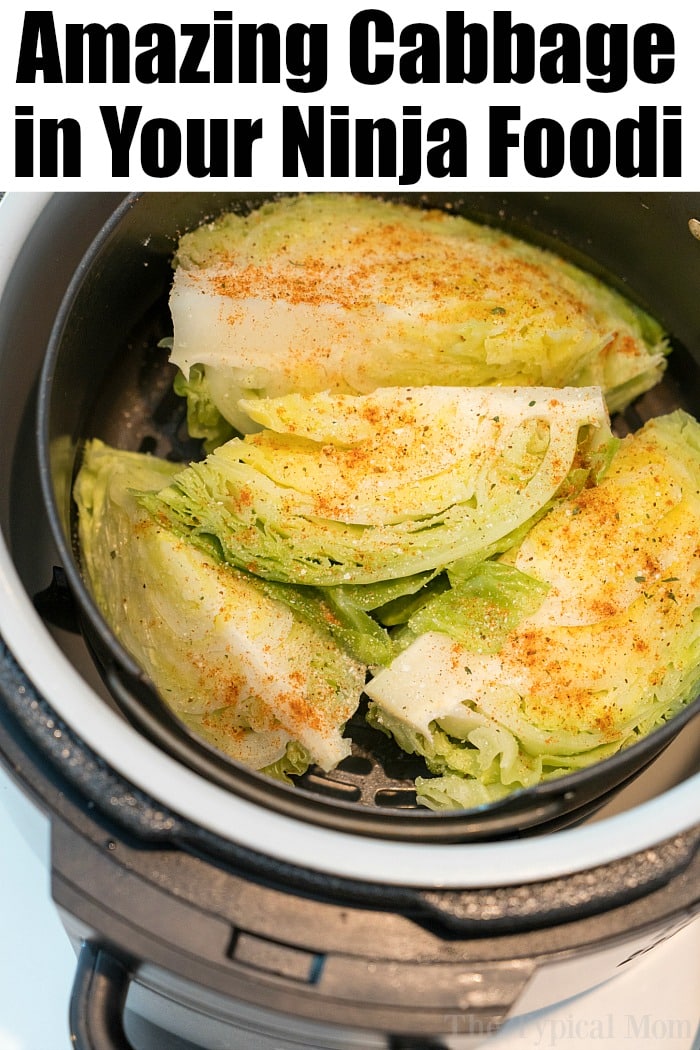 Yes if you have another brand of pressure cooker this is how to turn an Instant Pot into an air fryer so you can make this as well. Luckily I have both so I have the ability to have both going at the same time. lol. It's a bit nutty but that's me.
It is rare that I ever use my oven anymore because I have so many air fryer dinner recipes AND it's hot outside now. Who wants to turn on their oven in the summertime anyway??
For the remaining Ninja Foodi cabbage recipes you'll want to dice your head into cubes like this. 2″x2″ pieces are usually good. I just kinda' eyeball it though.
The smaller you cut the cabbage pieces the softer they will get so keep that in mind depending on how "wilty" you like your cabbage leaves.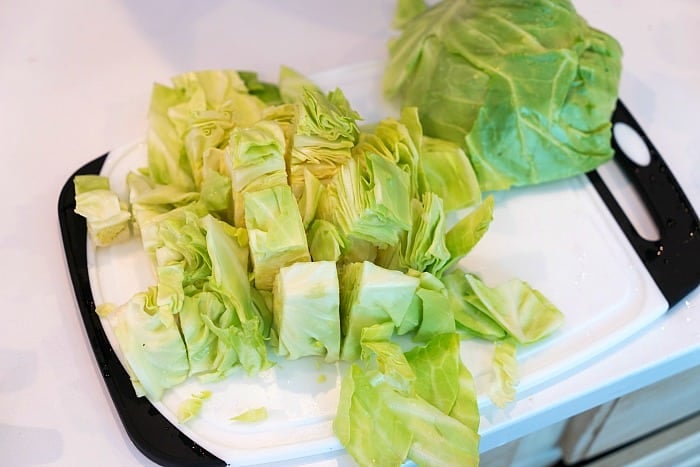 Now let's move on to our pressure cooker cabbage soup!
OH MY does this have a ton of flavor! It's a favorite meal in our house for sure. Just throw the chopped cabbage in with a few other ingredients after you brown your ground beef or sausage on saute, set to high and you're set.
You can use vegetable, beef, or chicken broth for the liquid. Your choice. This is one our list of Instant Pot recipes too since it doesn't matter what electric pressure cooker you use for this soup. The cooking time remains the same and is much faster than making it in your slow cooker. (though we have done that too)
Ingredients are:
Ground beef or spicy sausage
Onion
Minced garlic
Diced tomatoes
Spaghetti saucce
Beef broth
Worcestershire sauce
White rice
Cabbage
Olive oil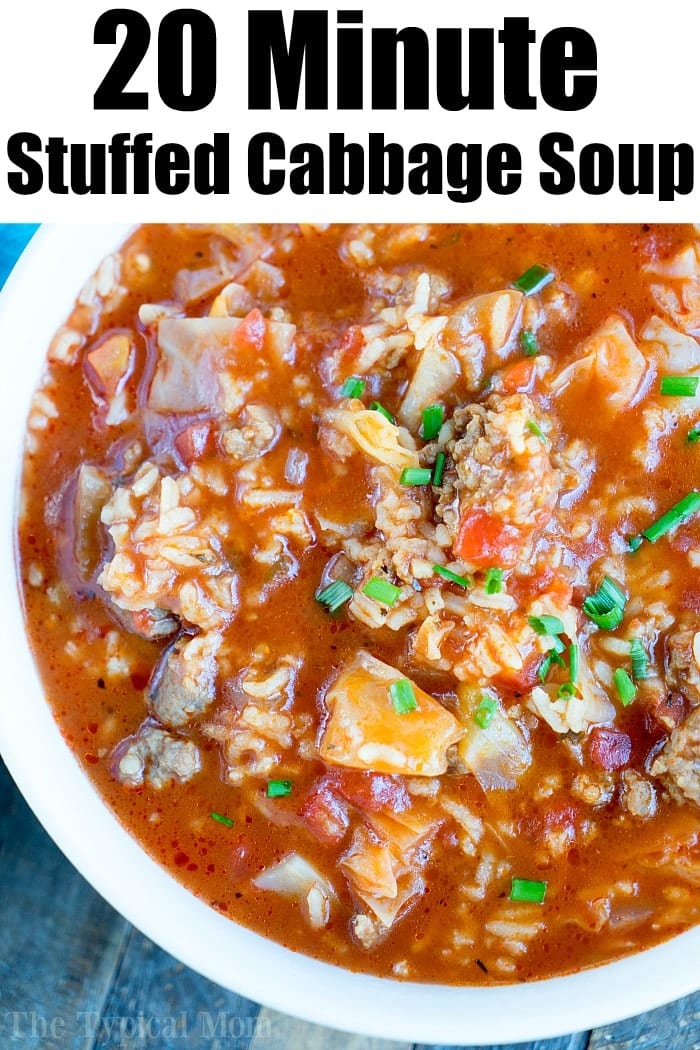 Now on to our amazing pressure cooker fried cabbage recipe!
Have you ever made this on the stovetop or elsewhere?? Did your grandma make it all the time like mine did?? That is who pops in my head every time I make this packed with bacon and TONS of flavor! Just throw it all in for a few minutes, quick release when done and get ready for ultimate YUM!
Items needed to make this:
Head of cabbage
Bacon
Olive oil
Vegetable broth
Garlic salt
Paprika
Onion
Soy sauce
Chili powder, optional
Extra heat can be added to any or all of these with some dry Sriracha powder or red pepper flakes really.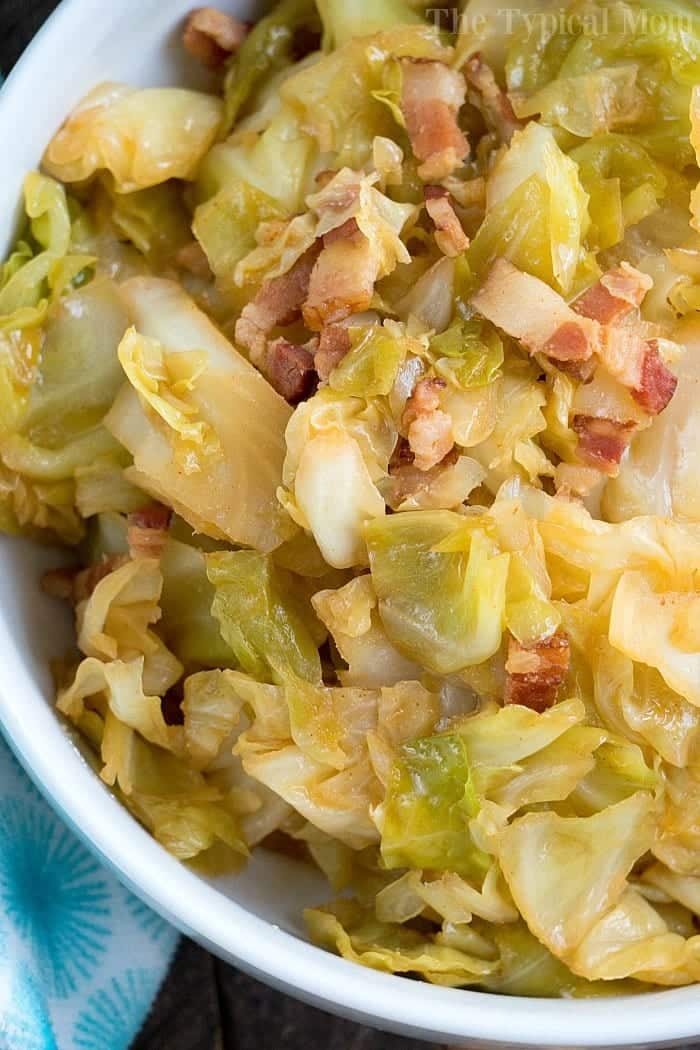 I bet you've never tried stuffed cabbage casserole, unless you've already made ours!
It's a hearty meal that is full of flavor, especially if you use spicy ground sausage for the meat. I suppose you could make this meat free too but I haven't tried. This one gets raving reviews from everyone because it's so different and is almost better the next day if you have any leftovers.
What's needed to make this pressure cooker cabbage recipe
Ground beef or spicy sausage
Beef broth
Minced garlic
White rice
Onion
Spaghetti sauce
Tomato soup
Worcestershire sauce
Garlic salt
Oregano
Salt and pepper
We cube a whole head of cabbage for this one, and many of the others. Of course you could half any of these if you only want a smaller amount.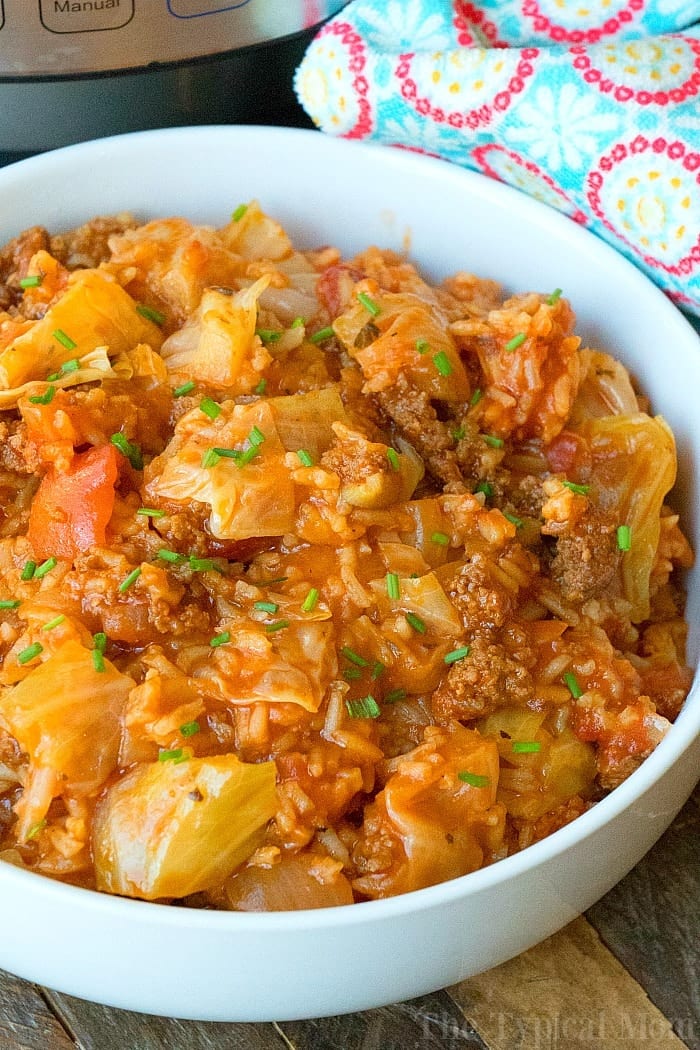 Our pressure cooker cabbage and noodles is a great light meal. Of course we packed ours with bacon too, but you could make a vegetarian version too!
It's one of our cheap pressure cooker recipes for sure with only a few simple ingredients. Of course you can add to if beyond that but we loved it this way.
Pick these items up at the store for this.
Cubed head of cabbage
Bacon
Olive oil
Egg noodles
Olive oil
Broth of your choice
Soy sauce
Garlic salt
Chili powder is optional
If you want to make this heartier try our pressure cooker sausage and cabbage recipe.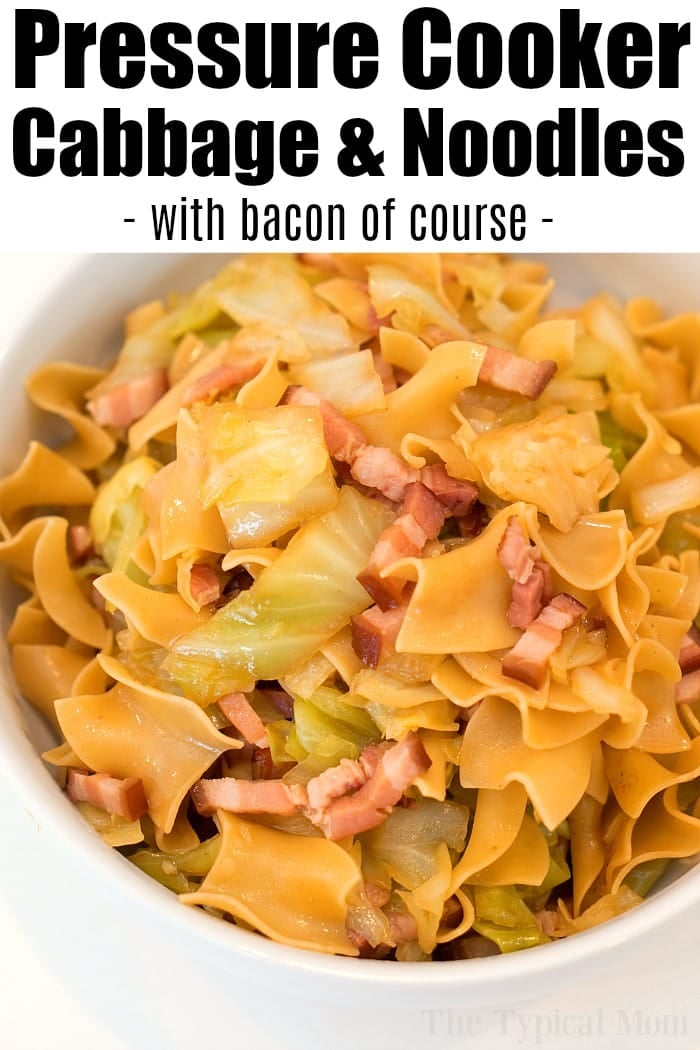 Then we made some Ninja Foodi cabbage and potatoes the other night.
The recipe is below in the photo so you can try it too. It was a nice side dish that you can just throw together. Very little measuring is required. I used small potatoes with different colors just to make it fun but you could use just about any variety.
Here are 3 others you might enjoy before we round out our list of favorites.
Pressure cooker cabbage and sausage once again combines 2 different foods together into 1 pot.
Then throw together some stuffed cabbage in your pressure cooker for a great complete meal.
Then we will show you here how to make pressure cooker whole cabbage without slicing it up at all. At the end you can drizzle some butter over the top and air crisp to get it nice and browned on the top too.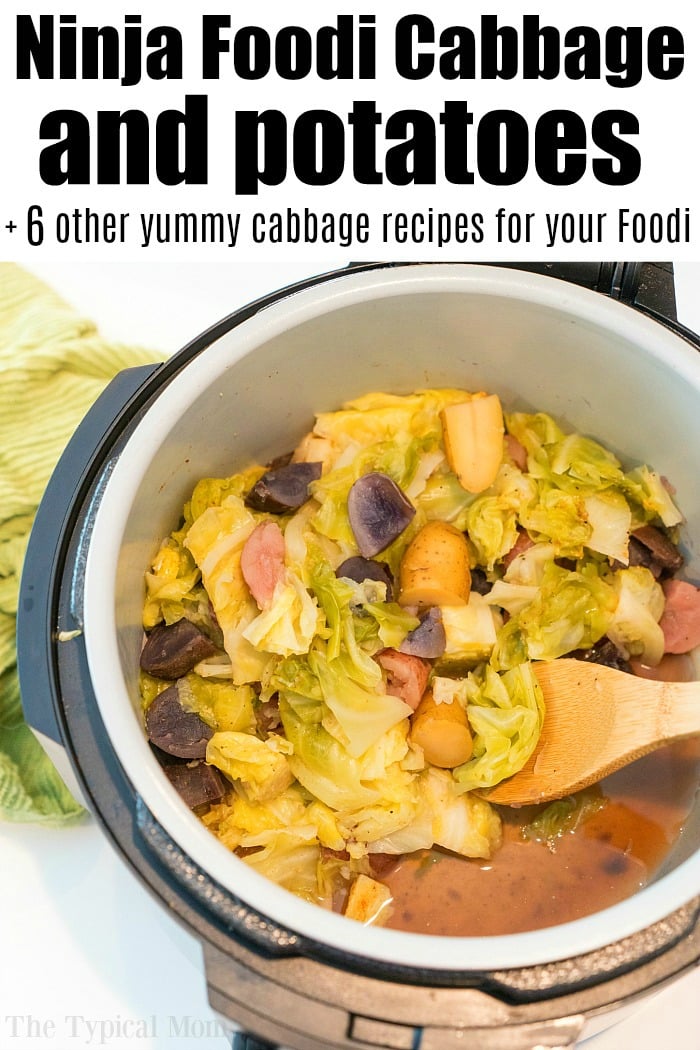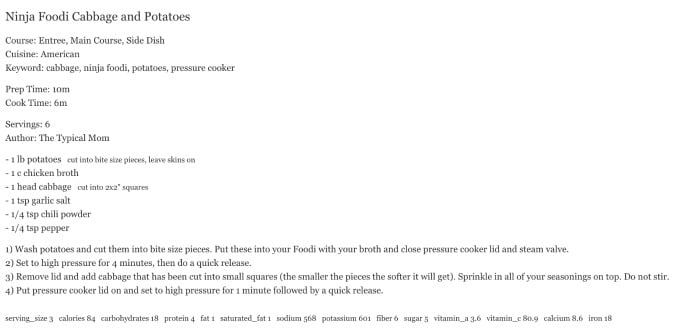 Before we share our printable recipe for simple Ninja Foodi cabbage we will round out our list with this Ninja Foodi corned beef and cabbage.
It's not just a St. Patrick's Day dinner you know. This turns out so good we probably make it 3 times a year just because. You do leave the large cabbage leaves whole for this, and not cubed.
Beer, broth or water can be used for the liquid but I HIGHLY suggest you use beer. I am not a beer fan myself generally BUT it lends so much flavor to this meal that it is a must in our house.
Ingredients for this easy cabbage recipe.
2.5 – 3 lb. corned beef brisket

and the spice packet that comes with it

12 oz. beer
4 large red potatoes or 2 large russet cut in half
1 onion
1/2 head of cabbage, we will use the large leaves on the outside
On high pressure it takes a fraction of time vs. the traditional oven method.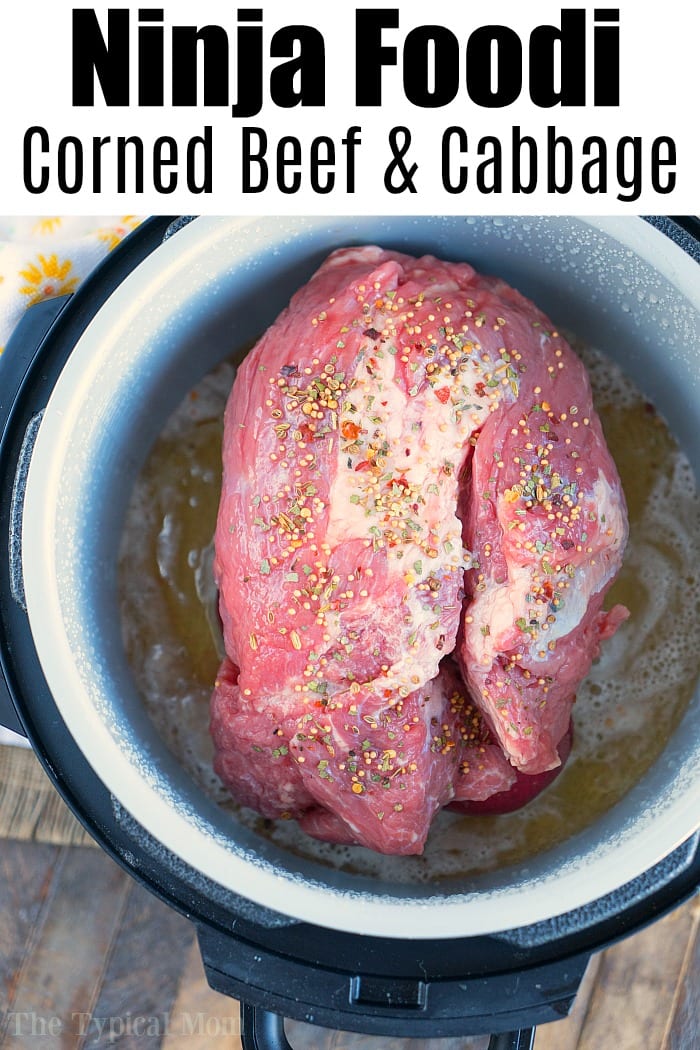 Think you have enough pressure cook recipes to try now??
Our easy Ninja Foodi cabbage recipe is below.
Pair this with any of our Ninja Foodi chicken recipes and you'll be set.
Want to see a few of my favorite things that I am totally obsessed with?? Take a peek and see how many you might already have…twinsies!
Looking for more easy family recipes and tips? LIKE The Typical Mom Facebook page?
Then sign up for my free newsletter, and follow me on Pinterest! 😉
***** If you LOVED this recipe give it 5 Stars below and let everyone know what you thought about it. 😉
Ninja Foodi Cabbage
8 Ninja Foodi cabbage recipes you will love! From soups to dinner ideas and more we show you how to make cabbage in your pressure cooker and air fryer here.
Instructions
Rinse cabbage, cut off stem, and take outer leaves off. Discard. Cut head into 4 equal parts and put into your Ninja Foodi air fryer basket.

Add cup of water to your inner pot, put basket inside pot. Set to high pressure for 1 minute, then do a quick release.

Remove lid and drain water. Put basket with cabbage inside back into pot. Spray with olive oil spray and sprinkle with seasonings. Close air fryer lid.

Set to 400 degrees for 16 minutes (or until the outer leaves are as crispy as you'd like them).
Nutrition Facts
Ninja Foodi Cabbage
Amount Per Serving (3 oz)
Calories 58
Calories from Fat 9
% Daily Value*
Fat 1g2%
Sodium 625mg27%
Potassium 386mg11%
Carbohydrates 13g4%
Protein 3g6%
Vitamin A 225IU5%
Vitamin C 83.1mg101%
Calcium 94mg9%
Iron 1.2mg7%
* Percent Daily Values are based on a 2000 calorie diet.