This is how to cook spaghetti squash fast, in just 7 minutes to be exact! Tender squash noodles are a healthy alternative for pasta and gluten free too. We used our Instant Pot but there's oven directions for you as well.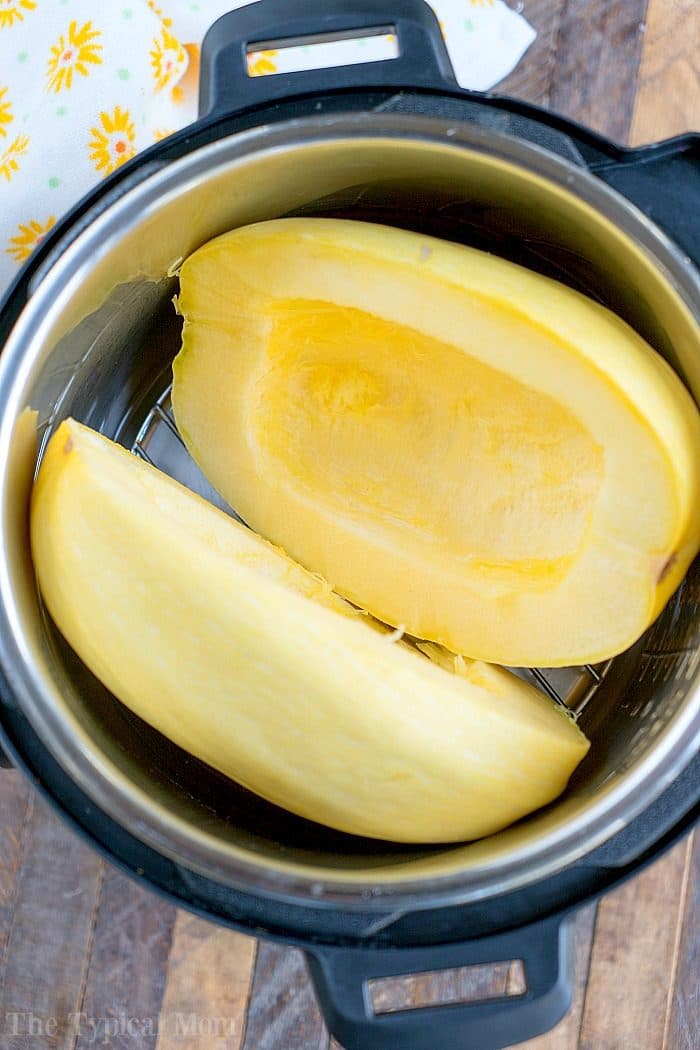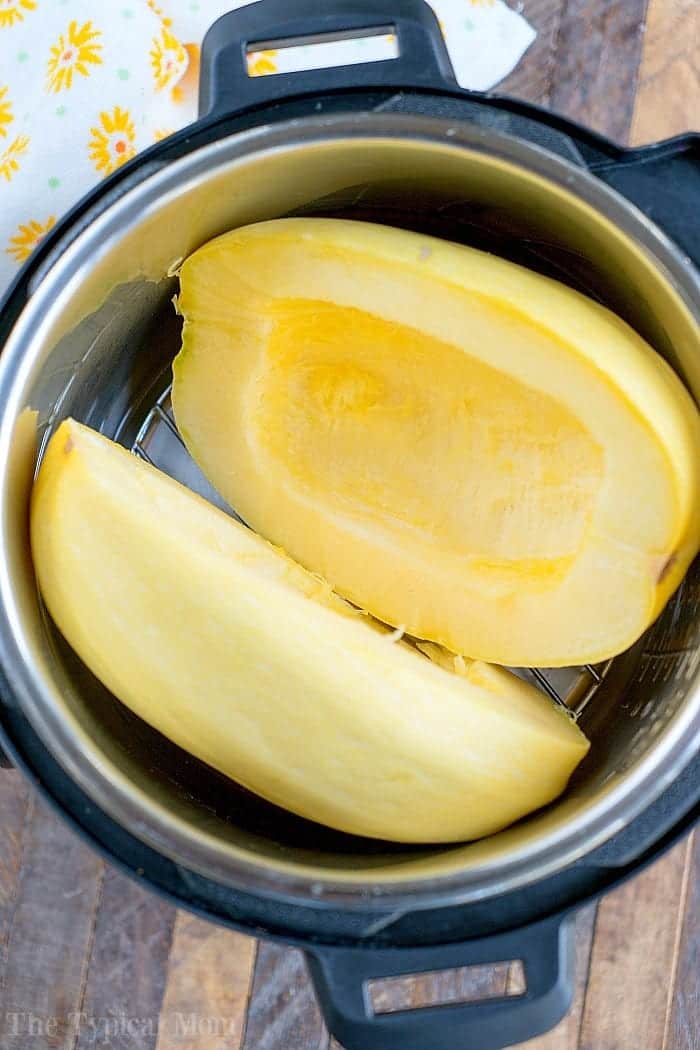 I was given this spaghetti squash by a relative out of her garden and since I never let anything go to waste I wanted to see what all the stuffed spaghetti squash noodles hype was about. I am totally a believer now!! Using my Instant Pot this is how to cook spaghetti squash fast so you too can stuff it with all the goodness you want like we did when we made spaghetti squash spaghetti with it! These Instant Pot spaghetti squash instructions are now found on our long list of 101+ other easy Instant Pot recipes for your reference too. 😉
This is what ours looked like…..
Fresh out of the garden remember, of course you can find squash pretty much year round in the store too.
You can use these instructions for spaghetti and butternut squash for the most part, there's really no other way to cook squash fast anymore now that I have my handy pressure cooker around. 😉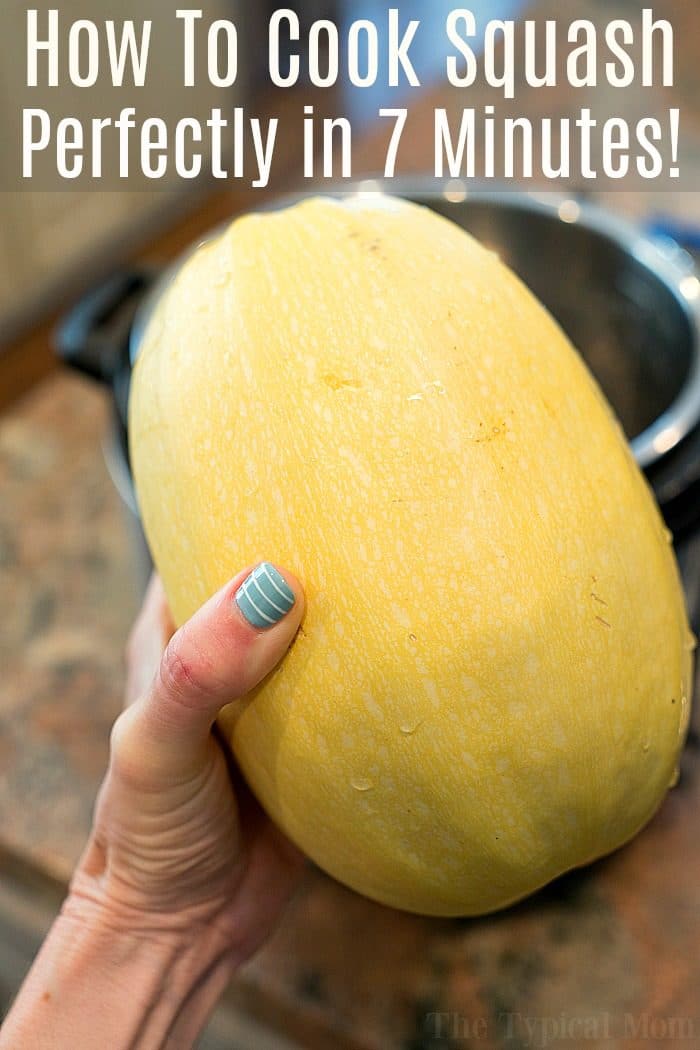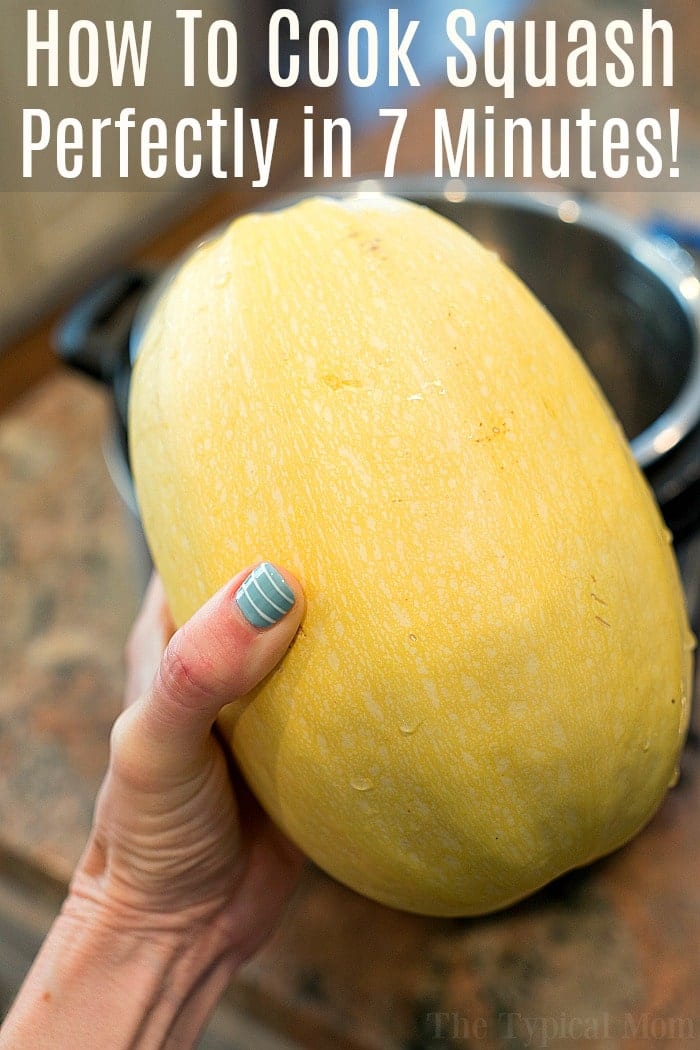 All you really have to do is cut it in half and scoop out the goop before resting both sides on a trivet inside your Instant pot with 1.5 c. of water in the bottom, set to high for 7 minutes and it's ready to cool a bit before you use a fork to get all the "noodles" out!
This is what our vegetable spaghetti squash noodles looked like……
If you've never cooked a squash like this they aren't long like traditional spaghetti noodles in the store which to me is nice because it makes it way easier to eat anyway.
AND seriously when you use spaghetti squash noodles as an alternative to the traditional style and load it with all the sauce and cheese you typically would you CANNOT tell the difference!!!
I'm serious…..and I was very surprised by it myself……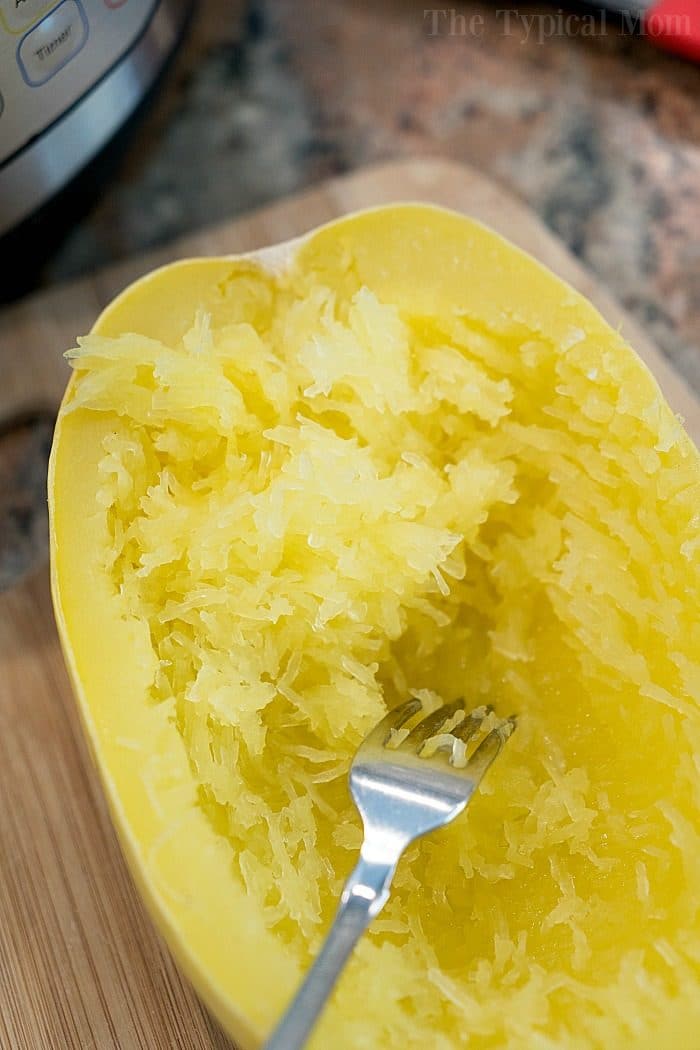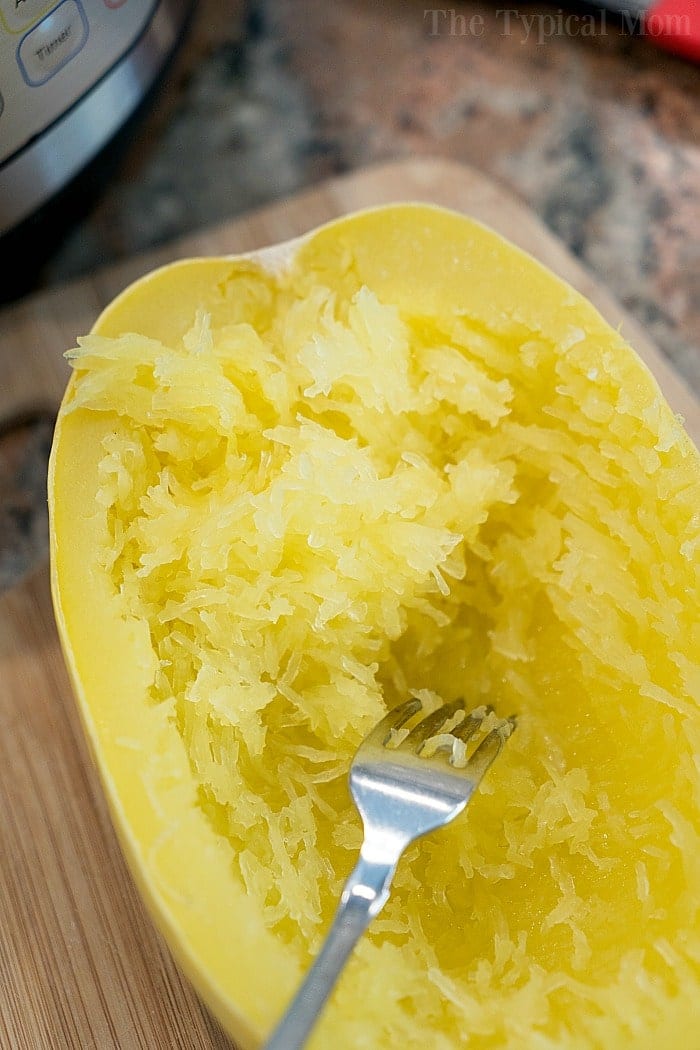 Now that you know how to cook spaghetti squash fast in your Instant Pot we can go on to show you what we did with it.
So after scooping out the insides we mixed it with spaghetti sauce, parmesan cheese and a few spices we would normally add to our spaghetti, put it back into our "squash bowls", topped everything with mozzarella, more parmesan and green onions and just melted it all in the oven for a bit. (that entire recipe coming soon but seriously just make spaghetti as normal just substituting your spaghetti squash noodles).
It. Was. Amazing!!!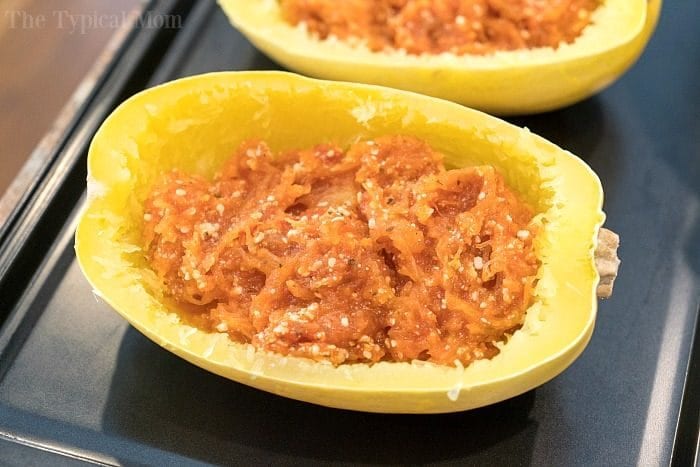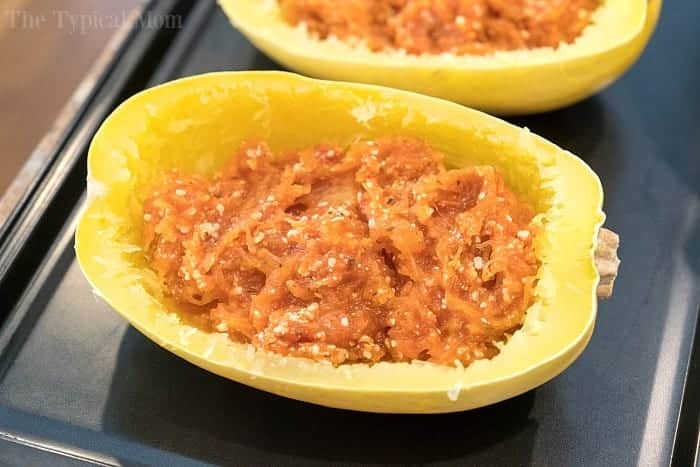 If you don't have an Instant Pot, this is how to cook spaghetti squash in the oven:
Follow direction #1 below cutting in half and removing seeds.
Preheat oven to 400 degrees.
Put on baking sheet with cut side facing up.
Bake for 30-45 minutes depending on size

Check after 30 minutes to see if it is tender enough, larger squash will take longer.
This is a printable for how to cook spaghetti squash fast in your pressure cooker or Instant Pot:
How to Cook Spaghetti Squash Fast
This is how to cook spaghetti squash fast, in just 7 minutes to be exact! Tender squash noodles are a healthy alternative for pasta and gluten free too.
Ingredients
1

spaghetti squash

cut in half lengthwise, seeds removed from middle

1.5

c

water
Instructions
Cut your spaghetti squash in half lengthwise and remove the middle from both sides that includes the seeds and "gunk" you'd find inside a pumpkin. Just remove the stringy portion and seeds and leave as much of the inside of the squash in tact.

Put your trivet in the bottom of your pressure cooker with 1 cup of water.

Put cut squash on trivet with cut ends facing up and overlapping as little as possible.

Close lid and steam valve and set to pressure high for 7 minutes.

Do a quick release, remove from pot and set on a cutting board. Allow to cool a bit before making spaghetti squash noodles so you don't turn your fingers.

Or....use as you wish. If you want to make "spaghetti squash noodles" hold one half with an oven mitt and use a fork to carefully scrape the insides out so they look like noodles.

Put them in a bowl and when all the noodles are scraped out drain the liquid out of that bowl and add in your other ingredients like spaghetti sauce to coat your noodles and cheese if you want to make "spaghetti".
Nutrition Facts
How to Cook Spaghetti Squash Fast
Amount Per Serving (4 oz)
Calories 149
Calories from Fat 18
% Daily Value*
Total Fat 2g 3%
Sodium 88mg 4%
Potassium 521mg 15%
Total Carbohydrates 33g 11%
Protein 3g 6%
* Percent Daily Values are based on a 2000 calorie diet.
For more easy recipes, tips and free printables please LIKE The Typical Mom on Facebook and follow me on Pinterest! You can also sign up for my free weekly newsletter which is packed with goodies I know you'll love. 😉
Visit The Typical Mom's profile on Pinterest.