This is how to turn an Instant Pot into an air fryer AND pressure cooker!! With this Instant Crisp lid you can now brown your food right in your pot!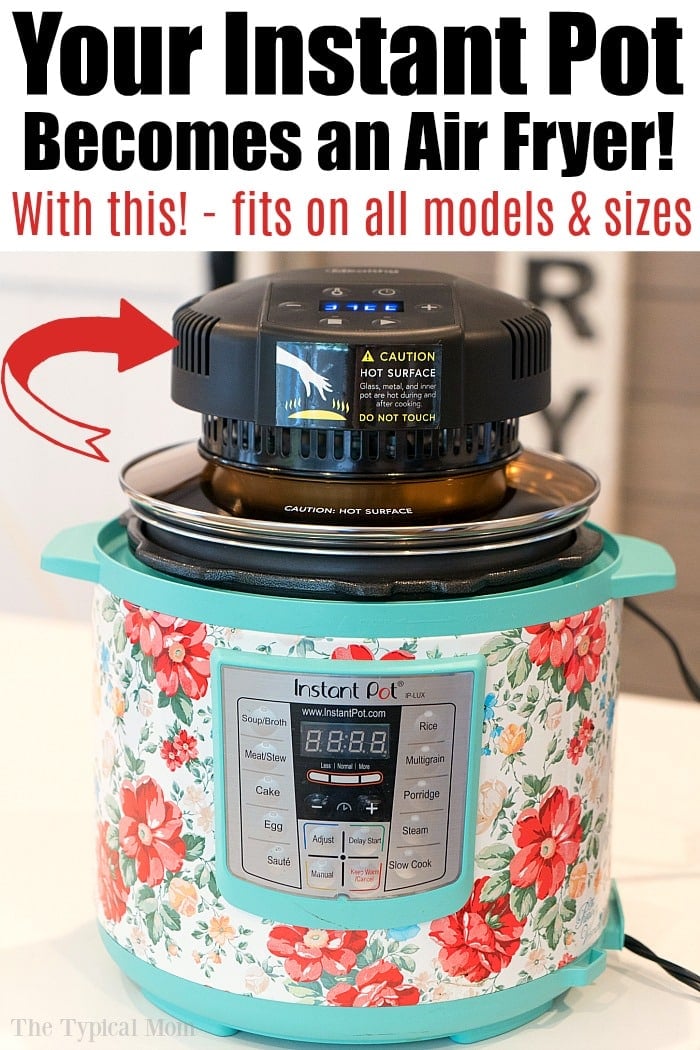 If you've been waiting to figure out how to turn an Instant Pot into an air fryer this is it!! Instant Crisp Technology now gives you the ability to brown your meat right after pressure cooking. NO need to put it into the oven under the broiler anymore!! Special thanks goes out to Mealthy for sending this lid. (originally published 5/19, affiliate links present)
Instant Pot Air Fryer Lid
If you don't want to buy another appliance that just does this function you can buy a different lid to do it! Yes our Instant Pot air fryer chicken wings are fantastic but you can get a similar texture as those with just the swapping of the top.
This is going to be a game changer if you don't want two appliances on your countertop. You don't have to buy a Ninja Foodi to cook food with a pressure cooker and air fryer, you can buy this. Fits all Instant Pot models, that are 6 or 8 quart Instant Pots that is, even fits a crockpot express.
FIRST – You should sign up for my free newsletter so you get new posts emailed to you twice a week and never miss out on anything! Now let's start with a few basic tips:
Make sure to Bookmark our InstaPot recipes page. We add new ones each week!
Then PRINT this —–> Instant Pot cooking times cheat sheet that will help you understand how long meat, vegetables and beans take to cook in your pressure cooker.
For reference, this is the pressure cooker I have (a 6 quart) and use for all recipe creations.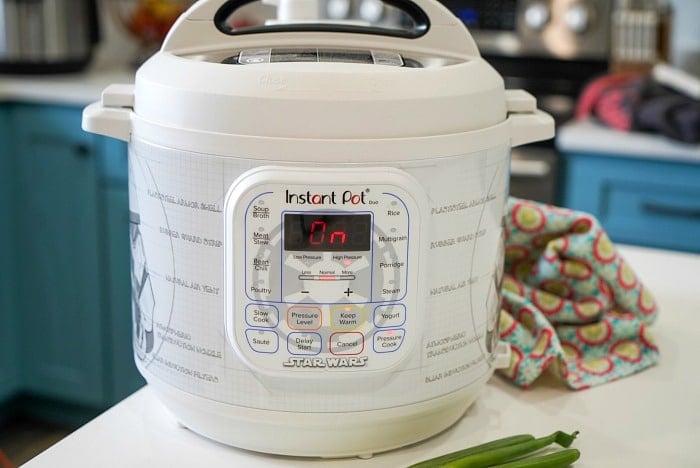 Using Instant Pot Air Fryer
This lid is not compatible with the mini or 10 quart versions but with duo sv 60 models, newer and /or older versions works just great. Now you can air fry roast and bake in the same machine. Comes with a stainless steel inner pot air fryer basket that fits right inside.
Does an Instant Pot air fryer lid work?
There are 2 choices and yes they do work. Are they as good as a separate device? In my opinion they aren't but are a good starting point if you aren't sure whether you want to buy another appliance.
Can you add air fryer lid to Instant Pot?
Yes, IP makes their own version but the first one on the market was the CrispLid which I have and explain to you in depth in this post. You can use it on your 6 quart Crockpot Express or Mealthy pots too.
How do I use my Instant Pot air fryer lid?
I'll explain in depth here but it's quite simple. Put food in basket, place lid on, set temperature and time and turn on. The glass lid is helpful to stop it once it reaches the crispy brown texture you want.
Let me share my thoughts on this CrispLid with you after making some air fryer pork chops this afternoon.
This is NOT just for the Instant Pot either! It fits on Crock Pot Express and Mealthy 6 and 8 quart pressure cookers too!!
Instant Pot Air Fryer
This is what it looks like when you get yours!
Since it is so new you can pre order your Instant Crisp lid here and it will be sent out at the end of June. I wanted to share my thoughts with you before then though so you can see just how it works, and see whether I'd recommend it after my trials.
Watch this video on how I used it to make a whole chicken!
I will tell you that I have been waiting for something like this for years!!
I've created over 100+ Instant Pot recipes and the one thing that was missing was the browning element. Cooking a whole chicken in a pressure cooker is fabulous because it cooks so fast.
BUT having to transfer it into a baking dish and waiting for the oven to heat up is another step I'd rather skip!
NOW you can do it all in one pot!! Use our air fryer cooking times printable to make all the things. It has time and temperature settings you'll need. With the touch of a button you can crisp all the things.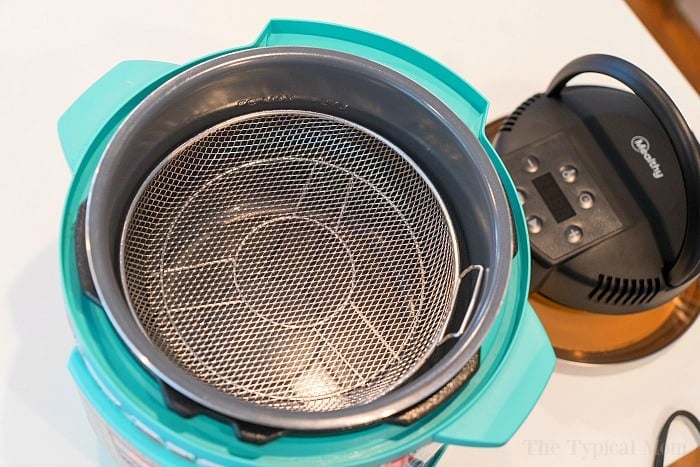 Air Fryer Lid for Pressure Cooker
This is what the Mealthy Crisplid air fryer lid comes with:
Air fryer basket you see here that is stainless steel and cleans easily
Trivet elevates it closer to the heating element on top
Tongs allow you to safely lift it in and out when hot
Instant-Crisp lid is the electric unit that does the crisping and comes with a carrying case
Silicone mat to set hot lid on when it is done

Super handy to have when you're taking it off to check on your food

CrispLid Recipes book has many things to choose from that you can make now with your new device
This is the first thing I tried, air fryer pork chops! I altered the recipe they provided inside the box a bit but overall it was great. Lightly breaded on the outside as you can see only 1 really fits well. You don't want to overlap your food or else you won't get the texture you want.
The hot air needs to circulate all around evenly. If you have a large family this may not be the option for you as you'd need to make multiple batches since the area is so small. For 1-2 people though it works quite well.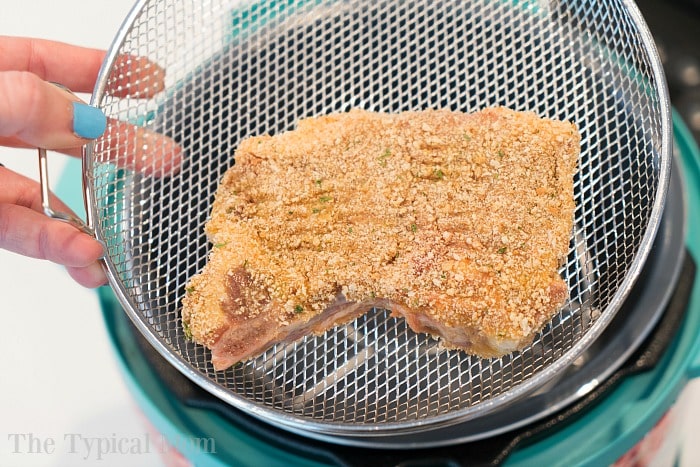 Air Fryer Lid for Instant Pot
This is basically how it works.
First of all, it fits on all pressure cooker brands that are either a 6 or 8 quart size!!
So whether you have a Crockpot Express, Mealthy or Instant Pot the Mealthy Crisp Lid will work!!
It doesn't have smart programs with auto time and temp. like the Cosori dual blaze but that isn't absolutely necessary.
Prepare your Instant Pot recipes as you would normally.
Then once your pressure cooking session is over and you remove your lid, you'll replace it with this one.
Make sure the handle is down. (or it won't turn on)
Plug it in. (duh)
Press the thermometer looking button to set the temperature.
Next press the clock button and use the – and + to set the time.
The Play looking button at the bottom turns it on.
You're air frying in your Instant Pot now!
If you need to stop it at any point you can press the button with the square.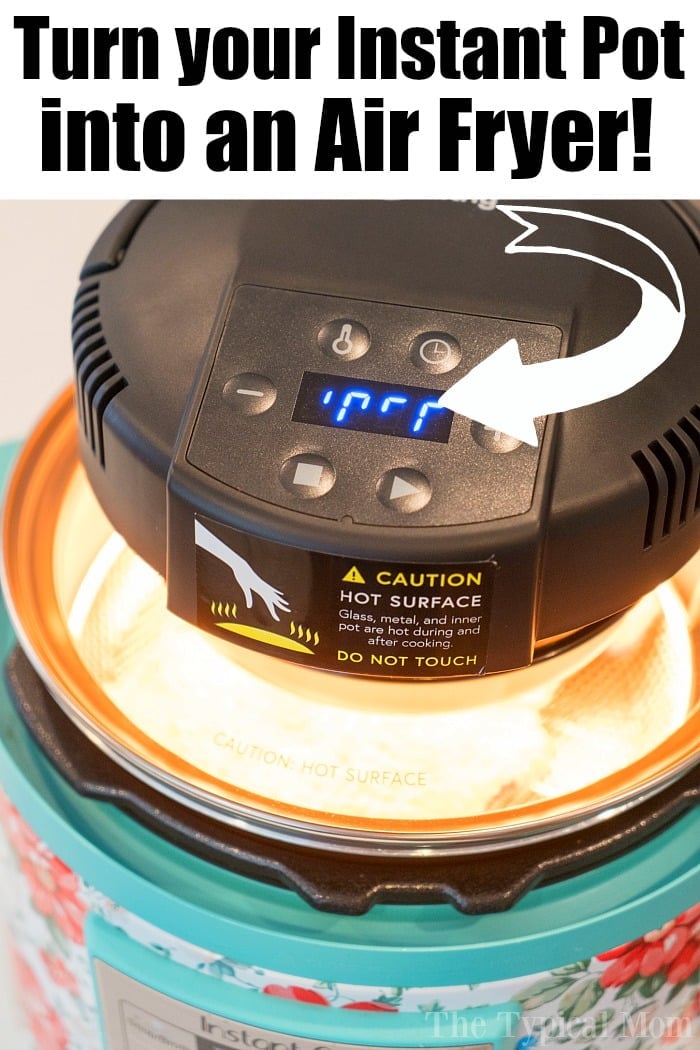 It was VERY easy to figure out. The only "huh" I had was when I first used it it didn't turn on right away. I figured out it was because the handle wasn't all the way down. So remember that tip.
I compare this to my Ninja Foodi and think it is a great option if you aren't interested in buying a new machine.
This allows those who have owned their pressure cooker for quite some time, but want to add the air fryer technology, to do just that for a fraction of the price.
It is easy to clean where you can put the lower level air fryer basket right into the dishwasher and wipe the underside of the glass clean with a damp cloth.
You can use it just for making air fryer recipes on our website and beyond with this!! SO if you've been waiting for something like this to arrive too it is here!! Order yours today and I hope you love it as much as we have!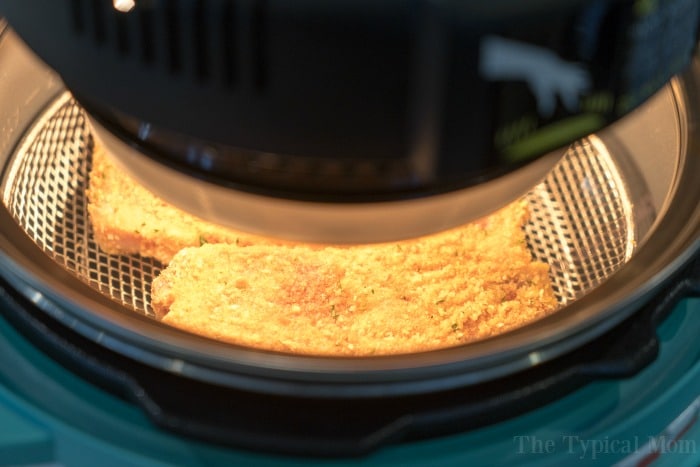 This CrispLid chicken turned out amazing in just 32 minutes total, including air frying to get crispy skin.
I have made something similar to this before, my Ninja Foodi chicken.
I would say the two are very similar.
The plus to this one is it is not attached to the actual machine and it is cheaper than buying a whole new machine!
I hope this CrispLid review helps you decide which direction is best for you. It is smaller than another appliance on your countertop. For occasional use it is great for sure.
Instant Pot Air Fryer Lid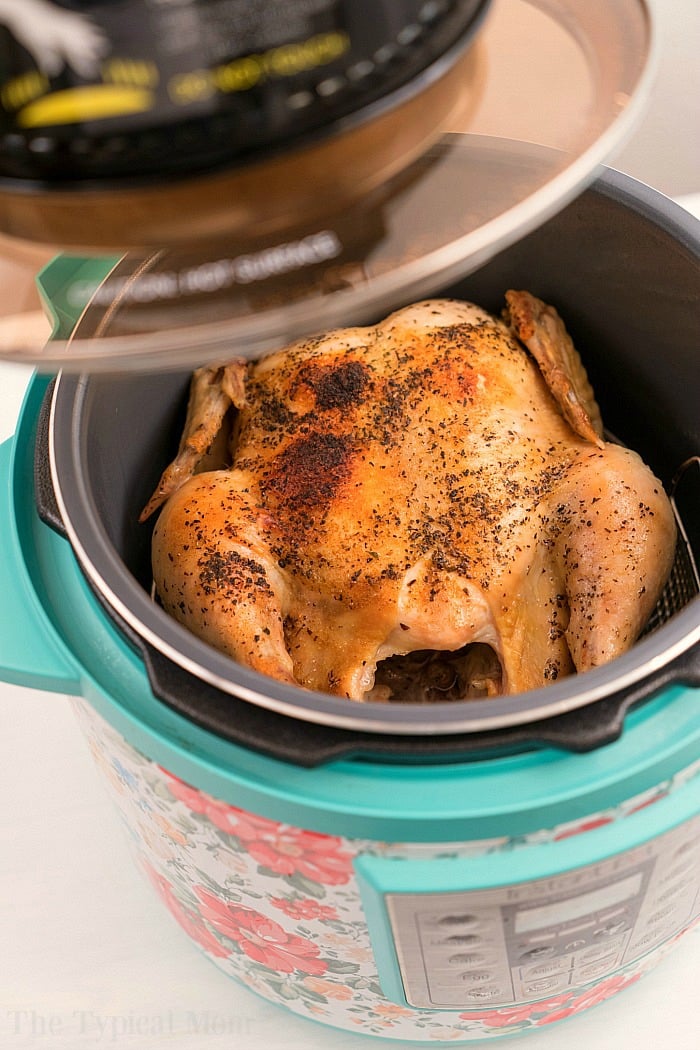 Want to see a few of my favorite things that I am totally obsessed with?? Take a peek and see how many you might already have…twinsies!
Looking for more easy family recipes and tips? LIKE The Typical Mom Facebook page?
Then sign up for my free newsletter, and follow me on Pinterest! 😉
***** If you LOVED this recipe give it 5 Stars below and let everyone know what you thought about it. 😉