Homemade chicken taquitos air fryer recipe is easy with leftover rotisserie chicken or fresh shredded meat. Add cheese and air fry. If you loved our air fryer frozen taquitos but want to make from scratch this is how.
Hey there, foodies! Are you in the mood for a tasty, easy to make snack that's packed with flavor? Look at our delish Air Fryer Chicken Taquitos because these are the bomb. It's an effortless easy air fryer recipe that is not only delicious but also fun to make! (affiliate links present)
Ninja Foodi Taquitos
These little bundles of joy are made with soft tortillas stuffed with a creamy and spicy chicken mixture, rolled up and air fried until they're perfectly crispy. The best part? No deep frying is involved, making these taquitos a healthier option! And let's not forget the melted, ooey gooey cheese that takes these taquitos to a whole new level of yum.
There are so many different ways to make chicken taquitos air fryer style. I mean you could even fill with beef or shredded pork too. Make them spicy or mild, filled with cheese or dairy free. Every choice is amazingly crispy. You can use whatever brand you have too. We use our Cosori or make as an easy Ninja Foodi recipe often.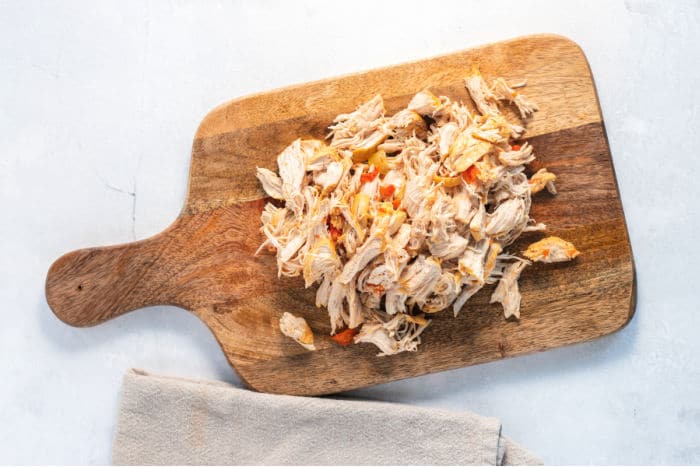 Air Fryer Chicken Taquitos
Cooking with the Ninja Foodi has always been a treat, and it's especially great for these chicken taquitos. It makes the tortillas crispy on the outside while keeping the cheesy chicken mixture warm and gooey on the inside. The ingredients you will need include:
Tortillas: You can use either corn tortillas or flour tortillas. Both options work perfectly in this recipe.
Chicken: This is the main ingredient. I prefer using rotisserie chicken, as it's already cooked and easy to shred.
Cream cheese and sour cream: These two ingredients give the taquitos a creamy and delicious touch.
Jalapenos: You can adjust the amount based on your preference for spice.
Cumin and garlic powder: These add an extra depth of flavor to the chicken mixture.
Shredded cheese: Monterey Jack is a great choice as it melts beautifully.
Looking for an easy leftover chicken recipe of some kind because you hate wasting food (me too)?
Now, let's get down to the nitty gritty. How to make taquitos in your air fryer is easier than you might think. Start by preheating your air fryer to 400 degrees. It's essential to get the air fryer nice and hot before you put your taquitos in, to ensure they get that beautiful crispy exterior.
Next, prepare your chicken mixture. Blend the chicken, cream cheese, sour cream, jalapenos, seasonings, and shredded cheese together in a large bowl until well combined. Make sure to distribute the ingredients evenly so that every bite of your taquitos will have the perfect balance of flavors.
Homemade Taquitos in Air Fryer
Take a tortilla and lay it flat. Place about two tablespoons of your chicken mixture onto the middle of each tortilla. Then roll up the tortilla as tightly as you can, making sure not to tear it. Repeat with the remaining tortillas and chicken mixture.
What Kind of Meat Can You Use Inside Taquitos?
You can absolutely use something other than poultry! If you're not a fan of chicken, or simply want to switch it up, you could use other kinds of meat. Shredded beef or pork would work just as well. Just ensure it's well-cooked before you mix it with the other ingredients.
Place the rolled tortillas into your air fryer basket, seam side down. Remember to leave some space between each taquito to allow the air to circulate properly. This will ensure that your taquitos are crispy all over. That means if they don't fit, any remaining taquitos will need to be cooked seperately.
Depending on the wattage of your air fryer, you'll want to cook your taquitos for around 6 to 8 minutes, flipping halfway through. Keep an eye on them, as cooking times may vary.
Once your air fry taquitos are golden and crispy, remove them from the air fryer. Serve them with your favorite dip, like salsa verde, sour cream, salsa, or our 4 Ingredient Guacamole Recipe. Enjoy your homemade taquitos right out of your air fryer!
The beauty of making taquitos in an air fryer is the convenience and health benefits. You use significantly less oil compared to deep frying, yet you still get that satisfying crunch and golden color. Plus, cleaning up after air frying is a breeze!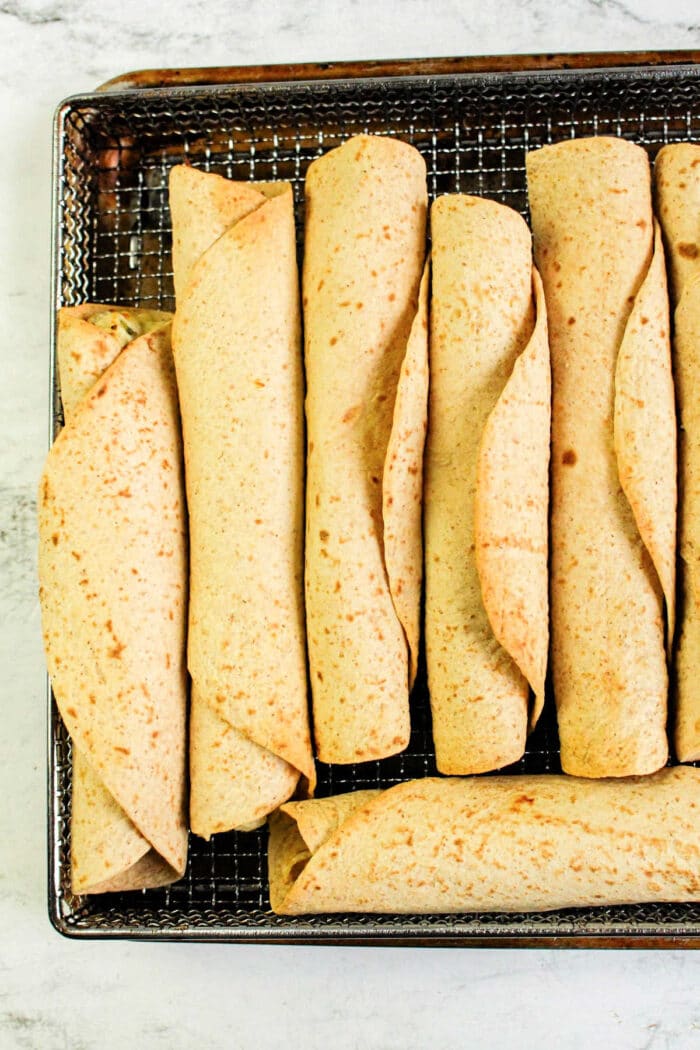 When using an air fryer, make sure to preheat it to 400 degrees before adding the taquitos. This ensures the outside of the taquitos get perfectly crispy. Always remember to give your taquitos a generous spray of cooking spray to avoid them sticking to the air fryer basket.
Taquito in Air Fryer
Rolling your taquitos tightly is key to avoid them unraveling during the cooking process. Always place the taquitos seam side down in the air fryer basket to help them stay together. Also, it's crucial not to overcrowd the basket. Leave enough room for the hot air to circulate properly. This guarantees an even crispiness all around each taquito.
I also recommend flipping your taquitos halfway through the cooking time. This helps them cook evenly on both sides. But, be cautious, as every air fryer is different. Your taquitos might need more or less time, so it's always a good idea to keep a close eye on them during the first try.
Also, for those wondering, these taquitos freeze well! If you have leftovers, let them cool completely, then place them in a freezer-safe bag. They make a great quick and easy meal or snack. Just reheat them in your air fryer, and they're good as new!
Buffalo Chicken Taquitos Air Fryer
Looking for a way to spice these up a little more? Consider making Buffalo Chicken Taquitos. Add some buffalo sauce to your chicken mixture for a tangy, spicy kick that pairs perfectly with the cream cheese and sour cream. I guarantee these will be a hit at any party or game day gathering!
Whichever way you decide to make these, the air fryer will ensure they come out perfectly crispy every time. So get out your air fryer and get to cooking these delectable taquitos. You'll love the crunch, the cheesy filling, and most of all, the ease of cooking with an air fryer!
In conclusion, these Air Fryer Chicken Taquitos are a crowd-pleaser. They're a breeze to whip up, incredibly versatile, and perfect for any occasion. Plus, the air fryer makes everything so much easier and healthier. Once you've tried making these, you'll be looking for more ways to use your air fryer. And for that, I've got you covered. Check out these buffalo Air Fryer Chicken Bites! Yum!
Want to see a few of my favorite things that I am totally obsessed with?? Take a peek and see how many you might already have…twinsies!
Looking for more easy family recipes and tips? LIKE The Typical Mom Facebook page?
Then sign up for my free newsletter, and follow me on Pinterest! 😉
***** If you LOVED this recipe give it 5 Stars below and let everyone know what you thought about it. 😉
Chicken Taquitos Air Fryer
Homemade chicken taquitos air fryer recipe is easy with leftover rotisserie chicken or fresh shredded meat. Add cheese and air fry taquitos.
Instructions
Preheat air fryer to 400 degrees for 5 minutes. Prepare the basket with nonstick spray. In a bowl blend the chicken, cream cheese, sour cream, jalapenos, seasonings, and shredded cheese together.

Place about 2 tablespoons of the chicken in the middle each tortilla. Roll up the tortilla as tightly as possible without tearing the tortilla and place on the air fryer basket with the seam side down.

Cook in air fryer for 6 to 8 minutes, depending on the wattage of your air fryer, flipping halfway. Serve with salsa verde, sour cream, salsa, or guacamole.
Nutrition Facts
Chicken Taquitos Air Fryer
Amount Per Serving (1 oz)
Calories 112
Calories from Fat 90
% Daily Value*
Fat 10g15%
Cholesterol 33mg11%
Sodium 87mg4%
Potassium 61mg2%
Carbohydrates 1g0%
Protein 5g10%
Vitamin A 270IU5%
Vitamin C 1mg1%
Calcium 60mg6%
Iron 1mg6%
* Percent Daily Values are based on a 2000 calorie diet.