This is a really easy Instant Pot beef stroganoff with stew meat recipe! It's as creamy as you remember from your childhood but made fast! Using stew meat pieces it is easy to throw together, fork tender, and total comfort food made in your pressure cooker in a fraction of the time it used to.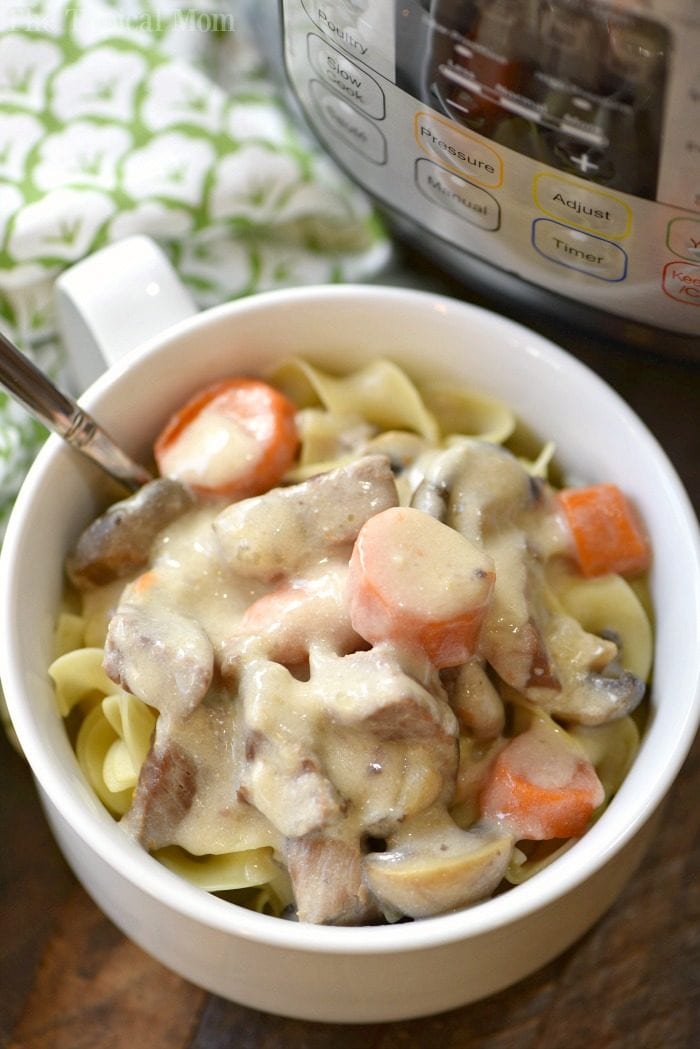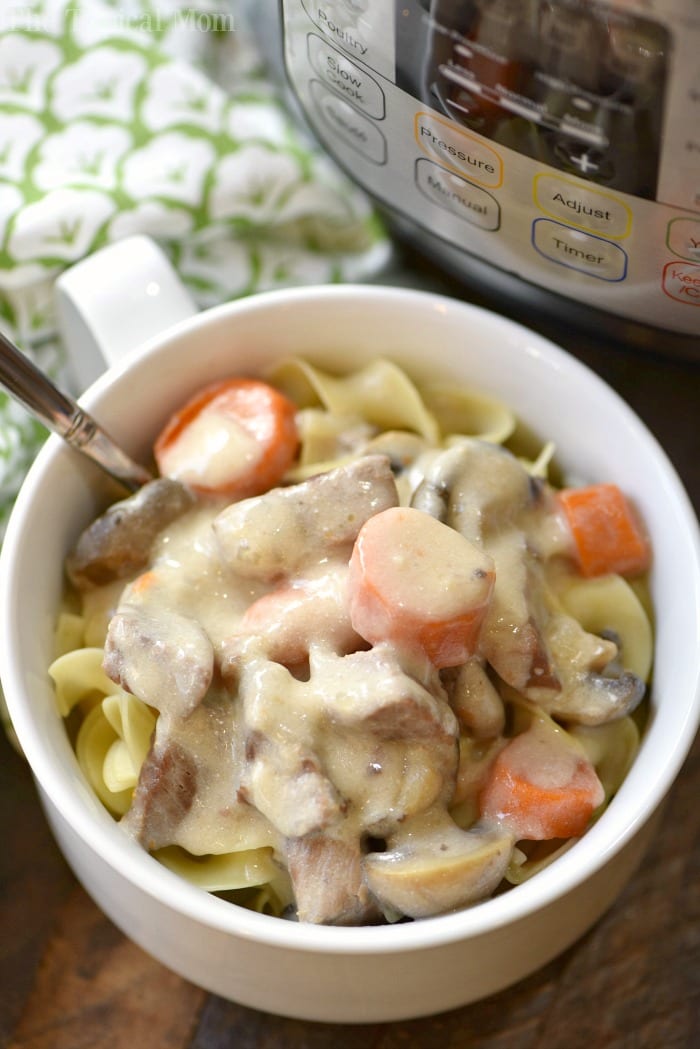 This easy Instant Pot beef stroganoff recipe with stew meat is our favorite! Total comfort food that is creamy, packed with vegetables (if you want), and the tenderest beef ever when you use your pressure cooker. Just one of the easy Instant Pot recipes on The Typical Mom blog. (originally published 5/17, affiliate links present)
Instant Pot Beef Stroganoff with Stew Meat
This is just such a classic meal right?? If you're looking for an easy Ninja Foodi recipe that pot works just as well in that pot, a Mealthy or even Crockpot Express has a machine. Cooked under high pressure this method makes your proteins super tender soaking up all the flavors in that thick gravy.
We have even made this with Instant Pot frozen stew meat when that was all I had on hand. Of course thawed is much better but there is a way to use frozen if that is all you have on hand. Have a few thick steaks that need to be used up? Cube those and use that, I like to use whatever I have on hand at the time.
FIRST – You should sign up for my free newsletter so you get new posts emailed to you twice a week and never miss out on anything! Now let's start with a few basic tips:
Make sure to Bookmark our InstaPot recipes page. We add new ones each week!
Then PRINT this —–> Instant Pot cooking times cheat sheet that will help you understand how long meat, vegetables and beans take to cook in your pressure cooker.
For reference, this is the pressure cooker I have (a 6 quart) and use for all recipe creations.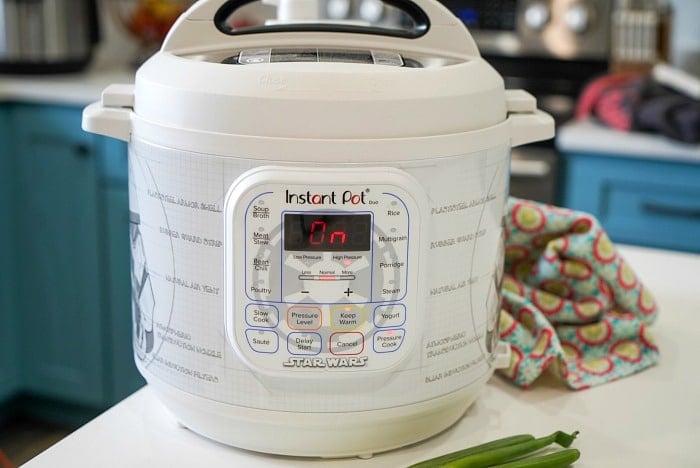 Ninja Foodi Beef Stroganoff
I will tell you I have made Crockpot beef stroganoff for years but when I got my Instant Pot last Christmas I haven't used my slow cooker very much at all recently. It was a huge part of our lives for so many years though that when I started transitioning I HAD to figure out a way to make the same dishes in that new pot. Here it is after lots of testing!
Now the cooking time is so much faster in this new all in one appliance! That is a huge help when all 5 of us are all going different directions and need something fast, but healthy, when we all get home. This is a great recipe listed on our roundup of Instant Pot beef recipes, you should try a few of those after this one. 😉
You can now get the same (or better) tender meat made that would normally have taken several hours in about 30 minutes now. I am totally serious.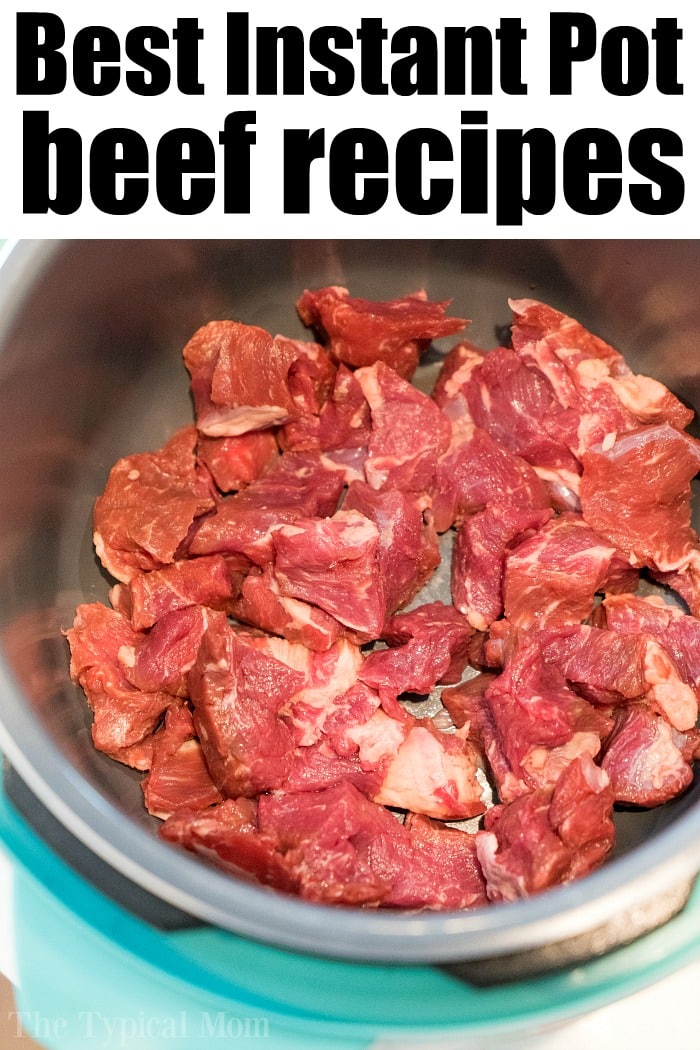 Instant Pot Beef Stroganoff Without Noodles
You are not going to add it all into the same pot. Meat takes much longer than pasta does so unless you precook it beforehand and add quite a bit more liquid in there like our pressure cooker stroganoff casserole, it is made separate. What I do is start the salted water to boiling when I start the timing on the pot.
It takes a bit for that to come to pressure so by the time that is done my egg noodles are nice and al dente so everything can be tossed together and served.
Instant Pot, Ninja Foodi, Crockpot Express or any other brand of pressure cooker

I suggest that everyone get a non stick pot to avoid the burn notice

Beef stew meat – you could use ground beef if you prefer and just drain after cooking

The smaller the pieces the more tender the beef will be
Beef tips work great too
Instant Pot Beef Stroganoff with Cream of Mushroom Soup
Cream of mushroom soup

Or make homemade cream of mushroom soup

Sour cream – Greek yogurt could be used alternative, or dairy free sour cream is great
Beef broth – or half broth, half red wine
Wide egg noodles – I like this style
Onion
Vegetables (if you want – I add onions, carrots, and mushrooms)
Salt and pepper to taste of course, I add a touch while cooking and re-season at the end.
What kind of meat is used for beef stroganoff
?
Typically, it's made with more tender cuts which decreases the cooking time. You may want to try beef tenderloin, cubed sirloin steak, or stew meat. Leftover cooked beef can also be used.
How do you thicken stroganoff
?
You can use a flour and water mixture, I prefer cornstarch myself. This will thicken this popular dish very quickly! Sour cream will make it a bit thicker as well but more so as it sits and cools. Stir this in until mixture is smooth and enjoy.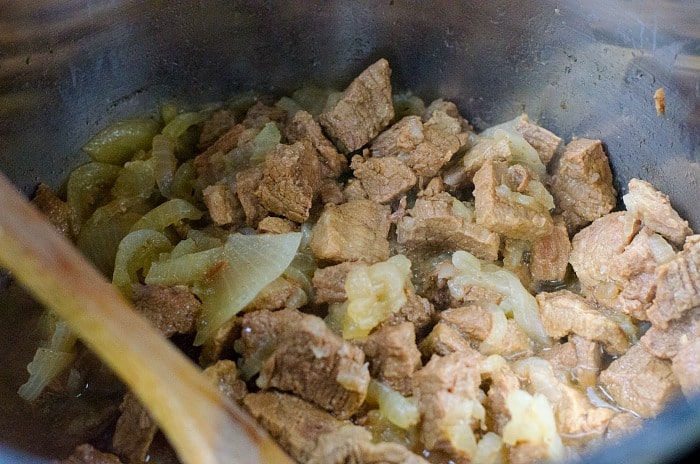 InstaPot Beef Stroganoff
These are the steps you take: Set your pot to saute and add olive oil, meat and onions to bottom of the pot. Brown the outsides of your meat, then turn your pot off and deglaze the pot. Add large chunks of vegetables you like into the pot now, we used halved mushrooms and carrots.
In a bowl whisk together your beef broth, cream of mushroom soup and seasonings until smooth.

Some like to include some Worcestershire sauce and/or dijon mustard into the mix too.

Add this into your pot.
Close lid and steam valve and set to high pressure for 15 minutes. If your meat is cut very small, 12 minutes would suffice.

Do not do a quick release, rather move the steam valve ever so slightly so it comes out slowly

Lift lid, set pot to saute again. Add some hot liquid into small dish with cornstarch and whisk until smooth, pour into bubbling pot and stir.
Stir in sour cream and/or room temperature cream cheese until smooth and sauce has thickened.
Serve over Instant Pot egg noodles cooked separately, or on a bed of mashed potatoes. Why we love cooking beef stroganoff in our pressure cooker
The meat comes out incredibly tender in a short amount of time
There's no need to stand by the stove and ensure it doesn't burn, your Instant Pot will do all the work for you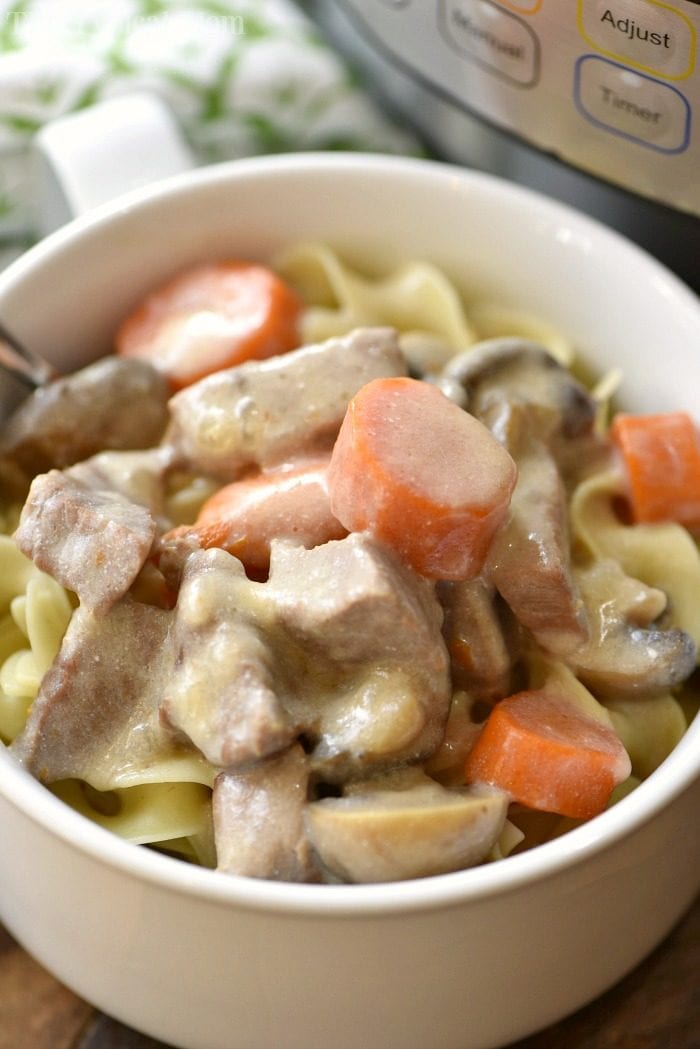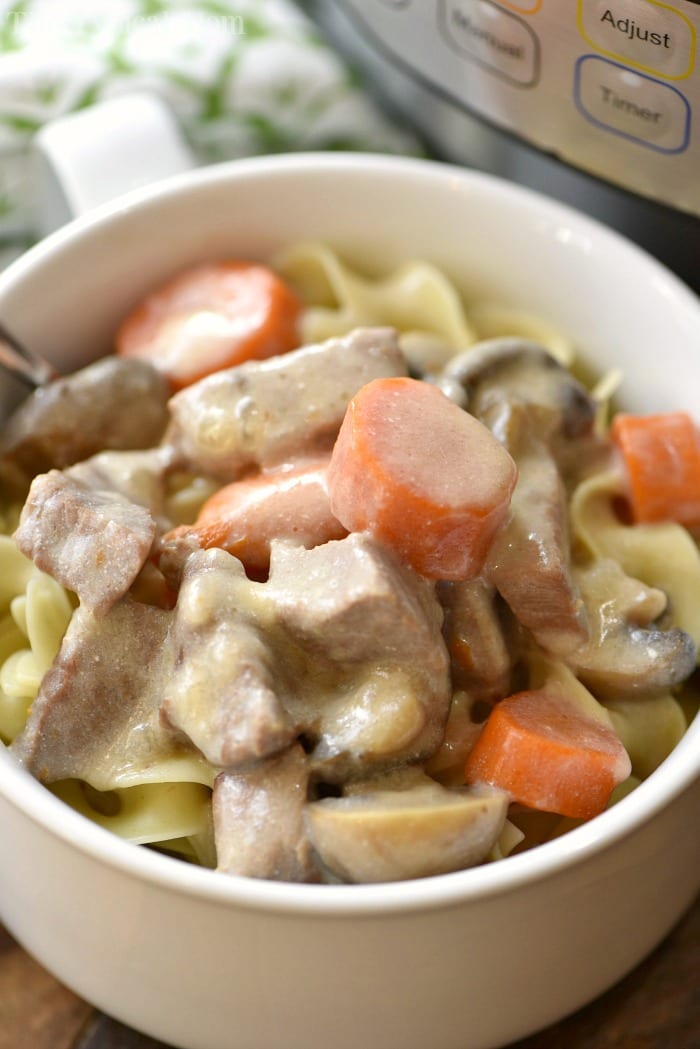 Stew Meat Pressure Cooker Beef Stroganoff
The flavors soak into your vegetables and meat during the pressure cooking process to create a creamy/tender meal all of us love Why I cook the egg noodles separately;
The beef needs a good 15 minutes to cook and become as tender and I want it, that is far too long for any style noodle to be cooked in a pressure cooker.
My husband prefers to have the noodles cooked separately (I have cooked casseroles with everything together like with our Pressure cooker Dorito casserole. The girls and I love that but he prefers separate.
My youngest sometimes wants plain noodles so that option is open using this method.
My kids aren't real fans of red meat, other than hamburger. It is mostly due to the texture and it being a bit tough. When you make this the beef it becomes really soft and tender though. Soaking up all the sauce and juices in just 15 minutes, it's perfect for our busy lives.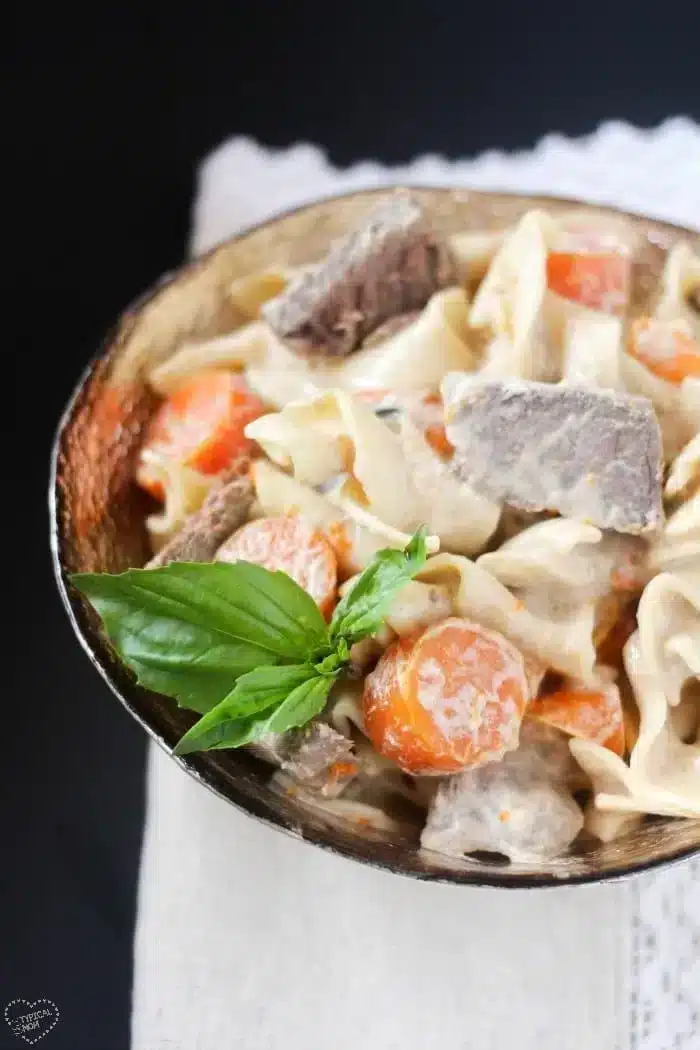 Ninja Foodi Stroganoff
If you do not have a pressure cooker I would highly recommend one. It has allowed us to eat together more often and I cook more often and healthier traditionally too. Here are a few other family friendly recipes I know you'll love too:
This is what it comes out looking like! It's almost better the next day, so needless to say if you have leftovers (we rarely do) you'll have a great lunch waiting for you. 😉 Want to try something else with the same meat?
Below is the printable recipe you can follow and enjoy with your family.
Want to see a few of my favorite things that I am totally obsessed with?? Take a peek and see how many you might already have…twinsies!
Looking for more easy family recipes and tips? LIKE The Typical Mom Facebook page?
Then sign up for my free newsletter, and follow me on Pinterest! 😉
***** If you LOVED this recipe give it 5 Stars below and let everyone know what you thought about it. 😉
Instant Pot Beef Stroganoff with Stew Meat
Easy Instant Pot beef stroganoff wit stew meat that is quick and as creamy as you remember from your childhood! Total comfort food made in your pressure cooker in a fraction of the time it used to.
Instructions
Put your Instant Pot on saute and add your olive oil and garlic

When warm add your beef stew meat and onions (either diced or cut into chunks).

Stir until meat is browned on all sides

Add mushrooms cut into halves, cut carrots, and even celery if you want to add some of that. Stir

In a bowl whisk together your can of cream of mushroom soup, salt, and beef broth, together. Then pour it into your pot and stir.

Put the lid on your Instant Pot or pressure cooker and set to manual, pressure, high, for 15 minutes. Start to boil your egg noodles on the stove now.

Do a slow release (meaning move your pressure release valve just slightly so steam comes out very slowly) and carefully lift lid

Set Instant Pot to saute and put some of that hot liquid in a small bowl with your cornstarch, whisk together until smooth

Pour back into your pot and stir.

Add your sour cream, stir

Allow mixture to bubble and thicken a bit in your pot for a few minutes

Serve beef stroganoff over cooked egg noodles, salt to taste!
Nutrition Facts
Instant Pot Beef Stroganoff with Stew Meat
Amount Per Serving (5 oz)
Calories 598
Calories from Fat 207
% Daily Value*
Fat 23g35%
Cholesterol 138mg46%
Sodium 1004mg44%
Potassium 641mg18%
Carbohydrates 57g19%
Protein 39g78%
Vitamin A 140IU3%
Vitamin C 2.6mg3%
Calcium 54mg5%
Iron 4.2mg23%
* Percent Daily Values are based on a 2000 calorie diet.