Our air fryer quesadilla recipe is the bomb! WAY better than on the stovetop or microwave, try this crispy cheesy lunch idea with 1 secret ingredient today.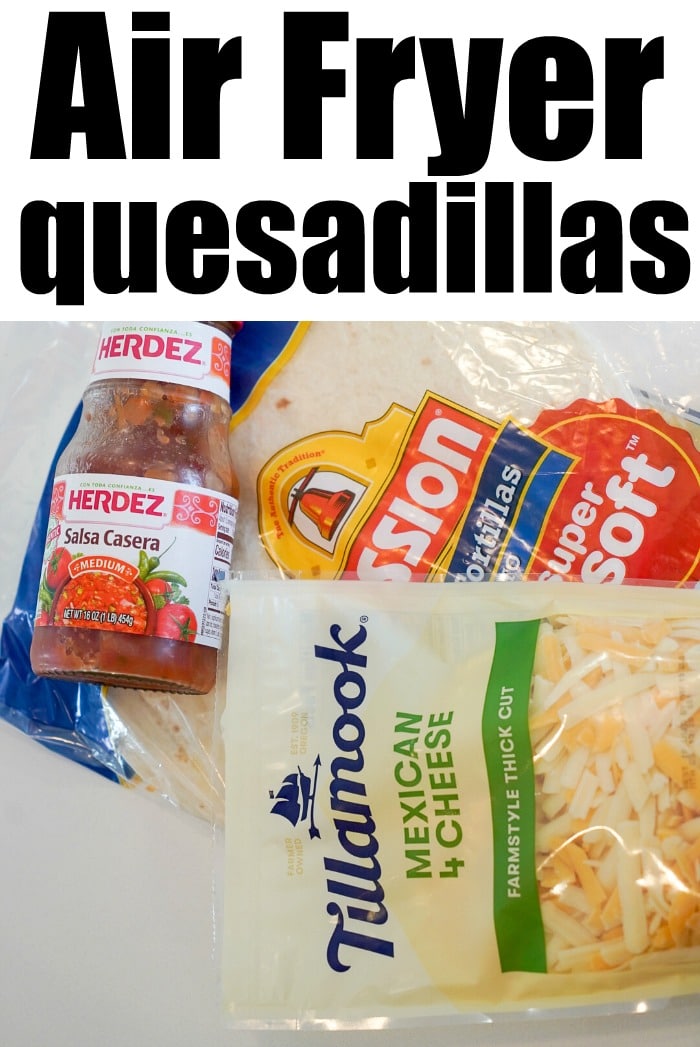 Why bother making an air fryer quesadilla when you can just pop it in the microwave you might ask? OH MY because it's so much better! The outside gets crispy like from a restaurant and adding salsa to this air fryer recipe takes it over the top. (affiliate links from amazon services llc)
We went on a run making our favorite lunches in our Ninja Foodi last week. After we made air fryer grilled cheese this was next!
You can use any brand of machine you have the only difference will be the size of the basket = how large of a tortilla you can use.
But before you move on, LIKE our easy air fryer recipes page to get new ideas for meals and snack ideas daily!
These are the ingredients we used + some room temperature butter for the outside.
Yes, we air fry everything nowadays! Why? Well because crispy food without being laden with oil is just so amazing. Like deep fried but doesn't sit in your stomach like a brick.
What cheese is best for quesadillas?
The #1 cheese of choice is said to be Asiago followed by blue (which isn't my favorite)
If you haven't tried Brie it's pretty amazing
I usually buy this Mexican blend here but shredded Colby and cheddar cheese is a good duo
Gruyère is the really ooey gooey stringy type
Havarti and Manchego are more unusual but yummy
Monterey Jack
Mozzarella
Provolone
I personally like using a combination of a few. If I happen to have Brie, or think about getting some at the store for this it is probably my favorite but a bit pricey.
If you really want to go all out, make homemade tortillas too.
Let's get started with our directions: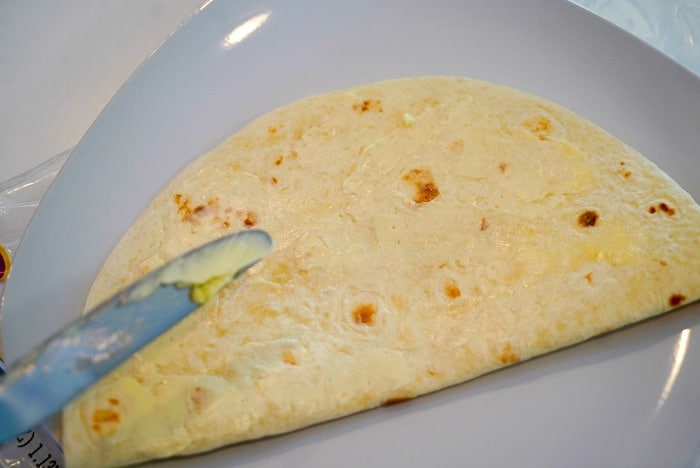 Start off by buttering 1 side of your large tortilla. If you would rather you can use 2 small tortillas instead and butter 1 side of each.
Preheat your air fryer to 350 degrees, once done spray a bit of non stick cooking spray inside your basket
Place your tortilla inside the air fryer basket with 1/2 facing down and the other open.
Sprinkle in your shredded cheese and add 2 tbsp of salsa if you'd like, I'm telling you this is a GREAT add in!

Can add pre cooked meat for chicken quesadillas too

Fold it over like a soft taco (if using 2 small ones put the top tortilla with buttered side facing up on
Close the lid to your air fryer and set to 4 minutes at 350 degrees F.
Remove cheese quesadillas once they're as crispy as you'd like and enjoy!
That is how you make a quesadilla in the air fryer.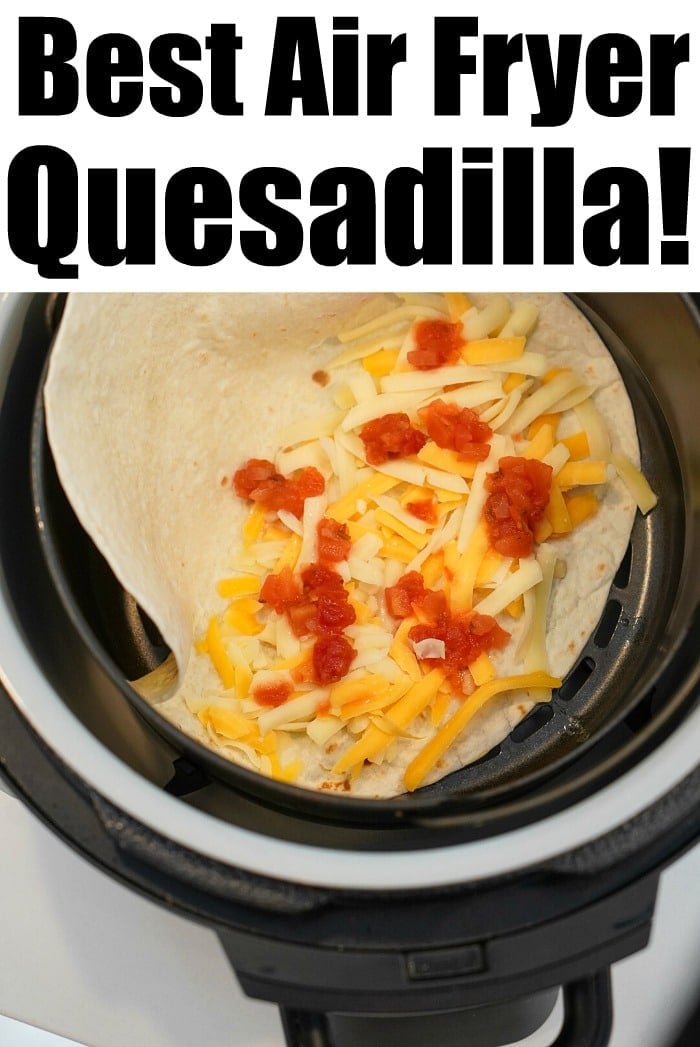 What to put in quesadillas?
A basic version can come together rather quickly and only requires a few ingredients like tortillas and cheese. You CAN add a variety of vegetables too though like:
diced onions and tomatoes
thinly sliced bell peppers
sautéed mushrooms
add some type of protein such as cooked and diced chicken or steak for a heartier version.
How do you make quesadillas crispy? Use your air fryer y'all!! I kid you not this is a game changer and I bet you'll never cook it on a pan again. We sure don't.
Once you put that shell on top and it comes out all melted ooey gooey on the inside you'll enjoy the best lunch or dinner ever.
Of course we still love making Instant Pot recipes, and continue creating new ones each week, but this is my new favorite appliance! After you enjoy this, try a few more like:
Sign up for The Typical Mom newsletter to receive more easy recipes and more stuff via email too!
Air Fryer Quesadilla
Our air fryer quesadilla recipe is the bomb! WAY better than on the stovetop or microwave, try this crispy cheesy lunch idea with 1 secret ingredient today.
Ingredients
Instructions
Preheat your air fryer to 350 degrees.

Butter one side of your large tortilla, or 1 side of each small tortillas.

Once preheated place 1 tortilla in and hold one end while you fill half of the large tortilla with your shredded cheese and salsa.

Fold other half over (or put 1 small tortilla on bottom with buttered side down, fill with cheese and place 2nd small tortilla on top with buttered side facing up)

Close air fryer lid and cook for 4 minutes or until it is as crispy as you'd like on the outside. Check after minute 1 to ensure the top half hasn't shifted, sometimes using large tortillas it opens and you need to close again after a minute a push down on melted cheese so it stays the rest of the time.

Use a pizza cutter to slice into 3 - 4 pieces and enjoy.
Nutrition Facts
Air Fryer Quesadilla
Amount Per Serving (2 oz)
Calories 271
Calories from Fat 189
% Daily Value*
Fat 21g32%
Cholesterol 60mg20%
Sodium 529mg23%
Potassium 110mg3%
Carbohydrates 9g3%
Protein 12g24%
Vitamin A 676IU14%
Calcium 321mg32%
Iron 1mg6%
* Percent Daily Values are based on a 2000 calorie diet.