Wondering how long to cook chicken at 400 and keep it moist? We will share a few tips on how to do this and frozen chicken at 400 degrees too. If you have only baked chicken breast at 350 F. thus far but need it done a bit quicker we have hacks on how it's done best.
Cooking chicken at 400 degrees works great. No matter what pieces you want to have for dinner we have the cook times and tips on how to keep them moist with crispy skin. Baked in the oven works well either defrosted or frozen to start with. (affiliate links present)
How Long to Cook Frozen Chicken at 400
Generally if you are cooking frozen chicken to tender you'd want to start out lower, then increase the temp. So you may start out at 350 or so but to get the desired texture on the top flap of skin you'd want to give it a bit of time higher like this.
Ok so you can in fact boil frozen chicken at a much higher temp than this but it is quick and great if you want it shredded. Beyond that if you want to bake in the oven or air fryer we have done that time and time again. To determine your overall timing you will need to increase to 50% longer than if it were fresh or thawed.
The biggest thing to remember no matter what pieces you cook is to make sure they are separated or at least in one layer. If stuck together in one chunk it won't cook evenly or all the way thru to the center. The fastest way is to cook frozen chicken Instant Pot style, for sure. Less than 30 minutes start to finish.
What Cooking Method Keeps Chicken Moist
Here are some tips to help keep chicken moist when baking in the oven, air fryer, pressure cooker or grill. Some take quite a bit of extra time beforehand while others are quick.
Like soaking in your favorite flavors or liquids has been a new game changer for us and not a lot of work. Just think ahead and you'll be surprised at how tender it makes each piece. Try them all and see which is your favorite going forward like;
Brining poultry: You can choose to soak your pieces in a chicken brine solution before baking can help the meat retain moisture. The salt inside the liquid helps to break down the proteins in the meat allowing it to absorb more water. This will help it stay moist during the baking process.
Use a marinade: Chicken marinade would be a flavorful liquid or sauce that can also help keep it moist. The acid in it, like lemon, can help to tenderize the meat and prevent it from drying out.
Basting meat: Basting with its own juices or a flavorful liquid can help keep it moist during baking. Use a spoon or basting brush to coat the top with the liquid every 15-20 minutes.
Cover while baking in foil: Covering the top of your dish with foil or a lid during baking can help to trap in moisture and prevent it from evaporating. Remove during the last 10-15 minutes of baking to allow the skin to brown though.
Use a meat thermometer often: Overcooking can cause baked meats to become dry and tough. Using a meat thermometer to check the internal temperature of the chicken can help ensure that it is cooked to the proper temperature without overcooking it.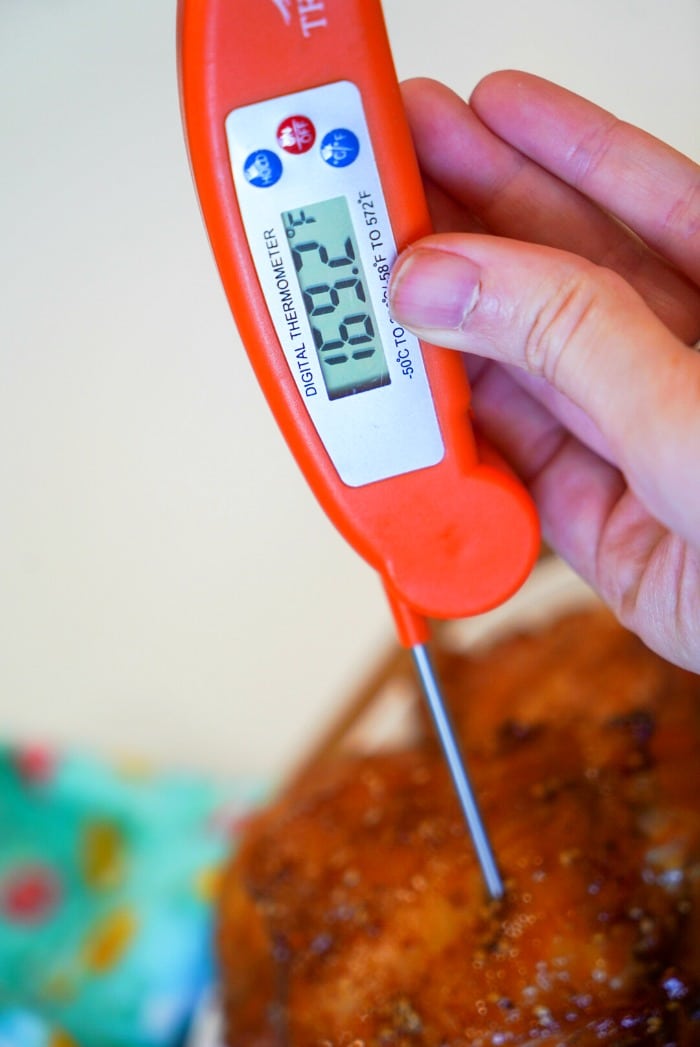 How Long to Cook Chicken Breast at 400
The cooking time to cook chicken breasts at 400 degrees F or 205 degrees C can vary depending on a few different factors. It of course depends on the size of your pieces, whether it has bones, and thickness of your each will determine the timing. As a general rule of thumb though;
Boneless skinless chicken breasts should be cooked for approximately 20 – 25 minutes

For bone-chicken breasts you may need an extra 5 -10 minutes for 25 – 35 min.

Other bone-in pieces like drumsticks at 400 or thighs may take closer to 30 – 35 minutes
Where as together, chicken leg quarters at 400 take a bit more like 35 – 40 minutes.
Baked chicken wings will take about 35 – 40 minutes too depending on how brown you want the skin to be.

Pieces must lay in a single layer on your baking sheet to cook evenly.
Always flip pieces over halfway thru the cooking time to brown on both sides.
If you are adding a sauce do so in the last 10 minutes to caramelize on top.
It's important to always use a meat thermometer ready when it is close to done. Insert into the thickest part and you want to ensure that the internal temperature of chicken has reached 165° F or 75° C. This is the safe minimum for poultry.
Of course how long to bake chicken timing can also be affected by factors such as the size of the pieces, the oven's heat distribution. So it's important to keep an eye on it and adjust as necessary, always start with the minimum timing.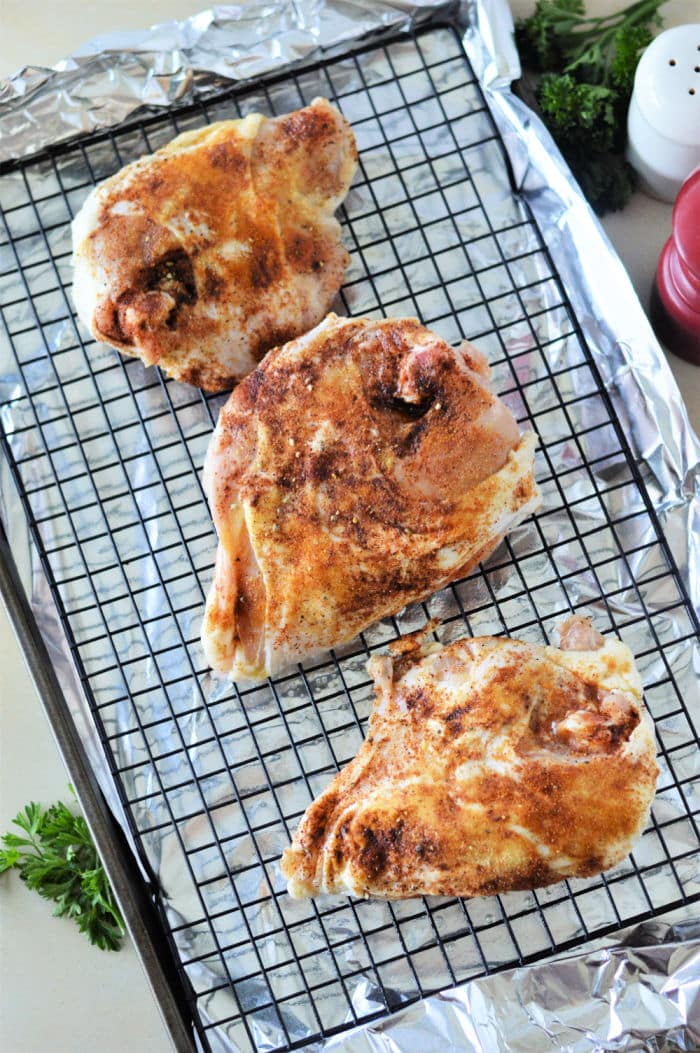 Best Way to Cook Chicken at 400 Degrees
There are several ways to cook chicken at 400 degrees. Which you choose depends on your personal preference, the cut you have and your desired outcome.
If you do not care about achieving crispy chicken skin you may choose an entirely different method than your neighbor would. Here are a few popular cooking methods:
Air Frying Chicken: This is what you would choose if you want the outsides to be as crispy as possible. Hands down this is the best way by far for that.
Roasting: Always preheat the oven when baking. Place in a roasting pan to roast in the oven at 400 F for about 20-25 minutes per pound is a great way to trap the juices in the pan and keep it moist.
Baking: Put into a baking dish and baking in the oven for about 25-30 minutes you can also add vegetables to the sheet pan so you have a complete meal on one pan.
Grilling: You can preheat your grill to four hundred degrees you can grill frozen chicken breasts boneless or fresh bone-in for about 10-12 minutes per side.
Cast Iron Chicken: Heat a large skillet over high heat on the stovetop. Sear on both sides until golden brown, then transfer to the oven and bake at 400°F. Takes about 15-20 minutes longer or until it reaches 165° in the center
Whichever method you choose, it's important to ensure that the chicken is cooked to a safe temperature to prevent foodborne illness.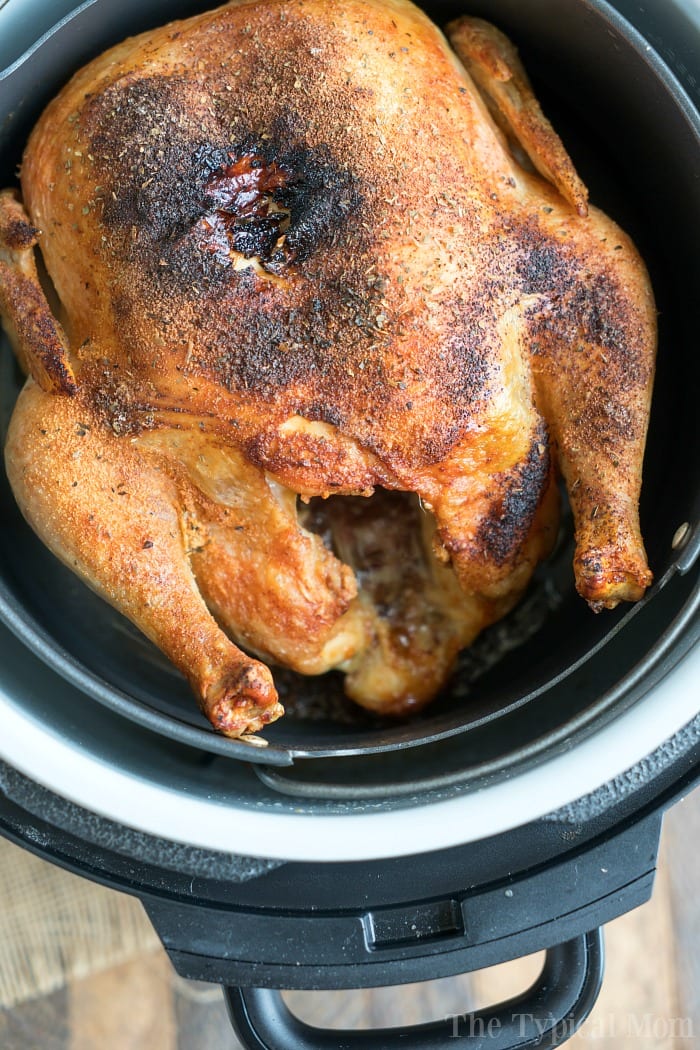 Want to see a few of my favorite things that I am totally obsessed with?? Take a peek and see how many you might already have…twinsies!
Looking for more easy family recipes and tips? LIKE The Typical Mom Facebook page?
Then sign up for my free newsletter, and follow me on Pinterest! 😉
***** If you LOVED this recipe give it 5 Stars below and let everyone know what you thought about it. 😉
How Long to Cook Chicken at 400
This is how long to cook chicken at 400 degrees F to moist and tender with crispy skin on the outside is here. Breasts, legs, thighs or wings
Instructions
Preheat the oven to 400 F. Rinse chicken and pat dry to remove excess moisture on skin. Mix spices, herbs and salt in a dish. Brush chicken with olive oil on all sides, then sprinkle it with spices and salt.

Transfer the chicken to a baking dish sprayed with non stick spray, cover top with foil and place in the oven to bake for designated time listed.

Boneless skinless chicken breasts should be cooked for approximately = 20 – 25 minutes. For bone-chicken breasts you may need an extra = 5 -10 minutes. Other bone-in pieces like chicken legs or thighs may take closer to = 30 – 35 minutes. Larger chicken quarters = 35 – 40 minutes. Baked chicken wings will take about = 35 – 40 minutes depending on how brown you want the skin to be

Flip pieces to the other side half way thru the cook time and remove foil. If you want to add sauce brush some on during the last 10 minutes uncovered.

Check at the end to see if at thickest part it has reached a safe internal temp of 165 degrees F.
Nutrition Facts
How Long to Cook Chicken at 400
Amount Per Serving (2 oz)
Calories 64
Calories from Fat 63
% Daily Value*
Fat 7g11%
Cholesterol 0.4mg0%
Sodium 291mg13%
Potassium 7mg0%
Carbohydrates 0.3g0%
Protein 0.2g0%
Vitamin A 13IU0%
Vitamin C 0.4mg0%
Calcium 2mg0%
Iron 0.1mg1%
* Percent Daily Values are based on a 2000 calorie diet.