How to convert slow cooker vs Instant Pot cooking times and how they vary. How long to cook meat and other dishes in your pressure cooker that you normally would cook in your crockpot + free printable cook time charts that will help you navigate thru your new world of pressure cooking.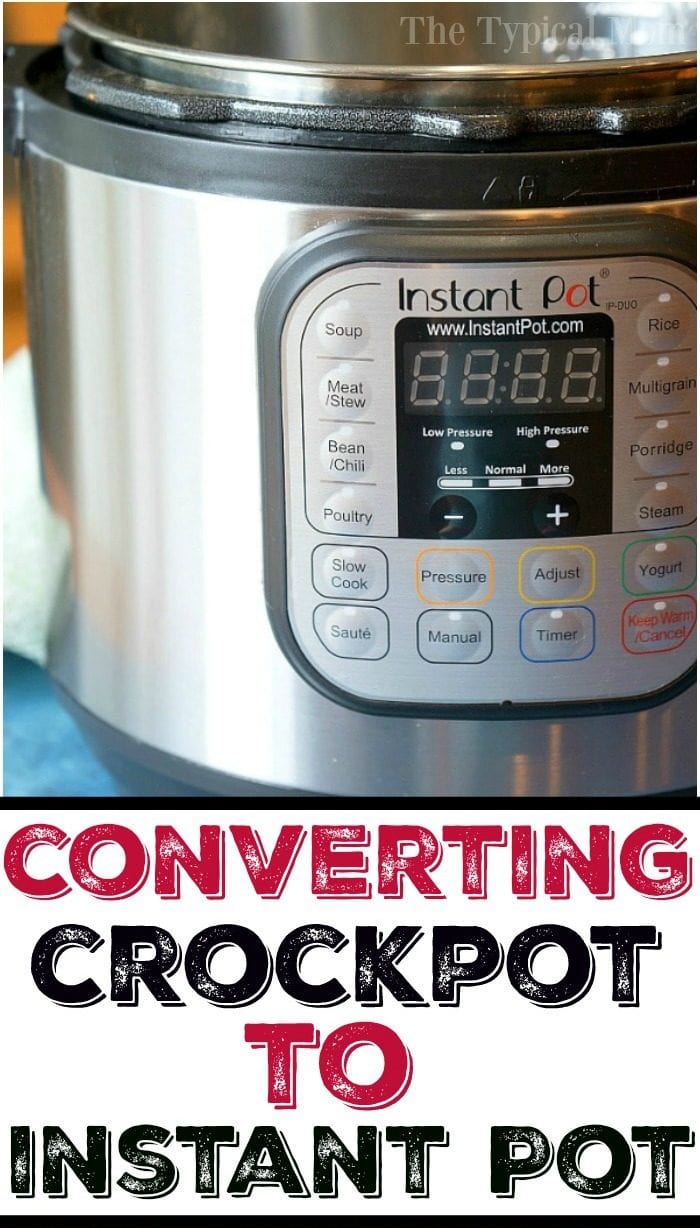 Calling all the cooking lovers! We're here to talk about the difference and transition from slow cooker vs Instant Pot. With the new year, brings about new awesome appliances to try out in the kitchen. If you haven't given it a try, add The Instant Pot is a must. It's like the Cadillac of cookers. To get started take a look at our post about how to use an Instant Pot and then we can go from there. 😉 (originally published 1/18, affiliate links present)
Slow Cooker vs Instant Pot Time
What other cooking contraption do you own or know about that can do the job of 8 (yes, 8) other appliances?! It can slow cook, pressure cook, make yogurt, make rice, steam veggies, and saute. It also speeds up cooking times while using 70% less energy than other cooking appliances.
First off, this is the 6 qt. Instant Pot I have and love. I just bought the 3 qt too to check it out but haven't used it much yet. Now grab your recipe book and pick out a few recipes that you like. Are you wanting to give them a try in your Instant Pot?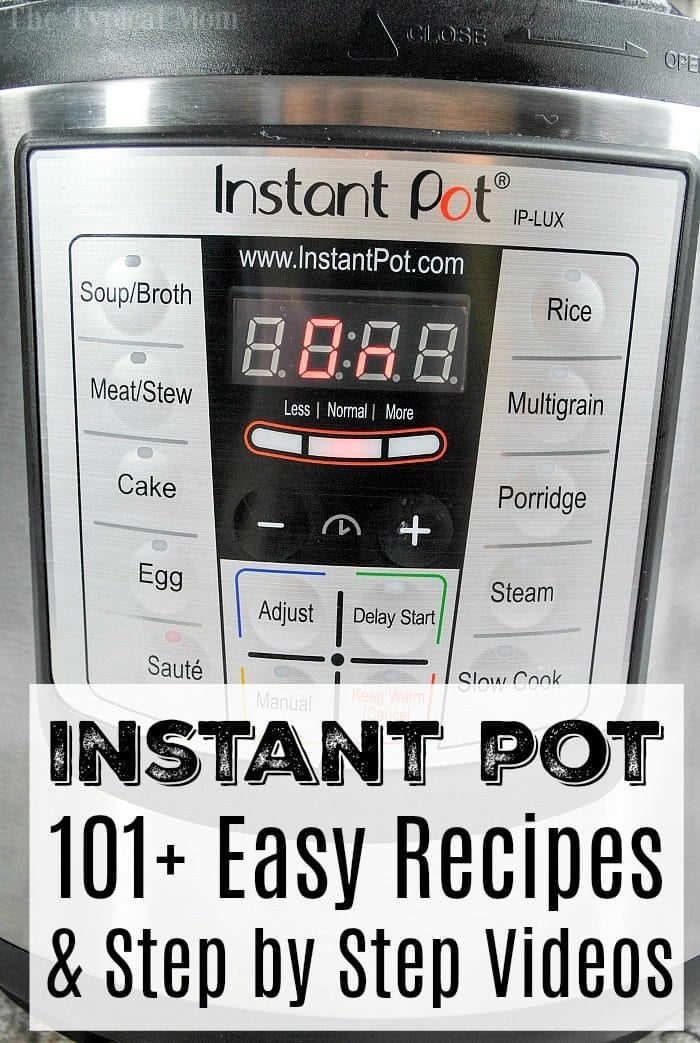 Converting Slow Cooker Cook Time to Instant Pot
More than likely, your Instant Pot recipes haven't started to compile. This means that you are left with a large volume of recipes that taste amazing, but you aren't quite certain on how to get them to convert properly. Well here's info. on slow cooker vs Instant Pot so you can.
Have no fear, here are some tips and conversion methods to be aware of when converting from a slow cooker to Instant Pot.
Meats galore. Cooking meats in the Instant Pot can be a breeze! Made even easier by having a Meat/Stew button that cook red meats quickly and correctly and a Poultry button for the chicken.
Quickly, as in red meat can be cooked completely within 25-30 minutes in the Instant Pot compared to hours it takes in a slow cooker.
But there is more…..
Instant Pot vs Slow Cooker Taste
Honestly there isn't going to be a better taste in one versus the other if done right. One will just take 5-10 times as long but will get just as tender either way.
Literally, that fast. The Instant Pot has been able to cook red meat in 25-30 minutes compared to the 8 hours the meat may be on low in a crock-pot and the 4 hours the meat may be cooking on high.

Here's an example = Instant Pot pork shoulder recipe took 90 minutes vs. this bbq pulled pork crockpot recipe that takes 6-8 hours.
Tip = Always, always, always double check any meat before eating that it is cooked thoroughly. It's even possible to add frozen meat to the Instant Pot by cooking it an extra 10 minutes or so. Seriously?
This thing is magic. Of course depending on weight times may vary and there is no harm in setting for the time listed on the recipe, checking, and then setting your Instant Pot again for a bit longer if you want it more tender or you have a larger cut of meat.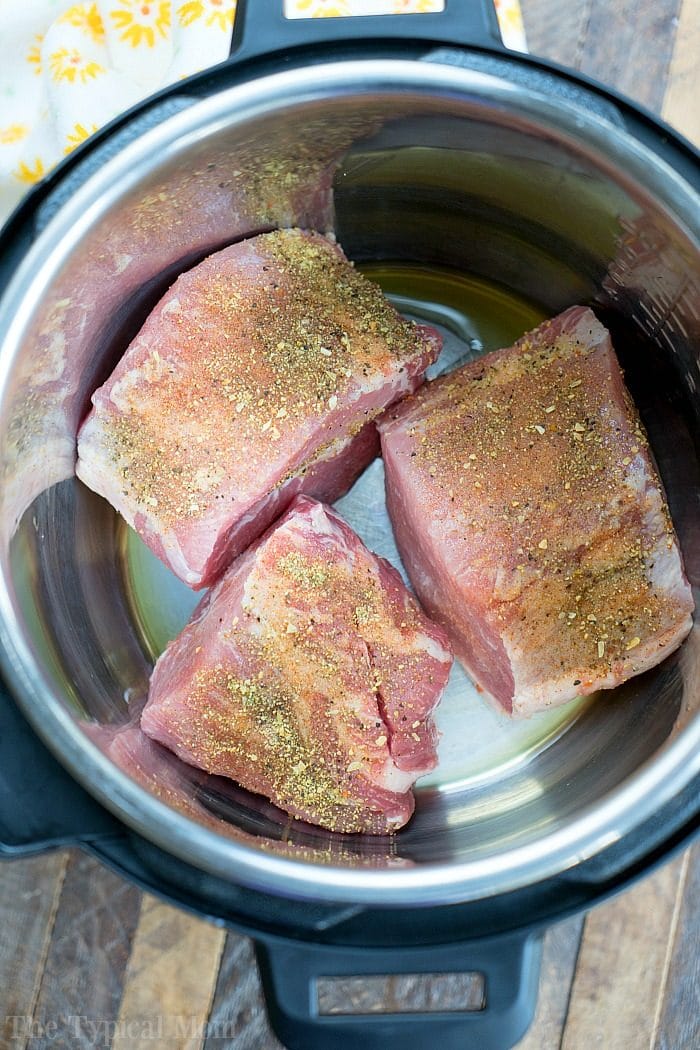 How to Convert Crockpot to Instant Pot
Liquid is key. The Instant Pot cooks as a pressure cooker, and pressure cookers need liquid to function. With each recipe make certain to add liquid the pot.
This is key in making certain that it cooks thoroughly! Without doing this, your food will overcook or Instant Pot burn message will come on.

I have used potatoes instead of a trivet before which works well with meat (plus then you have yummy potatoes to enjoy as well).
This is the trivet I use when I am making a cake or I don't want to use potatoes to keep the item out of the liquid.
I tend to add 1 1/2-2 cups of liquid when I am cooking or steaming anything in my pressure cooker and you don't have to use water! I prefer to use other liquids to enhance the flavor like vegetable broth to steam vegetables or beef broth/a flat beer to cook larger cuts of meat.
Some sauces can also be used as well instead of water or broth as I did in these pressure cooker frozen chicken wings. Barbecue sauce was the liquid and worked well.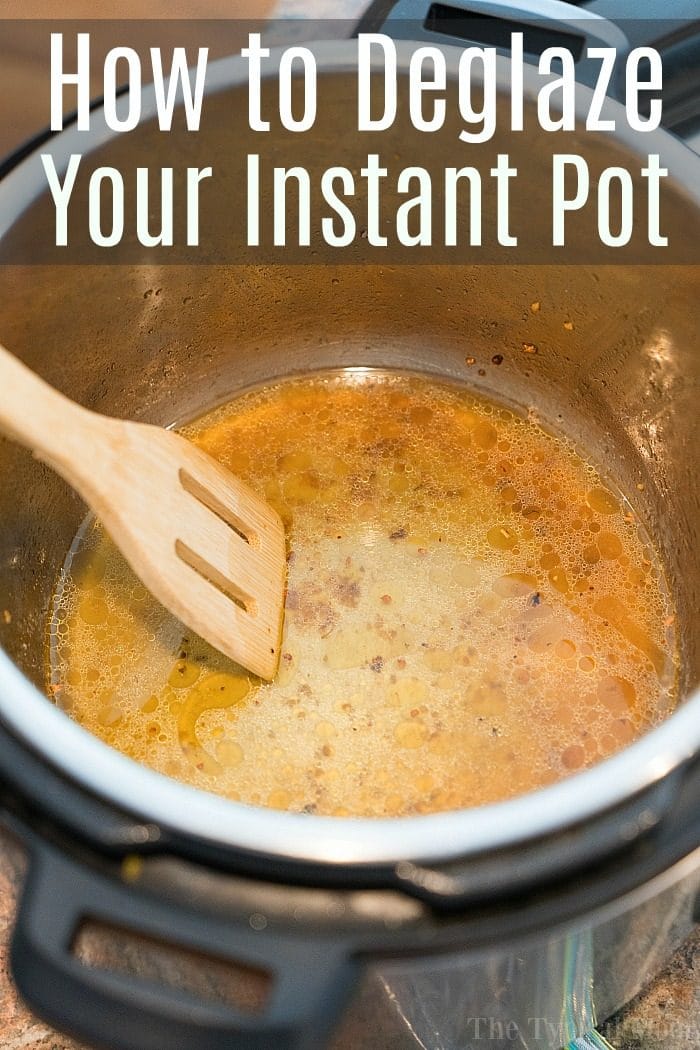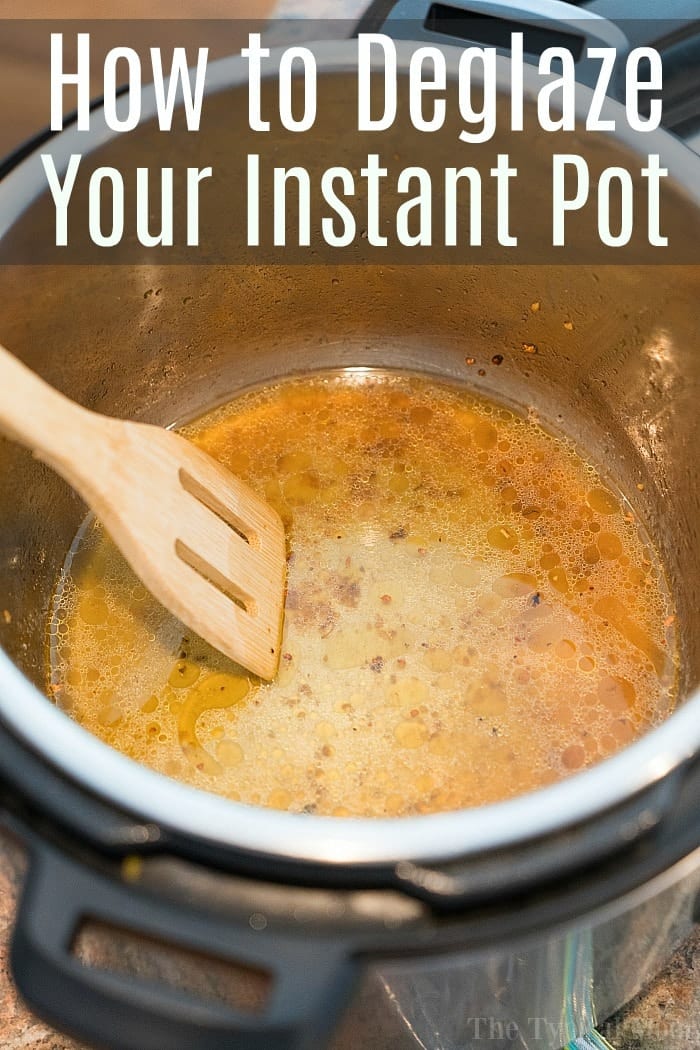 Instant Pot vs Pressure Cooker
These two terms are synonymous. It is like saying you need a Kleenex, that is the brand but has become known as the same thing as a tissue.
Seafood city. Cooking seafood in the Instant Pot takes hardly any time. A fresh whole crab only takes 2-3 minutes to cook, while a frozen one only takes 4-5 minutes. Hungry for some shrimp?
Toss a handful of thawed out ones in the Pot and wait about 2 minutes…yep, just 2 minutes until you are in shrimp heaven. And if they are frozen? Maybe add an extra minute or so for cooking time. Don't forget to add that liquid, it's the key to starting the cooking show!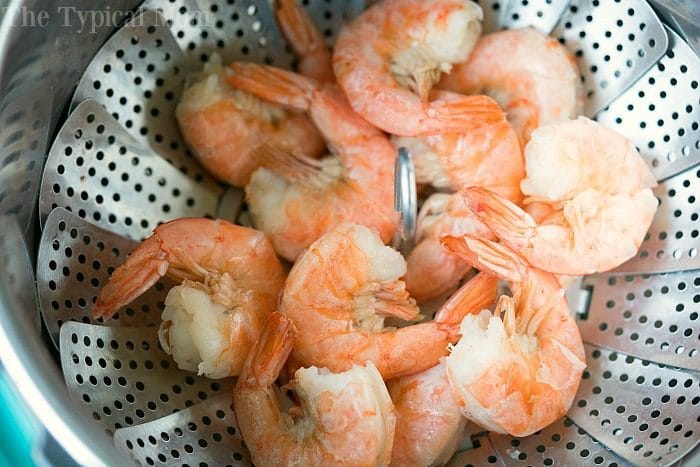 What is Healthier Slow Cooker or Instant Pot
There isn't a health benefit either way other than it allows us to heat homemade meals more often with the IP since it's done so fast. Here are a few great things you can do with this new wonder:
Steaming veggies in Instant Pot is painless. Are you seeing the big differences of slow cooker vs Instant Pot yet??? Now…fresh broccoli florets steamed to perfection? Allow 1-2 minutes. Forget messing with those steam-able plastic bags in the microwave..the Instant Pot even cooks them quicker than that.
Do what with fruit??? Did you know that you can steam DRIED fruit? Before the Instant Pot, I didn't even know this was a thing…but it's possible, and has me highly intrigued. Why not try? Have a few raisins around the house? Add a cup of water to the Instant pot and steam for 4-5 minutes. Sounds like a new awesome feature to check out. If you love it, do the same with peaches, pears and plums.
Desserts!! Yes you can cook desserts in your Instant Pot just as you did in your slow cooker but in a fraction of the time.

Here's an example = My Instant Pot dump cake only takes about 25 minutes while my crockpot dump cake takes a good 3-4 hours to finish.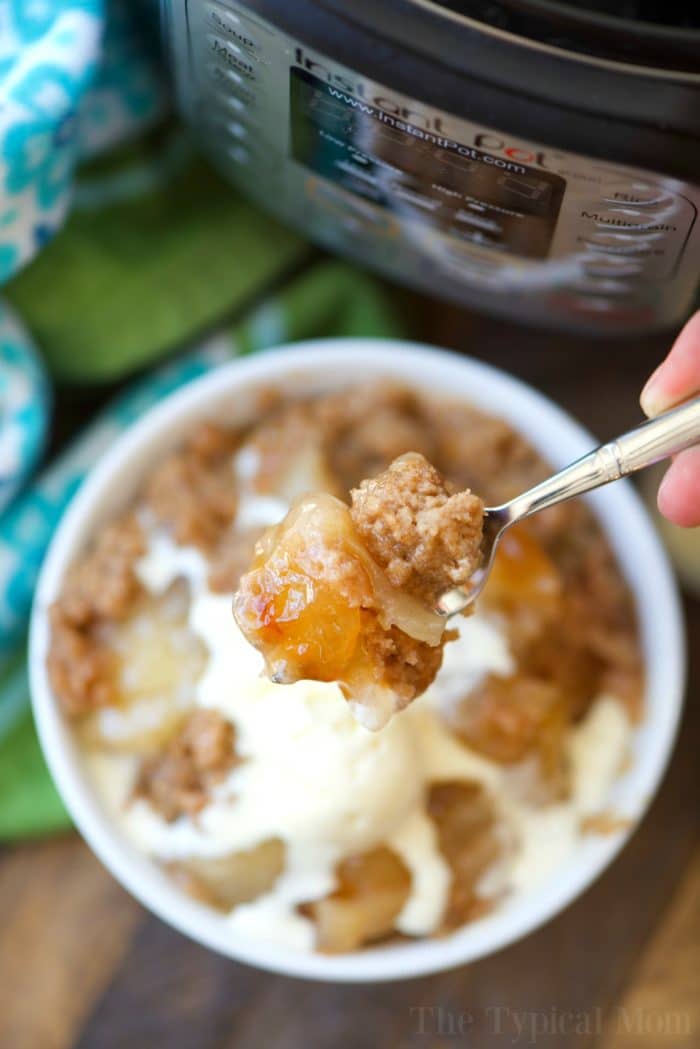 Pressure Cooker Cook Times
We hope this gave you a better idea of slow cooker vs Instant Pot how you can convert your recipes from one to the other.
Here are a few Instant Pot cooking times printables to help you know just how long it takes for vegetables, beans and meat to cook in there. Great resource to have on hand and in the drawer so you can get started developing recipes on your own.
To compare this is a crock pot cooking times printable which of course is more like 6-8 hours to cook each meal.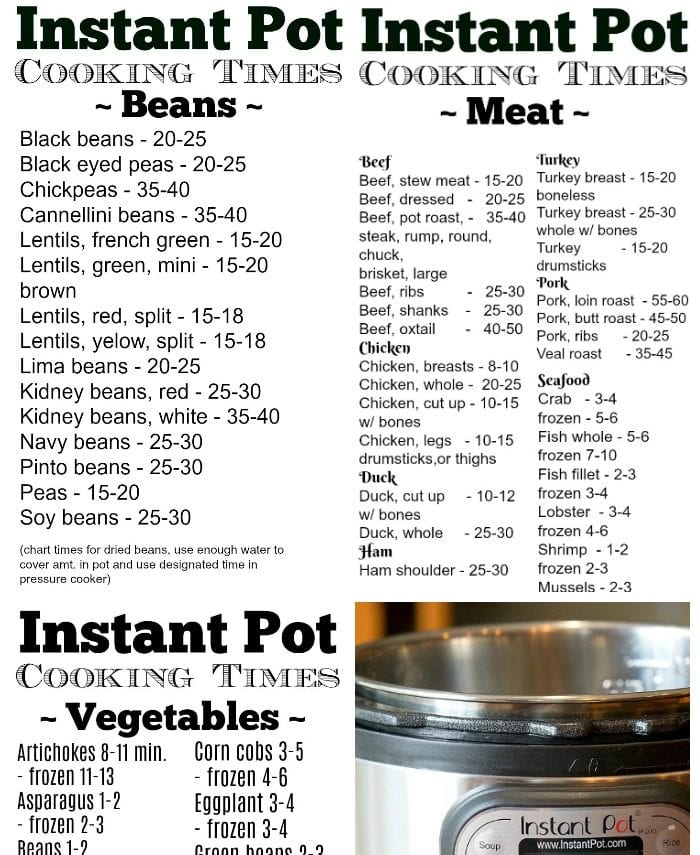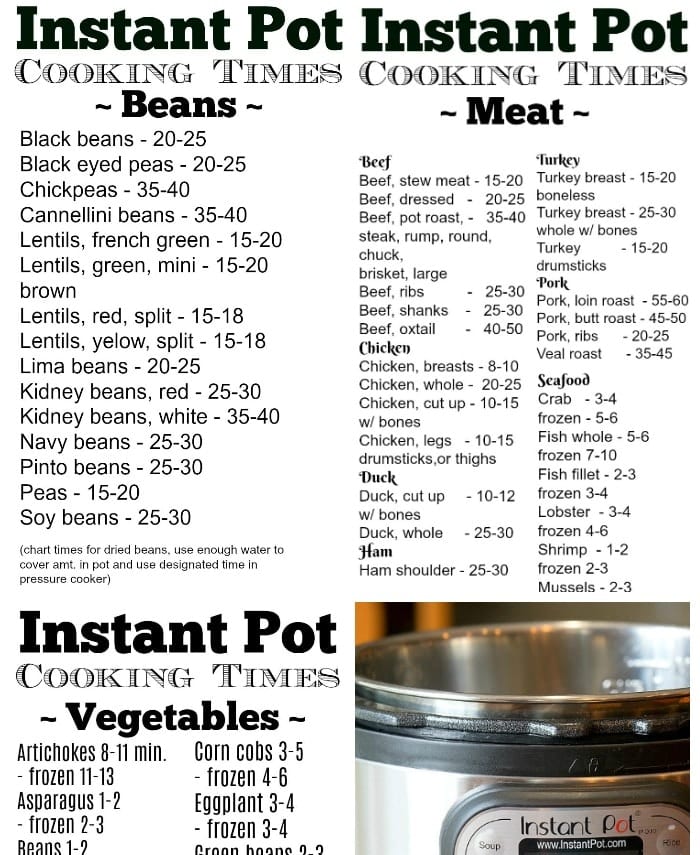 Can I Make Slow Cooker Recipes in Pressure Cooker
The reviews are out and it seems that the Instant Pot is a huge hit and is taking the cooking world by storm. The debate of slow cooker vs Instant Pot in my mind is a landslide. I use my pressure cooker almost daily as I am very short on time lately.
I will say that I do use both of them for different reasons.

If I know we will be away all day I still seem to stick with my crockpot for meals like my slow cooker ham and beans which to me tastes best when it cooks AAaalllllllll day long instead of quickly.

For desserts if I don't want to use my oven I prefer my Instant Pot because they turn out better that way, like my pressure cooker brownies are the bomb.
If you're looking for another long list of the best Instant Pot recipes around we have that for you too. Being able to add the ingredients to my Instant Pot, set the timer and walk away is an amazing way to save me lots of time in the kitchen each day! The best part?
Have fun with your new cooking appliance. Try out the tips and conversation times discussed above, but see if you can find new fun and creative ways to cook your other food items in your house. You never know, you may convert fully to an Instant Pot user too!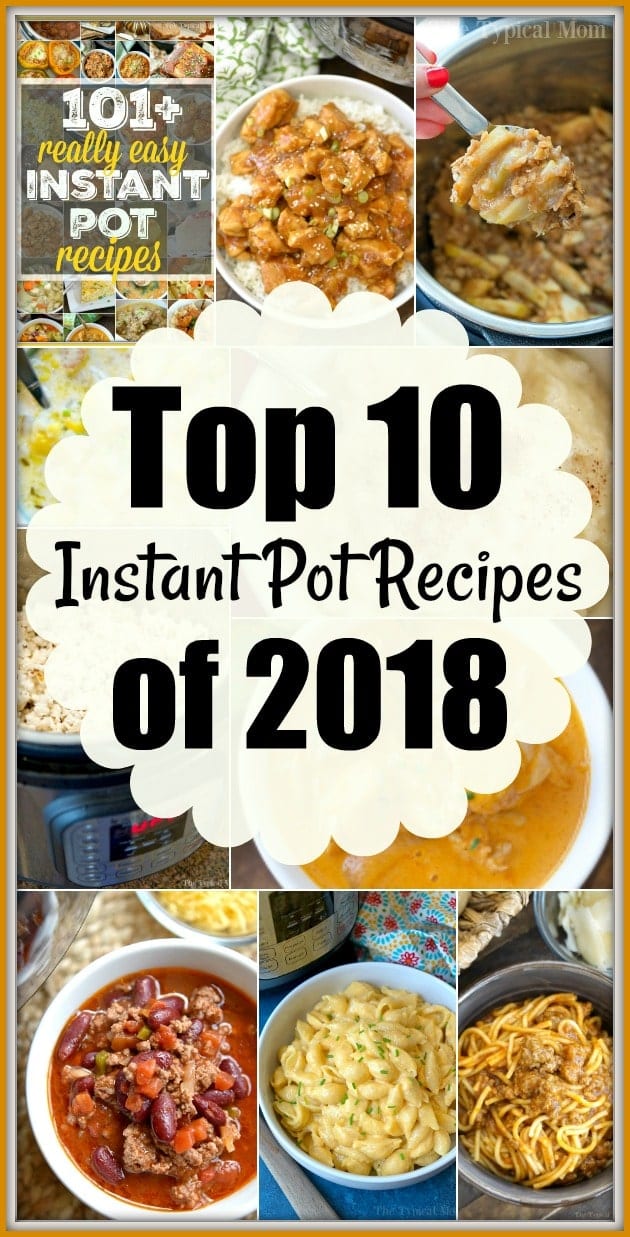 Want to see a few of my favorite things that I am totally obsessed with?? Take a peek and see how many you might already have…twinsies!
Looking for more easy family recipes and tips? LIKE The Typical Mom Facebook page?
Then sign up for my free newsletter, and follow me on Pinterest! 😉
***** If you LOVED this recipe give it 5 Stars below and let everyone know what you thought about it. 😉