Ok so I wanted a free printable pressure cooker time chart to know how long meat and beans took to cook but couldn't find any so I made these Instant Pot cooking times charts for you myself! If you're wondering how long it takes to steam vegetables in your pressure cooker I have a great guide for you to refer to and print out.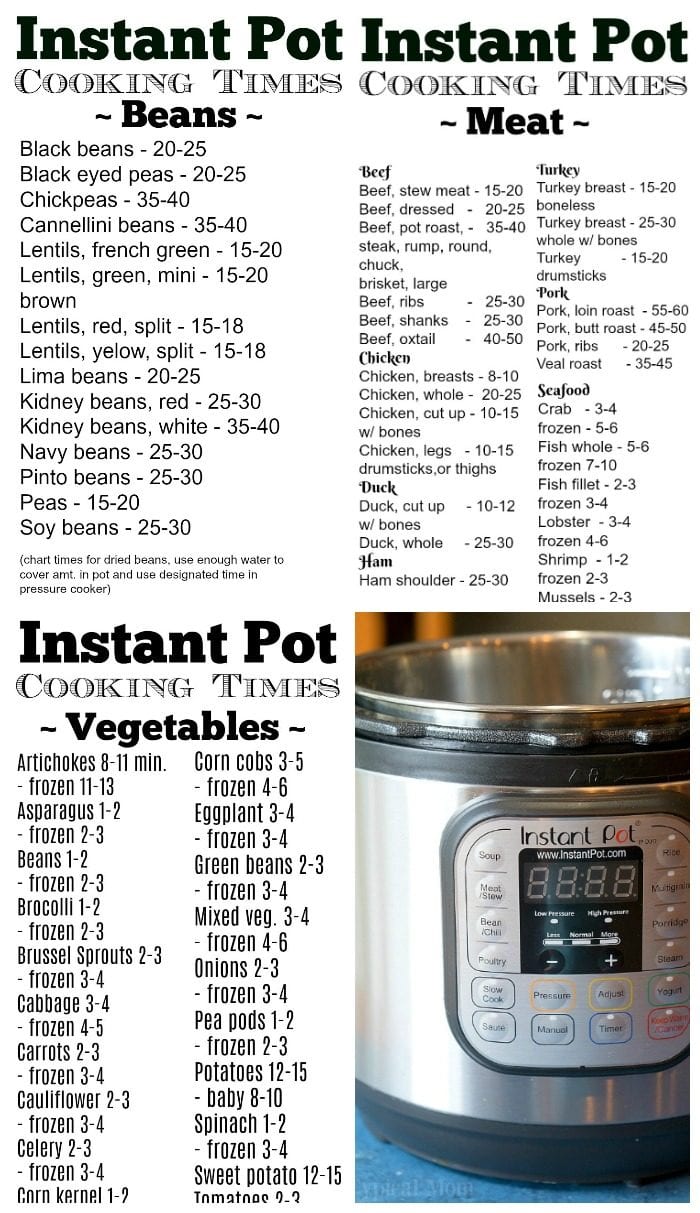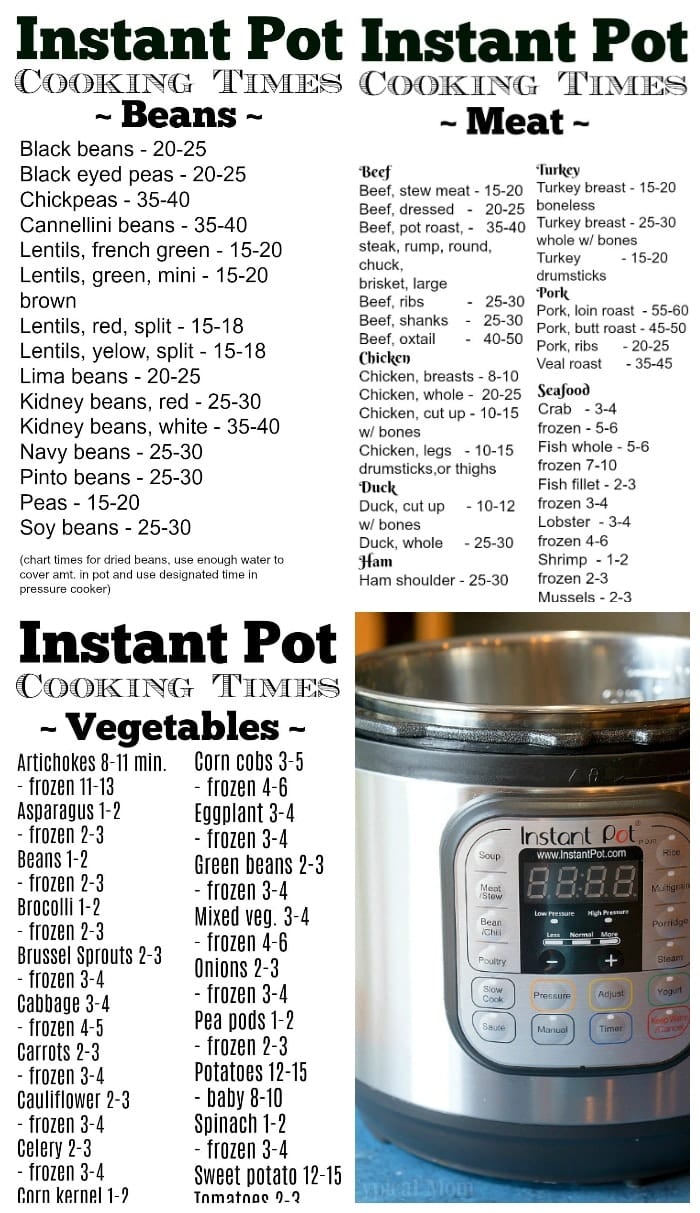 I kept looking on the Instant Pot website when I first opened the box with my fancy pressure cooker in it. I was clueless as to how long to cook meat and other foods. I wanted a quick printable pressure cooker time chart for each category so I could keep them on hand. This and more found on my Instant Pot recipes page! (affiliate links present, originally published 8/18)
Instant Pot Time Chart
Listing the most common foods (frozen and fresh) I tend to cook on a free printable sheet, I am now sharing them with all of you too.
If you do have the air fryer lid now you can also grab this air fryer frozen food cook times cheat sheet as well. A great way to add yet another function to your multi cooker pot.
FIRST – You should sign up for my free newsletter so you get new posts emailed to you twice a week and never miss out on anything! Now let's start with a few basic tips:
Make sure to Bookmark our InstaPot recipes page. We add new ones each week!
Then PRINT this —–> Instant Pot cooking times cheat sheet that will help you understand how long meat, vegetables and beans take to cook in your pressure cooker.
For reference, this is the pressure cooker I have (a 6 quart) and use for all recipe creations.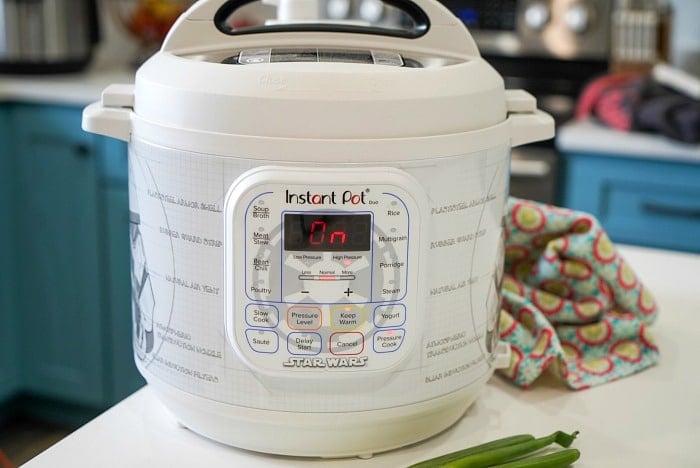 It definitely takes a fraction of time to cook all foods in your Instant Pot vs slow cooker . That makes it perfect for busy families like us. But how long to cook each thing is a bit of a mystery when you first start out.
Pressure Cooker Time Chart
Of course the times on these charts are estimates as vegetables and meat especially comes in a variety of sizes. The nice thing is it is totally okay to start with the estimated time. Then if you check the food in your pressure cooker and you find that your Instant Pot artichokes aren't done quite enough.
Just put the lid back on, close the steam valve, and put them in for a minute or two longer!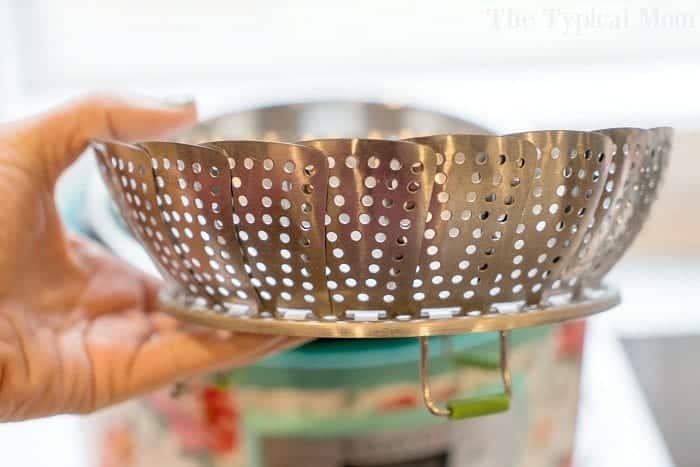 Pressure Cooker Time Chart PDF
Cooking in general is very subjective when it comes to tenderness for both vegetables and meat in my opinion.
I like my veggies on the firmer side of things so when I see a time chart for broccoli for example I err on the side of the shorter time and adjust from there a minute or so depending on how many heads I am cooking at one time.
Here are a few Instant Pot accessories I think are handy to have to cook:
Instant Pot Vegetable Steamer
7″ springform cake pan – I use this for cakes and some savory recipes
Angel food cake pan that fits inside a 6 or 8 qt. Instant Pot
6 c. bundt pan that fits into a 6 or 8 qt. Instant Pot
I just bought these Instant Pot mini mitts that have come in handy to get things out easier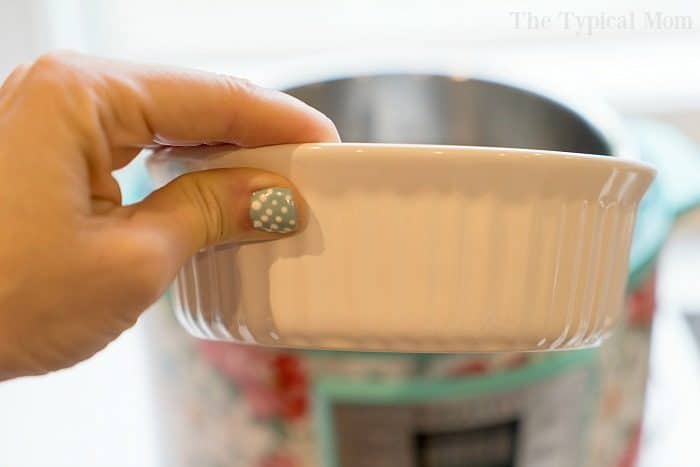 Free pressure cooker time chart printable
Here is an example of when I used the bean chart to make no soak Instant Pot baked beans.
Here is an example of when I used the pressure cooker meat time chart to make this Instant Pot pulled pork recipe.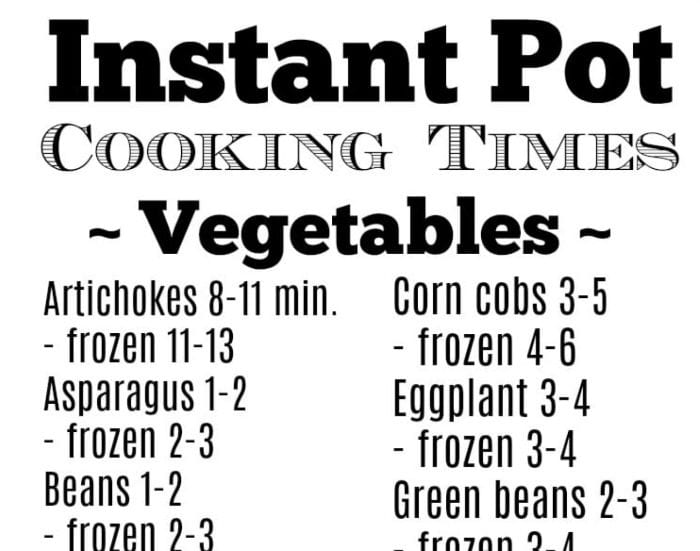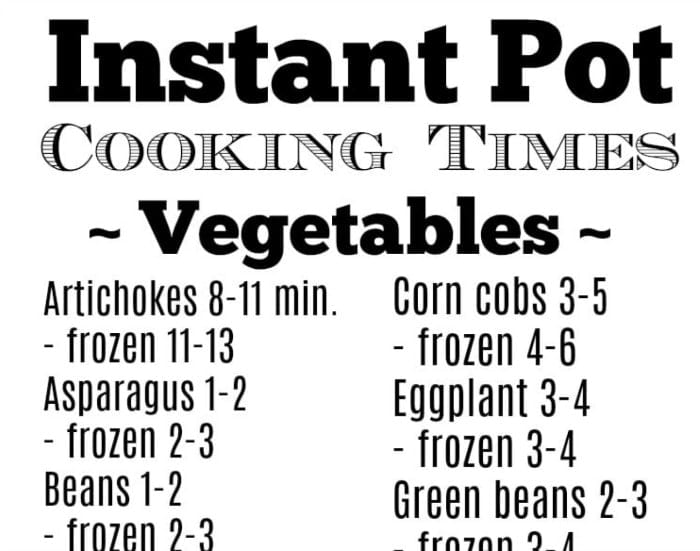 You can place potatoes on a trivet just as well as putting them in a vegetable steamer basket, but smaller vegetables don't work as well that way and it is really handy to have a basket that keeps everything contained.
The one above comes with an extendable handle as well so it is easier to pull out and not get your fingers too warm!
The pans above are great if you are cooking desserts in your Instant Pot, or something like my Instant Pot breakfast casserole where you want it to come out in one pretty piece for serving purposes, the springform pan is great for that.
Want to see a few of my favorite things that I am totally obsessed with?? Take a peek and see how many you might already have…twinsies!
Looking for more easy family recipes and tips? LIKE The Typical Mom Facebook page?
Then sign up for my free newsletter, and follow me on Pinterest! 😉
***** If you LOVED this recipe give it 5 Stars below and let everyone know what you thought about it. 😉