Easy Instant Pot artichokes with creamy dill dipping sauce ready in less than 20 minutes! How to steam artichokes in your pressure cooker to perfection. Our favorite vegetable for dinner and a healthy side dish too. You'll never make an artichoke another way again after this.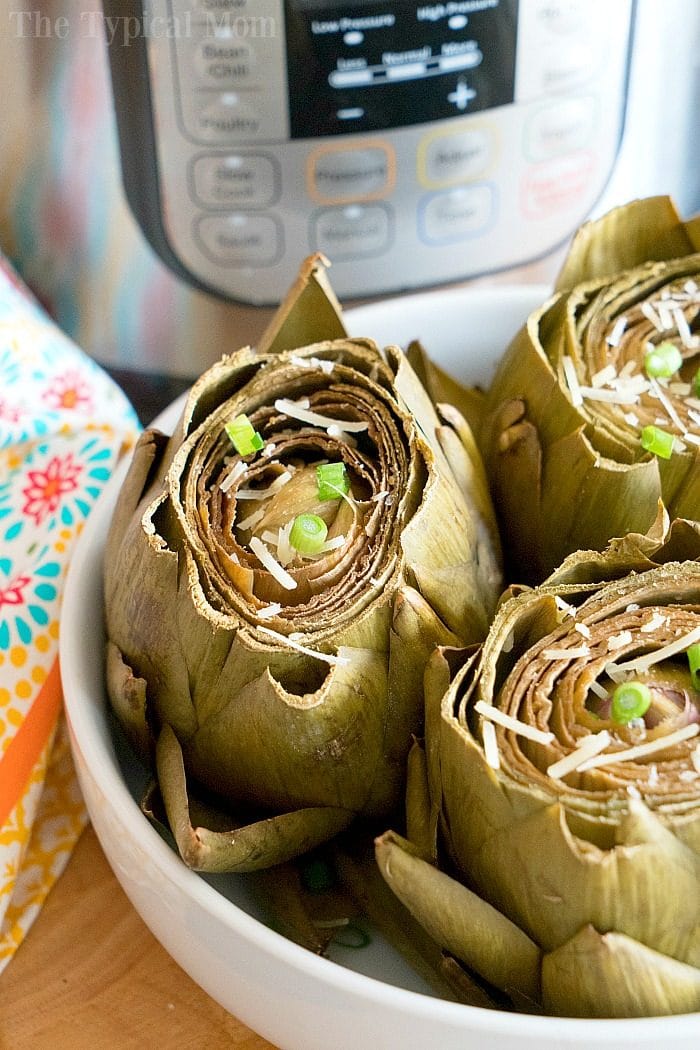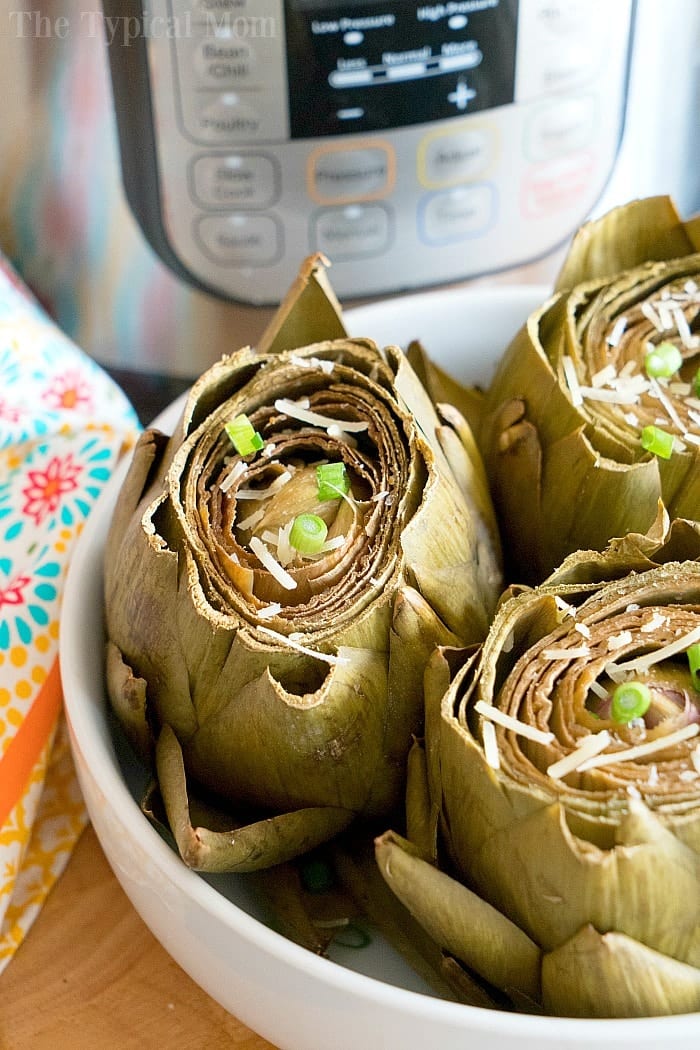 I have been on a mission to use my Instant Pot every day for a month and that hasn't been hard. I have made dinners, desserts, and now these easy Instant Pot artichokes as a healthy side dish or meal! Why? Because we love artichokes!! For sure this is definitely one of my favorite vegetable Instant Pot recipes I've made so far. I am always adding more though so bookmark that page! Special thanks goes out to Kitchen Deluxe for sponsoring this post. (originally published 12/17, affiliate links present)
Ninja Foodi Artichokes
Of course I think artichokes are great as is but with a creamy dip on the side it goes from good to totally amazing. I prefer a creamy sauce versus just melted butter for dipping. That is entirely up to you. If you're like me you've gotta try this creamy dill dip recipe I have listed below. You can make this as an easy Ninja Foodi recipe as well.
I have a Crockpot Express as well, they all work the same way. This is probably our favorite interactive vegetarian side dish. My kids would literally eat an entire one on their own instead of meat, seriously. I will too when they are in season and since they are great for you it's a win win.
FIRST – You should sign up for my free newsletter so you get new posts emailed to you twice a week and never miss out on anything! Now let's start with a few basic tips:
Make sure to Bookmark our InstaPot recipes page. We add new ones each week!
Then PRINT this —–> Instant Pot cooking times cheat sheet that will help you understand how long meat, vegetables and beans take to cook in your pressure cooker.
For reference, this is the pressure cooker I have (a 6 quart) and use for all recipe creations.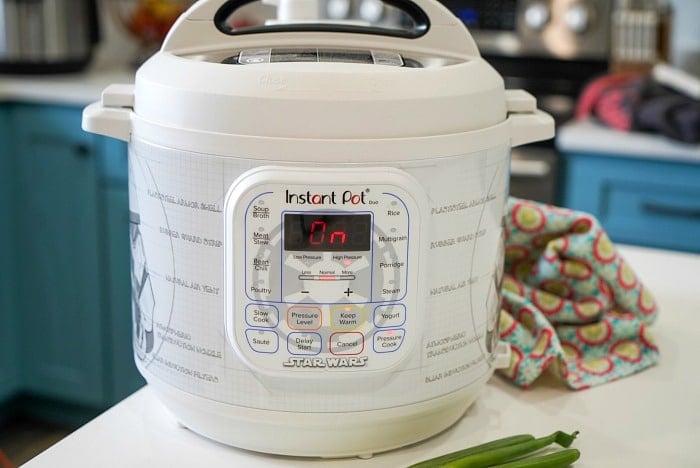 Instant Pot Artichokes Large
There aren't a lot of accessories I have and recommend but this Instant Pot steamer basket with feet like this one that also has an extendable handle. I have tried other Instant Pot vegetable steamer baskets but I like this one because of the long handle to pull it out and they have another middle hook option that's helpful so you don't burn your fingers lifting it out.
Using these Instant Pot mini mitts are really helpful too lifting anything out of your pressure cooker, they're the perfect size.
I do my best to eat healthy. The nice thing about cooking in an Instant Pot is that something like an artichoke that takes a good 30 minutes from start to finish on the stove top takes just 12 minutes (and maybe 7-8 to come to pressure). So less than 20 minutes for all 3 to be perfect!
Of course everyone has a preference as to how soft they like their artichokes but 12 minutes for a few medium (on the larger side) works well to get them just soft enough to scrape the "meat" off the leaves. I like the artichoke heart to still be a bit firm and not be mushy, this turns out great.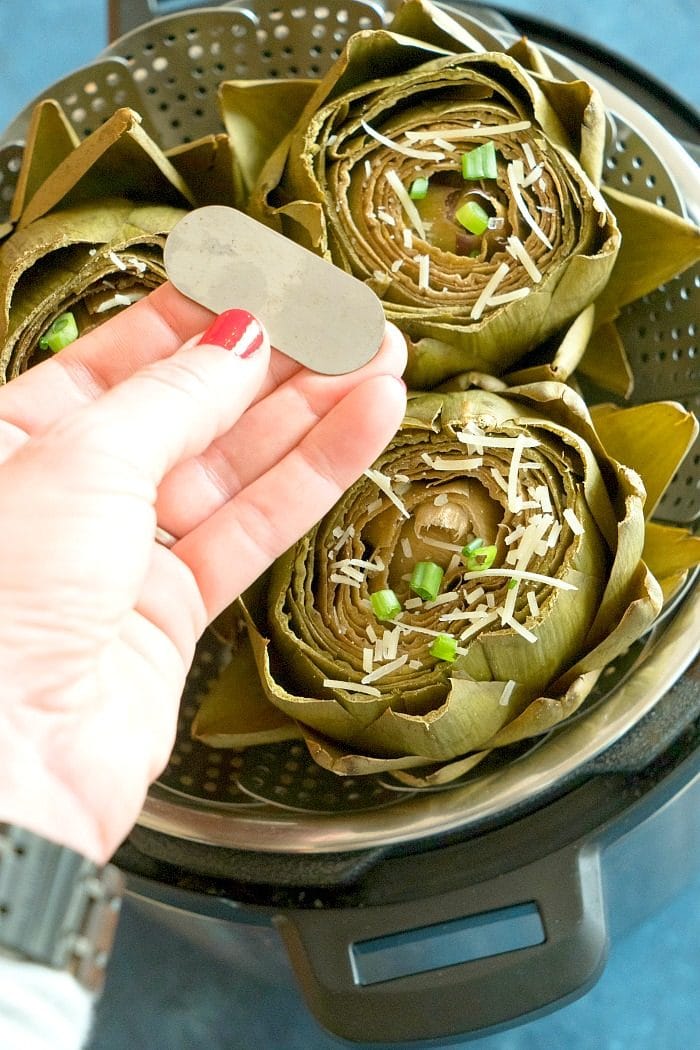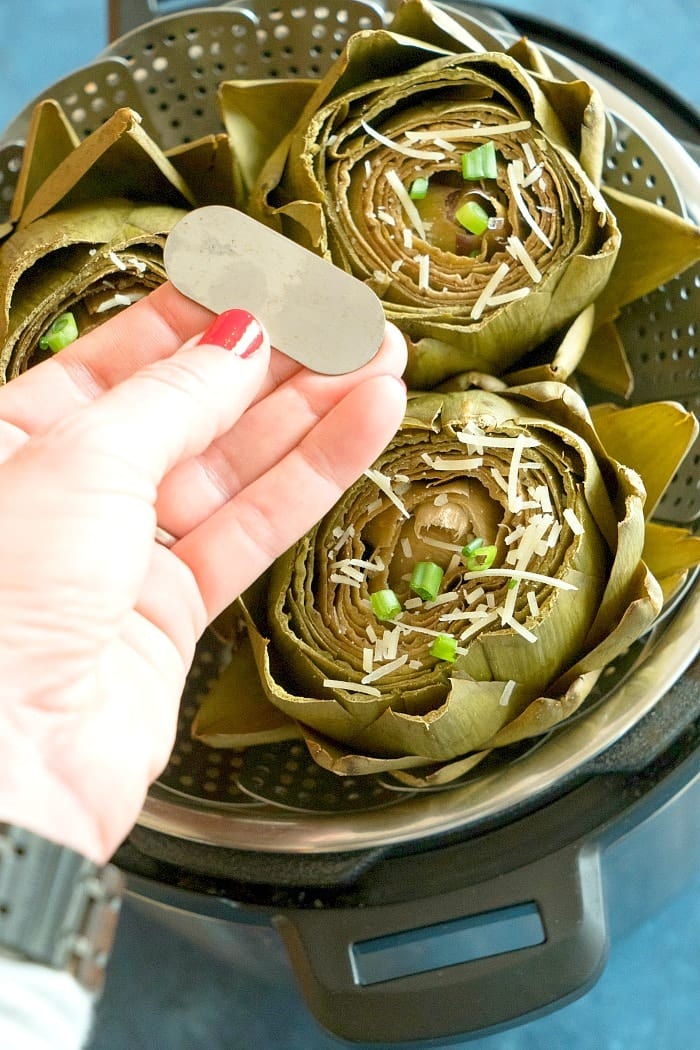 Pressure Cooker Artichokes
I would suggest medium sizes. I think really big can be harder to fit and you'll need to increase the timing by a few minutes. Also when they get too big the flavor of the meat you scrape off isn't nearly as good. Organic is best if you can find them at the store. If you like a little crisp to the edges, try our air fryer artichoke recipe too.
Can you eat artichokes everyday?
Yes! They've been shown to improve various digestive health disorders and lower blood and cholesterol levels. They've been shown to prevent heart disease as well as protect the liver from damage. So eat away!
Are canned artichokes as good for you as fresh?
They all are a good source of dietary fiver, magnesium, and minerals however canned contain more calories. They also use preserving agents which aren't as good as eating them fresh that can stay in your fridge for about two weeks. So, when you see them on sale remember to load up!!
Easy Instant Pot Artichokes
Vegetable steamer with extendable handle (makes it easier to lift out when done)
3 medium to large artichokes
Up to 1/2 cup grated parmesan cheese
Salt
Mayonnaise
Dill (I use dried in a jar but can use fresh)
Garlic (I use minced in a jar)
Sour Cream
Of course you can eat Instant Pot artichokes with lemon juice and olive oil but we love this dill dipping sauce for our artichokes.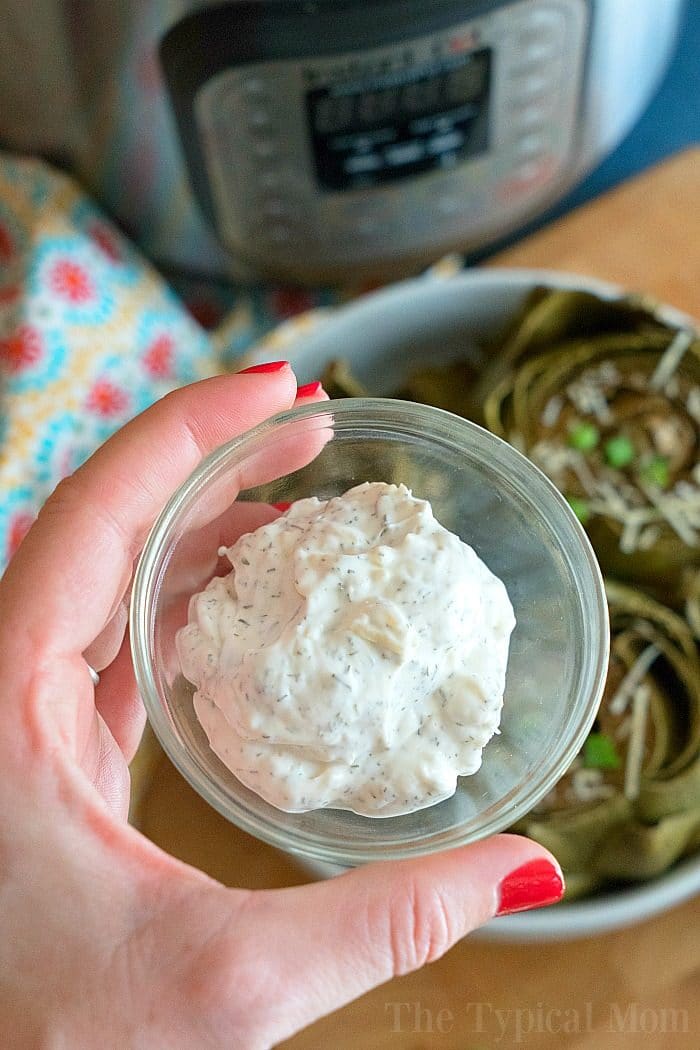 Artichokes in the Instant Pot
Personally I think this Instant Pot side dish is pretty good just sprinkled with some salt but really having a yummy dip makes them really over the top. Most of the ingredients I used for this creamy dill dip I am sure you have in your cupboard. I just stir it together and serve it on the side.
Follow our Instant Pot vegetable cooking times printable chart. It's a guide and fairly accurate depending on how soft you like your veggies
For smaller artichokes of course they will take a bit less time, larger will require a bit more
Lock the lid
I have found 12 minutes on high pressure to work well for medium / large artichokes

I suggest spreading the outer leaves a bit before pressure cooking

and cut the stem off flat

Do a quick release when IP beeps
Check to see if you'd like them more tender
If you want softer artichokes set on high pressure again for 2 minutes, then check again, etc….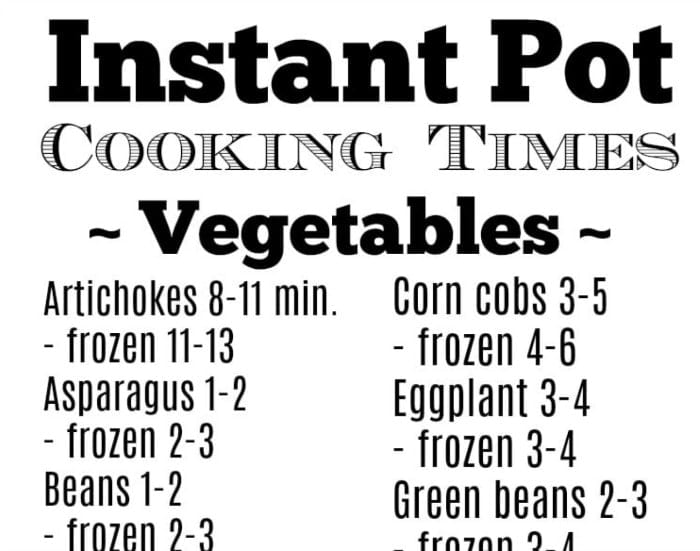 Ninja Foodi Artichoke
When the artichokes are done I serve them topped with a little more sea salt and sprinkle some parmesan on top of that. Then dip in our creamy sauce and enjoy! If you have a Foodi you can make air fryer artichoke hearts with the middles.
Want to see a few of my favorite things that I am totally obsessed with?? Take a peek and see how many you might already have…twinsies!
Looking for more easy family recipes and tips? LIKE The Typical Mom Facebook page?
Then sign up for my free newsletter, and follow me on Pinterest! 😉
***** If you LOVED this recipe give it 5 Stars below and let everyone know what you thought about it. 😉
Easy Instant Pot Artichokes
Easy Instant Pot artichokes with creamy dill dipping sauce ready in less than 15 minutes! How to steam artichokes in your pressure cooker to perfection. Our favorite vegetable for dinner and a healthy side dish too. You'll never make an artichoke another way again after this.

Instructions
Cut tops off your artichokes so pointy ends are cut off and top of artichoke is flat (as seen in top picture). Cut off stems too so they sit flat.

Pour 1 1/2 c. water inside your Instant Pot.

Open your vegetable steamer, pull down little legs on bottom of steamer, and lower down into your pot.

Put 3 artichokes in the vegetable steamer.

Open leaves just slightly and sprinkle with some salt.

Close lid and set to manual, pressure, high for 12 minutes. Close steam valve.

When done do a quick release and carefully lift lid off.

Sprinkle top of artichokes with a bit of salt and shredded parmesan cheese.

In a bowl mix all other ingredients listed above well and serve on the side as the perfect artichoke dip!
Nutrition Facts
Easy Instant Pot Artichokes
Amount Per Serving (4 oz)
Calories 245
Calories from Fat 171
% Daily Value*
Fat 19g29%
Cholesterol 29mg10%
Sodium 889mg39%
Potassium 539mg15%
Carbohydrates 15g5%
Protein 6g12%
Vitamin A 275IU6%
Vitamin C 15.6mg19%
Calcium 123mg12%
Iron 1.7mg9%
* Percent Daily Values are based on a 2000 calorie diet.