Easy boneless slow cooker pork shoulder that only needs 3 ingredients! Use either a bone in or boneless pork shoulder in your Crockpot, this one pot meal has never been easier. Toss with bbq sauce to make sliders, tacos, or serve over rice for dinner.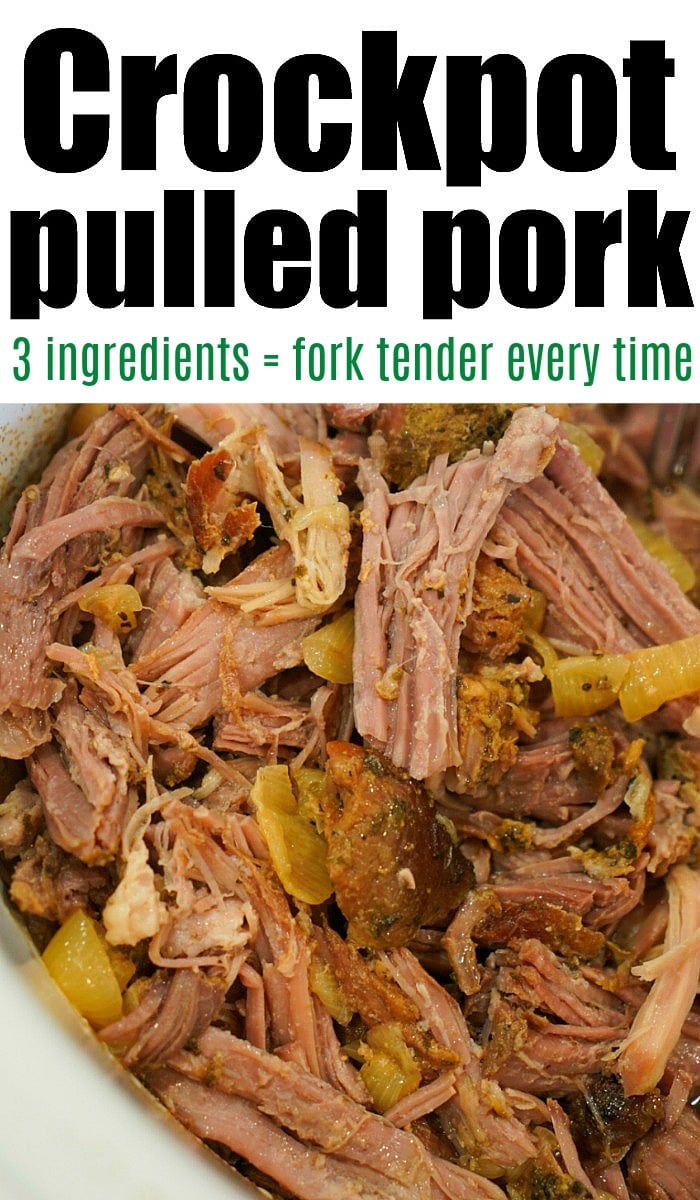 This Crockpot pulled pork recipe is the easiest yet. I wanted to share how easy it is to throw a large piece of meat with some broth into a slow cooker and have it come out perfectly. Best Crockpot recipe ever. (affiliate links present)
Slow Cooker Pork Shoulder
We have made all sorts of yummy meals like this in our pot! This and our slow cooker pork carnitas are probably our favorites. I mean this meat is great tossed with all sorts of sauces or salsa with a bit of spicy heat!
Load it up into a few pulled pork baked potatoes and it is a super cheap meal that can feed a crowd. Make all the things with this and decide for yourselves!
FIRST – You should sign up for my free newsletter so you get new posts emailed to you twice a week and never miss out on anything! Let's talk a little bit about slow cooking shall we?? First off I have a few different varieties and I love them all. Each one has an occasion to be used like….
This is my favorite 6 quart programmable one with a locking lid so it's great for bringing to a potluck too.
If you just want to serve a few appetizers you should get this one that sit side by side one another.
I prefer not to use liners, but rather just spray olive oil inside before adding my food for easier cleanups.
Let me give you a peek of my pretty thang I bought recently. It goes with my kitchen so I can just leave it out on the countertop all the time. 😉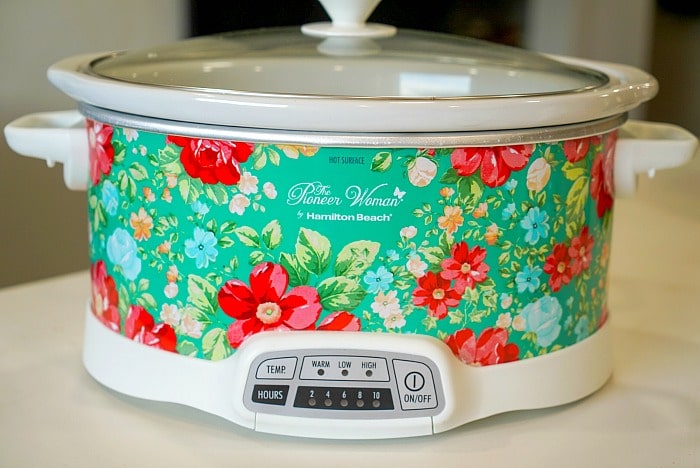 Slow Cooker Pulled Pork
You really only need 2 ingredients but I slice an onion and include that in almost every recipe I make. To make things even easier, I bought a pre-seasoned and marinated boneless pork shoulder.
If all you can find is a bone-in piece that is fine too. You can just eliminate a lot of the work and extra fat if there aren't any bones.
You can see here the one I chose.
Typically you can find a few different marinade options, this one stuck out to me because we love Instant Pot carnitas!
If this isn't an option you can leave it plain and just pour a bottle of barbecue sauce on the meat at the end. OR use our lemon pepper marinade overnight.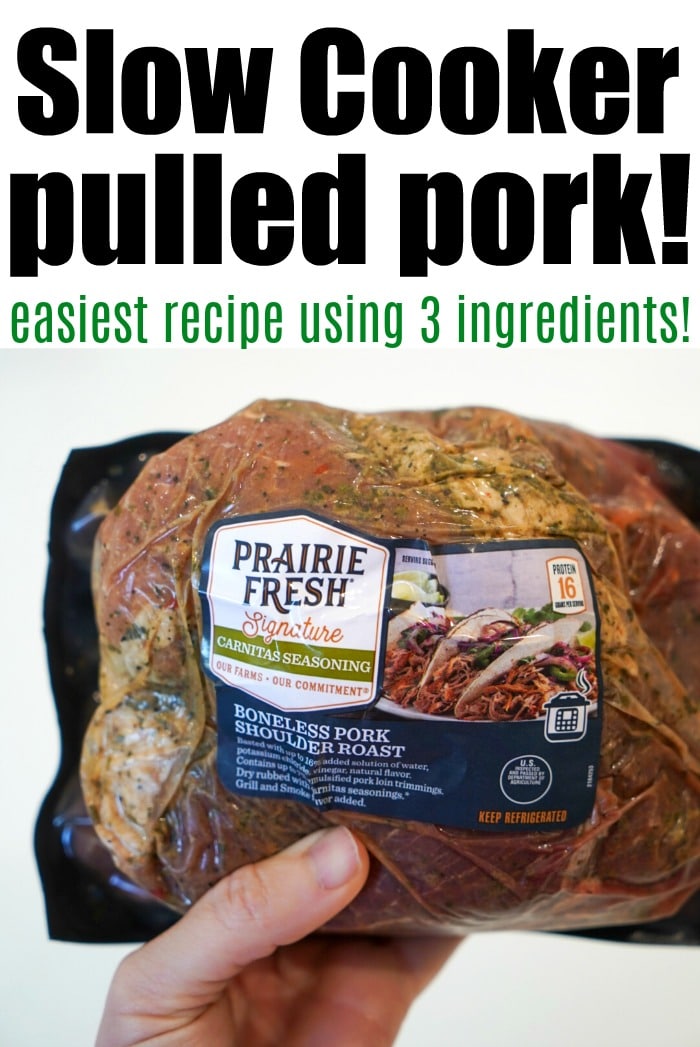 Old Fashioned Pork Roast Slow Cooker
Here are a few questions you might have before you get started:
What is the best cut of meat for pulled pork?
This, pork shoulder of course. Like I said, I prefer boneless because there seems to be less fat and it breaks down a bit easier. It isn't a lot more expensive, this piece was 3.5 lbs. already marinated for $11.

You can choose pork butt as well which is a cheaper cut but a bit more saturated fat. Pork roast would be another option.
Do you add water to pulled pork in slow cooker?
Yes, a bit. I prefer broth myself and you don't need a lot. 1/2 cup is plenty since the meat itself will exude liquid.

You do need some for cooking the pork in order to create enough steam and heat to break the meat down.
How long can I keep pulled pork in slow cooker?
Once it is done, turn it to warm. Allow people to serve themselves for up to 4 hours. After that turn it off and allow the meat to reach room temperature. Store in airtight containers in the fridge thereafter.
Boneless Pork Shoulder Pulled Pork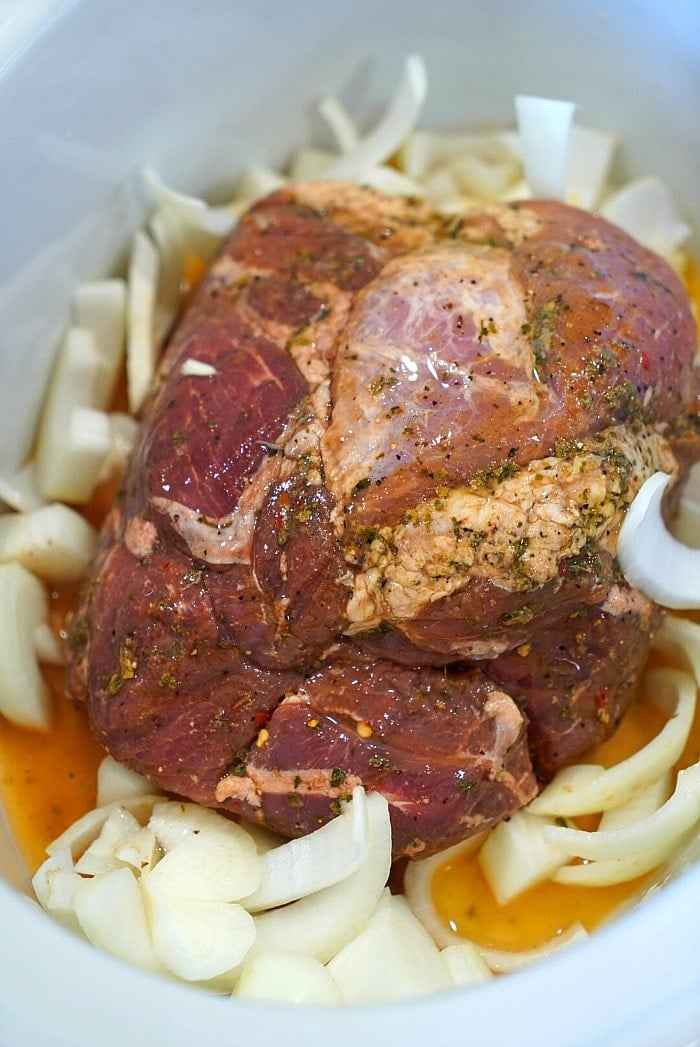 Easy Crockpot Pulled Pork
There isn't even much explaining to do when it comes to making slow cooker pork shoulder. You need a lengthy amount of time in order to really break it down so it falls apart like you like it in the restaurants.
If I am in a hurry I have made this on high which I typically don't recommend but with large cuts like this it seems to work just fine.
I really prefer low and slow but if I don't think about dinner until noon then……
Literally you just throw in the meat.
Add some onions.
Pour in some broth and cook all day, done!!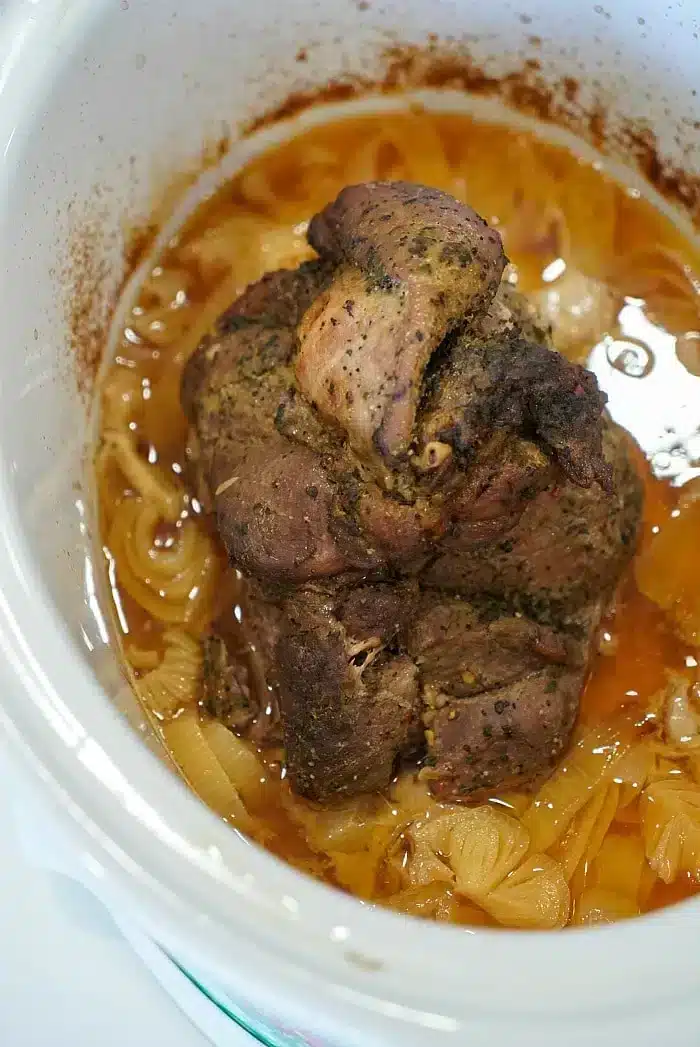 Can you slow cook pulled pork too long?
If the meat is left whole, it is hard to do. Once you shred it with forks though and leave it in the broth to stay moist it can get mushy if standing too long. I serve it and don't like it sitting in the pot much longer than an hour or so.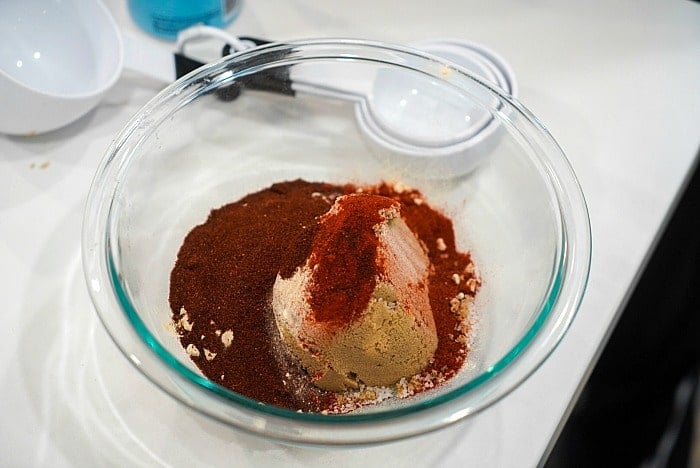 Crockpot pork shoulder
If you want to marinate, do so the night before. Store in a freezer bag without any air in the fridge. Alternatively, cook it plain and just pour a jar of bbq sauce on meat at the end on the shredded meat.
If you'd rather use our sweet and savory brown sugar dry rub recipe you can liberally coat the outside right before.
If you want a more intense flavor, coat the night before and store in a freezer bag in the fridge
Place bone in or boneless pork shoulder in slow cooker with onions surrounding it. Pour broth on top and close lid.
Cook on high for 5 hours cooking time (for 3.5 lbs.) or low for 8 hours or until meat is fork tender and shreds apart easily with just 2 forks.
After it's been covered and cooked to the point where it's fork tender fall apart, then: serve shredded pork out of your Crock pot on slider buns as a fun appetizer or dinner. Alternatively we sometimes just serve it with Instant Pot white rice and mashed potatoes.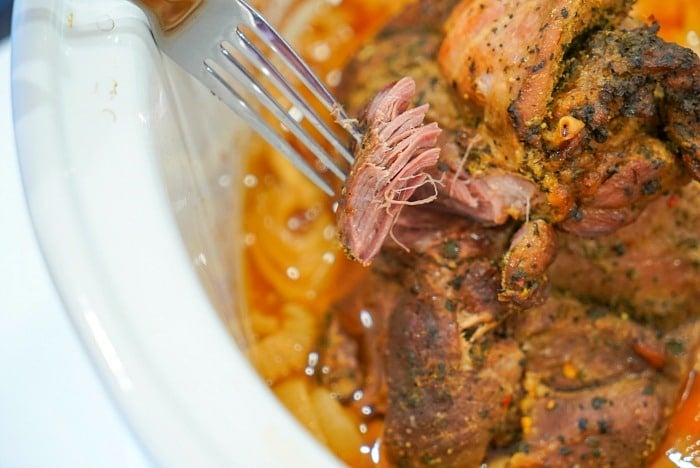 Pork Recipes in Slow Cooker
If you're looking for more easy pork recipes to try, we have a bunch more like slow cooker ranch pork chops and more on The Typical Mom blog!
For a quicker option you can follow our Instant Pot pork shoulder recipe or Ninja Foodi pulled pork using a tenderloin.
Recently we use the dry rub I spoke about above on our Traeger pulled pork and it came out amazing! Intermittently throughout you'll need to spray or drizzle a bit of apple cider vinegar on it to keep it most.

For any of these you can always just keep it simple too.
If you prefer just salt and pepper on top then go with that!
Use the flavors you love and prefer, these are just suggestions when it comes to seasonings.
Love balsamic vinegar? Try this other Crockpot pork tenderloin or beef arm roast recipe and see which is your fave. For the best baked pork chops, follow this recipe that people just rave about!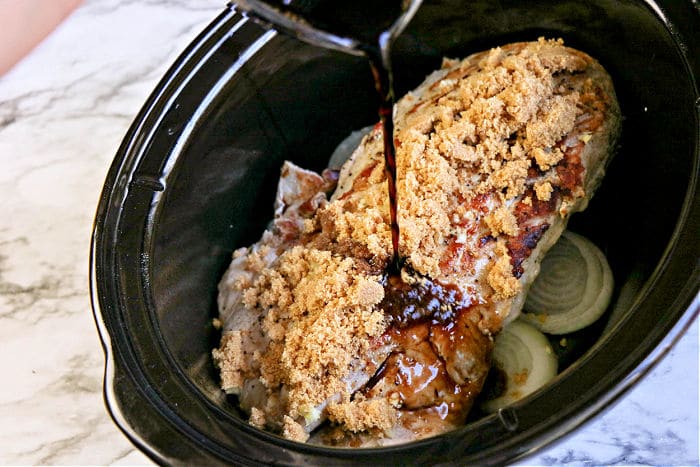 How long does leftover pork last?
As long as you store it in bags or containers with the air eliminated it is safer to consume up to 4 days after cooled. Add it into a casserole, toss and warm with bbq sauce over rice or on dinner rolls for a quick meal.
Can you reheat cooked pork?
Of course, but you need to be careful so you don't dry it out. Take out as much as you want and toss it with some sauce, like barbecue. Once coated it should stay moist heating it on the stovetop or microwave in 30 sec. intervals.
Want to see a few of my favorite things that I am totally obsessed with?? Take a peek and see how many you might already have…twinsies!
Looking for more easy family recipes and tips? LIKE The Typical Mom Facebook page?
Then sign up for my free newsletter, and follow me on Pinterest! 😉
***** If you LOVED this recipe give it 5 Stars below and let everyone know what you thought about it. 😉
Slow Cooker Pork Shoulder
Easy pulled pork slow cooker recipe that only needs 3 ingredients! Tender boneless pork shoulder in your Crockpot has never been easier.
Ingredients
Instructions
Place boneless pork shoulder in slow cooker with onions surrounding it. If you choose to add our dry rub, mix ingredients and rub over the entire thing before placing in pot.

Pour broth on top and close lid.

Cook on high for 5 hours (for 3.5 lbs.) or low for 8 hours or until meat is fork tender and shreds apart easily with just 2 forks.
Nutrition Facts
Slow Cooker Pork Shoulder
Amount Per Serving (2 oz)
Calories 431
Calories from Fat 900
% Daily Value*
Fat 100g154%
Cholesterol 455mg152%
Sodium 356mg15%
Potassium 1784mg51%
Carbohydrates 2g1%
Protein 122g244%
Vitamin A 37IU1%
Vitamin C 5mg6%
Calcium 152mg15%
Iron 8mg44%
* Percent Daily Values are based on a 2000 calorie diet.