If you're a busy mom who needs a quick meal to make when you're running errands all day, this slow cooker ham and beans recipe gets a thumbs up from us all.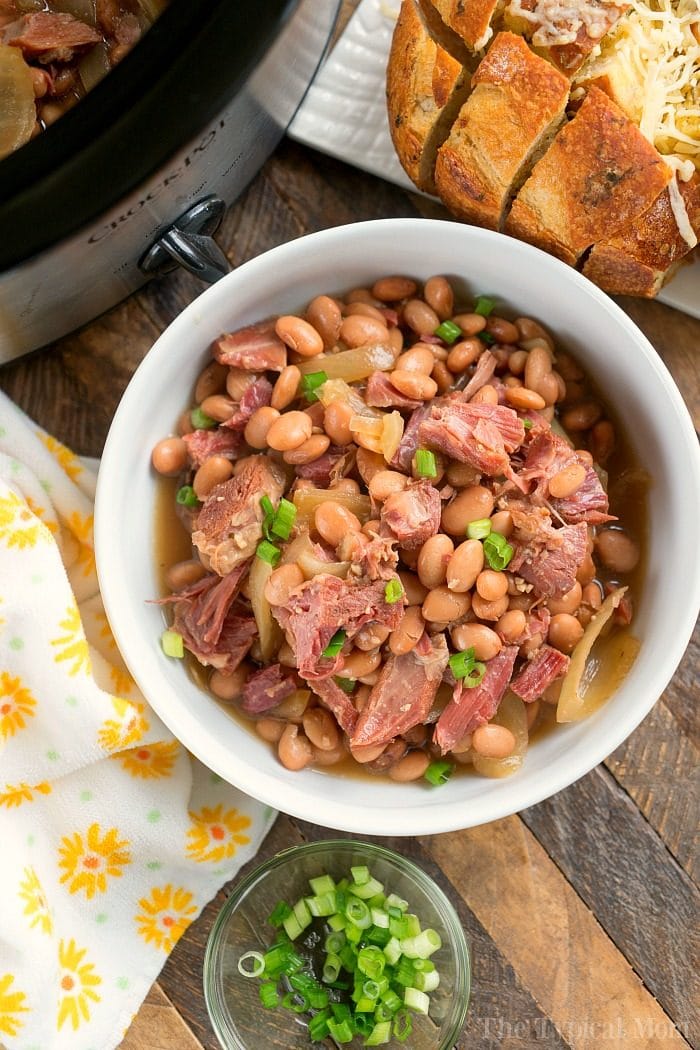 We'd all love to have family meals each day. Sometimes that means we need a dinner that cooks by itself all day. That is where this slow cooker ham and beans recipe comes into play. It's one of our favorite crockpot recipes. Sponsored by Michelin. (originally published 11/18, affiliate links present)
Ham Hock and Beans
This. Is. Me.
I have three girls who are all in school. Did I mention, THREE different schools?? One does drive herself luckily, and I work full time from home.
Crockpot Ham and Beans
This year brought about a few new adventures. We moved 1,000 miles away AND my oldest daughter got her driver's license!
Both bring excitement and a bit of anxiety as our focus went to the cars we were driving. Especially the safety of all of them now that we live in an area with snow.
Let's talk a little bit about slow cooking shall we?? First off I have a few different varieties and I love them all. Each one has an occasion to be used like….
This is my favorite 6 quart programmable one with a locking lid so it's great for bringing to a potluck too.
If you just want to serve a few appetizers you should get this one that sit side by side one another.
I prefer not to use liners, but rather just spray olive oil inside before adding my food for easier cleanups.
Let me give you a peek of my pretty thang I bought recently. It goes with my kitchen so I can just leave it out on the countertop all the time. 😉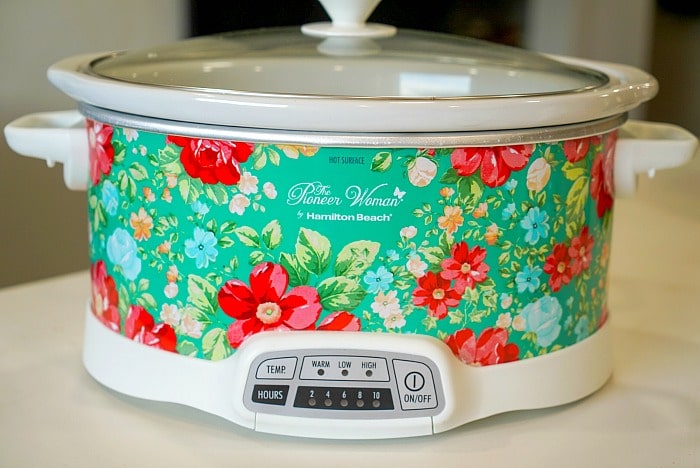 Here's where we started:
We created a road trip checklist to remind us of what we needed to double check before we left.
I created a teen driving contract so we were all on the same page about safety.
I've learned how to check the health of my tires to make sure they still had adequate tread

Did you know your tires are what actually stops your car. Therefore they're one of the most important elements when it comes to car safety.
Have you ever slid when you slammed on your brakes? That would be a good sign that you need new tires.
Did you know that not all used tires are the same? Some tires a few years old out perform others that are brand new! Quality matters when it comes to choosing tires.
I learned all too well the difference in new vs. tires that were a few years old when I was on the Michelin test track a while back.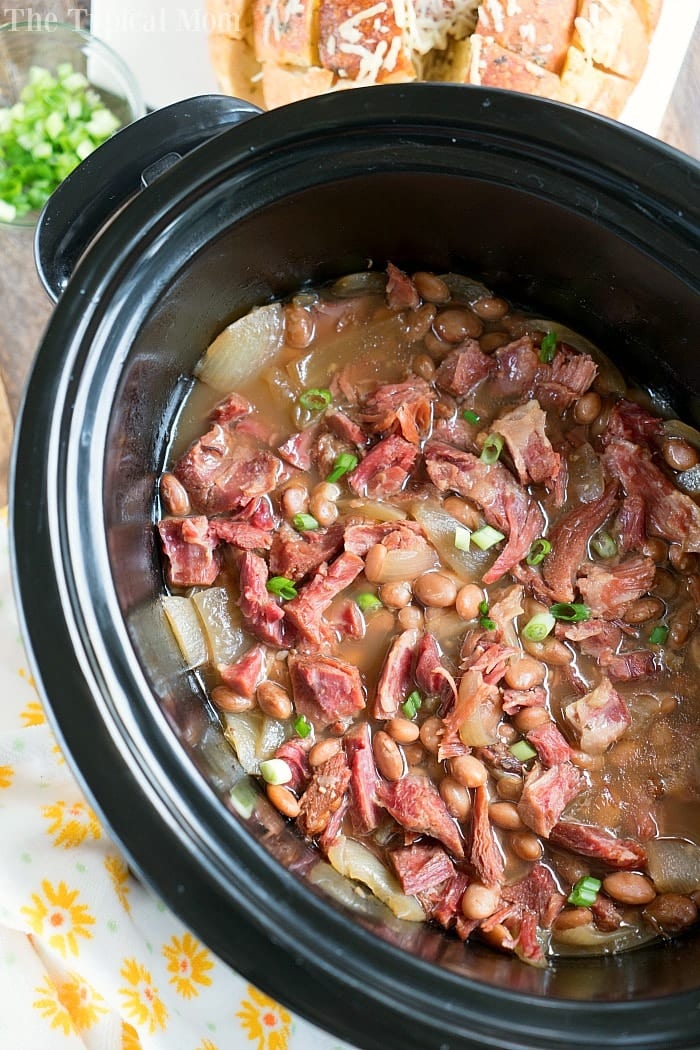 Slow Cooker Recipe for Pinto Beans
I will admit, I am a paranoid mom. To prepare my 17 year old with the responsibility of driving a car on her own I wanted her to be over prepared.
My message. Slow down for a moment, stop, take the time to focus on your family and safety today. Not just today, but on a regular basis and involve your children in the process.
What do we do with our leftover ham though? THIS is a go to for that, I hate to waste food. Often we'll throw it into an easy Crockpot soup like this one. Inside our mayocoba beans recipe is great too.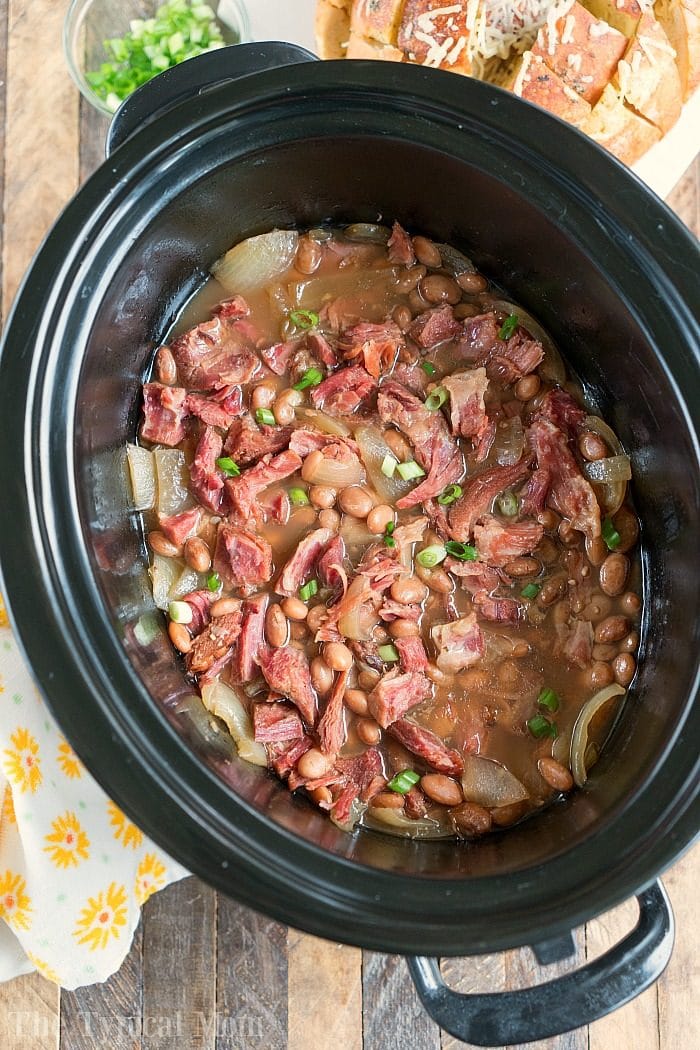 When I married my husband we talked about making dinner together a priority. I will admit at the beginning when we had 3 girls with 2 under the age of 2. I was overwhelmed and it didn't happen often.
The older they got the easier it became. But the running around on a daily basis didn't end.
I needed to find a way to cook a healthy delicious meal when I was gone all day long. That is when I really started creating slow cooker recipes!
It. Was. A. Lifesaver!!
It made it possible for me to prepare the ingredients, throw everything in, turn it on in the morning. Then I would know when everyone was done with their homework we could just serve it up.
I needed that, we needed that, and I felt the difference the more often we had family dinner nights together.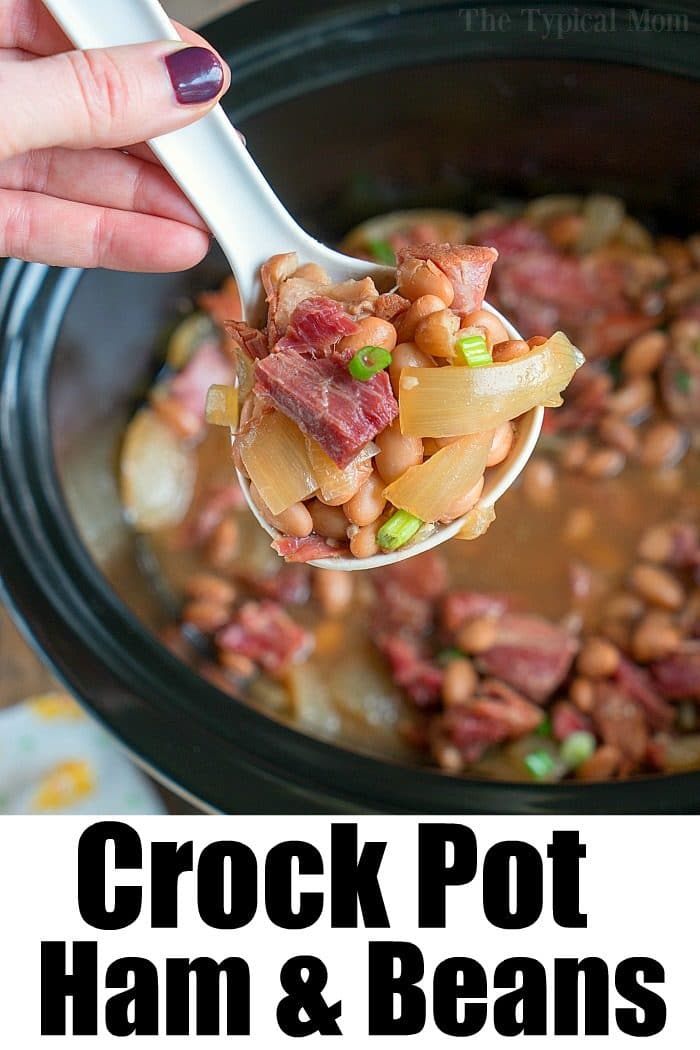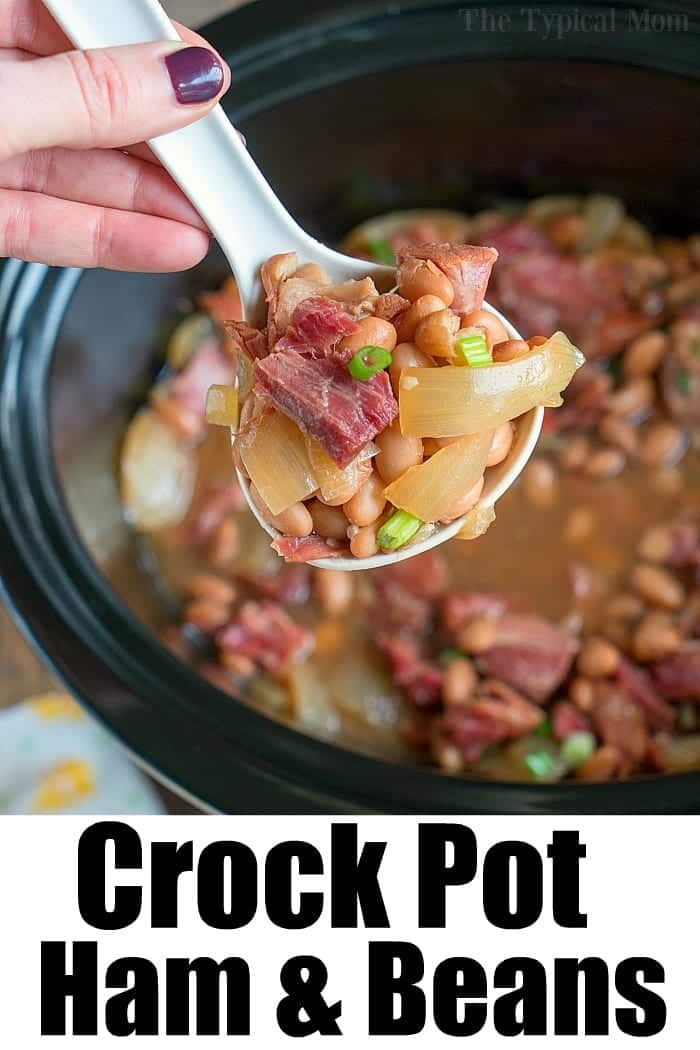 Over the years dinners together would slip to the back of my mind and I have to be honest, we all felt the difference. Even my daughters would remind me that "we need to eat dinner together more often" and get me into gear again. It really bonded us and really was an easy thing to do when I keep it in mind.
Now that my oldest is almost out of the house and ready to start college next year I have tried to do it as often as possible.
If family dinners are important to you too but you aren't sure how to get started, try this easy Crock pot ham and beans recipe.
Aim for once a week and build from there. Go around the table and have everyone share their high and low for the day….that always gets the conversation started.
Another way we created a closer family bond was to go on road trips together! To get started with this just find somewhere about an hour away from your home that everyone would enjoy.
Always start with checking the maintenance of your car and tires.
The health of your tires needs to be your top priority (see more about Michelin and tire safety on their website here).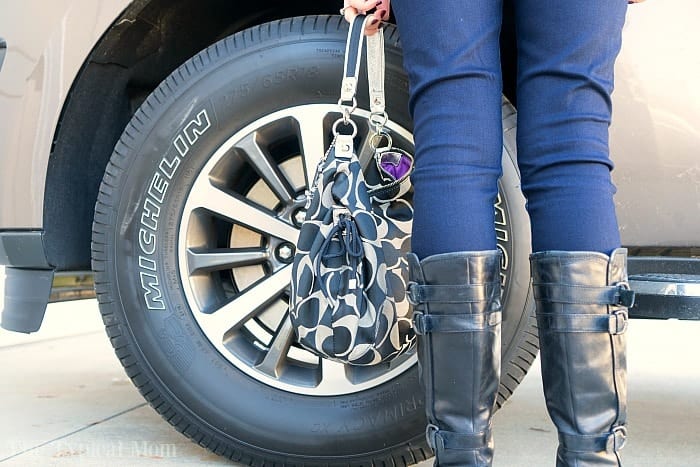 What I am saying with all of this is as busy moms we need to put stopping (literally and figuratively) on our "list of to dos". It's a necessity and you won't regret it.
Slow cooker ham and beans
Ham bone – ham hocks, or use leftover diced ham after the holidays
Bag of beans

dried beans, pinto beans found at local grocery store
rinsed beans

Broth – I used beef broth
Onion

carrots and celery could be added too
cut into large chunks

Seasonings
Bay leaf is optional
And if you're having a really busy day we also have instructions to make Instant Pot ham and beans here as well. Both are winners.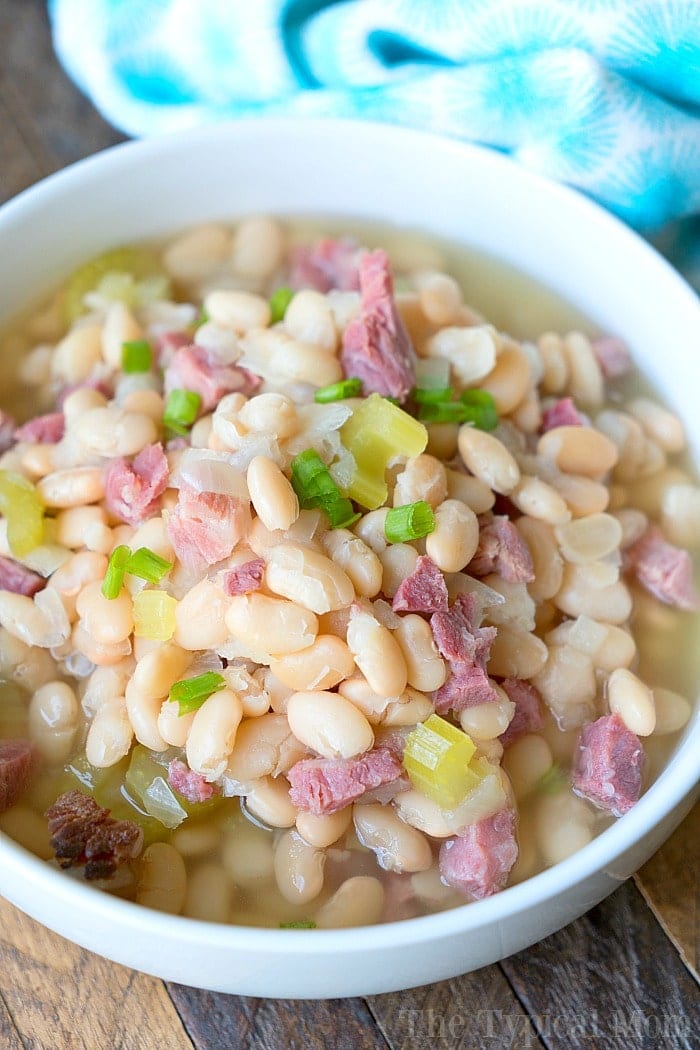 You could easily transform this into a slow cooker ham and bean soup recipe too.
You'd just want to add more broth to make it "soupier"
This too is the ultimate comfort food with an all day cook time.
Want to make this quicker? Use canned beans if you'd like and cook on high for just a few hours!
I personally like using dry beans to adjust with a seasoning packet or the right amount salt for us. It is another choice though.
In this post is a video showing you how to make this easy recipe with leftover ham.
Want to see a few of my favorite things that I am totally obsessed with?? Take a peek and see how many you might already have…twinsies!
Looking for more easy family recipes and tips? LIKE The Typical Mom Facebook page?
Then sign up for my free newsletter, and follow me on Pinterest! 😉
***** If you LOVED this recipe give it 5 Stars below and let everyone know what you thought about it. 😉
Slow Cooker Ham and Beans
If you're a busy mom who needs a quick meal to make when you're running errands all day, this slow cooker ham and beans recipe gets a thumbs up from us all.
Instructions
If using dry beans put them in a bowl with 4 cups of water and leave them overnight to soak. (can use drained canned beans but I think dry turns out better)

Slice or dice your onion.

Put your ham hock in the center of your slow cooker. Drain your soaked beans and pour those around your ham hock.

Separate pieces of cut onion and sprinkle around ham hock on top of beans.

Sprinkle minced garlic and seasonings around, on top of onions. Then pour your broth into your crockpot and close your lid.

Set on low for 6 – 8 hours for dry soaked beans (until they're tender) or 2-3 hours for drained canned beans (depending on how soft you want them).

After 6 hours (7 if you want beans softer), remove bones from ham hock and shred ham in pot (it will fall apart when you use tongs on it.
Nutrition Facts
Slow Cooker Ham and Beans
Amount Per Serving (3 oz)
Calories 127
Calories from Fat 36
% Daily Value*
Fat 4g6%
Cholesterol 17mg6%
Sodium 785mg34%
Potassium 259mg7%
Carbohydrates 14g5%
Protein 8g16%
Vitamin A 280IU6%
Vitamin C 1.3mg2%
Calcium 29mg3%
Iron 1.3mg7%
* Percent Daily Values are based on a 2000 calorie diet.