Crockpot recipes with leftover ham are great to make after the holidays. Make a second meal with pinto beans, soup or a casserole next day.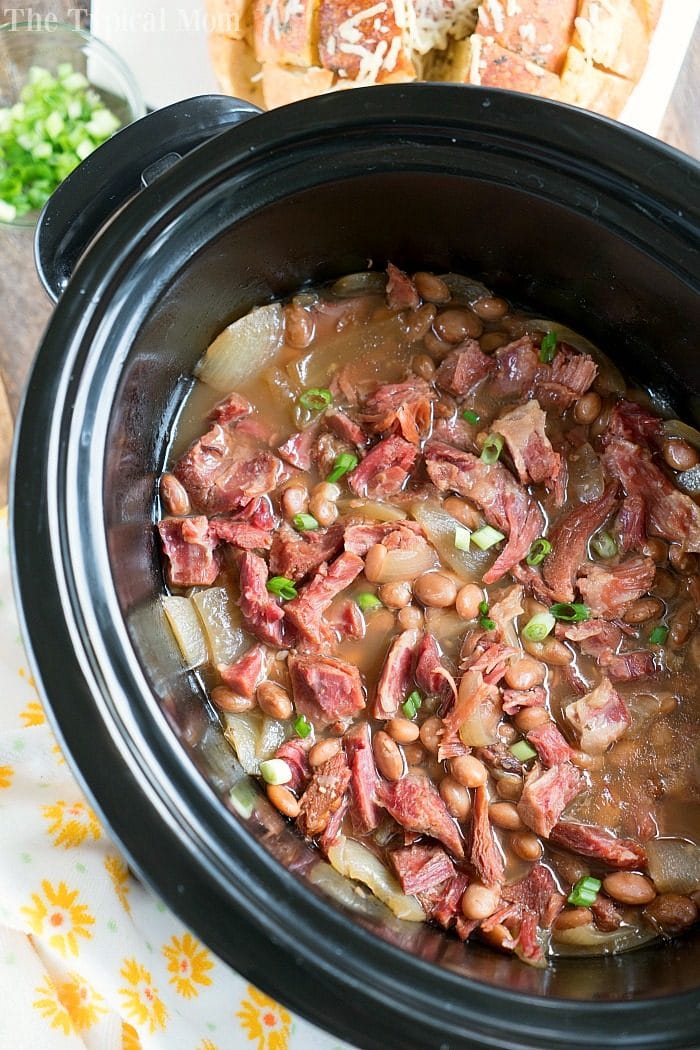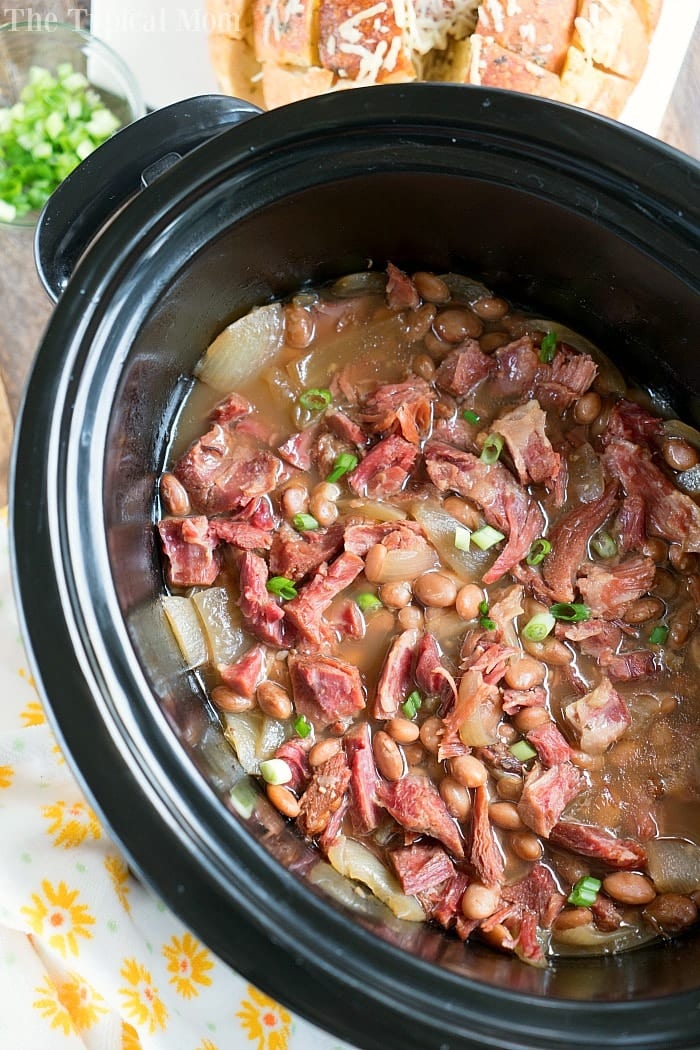 I hate to waste food, that is when these Crockpot recipes with leftover ham come in handy. When you are sick and tired of ham sandwiches we have a load of leftover ham recipes for you to choose from here. All made in your slow cooker it gets your meat tender again and adds tons of flavor to your dish. (affiliate links present)
Slow Cooker Leftover Ham Recipe
We have added something new each and every year because yes, we cook ham in Ninja Foodi or in our Crock every year. It's so much better than turkey to the 5 of us and since we don't have a lot of family close by we can cook whatever we want really.
Not only do we enjoy this cut of pork the day of at Easter or Christmas but I can use it the rest of the week repurposed. The day after we always make these ham and cheese hand pies. No those aren't made in this pot but are a must from everyone in our house so we had to share.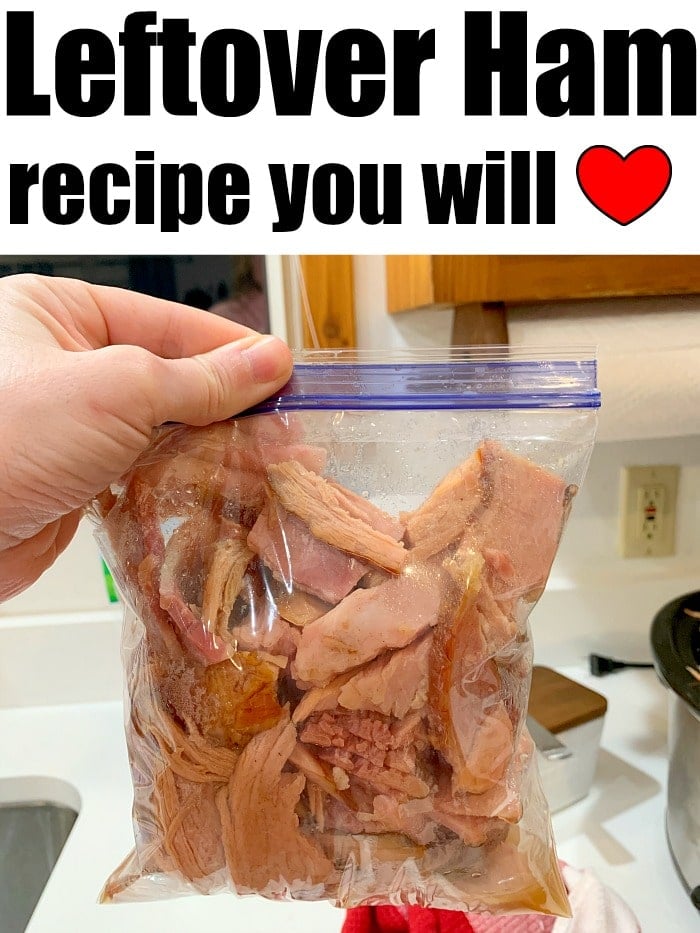 How to Save Leftover Ham
Ok so first off you need to store it correctly so it doesn't dry out and can be used for several days after the initial day. I like to use freezer bags like you see here. You can suck all of the air out unlike a container. If I made a glaze I'll drizzle a bit over the meat to coat just a bit and keep it moist, and then store this way.
Keep the slices whole until you're ready to use them too. Larger pieces won't dry out as quickly. Take out what you want to use that day and dice up with a sharp knife on a cutting board. Then throw it into one you want to make like our green beans with ham and potatoes or another.
Another favorite one each year is to make slow cooker potato soup with frozen hashbrowns. Dice up about 1 cup to add a bit of salt and smoky flavor to the overall dish.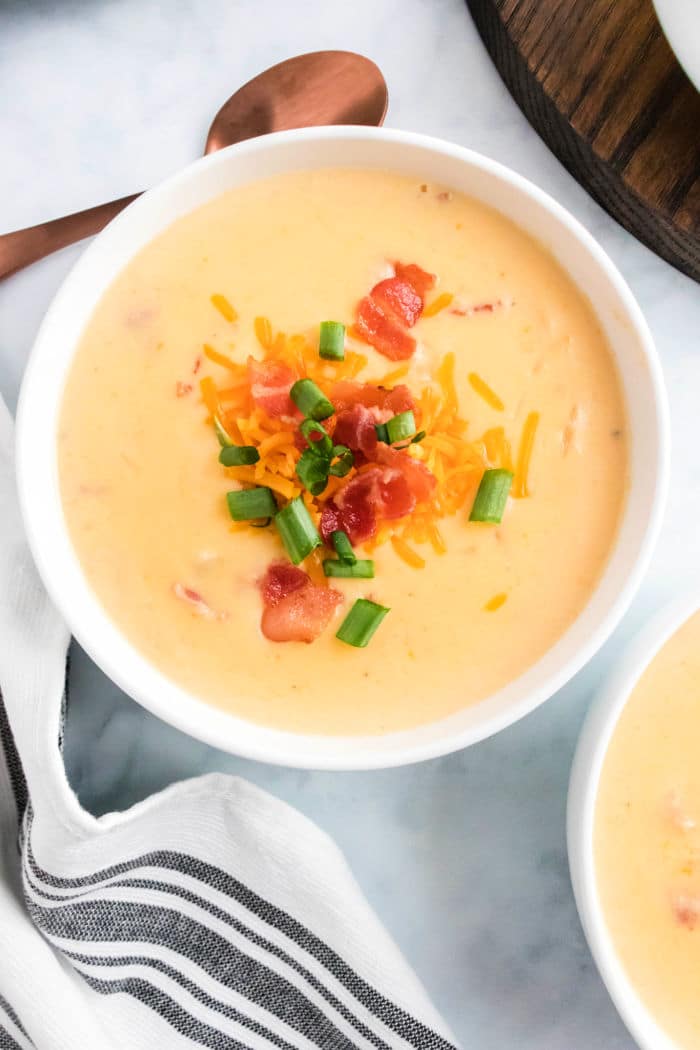 Leftover Ham in Crockpot
Basically if you find something you like with bacon, you could substitute a few slices of your leftovers instead. Just dice it fine so all of that wonderful flavor seeps out and into your leftover ham soup or casserole. Potatoes are usually the typical vegetable you would pair with this, but there are others.
What you see above at the top is our slow cooker ham and beans recipe. It's a hearty choice that starts with dry beans but at the end of the day they get nice and tender. Way better than what you would buy at the store in a can.
A healthy and old school choice would be a big ol' bowl of Crockpot split pea soup. We love this. It's a really cheap choice that will remind you of your childhood. Add cheese, sour cream and chives to the top if you really want to amp it up. Lots of vegetables can be sliced and included inside too if you like.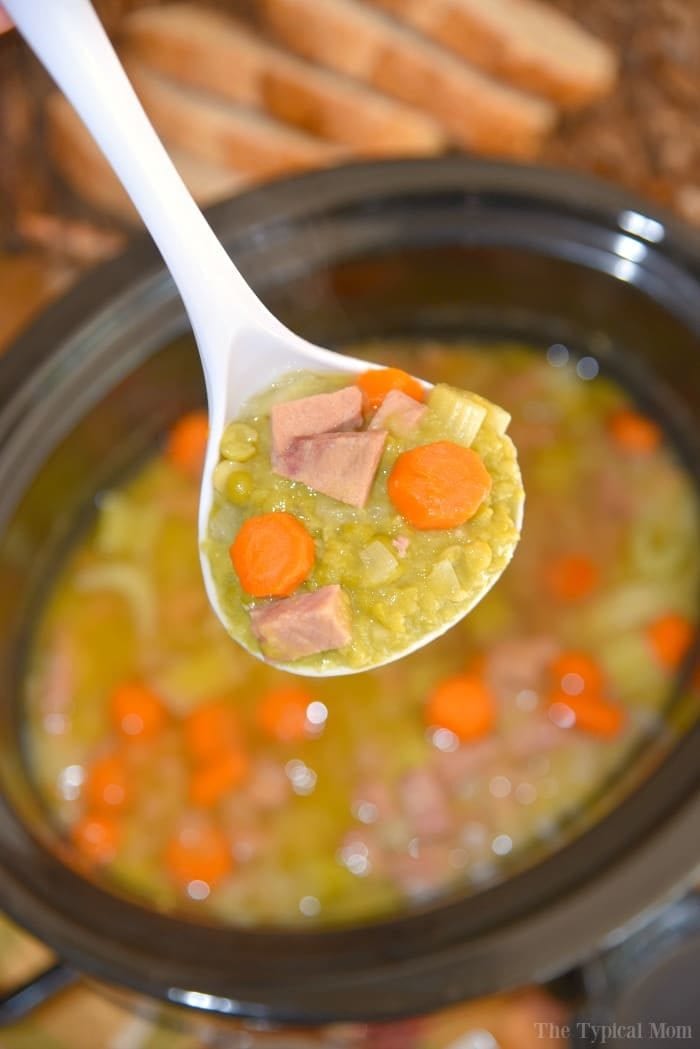 Ham Crockpot Recipes
You shouldn't throw away the bone either though. This is how to cook ham hocks into a cheesy ham dish which means yet another dish like cabbage and ham.
Pressure cooker soups and Slow cooker soup recipes are where it's at though I think. Just throw everything in your Instant Pot and an entire meal can be done and ready in under 20 minutes most times. You can transition a side dish into a main meal by adding your diced up Crock pot ham.
Let's keep going with this slow cooker ham and potato soup or you could leave it thicker if you preferred. Same cook time but at the end you would add more broth to thin it out. Either way it is super easy for slow cooking diced up ham steaks or day old meat from the holidays.
Now similar, but more for the morning we love this cheesy hashbrown potatoes crock pot recipe. This is the cheater way basically to make potatoes and ham together. That way you don't have to peel, slice or shred them yourself. Just buy a ready made bag at the store and throw those right in there.
What to cook with leftover ham
This year we tried lentil soup with ham. A new "bean" to us I had some at a local Indian restaurant and thought it was so delicious. Came home and worked with them a bit to do the same. You can cook them low and slow or in an IP as well to make a faster meal. An otherwise bland dish, the meat really gives it a killer flavor.
Now how about breakfast for dinner, the kids always get a kick out of that in our house. The oldest recipe on our site still works well to this day. Made often as a Christmas brunch item you can throw in a few different meats, onions, and of course eggs into our slow cooker breakfast casserole.
For a faster version we have made this same thing into a Ninja Foodi breakfast as well. The biggest difference between the two would be that the top is browned on the second because of the air fryer feature. I would not slow cook in that pot though. It does have that setting but it does NOT work well at all, skip that.
Slow Cooker Pinto Beans and Ham
So this year I tried something new. My daughter just got her wisdom teeth out the day after Easter so I couldn't go anywhere to buy ingredients. Into the pantry I went to try to figure out what to make with my leftovers. Found a container of dry pinto beans and thought "that will have to work".
Into the fridge I went to find an onion and minced up air fryer garlic I had made earlier. Grabbed a container of broth and added in a few seasonings. Done! You can see it all thrown into the pot here: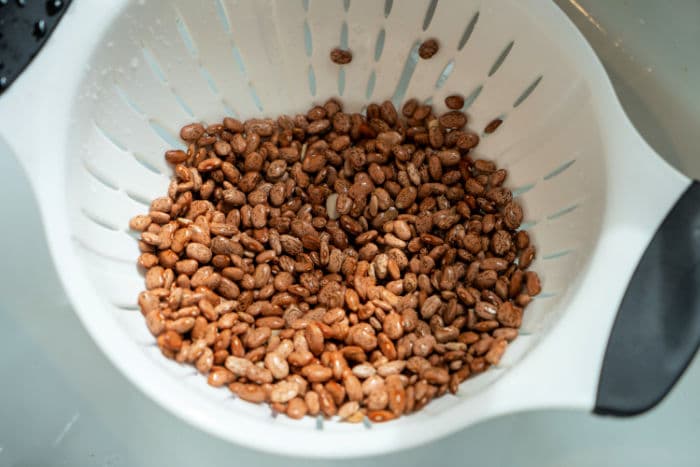 Crockpot Pinto Beans and Ham
I just diced half an onion that was left over, the ham into small bits and I thought chili powder and paprika would do as far as spices go. You want to go light on the salt and pepper because the meat will have a fair amount of sodium in it already. You can always add a pinch of that when it is served, but you can't take it away.
Dice up your garlic, meat and onions. Throw those into the pot.
Pour dry beans into a colander and rinse, rinse, rinse again
Add those in and then pour in your liquid

I always prefer broth over water but that is your choice, either way

Add some seasonings
Then lock your lid and cook on high for 4 hours or on low heat for 8 or so hours until beans are tender. If you want more of a pinto bean soup of sorts just add more liquid at the end.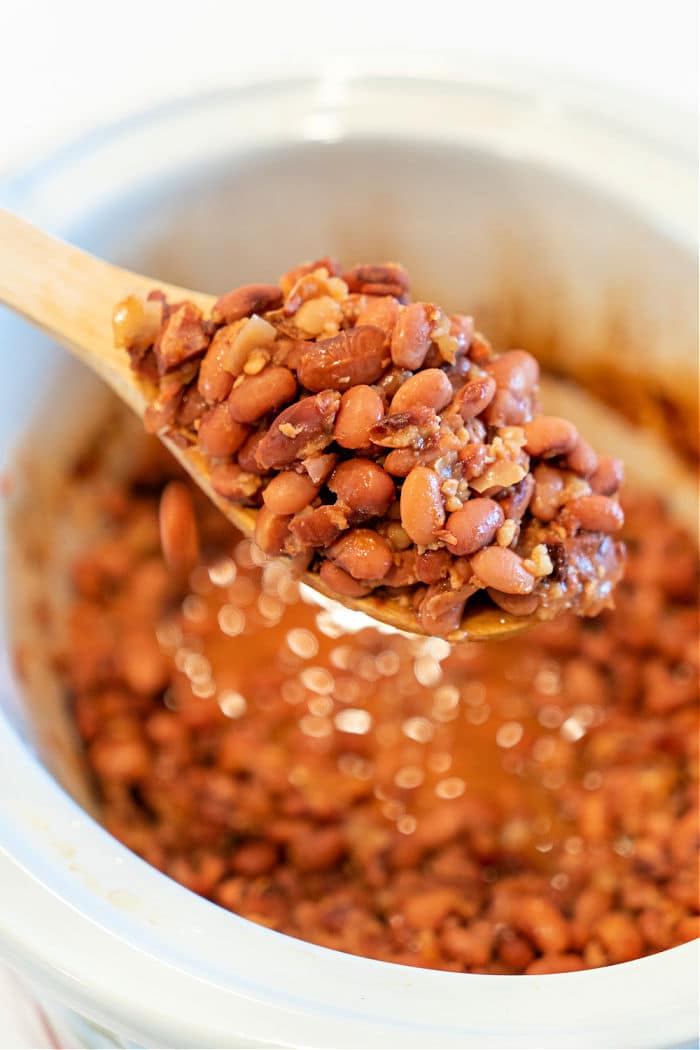 Want to see a few of my favorite things that I am totally obsessed with?? Take a peek and see how many you might already have…twinsies!
Looking for more easy family recipes and tips? LIKE The Typical Mom Facebook page?
Then sign up for my free newsletter, and follow me on Pinterest! 😉
***** If you LOVED this recipe give it 5 Stars below and let everyone know what you thought about it. 😉
Crockpot Leftover Ham Recipes
Crockpot recipes with leftover ham are great to make after the holidays. Make a second meal with pinto beans, soup or a casserole next day.
Instructions
Add everything into the slow cooker. Stir together.

Seal lid and cook on high for 6-7 hours or until beans are as tender as you'd like.
Nutrition Facts
Crockpot Leftover Ham Recipes
Amount Per Serving (2 oz)
Calories 158
Calories from Fat 36
% Daily Value*
Fat 4g6%
Cholesterol 14mg5%
Sodium 1656mg72%
Potassium 391mg11%
Carbohydrates 20g7%
Protein 11g22%
Vitamin A 924IU18%
Vitamin C 3mg4%
Calcium 40mg4%
Iron 2mg11%
* Percent Daily Values are based on a 2000 calorie diet.