Easy Crockpot ham and potatoes recipe that is creamy and delicious as a side dish or dinner. Best leftover ham recipe in slow cooker ever.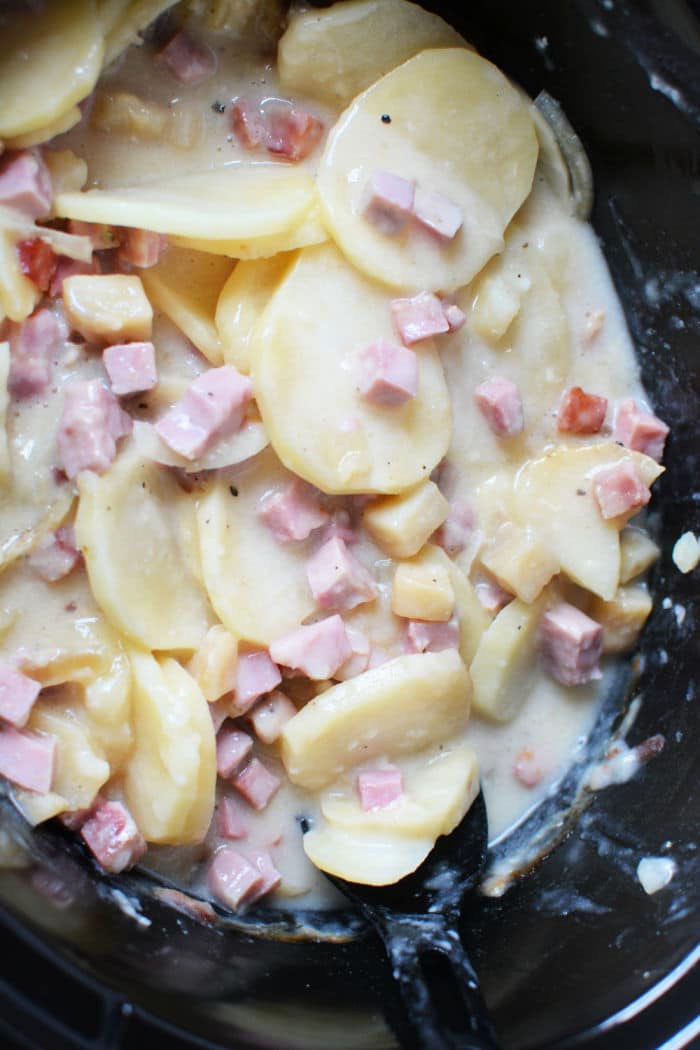 I have made Crockpot ham and potatoes year round but by far it is the best leftover ham slow cooker recipe we've ever thrown together. You know you always have a bag left and you get tired of sandwiches real quick. Try this easy Crockpot recipe this Fall and let us know what you think. (post may contain affiliate links)
Leftover Ham Crockpot Recipe
Yes you can buy a bag of already diced up meat at the store and make this in February too. Either way it is a super easy cheap Crockpot meal even your kids will go crazy over. Hosting Christmas brunch this year? This makes a fantastic side dish or main one pot meal.
7 ingredients is all you need. Need it to be dairy free? NO problem, just leave out the cheese. We are huge cheesy ooey gooey lovers around here so we pack that in ours but that's optional of course.
Let's take a peek at how simple this is to throw together.
FIRST – You should sign up for my free newsletter so you get new posts emailed to you twice a week and never miss out on anything! Let's talk a little bit about slow cooking shall we?? First off I have a few different varieties and I love them all. Each one has an occasion to be used like….
This is my favorite 6 quart programmable one with a locking lid so it's great for bringing to a potluck too.
If you just want to serve a few appetizers you should get this one that sit side by side one another.
I prefer not to use liners, but rather just spray olive oil inside before adding my food for easier cleanups.
Let me give you a peek of my pretty thang I bought recently. It goes with my kitchen so I can just leave it out on the countertop all the time. 😉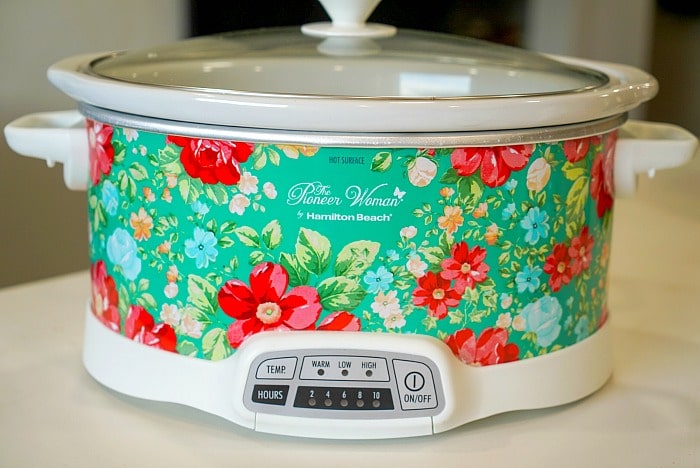 Slow Cooker Leftover Ham Recipe
Whether you initially made a Crockpot ham or Ninja Foodi ham or bought some precooked from the store it really doesn't matter. It's likely that they're all cold. You'll want what you have to be diced into small bite size pieces so it can really soak up the goodness it's cooked in.
It is truly our family's favorite leftover ham recipe. I always have a bag like this one after the holidays. If you know me at all you know I hate to waste food of any kind, especially if it's delicious. There are tons of things you can do with it once it is diced up fine. I mean year round you can buy it already diced but the day after Easter we make this.
Just chop these slices up small and then you have your meat to add into this dish. If you had a glaze left over pour a bit of that on top and toss together to kinda' liven it up and add a bit of moisture and flavor. When we make our pineapple glaze it adds just a touch of sweetness which is a fantastic add. Now let's move on with the rest….
Crockpot Scalloped Potatoes and Ham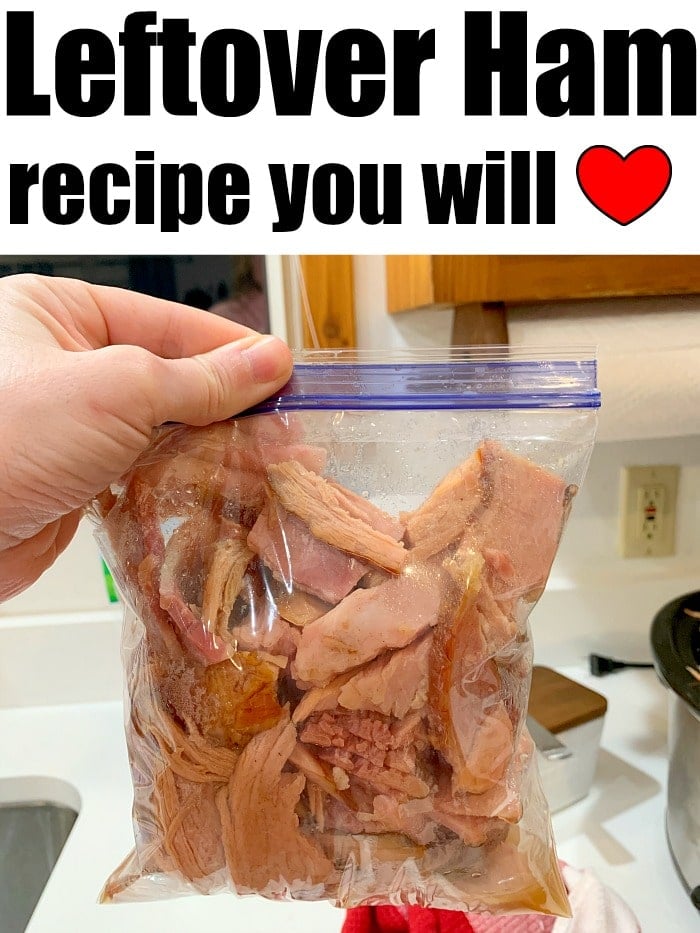 Adding more cheese(s) to this would make it more like scalloped potatoes but with meat. Another great idea for Thanksgiving so you don't have yet another dish to try and fit into the oven. You can make it as is but 30 minutes before the cook time is complete add 1 cup of shredded cheddar cheese to the top.
Put the lid back on so it can melt all over and then serve it that way. A great way to make it especially if people are going to be eating all day long. When done turn it to warm. This really won't overcook, the only thing that will happen with more time is the taters will get softer but who cares about that right??
If this is your plan you could slice your pieces a bit thicker so they break down slower. Need it to cook faster? Do the opposite and dice them up into slices and then quarter those.
Crockpot Ham Green Beans and Potatoes
You could totally add vegetables to this mix too. I'd wash, cut the ends off and slice them in half. Then add your green beans on top of the potatoes and follow the same recipe below.
They are firm enough to withstand the heat and they will get tender to perfection when serving. This is what you're going to need:
Russet potatoes, sliced

red are firmer, Yukon Gold will break down quicker and be much softer

Diced precooked ham
Broth of choice
Onion
Shredded cheese, Swiss was used this time
Cream of potato condensed soup or cream of mushroom soup will work too
Milk
Crock pot of course, 8 quart is best
Salt and pepper were the seasonings used but garlic powder would be pretty good too.
What potatoes go with ham?
You can use what you like but there is a big difference between them. You're probably most familiar with Russets, the big brown type. They're great for baking like this.
Red potatoes are much firmer and may take a bit longer but will leave more texture to the dish and won't break down hardly at all. Others aren't my favorite since they get soft.
Can you put raw potatoes in a slow cooker?
Absolutely. We use them all the time this way, low and slow is a great way to cook them. Slow cooker baked potatoes are another fantastic option too. These cheesy potatoes and onions soak up all the gooey sauce it is simmering in hour after hour. It's a great recipe that costs next to nothing and is pure comfort food.
Alternatives you can make; seasonings are obviously up to you and can be changed as you like and some substitute a block of cream cheese instead of the soup. If you do this cut it up into smaller chunks and follow the rest as directed.
Layer your broth of choice on the bottom of the pot. Then lay down your sliced potatoes, diced ham, onions, and shredded cheese on top. Sprinkle salt and black pepper on top.
In a small bowl whisk together soup and milk until it's smooth. Pour this on top of everything. Cover and cook on low for 6-7 hours until potatoes are tender.
When done use a serving spoon to gently fold everything together. It will be soft so unless you want to really break it up and make it smooth do it gently. Want it more like a soup? Then add some more time to it and stir it well so it gets as smooth as you'd like it to be.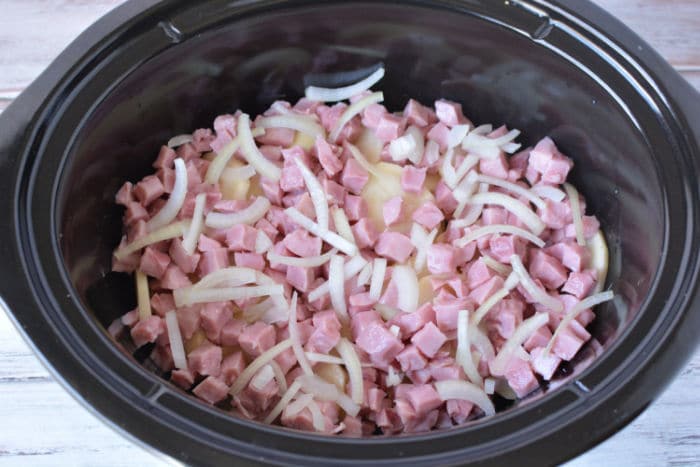 As I mentioned before you can print recipe below and keep it handy. Nutritional information is also listed and calculated by the recipe card itself. It may vary depending on the type of potatoes and fat content of your meat so keep that in mind.
When everyone has eaten all they are going to that day turn your pot off. Allow the contents to cool off and reach room temperature if you are going to save the rest. I will tell you that this saves wonderfully and reheats great for lunch the next day. That's right, you can basically get a second life out of your once leftover ham.
Once it is cooled transfer it to airtight containers. I like to only add what I would heat up for myself to make things easier.
You can use small freezer bags to do this same thing too. When you reheat dump what you want to eat into a microwave safe bowl. Heat for about 1 minute stirring it halfway thru that time.
Want it even oooeyer?? Cover the top with shredded cheddar cheese so that melts too. OMG it is over the top fabulous let me tell you. It's way better than eating sandwiches for dinner night after night because you just can't bear throwing away your leftover meat.
Here's a question a few have asked in the past and we should address. Depending on the type you choose it is tough to know……
How many pounds is 4 potatoes?
I mean this doesn't need to be exact, you just want to make sure there is enough sauce to coat them. Use your judgement but 4 medium potatoes is a little more than 1 pound, closer to 1 and 1/4. They come in all shapes and sizes so keep that in mind when you're counting them.
Now this is just one of the many Crockpot recipes with leftover ham we have made, others are below. You can read this whole roundup if you want an entire weeks worth of ideas.
Creamy Ham and Potato Casserole
What if you want to make this but with less prep, I've got an idea!! You can use a bag of already shredded frozen hashbrowns instead if you want. I know, game changer. Keep in mind that this will only take about 3 hours to cook this way and will be much much softer than this version. It's still totally yummy though.
I have done this but made it more like a soup and it was killer. Throw in some bacon bits and it's a bowl of Oh My Goodness on your table. If you want to try that version follow our Crockpot potato soup with frozen hashbrowns recipe here. Have more leftovers to use up? Throw them into lentil soup with ham.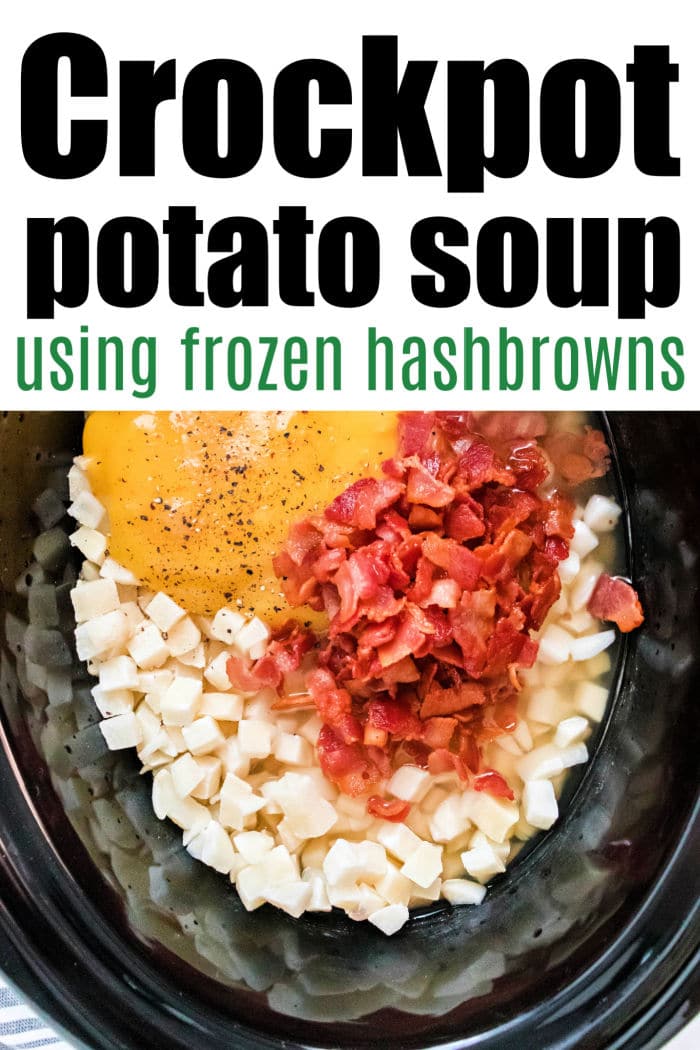 Frozen diced hash browns will hold up a bit better for texture and shredded will of course become quite smooth. You wouldn't even need an emersion blender for those. Toppings you might enjoy for either of these include: a dollop of sour cream, diced chives bring in some color, and you can never have enough cheese.
If you are looking for more holiday side dishes to serve with your main dish we have a lot to choose from. I typically will make as many as I have slow cookers for and then make a couple in the oven too that don't take very long. If you prep them ahead of time you can throw them into the oven while your protein rests.
Most take about 30 minutes so everything is usually done at the same time if you do it this way. That way the two made this way will surely stay warm with the lids on and the others can be covered with foil when done. Whip those off when the carving is complete and whammo, dinner is served for everyone.
Want to see a few of my favorite things that I am totally obsessed with?? Take a peek and see how many you might already have…twinsies!
Looking for more easy family recipes and tips? LIKE The Typical Mom Facebook page?
Then sign up for my free newsletter, and follow me on Pinterest! 😉
***** If you LOVED this recipe give it 5 Stars below and let everyone know what you thought about it. 😉
Crockpot Ham and Potatoes
Easy Crockpot ham and potatoes recipe that is creamy and delicious as a side dish or dinner. Best leftover ham recipe in slow cooker ever.
Instructions
Layer broth on the bottom, then sliced potatoes, diced ham, sliced onions, shredded cheese on top into slow cooker. Sprinkle salt and pepper on top.

In a small bowl whisk together condensed soup and milk until smooth. Pour on top of everything. Cover and cook on low for 6-7 hours until potatoes are tender. Gently fold together and serve.
Nutrition Facts
Crockpot Ham and Potatoes
Amount Per Serving (2 oz)
Calories 174
Calories from Fat 99
% Daily Value*
Fat 11g17%
Cholesterol 38mg13%
Sodium 743mg32%
Potassium 192mg5%
Carbohydrates 6g2%
Protein 12g24%
Vitamin A 194IU4%
Vitamin C 1mg1%
Calcium 136mg14%
Iron 1mg6%
* Percent Daily Values are based on a 2000 calorie diet.