Lentil soup with ham made in an Instant Pot or on the stovetop. Use leftover ham from the holidays or dice fresh, a ham hock is great too.
If you're looking for the best leftover ham recipe this is it! You can make it vegetarian without meat too, either way it is a delicious hearty one pot meal. I love it as an easy Instant Pot recipe but we will explain how to make it on your stove too. (affiliate links present)
Instant Pot Lentil Soup
We started this journey with this Instant Pot red lentils recipe. Those were plain and served more like a side dish than a main meal. Add some vegetables and this is a fabulous leftover ham recipe I tell you.
If you want to make this year round you can just grab a ham steak at the grocery store and dice that baby up. Throw it in and you can enjoy this in the middle of June if you want to. I mean soup for dinner is so my style.
FIRST – You should sign up for my free newsletter so you get new posts emailed to you twice a week and never miss out on anything! Now let's start with a few basic tips:
Make sure to Bookmark our InstaPot recipes page. We add new ones each week!
Then PRINT this —–> Instant Pot cooking times cheat sheet that will help you understand how long meat, vegetables and beans take to cook in your pressure cooker.
For reference, this is the pressure cooker I have (a 6 quart) and use for all recipe creations.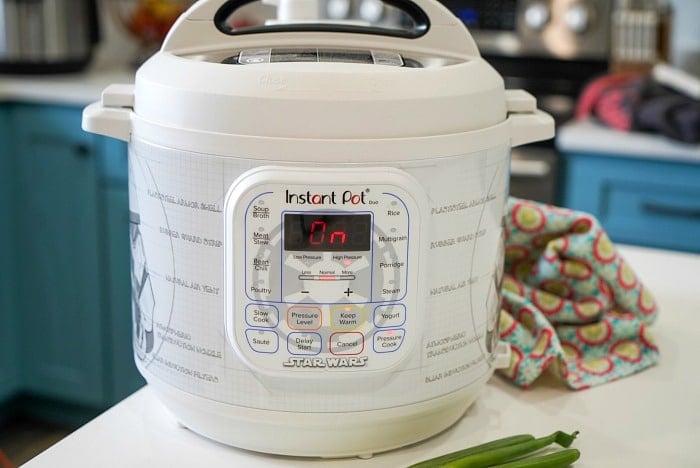 Do you soak lentils before making soup?
Nope! Just like making dry pressure cooker beans this is not necessary. You can just rinse, and throw them right in the pot. Since the meat is already precooked you don't even have to saute that to begin with. I mean talk about a dump and go recipe right??
Ninja Foodi Lentil Soup
There are only a few ingredients you need. From there you can add in all sorts of things. Veggies can be doubled if desired, just remember that there will be less liquid if you do. That can be adjusted later though my friend, broth is cheap. Use your Crockpot Express or Ninja Foodi if you like.
Dry lentils
Diced pre-cooked ham, or leave out for vegetarian lentil soup

if you've already made our Instant Pot ham or Ninja Foodi ham then I bet you have a bag of already sliced ready to use in your fridge.
great way to cook ham hocks if you have a few

Celery is a great and inexpensive add in
Carrots too
Chicken broth was the choice here but anything works
If you wanted to add bay leaves you could, just remove when it is done
Salt and pepper is a given but any seasonings of choice can be thrown in there……let's go……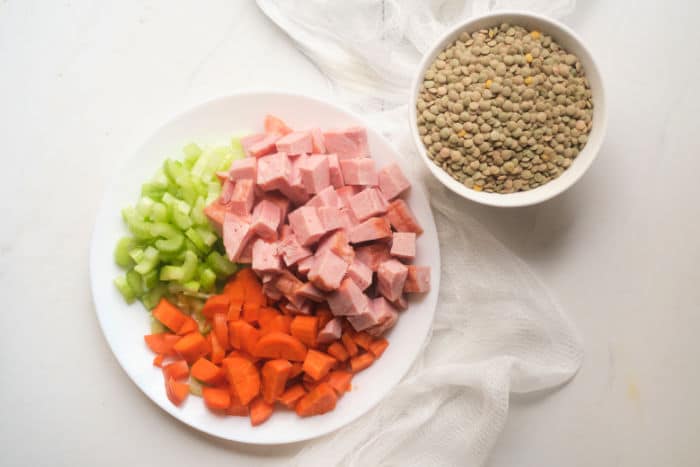 Can you overcook lentils in soup?
Yes. If you do the consistency will change. You don't want it to be as smooth as our Instant Pot split pea soup. You definitely want to get them tender so they aren't crunchy, but not complete mush.
A bit of texture is good. There is a very fine balance to it really, and everyone has their own preference. If you do like it smooth then don't worry about it at all.
On the other hand if you want to leave some texture to it then err on the side of a shorter cook time like ours. You can see that ours does not become smooth and break down completely, this is ideal. 30 minutes for 1 cup + liquid is perfect if you ask me.
Now when it comes to leftovers, that is a different story. It will be substantially softer the next day or two when reheated. Expect that, it's still super tasty though.
What kind of lentils do you use for soup?
Red, brown lentils or green as you see here work well. The first cooks faster so if you like it softer than opt for those. They come in all sorts of colors though, black being the toughest but most nutritional.
As for the protein added you really could use just about anything. I mean if you had leftover pork chops you hated to throw away you could use that but I would dice quite small so it gets nice and moist and easy to chew. I do the same thing with my Instant Pot barley soup after the holidays.
It makes for a great flavorful meal with diced ham added. With the salt and sweetness in the meat I never need much more than just a little pinch of salt and pepper.
How to make lentil soup
If you want to make this on the stovetop you can do that too, it just takes a bit more attention. You'll want to add all ingredients and stir intermittently so the ingredients don't soften too much for your liking. It is subjective remember so once they get close to being "soft enough", don't leave the stove. At that point check consistently every few minutes.
Remove from the heat right when it is right for you. Remember that they will continue to soften in that hot broth, especially if you leave the lid on so enjoy it right away for best results.
Nothing else is really necessary except maybe some diced parsley and/or shredded parmesan cheese is my fave. Here is a quick rundown of how it is made but there is a printable recipe card at the bottom of this post for you. 😉
Pour your broth of choice into the pressure cooker or large stock pot.
Add the lentils and all other ingredients into your pot and stir together.
In a pressure cooker you'll close the lid and steam valve. Cook on high pressure for 30 minutes. Then let the pressure release naturally all the way when done. This will take a good 20ish minutes.

Lift the lid, taste, season with salt and pepper if desired and serve.

In a pot or dutch oven on your stovetop, you will want to set to medium heat and place a lid on top. Bring to a boil. Stir every so often and check lentils until they are as tender as you want.

Cook lentils approximately 35 – 45 minutes. Remove from heat when tender, leave lid on and let it sit for 10 minutes, then serve.
How do you thin lentil soup?
Easy. You'd just pour in some more broth until it is the consistency you want. You will definitely want to do this if you have leftovers as it will thicken quite a bit. Just stir a few tbsp. in until it is just right.
Slow Cooker Lentil Soup with Ham
If you wanted to do it the old fashioned way you can. Use the same ingredients but cook on low heat for 8-10 hours until they are tender. If you want to use an immersion blender at the end to make it smoother that is a good option.
Ham and Lentil Soup without Ham Bone
Like I said, carrots, celery and onion are probably the cheapest choices to throw into this ham and lentil soup recipe. The other Easter we made a smoked ham and used that. OH MY can I tell you how much added flavor that was. Incredible I tell you.
Nutritional information is listed below but keep in mind that meat saturated fat and sodium content will vary. I have not tried this in a slow cooker but I imagine it would come out well that way too. I'd stick with 4-6 hours on low and check for tenderness at 4. Hope this helps you understand how to cook lentils and it is your new fave. dish.
Want to see a few of my favorite things that I am totally obsessed with?? Take a peek and see how many you might already have…twinsies!
Looking for more easy family recipes and tips? LIKE The Typical Mom Facebook page?
Then sign up for my free newsletter, and follow me on Pinterest! 😉
***** If you LOVED this recipe give it 5 Stars below and let everyone know what you thought about it. 😉
Lentil Soup with Ham
Lentil soup with ham made in an Instant Pot or on the stovetop. Use leftover ham from the holidays or dice fresh, a ham hock is great too.
Instructions
Pour broth into pressure cooker or large stock pot.

Place all other ingredients into the pot and stir.

In pressure cooker close lid and steam valve and cook on high pressure for 30 minutes, then let pressure release naturally when done. Lift lid, taste, season with salt and pepper if desired and serve.

In a pot on the stovetop you will want to set to medium heat and place a lid on top. Intermittently stir and check lentils until they are tender, this will take approximately 40 minutes. Remove from heat when tender, leave lid on and let it sit for 10 minutes, then serve.

** If you think it is too thick, add more chicken broth until it is the right consistency for you.
Nutrition Facts
Lentil Soup with Ham
Amount Per Serving (2 oz)
Calories 244
Calories from Fat 72
% Daily Value*
Fat 8g12%
Cholesterol 29mg10%
Sodium 1021mg44%
Potassium 645mg18%
Carbohydrates 22g7%
Protein 19g38%
Vitamin A 3654IU73%
Vitamin C 11mg13%
Calcium 42mg4%
Iron 3mg17%
* Percent Daily Values are based on a 2000 calorie diet.