This pineapple crockpot ham recipe is sweet, tender, and delicious. Cooks on it's own in your slow cooker and is ready when you are, perfect for holidays!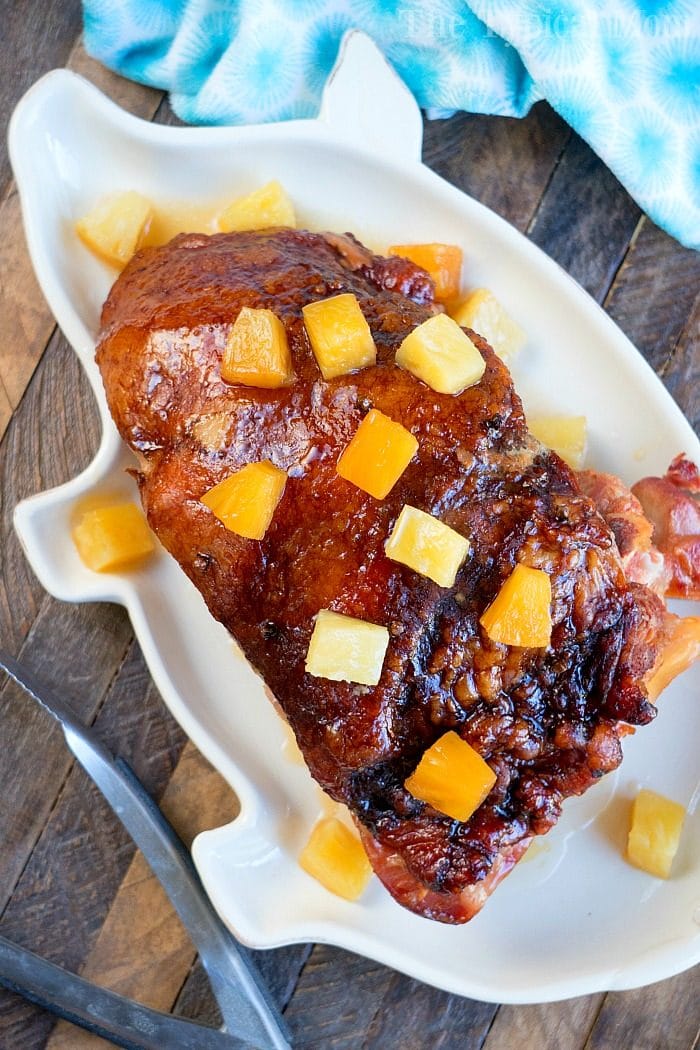 I had made ham several ways but this time I made this crockpot ham recipe and it came out really delicious. Added to our list of easy crockpot recipes for your reference if you're looking for other slow cooker dinners after you try this one.
Ham is such a great dinner idea…and it's not just for the holidays in our house! It is packed with protein, inexpensive, and provides not only dinner for the 5 of us but leftovers so I can make meals the next 2 days usually too.
Typically if you buy a ham in the grocery store it is a half ham and it is already sliced, not ours.
If you too love slow cooker recipes of all kinds, you're going to go crazy over this one. First let's go over a few resources: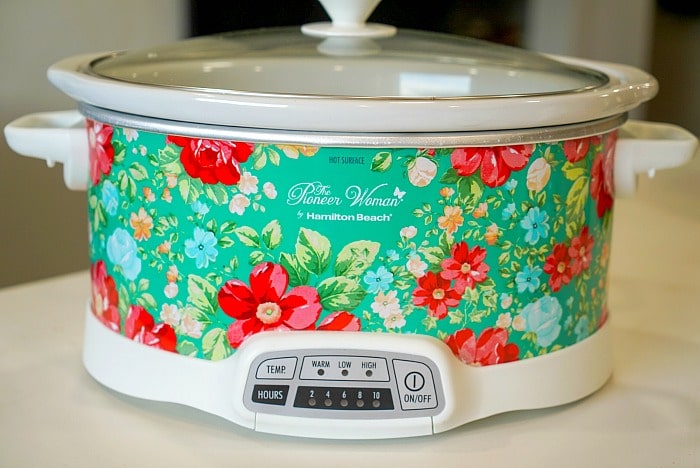 This year we moved to Idaho and out here a lot of people purchase meat from the local farms around the city.
We too bought an entire pig and the hams we got were quarter hams.
This came unsliced. I would suggest slicing it thinly like a spiral sliced ham to get each layer hot. I did this on later attempts.
Crockpot Ham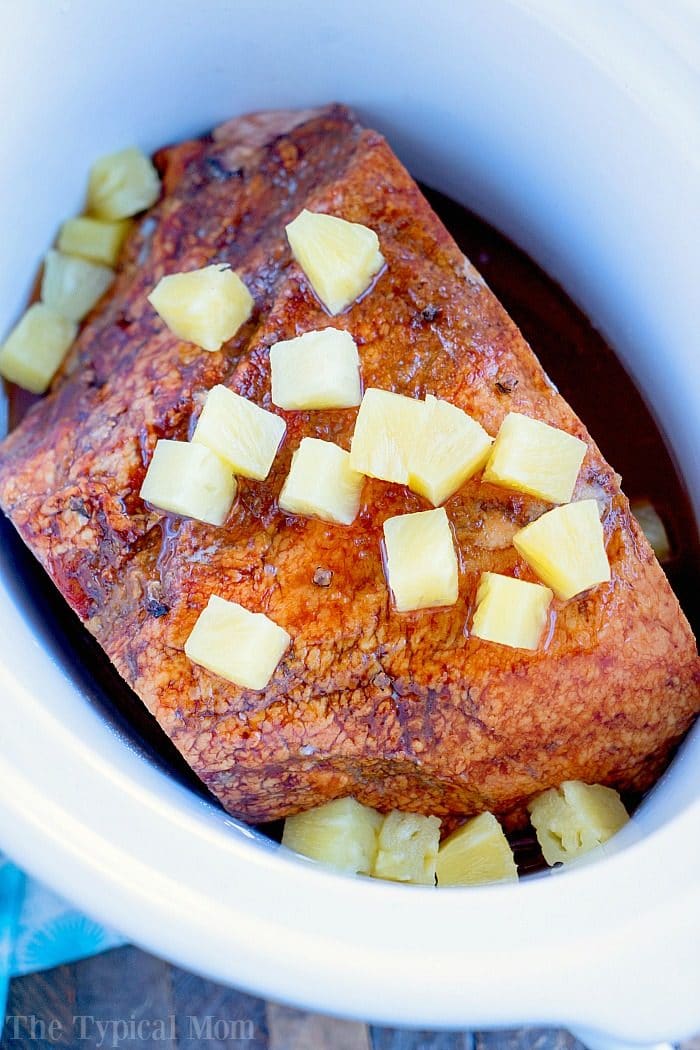 If you have a pressure cooker I would recommend trying that method as well. It allows you to cook everything in one pot, thicken the glaze afterward, and it is super quick.
BUT….I do like having several methods of cooking depending on the occasion. Making this crockpot ham recipe does allow you to cook a piece that is a bit larger. This particular piece wouldn't have fit inside my 6 qt. Instant Pot so there's that.
Why would you cook your ham in your slow cooker?
You don't have to heat up your house by turning on your oven
During the holidays it frees up your oven for all your side dishes
You can leave it unattended if you're leaving for the day
It's a bit easier than the oven version as there's no wrapping in foil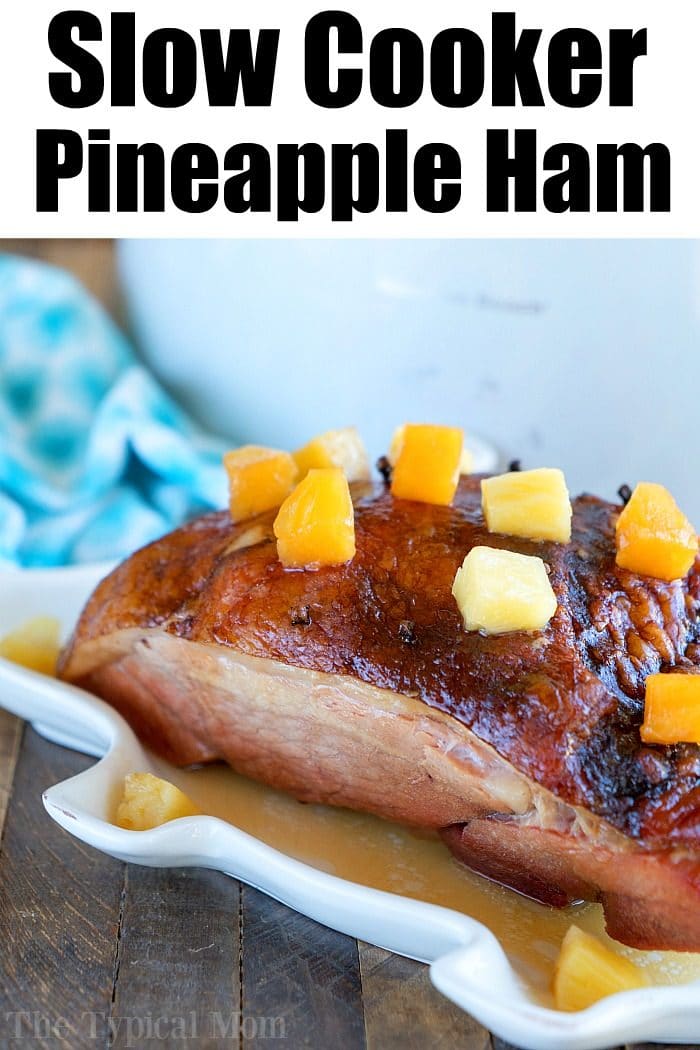 Here's a top and side shot of our crockpot ham when it was done.
Here are some suggestions for the best crockpot ham
Baste the ham once or twice if possible throughout the cooking process

It will create a moister ham
Use a small measuring cup to scoop the juices at the bottom and just pour on top of your ham

Use a ham that isn't cut

I think it creates a moister ham overall in the end

When it is done only cut the pieces you will eat immediately

If you have leftovers they will stay moister in the fridge if it is not cut until it is ready to be used/eaten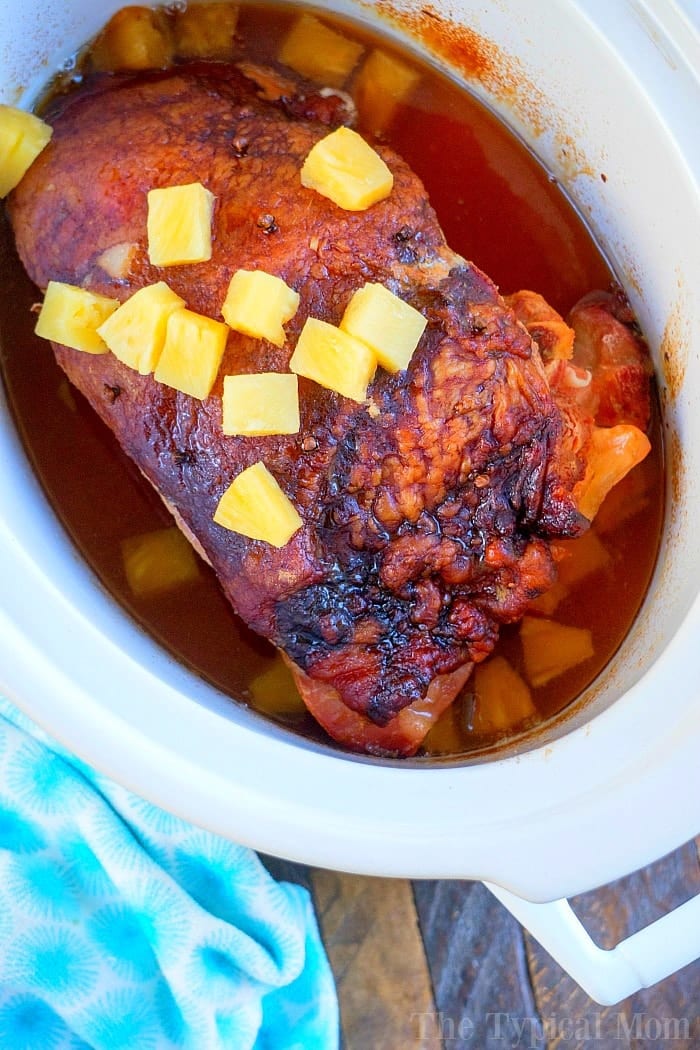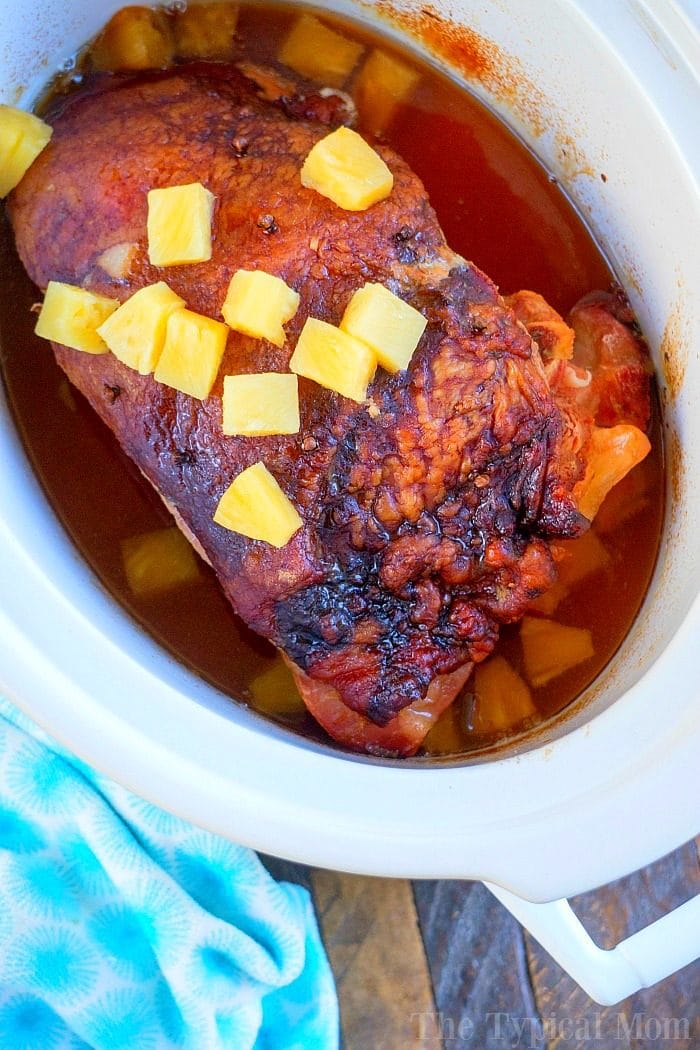 You can see here is our ham once I took the top off after it was done, the photo above it was right after it was basted. You can see the difference in how moist the outside is (the best part if you ask me).
If you're not a fan of pineapple you can use this recipe for baked ham glaze that uses orange juice as the base that is wonderful as well.
Once you're slow cooker ham is done you can baste once again, slice and serve immediately or thicken your ham glaze over the stovetop with a bit of cornstarch. Totally up to you.
Crockpot ham recipe
Crockpot – this is the one I used
Quarter ham – or half if you have a big enough crockpot
Brown sugar
Can of pineapple chunks – or tidbits
Honey
Cloves – whole, optional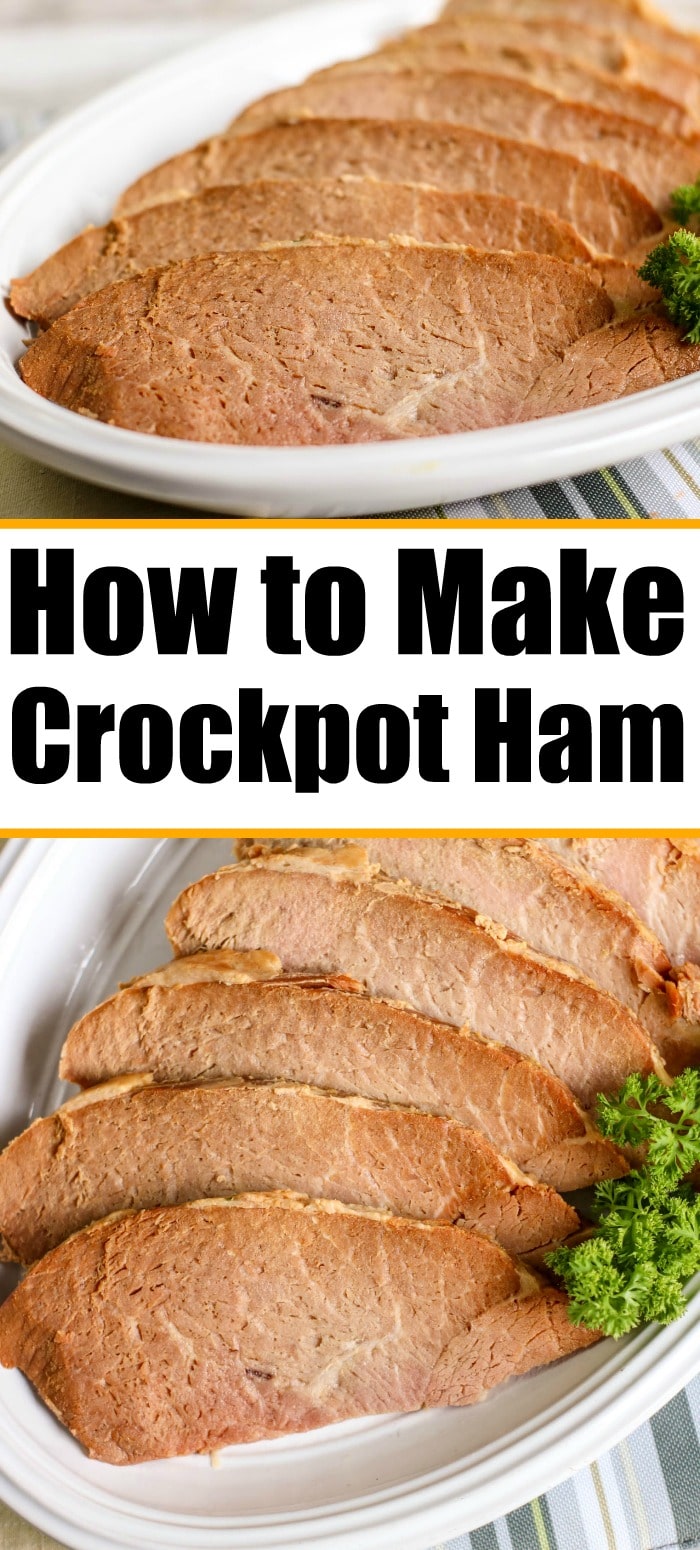 If you need a low carb Crockpot ham, follow these directions: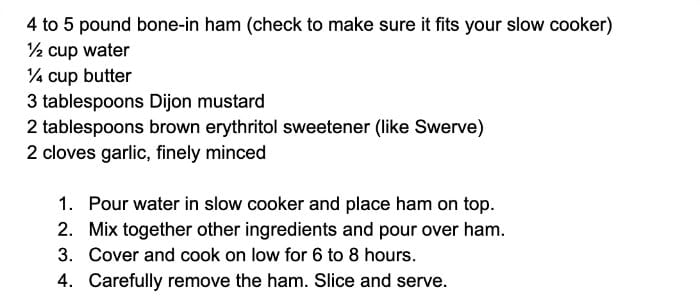 If you have leftover ham you should dice it up and put it into our crockpot corn chowder for another meal.
Want more easy recipes and tips from The Typical Mom blog? Sign up for my free newsletter, and follow me on Pinterest!
***** If you LOVED this recipe give it 5 Stars below and let everyone know what you thought about it. 😉
And we're done!! It's the best way to bake a ham. For some leftover ham recipes you should try our:
If you have more to use up, try our creamy Crockpot ham and potato soup.
Crockpot Ham Recipe
This pineapple crockpot ham recipe is sweet, tender, and delicious. Cooks on it's own in your slow cooker and is ready when you are, perfect for holidays!
Instructions
Slice your ham into thin pieces if it isn't already sliced.

Put your precooked ham inside your slow cooker. We had a quarter ham that fit nicely, if you have a really large crockpot you may be able to cook a half ham in it.

In a small bowl mix together your cup of brown sugar and 3/4 cup of pineapple juice. Pour this on top of your ham.

Push your whole cloves into your ham (optional). Pour 1 cup of pineapple chunks or tidbits on top of your ham, drizzle your honey on top and close your lid.

If cooking a quarter ham like we did set on high for 2.5 hours or low for about 4 hours or until it is warmed (remember it is already cooked). If cooking a half ham (assuming you can fit that) cook on high for 4 hrs., or low for 6-8 or until warmed to your liking.

If you're able baste the ham half way thru the cooking process with the juices at the bottom.

Slice and serve drizzled with pineapple sauce in slow cooker. If you want to thicken the sauce you can dump sauce (without pineapple chunks) into a small pan on your stovetop, take some out at first and whisk it together with 1-3 tbsp of cornstarch. Dump this back into your pot and allow to bubble until it thickens to your liking, then serve this on the side to pour on top.
Nutrition Facts
Crockpot Ham Recipe
Amount Per Serving (3 oz)
Calories 104
% Daily Value*
Sodium 7mg0%
Potassium 36mg1%
Carbohydrates 27g9%
Calcium 23mg2%
Iron 0.2mg1%
* Percent Daily Values are based on a 2000 calorie diet.
Slice it and enjoy.