Creamy Crockpot potato soup with frozen hashbrowns is a cheap dinner with tons of flavor. Top with bacon and cheese for a killer meal.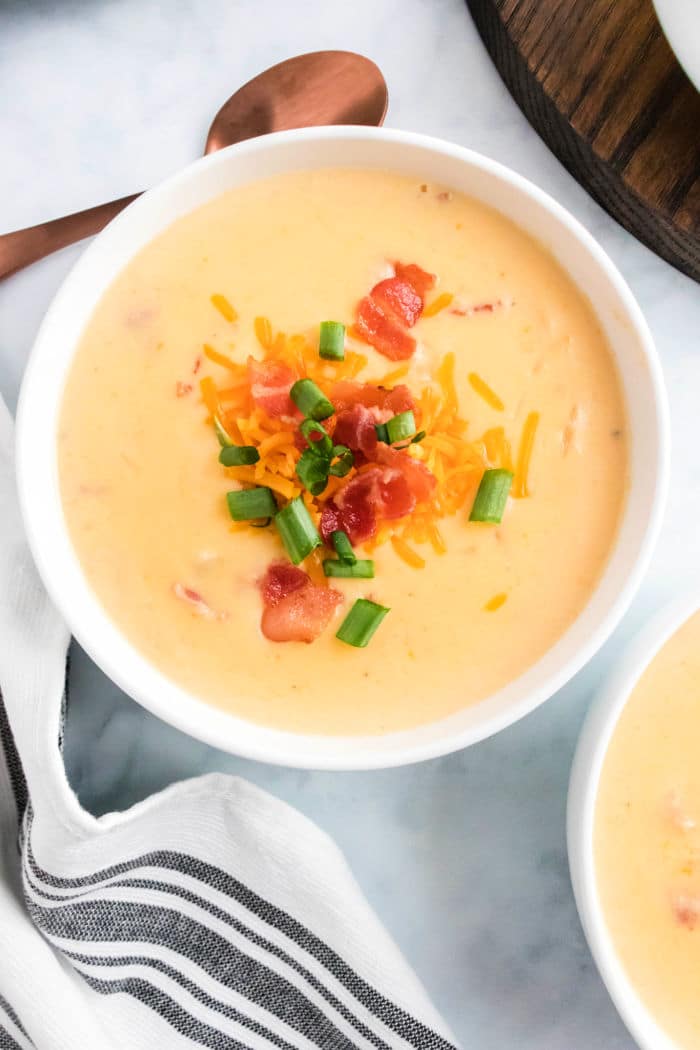 Crockpot Potato Soup with frozen hashbrowns is the ideal comfort food that the entire family will devour. It only takes 10 minutes to prep and is deliciously cheesy. Using frozen potatoes saves you loads of time to create this easy Crockpot recipe. (affiliate links present)
Having a good-quality easy potato soup recipe is a must. On those cold nights when you want something extra warm and comforting, loaded potato soup is here to the rescue.
You don't always have time, or want to, peel and finely dice taters though right?? Well on those nights just grab a bag of frozen hashbrowns and give this a whirl.
FIRST – You should sign up for my free newsletter so you get new posts emailed to you twice a week and never miss out on anything! Let's talk a little bit about slow cooking shall we?? First off I have a few different varieties and I love them all. Each one has an occasion to be used like….
This is my favorite 6 quart programmable one with a locking lid so it's great for bringing to a potluck too.
If you just want to serve a few appetizers you should get this one that sit side by side one another.
I prefer not to use liners, but rather just spray olive oil inside before adding my food for easier cleanups.
Let me give you a peek of my pretty thang I bought recently. It goes with my kitchen so I can just leave it out on the countertop all the time. 😉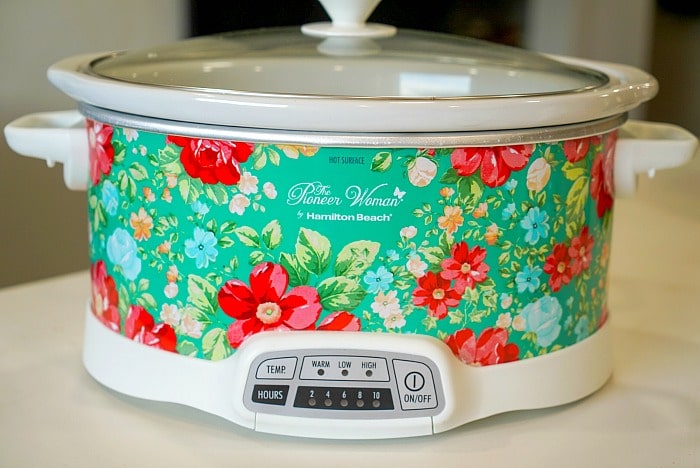 The best part is that your slow cooker does ALL the work for you. All you have to do is throw it all in in the morning hours, stir and enjoy when you're home. Since you are not having to prep the potatoes yourself and just dump it out of the bag it saves a ton of time.
To make it even more fun you could load a few bowls filled with toppings and wrap them in plastic wrap to use later. Cheese, green onions, bacon bits, sour cream, the list goes on and on for this one.
It's like a loaded potato soup but without any dicing or peeling anything y'all!
Yes, you can use fresh but when you're overwhelmed like I am from time to time (ok always), I like "cheater meals". 😉 This easy Crockpot soup hits the spot for us all.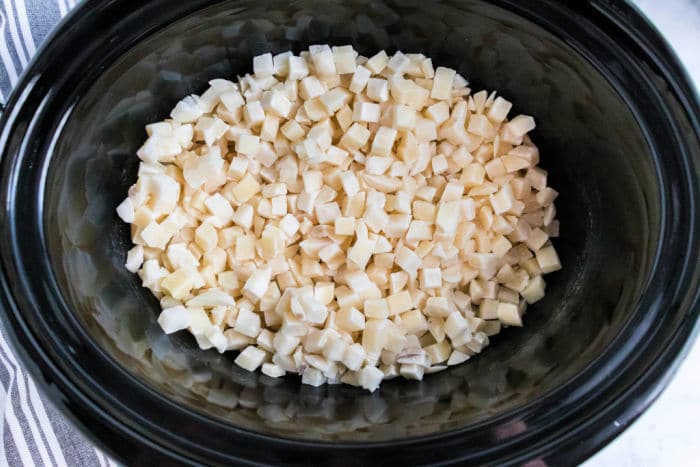 It doesn't matter if you are just learning to cook or are an old pro; you will love how minimal effort is needed to make creamy potato soup.
I'm not saying I am lazy, but I love a good recipe that I don't have to spend all day in the kitchen cooking. 🙂
Crockpot Potato Soup
This is what you'll need:
Bag of frozen hash browns
Can of cream of chicken or cream of mushroom soup
Chicken broth
Cheese – shredded + additional 1/2 cup to top bowls when done
Heavy cream
Bacon bits or leftover ham is optional but a killer add in (and on top)
I don't feel like you need much salt and pepper in this but add some at the end if you want. Whenever I'm cooking I use light seasonings when I'm cooking and amp it up at the end.
Reason being is my husband has high blood pressure so low sodium is important for him. We can always add more in our bowls if need be but this way he can enjoy it as well with us.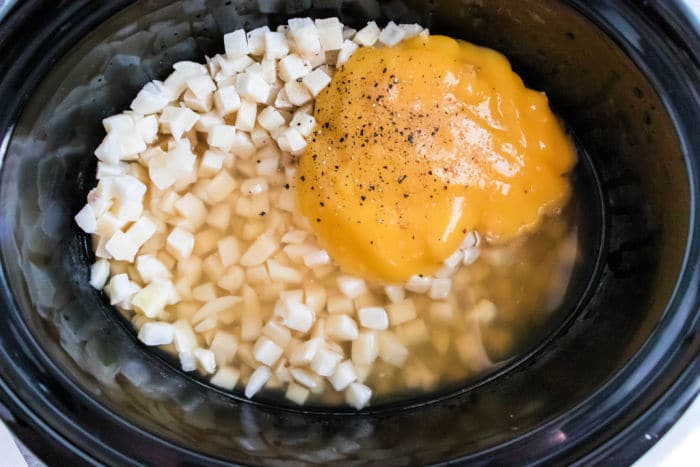 Honestly, we eat soup year-round. I know many people only eat it in the winter because it's so warming, but it makes a FANTASTIC easy lunch idea too. You can even meal prep it and enjoy it for days.
We also enjoy taking a batch of this crockpot potato soup when we head out to a potluck too. It always goes well with a bunch of hungry people. Trust me on that!
Serve it with some crusty bread, croutons on top, a salad, or eat it all by itself, and you have a meal fit for a king. I mean soup is a meal for us, it isn't for you?? Growing up we rotated our favorites pretty often. Budgets were tight back then but it didn't feel that way with a big bowl of warm comfort food like this served up.
I assure you that everyone in your house, even your wee little ones, will go crazy over this one.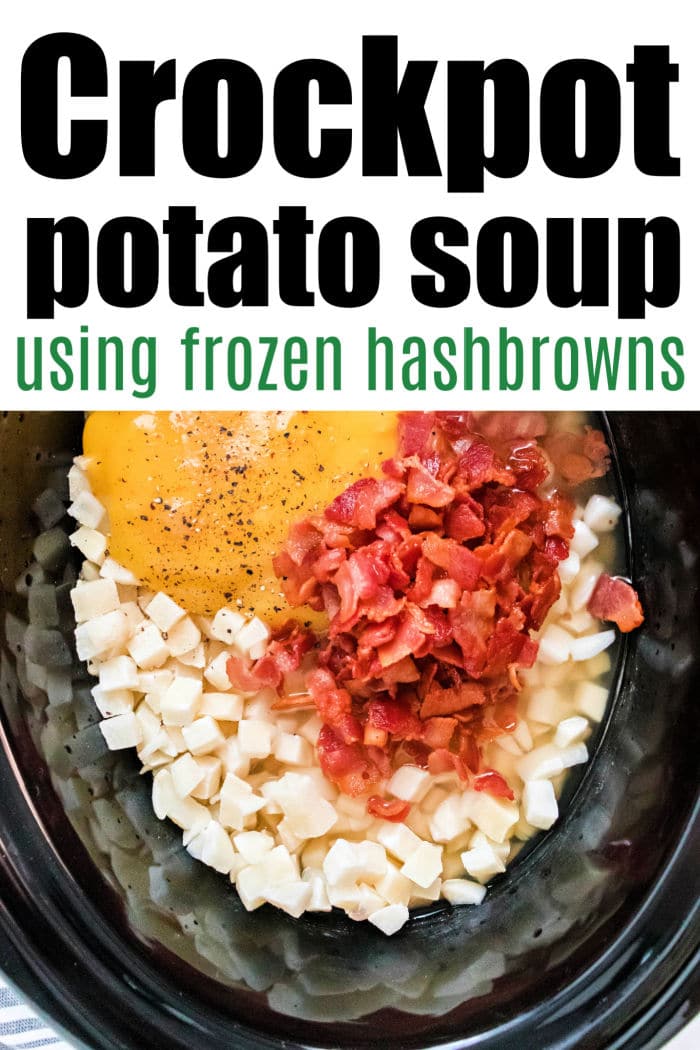 How can I add flavor to potato soup?
This potato soup gets a lot of flavor from the cooked crumbled bacon and the cheese. However, you can also add in some extra ingredients to get even more flavor if you want.
Here are some ideas to consider:
Broccoli – Add in a few florets of broccoli during the last hour of cooking. It's a great way to get extra nutrients as well as flavor.
Corn – Another fun way to add some flavor and texture is by including a cup or two of frozen corn. It's naturally sweet and delicious. Add it when there is 1 hour left of cooking time.
Pepper Jack Cheese – I used cheddar cheese, but to get a little bit of spice, use Pepper Jack. It's incredible.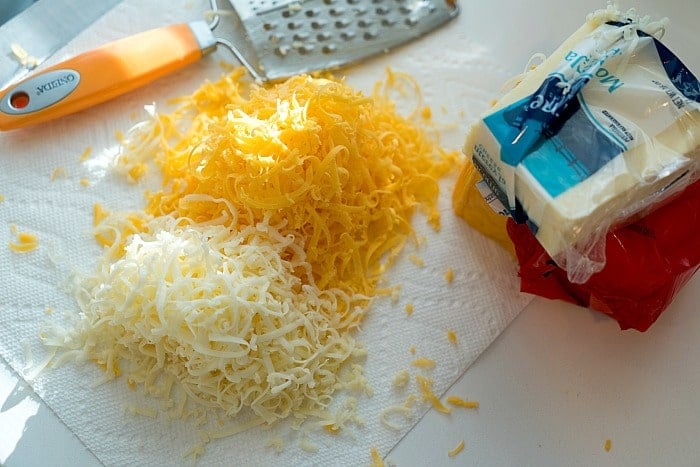 Can you put raw potatoes in a slow cooker?
For this recipe, you will need a bag of frozen hashbrowns, and they will cook up beautifully.
If you want to swap the hash browns for regular potatoes, that is more than acceptable too. Chop them up, so they are small bite-sized pieces, and they will also cook well too.
How do I thicken up my potato soup?
You can thicken the potato soup by mixing 2 -3 tablespoons of cornstarch to the heavy cream and stirring it well. Then slowly pour it into the soup about 30 minutes before serving. This will make it thicker.
If you are out of cornstarch, you could also use flour. Add in ¼ cup of flour to the heavy cream and stir it very well.
Make sure it doesn't have any lumps, then pour it into the crockpot. Again, do this 30 minutes before serving. Then right before you are ready to serve it, add in the cheese and stir until it melts.
Overall the soup is a great consistency and texture, but if you prefer it thicker, go ahead and add the cornstarch. It won't change the flavor at all.
What tastes good with potato soup?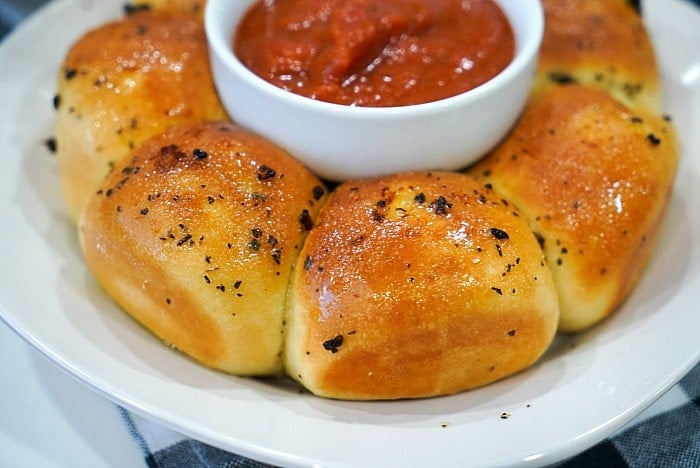 Honestly, about anything is going to go well with this crockpot potato soup. My favorite items to serve with it are any kind of sandwich. It's especially good when you dip it into the soup. YUM!
Air fryer rolls, crusty bread, or breadsticks are also pretty tasty options. Any kind of meat like chicken, steak, or fish will go with it as well.
Naturally, salads go with almost anything. I like to stick with a basic garden salad, but you could go with something bigger and fancier if you'd rather.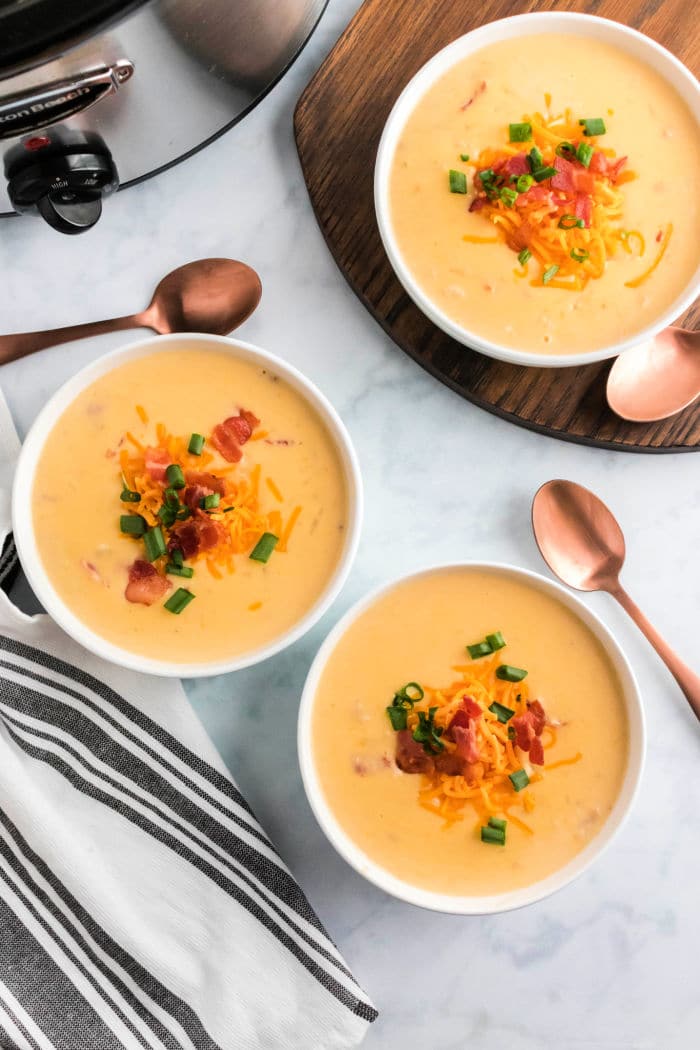 Here is a quick step by step but there is an entire recipe card you can print at the bottom of this post available too. See how easy it is to make and keep it handy in your recipe book if you like.
Of course we love "seeing you" too though so feel free to come back as often as you'd like, don't go away friends. 😉
Time needed: 6 hours
Crockpot Potato Soup with Frozen Hashbrowns
Add ingredients

Pour bag of frozen hash brown potatoes into Crock pot with chicken broth and cream of chicken soup. Stir in cooked bacon bits and stir together.

Cook

Cover and cook for 5-6 hours on low (recommended), or cook on high for 3-4 hours. (I'd stir occasionally if using higher heat). 30 minutes before time is up stir in heavy cream and cheese, stir in to thicken soup and warm cream.

Serve

Stir and serve topped with more cheese and bacon and/or a dollop of sour cream and chives / green onions. It will taste like a baked potato soup with all the fixin's this way.
Other great recipes and cheap meals you might like this one are below:
Want to see a few of my favorite things that I am totally obsessed with?? Take a peek and see how many you might already have…twinsies!
Looking for more easy family recipes and tips? LIKE The Typical Mom Facebook page?
Then sign up for my free newsletter, and follow me on Pinterest! 😉
***** If you LOVED this recipe give it 5 Stars below and let everyone know what you thought about it. 😉
Hash brown Potato Soup
Crockpot Potato Soup with Frozen Hashbrowns
Creamy Crockpot potato soup with frozen hashbrowns is a cheap dinner with tons of flavor. Top with bacon and cheese for a killer meal.
Instructions
Pour bag of frozen hashbrowns into slow cooker with cream of chicken soup and broth. Stir in cooked bacon bits and stir together.

Close lid and cook for 5-6 hours on low (recommended), or 3-4 hours on high.

Stir in heavy cream and shredded 1.5 c. of cheese 30 minutes before serving to thicken and warm. Serve topped with the remaining 1/2 c. of cheese (or more), dollop of sour cream, bacon and/or chives.
Nutrition Facts
Crockpot Potato Soup with Frozen Hashbrowns
Amount Per Serving (2 oz)
Calories 418
Calories from Fat 270
% Daily Value*
Fat 30g46%
Cholesterol 84mg28%
Sodium 1004mg44%
Potassium 515mg15%
Carbohydrates 25g8%
Protein 13g26%
Vitamin A 790IU16%
Vitamin C 17mg21%
Calcium 247mg25%
Iron 2mg11%
* Percent Daily Values are based on a 2000 calorie diet.