This hashbrown crockpot breakfast casserole recipe is a hit with everyone, especially during the holidays. Perfect slow cooker breakfast that's layered with cheese, bacon and hashbrowns that makes for a hearty brunch and is a great Christmas morning breakfast too.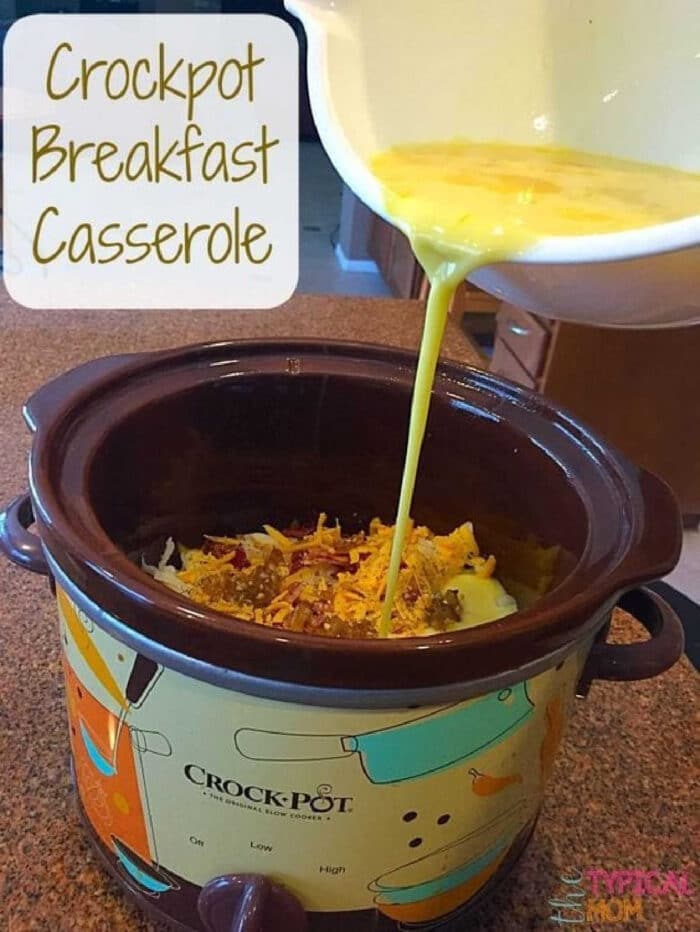 We love breakfast…sometimes we even have it for dinner! I've made this easy hashbrown crockpot breakfast casserole recipe to bring to potlucks, for brunch, and have cooked it overnight and served it Christmas morning too! Here's how you make one of our favorite easy crockpot recipes. 😉 (originally published 9/15, affiliate links present) Sponsored by Simply Potatoes for IZEA.
Slow Cooker Breakfast Casserole
It's simple to make slow cooker eggs. They taste great, cook by themselves in your handy dandy slow cooker. I love that thing! If you're looking for an easy breakfast casserole, you will love this hearty and flavorful crockpot meal.
Yes of course you can use your oven and make our other favorite breakfast casserole Bisquick style, but you probably have that full already. Especially if it is the holidays you likely are prepping all the things for dinnertime. Using another kitchen appliance is a game changer for sure.
FIRST – You should sign up for my free newsletter so you get new posts emailed to you twice a week and never miss out on anything! Let's talk a little bit about slow cooking shall we?? First off I have a few different varieties and I love them all. Each one has an occasion to be used like….
This is my favorite 6 quart programmable one with a locking lid so it's great for bringing to a potluck too.
If you just want to serve a few appetizers you should get this one that sit side by side one another.
I prefer not to use liners, but rather just spray olive oil inside before adding my food for easier cleanups.
Let me give you a peek of my pretty thang I bought recently. It goes with my kitchen so I can just leave it out on the countertop all the time. 😉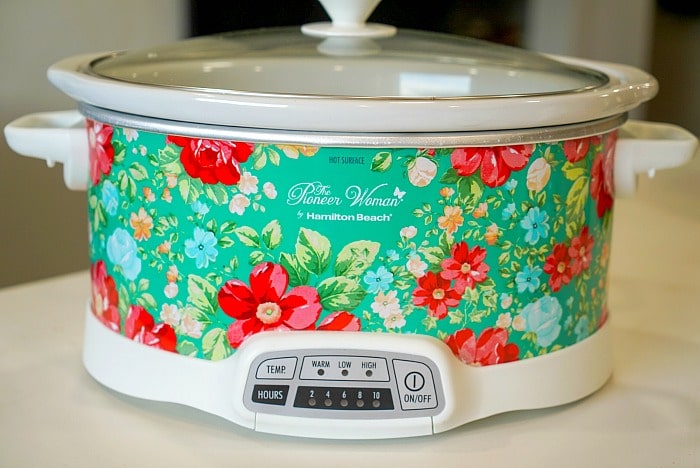 Crockpot Breakfast Hashbrown Casserole
You need all the typical breakfast items like eggs, bacon, cheese and frozen hash browns you would normally cook up. The best thing is though that it cooks all day by itself (love that). I like things that are EASY, and this recipe is definitely that.
It is super flexible depending on your needs and tastebuds too. Love a lot of meat like spicy ground sausage, bacon and maybe some sliced kielbasa? Go ahead and brown that together first in a pan on your stovetop and add that right into one of your layers.
I will explain the basic directions below but keep in mind that you can swap out this or add that instead. If you're in need of a dairy free option you can use plain almond milk and dairy free cheeses as well.
Crockpot Breakfast Scramble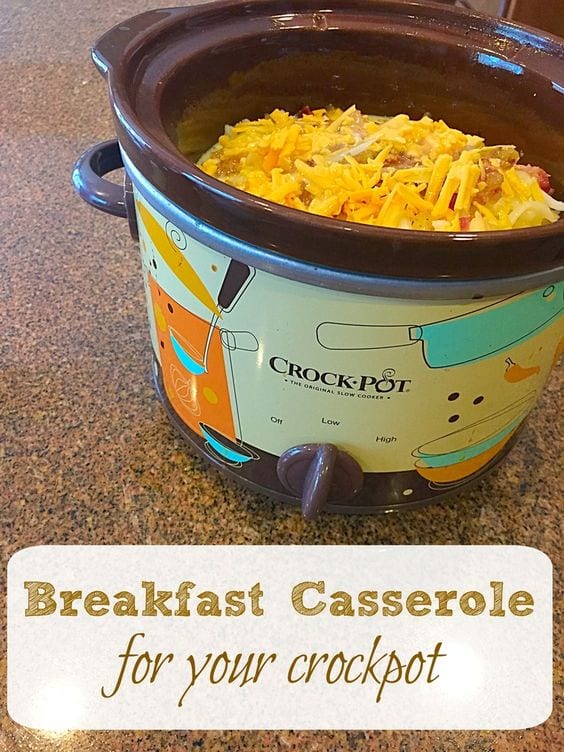 Crockpot Breakfast Hashbrown Casserole
Spray the inside of your slow cooker with cooking spray so it is non stick and easier to clean later. I do not prefer those plastic liners as I don't think cooking in any sort of plastics are a good idea. If you're using meat you will need to get out a large skillet and heat that over medium high heat.
Cook the sausage until no longer pink and about 6 strips of bacon until they are pretty crispy. Add diced ham, sliced sausage links etc… Leave the grease and remove your meat. Set that aside on a plate.
Add your diced onions right into the bacon grease and saute those until slightly softened, and with now tons of flavor!!
When the diced onions are done, dice the cooled bacon and shred about 1.5 cups of cheddar cheese. We like sharp but medium would be fine too.
In a large bowl whisk your eggs and milk together.
Now you're ready and start layering.
Think of it as a breakfast lasagna of sorts. It stays quite well if you are just hanging out all day too. Just remember to turn it off and set to warm. I don't like to leave it like that much longer than about 1 hour or the eggs will get too firm. Then I unplug and it will be okay for about another hour, from there it should be cooled and stored.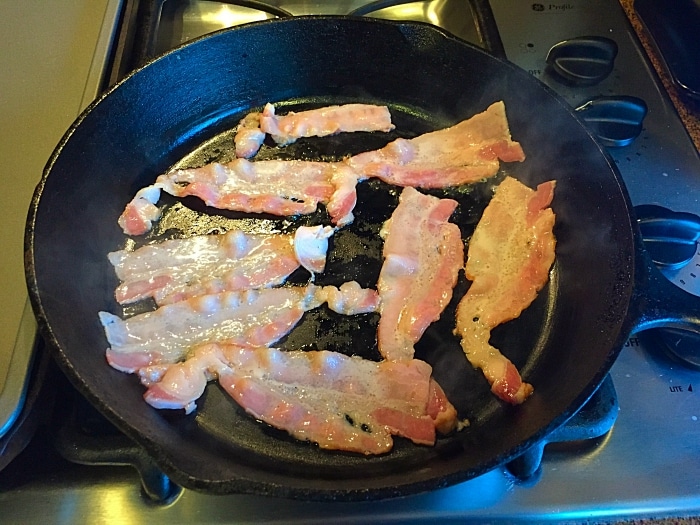 Slow Cooker Breakfast Scramble
I like using my smaller pots for this one so it is thicker when served. Take note that it won't slice into nice and pretty pieces though. Just use a large serving spoon and plop it on your plate with some salsa or hot sauce. Now that you have everything prepped you will be ready to get this going the way we explain below;
Start with a layer of hash browns on the bottom of your Crock pot.
On top of that sprinkle in your cooked diced bacon
Then 1/3 of your shredded cheese, you can add some green onions or diced bell peppers along the way if you want.
Spoon in some of the onions that have been sauteed.
Seasonings are added to the top of that layer

dill, garlic salt and pepper are usually what I use

Then use just 1/3 of the liquid and pour the egg mixture on top of that layer.
Continue with the next layer just the same until your ingredients are gone.
Close your lid and set to low for about 5 hours or until your eggs are set. Cooking time will vary if you're making a larger batch. I personally wouldn't double this or it may not cook evenly.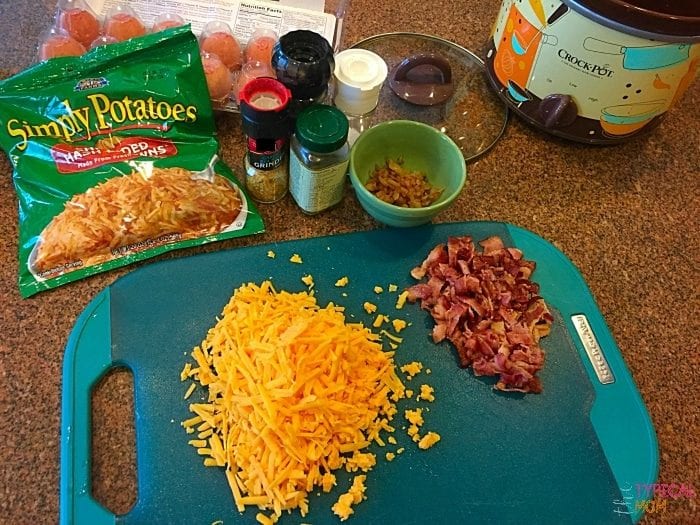 Crockpot Breakfast
I would check at about 4.5 hours to see if it's ready to serve or you need a bit more time. When eggs are firm enough for your preference scoop slow cooker breakfast casserole out and serve topped with cheese.
Frozen hash browns – we use Simply Potatoes frozen hash browns in the frozen section
Eggs
Milk
Cheese – we like sharp cheddar
Bacon

or packaged real bacon bits
breakfast sausage, Italian sausage or ham precooked and diced works too

Onion
Salt and pepper to taste
This is a really easy overnight breakfast casserole recipe you can put together the night before Christmas Day.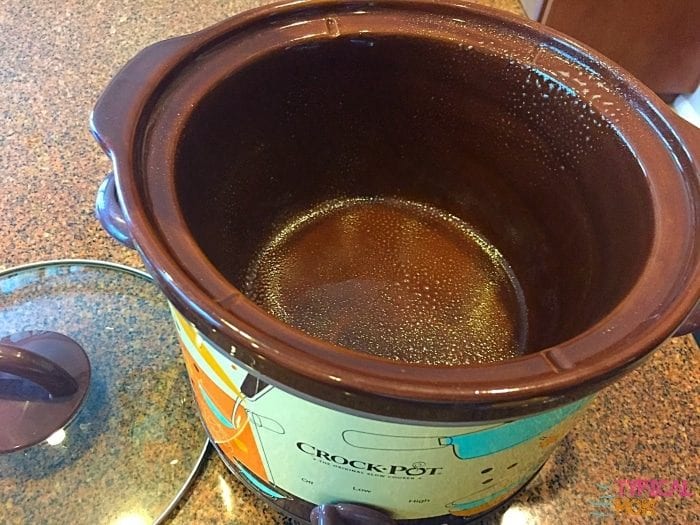 Crockpot Breakfast Casserole Recipe
I don't want to cook Christmas morning. I want to get pictures of the joy. That's why this recipe is great. If you are going to a potluck brunch this is fantastic too and you'll be asked for the recipe…..you can share. 😉
Hope you try it out and get as many compliments as I've received with this yummy egg and hash brown dish. If you have a pressure cooker you can make this Instant Pot breakfast casserole version too!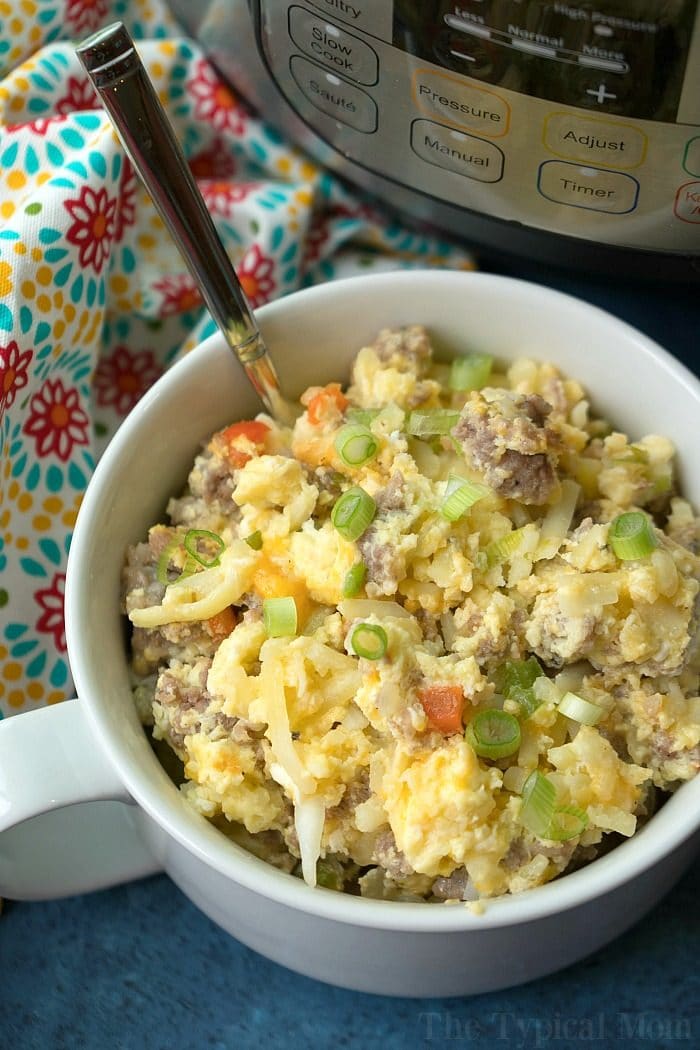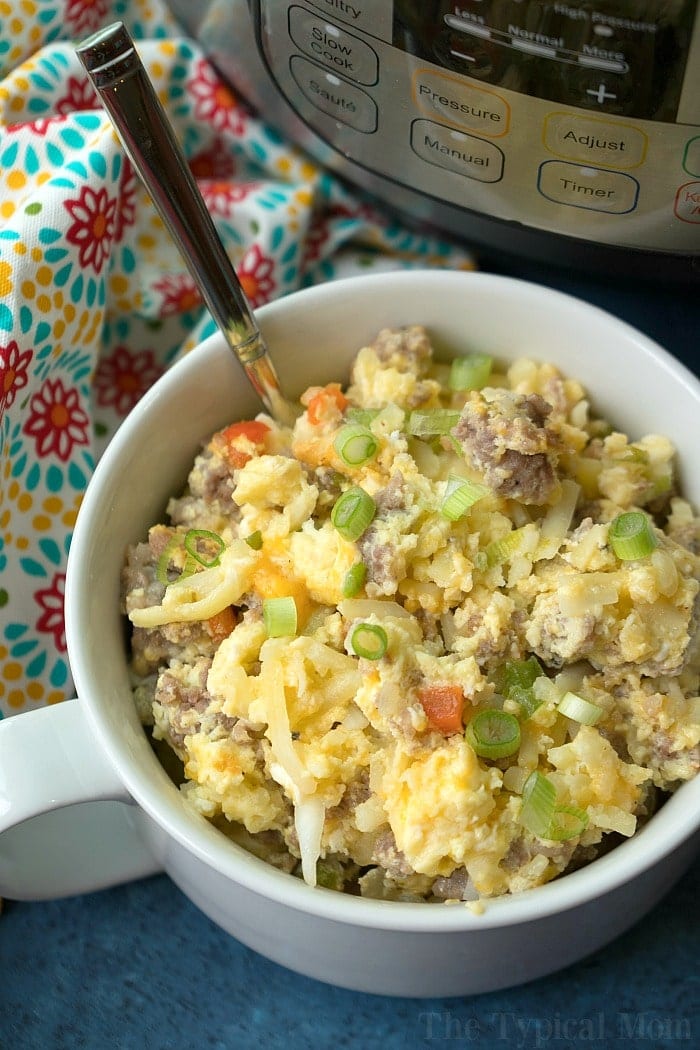 And that is it my friends!! If you add anything else that is a great add in into the mix too let us know below. 😉 Planning a Christmas brunch? You may want a few other items to include too like:
Our slow cooker cheesy potatoes are the bomb! A similar idea to this egg dish but with a bit different ingredients and really cheesy!
This easy monkey bread recipe is simple! Using refrigerated biscuits you can impress your guests not knowing just how simple this is to make semi homemade.
Sweet cinnamon roll breakfast casserole uses pie filling to add a bit of sweetness. I use refrigerated cinnamon rolls for this to make it even easier.
Use your oven to make this easy cheesy potato breakfast recipe that's loaded with YUM.
This is a similar idea but made in a pressure cooker so it's made in no time at all. I added sliced mushrooms which was a great add in too. I wouldn't in this particular one because it is cooked for quite a while and I believe they would get too soft.
Can you freeze breakfast casserole?
I have to admit we have never had leftovers so I haven't had the opportunity to do this. However I believe if you did I would suggest refrigerating what's left in airtight containers. Then put into a pan, cover and cook with some extra shredded Monterey Jack on top to melt. Feel free to add a bit more breakfast meat too.
How to reheat a breakfast casserole
Use a microwave safe dish. Add 1 serving and cook in 30 second increments until it is warm. Adding a bit of shredded cheese to the top during the last warming would make it even better! Add a dollop of sour cream on top and diced green chiles when serving and enjoy.
Printable recipe card below. It includes nutritional information with protein, saturated fat and other info. It is calculated by the card itself though so unsure of accuracy. Just enjoy people!
Want to see a few of my favorite things that I am totally obsessed with?? Take a peek and see how many you might already have…twinsies!
Looking for more easy family recipes and tips? LIKE The Typical Mom Facebook page?
Then sign up for my free newsletter, and follow me on Pinterest! 😉
***** If you LOVED this recipe give it 5 Stars below and let everyone know what you thought about it. 😉
Crockpot Breakfast Casserole Recipe
Best hashbrown Crockpot breakfast casserole recipe that can cook overnight and be ready in the morning. Perfect slow cooker brunch idea too.
Instructions
Cook the bacon and then add diced onions to the bacon grease and sautee those down.

Shred the cheese and dice the cooked bacon. Whisk together the 10 eggs and 3/4 c. milk. When you layer the ingredients into your crockpot make the first layer your hash browns.

Top that with 1/3 of your bacon, 1/3 of your cheese, a spoon full of onions, seasonings, and 1/3 of your egg mixture.

Layer again this same way until you reach almost the top of your crockpot leaving some room at the very top. Put on low and cook for approximately 5 hours, check at about 4 if you want it to be a bit wetter in consistency.
Nutrition Facts
Crockpot Breakfast Casserole Recipe
Amount Per Serving (8 oz)
Calories 182
Calories from Fat 117
% Daily Value*
Fat 13g20%
Cholesterol 229mg76%
Sodium 224mg10%
Potassium 131mg4%
Carbohydrates 2g1%
Protein 13g26%
Vitamin A 545IU11%
Vitamin C 0.2mg0%
Calcium 209mg21%
Iron 1.1mg6%
* Percent Daily Values are based on a 2000 calorie diet.