Slow Cooker scalloped potatoes are the way to go especially when you're busy during the holidays.
The perfect cheesy side dish with potatoes and ham that is a perfect bowl of comfort food we all love. So good you can make it year round for dinner.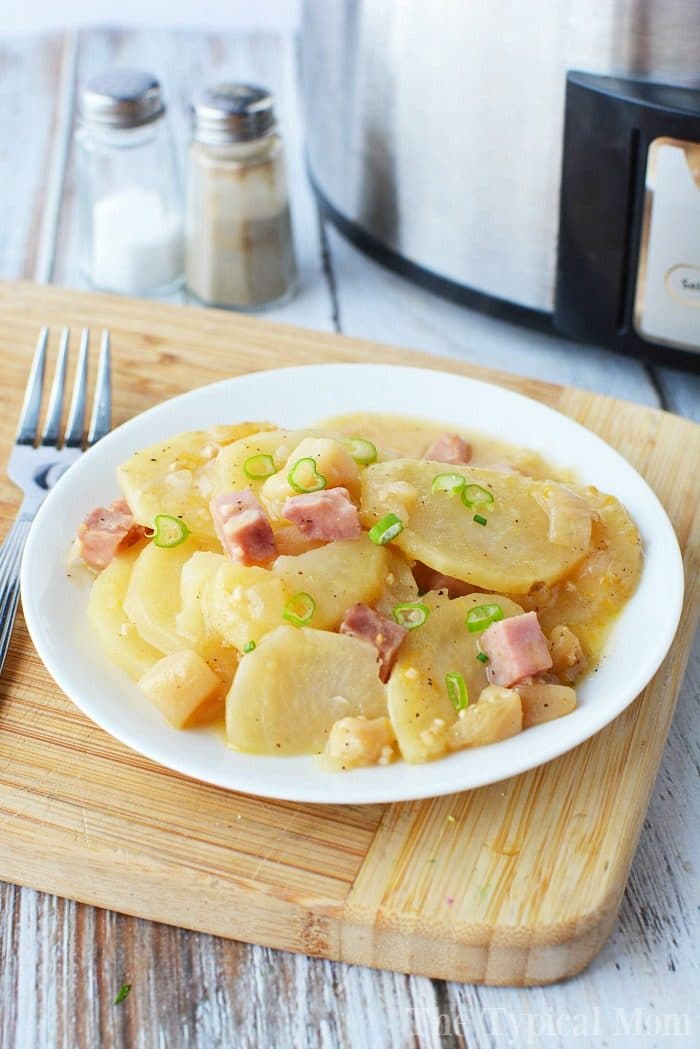 Are you looking for a creamy side dish for the holidays or something you can make with leftover ham, well our slow cooker scalloped potatoes are it! One of our favorite easy crockpot recipes for sure. (affiliate links present, originally published 4/19)
Crockpot Scalloped Potatoes Recipe
Of course you can leave out the meat but this it's one of our favorite leftover ham recipes made after Christmas or Easter. Adds a lot more flavor to the dish and can almost be eaten as an entire meal the day after like this.
You can also really load these au gratin potatoes up with cheese. I like using a variety of cheeses is best if you ask me. But it really depends on what I have on hand really. Need a dairy free version? Use Daiya brand shredded cheeses.
FIRST – You should sign up for my free newsletter so you get new posts emailed to you twice a week and never miss out on anything! Let's talk a little bit about slow cooking shall we?? First off I have a few different varieties and I love them all. Each one has an occasion to be used like….
This is my favorite 6 quart programmable one with a locking lid so it's great for bringing to a potluck too.
If you just want to serve a few appetizers you should get this one that sit side by side one another.
I prefer not to use liners, but rather just spray olive oil inside before adding my food for easier cleanups.
Let me give you a peek of my pretty thang I bought recently. It goes with my kitchen so I can just leave it out on the countertop all the time. 😉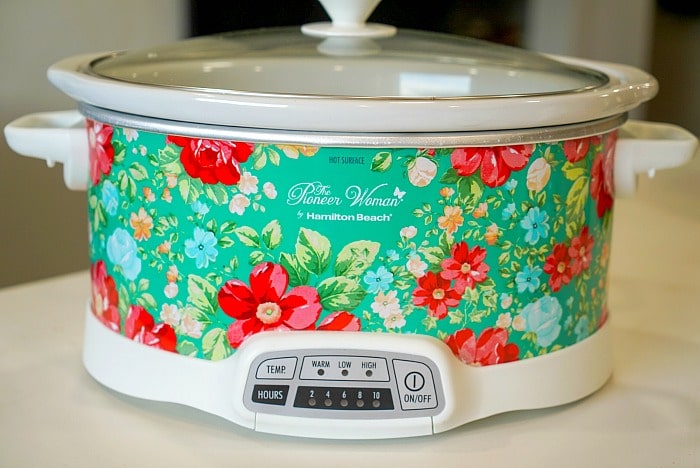 Slow Cooker Scalloped Potatoes and Ham
If you love being able to eliminate one dish from the oven during the holidays, you'll love this. Prep and throw your thinly slices of potatoes all in. Just set it and forget it until everyone is ready to sit down and eat.
There's nothing worse than having everything ready but there's no way to cook it. The oven is full and how are you going to have everything done and still warm all at the same time. You really need the help of a Crock or throwing russet potatoes in Instant Pot too in these situations.
For our Crockpot scalloped potatoes and ham recipe, you can throw in precooked meat if you want to make it more of a main dish, or just season cooked potatoes to be served with your protein.
Need Dairy Free Scalloped Potatoes? I have found great alternatives for those who need lactose free dishes that taste pretty close to the real thing.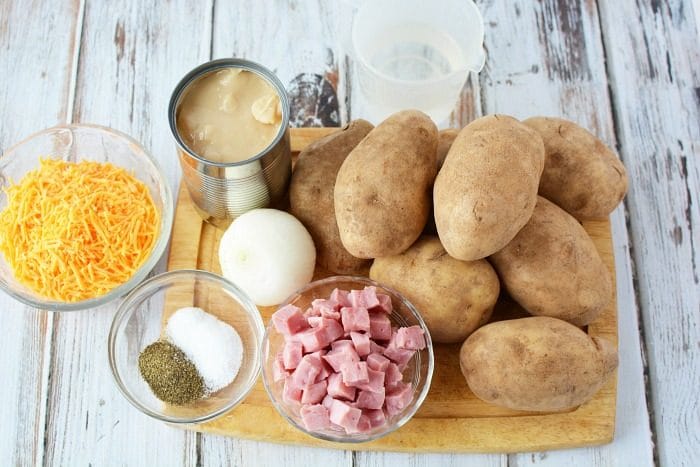 Slow Cooker Scalloped Potatoes with Bacon
Depending on your preference you can use russet or red potatoes. I have also heard it called crockpot au gratin potatoes. Call it whatever you wish. 😉 Why I like about using my crockpot during the holidays is my oven is full. Filled with turkey or ham, and other side dishes so not having one more to contend with is nice.
Then you can leave them in when they're done and they'll keep warm for quite some time. Throwing them into your oven to brown the top of your roasted potatoes with an added layer of cheese on top is possible too. Just serve these slow cooker scalloped potatoes right out of the pot. No need to dirty another serving bowl!
If you have more than one pot and you're serving a crowd you might want to offer a choice. Make this in one and mashed potatoes in another. The second can be a healthier choice if you skip the heavy cream sauce and just use low fat milk with some butter.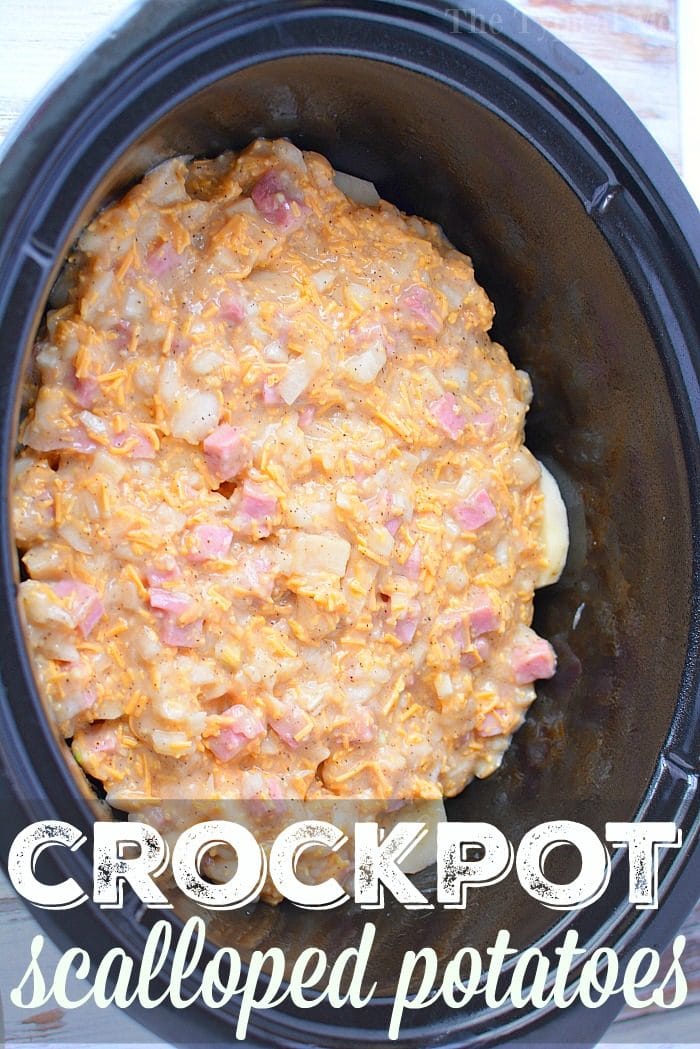 Scalloped Potatoes in Slow Cooker
This is what you're going to need to grab at the store or prep to get this going. I buy already shredded cheese in a bag especially if I am going to be really busy that day. You can eliminate the onion if that isn't your fave of course and I have used cream of mushroom soup instead of potato when that is all I can find.
Potatoes – russets are the best choice, Yukon would be next
Cheese – I like to use a variety including sharp cheddar and Jack
Onion – can be diced, yellow or white is what I use
Cream of potato soup – canned, condensed variety
Garlic powder is optional but a nice touch
Salt and pepper in the pot and some when served
If you're using leftover ham you could follow our Crockpot ham and potatoes recipe linked at the top of this post too. This is somewhat similar but more of a complete meal vs. a side. I like to really add a lot of meat into it including ham, bacon bits and sometimes I'll throw in some precooked spicy ground sausage too!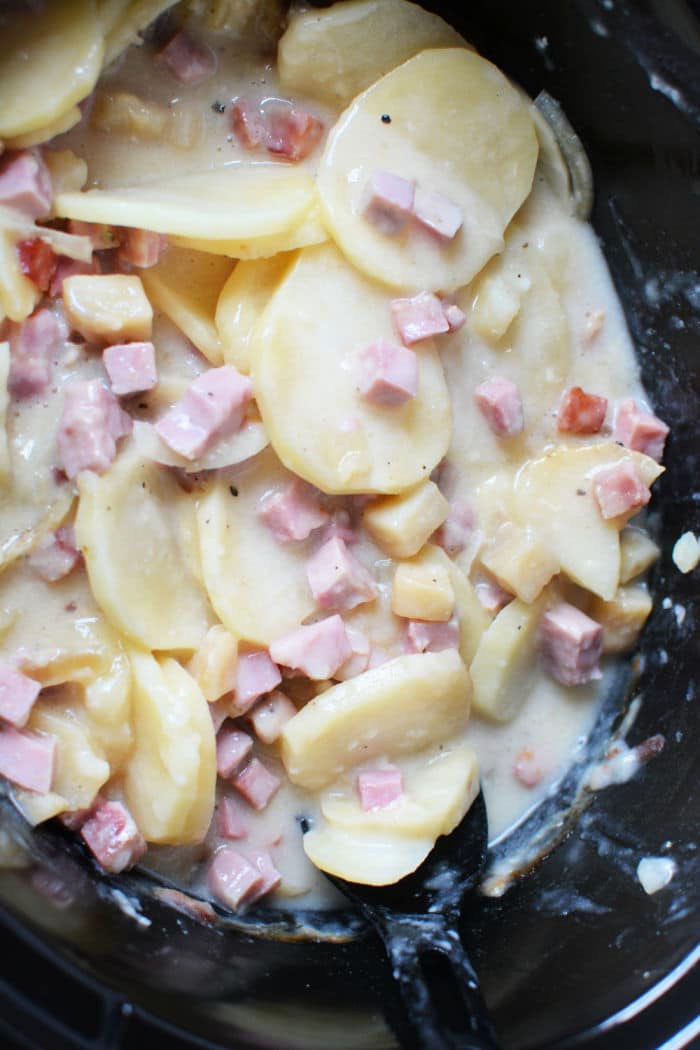 Slow Cooker Scalloped Potatoes and Ham with White Sauce
How do you revive scalloped potatoes
If there are any left they will heat up nicely the next day so long as you store them correctly. Remember to always allow your food to cool down completely before refrigerating. You want to keep air out so it stays moist so use a container with a sealed lid or a freezer bag. They will keep for up to 3 days.
You can just nuke for about 1 minute and eat as is for another meal. Another idea is to make it into leftover scalloped potato soup! This is pretty easy to do in a small pan on your stovetop. Just add what you have with a bit of chicken broth, or heavy cream if you want it thicker.
Once it is warmed to your liking remove that from the heat and then transition it to a soup with an immersion blender. Leave it in the same pot for this step. Use a low setting just to break down the larger pieces and make smoother for this new dish. Enjoy with a roll for lunch the next day and try something new with it!
Take a peek at our other easy Crockpot recipes too! If you buy a double batch of taters you can make slow cooker chicken and potatoes throughout the week too.
Want to see a few of my favorite things that I am totally obsessed with?? Take a peek and see how many you might already have…twinsies!
Looking for more easy family recipes and tips? LIKE The Typical Mom Facebook page?
Then sign up for my free newsletter, and follow me on Pinterest! 😉
***** If you LOVED this recipe give it 5 Stars below and let everyone know what you thought about it. 😉
Slow Cooker Scalloped Potatoes
Slow Cooker scalloped potatoes are the way to go especially when you're busy during the holidays and are the perfect cheesy side dish year round.
Instructions
Spray non stick spray inside your crockpot.

Layer potatoes in the bottom, then 1/2 c of water on top of that.

In a mixing bowl add onions, cheese, ham, soup, spices and 1/2 c water and mix well.

Spread over the potatoes and cook on high for 4 hrs.

Serve and garnish with green onions.
Nutrition Facts
Slow Cooker Scalloped Potatoes
Amount Per Serving (2 oz)
Calories 131
Calories from Fat 72
% Daily Value*
Fat 8g12%
Cholesterol 27mg9%
Sodium 824mg36%
Potassium 137mg4%
Carbohydrates 6g2%
Protein 8g16%
Vitamin A 198IU4%
Vitamin C 2mg2%
Calcium 114mg11%
Iron 0.4mg2%
* Percent Daily Values are based on a 2000 calorie diet.