How to make beans and weenies with canned baked beans on stove top or dry beans from scratch is here. 3 ways to make this including our Instant Pot beans and franks and homemade in a Crockpot! Fun easy hot dog meal.
Baked beans and weenies recipe, also known as beanie weenies is a classic dish that holds a special place in many households. With its simple yet satisfying combination of flavors, it's no wonder why this family favorite has stood the test of time. Make with Northern beans, navy or white kidney! (affiliate links present)
We will show you how to make a delicious batch of homemade Crockpot baked beans with dry beans and wieners infusing the dish with the rich flavors of brown sugar, Worcestershire sauce, and more. So, gather your ingredients and get ready to embark on this journey that will delight your taste buds and warm your heart.
Beans and Weenies Crockpot
If you want to use canned baked beans to make things easier and quicker you certainly can, I'll explain using dry beans below too! There are several ways to doctor those up to transform them into something totally new with a bit more savory flavors to them. You will need;
2 cans of beans or pork and beans works too
1 package of sliced hot dogs, about 8 whole
Ketchup of BBQ sauce
Brown sugar
Worcestershire sauce
1 teaspoon of garlic powder
2 tablespoons of olive oil
Optional: Sliced onions, diced bacon for extra flavor and texture and/or red pepper flakes or jalapeno powder for a bit of spicy
Baked Beans and Weenies
Now I like a bit of texture on my weenies so the outsides are a bit browned and have a bit of crisp on the outside before I submerge into the super soft rest of the meal. You could boil hot dogs until plump if you don't care about that, and just slice when done.
In a skillet, heat 2 tablespoons of olive oil over medium heat. If you're using sliced onions, sauté them until they're translucent and lightly browned. This step adds depth to the flavor profile.
Dump in your sliced dogs and saute until the outsides are lightly browned.
Once ready, transfer them to your pot on the stove or slow cooker. Now, add the canned baked beans. Stir them gently to combine, ensuring an even distribution of ingredients.
Now if you are already using doctored up like Bush's baked beans you wouldn't really need more BBQ sauce, brown sugar or anything else but could certainly doctor it up to your liking.
Stir everything together until the sauce is well-distributed. Your kitchen will be filled with the enticing aroma of the flavors mingling.
Cover the slow cooker, or pot set to low heat. Let the beans and weenies simmer and meld together for a few hours in Crockpot or 30 minutes on the stove stirring occasionally, about every 10 minutes.
Once the cooking time is up, turn off. Allow to cool slightly before serving. Spoon the hearty mixture onto plates or into bowls, and get ready to enjoy a comforting, nostalgic meal that your family will love.
If you wanted to use your pressure cooker, our NO soak Instant Pot baked beans is fabulous. Add slices of dogs that have been sauteed at the end and enjoy.
Cannellini Beans Substitute
These are also known as white kidney beans, and sometimes looked for when making this popular dish. However, there are times when you might not have this variety on hand or might need to find a substitute due to dietary restrictions or preferences.
Let's talk about a few alternatives that can seamlessly replace them perfectly in your recipe, ensuring that your dishes maintain their delicious flavors and textures. One of the closest substitutes is Northern beans or white kidney beans have the same flavors and textures.
Navy beans are commonly used in baked bean recipes, franks and beans, and work well in slow cooker recipes like stews.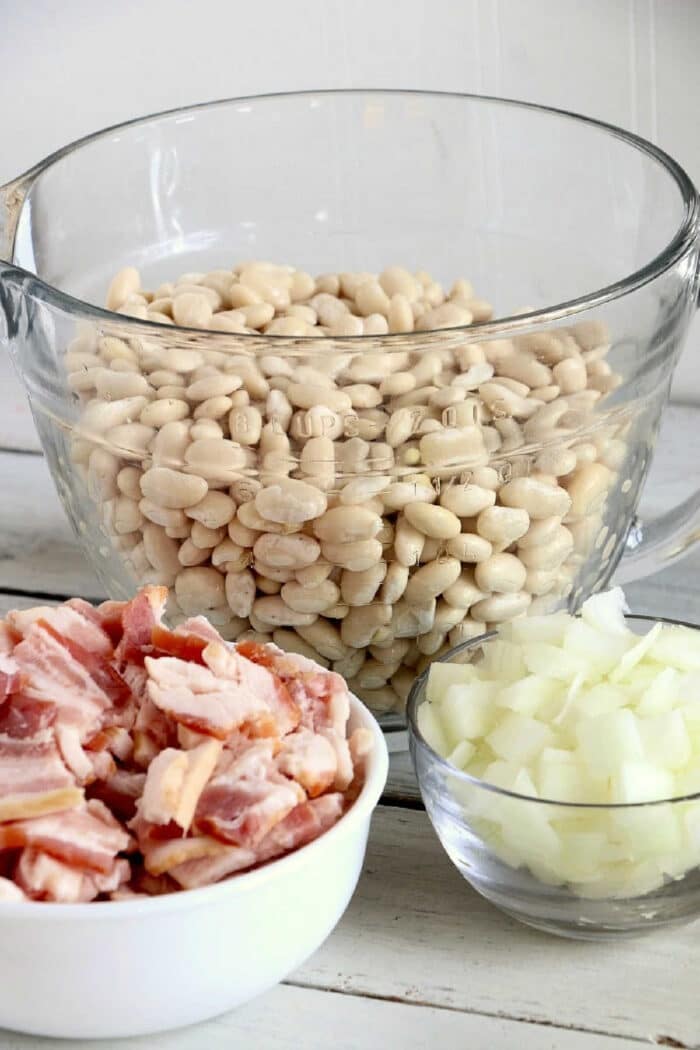 Beans and Weenies on the Stove
Side Dishes and Serving Suggestions; These are a fantastic standalone dish, but they also pair wonderfully with various side dishes. Here are a few ideas to complement your meal:
The slightly sweet and crumbly texture of cornbread is the perfect accompaniment to the rich flavors of beans and weenies.
A refreshing coleslaw provides a satisfying crunch and a touch of acidity that balances the dish's richness.
A light salad with a tangy vinaigrette adds a burst of freshness to your plate.
Creating a batch of beans and weenies is a delightful way to bring the comforting flavors of this family favorite to your table. With ingredients like brown sugar, Worcestershire sauce, and BBQ sauce, you'll elevate this classic dish to new heights.
Whether you're preparing a weeknight dinner or hosting a casual gathering, beans and weenies will never fail to satisfy cravings and create lasting memories. So, follow this easy recipe, and I guarantee that you will see images of your childhood pop thru with every bite. 😉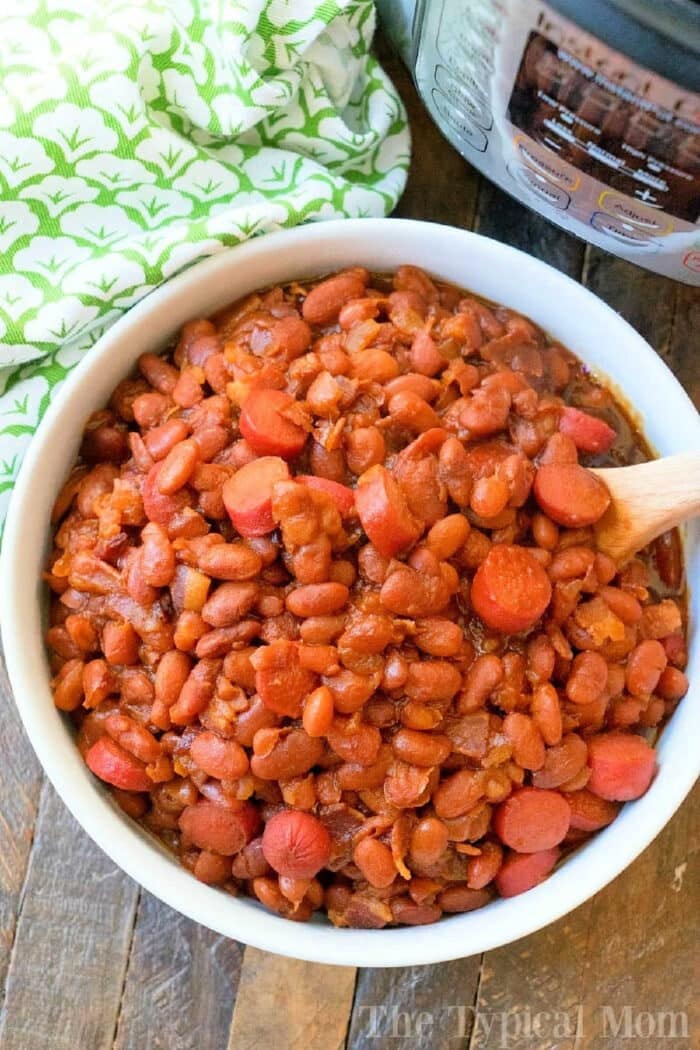 Beans and Weenies with Dry Beans
We share a cheat sheet on How Long Do Beans Take to Cook here. I would suggest using navy or northern beans since those are easy to find and most common. This style takes longer of course and you will need to start the process the night before since soaking dry beans is very important for the best success in your Crock pot or on the stovetop.
You can speed up the process with quick soaking dry beans too if you bring to a boil by using a large saucepan or dutch oven on the stove over medium high heat. Rinse and add bag of beans with 1 1/2 tablespoons salt and 8 cups water.
Bring this to a boil and then turn the heat off, cover the pot and let it sit for 1 hour, then proceed as though they had soaked all night! What we do with white or How to Cook Kidney Beans and everything in between.
Below in this recipe card we will explain how to make this fun meal quickly or from scratch if you have the time homemade is always best for sure!
Want to see a few of my favorite things that I am totally obsessed with?? Take a peek and see how many you might already have…twinsies!
Looking for more easy family recipes and tips? LIKE The Typical Mom Facebook page?
Then sign up for my free newsletter, and follow me on Pinterest! 😉
***** If you LOVED this recipe give it 5 Stars below and let everyone know what you thought about it. 😉
Beans and Weenies
Instructions
Beans and weenies with canned beans – In your pot add your olive oil , diced bacon and diced onions. Saute until bacon is beginning to crisp but not crispy. Then add sliced hot dogs and lightly brown on the outsides too. Then pour in your cans of beans, seasonings, sauces and stir together. Set to low heat and cover for about 30 minutes so flavors meld together. Stir every 10 minutes so bottom doesn't burn and sugar can dissolve. Then serve.

In a slow cooker you would saute oil, onions, bacon and hot dogs as stated in a pan and dump this into your pot with other ingredients. Stir together, cover and put on low for 3-4 hours stirring halfway if possible and serve when ready.

Beans and weenies with dry beans – Rinse bag of dry Norhtern beans and soak in 6 cups of water for 12 hours. This is a must! Drain water from beans in bowl. Cook 6 slices of diced bacon on stovetop so fat renders down and it is somewhat crispy, add this into your crockpot on the bottom after draining oil out of pan. Pour soaked beans on top in an even layer, then sprinkle diced onions on top of beans. In a bowl whisk together 3 cups of water, 6 oz. tomato paste, 1/2 c brown sugar, and 1/2 c. molasses until smooth. Pour this in do not stir. Cover and cook on low for 6-8 hours stirring halfway thru until beans are as tender as you'd like. Check at 6 hours for tenderness.

You can follow these same steps on the stove with dry beans over low heat after sauteeing bacon and onions together with a bit of oil. Cover and this will take closer to 2 hours stirring every 20 minutes or so until they are as tender as you'd like. Much more time consuming as you don't want sauce to start to burn in pot over the flames.
Nutrition Facts
Beans and Weenies
Amount Per Serving (2 oz)
Calories 414
Calories from Fat 117
% Daily Value*
Fat 13g20%
Cholesterol 34mg11%
Sodium 1317mg57%
Potassium 749mg21%
Carbohydrates 63g21%
Protein 15g30%
Vitamin A 77IU2%
Vitamin C 5mg6%
Calcium 130mg13%
Iron 5mg28%
* Percent Daily Values are based on a 2000 calorie diet.