How long to boil hot dogs is here. Boiled on the stove or in an Instant Pot we will compare both cooking methods so they come out perfect every time. We'll share how to cook frozen hot dogs with you too!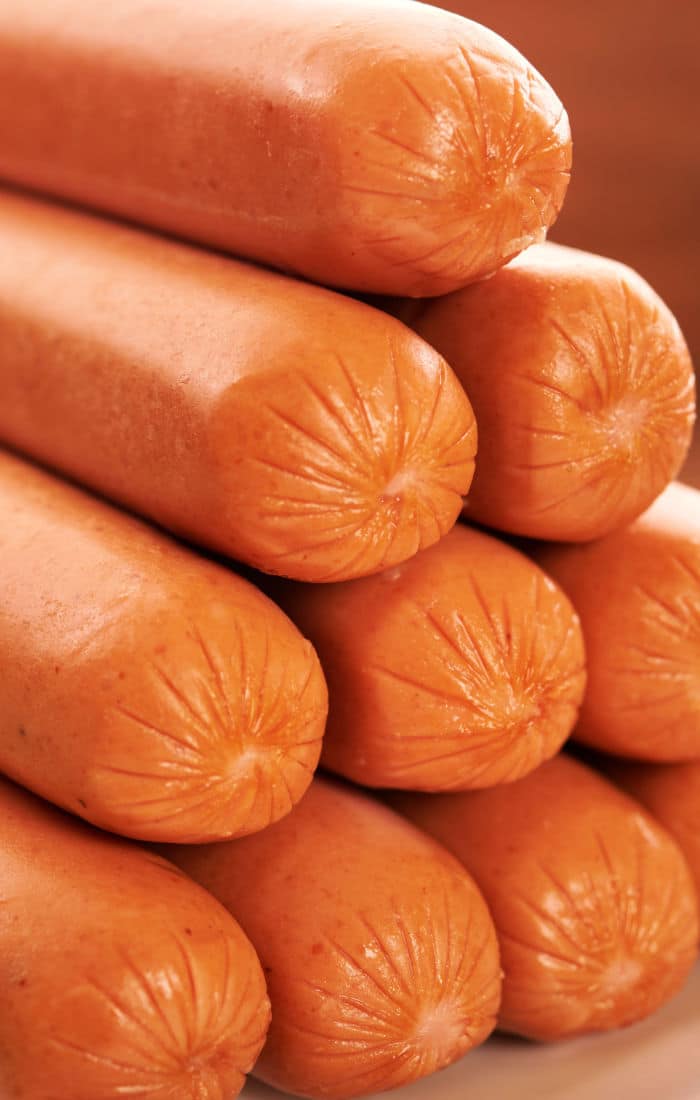 Seems silly but how long to boil hot dogs is searched quite frequently. No more wondering whether they are done in that hot boiling pot of water or beer, the perfect timing is on the way. (affiliate links present)
Boiled Hot Dogs
We have shared directions for air fryer hot dogs as well as frozen hot dogs in air fryer recently. That is probably our favorite method because the outside gets nicely crisp. What if you don't have one of those devices though? We are here to help, every house has a burner so that can be your go to.
It shouldn't be any question as to where to start but you'll need to fill a pot of water and turn your burner on to medium/high heat. If you want to know how to boil hot dogs in beer you would do it the same way, except with that liquid instead. You'll need quite a bit to submerge these babies but go for it.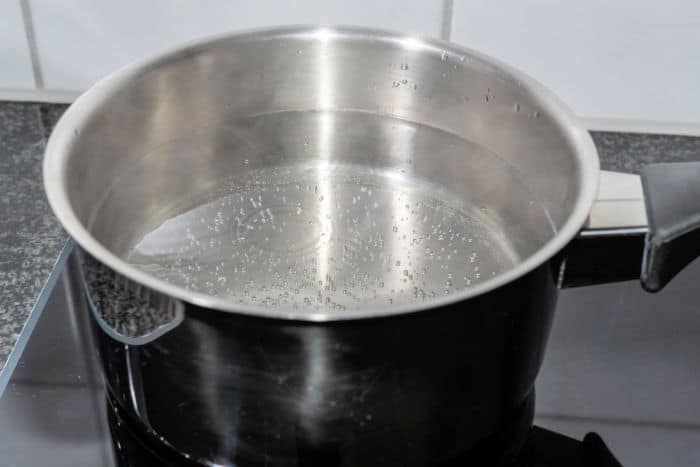 How to Boil Hot Dogs
If your "stove" is at the campsite it would work the same way except your heat source may not be as consistent. Just make sure you place your large pot near the open flame so it can begin to reach a rolling boil like this. The next is personal preference but I highly suggest that you add some salt too.
Some brands are higher in sodium than others and if you are cutting down on that then by all means skip that. Note that while hot dogs boil some of that will leach out though so keep that in mind.
How long to boil beef hot dogs is the same as if you were to choose low fat, turkey, chicken or pork. Hebrew National is our personal favorite for sure as far as flavor and texture goes.
As far as timing is concerned you want to the liquid to bring to a boil where it doesn't stop. Adjust the heat so it is consistent but not wanting to bubble and overflow on to your burners, that is too much. Once you've reached that point you're ready to cook boiled weiners.
Then you want to carefully drop the number you want into your pot and just wait a couple of minutes. Don't walk away because it doesn't take long! A minute too long and the outer texture won't be ideal to your liking.
How do you know when hot dogs are done boiling?
Keep an eye on them because it only takes 1.5-2 minutes total. They will begin to darken a bit, plump in size overall but the skin will shrivel up slightly on the outside. That is when you know they are done and warmed in the center.
Boiling Hot Dogs in Instant Pot
It only takes 1 minute to boil hot dogs in Instant Pot if you want to use that method. We have done this with larger pieces and other liquids too, you can read all about that in our Instant Pot brats with beer post.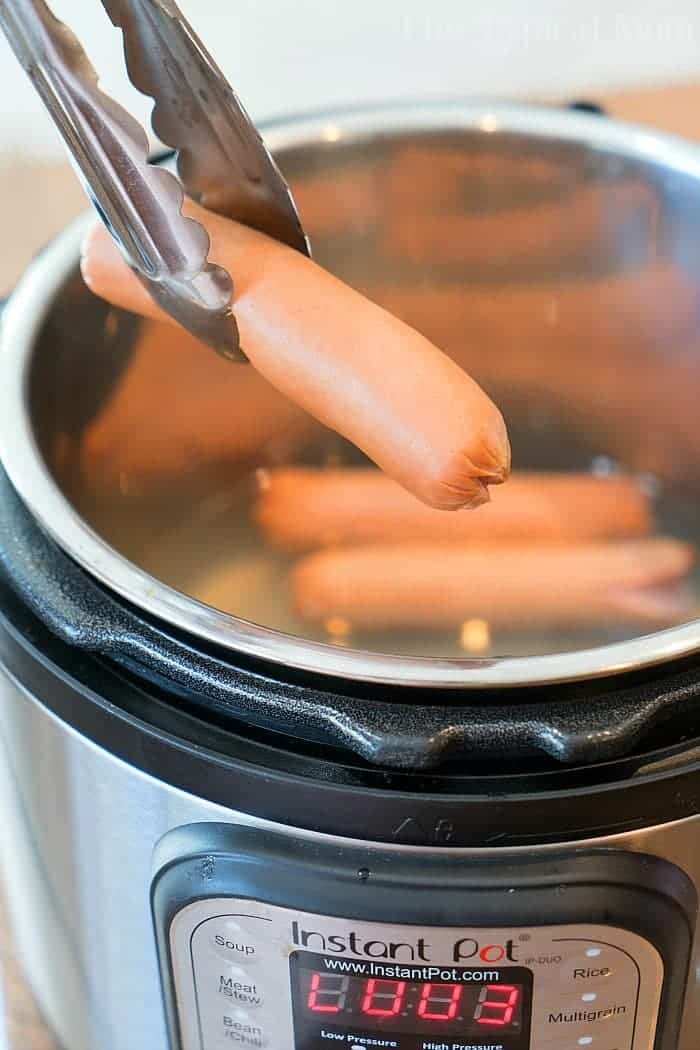 How Long to Boil Frozen Hot Dogs
Believe it or not you only need to add about 1 minute longer if you're doing it this way in a large chunk. If yours looks like this and all stuck together you can unwrap and dunk the whole thing right in. After about 1 minute they will defrost and you can use a spoon to break them apart.
Then your 2 minute timing would start until they are done. If they are already separated I would add just 30 seconds more vs. fresh. Of course if you buy a brand that is larger than the average dog you may need to increase timing just slightly, but overall just remember that a few minutes is all that is needed.
How Long Does it Take to Boil Hot Dogs
Remember that these are already fully cooked, you are just warming them up. Unlike boiled whole chicken you could just leave in a very short time to warm, or longer to get hot hot hot.
Time needed: 2 minutes.
How Long to Boil Hot Dogs
Boil

Add water to a pot, about halfway full. Bring pot of water and a bit of salt to a rolling boil over medium/high heat. This should take 8-10 minutes depending on whether you have a gas or electric stovetop.

Submerge

Once you have boiling water or liquid of your choice bubbling consistently, add the hot dogs into the liquid carefully.

Cook

For defrosted they will be heated thru in 1.5-2 minutes cooking time. Frozen will take 2-3 minutes depending on whether they are stuck together or separated.

Serve

Remove the hot dogs and dab on paper towels to remove the moisture from the outside before adding into a bun and spooning on your toppings.
After you're done cooking hot dogs perfectly it is time for all the toppings we love! A slice of pickle or relish is a must for us, ketchup, hot dog mustard is to die for, even a quick sauerkraut for others. Pair with your favorite side dishes like red cabbage coleslaw and enjoy.
Boiling Hot Dogs in Microwave
You don't really need water for this at all, so not to boil but this how long to cook hot dogs in microwave. Much faster than on the stove as described above so if you're in a hurry this would be the way to go.
Want to see a few of my favorite things that I am totally obsessed with?? Take a peek and see how many you might already have…twinsies!
Looking for more easy family recipes and tips? LIKE The Typical Mom Facebook page?
Then sign up for my free newsletter, and follow me on Pinterest! 😉
***** If you LOVED this recipe give it 5 Stars below and let everyone know what you thought about it. 😉