How long do beans take to cook on the stove, make recipes with Instant Pot dry beans or in a slow cooker Crockpot discussed here. Tips and tricks to cook dry beans to fork tender soaked or the no soak method plus a free printable beans cooking chart.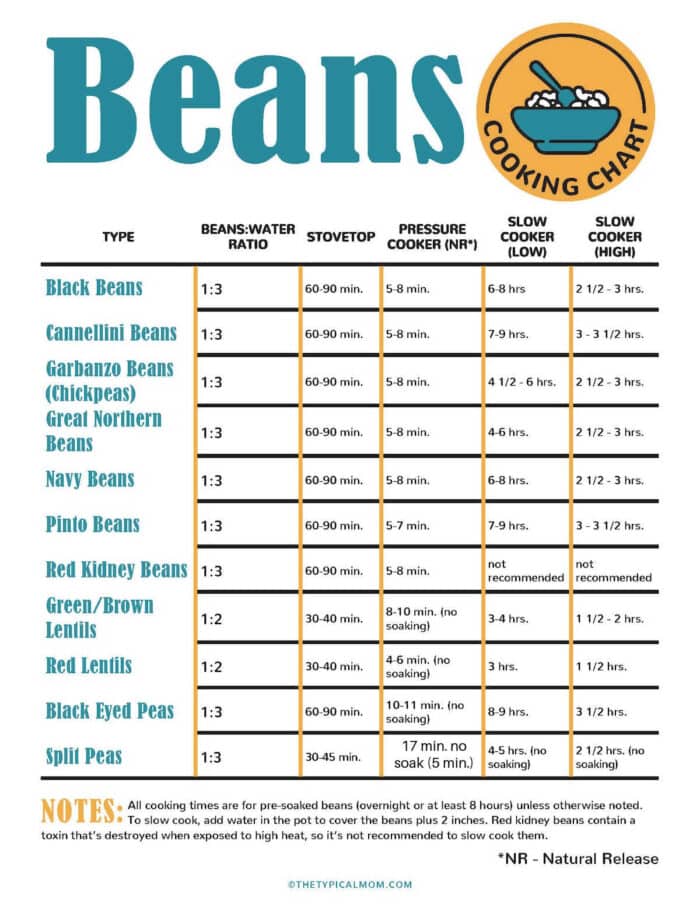 There is in fact a method to the madness when cooking dry beans for sure. If they intimidate you we will help you get more comfortable cooking from scratch here. Then you can enjoy this healthy side dish or make into chili for a main dish. (affiliate links present)
How to Cook Dry Beans
We first came up with a printable for Instant Pot cook time for beans here, the NO soak method. This machine had just come out and that was all I used. I will say it was what made me start cooking with dry legumes because it gave me the confidence that I could do it. Before that it kinda' blew my mind and had never ever tried it.
Under high pressure I will say it is possible and doesn't make a huge difference to try the whole NO soak method ahead of time. Boiled on the stovetop or Crockpot I would highly recommend taking that extra step. Best example of one that turns out beyond amazing pouring the beans in rock hard is our Instant Pot baked beans recipe. To die for!!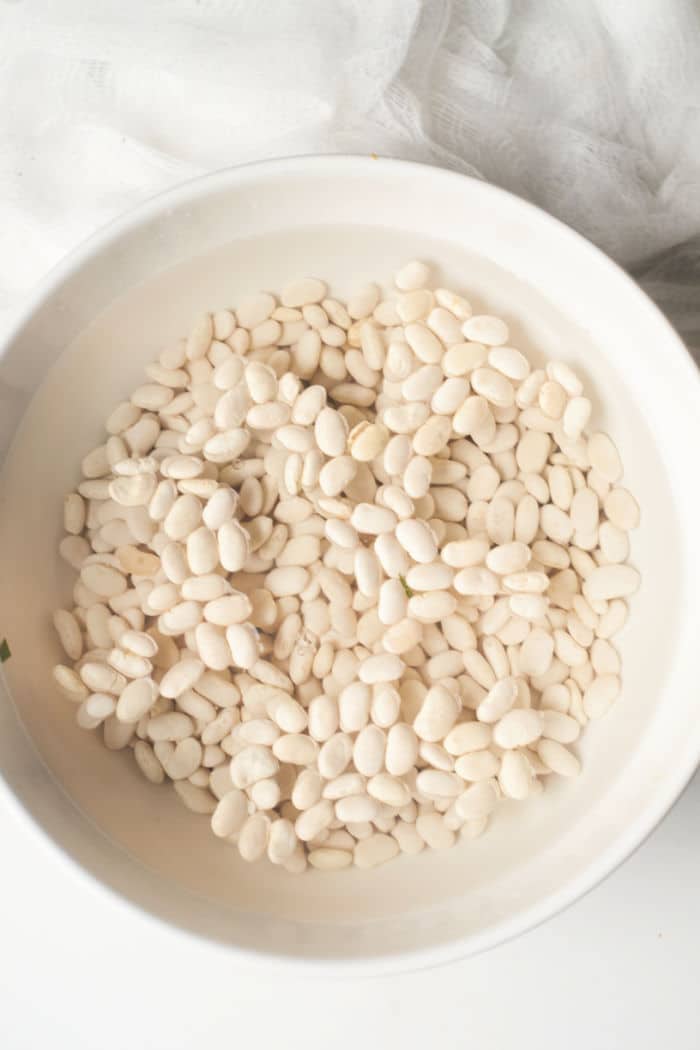 How Long Do Pinto Beans Take to Cook
Ok so for the most part most varieties are about the same. You're looking at about 30 minutes in a pressure cooker if you do not soak them, or under 10 for soaked. 6-8 hours slow cooking works well or an hour on the stovetop. Remember that timing will vary according to texture preferences of course.
I mean if you are cooking beans in Instant Pot for a side dish like you see here with a meal you will likely want a bit of a "bite" to them to chew. You never want them crunchy but the term firm is subjective depending on whom you ask. I don't like any mush in any sense of the word, but my mother does. We could both take a bite of something and have very different opinions on whether they are too soft or not.
If you follow our pressure cooker pinto beans timing as is they will turn out like you see here, perfect for me. Let's say you lifted the lid, they were done, but you wanted them a bit more tender. NO problem, you can fix that. Just add 1 cup more broth and set to saute. This will essentially let you boil them for longer, but fast.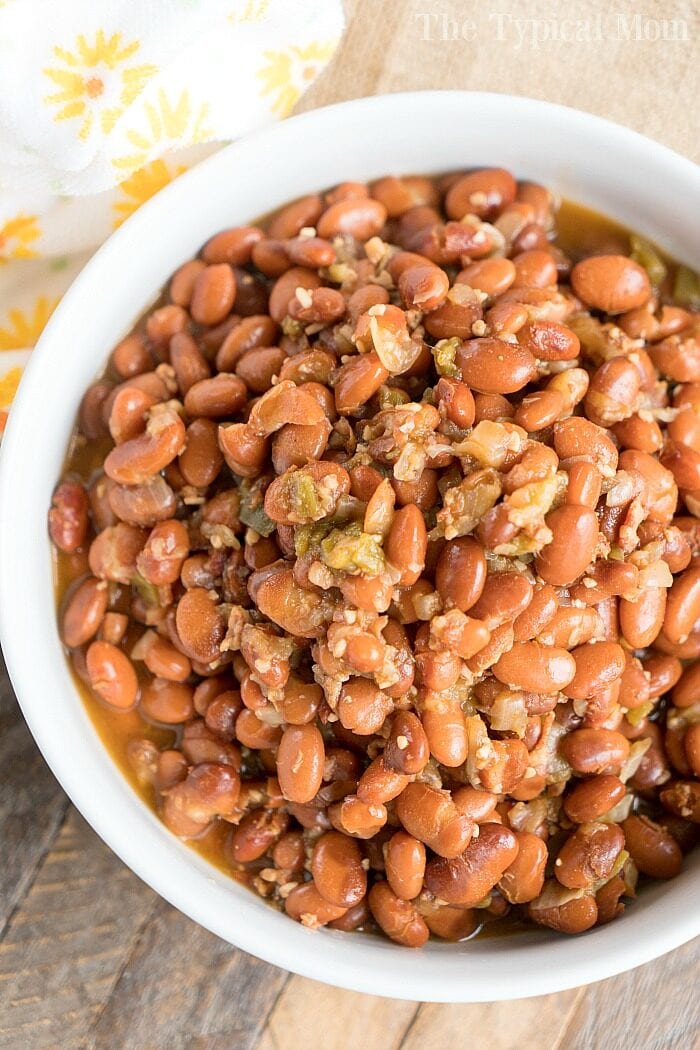 How Long Do Black Beans Take to Cook
When it comes to timing like I said most of them are about the same. You can refer to our chart at the top for that. I will say that the darker the color the more tender I want them to be with the exception of homemade refried beans! I mean……they need to become mush and then use a blender to blend them even smoother.
How Long Do Beans Take to Cook in a Slow Cooker?
Soaked dry beans will take about 5-6 hours depending on the variety. Dry beans in Crockpot that have not been soaked overnight ahead of time take 6-8 hours to get fork tender using twice the amount of water to legumes.
We have done this many times over with just about every different type out there. It is easy to just rinse, pour and let them cook all day this way. I think the best ones are our slow cooker black beans. I can jazz them up for taco Tuesday with some feta on top and diced jalapenos to give it a little spicy.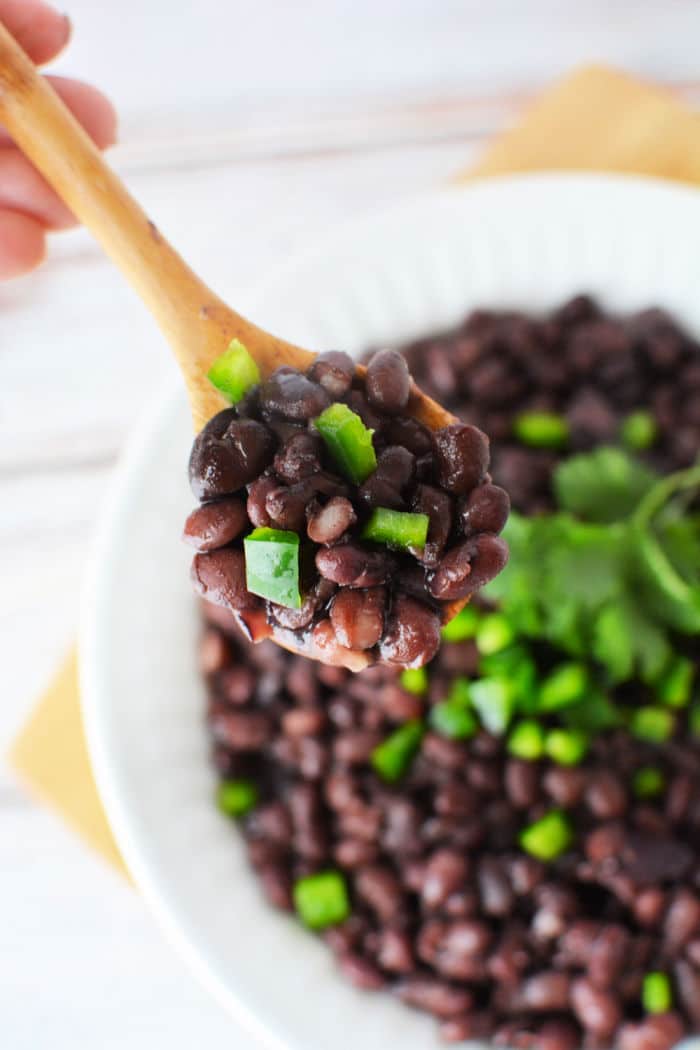 Should You Soak Beans Before Cooking Them
Yes, it's generally a good idea to soak beans before cooking. The purpose of soaking ahead of time is to soften the outsides, reduce the cooking time, and make them easier to digest. From Northern, to kidney and dry lima beans I just do it at night so they're ready in the morning.
When you soak overnight essentially you're rehydrating them. This step helps to dissolve some of the complex sugars that can make your tummy upset if you chose to skip this step entirely. You can eliminate or at least reduce the gas and bloating issue most people experience too which is helpful.
To soak, simply rinse them thoroughly in cold water using a fine strainer. Then cover them with enough water to completely submerge them + a few inches. Let them sit for at least 4-6 hours, or overnight works too. Drain the liquid when you're ready to cook let's say your Mayocoba beans and rinse again before cooking.
Keep in mind that not all types require this step. You wouldn't want to do this to cook red lentils, split peas, or black-eyed peas. I find those are faster anyway, smaller, and if done they would fall apart and become a super weird mush texture so just don't.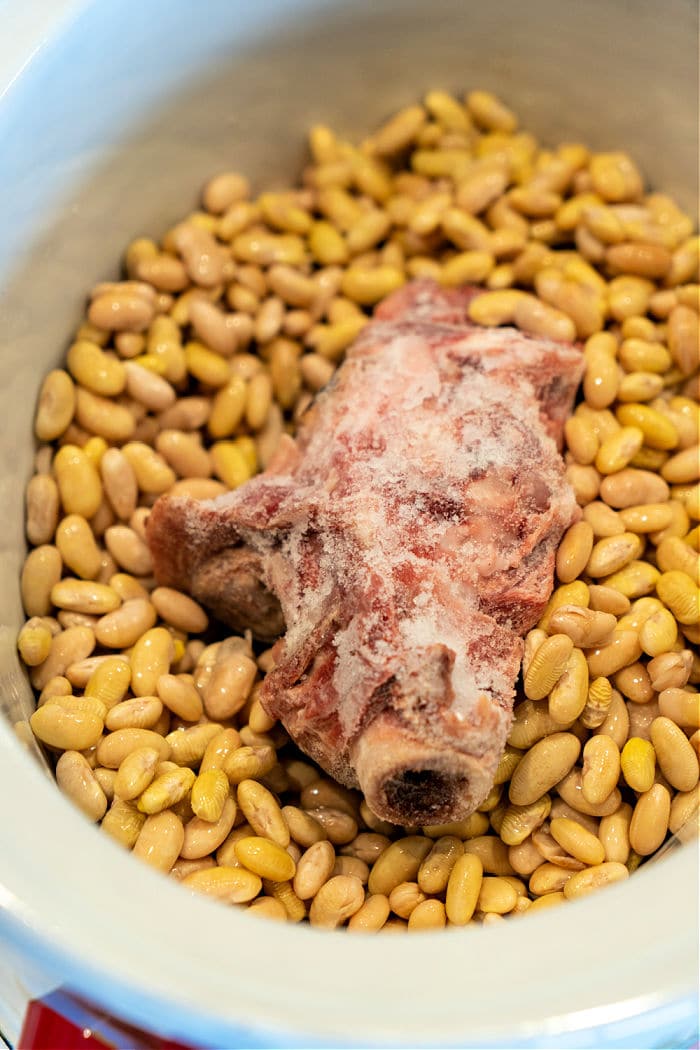 How to Make Dry Beans Taste Better
You definitely need seasonings as they are very plain. Salt and pepper are a given but our favorite add in would be to throw in a few ham hocks too!! Whether they are fresh, smoked, or frozen works too. You can find them in the meat department almost always and they will give your dish tons and tons of flavor. I don't even add salt if I include them.
You do want to find pieces that have been smoked, most are. Instead of water too, you can soak and/or cook your beans in broth or stock for added flavor. Vegetable, chicken, or beef broth are all good options depending on your preference and what you're serving them with.
Time needed: 5 minutes.
How Long to Cook Dry Beans
Print

Click on the link here that will show you how long to cook dry beans printable.

Soak

It is best if you have time to soak in twice the amount of water overnight, timing on printable account for that.

Cook

Use your slow cooker, pressure cooker or a large pot on your stovetop to boil until they are fork tender to your liking.
Want to see a few of my favorite things that I am totally obsessed with?? Take a peek and see how many you might already have…twinsies!
Looking for more easy family recipes and tips? LIKE The Typical Mom Facebook page?
Then sign up for my free newsletter, and follow me on Pinterest! 😉
***** If you LOVED this recipe give it 5 Stars below and let everyone know what you thought about it. 😉