Can you boil frozen chicken for soup, or to make shredded for dinner? Yes! We will share boiled frozen chicken breasts, thighs, legs wings and more. Then you will understand how to cook frozen meat to tender fall off the bone deliciousness.
Frozen chicken boiled is easier than you think, and may save dinner if you were forgetful and didn't thaw your meat the night before. I have shared several ways of how to cook frozen chicken here on the blog but this one is specific to submerging it into a pot of boiling water. (affiliate links present)
Boiling Frozen Chicken
If you do not have access to a stove you can use a pressure cooker to do the same thing!! That is right, no need to wait for water to boil but it essentially will do the same thing with some liquid in your pot and the meat itself. You can find easy instructions on how to boil frozen chicken in Instant Pot here. That one focuses on breasts but I have others to cover all the basis here such as;
You can use your high pressure machine to cook frozen chicken thighs, or read about how to cook frozen drumsticks this way as wel. Always a kid favorite. Those are the main three pieces off the bird that you'd want to cook. Yes you can boil wings too but let's be honest, those NEED to be as crispy as possible and you ain't going to get that submerged in hot water.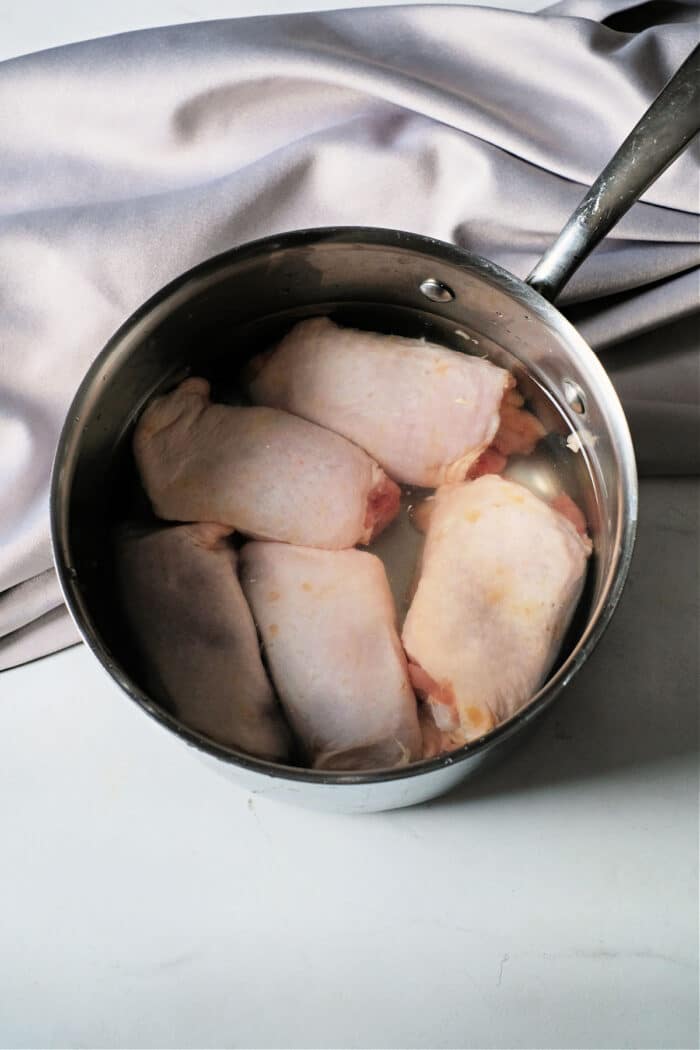 How Long to Boil Frozen Chicken
Slow cooker frozen chicken is another option for "boiling". Those are the alternate if you only have countertop appliances available. If you are traveling in an RV that might be you and yes you can "boil" – or let's say steam if you will using a machine like that as well. Now let's get back to the old fashioned method shall we?
The cook time will always vary slightly depending on how thick your pieces are and whether they are boneless. Boiling a frozen chicken whole would take the longest of course.
The overall timing from wings to breasts is from 12-75 minutes, depending on the size of your pieces
Bone-in chicken boiled takes the longest
The smaller the piece the faster it will reach the safe internal meat temperature reaches 165 degrees F.
Boiling a Frozen Chicken
Boneless skinless boiled frozen chicken breasts are really the way to go no matter what you are making. There is no bone to deal with, cut around, or need to take longer if it is removed before you ever add them. Yes they are more expensive but worth it if you ask me. With that said let's talk what is the best type of chicken to buy?
I have a strong opinion as far as this question goes. We cook a lot of poultry and will say that the texture of organic, free range chickens are by far the best!
They are smaller in size but have less fat on the bird so overall you basically get the same amount of meat in a smaller package, remember that. WAY more tender than if they are cooped up in a coop. 😉
How Long to Boil Frozen Chicken Breast
Boiled frozen boneless chicken breasts take about 25 – 30 minutes to become fully cooked. Bone-in frozen breasts takes 30-40 min. or until the middle, thickest portion reaches a safe 165 degrees F. (timing will vary depending on how thick your pieces are). You can see what we choose here. Bagged will be about the same size, medium.
For the best results when boiling meat, always make sure that you separate them first. If they are in a solid chunk run under cool water and use your hands to break them apart. This will ensure that they boil at an even rate and get done at the same time. All pieces should be about the same size too.
You should always check the internal temperature with digital thermometer too. How can you tell if chicken is done and safe to eat? Well you will need to remove it from the water first. If you don't the temp. won't be accurate.
Use tongs and set it on a cutting board. Insert the probe into the thickest portion to ensure it is safe, which is 165 Fahrenheit.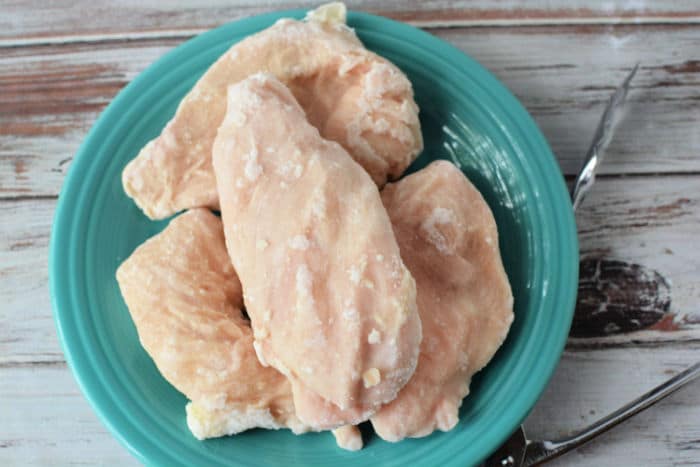 Do You Boil Frozen Chicken in Cold Water
Cold or room temperature is what you are going to start with yes. Since they are starting off rock hard you want a slow transition to occur when cooking these. SO to do this you will want to put however many you want to cook inside your large pot. Cover them with water so they are submerged completely and then put your pot on the stove.
Set to medium high heat so it can start boiling. I add salt in there too, just a pinch unless I am making soup then I will add much more as seen below. Keep in mind that it will take some time for the water to heat up enough to start to bubble. You want it to get to a consistent boil where it isn't bubbling over but doesn't stop bubbling either.
From that point you will start your timer. Check at the minimum timing listed below to check the temp., adjust for a few more minutes if need be.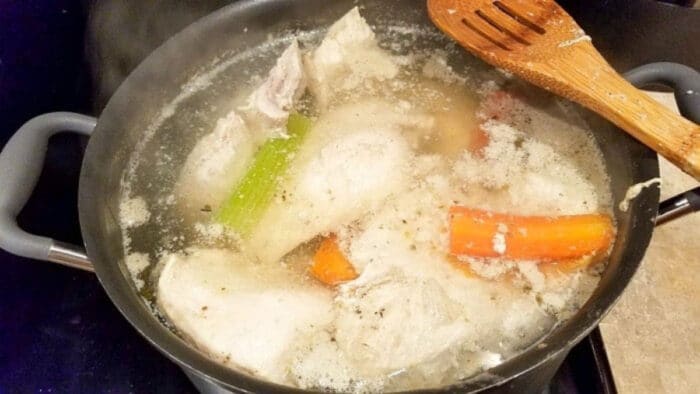 Can You Boil Frozen Chicken for Soup
Absolutely!! We have made chicken noodle soup with frozen chicken more than once and it is fabulous. If this is your intention you will want to add peeled carrots and celery that have been cut into large dials or pieces. You will also want to add more seasonings like salt, pepper, thyme, basil and/or anything else you love.
Once your boiled frozen chicken legs, wings or thighs are done just pull it out one at a time, shred with two forks, or cut into small bite size pieces and add right back into your pot. Use a spoon to gather up the "yuck" that has accumulated at the top of your homemade chicken broth. OR you can strain your liquid to remove all of that
Once your boiled chicken thighs or other cuts are done you can taste and season again to your liking. I tend to keep ours lower in sodium for my husband's sake but you can add some heat to make spicy chicken noodle soup too.
Boiling Frozen Chicken Breasts
Can you boil chicken to cook it?
I hope we have answered this question here and it is a resounding yes!! This is a great way to make homemade chicken soup for sure, or shred it to make tacos for dinner too. Boiled frozen chicken becomes fall off the bone tender with just some water and a bit of time.
How long does it take to boil frozen chicken?
The cooking time for frozen chicken will vary depending on the size and thickness of the pieces. For example, boneless, skinless chicken breasts will take less time than bone-in pieces or legs and thighs.
How do you boil frozen chicken breast for dogs?
Use boneless skinless breasts or thighs, or remove bones when done. Set a pot of water on stovetop over medium high heat until boiling. Submerge pieces and boil frozen chicken for dogs 10-12 minutes or until meat pulls apart easily with 2 forks.
How to Boil Frozen Chicken
Still haven't convinced you and you would rather thaw frozen chicken first? I get it, it really does cook better if you do remember to do so ahead of time. You can put your bag of meat in a bowl of cold water for a few hours to soften it up. You'll need to change that every 30 minutes though to stay safe, and it will take a bit to do so.
You can defrost chicken in microwave this way too if you are in more of a rush. That will take closer to 20 minutes which is faster but in the end overnight in the fridge is your best bet for any chicken recipe you might have in mind to make this week. Either way now you have all the resources to save the day and make dinner happen one way or another. 😉
Let us know what you make once your proteins are cooked to fork tender, maybe we can try it when meal planning and add it to our website so others can enjoy that creation too! 😉
Want to see a few of my favorite things that I am totally obsessed with?? Take a peek and see how many you might already have…twinsies!
Looking for more easy family recipes and tips? LIKE The Typical Mom Facebook page?
Then sign up for my free newsletter, and follow me on Pinterest! 😉
***** If you LOVED this recipe give it 5 Stars below and let everyone know what you thought about it. 😉
Can You Boil Frozen Chicken
This is how to boil frozen chicken to tender easily on your stovetop or pressure cooker. Great for shredded chicken or broil when done for crispy skins.
Instructions
Put your pieces into a large pot and fill with enough water to cover / submerge them all then add a sprinkle of salt (or bouillon cubes for more flavor)

Set on your stovetop over medium high heat until it reaches a continuous low roll boil. Adjust heat so it doesn't boil over the sides but doesn't stop bubbling either.

*** If you plan to make soup out of this later you will want to add 2 peeled and sliced dials of carrots, 2 cut up stalks of celery, 1 onion sliced, some pepper, thyme and basil too with the meat **

Boiled frozen chicken breasts that are boneless take about 25-30 minutes, bone-in takes 30-40 min. or until the middle, thickest portion reaches a safe 165 degrees F. (timing will vary depending on how thick your pieces are)

Boiled frozen chicken legs take about 27-30 minutes or until the middle, thickest portion reaches a safe 165 degrees F. (timing will vary depending on how thick your pieces are)

Boiled frozen chicken thighs boneless take about 30-35 minutes, bone-in takes 35-40 min. or until the middle, thickest portion reaches a safe 165 degrees F. (timing will vary depending on how thick your pieces are)

Boiled frozen chicken wings take about 12-15 minutes or until the middle, thickest portion reaches a safe 165 degrees F. (timing will vary depending on how thick your pieces are)

Boiled frozen whole chicken less than 4 pounds will take about 1 hour and 15 minutes depending on the weight until it reaches 165 degrees internally.

When done you can shred or remove the meat off the bones and enjoy as is or put back into the broth in the pot to make homemade chicken soup.

If you would like to crisp the skin preheat air fryer to 400. Dry outside skin with paper towels and spray with olive oil. Season outsides. Spray air fryer basket with non stick spray and add into basket for 4 minutes or so until browned as much as you'd like.
Nutrition Facts
Can You Boil Frozen Chicken
Amount Per Serving (1 oz)
Calories 172
Calories from Fat 36
% Daily Value*
Fat 4g6%
Cholesterol 96mg32%
Sodium 175mg8%
Potassium 557mg16%
Protein 32g64%
Vitamin A 45IU1%
Vitamin C 2mg2%
Calcium 8mg1%
Iron 1mg6%
* Percent Daily Values are based on a 2000 calorie diet.