This pressure cooker beer can chicken is amazing! An easy and flavorful way to cook a whole chicken in a Ninja Foodi, Instant Pot or make Crockpot Express beer can chicken the easiest way! Fall off the bone in no time!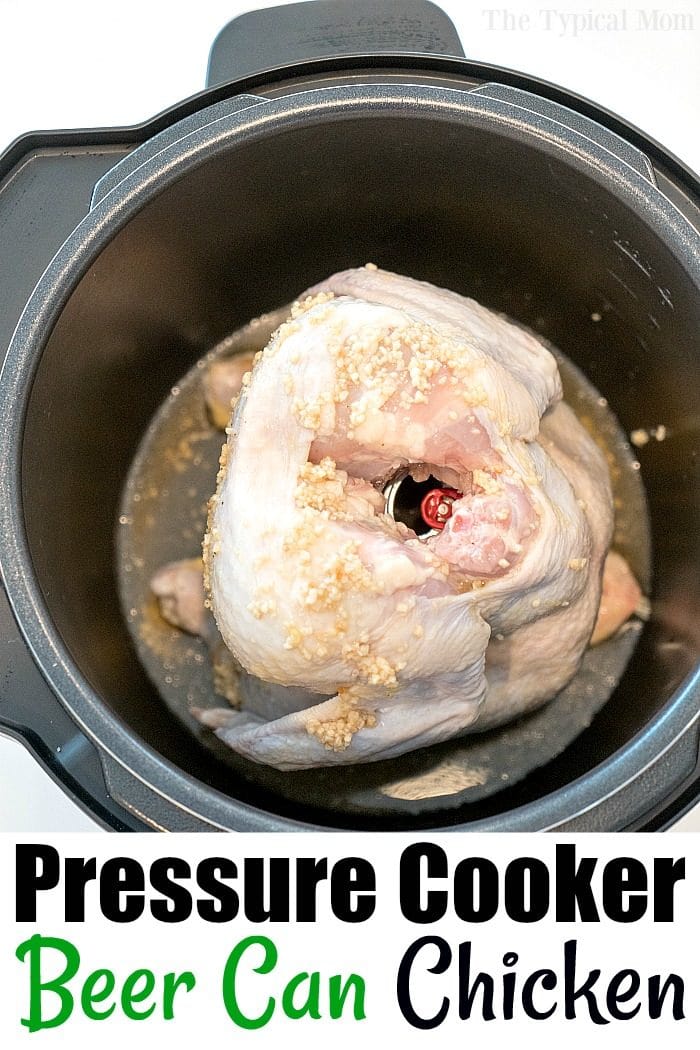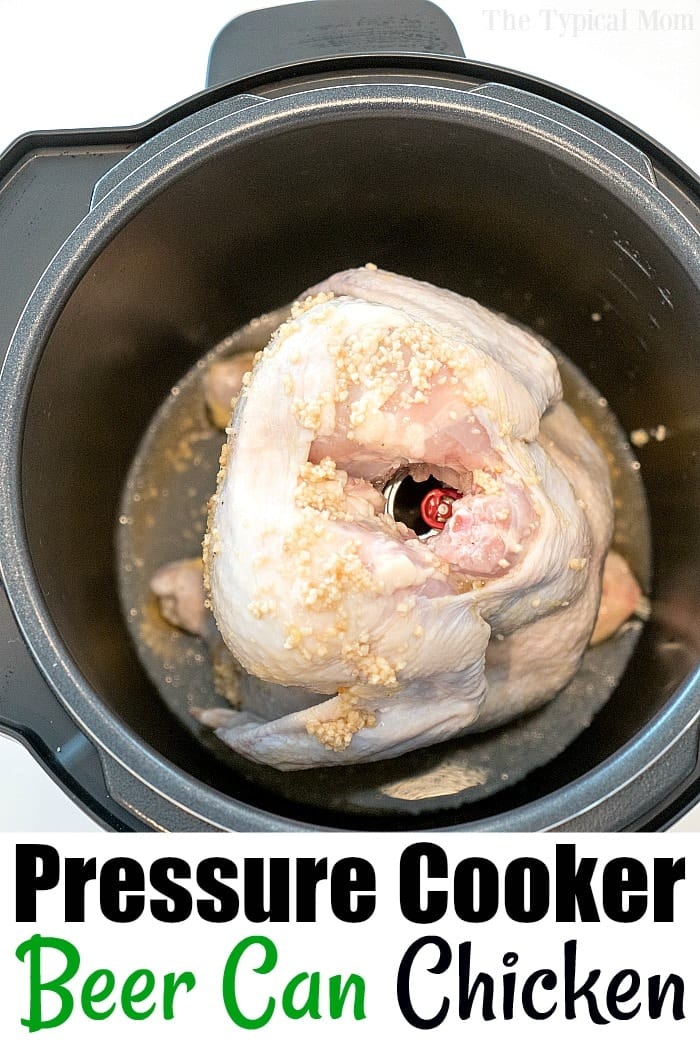 This pressure cooker beer can chicken was a game changer! Even if you aren't a beer lover, but love fall off the bone chicken full of flavor, you've got to try this easy Instant Pot recipe. (originally published 1/19, affiliate links present)
Pressure Cooker Whole Chicken
Ok so I grew up with this good ol' fashioned beer can chicken recipe that was always cooked on the barbecue. It did always come out great but had a much longer cooking time. Then came the pressure cooker! I couldn't stop using it so I thought what the heck, let's give this a whirl too.
One of the biggest factors as to whether this will work in yours is it's size. Both the bird and your pot have to fit right so the lid will close with a bit of space in between. This works best in the Crockpot Express because it is taller but for an 8 quart IP you can do it too.
FIRST – You should sign up for my free newsletter so you get new posts emailed to you twice a week and never miss out on anything! Now let's start with a few basic tips:
Make sure to Bookmark our InstaPot recipes page. We add new ones each week!
Then PRINT this —–> Instant Pot cooking times cheat sheet that will help you understand how long meat, vegetables and beans take to cook in your pressure cooker.
For reference, this is the pressure cooker I have (a 6 quart) and use for all recipe creations.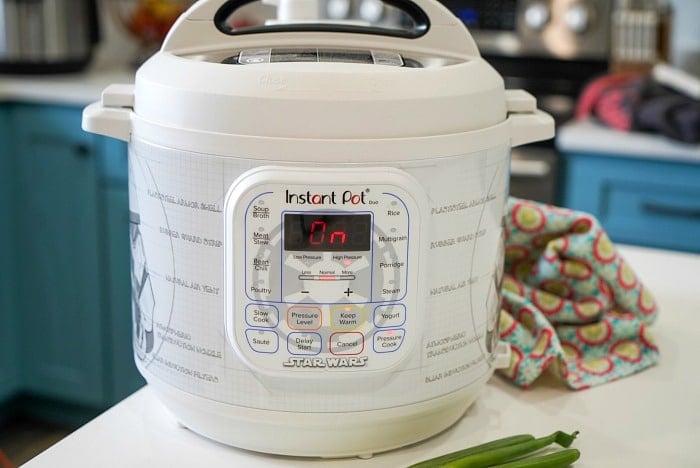 Instant Pot beer can chicken
Seriously, you just open beer, pour some inside, set chicken on top, season and set to manual high pressure. It's not a dream any longer my friends. It's a favorite Instant Pot whole chicken recipe of ours. You've got to try this even if you aren't a beer lover. 😉
Is it safe to use beer in a pressure cooker?
Yes, I have done it with this recipe as well as making corned beef and cabbage in the Instant Pot.
I will tell you at first I left it open overnight so it wasn't bubbly.
Then I did my research and everywhere said it was fine.
From then on out, the past year, I just pour it in and it is just fine.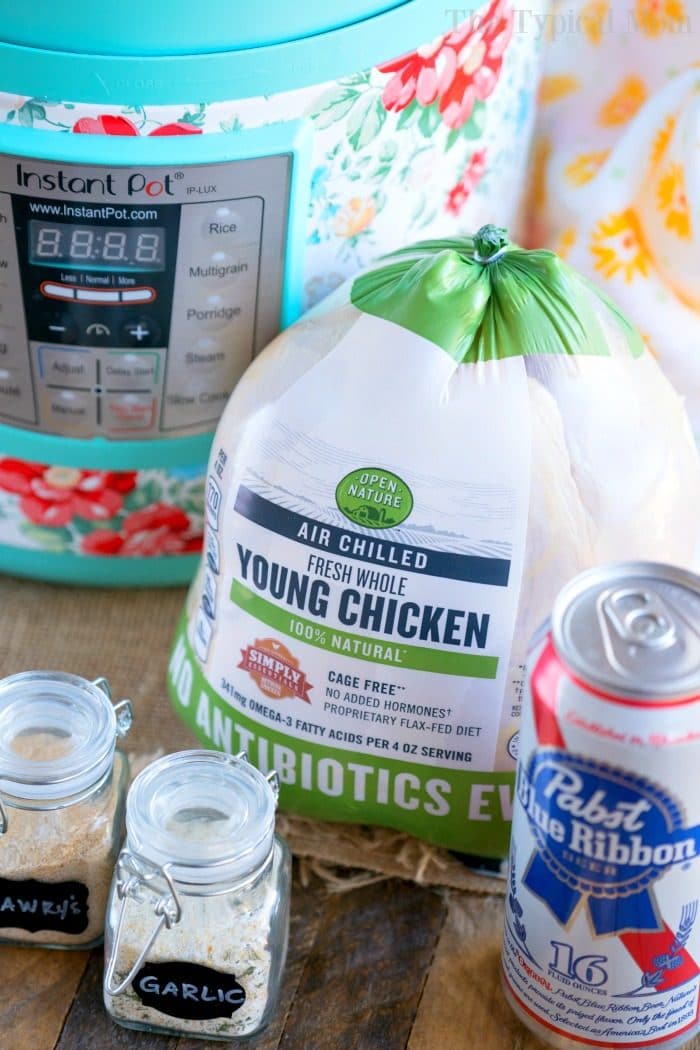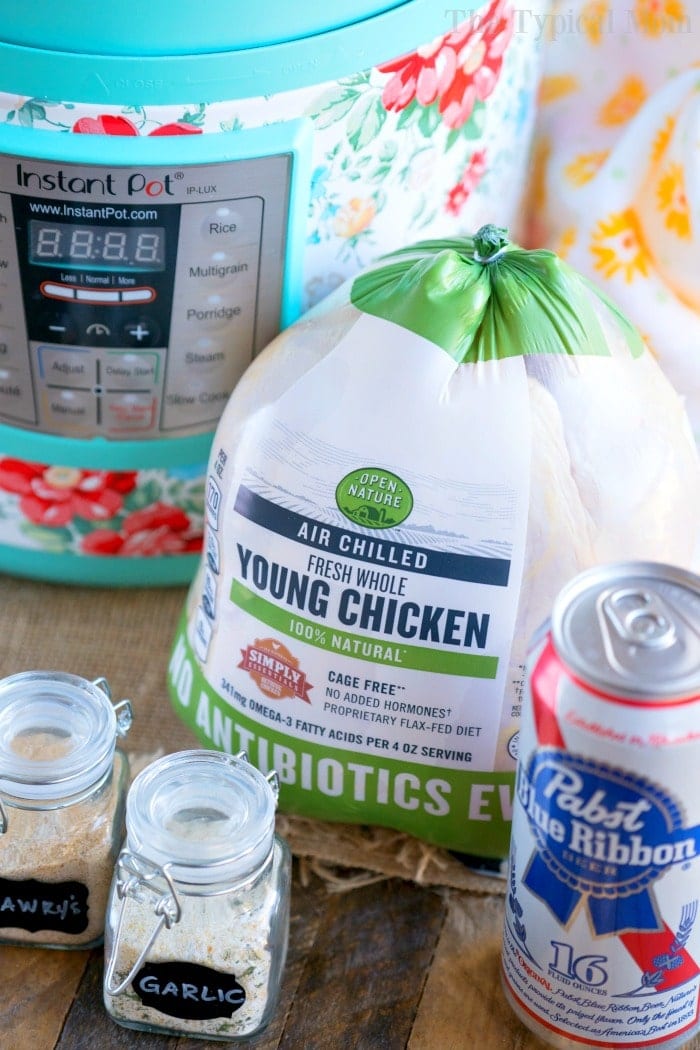 How does beer can chicken work?
The can acts as a trivet of sorts .
You put the can of beer into the open cavity and cook!
This is how we initially made chicken in the Instant Pot, before now!!
Pressure cooker frozen whole chicken – I figured this out last month because I am forever forgetting to defrost meat for dinner. I wanted to figure this out to save dinner on those days.
Our Instant Pot chicken – I created this post to explain how to cook chicken in the Instant Pot whether it's frozen, you're cooking drumsticks, fresh breasts, a whole chicken.
NOW we're here to show you how to make the best beer can chicken in your pressure cooker!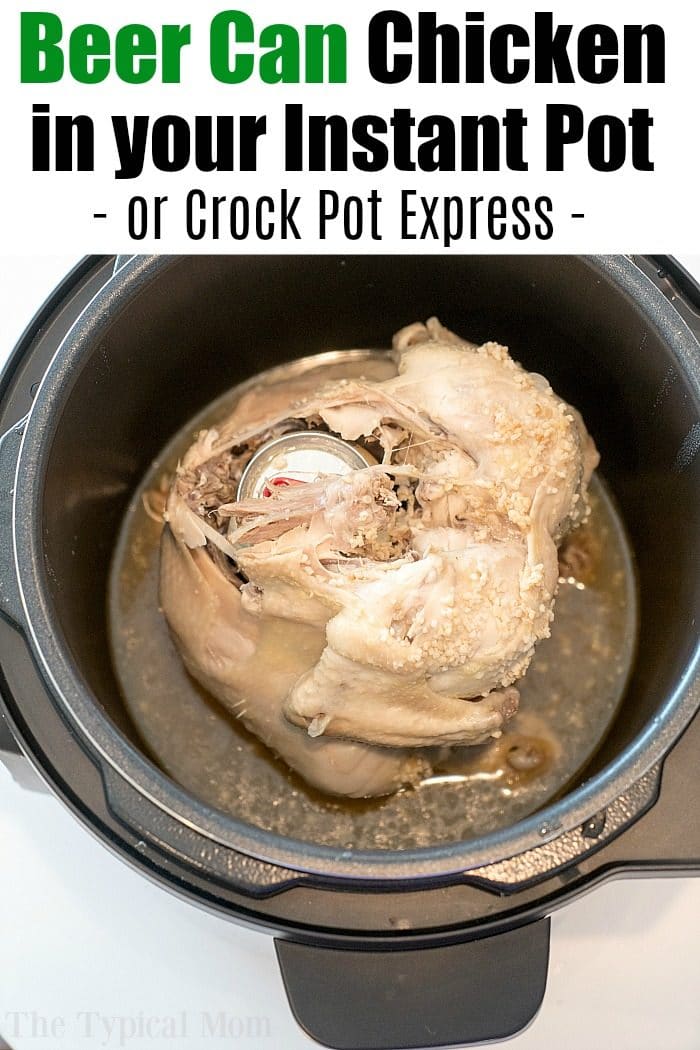 Fall off the bone literally right??!! It's a wonder I was even able to get it out of the pot in kinda' one piece in order to throw it under the broiler for a bit and crisp up the skin like you see here below (totally optional step but yummy).
Beer can chicken Instant Pot
This is why we love it beyond using our smoker.
When it's winter time and it's snowing outside, I'm not about to cook outside
When it's summertime I don't want to turn on the oven to cook a whole chicken. Then, my pressure cooker saves the day.
Instant Pot beer can chicken takes approx. 30 minutes to go from a whole raw chicken to fall off the bone vs. several hours on the grill.
You can control how crispy the outside skin gets under your broiler after it's cooked vs. sometimes getting overdone and dry in your bbq.
Beer can chicken in your pressure cooker comes out perfectly moist every time versus potentially drying out on the grill.
Of course the last step of broiling the chicken is optional, but we like it just a bit.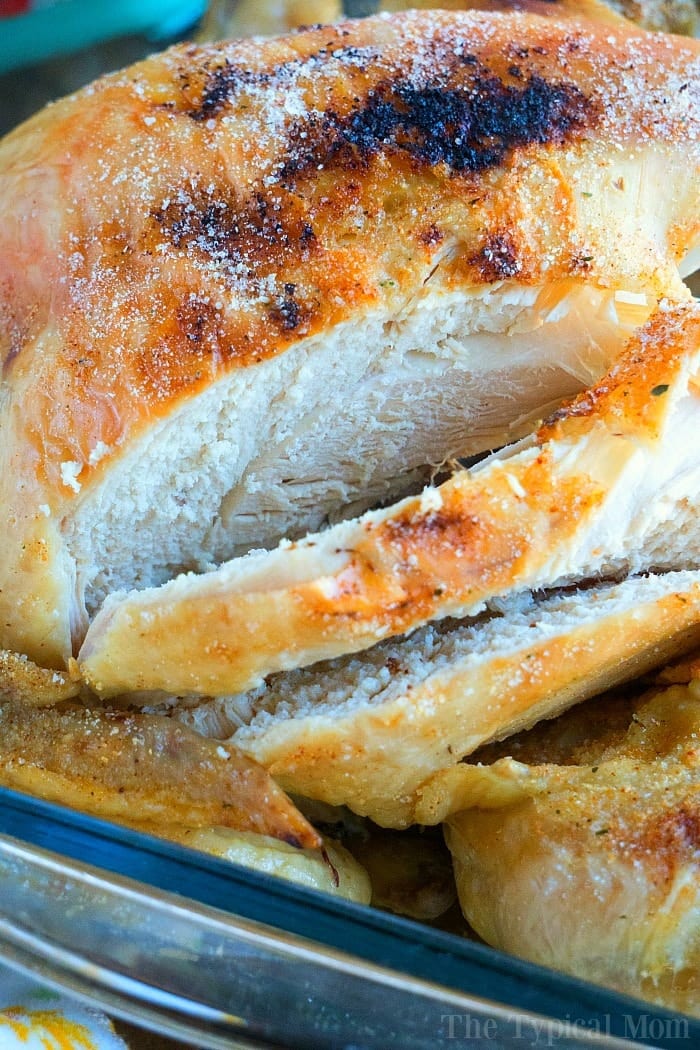 Instant Pot beer can chicken recipe
You NEED an 8 qt. pressure cooker – This will NOT work in a 6 qt. size (it will be too tall and not close). We used our 8 qt. Crock Pot Express
Whole chicken – 4-4.5 lbs. is ideal (much more than 5 lbs. will take a longer time and may not fit)

I prefer organic because there's more meat and less fat overall. A 4.5 lb. chicken will feed the 5 of us with very little fat to discard

12 oz. can of beer (larger will not work, it will be too tall)

I choose whichever brand is on sale since I only use beer for this recipe and my favorite beer bread.

Seasonings you would normally use when you bake a whole chicken

We used olive oil, minced garlic, seasoned salt and garlic salt
9″ square oven safe dish – For browning once it is cooked (if you want crispy skin) throw it under your broiler for 3-4 minutes. OR use your air fryer!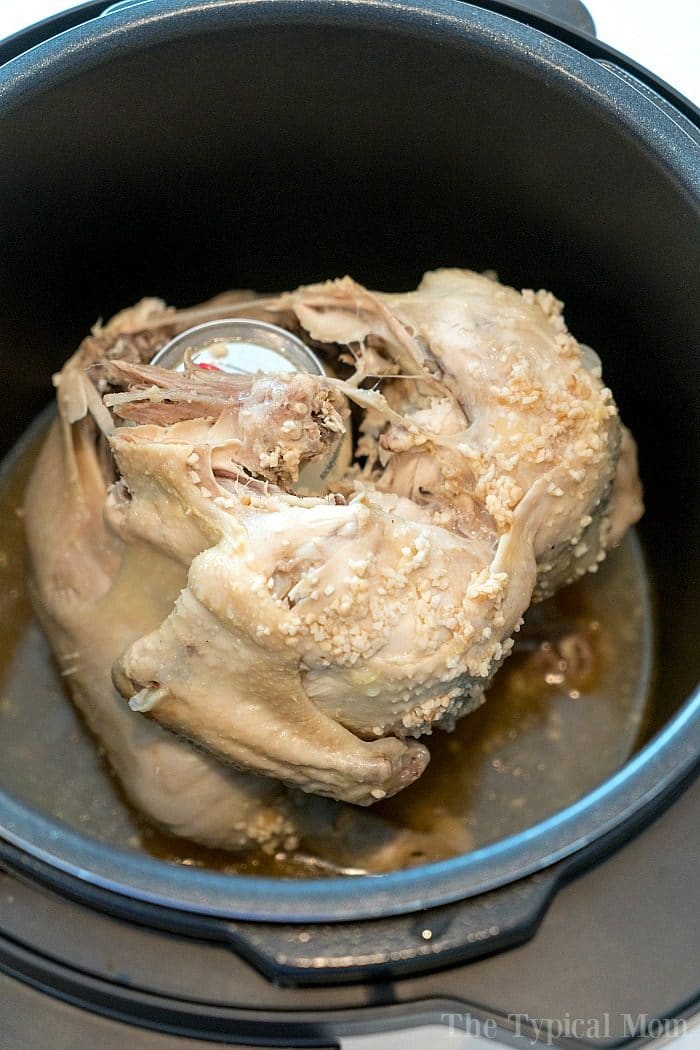 Beer can chicken in Ninja Foodi
You make this the same way, in an 8 qt. It doesn't matter what brand you have it will work just as great. Here are Ninja Foodi chicken recipes. This one didn't work in my model 6 qt. because their pot wasn't tall enough, maybe the 8 would be. 🙁 Instructions work for all types of electric pressure cooker models.
Other easy chicken recipes and side items that pair well with this:
Try our smoked beer can chicken too if you like! As a side item this is the best beer bread recipe, our chile rice is great, and potato rolls are yummy. Pair them up and have a great simple meal this week!
How long does it take for a pressure cooker to reach pressure?
Depends on the pressure cook recipe
In general I would say it takes 10 – 25 minutes to start the total time countdown.
Want to see a few of my favorite things that I am totally obsessed with?? Take a peek and see how many you might already have…twinsies!
Looking for more easy family recipes and tips? LIKE The Typical Mom Facebook page?
Then sign up for my free newsletter, and follow me on Pinterest! 😉
***** If you LOVED this recipe give it 5 Stars below and let everyone know what you thought about it. 😉
Ninja Foodi Beer Can Chicken
I haven't tried this yet because I have the smallest model. If you have the 8 qt. and yours will close with the bird facing up then go for it like this.
If not throw it into your Ninja Foodi or other brand to make air fryer whole chicken. You can see how amazing that turns out. You'd omit the beer….but you could just drink that. 😉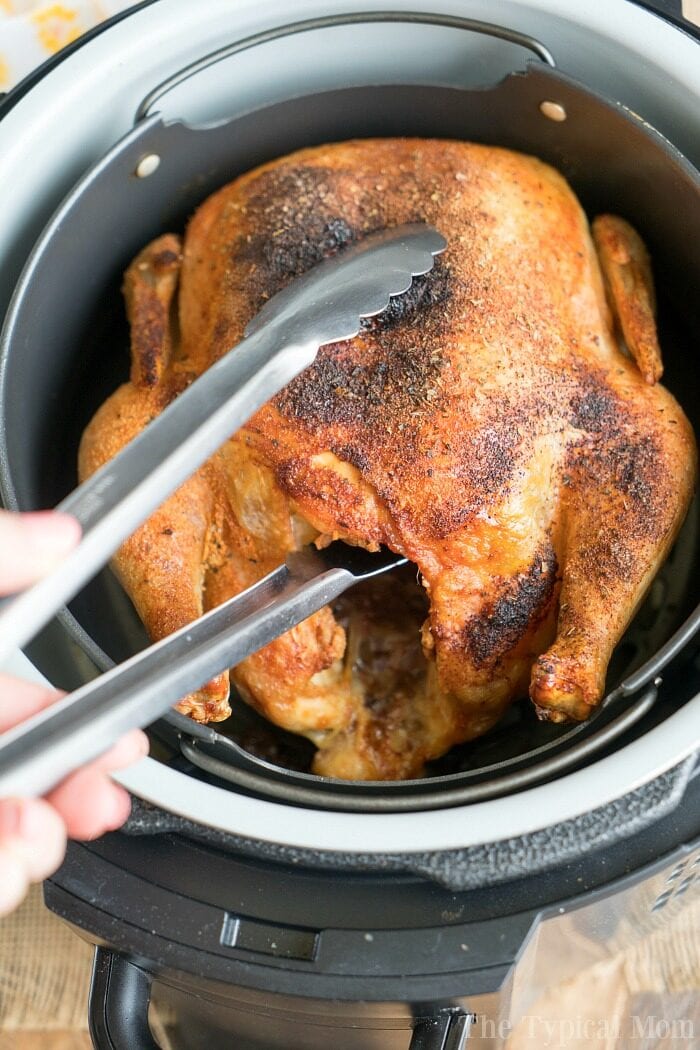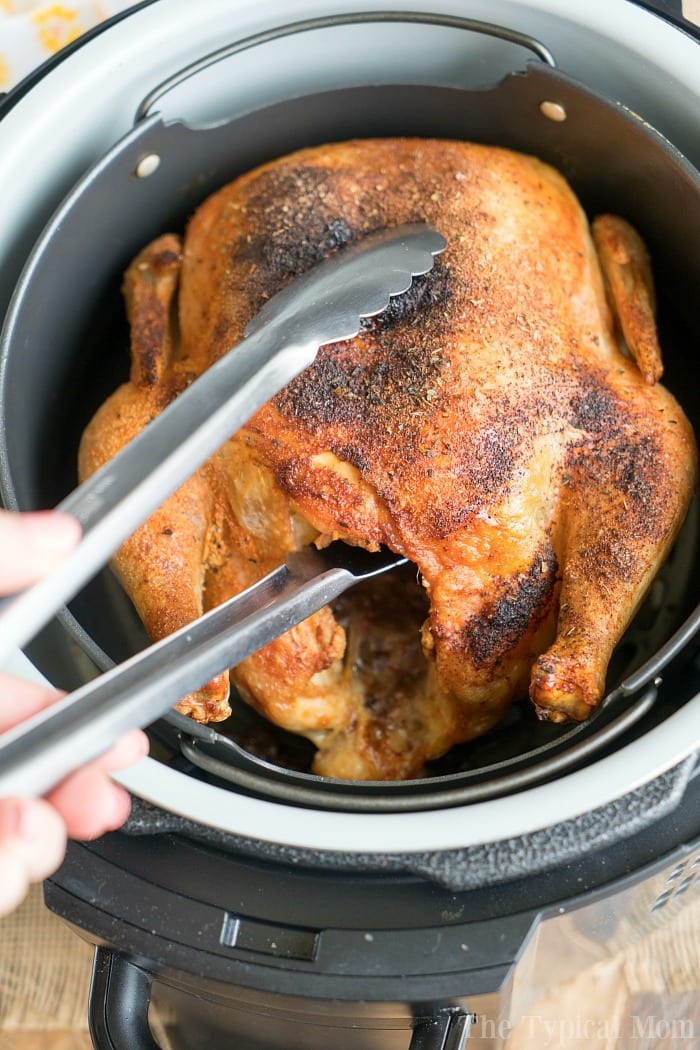 Tip: Remember that natural release means you don't touch the pressure valve once time is up. Wait until timer on front says 10, then release the pressure by flipping the valve quickly. Be careful, it's hot.
Pressure Cooker Beer Can Chicken
Pressure cooker beer can chicken is so easy and an amazingly flavorful way to cook a whole chicken in the Instant Pot that falls off the bone!
Instructions
NOTE: This only works with 8 qt. electric pressure cookers, will not fit in 6 qt versions.

Wash your chicken and remove neck etc. from inside cavity if there is one. Discard all innards.

Pour 3/4 of a cup of beer from your beer can into your pressure cooker.

You do not need to season your chicken but we do. This way.

Rub olive oil on the outside of your chicken along with the minced garlic. Sprinkle the seasoned salt and garlic salt on the outside of your chicken as well.

Put your beer can with remaining beer inside on the bottom, middle, of your pressure cooker.

Put the open cavity of your chicken facing down and lower it on to your beer can. Insert as far as it will go inside your chicken.

Close your lid and steam valve and set to high pressure for 25 minutes.

Instant Pot: pressure, high, 25 minutes

Crock Pot Express: pressure adjust (or manual pressure button), high, 25 minutes

Alternative: poultry button, 25 minutes

Allow to naturally release for 10 minutes, release rest of steam.

Carefully pull out chicken (it will be falling apart)

If you want skin crispy: Set oven to broil. Put chicken in oven safe dish, broil for 3-5 minutes or until outside/skin is as brown/crispy as you'd like it. OR put into large air fryer, spray top with olive oil, set at 400 F for about 6 minutes or as crispy as you want it.
Nutrition Facts
Pressure Cooker Beer Can Chicken
Amount Per Serving (4 oz)
Calories 39
Calories from Fat 18
% Daily Value*
Fat 2g3%
Sodium 390mg17%
Potassium 11mg0%
Carbohydrates 1g0%
Vitamin C 0.4mg0%
Calcium 5mg1%
* Percent Daily Values are based on a 2000 calorie diet.