The best quick chicken thigh recipes your whole family will love! Made in the oven, as a sheet pan dinner, in a pressure cooker and more. We will show you how to get them crispy AND cooking frozen chicken thighs perfectly too!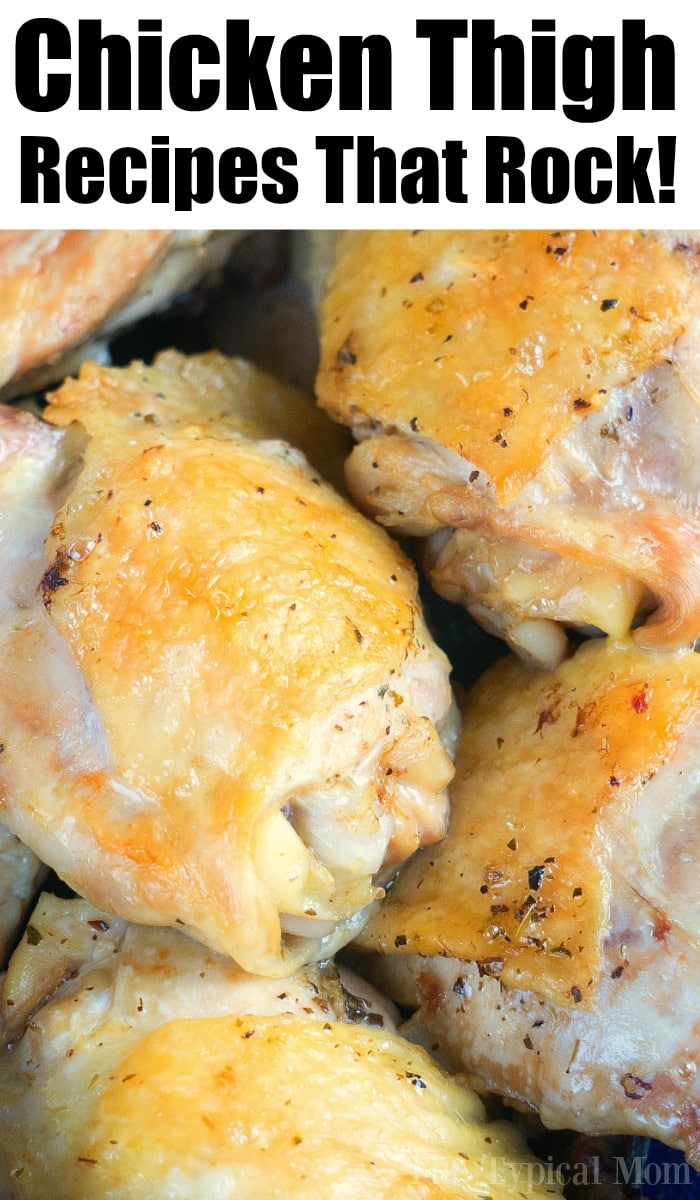 If you're looking for a few quick chicken thigh recipes we have a bunch of 'em! You can cook this inexpensive cut of chicken in a bunch of different ways and we will share them all. Plain, sauced, they're all wonderful. (affiliate links present, originally published 6/21)
Easy Chicken Thigh Recipes
We eat this dark meat often. It is my youngest daughter's favorite protein to eat and it's super cheap so it's my go to. If you are on a budget this cut is the best to grab. Easy on your wallet and has literally the most flavor of any other cut on the bird. We'll explain all different ways to cook it and get crispy skin too!
How Long to Cook Chicken Thighs
Timing depends on the cooking method you choose but generally you're looking at 20 minutes to a bit over an hour for let's say our bbq chicken thighs in oven. Pressure cooking would be fastest and on the stove would take longest generally.
Do chicken thighs taste good?
Absolutely. I have to admit that I didn't buy these often until the last few years. Once I dove in they became my favorite because they have so much more flavor.
AND the tenderness is way better than a breast. You can just throw it into a pan with garlic butter, salt, roasted garlic and pepper of course….but there are so many more options.
I personally love a great pan sauce on top of every type of meat. This is how to make homemade teriyaki sauce, we use it on everything. You can use it to make our Instant Pot spicy teriyaki chicken, or one of our favorite chicken dishes.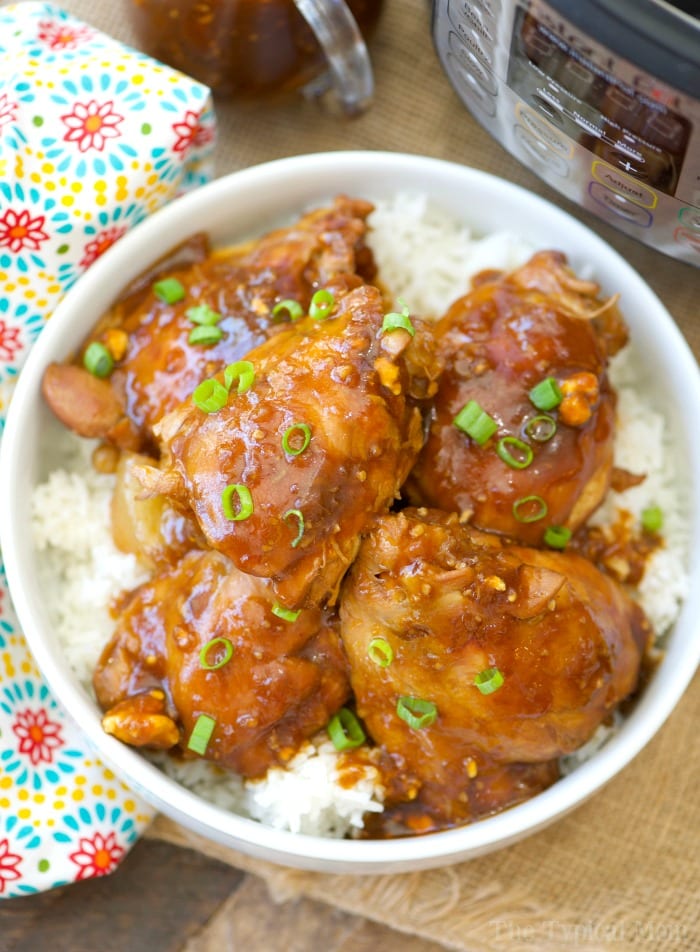 Chicken Thigh Recipes
If I find a great sale on bone in chicken thighs I grab a bunch, they freeze well too. Break them up into 6 in each freezer bag and then I am set for weeks to come. Then I can cook from frozen or defrost and make Instant Pot bbq chicken thighs for dinner.
Why are chicken thighs so cheap?
It is because they are dark meat. For years people have been conditioned to believe that dark meat is fattening. That chicken breasts are higher in protein and healthier, thus the big difference in price.
Are chicken thighs nutritious?
All pieces are high in protein but darker meats have a higher percentage of fat and calories. If you remove the skin you'll get a lot closer to white meat fat content though. Serve with low fat side dishes and dinner is ready! OR mix with Puerto Rican seasonings to amp it up with our Slow Cooker Guisado de Pollo.
How do I cook boneless chicken thighs?
Most of the time this is what I buy. Then I dice it up as you see here so it cooks quicker and more evenly. Bake with seasonings as is, throw into a casserole, or make into air fryer popcorn chicken nuggets. My kids love homemade chicken nuggets air fryer style too. Breasts or thighs work for this.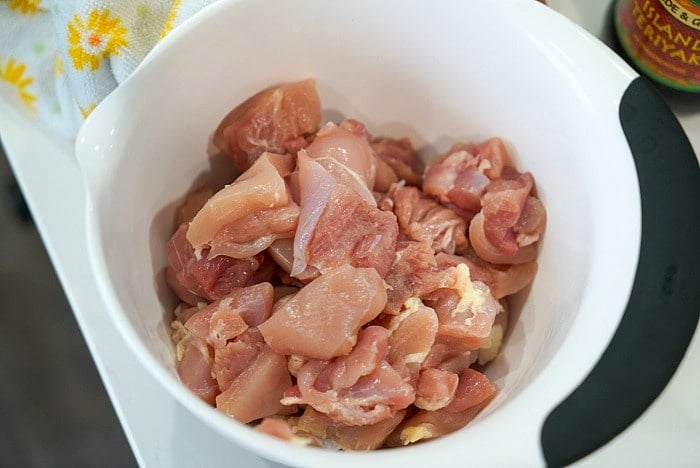 How Long to Cook Chicken Thighs in Air Fryer
I do prefer boneless skinless chicken thighs but of course they aren't as cheap. BUT if I do get them there are TONS of options. I cube it and make things like air fryer teriyaki chicken or throw it in with our air fryer vegetables.
You could throw it in our air fryer fajitas with some seasonings like onion powder and garlic powder or packaged mixes too. That is great with beef or chicken too so you can change it up quite well throughout the week.
Need healthy? My kids love air fryer chicken kabobs with mushrooms and zucchini on the skewers.
I think my favorite is this marinated chicken in air fryer though. Probably because I can't get enough teriyaki or soy sauce marinated everything.
Want to just throw them in without any prep from you? NO problem, just follow our air fryer chicken thighs recipe here. Just olive oil and seasonings are needed with a quick cooking time. You can even cook air fryer frozen chicken thighs too….and nobody will know the difference. 😉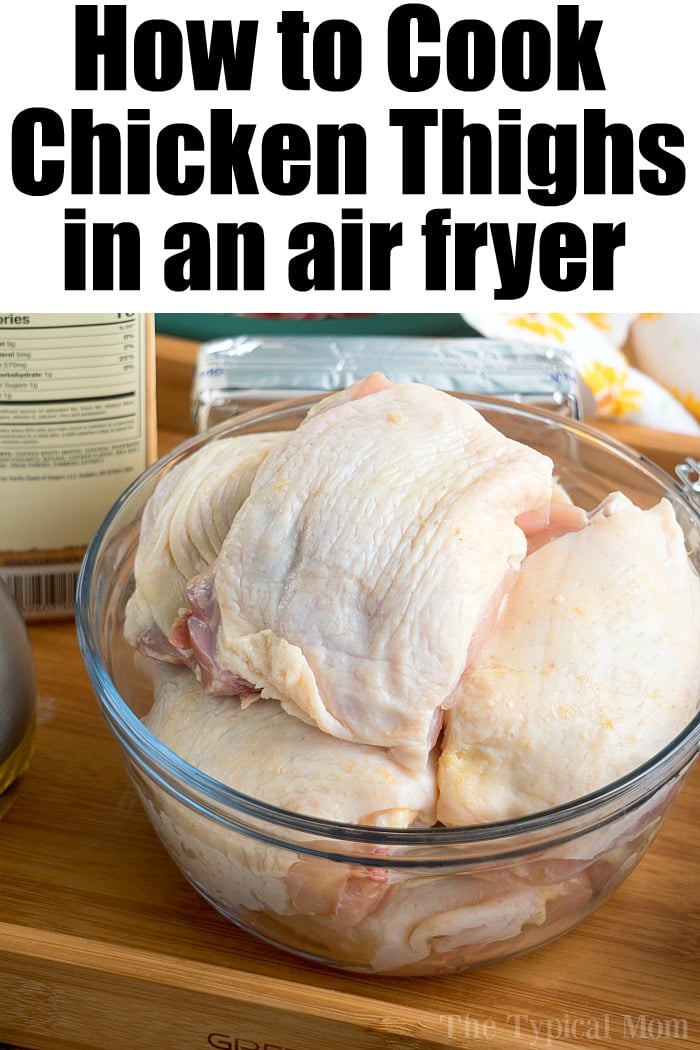 How Long to Cook Chicken Thighs in Instant Pot
It doesn't take long at all, you can even make a one pot meal like our Instant Pot chicken thighs and rice dish in under 20 minutes!
Same goes for using a pressure cooker, for easy Instant Pot recipes or Ninja Foodi recipes. I like to dice the meat up so that it cooks faster. Then you can add it into Instant Pot casseroles or with rice.
I mean a one pot meal is where it's at right? Remember the Campbells dish your mom used to make? You can use this brown meat to make our pressure cooker chicken and rice which takes no time.
A really healthy dinner idea is this Instant Pot chicken and vegetables dish. Throw it all in, add the broccoli at the end and enjoy.
Quick and Easy Chicken Thigh Recipes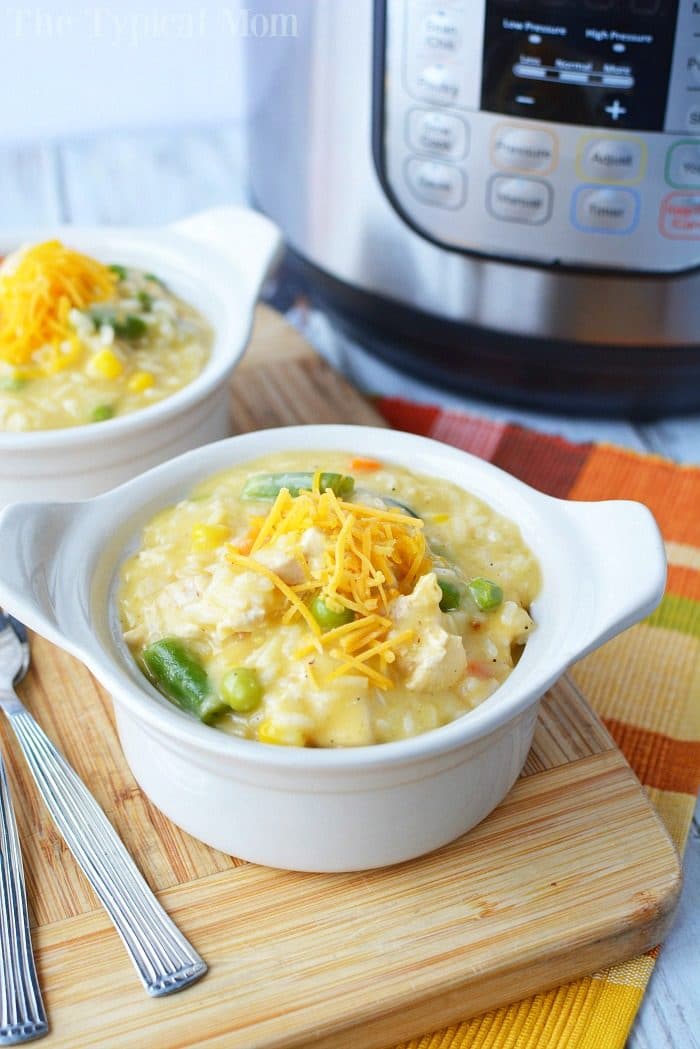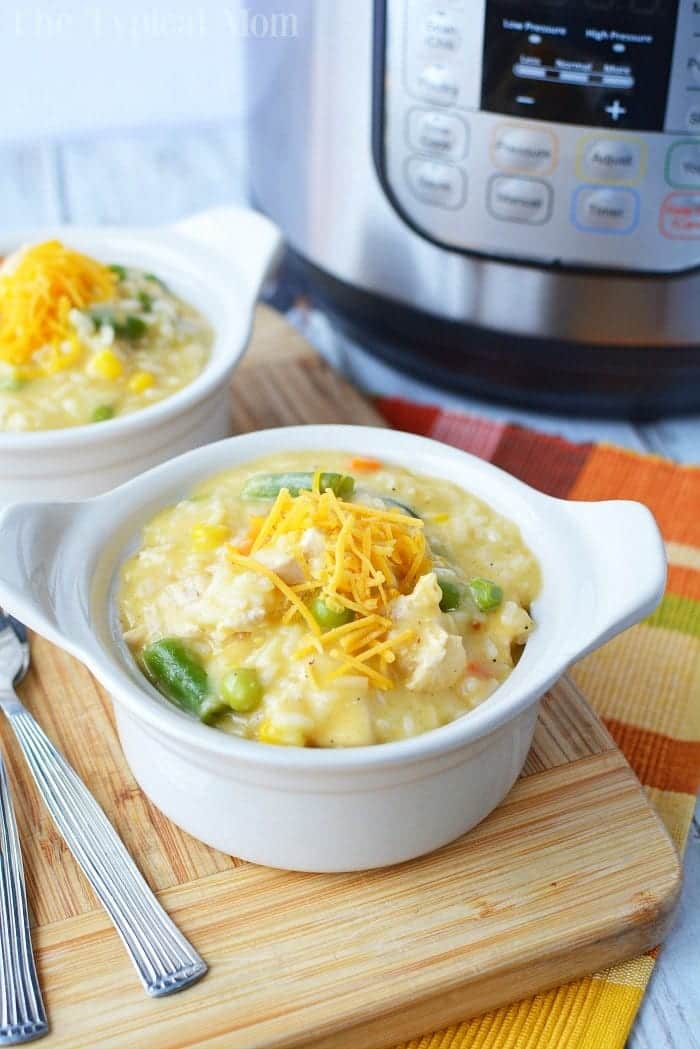 This is just one idea. We have a ton to choose from where you throw in uncooked rice or pasta with your diced meat. Of course you need some sort of liquid so broth and condensed soups work well. If you want to know how long to cook chicken thigh on stove we have that too. Cooked in a skillet with a rich sauce they're to die for.
Chicken Thighs and Legs
If you wanted a larger piece, and cheaper, you can bake chicken leg quarters too! A great option when you are on a budget but have a lot to feed, or hungry children who need more meat. There are many ways to cook this including chicken quarters smoked too.
Another favorite is our Instant Pot crack chicken casserole. If you have tried this cream cheese chicken dish you know how good it is. Now you can add vegetables and rotini and have an entire meal created in no time.
Want it just plain made as a Ninja Foodi recipe? We have that too with or Ninja Foodi crack chicken recipe!! Serve it in buns as a sandwich or slider, or thicken it up to make crack chicken dip.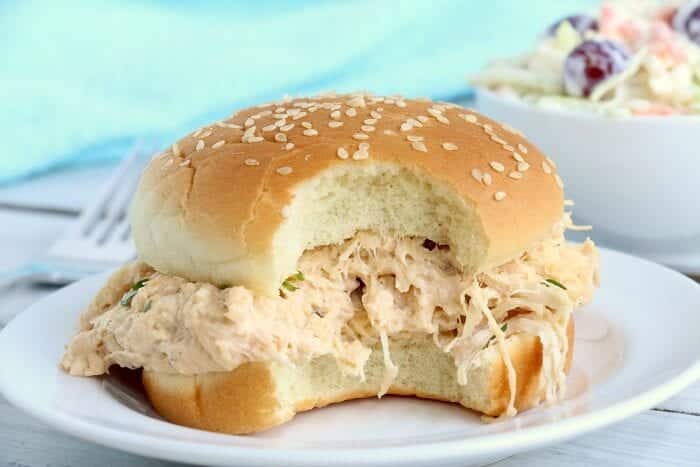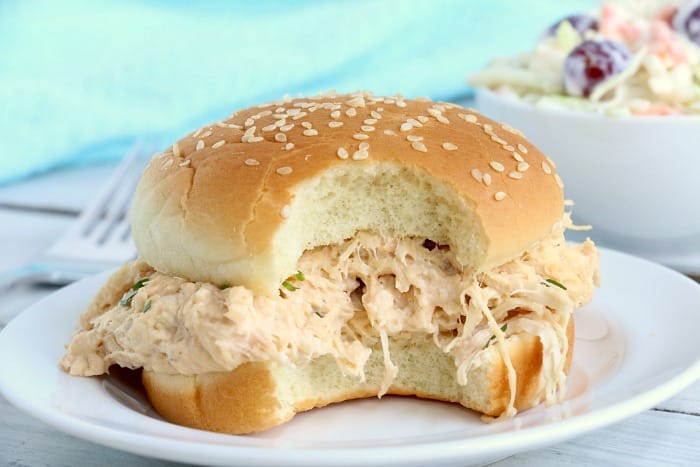 Best Way to Cook Chicken Thighs
I mean I could go on and on with the possibilities. Basically anything that lists breasts required, I substitute with thighs. I don't think I need to explain again why I prefer them but; cheaper, tastier, more tender than the other. This is the case with our slow cooker Mexican shredded chicken and more.
Take a peek at all of our other Ninja Foodi chicken recipes here. In case you don't already know, you can use any pressure cooker recipe for that pot too. Try a few and let us know which are your favorites off that list.
Forgetful and not always remember to defrost dinner the night before? Me too…. Don't worry because I have an Instant Pot frozen chicken thighs recipe to help. They come out perfect even though they were hard as a rock to start.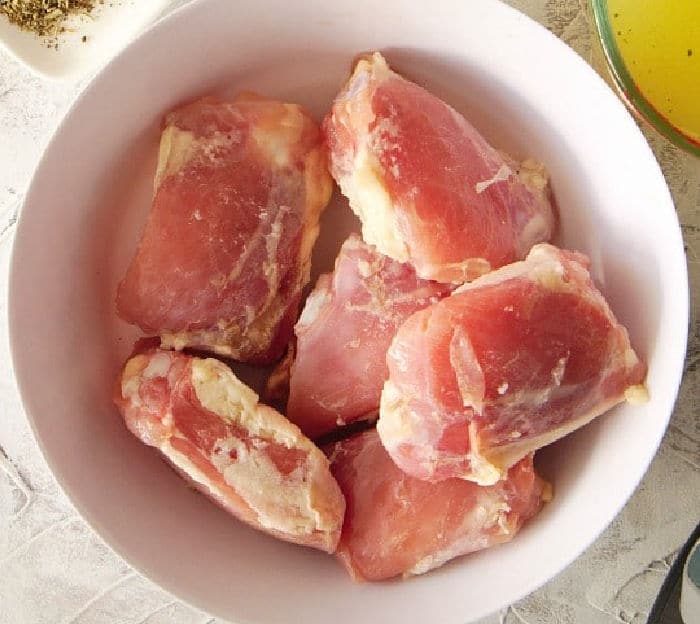 Best Chicken Thigh Recipes
It is crazy how easy you can cook frozen food in a pressure cooker y'all. This may be a game changer for you as well. Then even though you have a forgetful day nobody will know.
Need a really simple solution to dinner but want pure comfort food with a thick sauce like you see here? Try our Instant Pot chicken thighs bone in recipe. You can find more Instant Pot chicken recipes here.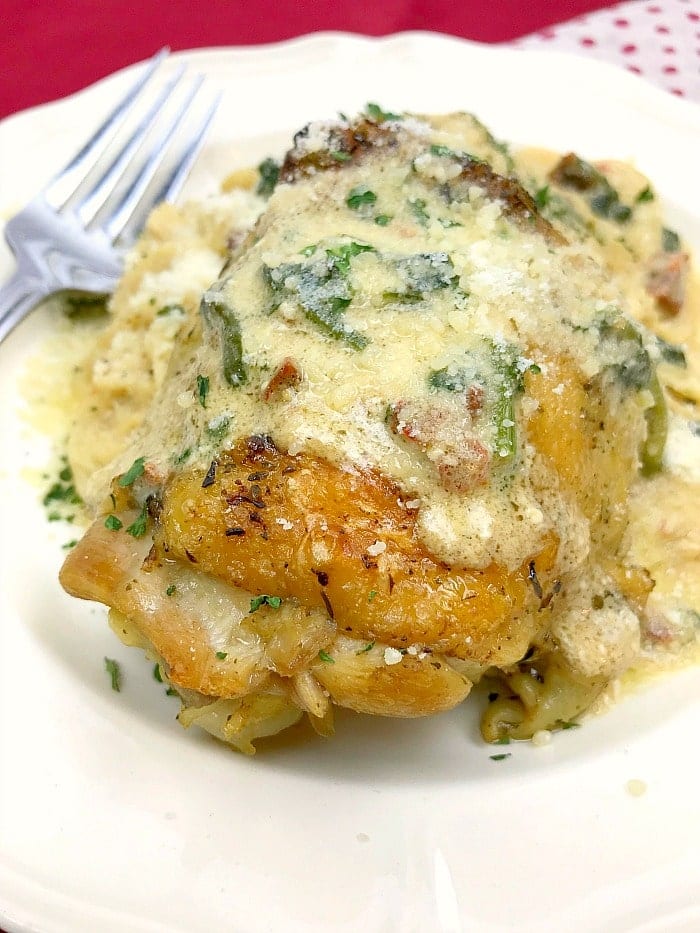 How to Bake Chicken Thighs in the Oven
Now what if you want to bake thighs in the oven. NO problem. If you have followed The Typical Mom blog for any length of time you know I don't use this appliance often. It's feelings are hurt I know, but I can't leave it out entirely.
I do love oven baked chicken thighs for sure, I just want to heat up my home in the summertime. Under 30 minute Sheet pan dinners are fabulous too, probably my favorite.
Any way to throw everything on a baking sheet or in a cast iron skillet with salt and pepper and cook with some veggies is my style. This is how long to bake chicken thighs at 375 with potatoes and tomatoes on the side.
Do you have to flip chicken thighs in the oven?
No. Make sure they are put in with the skin side facing up so it crisps up nicely. Also the fat will then drip over the rest of the meat while baking which adds flavor and moisture.
How do you know if chicken thighs are cooked?
Remove from heat and check internal meat temperature in the middle. Or you can cut to the bone and look. If it is still quite pink give it a few more minutes. I would say the exception to this rule is if you use your smoker.
Can chicken thighs be a little pink?
As long as the center reaches 165 degrees F then you are safe. If you smoke chicken sometimes it will appear pink but in fact it's not at all. In an oven, stovetop or our slow cooker poblano chicken should be white thru and thru.
Smoked Bone In Chicken Thighs
We have cooked these in our Traeger too. Low and slow is key. I will say that the meat was incredible. I used a marinade beforehand and with some apple pellets or chips they're out of this world.
The only downside is the skin doesn't really crisp up like I love.
What I do when making our Traeger smoked chicken thighs is to broil them at the end, or in the air fryer for a few minutes. If you just take off the skin then that wouldn't matter at all.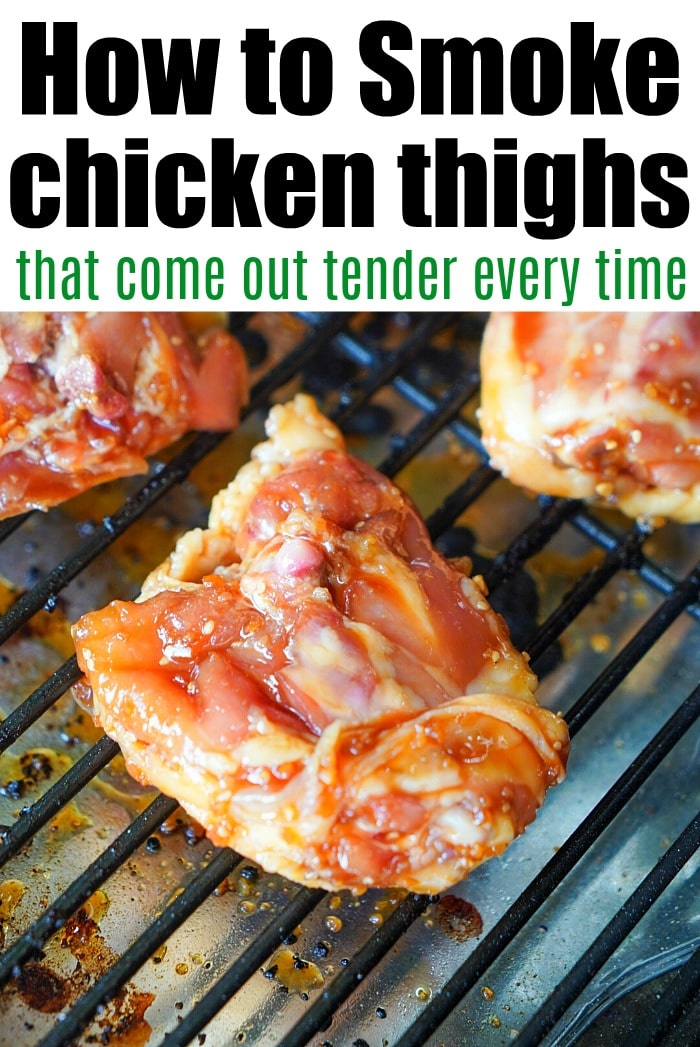 How Long to Cook Boneless Chicken Thighs in Crockpot
If you love your slow cooker more than life itself you have probably used this type of meat in one way or another. Personally I really like using boneless with this method to ensure they get cooked through. They can get fork tender in about 4.5 hours this way. Try our slow cooker bbq chicken thighs first go around.
With that said I have used both and done my experimenting. I wouldn't share anything that didn't work well for me so here are a few of my favorites.
Our Crockpot chicken and gravy will take you back to your childhood for sure.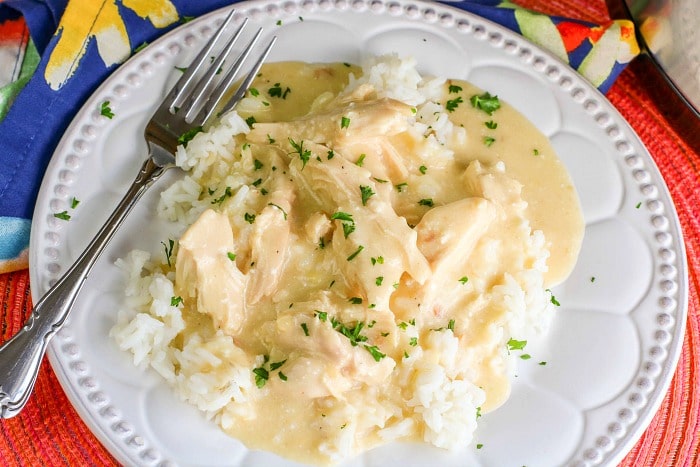 Is it better to slow cook chicken?
If you love shredded chicken taco meat this is a resounding yes. On low heat it really breaks down the meat well and is great thereafter inside some small tortillas with avocado slices and all the fixings.
Or toss it together with your favorite bbq sauce or teriyaki and serve alone or over rice. A low saturated fat dinner idea that is low carb too if left plain with some seasonings.
Typically made with white meat you could substitute thighs to make our Crockpot chicken cacciatore dish too. A quick chicken thigh recipe to prep for sure.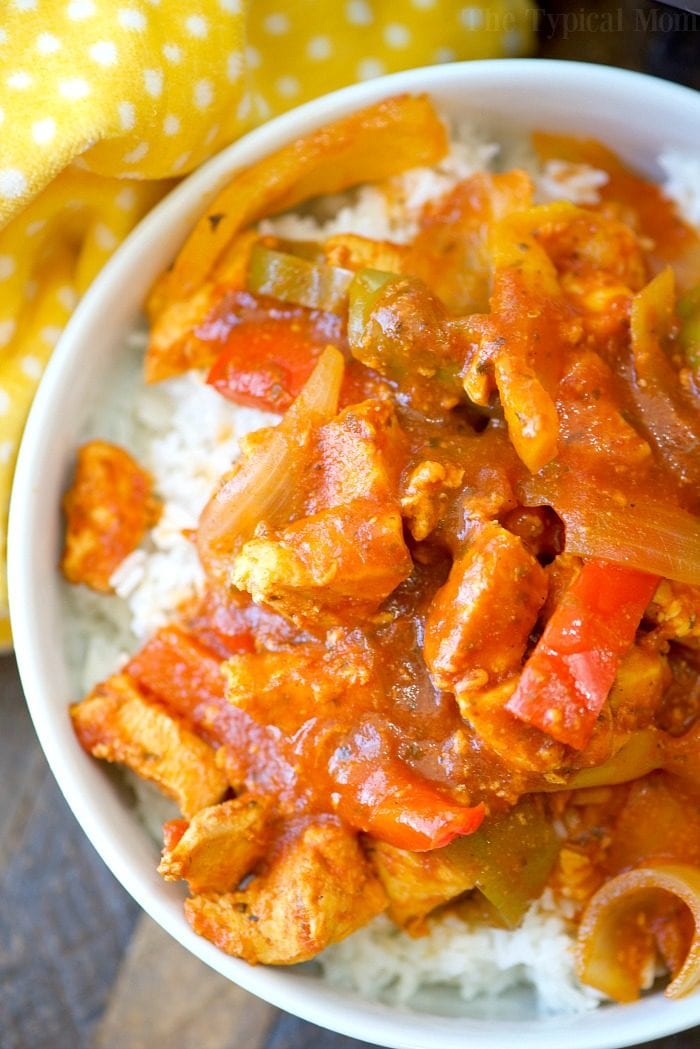 So let's talk about a few basics since I am sure you want to try ALL Of these now!
Can you freeze raw chicken thighs?
Of course. Buying meat in bulk can not only save you a bunch of money but also time going to the grocery store less often. Just separate into the # you'll each each time and store in individual freezer bags.
Ensure they are airtight. Either use a vacuum sealer or suck all the air out of bags with a straw before sealing. You can even add a chicken marinade inside to really add a bunch flavor to it.
Lay flat and they can be frozen up to a year. Allow to defrost in your fridge overnight and cook the next day.
Is it better to cook then freeze or freeze then cook?
It is always best to freeze when meat is in it's raw state. If you cook, freeze, thaw out, and warm again it will surely dry out. I mean you can add gravy to it but it will never be as tender as when it was baked the first go around.
How do you store cooked chicken thighs?
Once you are done eating you may have leftovers. Don't throw them out! There are tons of super easy leftover chicken recipes to make. Just pull off the meat, store in fridge in an airtight container and use within 3 days max.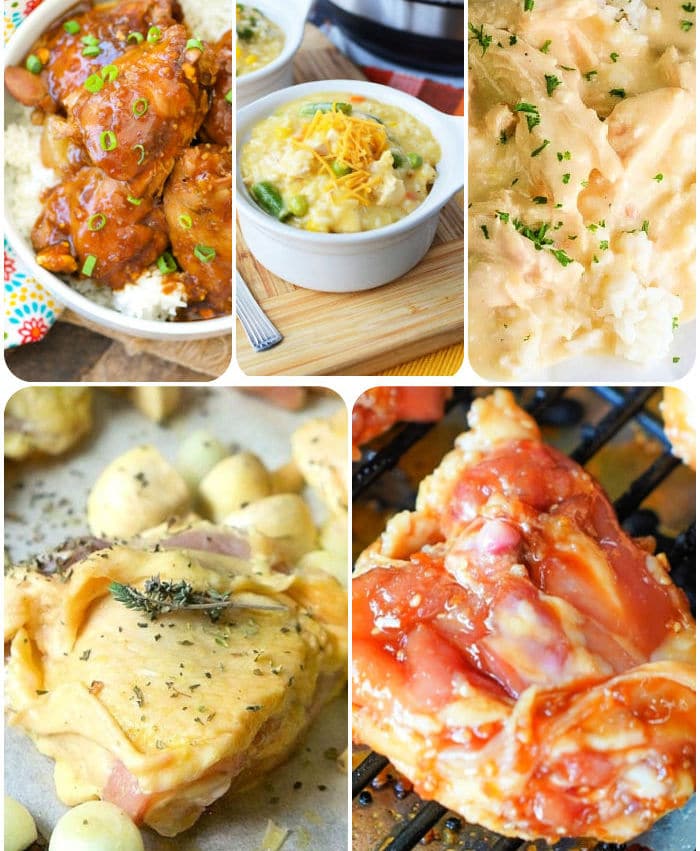 Want to see a few of my favorite things that I am totally obsessed with?? Take a peek and see how many you might already have…twinsies!
Looking for more easy family recipes and tips? LIKE The Typical Mom Facebook page?
Then sign up for my free newsletter, and follow me on Pinterest! 😉
***** If you LOVED this recipe give it 5 Stars below and let everyone know what you thought about it. 😉
Quick Chicken Thigh Recipes
Many quick chicken thigh recipes are here! From baked bone in thighs to boneless or how to use leftovers in another dish or casserole.
Instructions
In a bowl mix together vinegar, olive oil, honey and thyme. Mix and then pour mixture into a gallon size freezer bags. Put chicken thighs into bag. Zip closed and move around so chicken is coated. Then lay flat and put in fridge for at least 2 hours to marinate.

Preheat oven to 400 degrees. Prepare 1-2 large sheet pans with foil lined on top for easier clean up. Spray each with non stick spray or use non stick foil.

Remove chicken from marinade and place on sheet pan. Sprinkle with salt and pepper. Cook for 50-60 minutes or until chicken is cooked through to 165 F and roasted to a golden brown on top.
Nutrition Facts
Quick Chicken Thigh Recipes
Amount Per Serving (2 oz)
Calories 358
Calories from Fat 252
% Daily Value*
Fat 28g43%
Cholesterol 111mg37%
Sodium 90mg4%
Potassium 249mg7%
Carbohydrates 8g3%
Protein 18g36%
Vitamin A 104IU2%
Vitamin C 1mg1%
Calcium 14mg1%
Iron 1mg6%
* Percent Daily Values are based on a 2000 calorie diet.