Crockpot chicken taco meat is great for meal prepping or made in large batches and frozen for later use. With a few ingredients you'll have a yummy meal.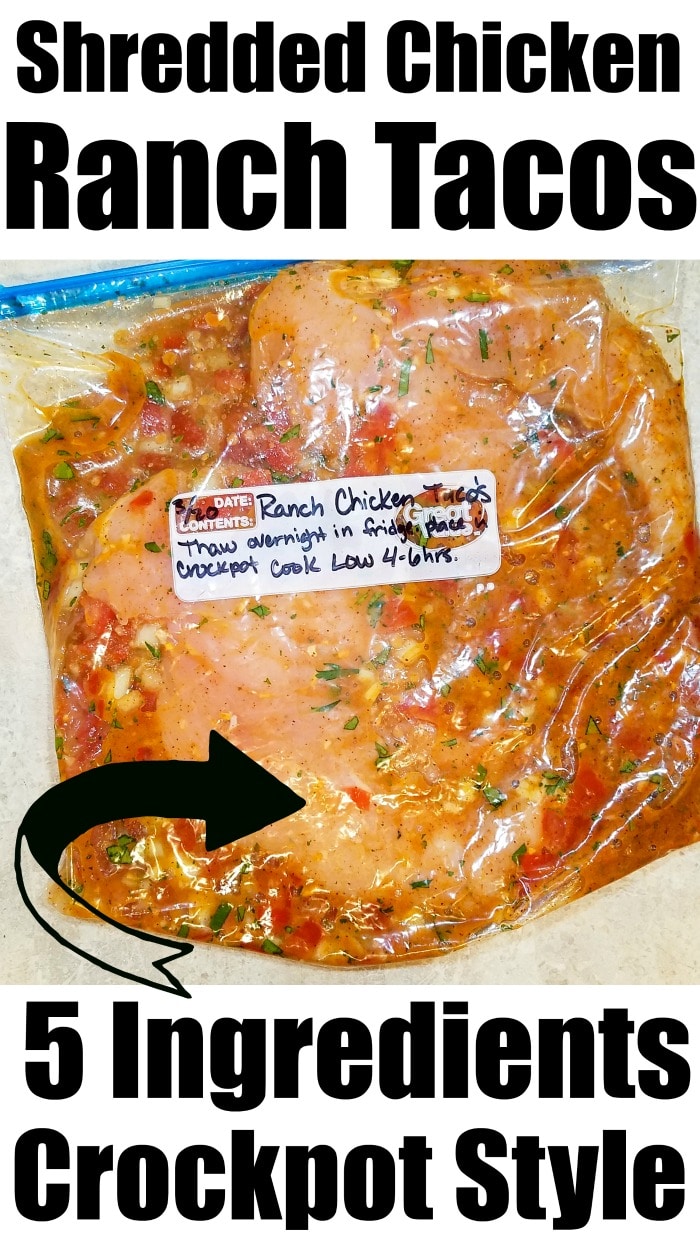 Crockpot chicken taco meat is the best for a throw together dinner! Either throw it together when you're ready, or meal prep and make a bunch of freezer meals for months to come. Healthy and full of flavor, you'll love this easy Crockpot recipe.
Shredded Chicken Taco Recipe
If you love easy chicken recipes, welcome to the club! Pair that with a delicious slow cooker dinner and BAM you're speaking our language too. You can just throw it into some small tortillas with avocado and lettuce and a healthy meal is made.
Once you fall in love with this one, use the other meat and make a batch of slow cooker taco meat. We love those too served up the same way.
Let's talk a little bit about slow cooking shall we?? First off I have a few different varieties and I love them all. Each one has an occasion to be used like….
This is my favorite 6 quart programmable one with a locking lid so it's great for bringing to a potluck too.
If you just want to serve a few appetizers you should get this one that sit side by side one another.
I prefer not to use liners, but rather just spray olive oil inside before adding my food for easier cleanups.
Let me give you a peek of my pretty thang I bought recently. It goes with my kitchen so I can just leave it out on the countertop all the time. 😉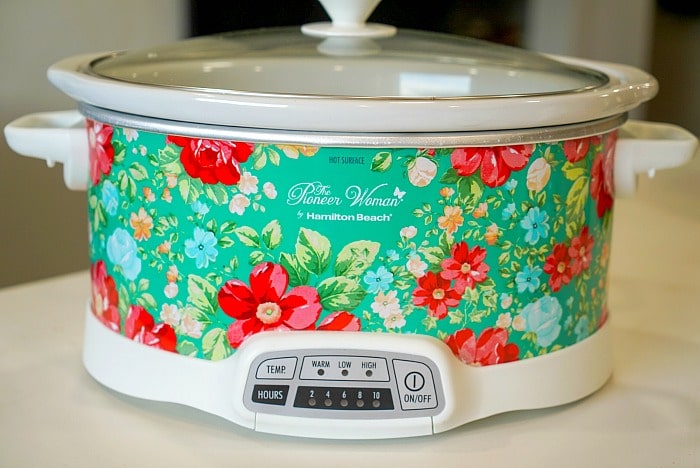 Slow Cooker Shredded Chicken
Shredded chicken is something we make quite often.
Yes we've made it in our Instant Pot too, but if you prefer low and slow cooking then this should be right up your alley.
This is what was thrown together to create this kid friendly meal. Here's our guest blog post for today.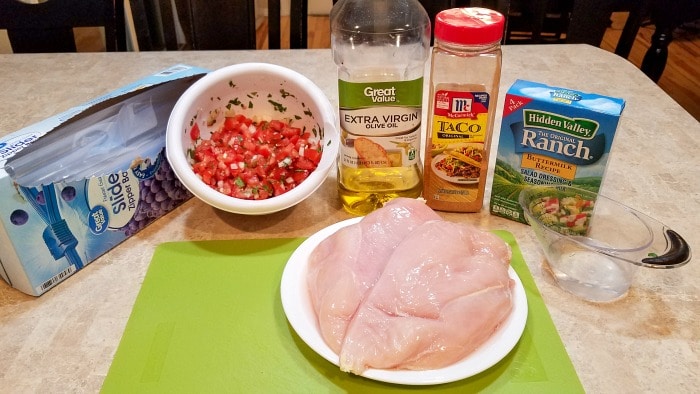 If you find chicken breasts on sale, or you buy bulk meat online, you can really make quite a few of these in a short amount of time.
There are directions if you want to store these healthy chicken freezer meals below too.
Chicken taco ingredients
Boneless skinless chicken breasts
Taco seasoning mix
Jar of salsa – or use fresh
Olive oil
Chicken broth
Slow cooker chicken tacos are done
1/2 cup of cheese per person (or so). We like to pile it on though so I don't really measure. LOL. Mexican cheese mix is fantastic.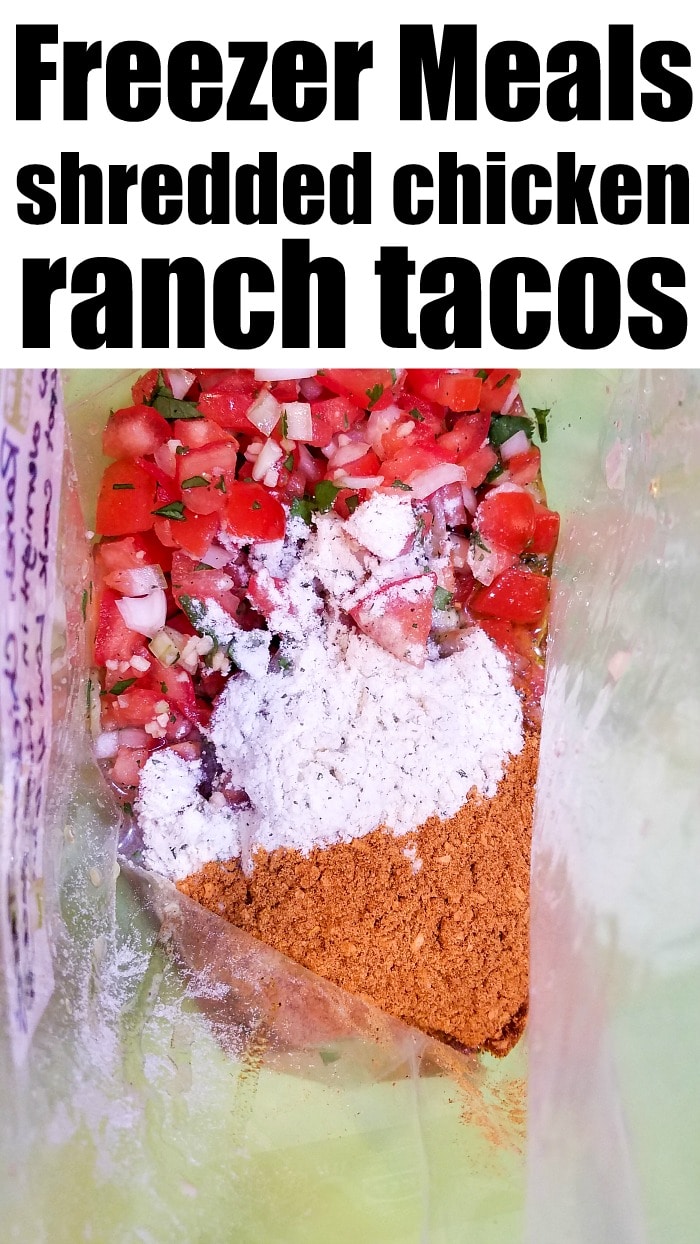 Yes you could double the recipe if you are batch cooking but you'd need a larger Crock to do so.
It's a great recipe since it is super easy to throw everything together for a weeknight meal.
Crock pot chicken tacos
First you might want to spray the inside of the pot with non stick spray, or use a liner.
Put chicken on the bottom with all other ingredients on the top.

or if you've already prepped it, just pour contents of defrosted bag into pot

Cover and cook on low for 4-6 hours
How do you know when shredded chicken is done?
if you attempt to shred it with 2 forks and it is tough to do, it's not done yet

it should easily pull apart with little to no effort, if not then cook longer
cooking on high doesn't help, low and slow is better in my opinion

Shred chicken with two forks
Serve as desired in homemade tortillas or on top of white rice.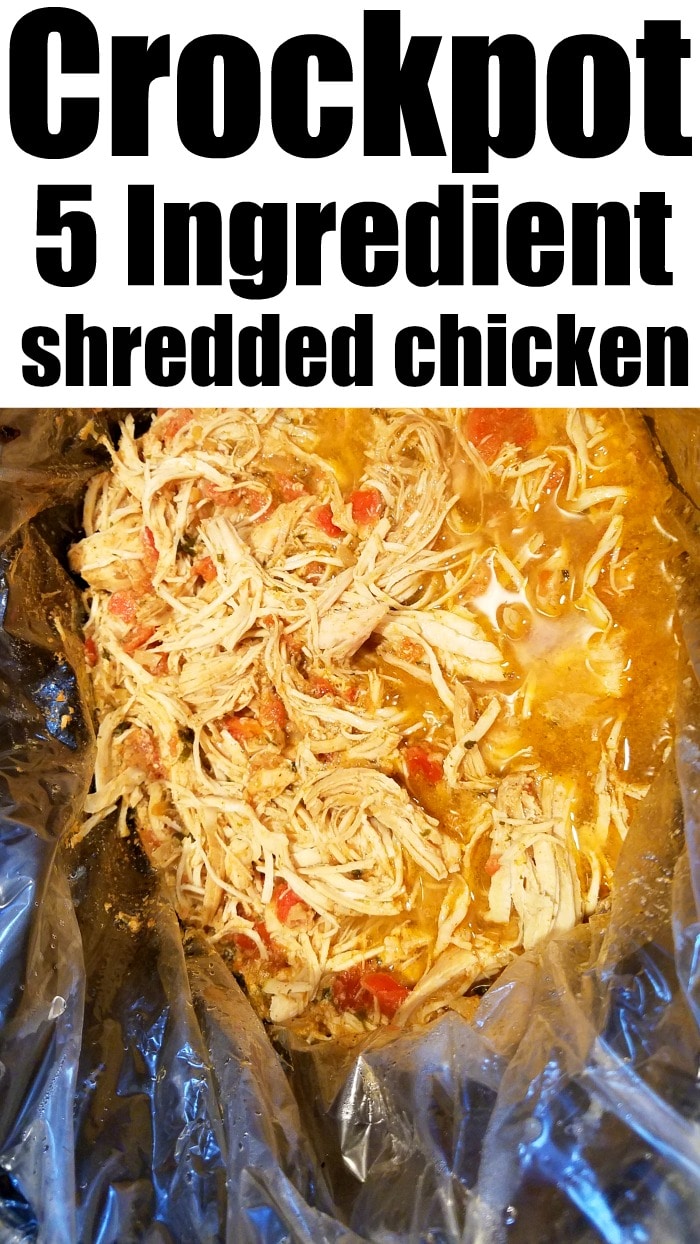 Do you need an appliance to shred chicken? Well you can use your stand mixer if you have a lot to do.
You'd need to cool it a bit first though, wrap it in a towel and put it on low. Forks work just fine for every day batches like this though.
What do you eat with shredded chicken?
It is up to you how you serve them up really. If you're going for a low carb dish then maybe it is all by itself with some veggies on the side.
This is typically what I have available on our taco bar or when we make air fryer flautas:
Shredded cheese
Lettuce
Diced tomatoes
Olives
Salsa
Hot sauce
Sour cream
Avocado if it is in season
What did we miss that you love to add to your shredded chicken taco recipe?
How long can you keep shredded chicken?
We rarely have any left for a typically easy recipe such as this one but you can store leftover shredded chicken in airtight containers and have healthy meals for 3-4 days in the fridge, and up to 2 months in the freezer.
If you love meals like this, try a few of our Instant Pot taco recipes here too. We've made some with beef, ground beef and chicken too.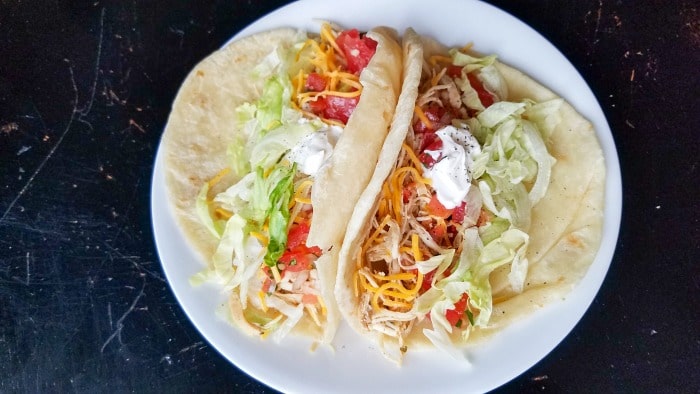 Chicken freezer meals
Here's how you need to prep it before you throw them into the deep freeze to cook later:
Place all ingredients into a Ziplock Freezer bag. Combine well.
Label bag and include instructions on the outside.
Reduce air inside the bag as much as possible before sealing.
Lay flat on a cookie sheet in the freezer until solid.
Then you can remove them and stack in your freezer.
When you're ready to use your meal prepped bag:
Remove bag of frozen chicken.
Thaw in the fridge overnight.
Pour the contents of the bag into the crockpot and cook on low for 4-6 hours. Using our pepperoncini chicken is a great option with it too.
Serve on homemade tortillas with your choice of toppings
Something else we make with some taco seasoning are these air fryer chickpeas! Have you tried these yet??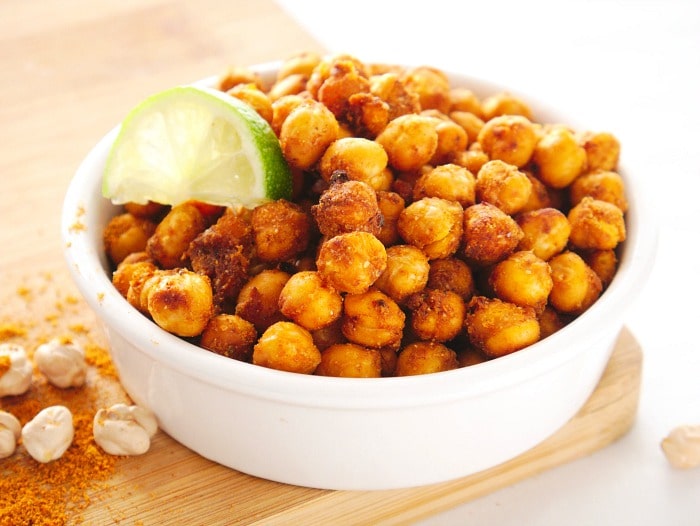 Shredded chicken recipes
You can make a few Instant Pot chicken recipes like our chicken taco bowls!
Recipes you might also like are:
Want to see a few of my favorite things that I am totally obsessed with or visit my Etsy shop?? Take a peek and see how many you might already have…twinsies!
Looking for more easy family recipes and tips? LIKE The Typical Mom Facebook page?
Then sign up for my free newsletter, and follow me on Pinterest! 😉
***** If you LOVED this recipe give it 5 Stars below and let everyone know what you thought about it. 😉
Crockpot Chicken Taco Meat
Crockpot chicken taco meat is great for meal prepping or made in large batches and frozen for later use. With a few ingredients you'll have a yummy meal.
Instructions
In a bowl mix together your olive oil, broth, and seasonings. Mix together

Place chicken breasts on bottom of slow cooker. Pour your seasoning mixture on top.

Cover with lid and cook for 4-6 hours on low or until chicken can be shredded easily with 2 forks. (the thicker the breasts the longer it will take)

Shred chicken with 2 forks and stir together with sauce so each piece is well coated.

Serve inside small tortillas with lettuce, cheese, salsa, sour cream etc..
Nutrition Facts
Crockpot Chicken Taco Meat
Amount Per Serving (2 oz)
Calories 464
Calories from Fat 288
% Daily Value*
Fat 32g49%
Cholesterol 113mg38%
Sodium 1494mg65%
Potassium 294mg8%
Carbohydrates 17g6%
Protein 28g56%
Vitamin A 1114IU22%
Vitamin C 10mg12%
Calcium 17mg2%
Iron 2mg11%
* Percent Daily Values are based on a 2000 calorie diet.