Crockpot crack chicken is great made into sandwiches or little appetizer sliders! Tender cream cheese with frozen chicken or fresh will become shredded to perfection in your slow cooker.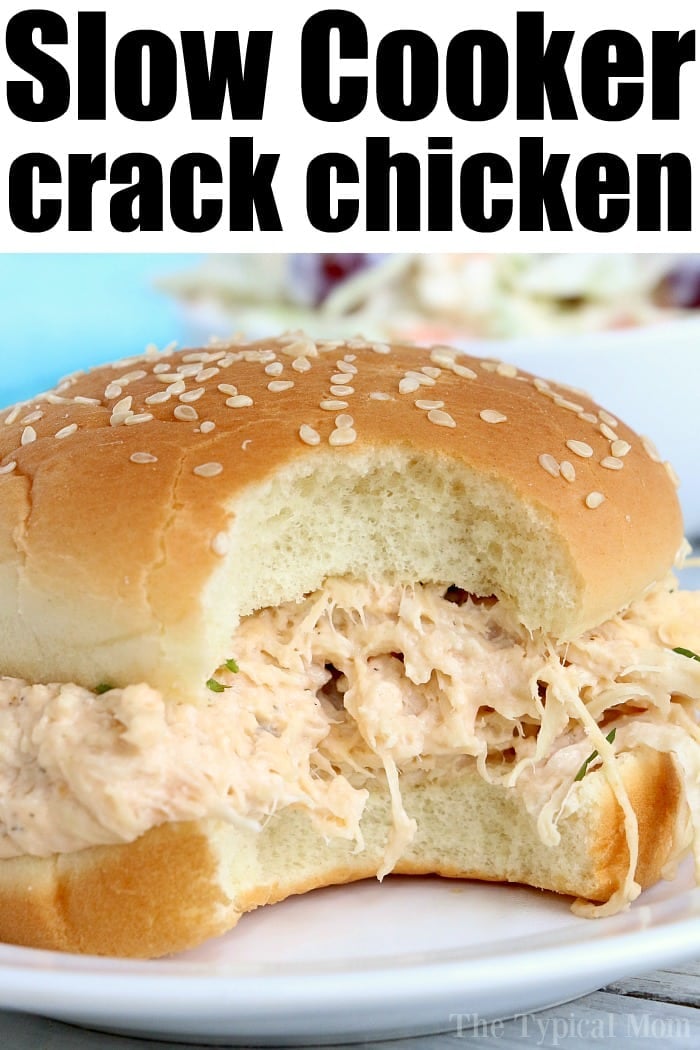 Have you made Crockpot crack chicken yet?? Just shred your meat and put it on some buns for dinner and you're set for all the YUMs! Just one of our favorite crockpot recipes here on The Typical Mom blog. (originally published 8/19, affiliate links present)
Slow Cooker Crack Chicken
This is kinda' beyond incredible and I have yet to meet anyone who doesn't love it. If you haven't tried what some people call cream cheese chicken it is addicting. I assure you that you'll want seconds and thirds again. Served on small slider buns, hamburger, or inside lettuce wraps you're in for a treat.
Crack chicken ingredients are pretty basic no matter how you make it. We've made Ninja Foodi crack chicken and that was a huge hit, and quick to make. This takes longer but is fantastic for a low and slow cook all day kinda' meal you throw in in the morning.
If you too love slow cooker recipes of all kinds, you're going to go crazy over this one. First let's go over a few resources: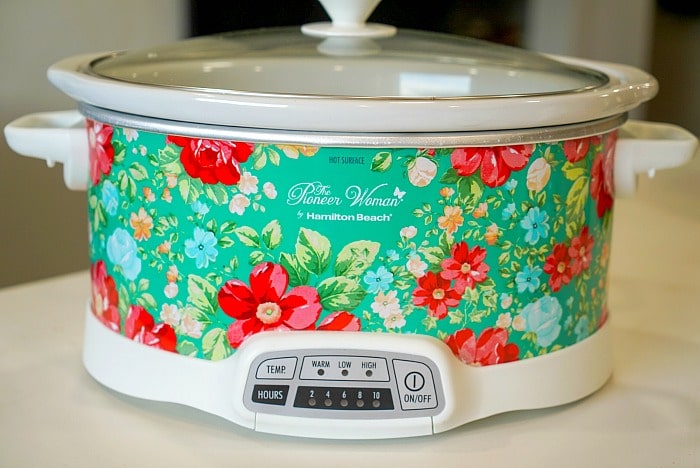 Crack Chicken Crockpot Recipe
We used our slow cooker this time but I'll share how you can make this in your pressure cooker and/or with noodles too!
Choose either chicken breasts or thighs. I love thighs when I have them on hand. They're cheap and super tender. If you tend to veer away from dark meat, don't. Once I gave them a real try I never looked back. The amount of flavor they offer is way more than white meat. I suggest you try both and decide for yourself.
If you find either on sale I'd stock up. You can freeze them inside freezer bags and they'll last for months which means fewer trips to the store which is great. Then when you are ready you just separate them so they cook evenly and you can use them as is without defrosting if need be.
Thawed meat is always better in the end but I have definitely had days where that was not possible. Thus, Crockpot frozen chicken was used and the timing literally did not change. I know, that is a mind blower but totally true.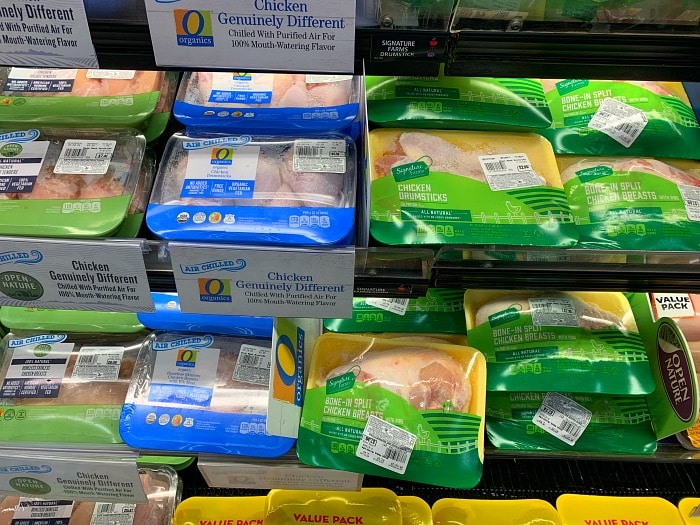 Crockpot crack chicken with frozen chicken breasts
You could use fresh or frozen but the latter would need to be separated to cook properly. Use medium sizes vs. unusually large too. If you have never had a bite full of this addictive dinner let's talk about it for a hot second here. You may have a few questions before you move on and get started so let's tackle those first:
Why do they call it crack chicken?
Well, because it is so addicting! You can just throw a few pieces of chicken in with a block of cream cheese and packet of dry ranch seasoning and go! Easy recipe all of you will love for sure.
How long do you boil chicken?
There is NO need to boil beforehand with this method. BUT if you want to make it quicker on the stovetop you can do so. You'll make boiled chicken according to our directions, drain, and add other ingredients.
How do you shred chicken breast?
When you slow cook it like this, or make Ninja Foodi crack chicken it will literally fall apart. Use two forks gently and it will shred with no effort at all.
Ready for the ultimate easy cheap crockpot meal that costs under $20 too?? This is one of the best crockpot chicken recipes.
Crack chicken recipe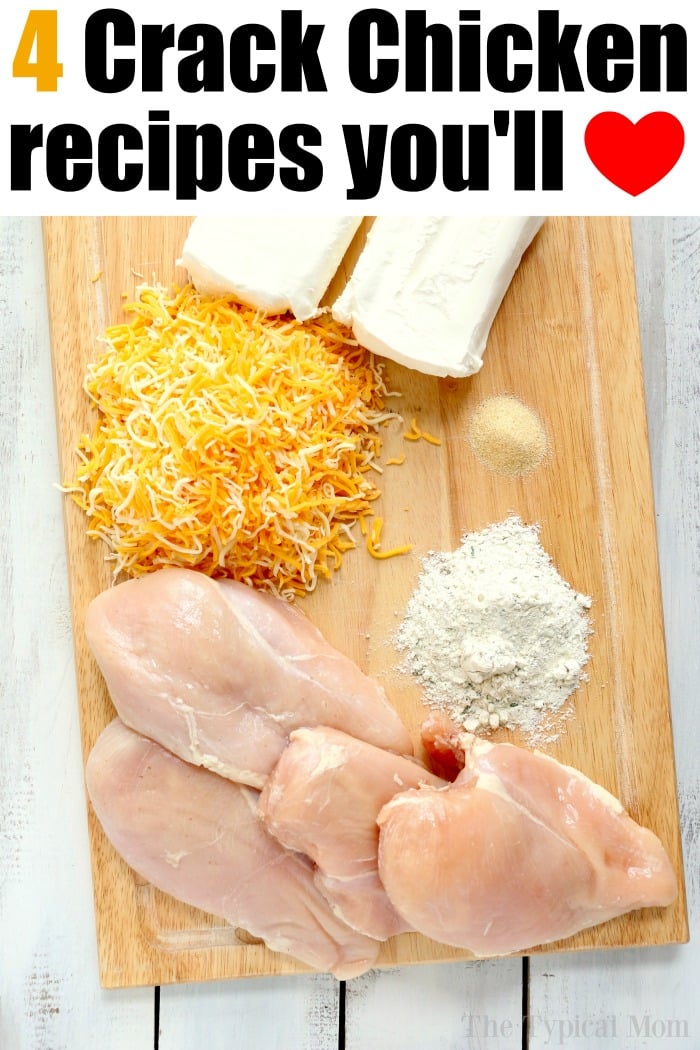 Cream cheese chicken
This is what many people call this especially if they are around kids. The other can be skewed into something it is not so either one works. I mean anything with this creamy dairy product comes out mouth watering. Period.
Slow cooker crack chicken recipe
Chicken breasts or chicken thighs will work for this – I typically use what is on sale

boneless, skinless

Cream cheese
Cooked bacon or real bacon bits
1 ranch seasoning packet

use 1.5 tbsp. of homemade ranch dip mix below if you can't find packets in store

Cheese
Garlic powder
Green onions diced are optional
I buy this stuff in bulk because I use it so often. I have had people who live in countries outside of the U.S. say they have never heard of it though. So I have help for y'all below. You can in fact make it yourself if it isn't available or want to make it way cheaper in bulk.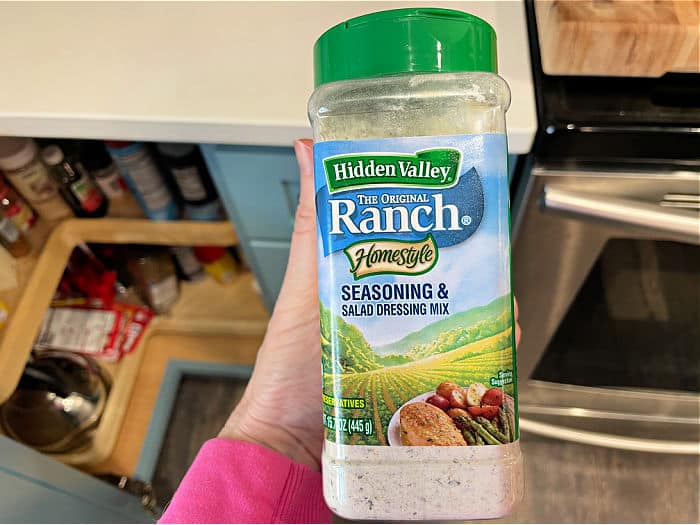 Homemade ranch seasoning
If you cannot find it in the store where you are I have a quick how to make it here:
1/2 c buttermilk powder
Just 1 tsp sea salt
1 tbsp onion powder and garlic powder
2 tsp dill
1/2 tsp pepper
1 tbsp parsley
You could dice some chives and add some into the mix as well as some on the top when served. These just add a bit of texture and color mostly.
I will say this isn't the prettiest dish as is. It is all white with no variance and kinda' mushy in appearance so if you want to pretty it up this will work nicely. Personally I really don't care but you might.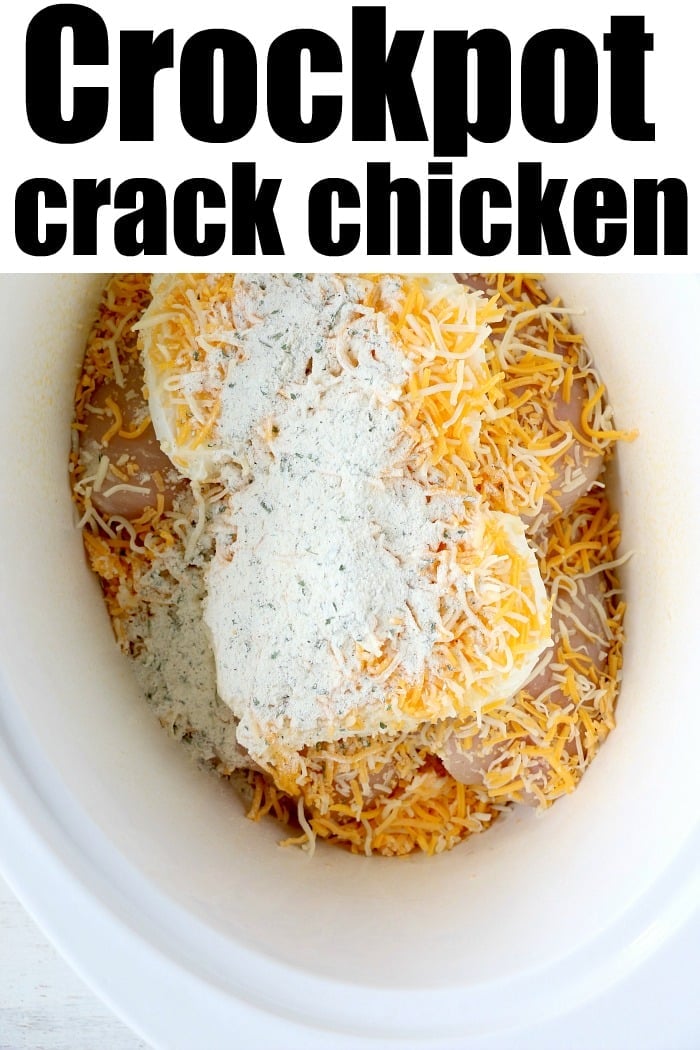 You can use this mixture to make chicken crack soup too. Use ALL dry ingredients instead of the packaged type. Mix and use 1.5 – 2 tbsp for this recipe. If you live in a rural area you may not be able to find dry ranch mix so this can come in handy.
Crockpot chicken recipe
It is not totally necessary but for easier cleanup I suggest spraying the inside of your pot with non stick spray. Some use crockpot liners but I am not a fan of cooking with plastic of any kind. Totally up to you though.
Lay your boneless skinless chicken breasts (or you could use thighs if you prefer) on the bottom. Cut your room temp cream cheese into 4 equal pieces and place on top of your meat.
Sprinkle ranch dressing packet seasoning on top of that. Then shredded cheeses go on top of everything else.
If you'd like to add a bit of garlic powder and/or pepper now would be the time to do so.
Close lid and set to 6-8 hours or on high for 3-4 hours cooking time. I always opt for low and slow when it comes to meat.
Shred the chicken and stir in bacon and/or green onions at this time. Serve on slider buns, with chips as a dip, or low carb dinner.
I kid you not the ranch flavor is not overpowering but provides a TON of flavor that takes this chicken slow cooker recipe over the top.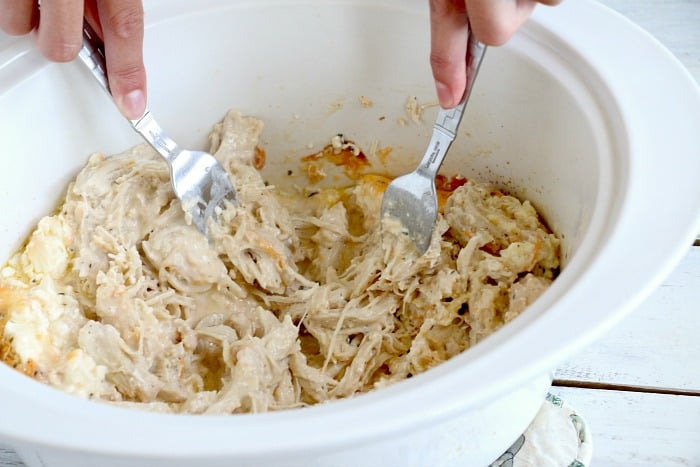 Here are a few more questions you might ask. You don't have to buy fancy fork shredding devices to make this happen, 2 forks work just fine.
How do you fork shred chicken?
Use one hand or a fork to hold the chicken steady.
With the other hand use another fork to scrape and tear the meat into small shredded pieces.
Then mix with other ingredients if it is not plain shredded chicken
This is a great recipe to serve when you have people over, or to bring to a potluck. Why?? Because you can double this if need be and cook a bit longer for larger crowds.
It is also a pretty cheap crockpot recipe because there are very few ingredients and you can find store brands for almost everything.
How do you serve crack chicken?
It is totally up to you of course but I have a few suggestions if you're looking for a few new ideas:
Inside lettuce wraps
In small rolls for sliders
Heaped on to hamburger buns for sandwiches
Served over white rice
You can serve it alone with a side of steamed vegetables for a healthier choice too. That is probably my youngest daughters favorite way to go.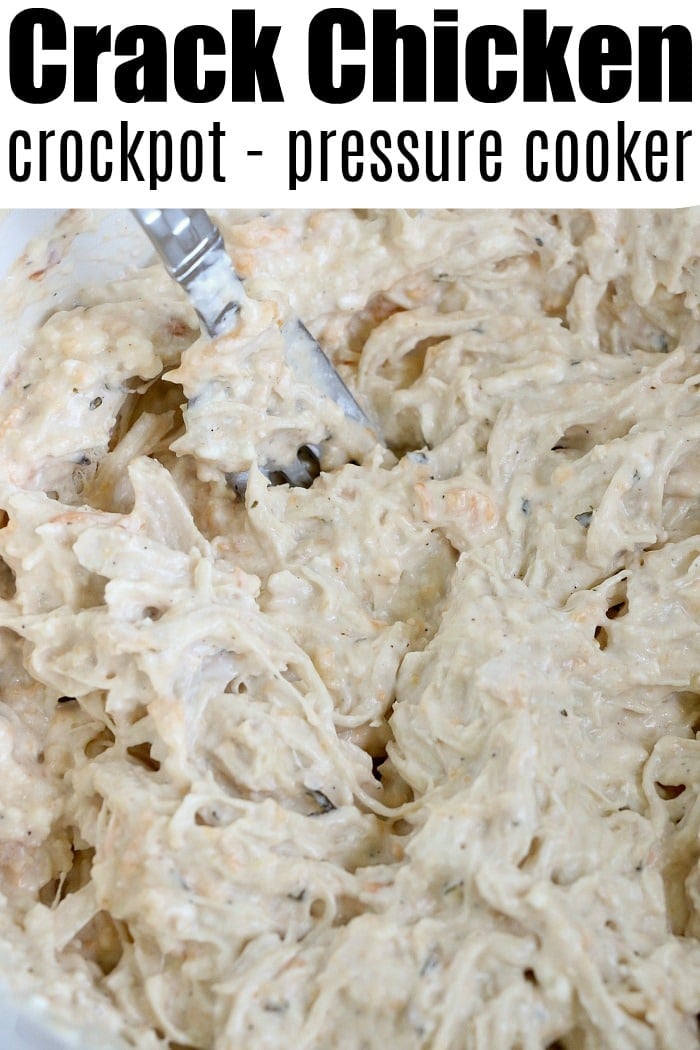 Crack Chicken Sliders
If you're looking for a keto friendly version you can use lettuce wraps instead of making Hawaiian rolls as you would with sliders. Chicken broth or water are not needed to make this because when the meat cooks it will create the liquid it will need to cook properly and become creamy.
Looking for comfort food?? This is it!!
If you're looking for a healthy crack chicken recipe why bother??? This is all about creamy chicken PACKED with flavor, a guilty pleasure of sorts. We all need a cheater meal and this one is so worth it.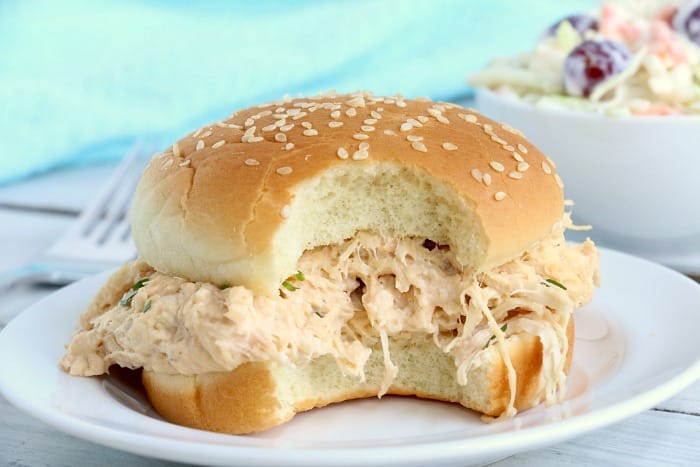 Looking for other easy crockpot chicken recipes?
We love our crockpot chicken cacciatore. That one is on the healthier side of things.
Slow cooker crack chicken recipe
Want to see a few of my favorite things that I am totally obsessed with?? Take a peek and see how many you might already have…twinsies!
Looking for more easy family recipes and tips? LIKE The Typical Mom Facebook page?
Then sign up for my free newsletter, and follow me on Pinterest! 😉
***** If you LOVED this recipe give it 5 Stars below and let everyone know what you thought about it. 😉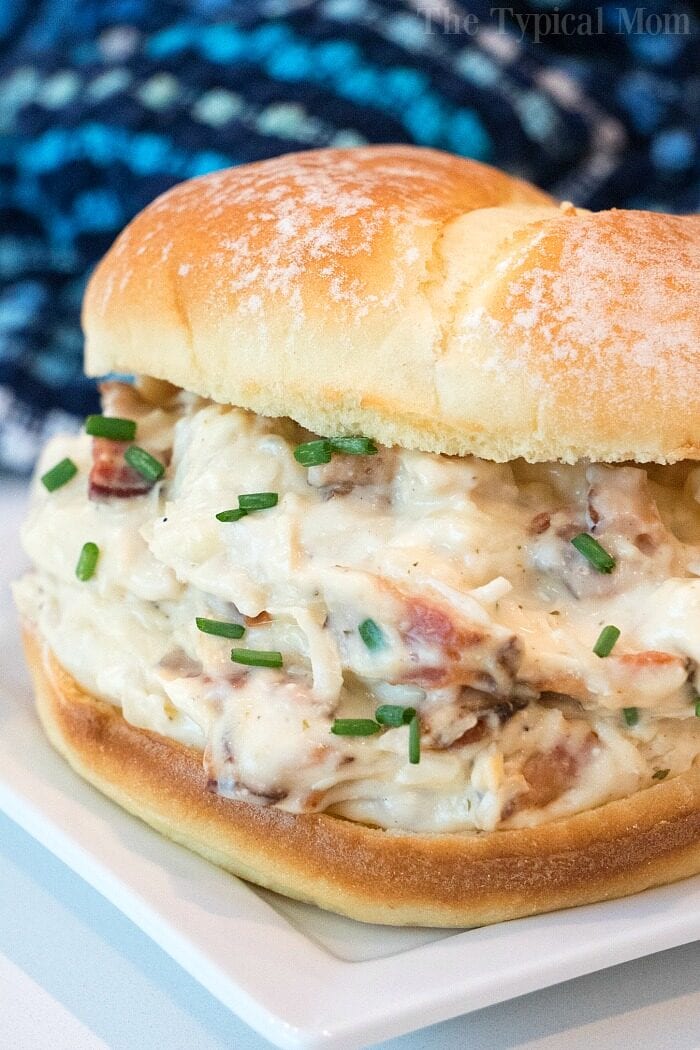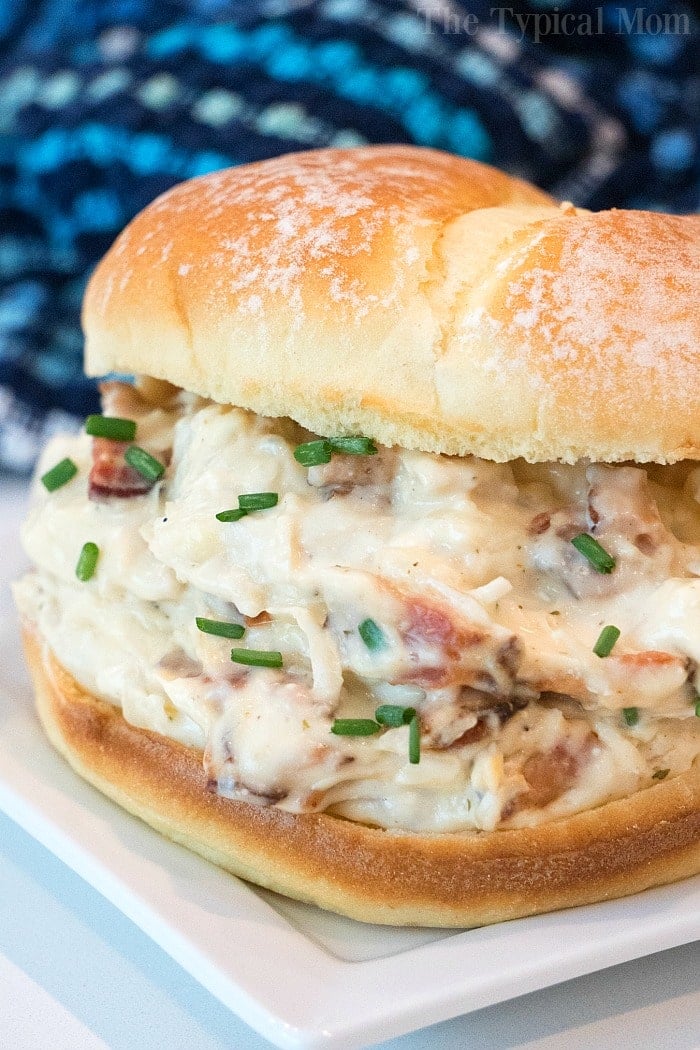 Print recipe below and enjoy.
Crockpot Crack Chicken
Crockpot crack chicken is great made into sandwiches or little appetizer sliders! Tender cream cheese chicken shredded to perfection in your slow cooker.
Instructions
Spray non stick spray into your slow cooker and put chicken breasts at the bottom. Cut cream cheese blocks in half and put on top of meat.

Sprinkle in ranch seasoning and garlic powder, then add cheese on top of everything.

Cook on low for 6-8 hours or high for 4-6 hours.

When time is up use two forks to shred chicken and stir all ingredients together so chicken is nice and coated. (if it shreds super easy with forks it is done, if breasts are thick and it is a bit tough then leave in for more time) Add bacon if you'd like now.

Serve on buns, bread or rolls.
Nutrition Facts
Crockpot Crack Chicken
Amount Per Serving (3 oz)
Calories 325
Calories from Fat 198
% Daily Value*
Fat 22g34%
Cholesterol 135mg45%
Sodium 315mg14%
Potassium 501mg14%
Carbohydrates 3g1%
Protein 27g54%
Vitamin A 795IU16%
Vitamin C 1mg1%
Calcium 63mg6%
Iron 1mg6%
* Percent Daily Values are based on a 2000 calorie diet.