Here is an easy crockpot orange chicken recipe to make that cooks on it's own in your crockpot. Heathy and easy to make, even my kids love this one!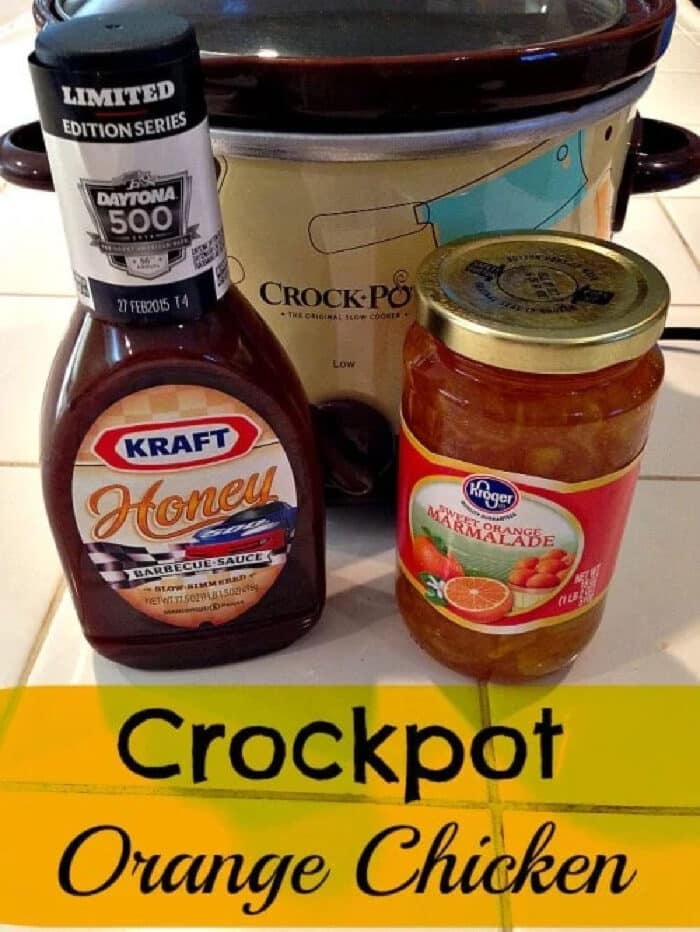 Enjoy our favorite Crockpot orange chicken recipe that's easy to make. This is one of our favorite easy crockpot recipes. There's no breading with a thick sweet sauce that cooks itself in the slow cooker! (originally published 10/13, affiliate links present)
3 Ingredient Crockpot Orange Chicken Recipe
It's our favorite Panda Express meal when we go out to eat! We have tried it in the freezer section to cook at home in the oven, and now we have our own recipe that is healthier. First I used these same ingredients and made this Instant Pot orange chicken that took just 4 minutes to cook.
If you prefer the "old fashioned" method best I get it. I like to share all the ways for a meal to be made so here we go with low and slow. Just as great but you can throw it in and just let it go until it is dinnertime later on in the day. Not ready? Just set it to keep warm and it will continue soaking up all those wonderful flavors.
FIRST – You should sign up for my free newsletter so you get new posts emailed to you twice a week and never miss out on anything! Let's talk a little bit about slow cooking shall we?? First off I have a few different varieties and I love them all. Each one has an occasion to be used like….
This is my favorite 6 quart programmable one with a locking lid so it's great for bringing to a potluck too.
If you just want to serve a few appetizers you should get this one that sit side by side one another.
I prefer not to use liners, but rather just spray olive oil inside before adding my food for easier cleanups.
Let me give you a peek of my pretty thang I bought recently. It goes with my kitchen so I can just leave it out on the countertop all the time. 😉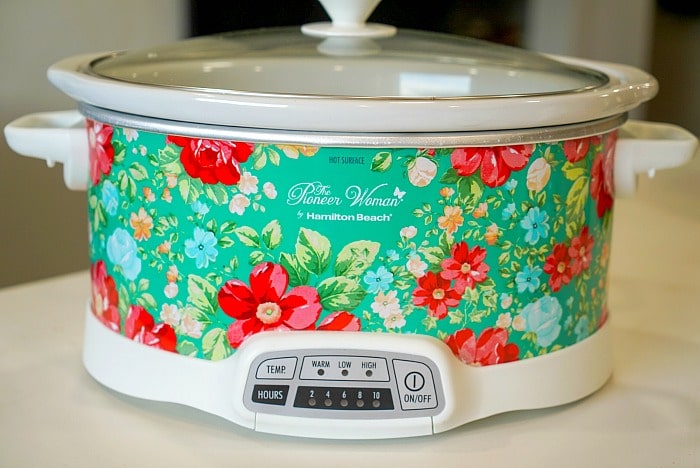 Crockpot Orange Chicken Thighs
This is orange chicken with orange marmalade because that just makes everything easier. I will share another version where you can make your own sauce with orange juice. Once you have that you wouldn't need the barbecue sauce I use either. BUT if you want super fast, easy and cheap I would go with the 2 I suggest below in the printable recipe card.
You can use dark or white meat for this too. I used to only use chicken breasts back in the day until a few years ago and then I was a changed woman and never went back. One day thighs were so cheap at the store I couldn't pass them up. Experimented with them that week and OMG the meat was so much more flavorful and moist.
Instead of laying them in whole the best way is to cut it into bite size pieces so the sauce can really be soaked up well. You can't get that same intensity if left whole. Your choice though, either way it is one of the quick chicken thigh recipes we make often.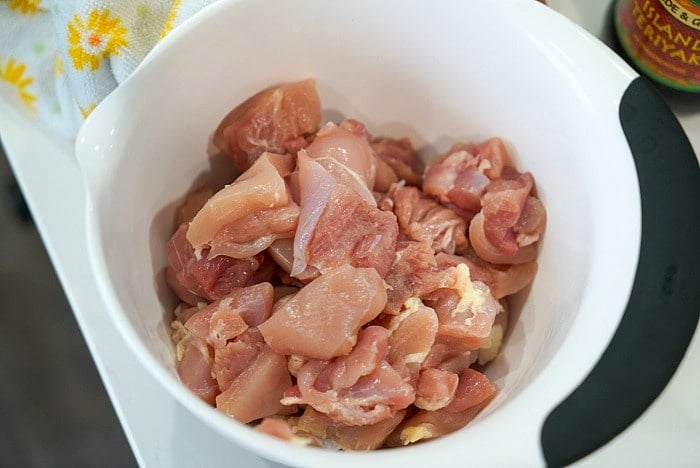 Crockpot Orange Chicken with Frozen Chicken
I am the queen of cooking from right out of the freezer. If you haven't done this yet and are forgetful like I am it is a game changer. You can do this with whatever cut you choose. I will say that defrosted and diced like you see is by far the best method of all. That isn't always possible though…..
So if you do need to start with frozen chicken in slow cooker that is okay. You will need to do one thing to prep those first though. Make sure before you add them that the pieces are separated first. Run them under some cool water if they are in a big chunk. If not it won't work as the outside will cook but the middle will remain raw and unsafe to eat.
Same as the others, mix the sauce, pour on top so it coats everything nicely and you're good to go. If you have a large family you could easily double this and the timing wouldn't change a lot.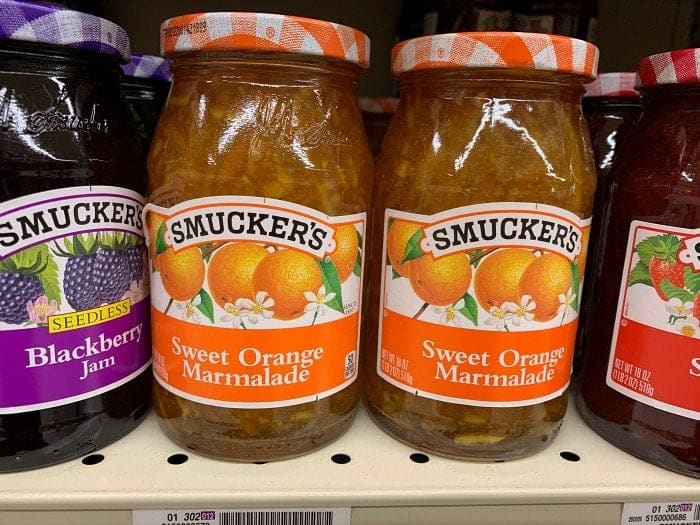 Homemade Orange Chicken Sauce
You can choose to use either chicken breasts or chicken thighs. The latter to me comes out much more tender and is cheaper to buy as well. Since you are cubing the meat they both come out quite nicely. Of course you can make a homemade sauce, but I tend to just use these 3 ingredients.
If you'd like to try them both just: Mix together:
1 cup orange juice
3/4 c. rice vinegar
1/4 c. chicken stock or broth
Just 1/4 c. soy sauce
1/2 c. granulated sugar
1 tsp. salt
2 tbsp. cornstarch to thicken it up a bit
Use up to 1/2 c. orange peel depending on how intense of a flavor you want. You'd whisk these together and use them instead of the marmelade and bbq sauce listed below. Use same cook time and such in the printable recipe card. Add a bit of salt and pepper + orange peel and/or chives when serving.
I tend to buy what is on sale at the time and just go with that really. That preference is up to you but know that you have the choice of either one. This is probably one the cheap easy crockpot meals we make.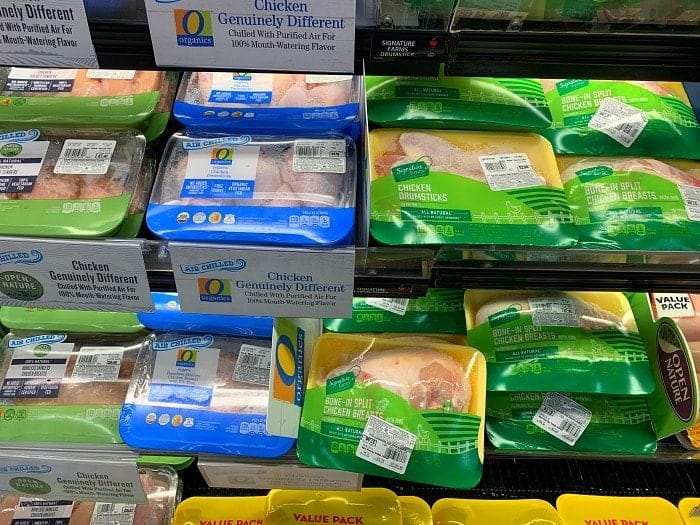 Healthy Orange Chicken Recipe
We are a busy family of 5 and both work full time, so I am always on the lookout and creating something quick. But I also want something healthy that everyone will love.
Is orange chicken healthy?
If you make it this way without any breading it is healthier than the fried version for sure. Everything in moderation of course.
Is orange chicken spicy?
That is up to you if you're making it homemade. Add chili powder or red pepper flakes for heat or leave mild as we did here.
Why is orange chicken so good?
The flavors are just amazing and quite refreshing. Just sweet enough with a thick sauce that coats every piece. You don't need a whopping amount to get your fix.
Put all of the ingredients in your crockpot for about 6-8 hours on low. I use a smaller crockpot so the juices are really soaked up, a 6 qt. crockpot like ours is great for this recipe.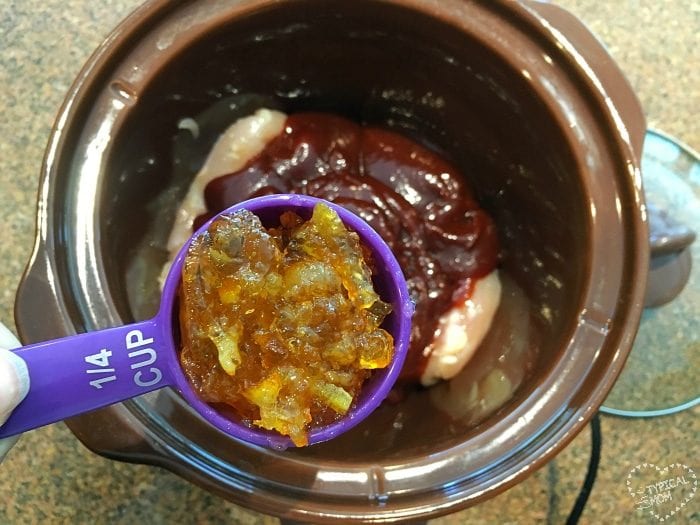 Crockpot Orange Chicken
If using frozen meat separate them from one another. Lay inside pot and coat with the mixture of sauce ingredients so they are nicely coated. Timing will be 6-8 hours or until the thickest part reaches a safe 165 degrees F in the center.
Chicken – boneless skinless chicken breasts
Barbecue sauce
Orange marmelade or even apricot preserves works well if you like that flavor
Optional

Soy sauce
Cornstarch
Diced green onions
Sesame seeds on top
Red pepper flakes for some heat
Before putting the chicken in cut it into large bite sized pieces, or use chicken tenders and put in whole. Pour everything else in and stir so everything is mixed together. I have used a bit of soy sauce as well for added flavor at times.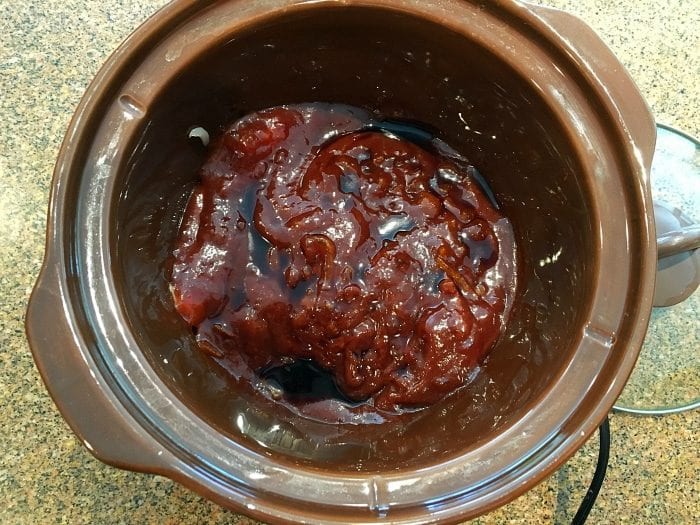 Slow Cooker orange chicken recipe
Will be done in just a few hours (if you want it to cook longer use a larger crockpot and put full size chicken breasts in and it will take longer to cook) and really sucks up the sweet goodness in that time.
I use a rice cooker because it is fast and I use one with a steaming basket on top so it cooks the rice and veggies at the same time in about 20 minutes.
If you don't have a rice cooker like we do you can find them at Walmart or online
For those of you who have a pressure cooker you can make our gluten free Instant Pot white rice on the side.
*** Recently we just added how you can make air fryer orange chicken!! This can be made with the meat cut up this same way and then toss with the sauce when done. You can make the bagged frozen type this way too. The outside gets crispy while the meat remains tender. Another great way to try this popular meal.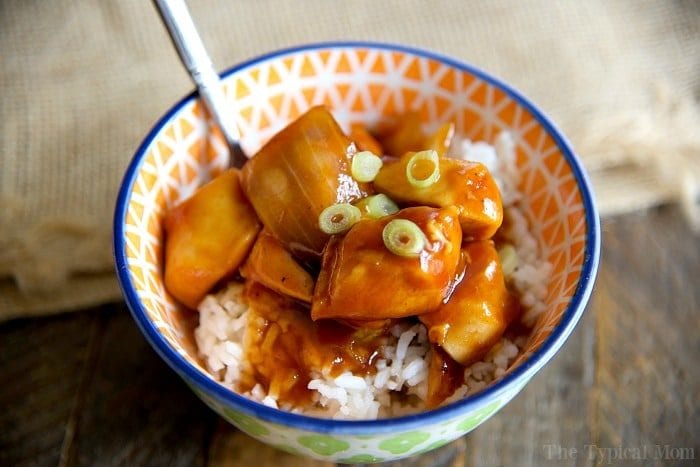 I offer a printable recipe card for you at the bottom of this post. You can then keep it in your recipe box or folder. OR just come back each time you want to make it again, we would miss you if you just went and left forever. 🙁 Here's a quick step by step but there is a printable version below in the recipe card as well:
Place 2 c. barbecue sauce, soy sauce, marmelade jam and cornstarch in slow cooker stir together with diced chicken so they're coated nicely.
Use only 1/8 c. marmalade if you just want a hint of orange.
Cover and cook on low for 6-8 hrs. or cook on high for 4 hours but honestly it is 10x better on low.
An hour before the final cook time, mix some of the hot bbq sauce in your crock with cornstarch into a small bowl.
Pour this into your crock and allow to simmer for a little while to thicken the sauce.
Serve over rice or quinoa for a great meal. If you love slow cooker recipes our 5 ingredient Crockpot chili is a favorite too. Another just pour it in and let it just go kinda' meal we make at least twice a month year round.
How to Save Leftover Chicken
I hate to waste food, you know that. With that said it should be saved properly or it will dry out in the fridge over the next few days and not be worth saving. First allow it to cool down completely. Then I typically use a freezer bag to store it with the air sucked out. Then when ready to reheat pour it into a microwave safe bowl. Heat for about 1 minute until warmed.
Slow Cooker Orange Chicken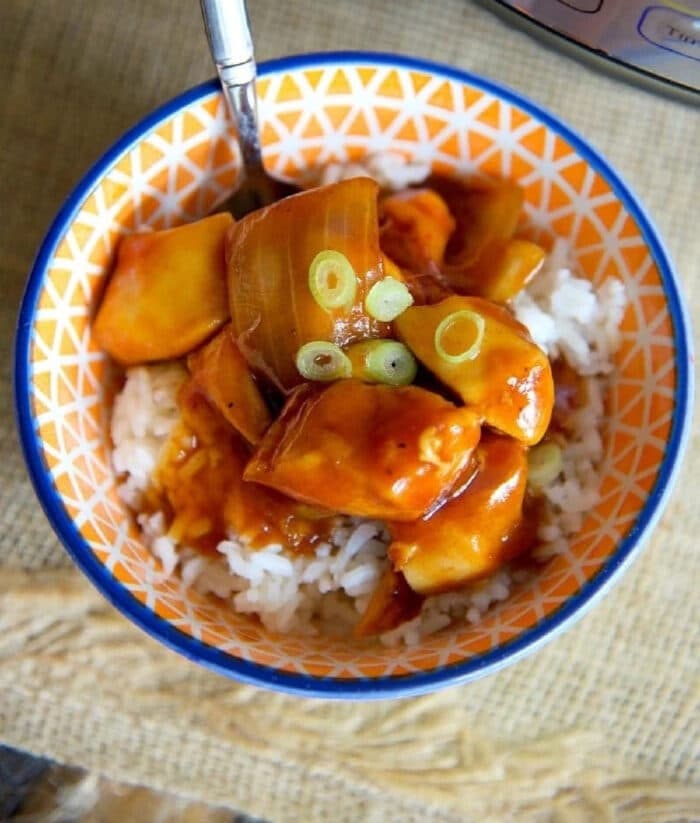 Want to see a few of my favorite things that I am totally obsessed with?? Take a peek and see how many you might already have…twinsies!
Looking for more easy family recipes and tips? LIKE The Typical Mom Facebook page?
Then sign up for my free newsletter, and follow me on Pinterest! 😉
***** If you LOVED this recipe give it 5 Stars below and let everyone know what you thought about it. 😉
Crockpot Orange Chicken Recipe
Here is an easy crockpot orange chicken recipe to make that cooks on it's own in your crockpot. Heathy slow cooker recipe that is easy to make, even my kids love this one!

Instructions
Cut chicken into large bite size pieces. Place all ingredients (except cornstarch) in your slow cooker (use only 1/8 c. marmalade if you just want a hint of orange)

Stir together so meat is coated well. Turn crockpot to low for 6 hrs. or until meat is cooked thru and tender.

** If you want thicker sauce ** Before you're ready (and hr. before is good) mix some of the hot bbq sauce in crock with cornstarch into a small bowl. Then empty that into your crock to simmer for a little while and thicken sauce.

Serve over rice for a great meal.
Nutrition Facts
Crockpot Orange Chicken Recipe
Amount Per Serving (2 oz)
Calories 345
Calories from Fat 27
% Daily Value*
Fat 3g5%
Cholesterol 58mg19%
Sodium 1694mg74%
Potassium 621mg18%
Carbohydrates 58g19%
Protein 21g42%
Vitamin A 293IU6%
Vitamin C 3mg4%
Calcium 50mg5%
Iron 1mg6%
* Percent Daily Values are based on a 2000 calorie diet.